If you are looking to do merch business online and searching for "Amazon Merch India", then you landed in the perfect place. In this blog, we've covered amazon merch India in-depth and wrote these 10 things that everyone in India must know before starting their business with merch by Amazon.
Important Note: Merch by Amazon is not available in India and Amazon merch doesn't ship and operate in India. But people in India can design and sell merch via Amazon to the USA and other countries.

If you are looking for a simple yet powerful and reliable platform to start a merch business in India, sign up on Blinkstore and start selling custom-designed merch in India at zero upfront investment and start earning monthly royalties.
Now, moving forward, we are covering 10 things that are most frequently asked on the Internet related to merch by Amazon India.
Table of Contents
Let's dive into each of these in detail:
1. What is merch by Amazon?
Don't read the "merch by amazon India 2021 guides", here's your latest 2022 edition on "what is merch by Amazon" along with the answer to the important and frequently asked questions.
Amazon's merchandise arm is for individuals and brands to launch their merchandise on Amazon's e-commerce portal, taking advantage of Amazon's distribution, print-on-demand operations, and fast shipping. Popular brands like Disney, Marvel, Cartoon Network, etc., use Amazon merch to sell their official merchandise to fans via Amazon. But it is not limited to big brands, small sellers and individuals can also apply and get approved to sell their designs on t-shirts via Amazon and earn money.
After you are verified and has the approval to sell o Amazon merch
Simply upload your artwork,
Choose a product type and color, and
Add a product description.
Amazon will create a product page on Amazon and
When customers buy your product, Amazon will handle production, shipping, and customer service — all with no upfront costs.
Benefits of Amazon Merchandise?
Earn Royalties
You'll earn money (royalties) on every product sold.
No Inventory Risk
It works on the print-on-demand model so there's no unsold stock ever. Amazon will print your t-shirt only when someone places an order and then ship it to the buyer. Learn more about print-on-demand here: Best print-on-demand sites in India.
Prime Shipping
The biggest advantage of merch by Amazon is their fast shipping. All your merch will be eligible for price shipping to prime customers. For everyone else, it'll be standard shipping and the customer can pay extra to get faster delivery.
Reach New Customers
Amazon doesn't promise any sales, but your merch does have a chance of appearing in front of thousands of new customers. You'll definitely need to advertise your products on Amazon to make them appear in front of many potential buyers. So this is a downside for many small sellers. If your product has a niche and there are people searching for it on Amazon, then you do stand a chance to make decent sales.
Track Your Success
Amazon's analytics and insights will give you all kinds of data from best-selling designs to your revenue growth. You can track your progress from there.
2. Is merch by amazon available in India?
No, currently merch by Amazon is not available in India. Amazon print on demand business is not available to sell custom-designed merchandise on Amazon India. But people from India can register on Amazon Merch with a USA bank account (usually Paypal or Payoneer) and get approval to sell in the USA and other countries. Sign up on Blinkstore merchandise, if you are looking to sell merchandise in India from your own store.
Amazon Merch India
Merch by Amazon India is a popular print-on-demand platform. For Indians, it is a lucrative source of income. People who do business with merch by amazon India face difficulty in getting payments, but we've answered that question in this blog below.
Running your business on merch by amazon India is not difficult, but it needs patience and perseverance.
3. Can we sell on Merch by Amazon from India?
Yes, you can sell Amazon merch in India. But your merch will not be sold within India. Your merch on Amazon will only be sold in the countries in which Merch by Amazon is available. Amazon Merch is officially available in the USA and European countries. Amazon hasn't expanded this vertical of the business globally. But it still remains available to sellers around the world through some loopholes.
4. What are the requirements for Merch by Amazon?
The requirements for merch by Amazon are that you need a valid bank account, routing number, proof of identity, Tax filing details, and a bank account in the USA to collect payment.
Other than that, you need a clear idea of the design of your merchandise. An understanding of what kind of designs you will be selling on Merch by Amazon.
5. How to apply for merch by amazon from India?
Merch by Amazon is an invite-only program and you'll need to submit the application by clicking on "sign up" or "request invitation" on this page Merch by Amazon.
How do I create an Amazon merch account in India?
Step 1: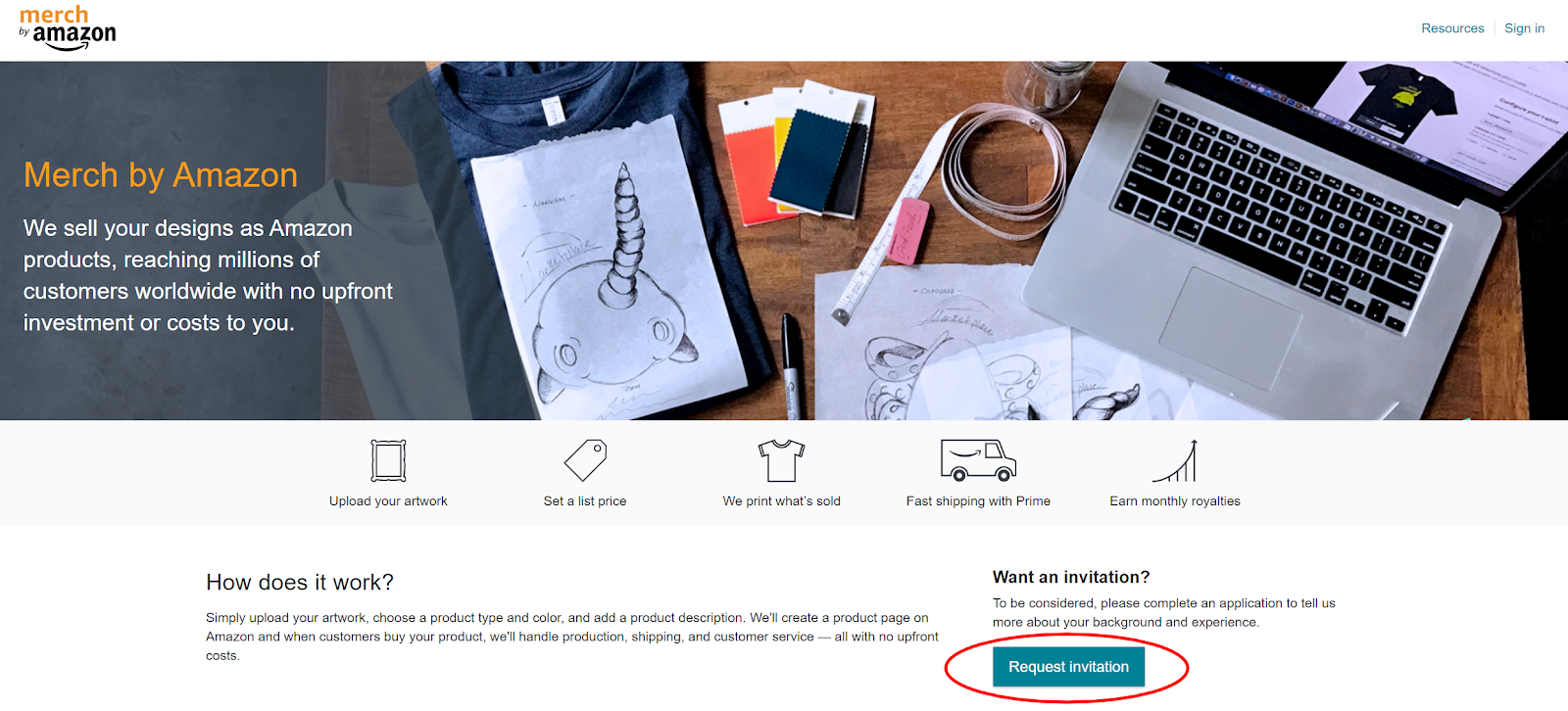 Go to Amazon merch on demand and click on "Request invitation." and follow the registration steps.
Step 2: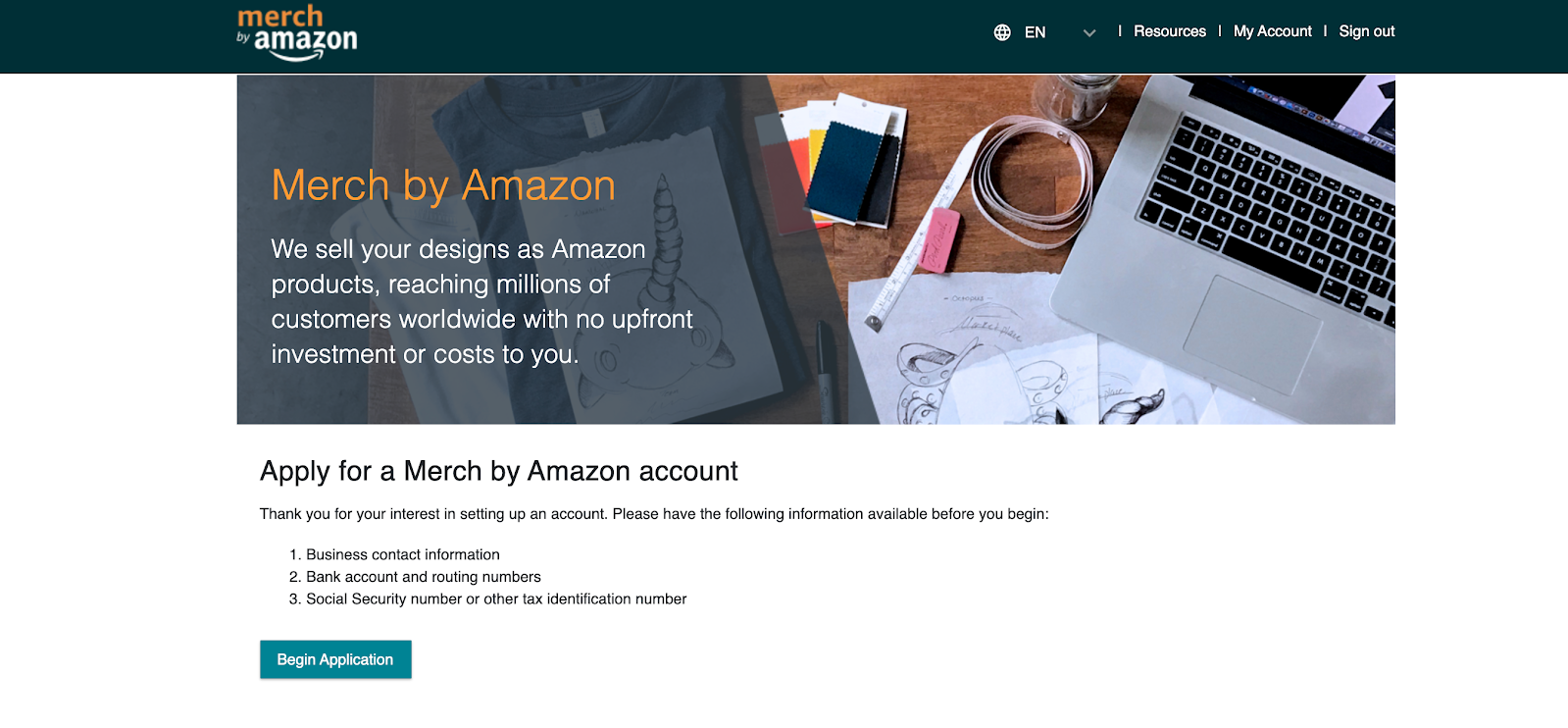 Sign in to your shopper Amazon account, then click on "Begin Application." (You may need to enter your mobile number for verification)
Step 3: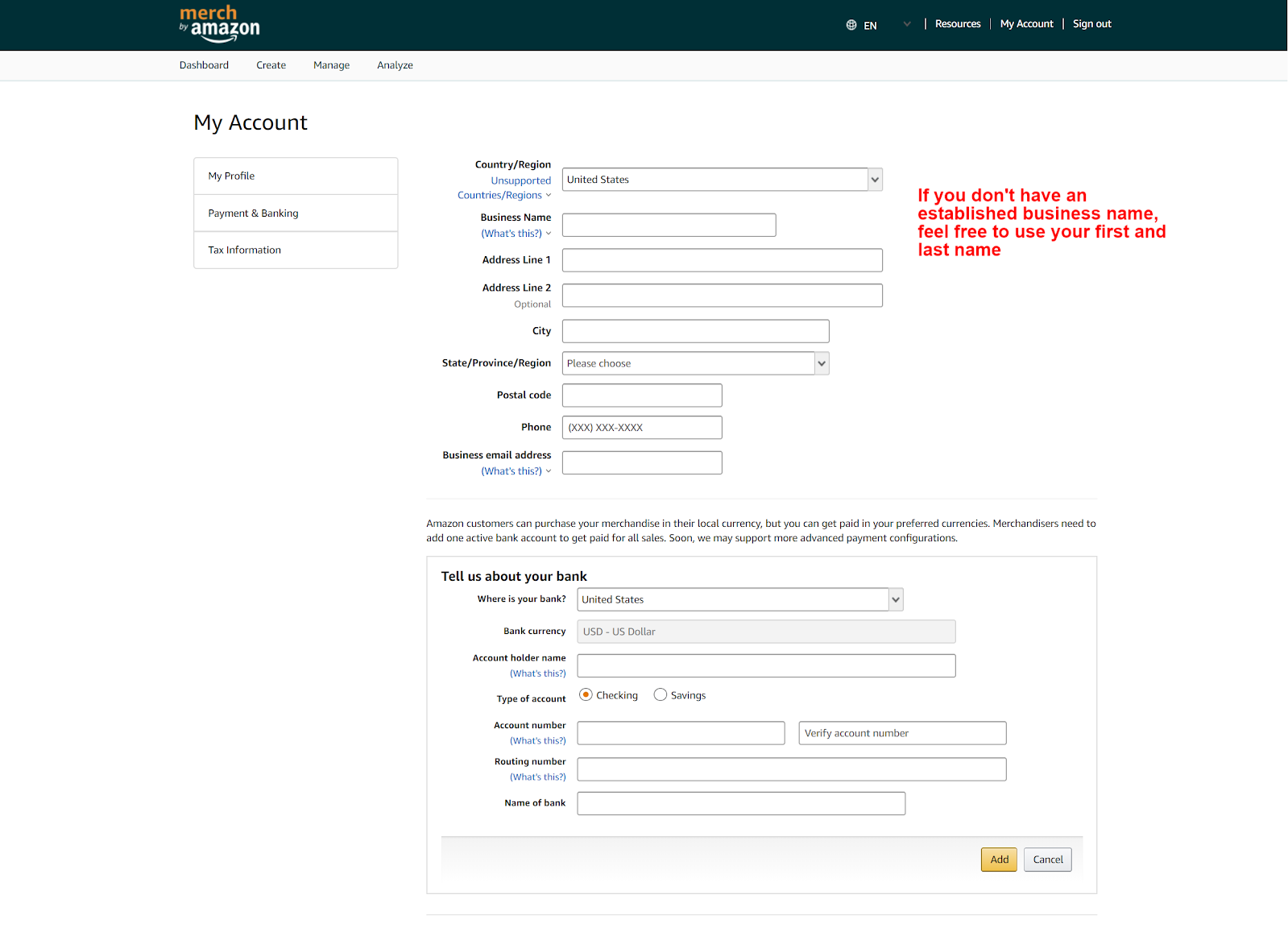 You will arrive at the account page. Enter your country, Amazon business, or brand name (this can be your name if you don't have a business name).
Next, input your bank info (so you can get paid!).
Step 4: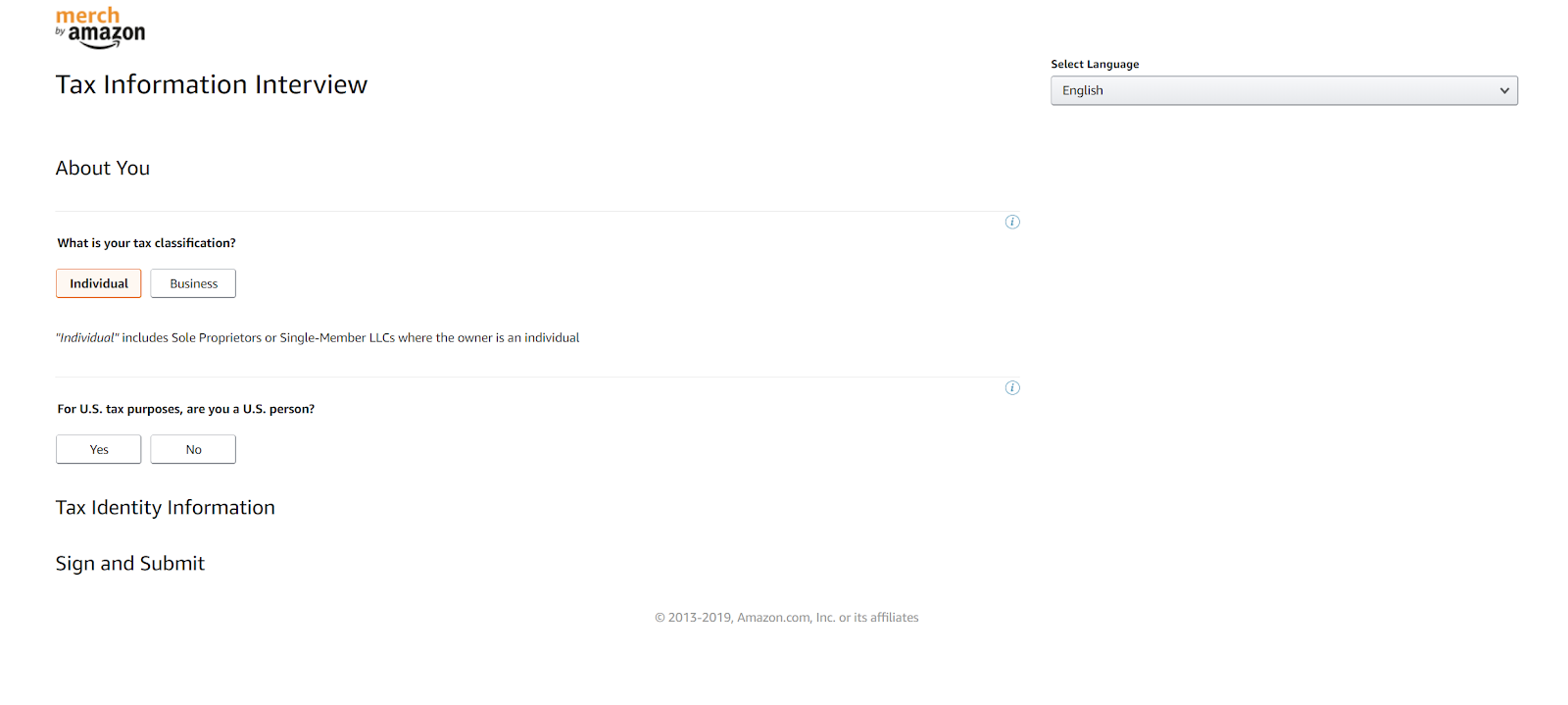 Enter your tax information. Download or print your tax record details if you would like to keep for your records
Step 5: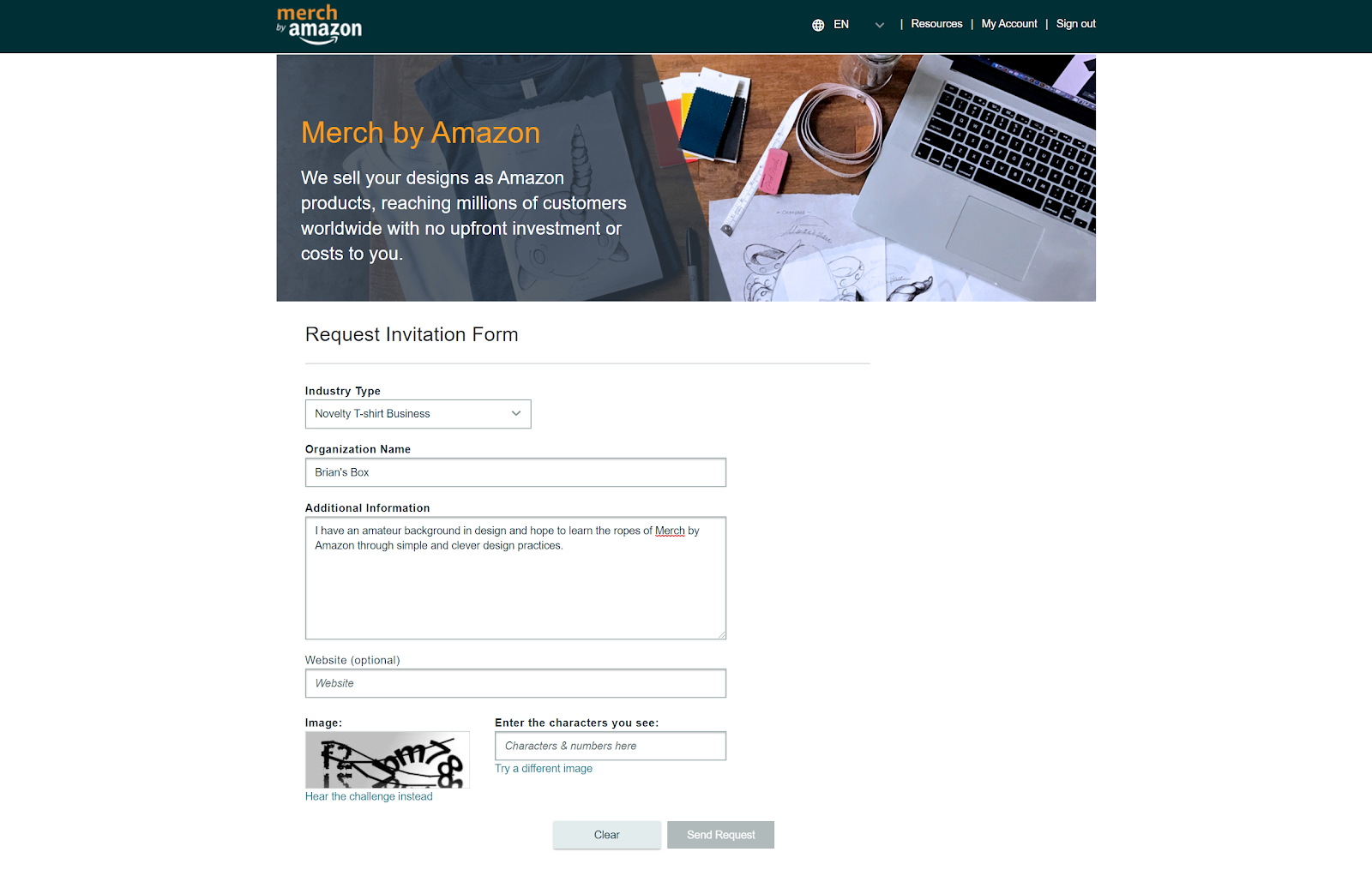 Now you'll come to the Request Invitation Form. Enter your:
Industry (novelty t-shirts, app developers, school, etc.)
Business or brand name
Short description (your background and what you want to accomplish with Amazon Merch.)
Step 6:
This is the easiest step, wait…
The average waiting time is 14 days (it may take less or more). In this time, review Amazon's content policy, explore design templates and read the FAQs.
Here are highlights of the Amazon Merch guidelines: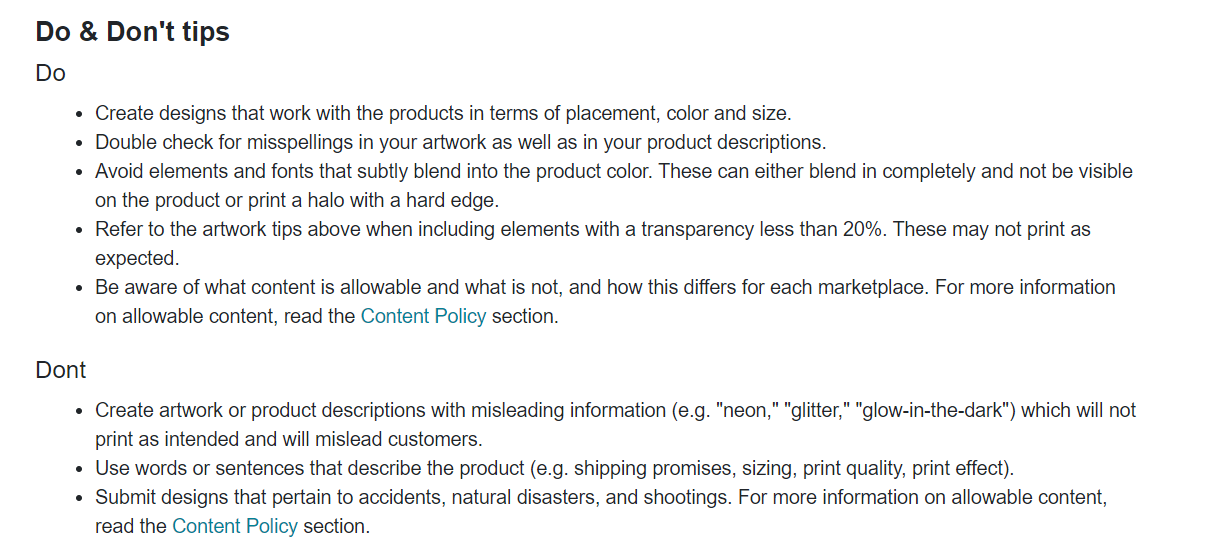 Step 7:
Once you get approval, you will receive an email that looks like this —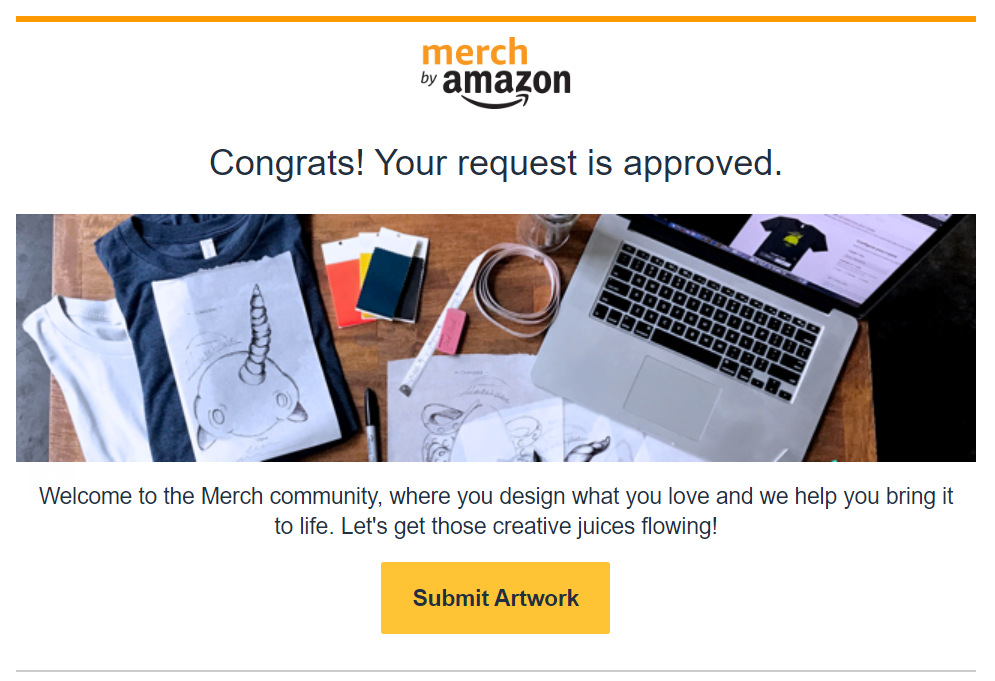 6. How do you get paid by Merch on Amazon?
Amazon merch India bank: the process to getting paid by Amazon Merch India is simple yet people find it difficult. You'll need a Payoneer account and then you can link to your Amazon Merch to withdraw your profits in it. Merch by Amazon only accepts USA-based bank accounts and you can't use your India back account in it.
Setting up a Payoneer is simple and withdrawing the money from Payoneer to your own bank account is also fairly easy.
7. What can you sell on merch by amazon?
Here's a list of items that you can design and sell on merch by Amazon:
Sell Apparel on Merch by Amazon:
merch by amazon
Standard t-shirt
Premium t-shirt
V-neck t-shirt
Tanktop
Longsleeve t-shirt
Raglan shirt
Pullover sweatshirt
Pullover hoody
Zip hoody
Sell Phone Accessories on Merch by Amazon:
PopSocket grip
iPhone cases (SE/7/8, 7 Plus/8 Plus, XR, X/XS, XS Max, 11, 11 Pro, 11 Pro Max, 12 Mini, 12/12 Pro, 12 Pro Max)
Samsung Galaxy cases (S8, S8+, S9, S9+, S10, S10+, S10e, S20, S20+, S20 Ultra)
Other items you can sell on Amazon Merch:
Tote bag
Throw pillow (16"x16", 18"x18")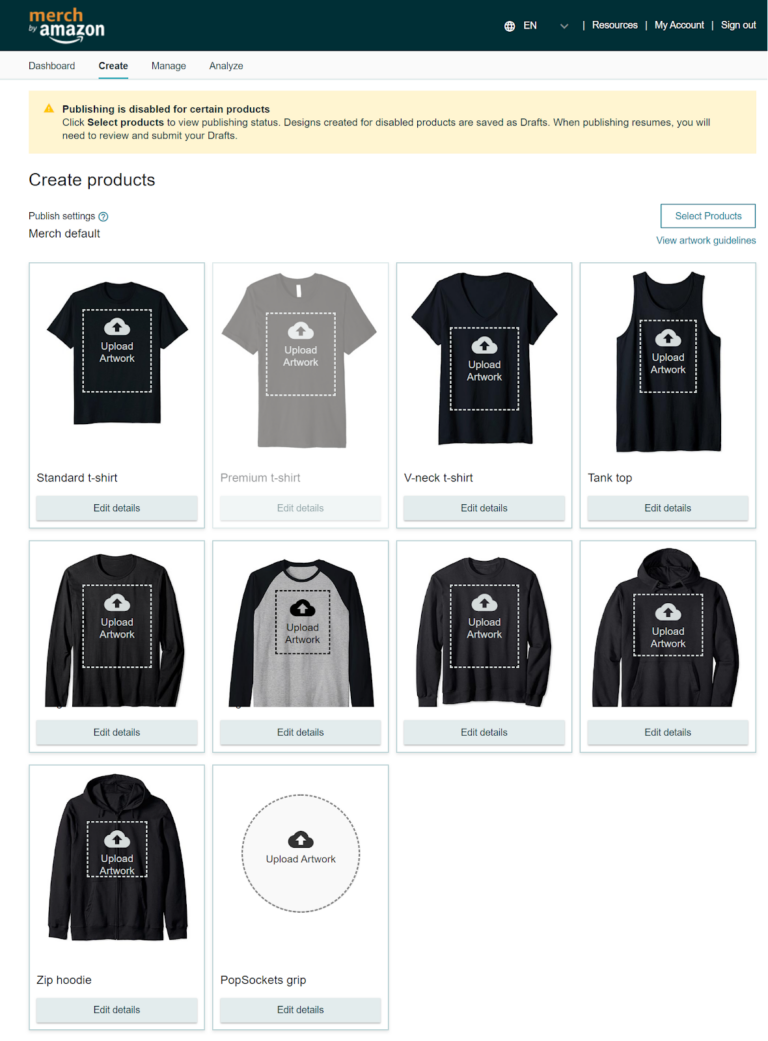 If you are looking to start your own t-shirt business online in India, read out complete on how to Design and sell t shirts online in India. Amazon Merch India provides around 15 varieties of products to design and sell online. But Blinkstore Merchandise provides 30+ variety of products to sell online. You can see Blinkstore Print-on-Demand Catalog here.
8. Is there any Indian getting paid through Merch by Amazon?
There are many answers to this question on merch by amazon India quora. A number of successful sellers have mentioned themselves and their businesses under this question on Quora.
On Blinkstore, we've 1500+ Indian sellers getting paid through merch by Blinkstore, you can signup on it here: Sell merchandise online with Blinkstore.
9. Is Merch by Amazon free?
Yes, the merch by amazon is free for anyone to apply. Amazon doesn't charge anything for the application and sales. The only thing is that approval is difficult and the Amazon marketplace is very crowded. If you want to sell on your own terms and on your own website without having to wait for approval, you can look at other print-on-demand websites in India. Here you can find the best sites for print-on-demand in India.
10. What are the Merch by Amazon alternatives in India?
Here's a list of Merch by Amazon alternatives in India:
FranklyWearing
Teeshopper
Inkmonk
Ilogo
Other than these, there's always an option to create a Shopify store and link it with print-on-demand in India.
Conclusion
Merch by Amazon is a lucrative income source for many creators, designers, and business people. But at the same time, Amazon Merch India isn't available so people are forced to register and sell only in the USA and EU. If you are interested in running your own amazon merch from India, then go ahead and launch it.
You can also take those designs and put them on your own Blinkstore merch store and enable your business within India at the same time. Whatever your decision is, we wish you the best.