Looking for some awesome biker t-shirt design ideas for 2023? Take a look at these ten designs that are sure to turn heads. You'll find something to enjoy here whether you're a Harley rider, a dirt bike fanboy, or just a follower of the biker lifestyle. Prepare to ride in luxury! Read on!
Table of Contents
Introduction
Welcome to the world of liberty and friendship! There's no better way for dedicated bikers to honour their brotherhood and community, as the wide road calls, than with custom-designed creative t-shirt ideas that tell volumes about their shared enthusiasm. These cool biker t-shirt design ideas embody the spirit of adventure. not only provide a fashionable touch to your clothes but also act as a badge of honour that connects you to other riders in a close-knit community. These tees are more than simply fashion statements; they are a monument to the tenacious spirit of the biker community, with bold graphics that shout with power and intricate designs that symbolise solidarity.
Things to Consider While Designing a Biker T-shirt Design Ideas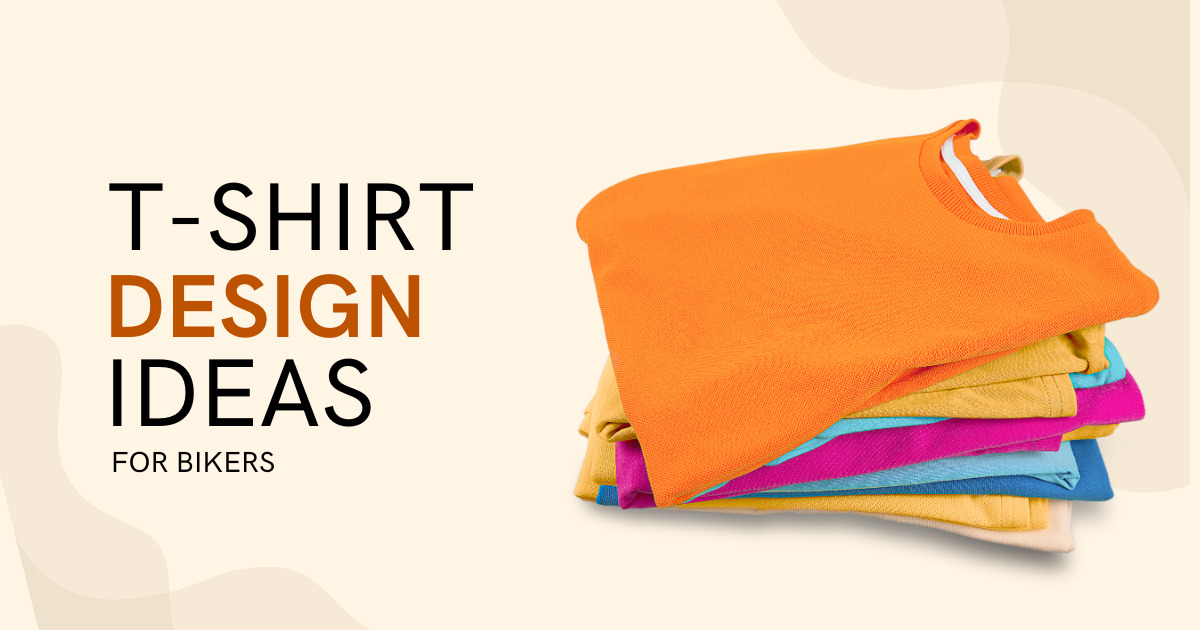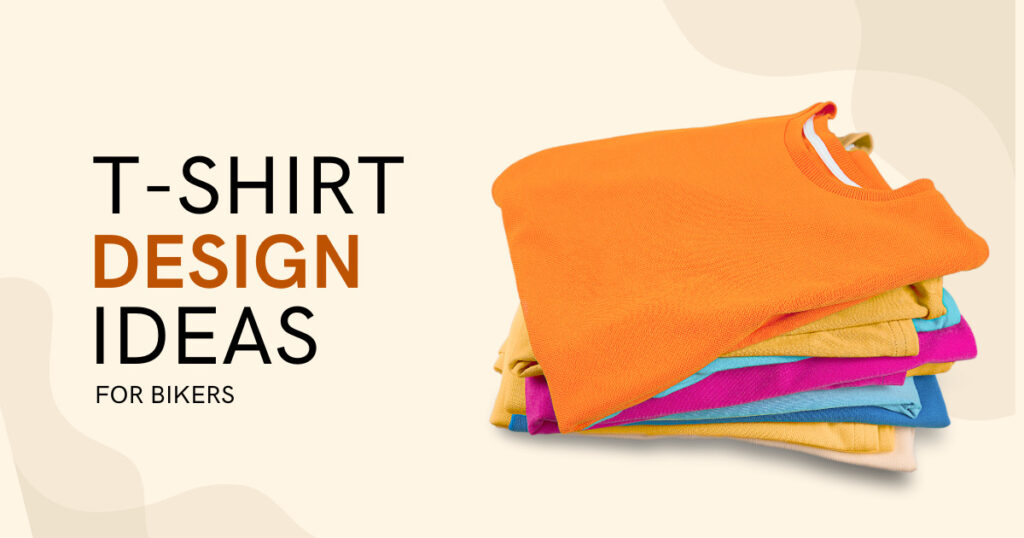 Here are a few ways You can use personalised t-shirts to commemorate your brotherhood and riding community:
Make use of a biker club's logo or motto. This is an excellent way to show your appreciation for your club and fellow bikers.
Create a t-shirt with a unique image or design. This could be anything from a motorbike to beautiful scenery.
Use a smart or amusing remark. This is an excellent way to demonstrate your sense of humour and enthusiasm for the biker lifestyle.
Choose a T-shirt in a bright or eye-catching colour. This will help you stand out in a crowd and demonstrate your pride in being a motorcyclist.
Amazing Biker T-shirt Design Ideas in 2023
Now that you know the criteria for designing creative t-shirt design ideas for bikers, let's take a look at the design ideas:
Roaring Thunder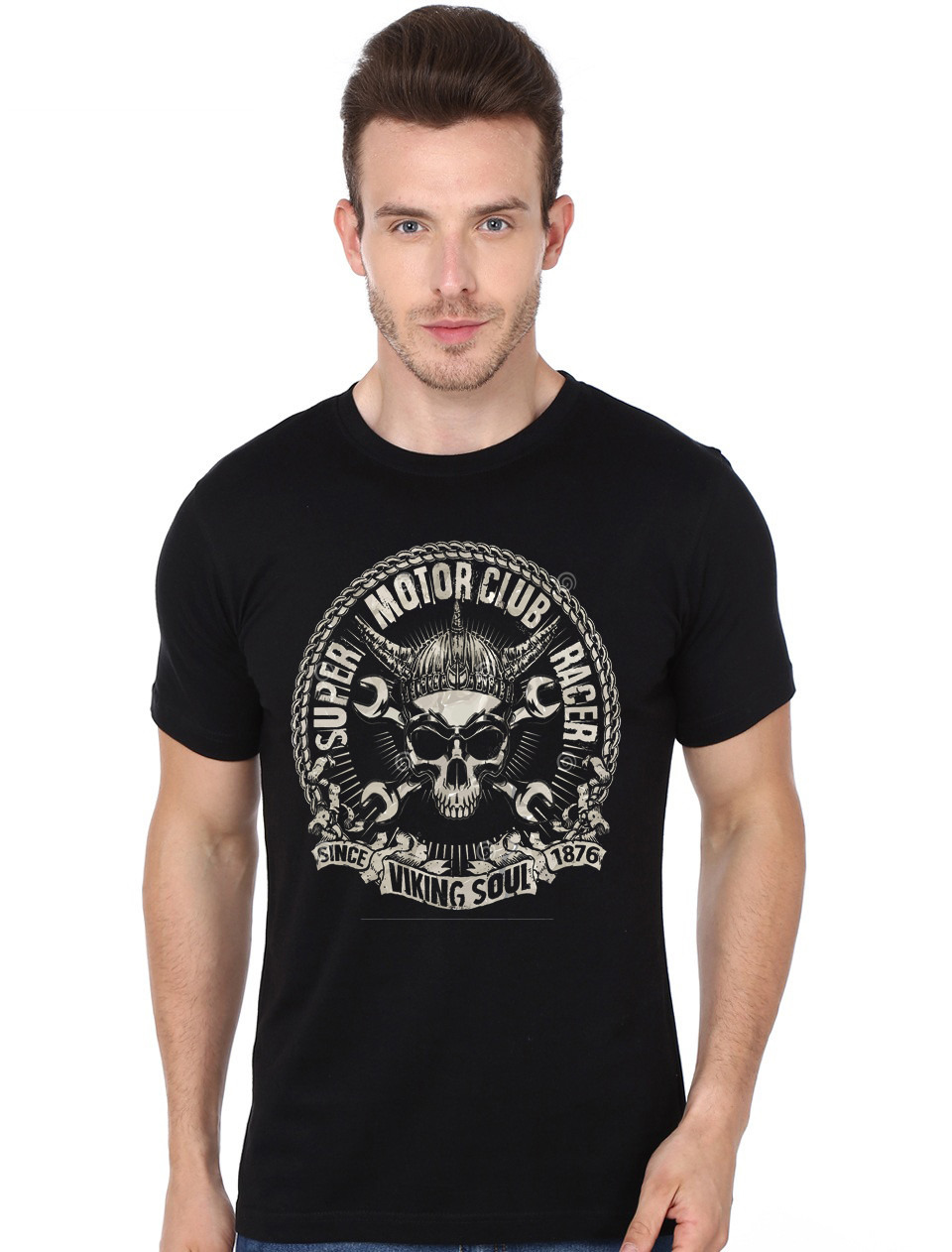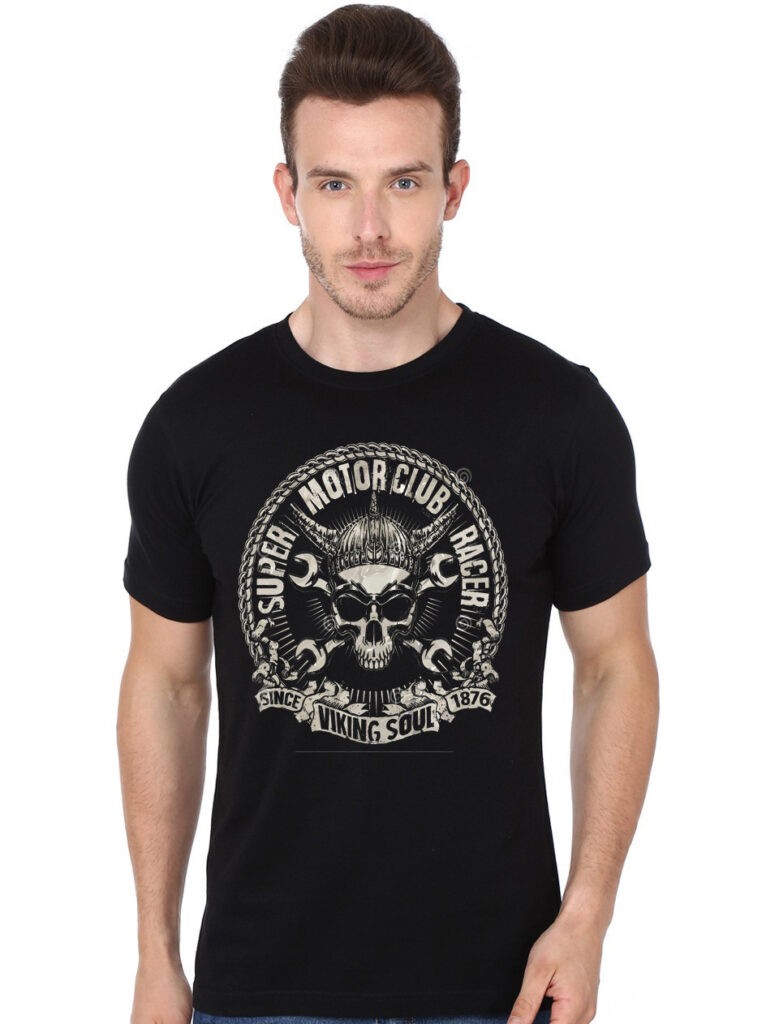 Feel the rush of excitement as you put on the Roaring Thunder biker t-shirt design. This thrilling design brilliantly depicts the sense of power, representing the unbridled enthusiasm of bikers who rule the road with their roaring machines. This design, with its bold graphics and dramatic imagery, serves as a reminder of the overwhelming force that fires your passion for riding. Whether you're tearing down the roads or cruising through the countryside, this t-shirt declares your presence with authority, letting everyone know that you believe in the power of two wheels and are ready to conquer any road that lies ahead.
Road Warriors Unite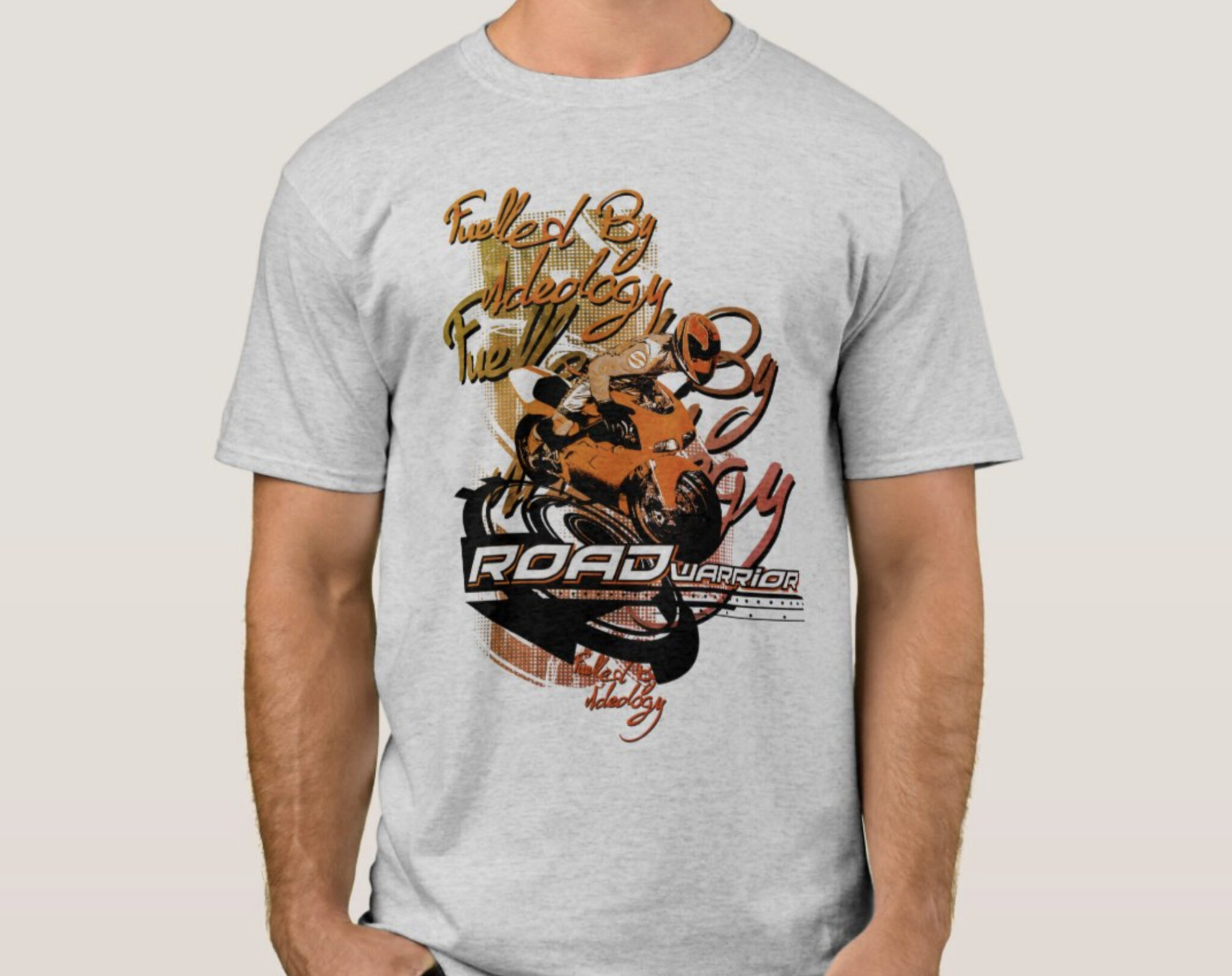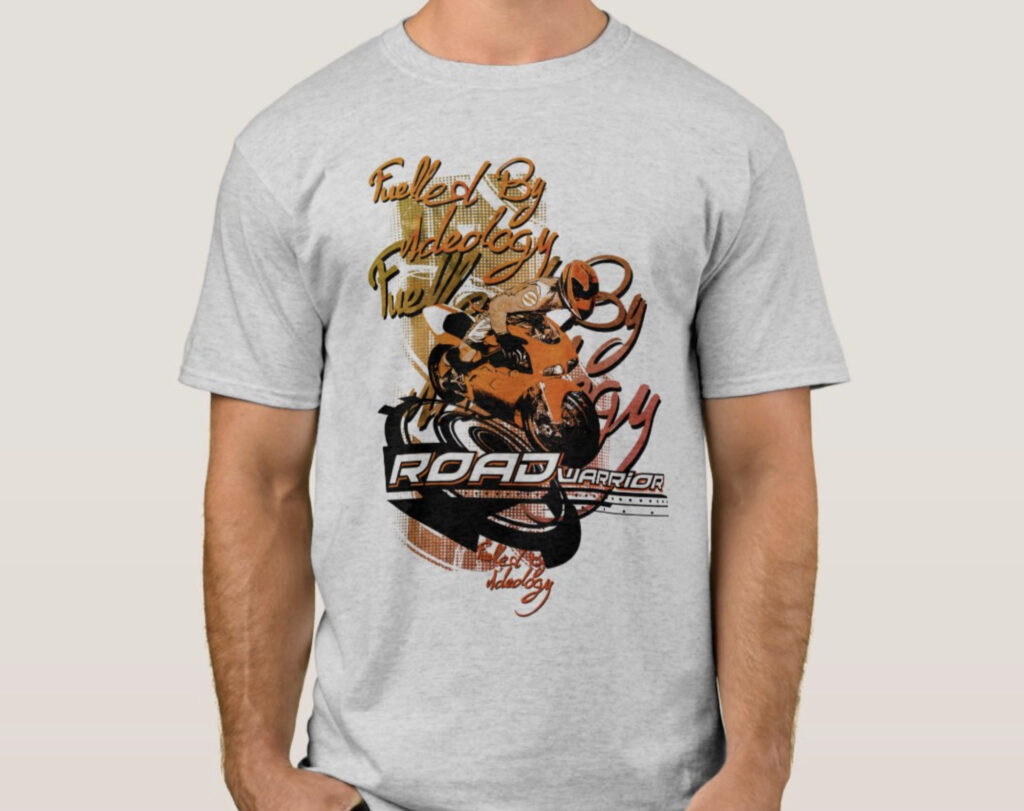 When you put on the Road Warriors Unite biker t-shirt, you are wearing more than just a piece of apparel; you are joining a close-knit brotherhood that crosses countries and backgrounds. This biker t-shirt design ideas depict motorcyclists' unbreakable friendship, bonding them through their mutual love of the road and the freedom it provides. This t-shirt features a distinctive emblem or logo that symbolises the oneness of cyclists, generating a sense of connection and brotherhood within the bike community. Wear it with pride, knowing that you are part of a strong and supportive family of fellow road warriors.
Vintage Rides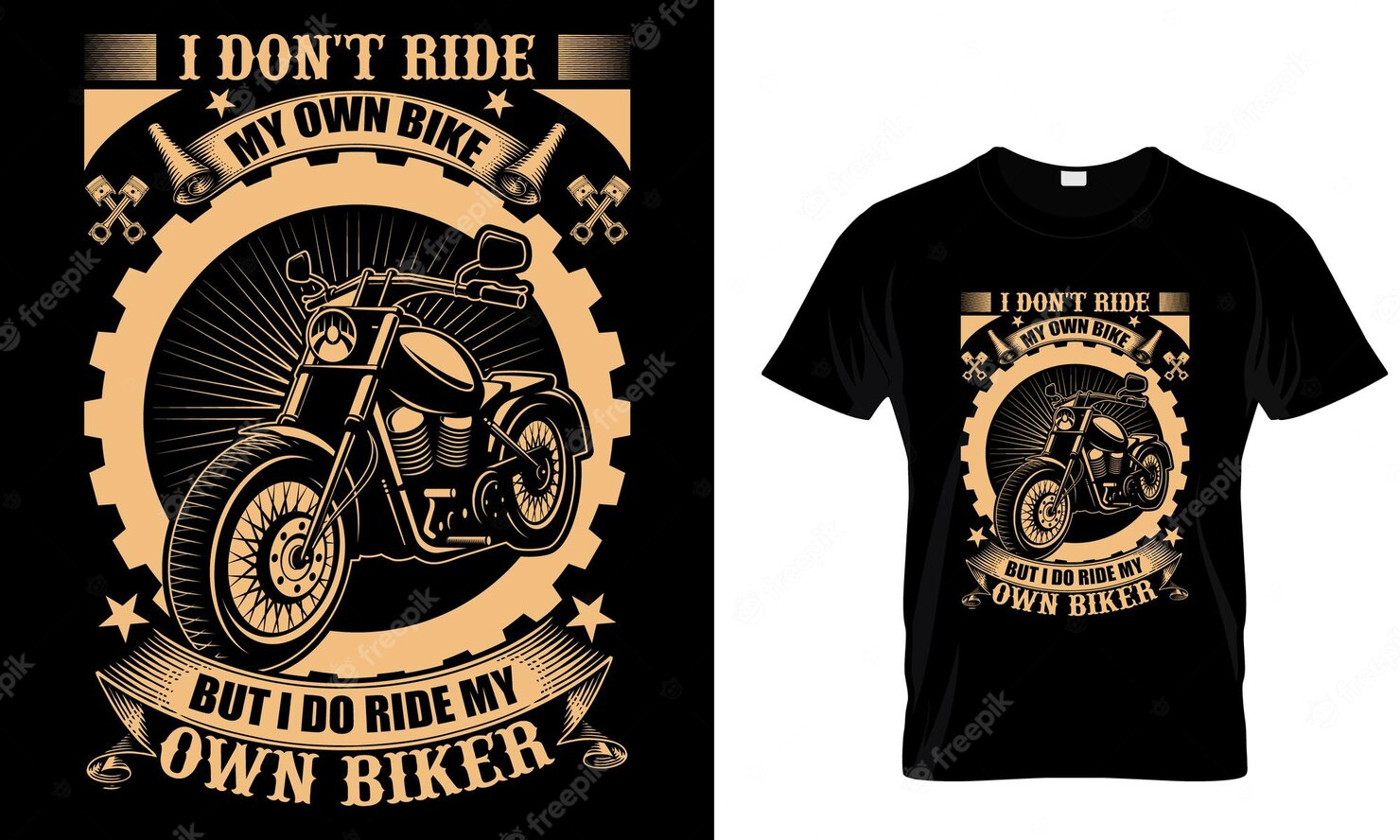 Vintage Rides biker t-shirt design takes you back in time, where traditional coolness meets everlasting flair. This design pays homage to historic motorcycles and the riders who paved the path for modern biking culture by celebrating the golden era of motorcycling. This t-shirt evokes nostalgia by combining retro artwork and famous symbols, bringing you on a journey through the history of biking. You become a live witness to the enduring fascination of classic rides as you wear this masterpiece, displaying a timeless beauty that never goes out of style. Embrace motorcycling's heritage and elegance while making a powerful statement about your love of all things retro and stylish.
Rebel Souls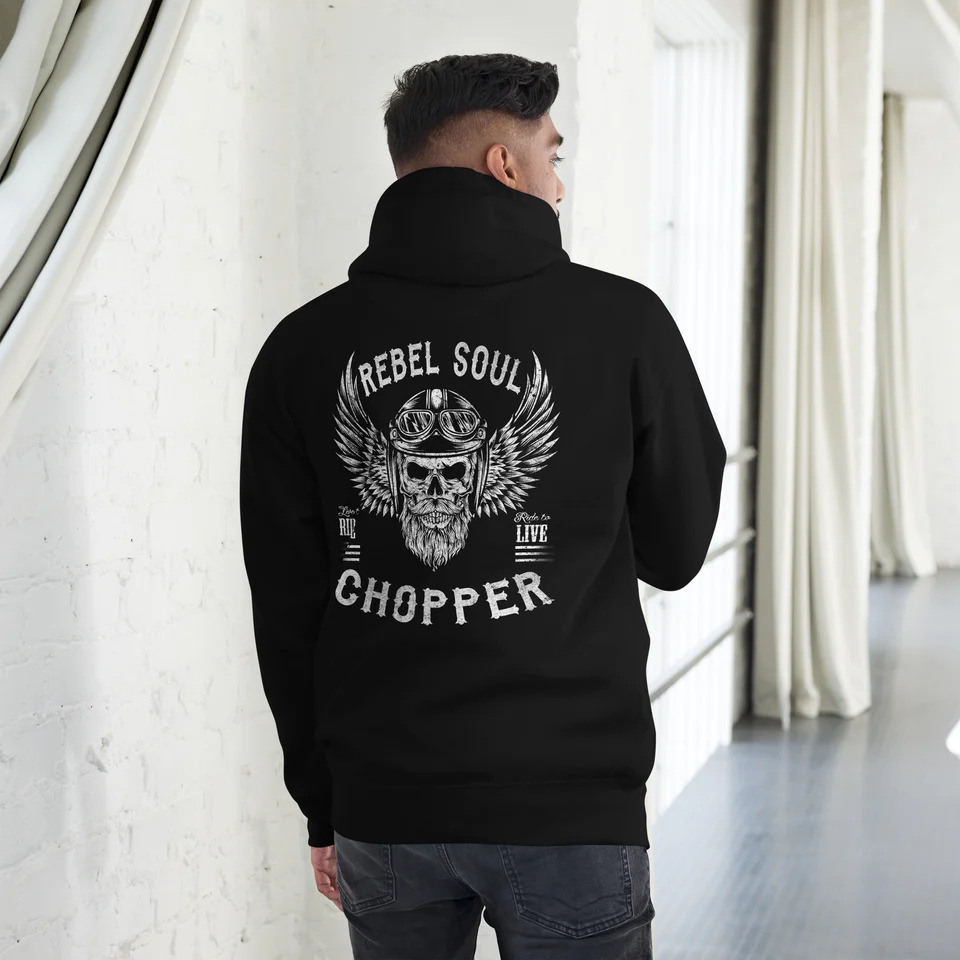 Dare to be unique with the Rebel Souls bike t-shirt design, created for individuals who refuse to follow the crowd. This unique artwork, embodying the spirit of non-conformity, honours the rebellious attitude of bikers who march to the beat of their own motors. This t-shirt, with its edgy artwork and bold statements, acts as a statement of individualism and unwillingness to conform to conventional conventions. Wearing this t-shirt openly showcases your drive to make your own path and challenge conformity with every twist of the throttle, whether you're a lone wolf or part of a renegade crew.
Born to Ride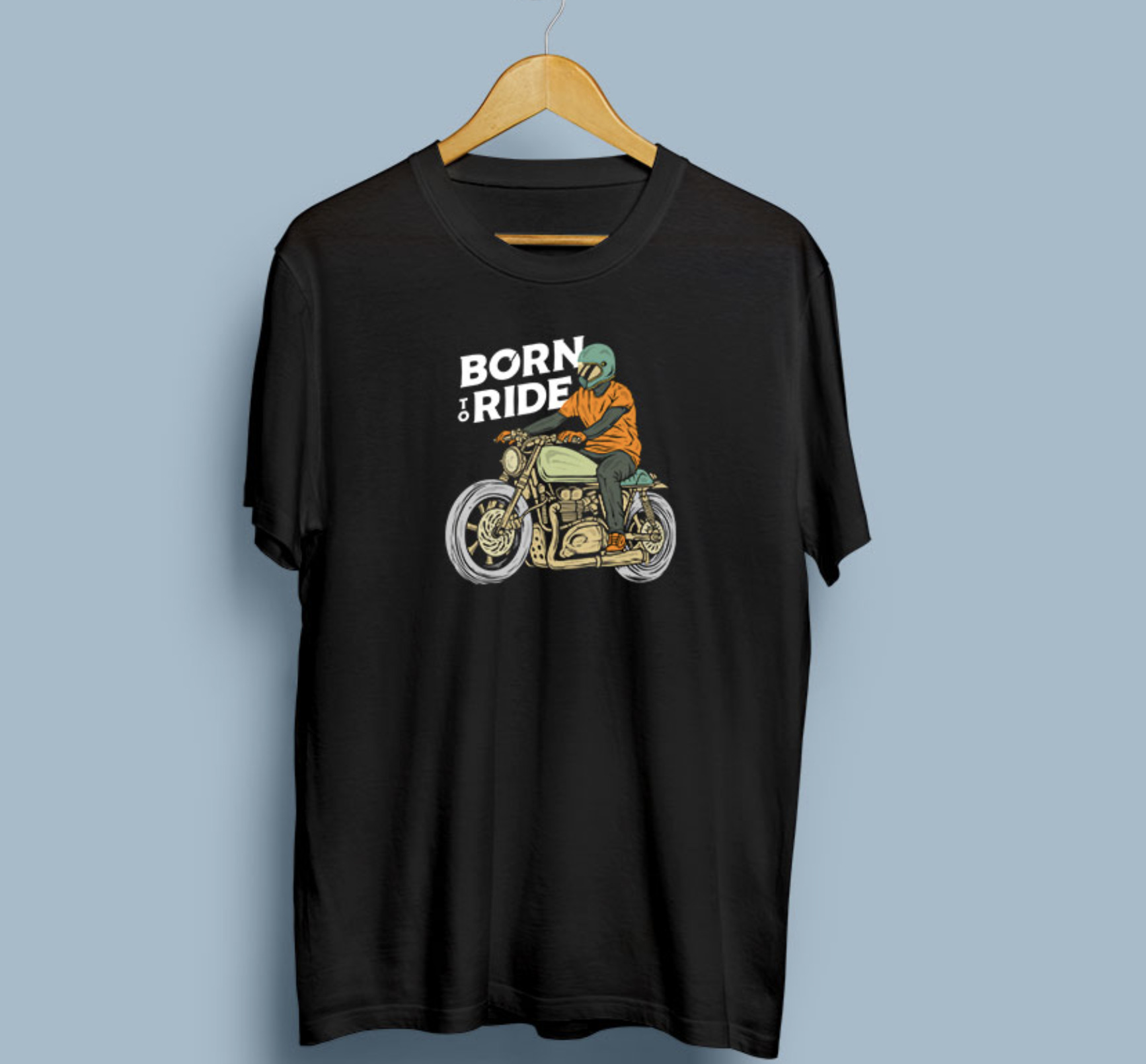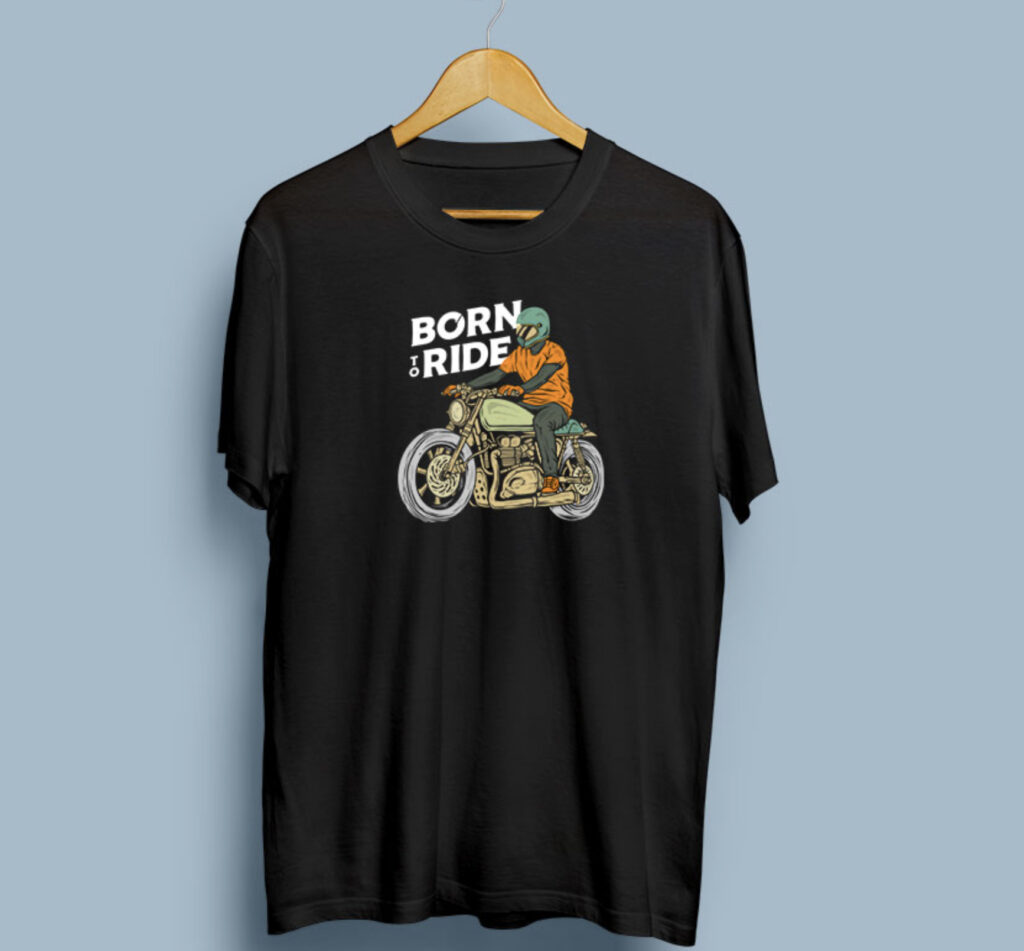 The Born to Ride bike t-shirt design captures the intrinsic yearning to feel the wind in your face and the road beneath your wheels, allowing you to unleash the genuine essence of your existence. This artwork encapsulates the essence of what it means to be a rider – a passion born deep inside the soul. This t-shirt captures the exhilarating feeling of freedom in motion with a dynamic and expressive picture, reminding you that you were born to ride. Wear this emancipation symbol and let it say loudly about your unshakable love for the wide road and the limitless experiences that await you.
Steel and Ink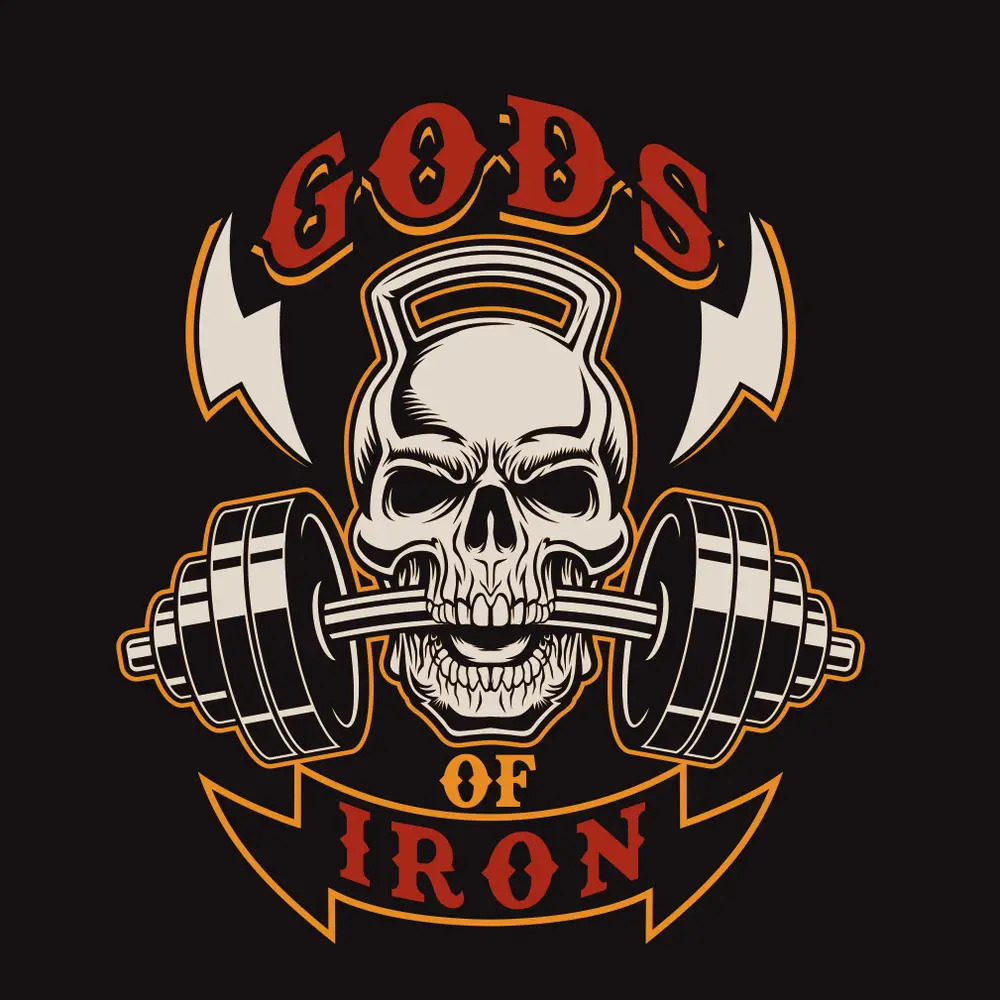 Adorn yourself with Steel and Ink's living canvas, where artistry on wheels comes to life. These biker t-shirt design ideas honour the marriage of craftsmanship and machinery, where each bike is a work of art and each rider is an artist. This design, which combines elaborate graphics with elements of motorbike mechanics, is a visual delight that captivates anybody who sees it. Wearing this t-shirt demonstrates not just your love of motorbikes, but also your admiration for the craftsmanship that goes into crafting these rolling works of art.
Highway Legends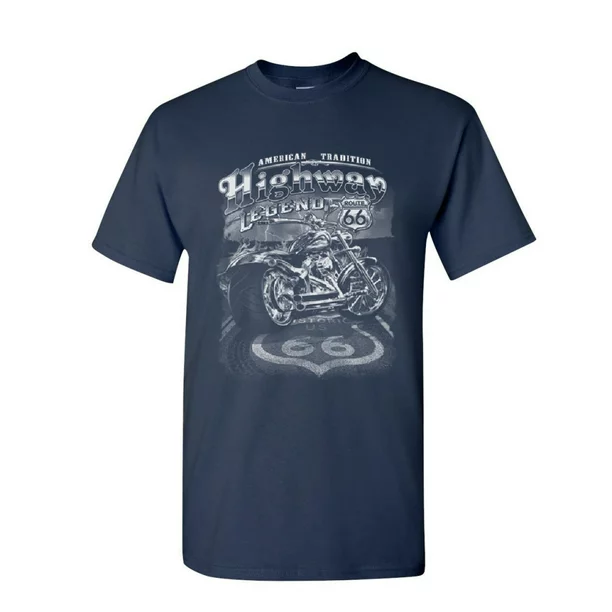 With the Highway Legends biker t-shirt design idea, you can embrace the lore of the wide road, where tales of adventure come to life on fabric. This design honours the eternal stories and experiences shared by bikers on their adventures. This t-shirt becomes a canvas that tells your own journeys and honours the narratives that link the biker community together, with intriguing images of historic places, picturesque routes, and memorable encounters. Wear this shirt and tell your experiences proudly, and you'll become a living witness to the highway's legends.
Skulls and Spokes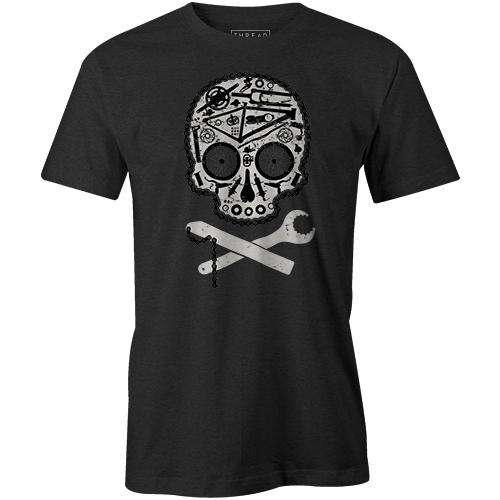 With the Skulls and Spokes biker t-shirt design, you may unleash your inner rebel, where edginess meets elegance in perfect harmony. This design reflects the essence of the biker spirit – aggressive yet sophisticated – by combining bold skull motifs with intricate spoke patterns. This t-shirt embodies the paradox of the biker lifestyle, exuding raw energy that demands attention while maintaining an air of sophistication that shows your refined taste. Wear this t-shirt with confidence, displaying your bold attitude and exhibiting that you shine with exceptional elegance even in the shadows.
Fueling the Passion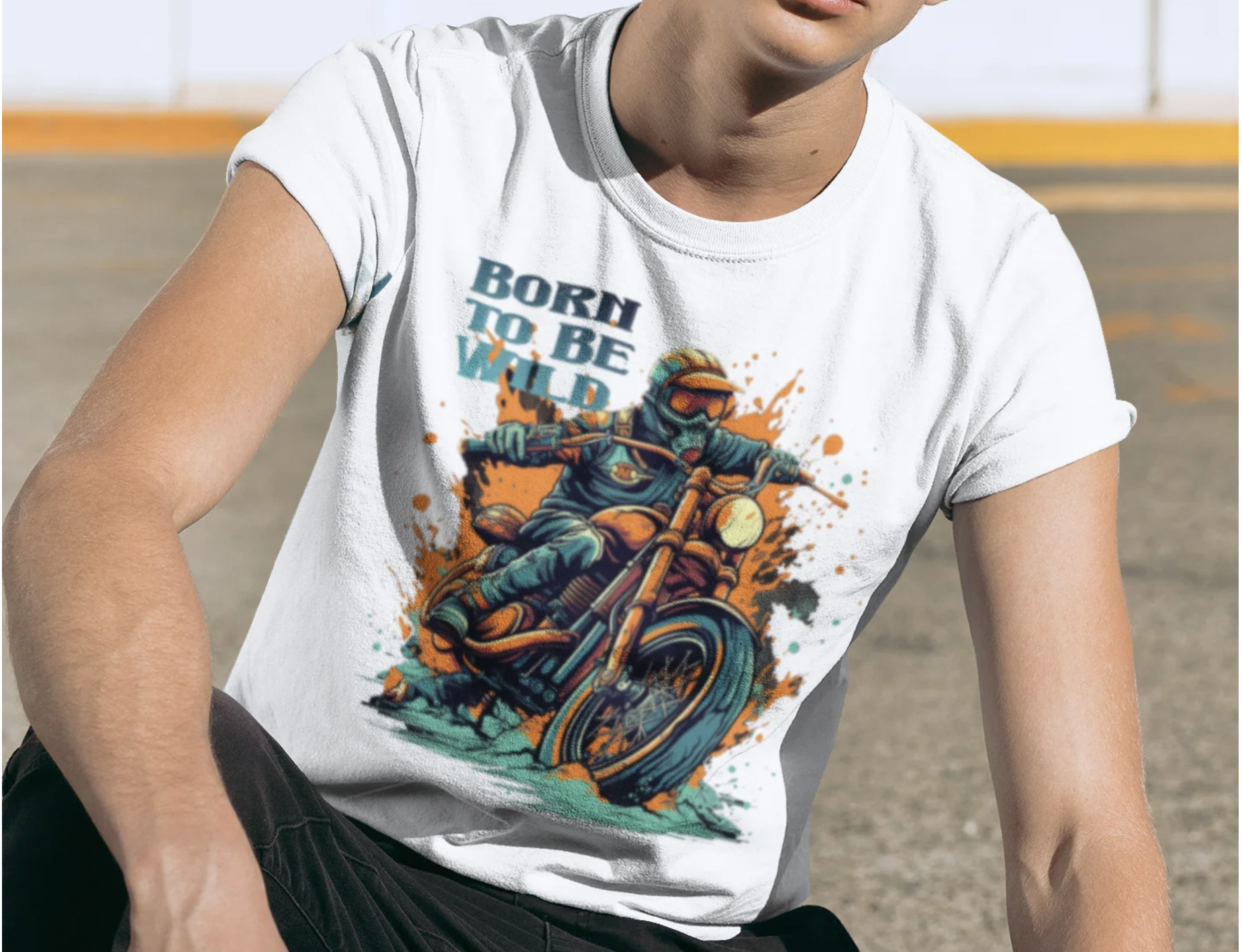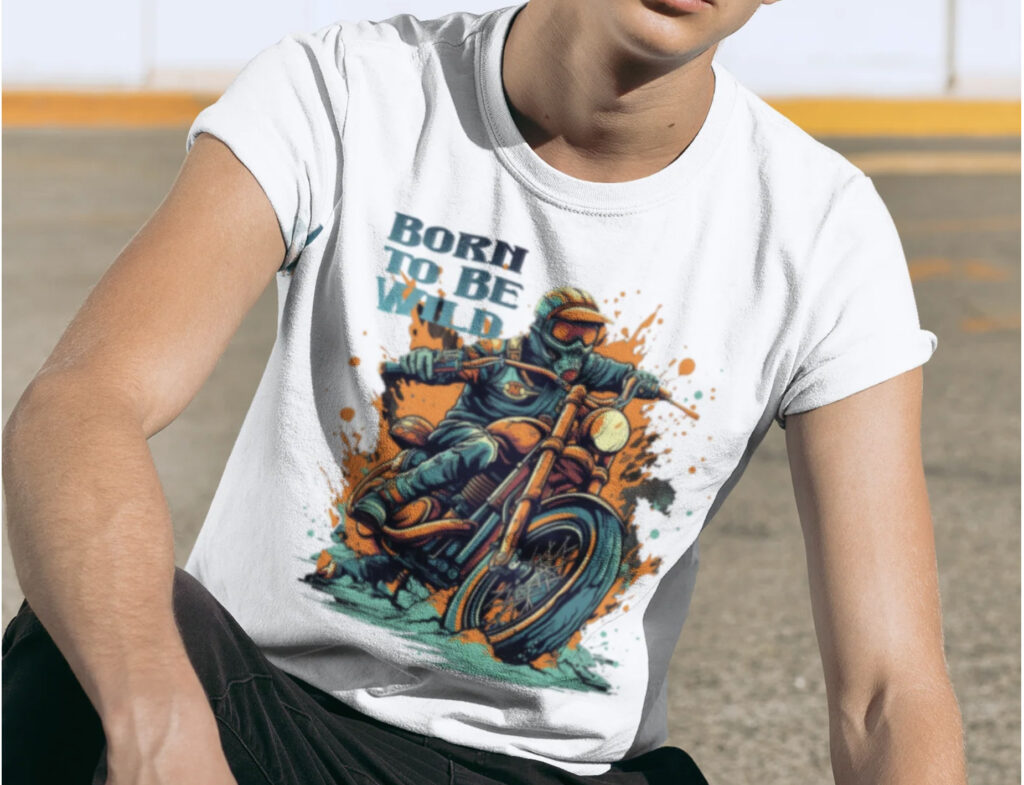 Fuel your enthusiasm with the Fueling the Enthusiasm motorcycle t-shirt design ideas. This combines flair and speed in an explosive fusion. This design is a tribute to the driving energy that fuels your passion for motorcycling – a burning urge to push the gas and pursue the horizon. This t-shirt depicts the adrenaline rush that comes with every ride, acting as a continual reminder to enjoy life at full throttle, with dynamic images and powerful typography. Wear your enthusiasm on your sleeve with this design, demonstrating to the world that your love for motorcycling is as unyielding as the power that powers your two-wheeled vehicle.
Ride or Die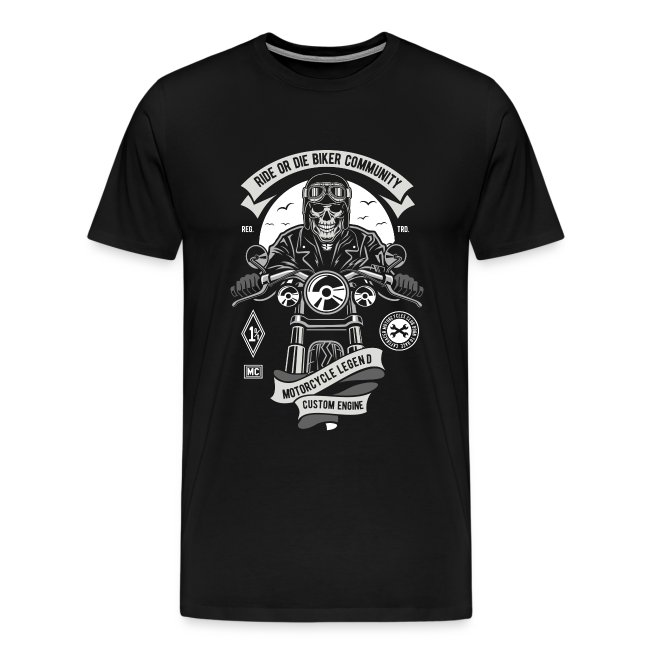 The Ride or Die t-shirt design honours the unshakable links of the motorcycle brotherhood, where loyalty and togetherness take centre stage. This design depicts bikers' unwavering devotion to one another – a promise to stick together through thick and thin. This t-shirt, with its powerful visual image of unity, represents the unwritten contract of support and brotherhood that exists among the bike community. Wear this design with pride, knowing that you are part of a family that rides together, establishing unbreakable relationships that stand the test of time and distance.
Design and Sell Custom T-shirts With Blinkstore
Now that you know some of the best Biker T-shirt Design Ideas, you can now use your imagination and create your custom t-shirt online and gift them to yourself and your fellow riders. You can also use your designs in different items and sell them online to other riders or communities. And guess what, it doesn't even require significant investment and anyone can do it. Excited already?
You can use Blinkstore, one of the most popular print-on-demand platforms for bringing your graphic t-shirt design ideas into reality. But don't assume that Print on demand is only possible with only t-shirts. In fact, on Blinkstore we do print-on-demand for more than 30 products including t-shirts, hoodies, sweatshirts, crop-tops, crop hoodies, bottles, coffee mugs, posters, cushion covers, mobile phones, etc. So you can start your t-shirt store, and as it starts doing good sales, you can launch many more products on Blinkstore's storefront which will be provided to you for free! Let's take a step-by-step process on how to do this.
Step 1: Use Blinkstore to create a free t-shirt store
Sign up with your Google account at the seller.blinkstore.in. There is no need to remember a password. Select "New Store" from the "Create +" menu. Select a name for your store that will also serve as the subdomain.
Step 2: Create t-shirts easily online.
Click "Add/Edit New Product" and then choose a t-shirt to design. Upload your Canva or Photoshop designs with the simple t-shirt editor. Position the design and choose a t-shirt colour. Set the t-shirt's title, description, and profit margin. The cost of shipping is included in the base price, and Blinkstore handles printing and shipment.
Step 3: Begin selling t-shirts online.
Put your t-shirt designs for sale at your store. Start making money from sales by promoting your t-shirt company online. Don't forget to withdraw your profits as well.
You can also use Mockey, an AI-Powered platform to generate high-definition mockups for free and get a more clear picture of how your design will look in real-life scenarios.
FAQs
Which is the best biker t-shirt design idea in 2023?
Because each design portrays a unique facet of the motorcycle lifestyle, the greatest a biker t-shirt design idea in 2023 is subjective and depends on individual preferences. However, these are the top trending biker t-shirt design ideas:
1. Roaring Thunder
2. Road Warriors Unite
3. Vintage Rides
4. Rebel Souls
5. Born to Ride
Where can i design my own biker t-shirt for free?
You can use blinkstore to design your own biker t-shirt with free tools and templates, allowing you to personalise it to your satisfaction.
Which design works the best for a biker t-shirt?
A biker t-shirt design that expresses the rider's individuality, passion, and connects with the motorcycling community, such as designs highlighting iconic symbols, motorcycles, or themes of unity and freedom, works well.
Conclusion
Finally, these biker t-shirt design ideas capture the spirit and essence of the biker community, honouring the passion, unity, and rebellion that make this lifestyle so unique. Each t-shirt gives a distinct expression of uniqueness and affiliation, from the exciting Roaring Thunder design that embraces the force of the road to the timeless elegance of Vintage Rides. So, whether you're kindling your fire with Fueling the Fire or embracing unbreakable relationships with Ride or Die, these designs serve as a canvas that allows you to wear your heart on your sleeve, making you feel more alive.