In India, selling art online is a fantastic method to have your work seen and gain some cash. It is a viable means of earning additional income or perhaps a full-time position. Artists now have the ability to display their work without having to travel and personally interact with purchasers thanks to online art sales. Directly, as long as an artist has internet access, they can sell their work from anywhere in the world.
Additionally, unlike traditional art sales, these exchanges happen instantly and don't require the artist to open up any physical store. This article will show you the ropes on how to sell art online and make money in India.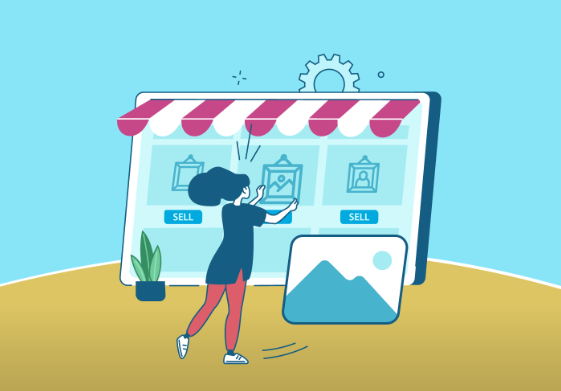 Table of Contents
Introduction
Art is everywhere, which could pose a problem if you want someone to notice yours. At the time, being an artist was an underpaid and ungrateful job for many. Only a select few who were lucky enough to get their art and talent recognized could make it big in the industry, and their names are being spoken of to date. But thanks to the internet, things have changed a lot.
Through the internet, now you can quickly sell art online and make money in India. There are many platforms and ways where you can use your skill and designs to create your identity as an artist and make your place in people's hearts. So if you are also an artist and looking for how to sell art online and make money in India, you have come to the right place.
How Do You Make a Sellable Piece of Art?
Make an artwork that others will want to speak about.
Make your artwork more lively.
Produce more subject-related content
Always consider what people desire.
Select popular genres, themes, subjects, and mediums.
How to sell art online and make money in India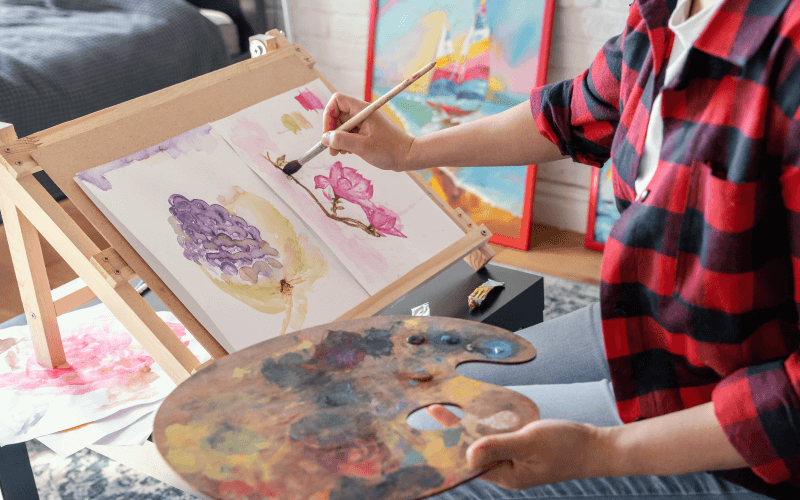 Selling your creativity is never a cakewalk. You have to work hard toward developing a skill, and it takes years of practice to master the art. There are several ways to sell art online and make money in India:
Create an online portfolio
To display your artwork and share details about your art and creative process, you can make a website or online portfolio. Potential customers will find it simple to learn about your work and get in touch with you.
Utilize social media sites
To promote your artwork and connect with a larger audience, use social media sites like Instagram, Facebook, and LinkedIn. To gain a following and draw in potential customers, utilise pertinent hashtags and interact with your fans.
Sell your artwork on online art marketplaces
There are many print-on-demand websites where you can sell your art and designs and earn commissions from selling them. You can create a store on these platforms, advertise your artwork for sale, and manage all the transactions.
Sell your artwork using online galleries
You can sell your artwork to collectors and art aficionados by using online galleries like Artloop and Artsy, which can help you reach a global audience.
Sell through your own online store:
You may use Blinkstore to create your own online store. This will give you total control over the sales process and enable you to interact directly with your clients. Here you can showcase your artwork on wall posters and 30+ variety of print-on-demand products and start selling it at their own profit margins across India.
This allows them to sell their art online and make money in India. It doesn't matter whether you are an artist or an influencer or a corporate company owner, you can make your online store for free and sell your products online. In order to successfully sell your art online, it's critical to have solid marketing and promotion activities, clear pricing strategies, and high-quality photographs of your artwork. A clear return policy and a selection of payment choices may also be advantageous.
8 steps to sell your art online and make money in India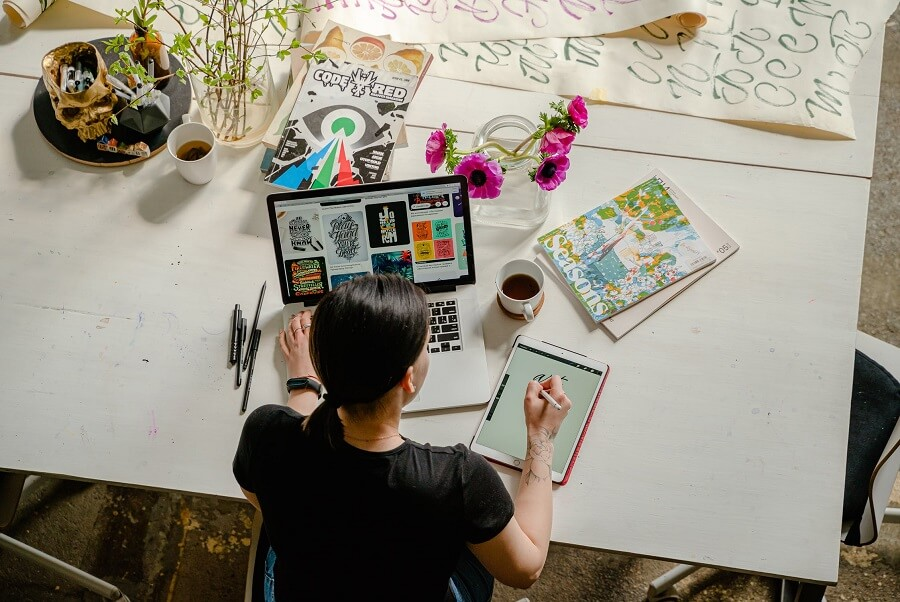 When you sell art online, whether it is your client's or your own, you will quickly discover multiple customers. The difficult aspect is identifying the proper kind of clients and developing your own brand for long-term commercial success. You may successfully start your business and sell art online by following these best practices. These steps also cover steps for selling art online for beginners.
1. Determine the type of art to sell
So, once you've decided to sell art on the internet, you need to figure out if you want to sell your own artwork or represent another artist's work. You might get confused about selling conventional or digital art. Therefore, you must first decide what type of art you want to sell before you begin. Mostly there are two types of work that you can sell online to make money. The first one is to sell your original content and the second one is to curate and sell other artists' work.
Let's talk about each one of them and then you decide which one you want to go with.
Selling original artwork: Given that you are an artist, this is certainly the easiest and most convenient alternative for starting an art business. It is usually easier to depict your own artwork than it is to represent someone else's. When it comes to selling art online, this is your competitive advantage. The next step is to develop your own distinct style and apply it to create absolutely one-of-a-kind and soulful artwork.
Selling other artists' work: If you have the artist's permission, this may be a valuable business venture. Selling other artists' work is simple if you've met all of the legal criteria. You will be representing their work to all possible consumers, and if a sale is made, you will be paid a commission on the sale. If you decide to become an art agency, representing more than one artist will be far more beneficial. This allows you to give your consumers more options for the subject, type, and genre of artwork.
This step is very crucial for anyone who wants to sell art online and make money in India.
2. Research the potential market and growth
So, once you've determined what kind of art to sell online, the next step is to research your target market. In history, art can only be afforded by the rich and higher class people but not anymore. Those days are gone and now everyone who has an interest in art can easily buy things from their favourite artists. Today, there are several artists, and diverse types of art at various price points, and countless purchasers are eager to purchase the artwork with which they feel a connection.
As per sources, these days, people are mostly buying art to decorate their living places or to motivate themselves. It is common knowledge that consumers looking to buy art as an investment will prefer fine art over digital art or illustration. You can quickly identify the correct kind of purchaser for your artwork if you have a thorough grasp of it. All you have to do now is match your art with the proper purchasers depending on their motives. This way you can have potential clients to sell art online and make money in India.
3. Create your existence on the Internet
Now that you have decided what to sell and to whom, you need to establish your existence on the internet in such a way that customers can go through your collections and connect with you at ease. A website can be a great option but it requires a good amount of capital and time to design. So if you are not willing to spend a lot of money building a website and want to focus on your products and customer satisfaction, an online store would be the best option for you.
There are not many websites that offer it's users to create an online store and list their designs and ideas for free. Such features require a premium subscription which a newcomer might not afford. In such cases, Blinkstore is a blessing for all. At Blinkstore, you can easily create your online store and list your designs on wall posters. You can also control the margins at which you want to sell your art pieces. All the hard work will be done by Blinkstore including printing, packaging, and shipping and you earn your profits by posting your designs and artwork. That is one of the best ways to sell art online and make money in India.
4. Explain the significance of your artwork.
Not everyone trying to buy art online is well-versed in the subtleties of art. The majority of them are merely looking for something that attracts their attention. Some people, however, do not absorb random art. They are interested in the story behind the artwork as well as the artist's history. According to a survey, roughly 58% of online art purchases are driven by the story behind a specific piece of art, while 42% are influenced by the artist's story and history. If you want to attract the proper buyer, you must talk a lot about your artwork on your internet store.
Use the product description section to provide information about the artwork and its price. Instead, go all out and describe why you created the artwork, the colours you used, the techniques you used, and so on. Make sure you utilise appropriate keywords, alt tags, and meta descriptions.
5. Set reasonable prices for your art piece
The price of an artwork is heavily influenced by whether it is sold in a primary or secondary market. When selling unique artwork, whether your own or for another artist, a lot goes into determining the price. Aside from the painting supplies, you should think about how much work and time went into the artwork. Because it is unique, the increased price is entirely deserved.
Shipping expenses are another significant issue to consider when pricing your artwork. If you charge a hefty shipping fee, your buyers will be put off and may opt not to purchase your artwork. Instead, add the shipping fees to the price of the item. So keep these things in mind if you want to sell art online and make money in India.
6. Become the social bird (Participate in Art)
According to a poll, one in every two consumers uses Instagram to discover new brands, goods, and services. That is the amount of visual content that users consume on social media every day. Instagram, in particular, which is entirely image and video-based, is the perfect location to market your artwork. You can use social media to generate a following for your artwork as well as your brand by creating a variety of material around it. Don't only settle for some high-quality images for your artwork. Think beyond sales and develop content to generate interest in your artwork.
You can make a behind-the-scenes film of yourself producing your artwork or a movie discussing the narrative behind it. Make sure the content you upload on social media is relevant to your business and stays on brand. When it comes to creating a following for your art business, consistency may also be quite beneficial. You are not required to publish every single day. Maintain constancy, even if it is only once a week.
7. Collect reviews from your buyers
Once you have started selling your designs and art to customers it is very essential in the future to collect feedback to sell art online and make money in India. This feedback and reviews will not only tell you about the improvement possibilities but will also help gain the trust of new buyers who can buy stuff from you based on the reviews of other customers. So it is always advisable to collect feedback and act accordingly.
8. Develop additional revenue sources
If you've completed all of the preceding steps, you might think this section is a little off-topic. However, it is a critical stage that must be addressed or this guide will be incomplete. We're sure you've heard the expression "don't put all your eggs in one basket." This is a piece of advice that has been passed down through generations to warn people against concentrating all of their efforts in one area. It is possible to gain a lot, but it is also possible to lose everything!
This is also true for your art business. If you have developed an online store to sell your artwork, it is a terrific option that may also be quite successful. Don't stop there, though. As an artist, you can earn money in a variety of methods other than via the sale of your artwork. Some other ideas to sell art online and make money in India are:
Create Customised print-on-demand products
Take up other commission jobs
Start teaching your skills online
Take part in events and competitions
Frequently Asked Questions
What are the ways to sell art online and make money in India?
In order to sell art online and make money in India, you need to follow the following steps:
1. Determine the type of art to sell (selling photos online).
2. Research the potential market and growth
3. Create your existence on the Internet and showcase your art piece via the online store
4. Become a social bird and collect reviews from the customers
5. You can also learn how to sell paintings online on amazon.
Is an online store effective to sell art online and make money in India?
Opening an online store and showcasing your artwork there can be a great way to sell art online and make money in India. You can visit Blinkstore to create your own online store for free.
What are some art-selling websites where I can sell paintings online free of cost?
If you want to showcase your art and paintings and sell drawings online for money, then you might visit these websites:
Blinkstore
Artloop
Artsy
Conclusion
Finally, it can be concluded that to sell art online and make money in India, you need to have proper planning. From choosing the right art to selecting the right customers, everything should be handled smoothly and the quality of the art must not be compromised by any means. If you are able to sort these things out then probably you might become quite successful in a few years. Hopefully, after reading this article, you are clear about how to sell art online and make money in India.