On one hand, it's nice to just see your name or your band's name on a T-shirt or a mug on its own, but on the other, and more importantly, merchandising can be one of the more important things that you can invest in as an artist. In this article we will discuss how you can easily setup a free merch store for your brand along with some additional tips to grow your business in a rapid manner.
Table of Contents
Introduction
It's no secret that record sales have been declining for some time, leading to better deals with record companies and thus lower artist income. But merchandising has been a steady source of income for groups for decades, even with skyrocketing sales.
In addition to increasing your sales, having cool items your fans want to buy also enhances your group's image and helps promote your name to more people.
First, let's get into why you should set up a merch store for your brand.
1. More Money!
The most obvious, yet the most lucrative reason for you to have your own merchandise store is all the extra money you can make from it.
2. Free Advertising
When a fan buys a T-shirt with your band's logo, they are actually paying to promote your band. When a fan wears your merchandised t-shirt, anyone they come in contact with during the day can read your group's logo. That also stands true for anything else you choose to put your name on.
3. Build A Community
While the biggest bands obviously don't sit at their own sales counters, they can very well take the opportunity to connect with your fans personally. When fans who are impressed with your music come back to buy CDs or T-shirts, you get a personal interaction with them that you probably wouldn't have otherwise. This allows you to build a close-knit community.
Now let's get to how you can set up a merch store for your band, absolutely FREE!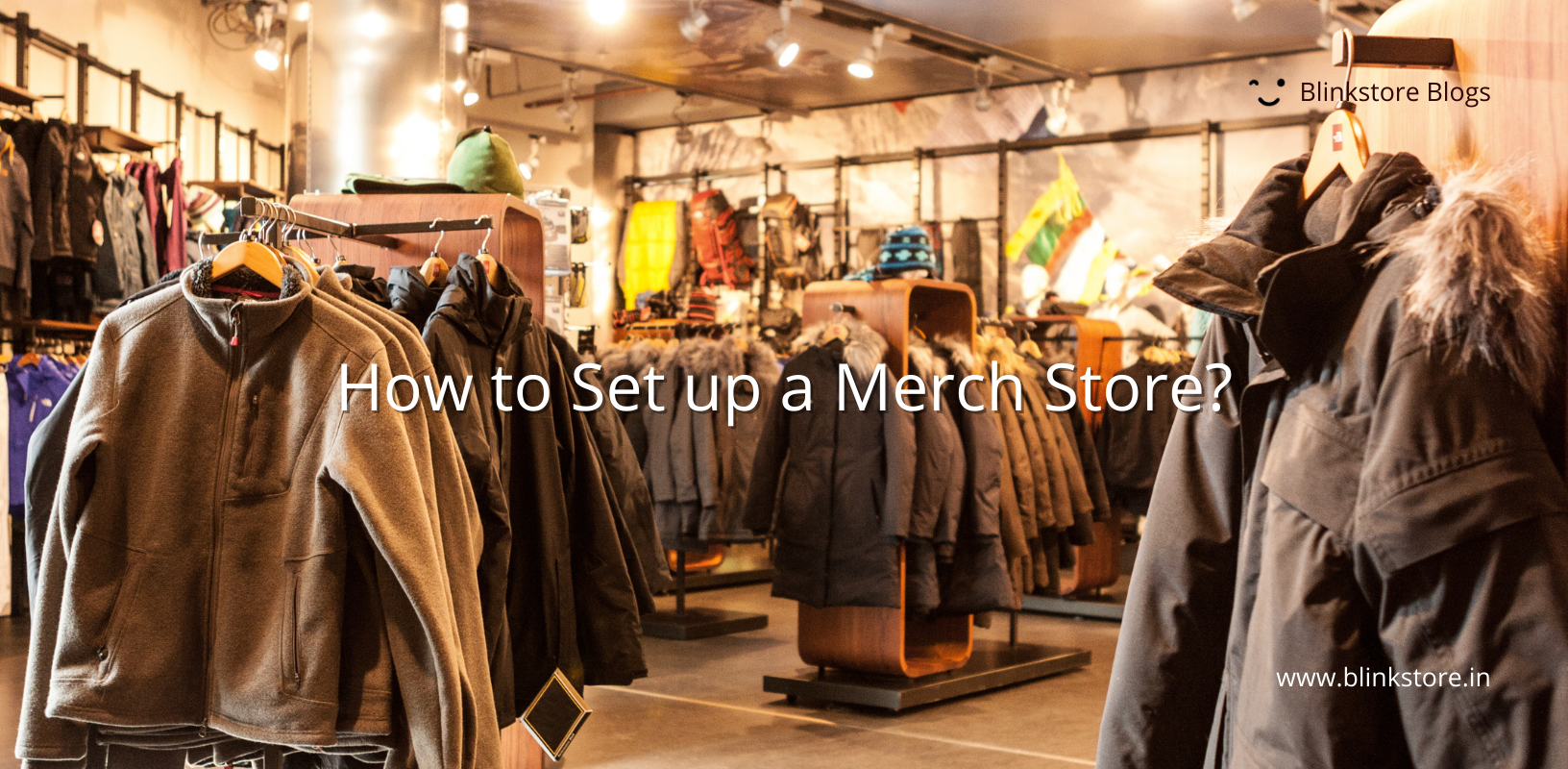 With the help of Blinkstore, setting up an online custom merchandise store for your band is insanely easy.
Step 1: Creating A Store
Name your store: This step should be fairly simple since your brand already has a name.
Pick your products: Blinkstore offers you a variety of different products to customize, so you can pick the ones that suit your band's requirements.
Step 2: List Products
Now that we have the name of your store and products picked, it's time to start listing your products.
Your unique logo will create a powerful first impression and result in higher sales of your custom company merchandise.
Pair your products with creative descriptions to encourage more engagement from your customers.
Step 3: Set Prices And Commission
Once you've figured out your designs, now you get to set the price of each apparel item on your online store.
Step 4: Spread The Word
Now that your product, design, and audience are finalized, it's time to spread the word.
Make sure your band's social media pages have your products showcased in a creative manner to generate buzz.
Use fun creatives and powerful copies to keep your customers interested.
Step 5: Order Samples
Order samples of all products to showcase among your team members.
Take feedback and make the necessary iterations to your products and designs.
Step 6: Promote Your Store
Once you've received the final approval on your newly created custom merchandise store, it's time to share it with your community.
For your customers, you might wanna use regular emailers with your online store as the landing page to drive sales. Other than that, you can use paid ads and even send out free samples with orders.
A few more points to keep in mind:
One sure-fire way to attract new followers and keep existing ones engaged is through presentations. Submit your personalized product's use case with compelling images and post it on all your social media platforms.
The best type of advertising strategy is an engagement circle. This means creating an ongoing cycle of interest, engagement, and shopping that draws in new leads.
The biggest power of social media is that you can clearly see how your customers are interacting with your content.
Engage your followers in two simple ways:
Request action – ask your followers to promote information on their profile, especially if they are making a purchase.
Photo Request – Create a custom hashtag and then ask your clients to post their photos using that tag. Ask for permission, then post your photo and publicly thank them. This is a great way to advertise your custom products.
FAQs
How to make a merch store for free?
You can visit Blinkstore and create an online store and make your own merch for free
What types of merch can I sell in India?
India has a diversified market which allows almost any business to thrive within it. But you must do your market research before entering into the business field.
Conclusion
Setting up a merch store with Blinkstore is quite easy. Hopefully, after reading this article you have everything you need to start your own merch business. So what are you waiting for? Visit Blinkstore and get started today!