If you're a mug enthusiast looking for great mug design ideas, you're in for a treat. This article not only contains 30+ mug design ideas suitable for every age group but also explores the diverse world of mug design, offering inspiration for various occasions and preferences
Table of Contents
Introduction
Mugs are versatile and classic gifts that can make anyone's day brighter. There isn't a shortage of creative design ideas, whether you want to create a small business selling customized mugs or simply want to present a lovely, unique gift. In this blog, we'll look at 30 distinct mug design ideas to help you become creative and amaze your family, friends, or customers.
If you are looking to sell your extraordinary design ideas, Blinkstore is here to help you. Blinkstore is an eCommerce store builder designed for selling custom-designed merchandise without the hassle of managing inventory and shipping logistics. If you want to create your own print-on-demand business with Blinkstore, check out the complete guide on How to Start a Print on Demand Business With Blinkstore. This might give you useful information for getting started on your entrepreneurial path.
Creative Mug Design Ideas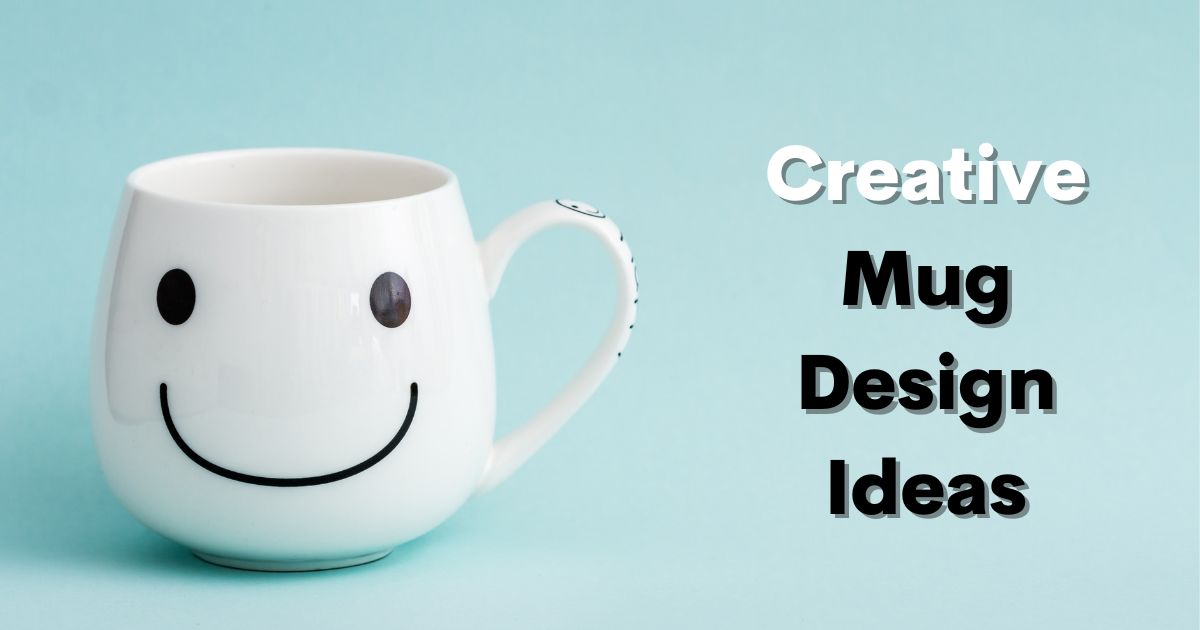 Creative mug design ideas encompass a wide range of themes, and these unique designs are here to complement your style while enhancing your overall beverage experience.
Watercolor Splashes
This marvelous mug design is reminiscent of a painting with colorful watercolor splashes in various colors. Each sip feels like a brushstroke of artwork, adding a little flair to your daily routine.
Abstract Art Mug
Every time you take a sip from this alluring cup, you'll be reminded of your creativity and imagination thanks to the compelling combination of vivid hues and flowing, abstract designs that appear to dance together. Artists and free spirits who value the beauty of limitless artistic expression in their daily routine will find it to be the ideal partner.
Colorful Illustrations Mug
This colorful mug design idea is an assortment of amusing and lively images, each of which tells a different tale and is bursting with color. You'll find new features and stories within this engaging design each morning, making your coffee or tea break a consistently enjoyable and inventive experience.
Ancient Symbol Mug
With this mug's fascinating ancient markings and hieroglyphics, you may travel back in time. For history fans and people who are interested in the mysteries of long-gone civilizations, each sign provides a feeling of intrigue and history, turning your sip of coffee or tea into a voyage into the intriguing past.
Wildlife Silhouettes Mug
With this classy mug design idea featuring amazing wildlife silhouettes, embrace the beauty of the natural world. The beautiful features of animals in their natural surroundings evoke a sense of peace and wonder against a background of gentle pastels. It is an absolute must for anyone who enjoys the outdoors and wildlife because each sip serves as a moment of communion with the wild spirit of the wilderness.
Line Art Mug
In this mug design idea with intricate line painting, simplicity and elegance coexist. The black lines dance across the surface, creating intricate patterns and motifs that are both delicate and striking. You'll recognize the elegance of minimalism with each drink, making this cup a classic option for admirers of understatement and minute details.
Simple Mug Design Ideas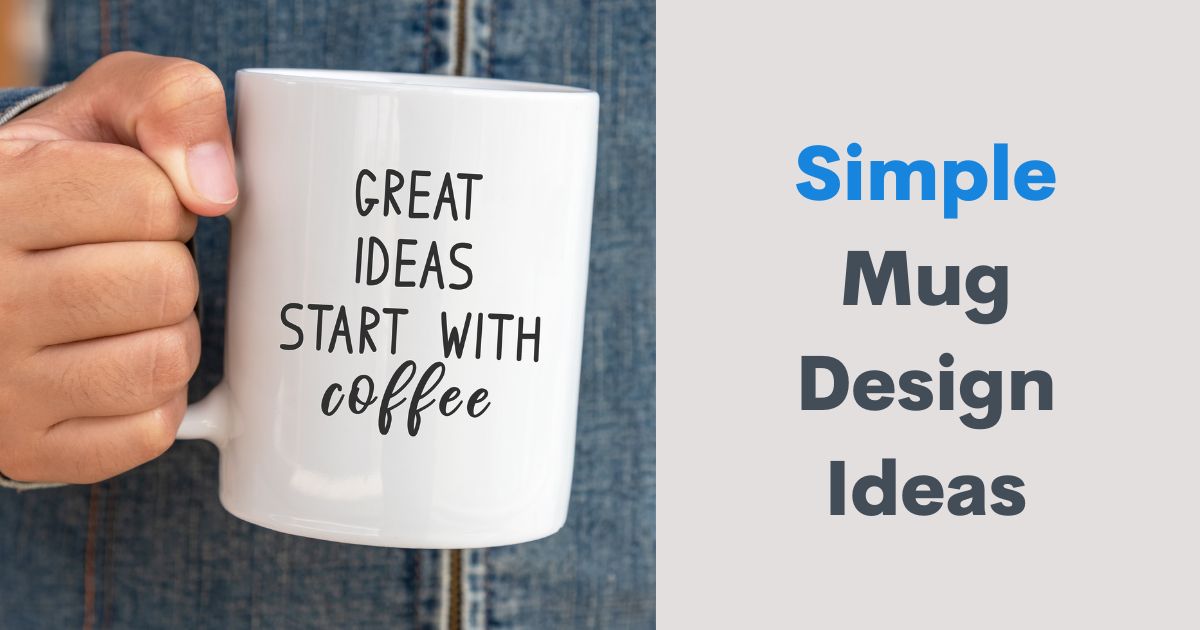 Simple mug design concepts are adaptable and may be customized to fit different tastes and situations. These classic designs are likely to find a place in many homes and hearts, whether you're making mugs for your use or to sell.
Minimalist Monogram Mug
With a simple monogram design, this cup radiates subtle elegance. Against an uncluttered, spotless background, your initials or a chosen insignia take center stage. It's a distinctive and fashionable way to drink your morning brew, making it an excellent option for people who value the elegance of simplicity and individuality in their daily routine.
Slogan
Display your individuality with a phrase mug that you can personalize. To start your day with inspiration or comedy, add your favorite catchphrase, slogan, or inspirational words. Making your mug as unique as your way of thinking is the ideal method to express your personality and make a statement while enjoying your favorite beverage.
Coffee Quotes Mug
With a mug with clever and inspiring coffee quotations, you can elevate your coffee break. Each sip becomes a time for meditation and joy, whether it's a wise coffee proverb or an amusing coffee joke. Perfect for coffee lovers who enjoy a little humor and wisdom with their beverage.
Entertainment Mug
With these unique mug design ideas, you can showcase your love for the entertainment industry. It is decorated with recognizable images from your favorite musical compositions, TV shows, and movies. Your coffee or tea break will become a sentimental journey through your favorite forms of entertainment as you'll be reminded of the musical and cinematic moments that have touched your heart with each sip.
Personalized Mug
With these mug design ideas, you can personalize with your priceless images, and you can make mornings even more special. This mug transforms into a treasured keepsake that lets you recollect with each sip, whether it be about family photos or memorable trips. It's the ideal way to begin your day with a warm reminder of the people and occasions that are most important to you.
Geometric Shapes
This mug features an eye-catching pattern of strong, dynamic geometric elements. Triangles, circles, and squares work together to produce an engaging visual rhythm. It is the perfect option for individuals looking for a contemporary and fashionable addition to their daily coffee or tea routine
Couple Mug Design Ideas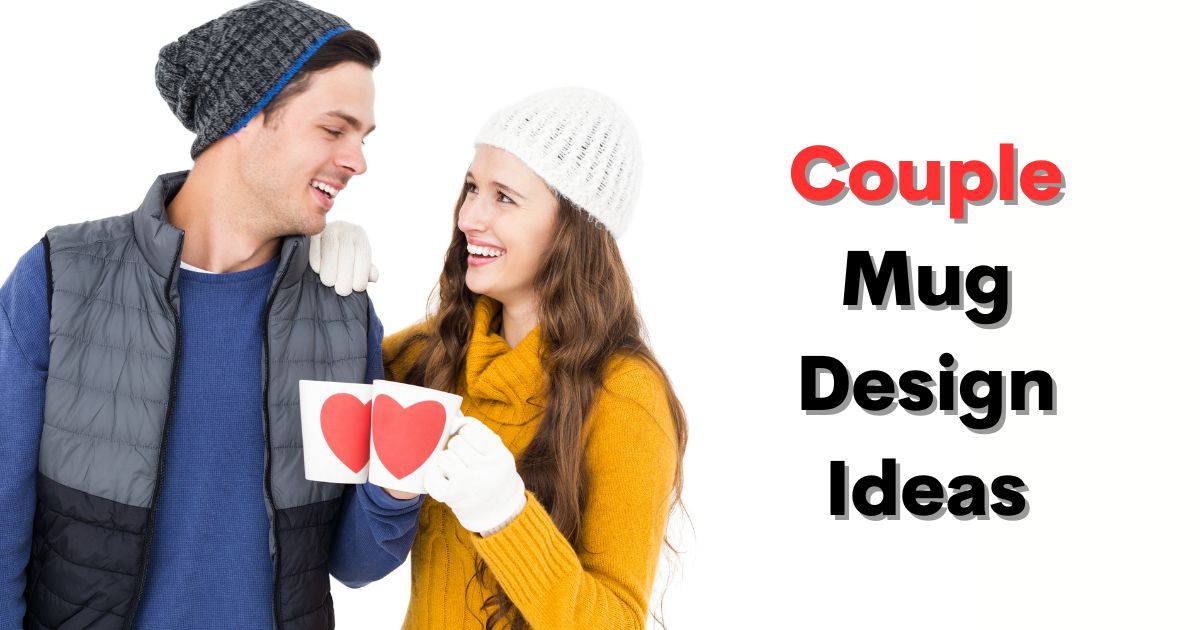 Couple of mugs with complementing or matching designs can be an enjoyable gesture to commemorate a relationship. Here are some couple design ideas
His and Her Mug Set
This adorable set of mugs is intended for couples and features "His" and "Hers" labels as well as complimentary designs or colors. They represent a specific bond between partners, making them perfect for sharing morning coffee or tea.
Couples' Initial Mug
Celebrate your love and commitment with a personalized mug featuring your initials intertwined in an artistic design. Whether it's your initials or those of a beloved couple, this mug symbolizes unity and affection
Love Notes Mug
Create an intimate and heartfelt experience with a mug design adorned with love notes. Each message, whether it's "I love you," "You make me smile," or a personal sentiment, adds a touch of romance to your morning coffee or tea.
Just Married Mug design
These mug designs include a classic "Just Married" sign as well as additional personalized details such as the wedding date and the couple's names. They're a heartwarming way for the newlyweds to enjoy their morning coffee or tea as they continue on their adventure together, and they also make lovely wedding or engagement gifts.
Quote Continuation Mugs
Choose a meaningful quote or phrase that continues from one mug to the other. For example, one mug says "You are my sunshine," and the other says "My only moonlight.".
Silhouettes Couples' Mug
Capture the romance of a lifetime with a mug adorned by silhouettes of the newlyweds. Against a backdrop of love and unity, these silhouettes depict the couple in a moment of embrace or a loving gaze, making each sip a reminder of their special bond.
If you're looking for creative ideas for couples' anniversary t-shirt designs, be sure to check out our blog on '15+ Anniversary T-Shirt Design Ideas.' We've curated a collection of over 15 unique and inspiring designs that are perfect for celebrating your special day in style.
Seasonal Mug Design Ideas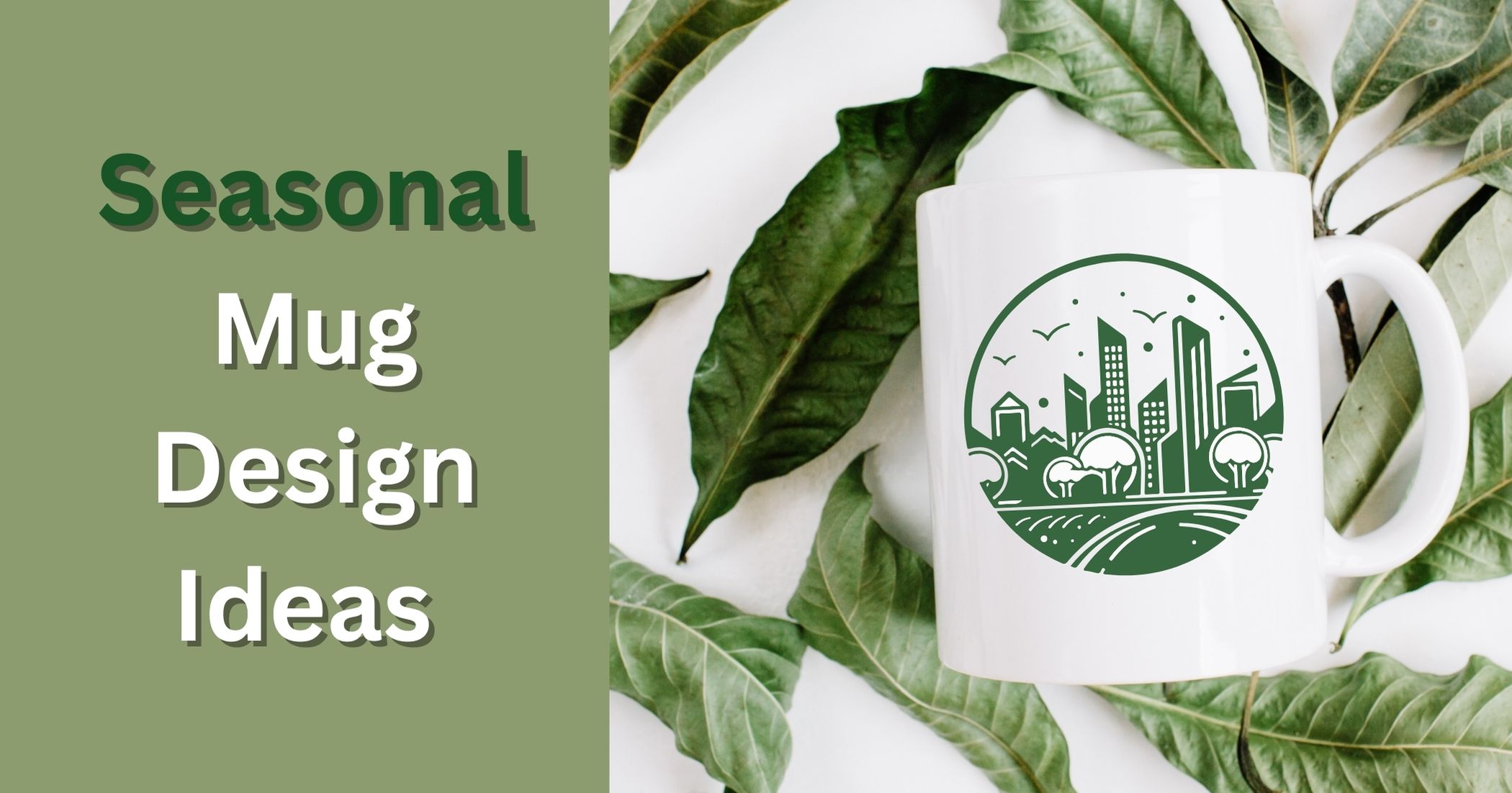 Here are some Seasonal Mug Design Ideas for special occasions
Valentine's Day Mug Design
These mugs are adorned with hearts, Cupid's arrows, and sweet messages, perfect for celebrating love on Valentine's Day.
Birthday Mug Design
Personalize mugs with the birthday person's name, age, and cheerful birthday motifs like balloons and cake to make birthdays extra special.
Chrismas Mug Design
These mugs capture the enchantment of Christmas with images of Santa Claus, twinkling lights, festive ornaments, and snowy landscapes, these mugs add a touch of holiday magic to your Christmas celebrations.
Diwali Mug Design
: These mugs are adorned with beautiful Diwali-themed designs, featuring intricate Rangoli patterns, glowing diyas, and vibrant colors that capture the spirit of the Festival of Lights
Halloween Mug Design
Get spooky with mugs adorned with witches, ghosts, pumpkins, and eerie landscapes, perfect for Halloween
Holiday Mugs
These mugs are designed to bring holiday cheer year-round, with motifs spanning Christmas trees, Easter eggs, Halloween pumpkins, and more. They're perfect for adding a touch of festivity to your morning routine, regardless of the holiday season.
Hobby Mug Design Ideas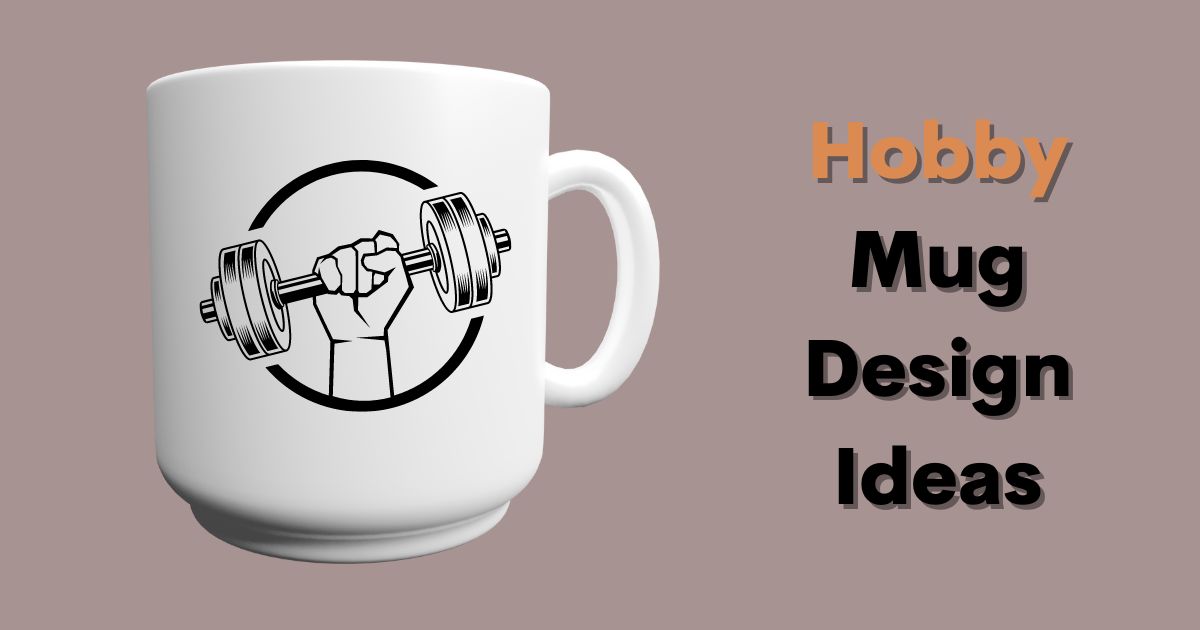 Here are some mug design ideas that are suitable for different types of hubby
Photography Mug Design
These mugs are a must-have for photographers and shutterbugs, bringing an aesthetic touch to their coffee or tea breaks while they reminisce about their best images and photographic trips.
Gym Lovers Mugs
Fuel your fitness passion with mugs that display motivational fitness quotes, dumbbells, kettlebells, and gym equipment. Whether it's for pre-workout coffee or post-workout protein shakes, these mugs provide the perfect dose of inspiration for gym enthusiasts who are dedicated to their fitness goals.
Bookworm Mugs
These mugs feature iconic book covers, and open pages, making them a reading delight. These mugs are perfect for bibliophiles, and offer a literary touch to morning reads or warm book nooks, enabling bookworms to immerse themselves in their favorite novels with each sip.
Travel Mugs
These mugs are a passport to adventure, showcasing wanderlust-inducing designs with world maps, iconic landmarks, and globetrotting quotes. Ideal for avid travelers, they offer a daily reminder of the thrill of exploration
Office Mug Design Ideas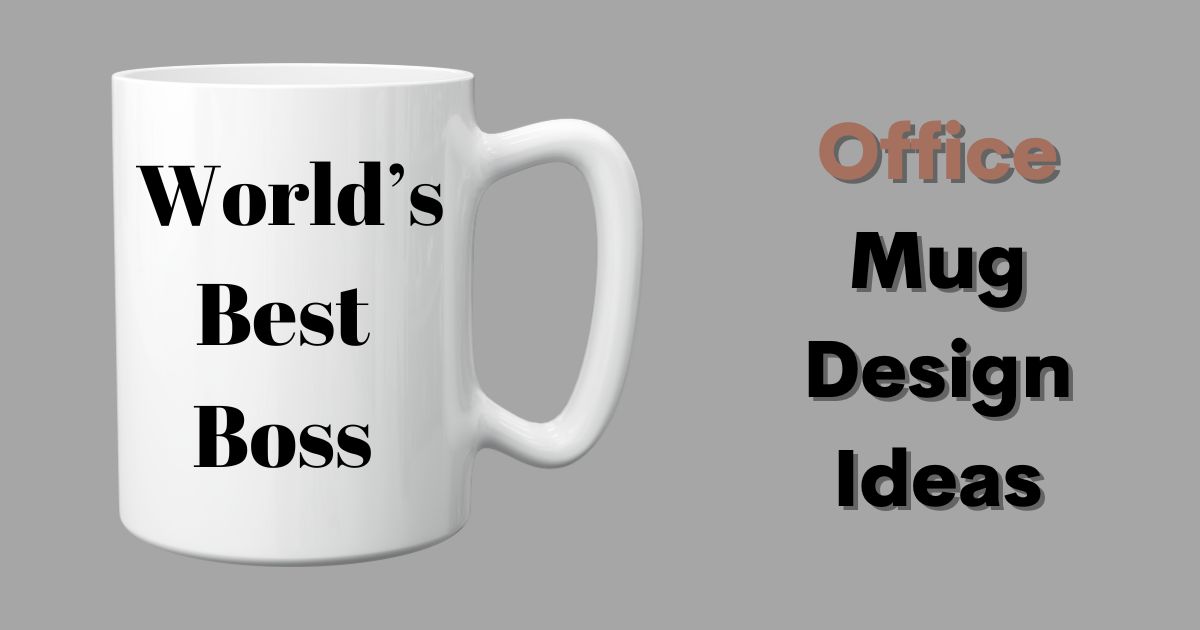 These mugs are designed for the workplace, featuring professional themes like office supplies, productivity quotes, and business-related motifs. They're the perfect companions for your daily coffee or tea at the office
Boss Mugs
Elevate your office presence with a mug that exudes authority. Featuring sleek and professional designs, these mugs are perfect for bosses, managers, and leaders. Choose from sophisticated patterns, motivational quotes, or customizable options to make a statement in the boardroom or during coffee breaks.
If you're a fan of 'The Office' TV series, why not humorously flaunt your managerial prowess with a mug that proudly declares you as "The World's Best Boss," inviting fellow fans to share a laugh and connect over your mutual love for the show.
Coders' Mugs
Elevate your coding sessions with a mug designed for programmers. Whether adorned with lines of code, witty coding humor, or binary patterns, these mugs are perfect for sipping Java while you debug, compile, and create in the world of programming.
Conclusion
Ultimately, the world of cup design is as large and varied as the tastes and circumstances for which mugs are used. There's a mug design option for everyone, whether you're a coffee addict, a gift-giver, or a creative entrepreneur.
Watercolor splashes, abstract art, and bright graphics may lend a splash of creativity to your daily routine. Minimalist monogram mugs and exquisite line art mugs add a touch of refinement to people who love simplicity.
Couples can commemorate their love with his and her mug sets, engraved initials, or love notes mugs, with each sip serving as a reminder of their particular bond. Seasonal mugs provide a festive touch to occasions such as Valentine's Day, birthdays, Christmas, Diwali, Halloween, and others.
Hobby mugs cater to photographers, gym goers, bookworms, and travelers, increasing their passions and hobbies during coffee or tea breaks. In the working environment, boss mugs and coders' mugs add a sense of authority and comedy, respectively.
Are you excited about the mug design ideas mentioned here and eager to see how they would look in reality? Mockey AI has you covered with their Free Mockup Generator. With over 1000+ templates to choose from, you can bring your mug design ideas to life and visualize how they will appear in the real world.
If you're interested in learning how to create a product using Mockey AI, I recommend checking out their comprehensive guide titled '5-Step Guide On How To Create Product Mockups Using Mockey.' This guide provides detailed instructions and insights on the process, helping you enhance your skills in creating stunning product mockups
Whether you're making mugs for yourself or to sell, these mug design ideas can help you get started. Remember that a well-designed mug can brighten someone's day, elicit emotions, and serve as a treasured keepsake. So, go ahead and explore the world of cup design to add joy and originality to your daily rituals and those of others. Cheers to the art of sipping with style!
FAQ
Are these mug design ideas suitable for all types of mugs?
Yes, these ideas can be adapted to various types of mugs, including ceramic, porcelain, glass, stainless steel, and travel mugs. The key is to choose the right printing method and materials for your chosen design.
How do I personalize a mug with my images or text?
Many custom printing services allow you to upload your images and add text through their online design tools. You can also work with a local print shop or graphic designer for a more personalized touch.
What are some classic mug design options for everyday use?
Classic mug design ideas option include solid colors, simple patterns (like stripes or polka dots), and timeless themes like nature, animals, or inspirational quotes.
Where can I get my custom mug designs printed?
You can get your custom mug designs printed through Blinkstore, a renowned company specializing in mug design and printing services. Blinkstore offers a range of customization options, high-quality printing methods, and a user-friendly online platform for designing and ordering custom mugs. Visit the Blinkstore website for more details on their services and pricing.
What are some unique designs for gamer mugs?
Unique gamer mug designs often feature popular video game characters, pixel art, or humorous gaming quotes. Websites specializing in gamer merchandise often offer a wide selection.
What are some popular themes for custom mugs?
Popular themes for custom mugs include family photos, inspirational quotes, hobbies like gaming or cooking, holiday designs, and special occasions like birthdays and anniversaries.
How do I choose the right image mug design ideas?
Select an image or design that holds personal significance or resonates with the recipient's interests. High-resolution images often produce the best results.
Can I order custom mugs as gifts for friends and family?
Yes, custom mugs make wonderful and thoughtful gifts for loved ones, offering a personal connection and a lasting memory.