Do you want to send someone on Snapchat a Pixar-like or cartoonified version of yourself? The adorable big eyes and little button-like noses are hard to ignore and easy to share. You can use these cartoon lenses to turn your face into anything from Anime-styled art to 3D animation. Today, in this article, we will discuss the easiest way to send a snap with the cartoon face lens to your family, friends and audience. Read on to know!
Table of Contents
Introduction
Sending a snap with the Cartoon Face Lens has quickly become one of the most entertaining and unique ways to add a whimsical touch to your Snapchat experience. With a single swipe, you can change yourself into a cute animated character thanks to innovative augmented reality technology. Previously, we talked about unlocking the Butterflies lens on snapchat but this lens has raised the bar for social media interaction by allowing users to express themselves in a humorous and inventive manner. Discover how easily you can send a snap that turns you into a live cartoon, creating fun and connection with your friends and followers like never before in this era of creative communication. Here is how you do it!
How to Send a Snap With The Cartoon Face Lens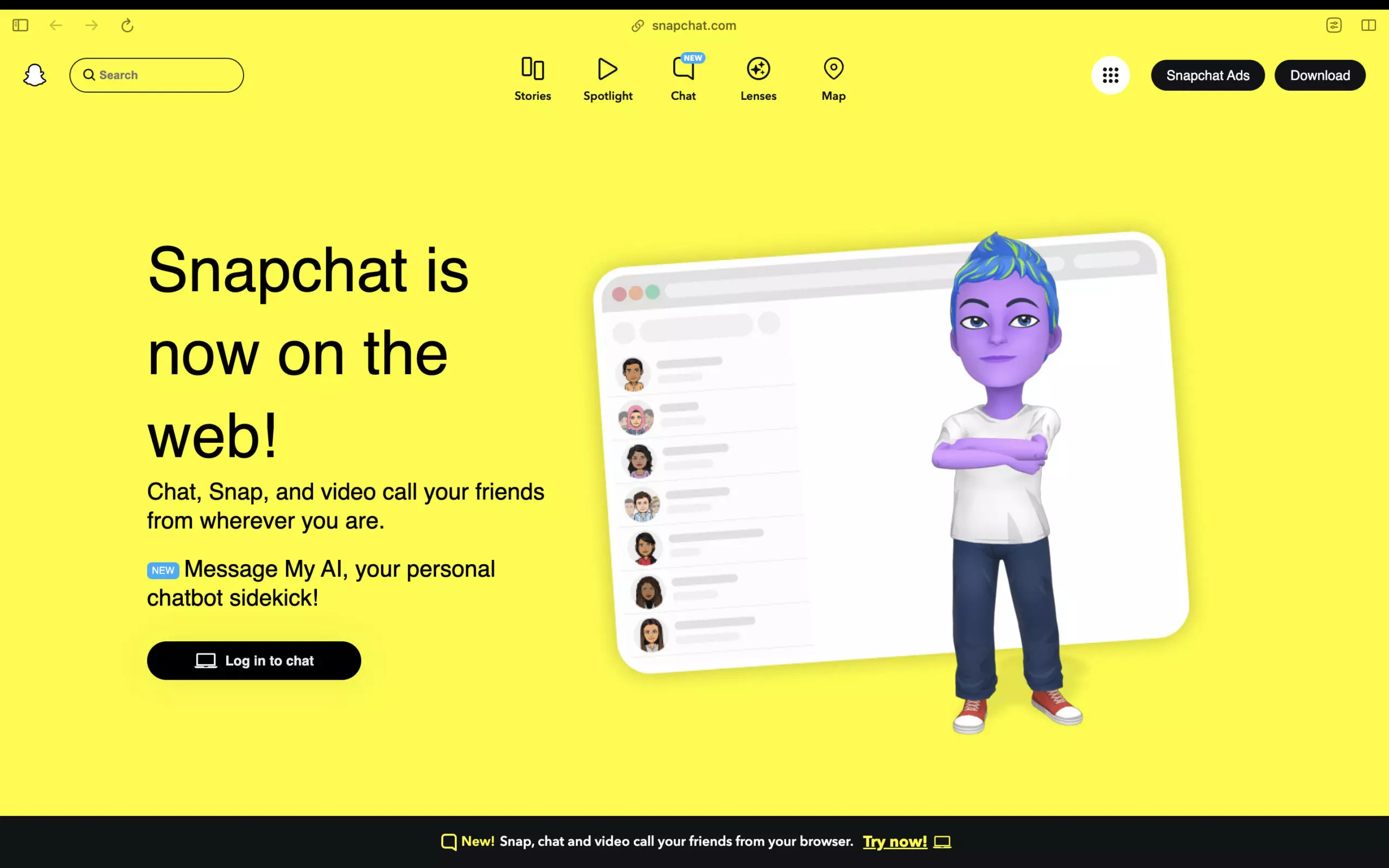 In order to send a snap with the cartoon face lens, you have to be a Snapchat user. If you already are a snapchat user then you can just download the Snapchat app from the Play Store or App Store and log in with your credentials. If you are new to snapchat, you can simply provide some basic details and register yourself into this social media platform. After you are logged in, here is a step-by-step guide to send a snap with the cartoon face lens:
1. Provide Access
To access your profile and camera, swipe left from the camera screen or tap on the profile symbol in the top-left corner.
2. Activate Lenses
Once the camera is open, use the front-facing camera to focus on your face. To activate the lens carousel at the bottom, tap and hold on your face on the screen.
3. Find the Cartoon Face Lens
Swipe your way through the available lenses until you discover the Cartoon Face Lens. It usually has an emblem that looks like a cartoon face or has a specific animation style.
4. Apply the Lens
Tap the Cartoon Face Lens icon to apply the lens to your face. In real-time, the lens will transfer the cartoon features onto your face.
5. Capture Your Snap
With the Cartoon Face Lens applied, you can now capture a photo or record a video by hitting or holding down the shutter button (for images) or the record button (for videos).
6. Edit If necessary
Before sending, you can add text, stickers, drawings, or other creative components to your Snap by touching on the corresponding icons on the screen.
7. Preview and Finalize
After you've captured your Snap, you'll be directed to the preview screen. You can email your Snap to specific friends, create groups, or add it to your Story from this screen.
8. Share your moments with your loved ones!
After you've selected your choices, touch the blue "Send" button to share your Snap with the Cartoon Face Lens and enjoy their reactions!
5 Most Popular Snapchat Cartoon Face Lens
Now that you know how to send a snap with the cartoon face lens, you should explore the different types of cartoon face lenses that are available on snapchat and are going viral! Here is an updated list of the most popular snapchat cartoon face lenses that you can consider exploring:
3D Cartoon Style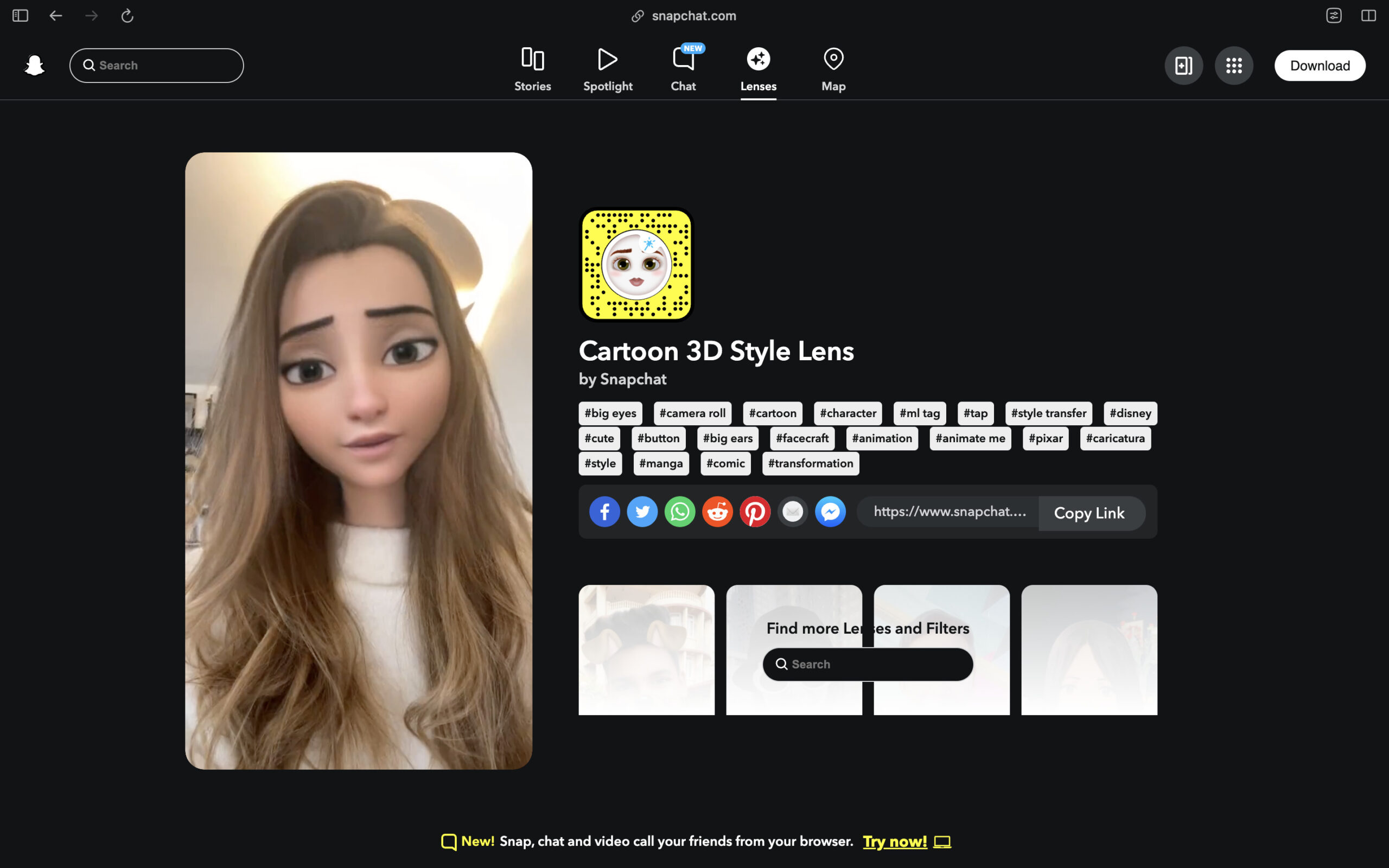 This lens offers you a cartoony 3D look with huge eyes, little noses, and exaggerated features. It is one of the most popular Snapchat lenses and many celebrities use it often!
Cartoon Kid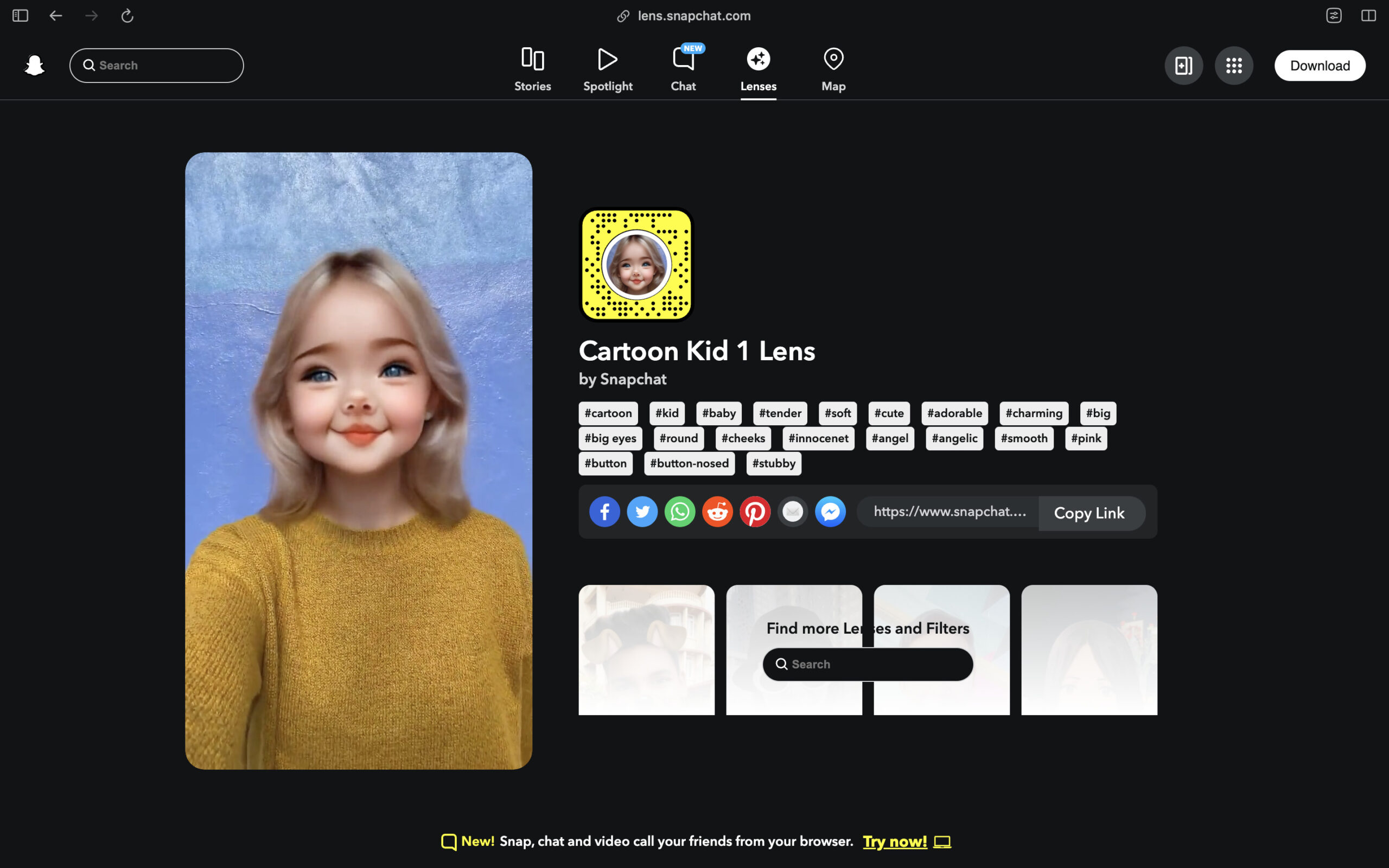 This lens transforms you into a cartoon character with wide eyes, round cheeks, and a little nose. It is a popular choice among younger users and is frequently used to make amusing or adorable photos.
Cartoon Animal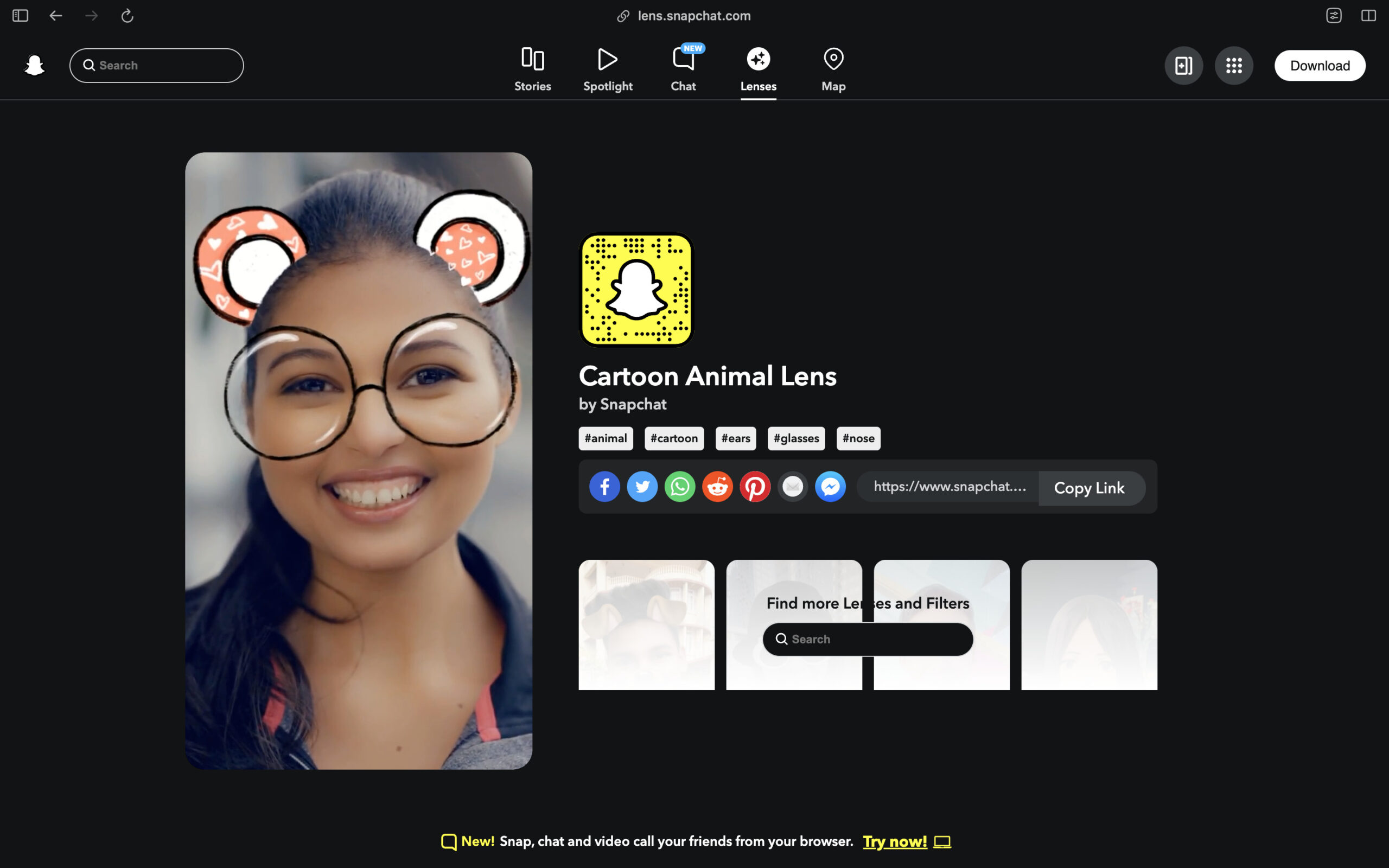 This lens transforms you into a cartoon animal, such as a cat, dog, or unicorn. It's a fun way to add some flair to your photos and may be used to commemorate holidays or special occasions.
Cartoon Avatar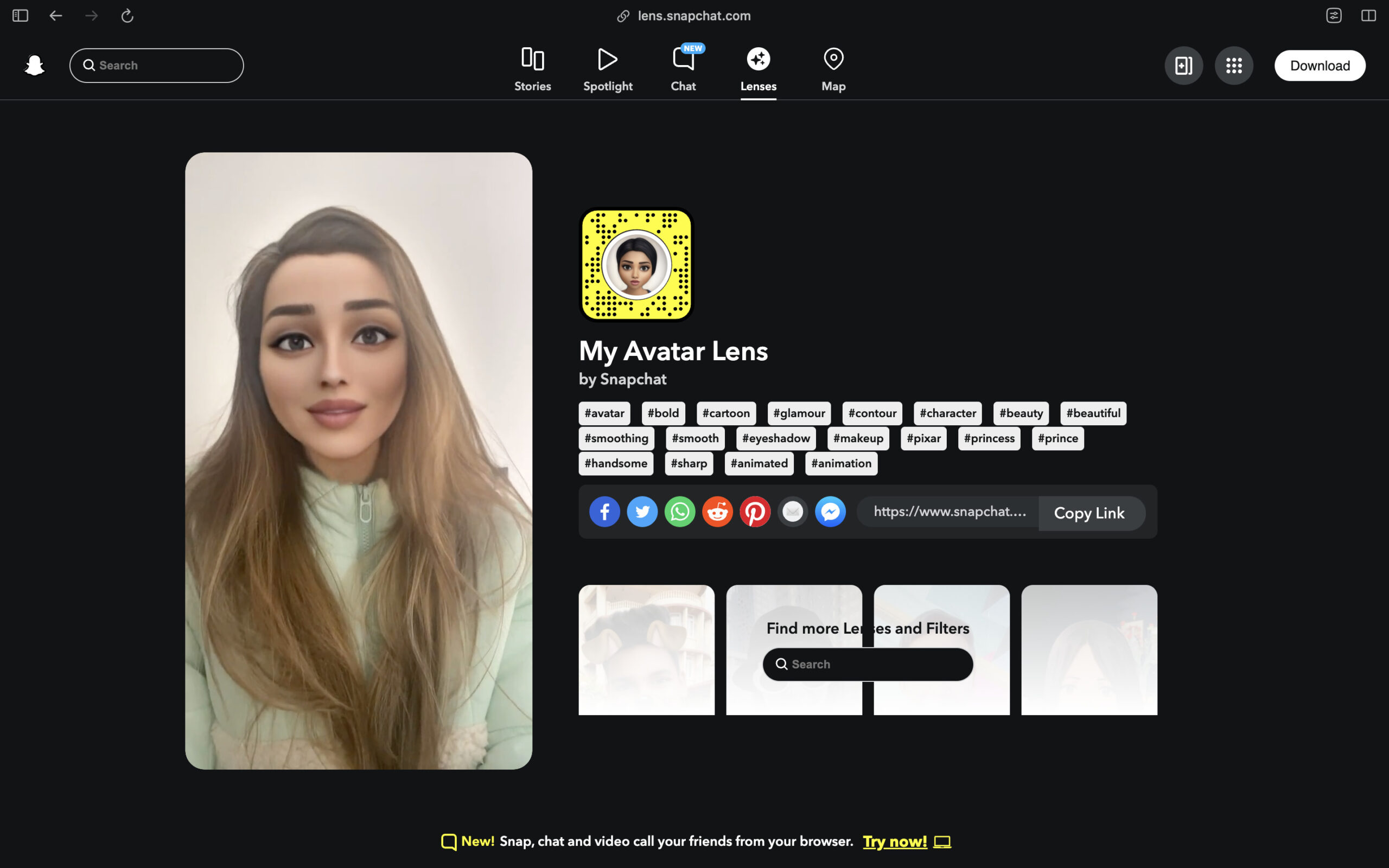 With this lens, you can design your own cartoon avatar. You may customise the lens by selecting your hair colour, eye colour, and skin tone, and it will generate a cartoon rendition of your face. This is an excellent approach to introduce yourself to your friends and fans.
Anime Style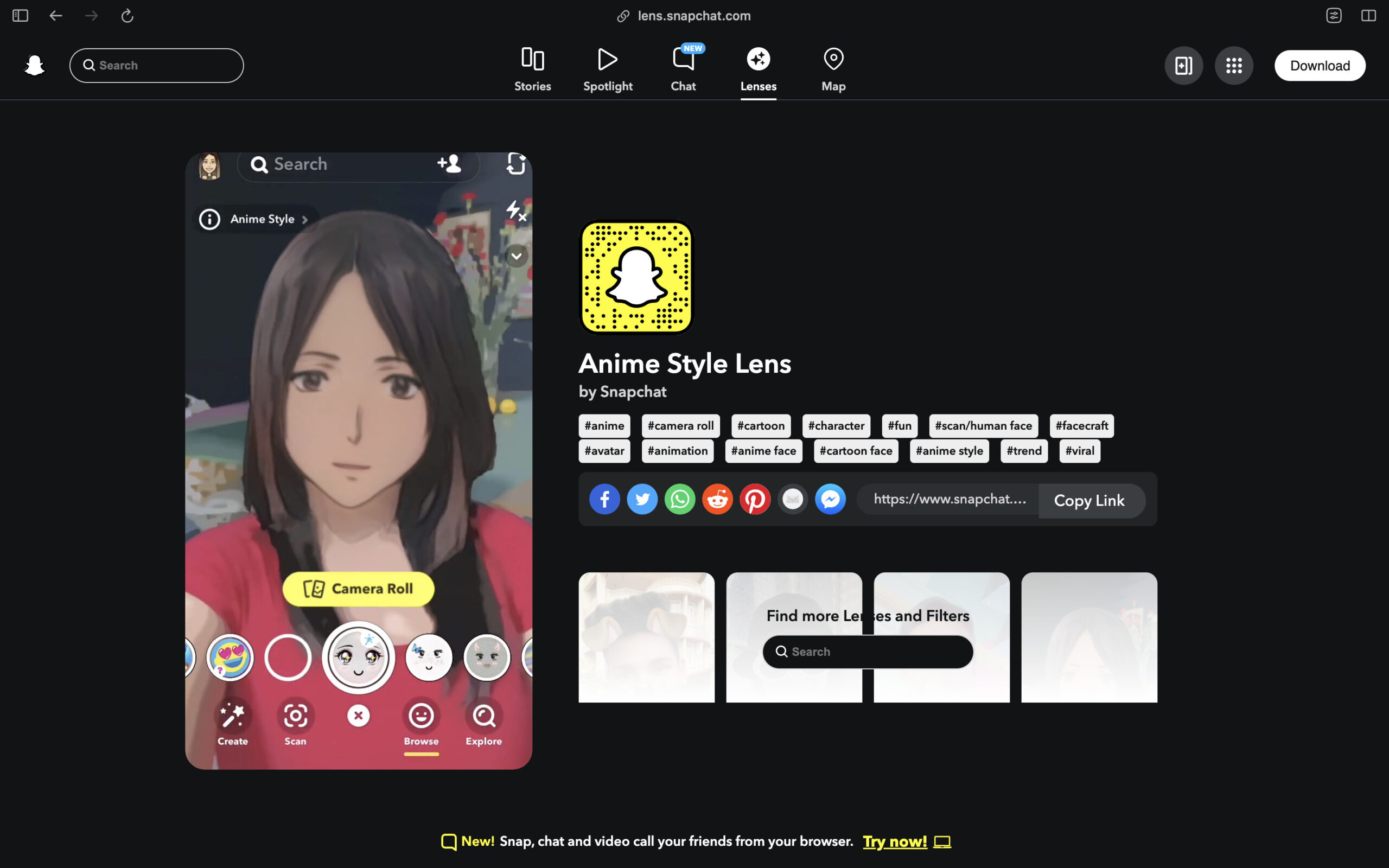 Snapchat's Anime Style is influenced by the animation style that developed in the East. The Anime manner Lens gives you a makeover in the manner of anime animation and tracks your expressions in real time. The filter has a lovely soft shading approach that is unexpectedly artistic and nearly hand-drawn. It's also fascinating to experiment with different expressions because they tend to completely modify your new anime self.
FAQs
What exactly are Snapchat Cartoon Face Lenses?
Cartoon Face Lenses are Snapchat filters that transform your face into animated cartoon characters.
Can I use Cartoon Face Lenses for snaps as well as videos?
You can use Cartoon Face Lenses on both images and videos to create visually appealing material.
What is the best way to locate Cartoon Face Lenses on Snapchat?
Launch Snapchat, focus on your face and scroll through the lens carousel until you locate a Cartoon Face Lens.
Is an internet connection required to use these snapchat lenses?
Yes, you will need an internet connection to download and use Snapchat lenses, including Cartoon Face Lenses.
Conclusion
Snapchat's Cartoon Face Lenses have developed as a dynamic method to transform your selfies into animated creatures in a world where digital expression meets creativity. From classic cartoons to superheroes and more, these lenses provide a creative and enjoyable way to interact with your friends and followers. With the lens carousel constantly changing, there's always a fresh cartoon experience waiting for you on Snapchat.