Explore the Hottest Tote Bag Design Ideas: Get Inspired by Creative Trends, and Stay Ahead of the Fashion Curve!
Table of Contents
Introduction
Tote Bags aren't only for carrying stuff anymore. They have evolved into a fashion statement. Unique tote bag design ideas may evaluate your style and make you attractive. In this post, We will explore the top 30 creative tote bag design ideas that will make you stand out. Read on to discover how to carry your fashion sense on your shoulder!
If you are looking to sell your extraordinary design ideas, Blinkstore is here to help you. Blinkstore is an eCommerce store builder designed for selling custom-designed merchandise without the hassle of managing inventory and shipping logistics. If you want to create your own print-on-demand business with Blinkstore, check out the complete guide on How to Start a Print on Demand Business With Blinkstore. This might give you useful information for getting started on your entrepreneurial path.
Top 30 Creative Tote Bag Design Ideas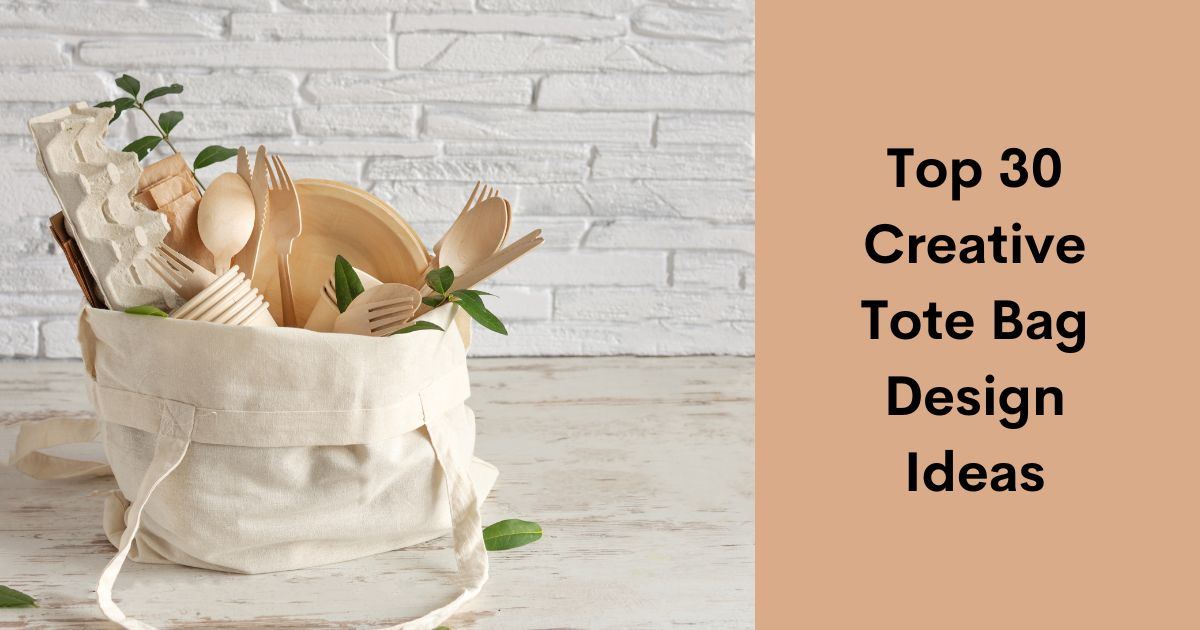 Here, we present some fantastic tote bag design ideas that will elevate your style:
Innovative Tote Bag Design Ideas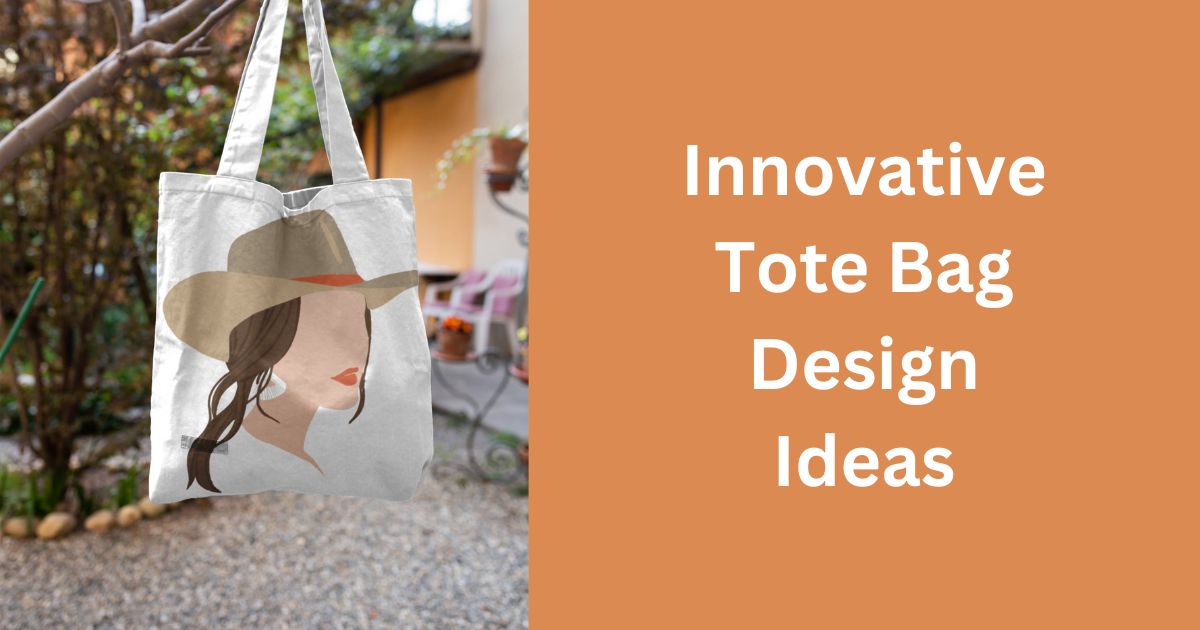 If you're looking to make a statement or express your unique style, these innovative tote bag design ideas will help you stand out in the crowd.
Travelers Design
Tote bags will be a great companion on your travel, Embrace Wanderlust with the travel-themed Tote bags. The design includes Inspiring travel quotes and iconic Destinations. Carry your wanderlust wherever you go.
Sports Design
Celebrate your sports passion with our vibrant tote bags. The sports-themed tote bags are designed to showcase team logos and players. These bags are the perfect way to display team pride and sportsmanship. Carry your team spirit everywhere with these eye-catching totes.
Vintage or Retro Design
Old-fashioned tote bags designed with vintage fonts and classic themes offer an aesthetic appeal.
Graffiti-Inspired Art Design
Graffiti-inspired art tote bag design ideas give the street art vibe. It's bursting with bold colors, graffiti-style letters, and fantastic shapes that give it an edgy look.
Pop Culture Icons
Celebrate your beloved pop culture figures, may be iconic movie characters, musicians, or superheroes, by featuring their images or symbols on your tote bag.
Music Themed Design
The Music-themed tote bag designs will always be unique, these types of designed bags will always appeal to a wide range of audiences. regardless of whether it's rock, pop, classical, or metal music that they're into.
Simple Tote Bag Design Ideas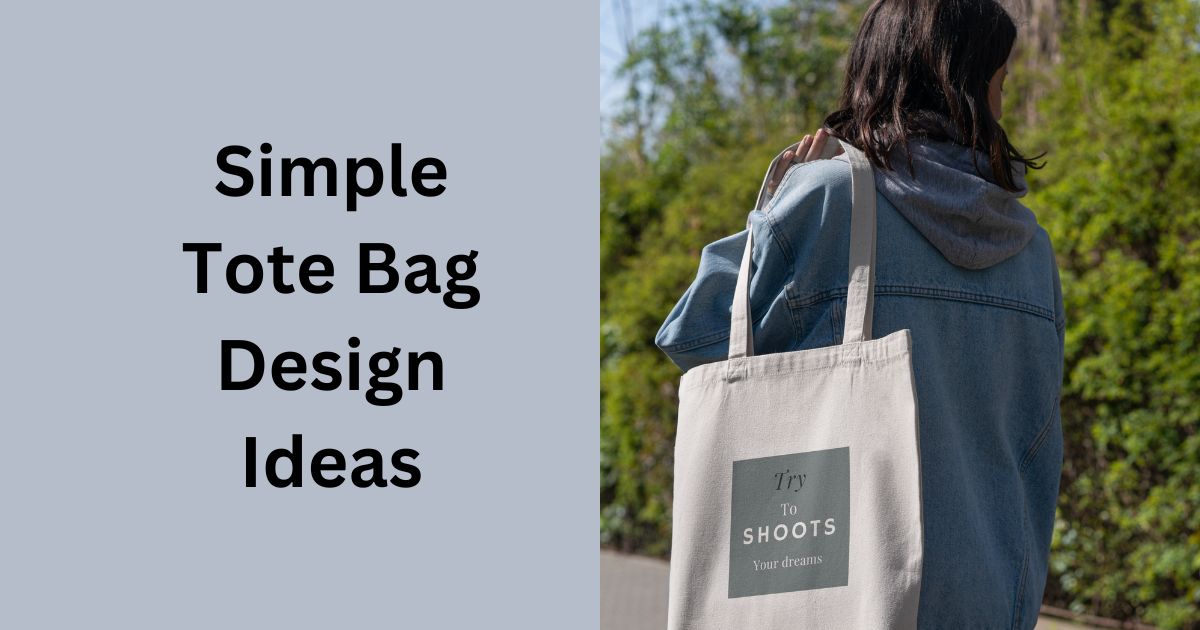 The tote bags are a classic accessory choice because of their effortless simplicity. Let's look at some of the simple tote bag design ideas
Minimalist Elegance
Choose a canvas or linen fabric in a neutral hue such as white, beige, or gray. Add a small, discrete logo or monogram in a matching color for a hint of refinement.
Typography
The art of creatively arranging text is a popular choice in the field of design, elements such as the "&" symbol are frequently used. Short and appealing phrases such as "Verified!" and "Awesome!" are other popular design choices. Furthermore, using solid and big fonts can be an effective promotional tactic, such as displaying brand logos on classic corporate swag totes.
Geometric shapes
The use of geometric shapes such as lines, circles, and squares is a long-lasting design choice. Consider shapes that create optical illusions, such as the impossible triangle, to add a particular touch. In this way, even simple designs can stimulate lively discussions.
Hand-Drawn Doodle Art
Hand-drawn doodles and sketches can infuse your tote bags with a delightful, handcrafted charm, adding a touch of whimsy and playfulness to your fashion ensemble. These unique designs are a canvas for creativity, allowing you to carry a piece of art with you wherever you go.
Inspirational Quotes
Incorporating inspirational quotes in a fashionable typeface can turn your tote bag into a genuinely one-of-a-kind accessory.
Branding
If you own a company or an organization, you can use your logo on the tote bag to promote your brand. This is one of the best ways to market your company and keep people coming back
Artisanal tote bag design ideas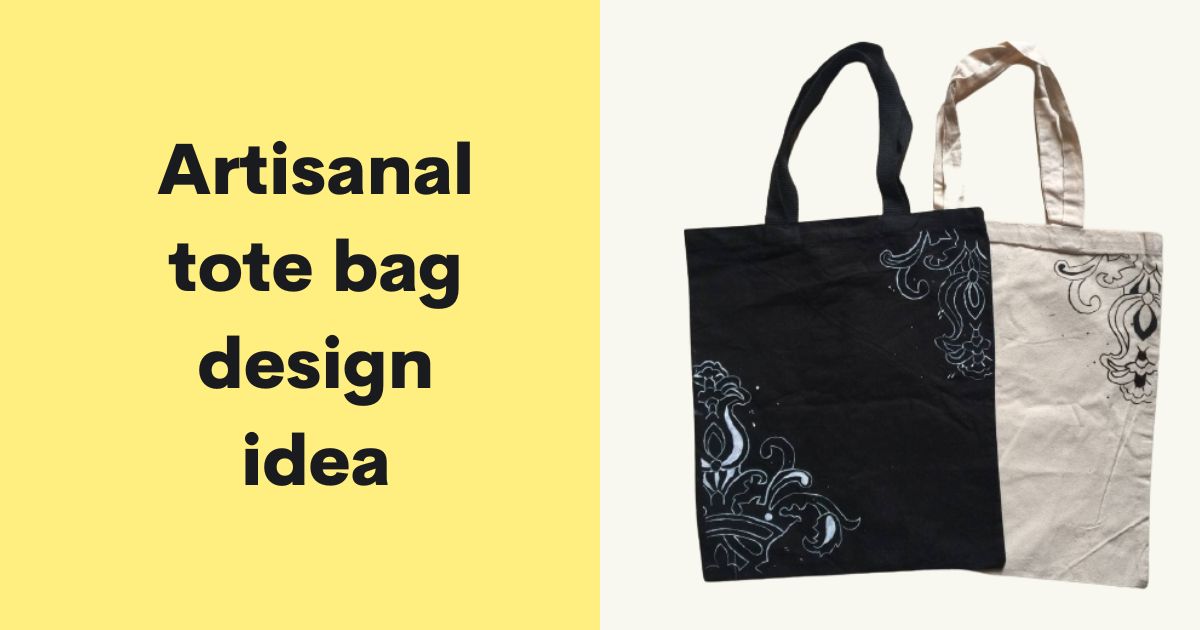 Enhance your tote bag with handcrafted designs, where delicate stitching transforms simple bags into creative statements that represent your unique sense of style and passion.
Galactic Inspiration
Create a fantastic environment with the crafting of stars, planets, or moons. Deep blues and purples combine to evoke the fascination of the night sky.
Personalized Monogram
Personalize your tote design ideas by embroidering your initials or a unique monogram. Choose a stylish font and a color that complements your style.
Deep Blue
Dive into aquatic themes with embroidered marine life including dolphins, seashells, and coral. Oceanic blues and aqua tones evoke the depths of the sea.
Heritage Pride
Pay tribute to your heritage by embroidering symbols, flags, or sites that signify your roots. Incorporate colors and designs from your culture to provide a personal touch.
Zodiac Signs
Personalize your tote bag design ideas with your zodiac sign's star or related design elements. To evoke the night sky, use celestial colors like deep purples and midnight blues.
Animal Prints
Animal print tote bag designs will let you express your wild side. Animal designs, whether leopard spots, zebra stripes, or snake patterns, can give a sense of glamour, edge, and confidence to your look.
Canvas tote bag design ideas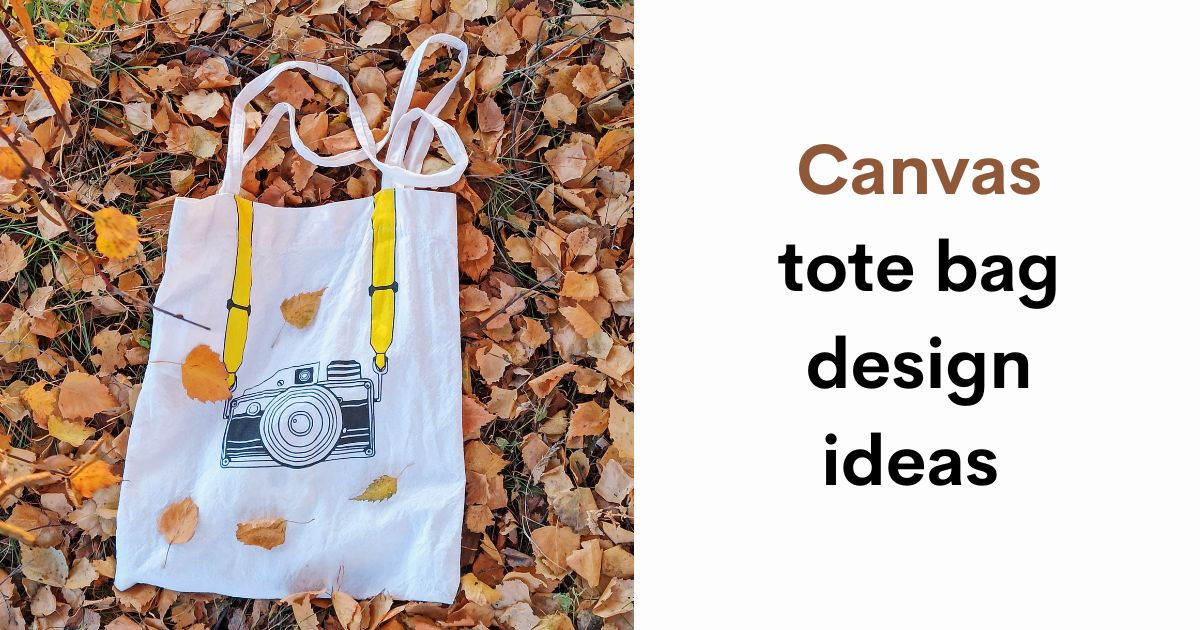 These effortlessly trendy and elegantly constructed canvas totes will boost your tote game. These prints range from subtle sophistication to attractive design, allowing you to effortlessly express your unique sense of fashion.
Pixelated Gaming
Pay tribute to renowned game characters like Mario, Sonic, and Pac-Man using pixelated designs. These bags pay respect to the golden age of gaming.
Comic Book Panels
Enhance your look with these totes, which contain sequential panels reminiscent of classic comic book storytelling. These tote bag design ideas bring the dynamic spirit of comic books to your everyday look, whether it's heroic action or funny conversation.
Anime Arts
Showcase stunning anime artwork on your tote. Include famous quotes or artwork from your favorite anime It's a fantastic way for anime fans to keep their passion alive.
Cosplay-Inspired Design
Craft a canvas tote that is inspired by classic cosplay costumes. This tote bag design allows you to bring your cosplay passion with you, from your favorite movie character outfits to superhero costumes
Cinematic Collage
Create a canvas tote that will transport you to the world of movies. This tote bag design idea celebrates the enchantment of cinema by incorporating legendary movie posters, film reel images, and old cinema tickets.
Festival Feels
Tote bags with festive features can help you capture the thrill of local festivals, fairs, or events. From fireworks to carnival rides, these designs encapsulate the joy and vibrancy of extraordinary occasions.
Nature-Inspired Tote Design Ideas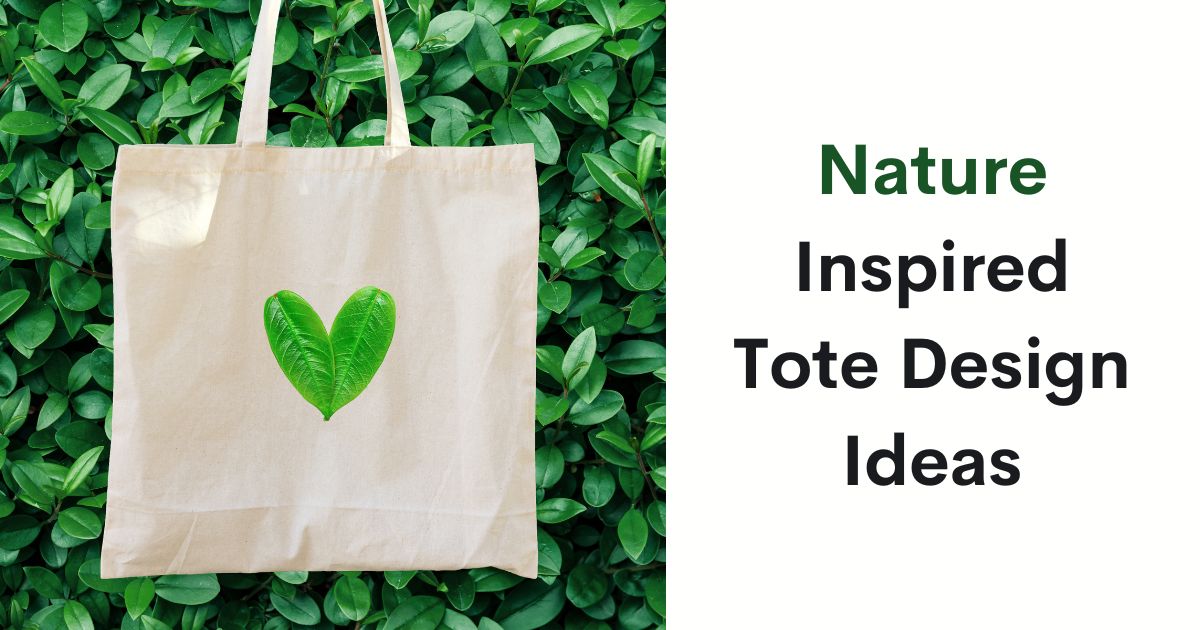 Explore nature's beauty with an ideal combination of class and grace on your shoulder.
Mountain Majesty
Elevate your style with tote bag designs that feature stunning landscapes, like icy peaks meeting verdant valleys, expressing elegance and appeal each time you step.
Forest Fantasy
Design a tote bag with a fascinating woodland scene, towering trees, fun animals, and hidden passages. Incorporate a bit of appeal and enchantment into the design.
Desert Delight
The tote bag portrays the raw beauty of the desert environment. Blend cactus plants dunes of sand, and desert plants to create a design that honors the distinct beauty of dry climates.
Woodland Reverie
Woodland Reverie presents a tote bag that whisks viewers away to the lush and vibrant world of the jungle. Illustrate exotic trees, vibrant birds, and hidden waterfalls for a design bursting with life and color.
Autumn Aura
Autumnal Aura: Create a tote bag that embodies the essence of autumn by using rich shades of orange, red, and yellow. To evoke the coziness of autumn, incorporate falling leaves, acorns, and cozy landscapes.
Elemental Elegance
Create a tote bag that showcases the four natural elements – earth, air, fire, and water through intricate symbolism that reflects their interwoven essence, inviting you to carry the elements' timeless beauty wherever you go. Use symbolic imagery to represent each element and convey their interconnectedness.
Conclusion
These tote bag design ideas satisfy a wide range of tastes, from the fashion-forward traveler to the die-hard sports enthusiast and fans of retro aesthetics or pop culture icons. Whether you favor simple elegance or artisanal craftsmanship, there is a tote bag style for you.
when it comes to tote bags, they've evolved into a flexible and fashionable item that reflects your personality and preferences. It's time to choose a design that speaks to you and creates an impression wherever you go. Wear your distinct style with pride!
Are you excited about the tote bag design ideas mentioned here and eager to see how they would look in reality? Mockey AI has you covered with their Free Mockup Generator. With over 1000+ templates to choose from, you can bring your tote bag design ideas to life and visualize how they will appear in the real world.
If you're interested in learning how to create a tote bag product using Mockey AI, I recommend checking out their comprehensive guide titled '5-Step Guide On How To Create Product Mockups Using Mockey.' This guide provides detailed instructions and insights on the process, helping you enhance your skills in creating stunning product mockups
And if any of these imaginative designs inspire you, you'll be happy to know that Blinkstore is here to connect you with a world of custom-designed products. Blinkstore is a one-stop shop where designers, creators, artists, businesses, colleges, and individuals can sell their original works. It is the place to locate products designed and sold by your favorite artists, businesses, and individuals.
FAQ
What makes a tote bag design stand out?
Unique and eye-catching elements such as creative artwork, color choices, and meaningful patterns can make a tote bag design stand out.
How can I personalize my tote bag design?
Many tote bag sellers, including Blinkstore, offer customization options. You can often add your initials, or monograms, or choose specific colors and patterns to make it unique.
Are tote bags suitable for all occasions?
Tote bags are incredibly versatile. Depending on the design and material, they can be suitable for casual outings, shopping, work, travel, and even fashion statements.
Are tote bags environmentally friendly?
Tote bags made from eco-friendly materials like organic cotton or recycled fabric are considered environmentally friendly as they reduce the use of disposable plastic bags.
Can I use tote bags for heavy items or groceries?
Tote bags are known for their durability and can carry heavy items, including groceries. However, it's essential to check the bag's weight capacity to avoid overloading
What materials are commonly used for tote bags?
Tote bags can be made from various materials, including canvas, linen, cotton, and synthetic fabrics. The choice of material can significantly impact the bag's look and durability.
Can I wash my tote bag with a custom design?
It's essential to check the care instructions provided by the seller. Some tote bags with custom designs may require gentle hand washing to preserve the print.
Are tote bags considered a sustainable choice for shopping and everyday use?
Tote bags are often promoted as a sustainable choice because they can be reused multiple times, reducing the need for disposable plastic bags. However, their sustainability also depends on the materials and production practices.
Are tote bags suitable for carrying laptops or books?
Yes, but make sure to choose a sturdy tote with a reinforced bottom for added support.
Do tote bags have zippers or closures?
Not always. Tote bags typically have an open top, but some designs include zippers or buttons for added security.