The other day I was looking to buy an "organic eye gel", and like every other purchase journey, I started by typing the exact three keywords on Google search. I came to discover a brand called Organic Harvest.
Surprisingly, the brand dominated the first 3 search results on Google. First was their presence on Nykaa, the second was their own website, and the third was their product listing on Amazon.
After seeing this, I decided to look up the brand on Instagram and also visited their website and realized that their presence online was almost impossible to ignore. Finally, I made a purchase.
This buyer journey is not unique. Most studies indicate that 97% of consumers use the internet to find a business.
This is precisely why having an online presence is crucial for every business. Here are a few simple steps you can follow to build a strong online presence.
Table Of Contents
Make A Website
This is probably the most basic suggestion to have an online presence. Apart from social media handles, people will gravitate to your website to better find out what you offer, your location, hours, prices, history, and much more
Focus On SEO
With online strategies changing every day, search engine optimization (SEO) is one of the best tactics to enforce your online presence. Use keyword research, on-site and off-site linking to show up exactly where your customers are searching.
Build An Email List
An emailer list is the best way for your brand to interact with potential customers monthly, weekly, or even on a daily basis. To build an email list, you can create gated content that requires your users to sign up to access it.
Create Value Content, Regularly
Like every other business, surely your business' end goal is to make money. But before you can start doing that, you need your brand to be customer-centric. One way to do that is to regularly post free and educational content.
Be Interactive Online
Engage with all your customers and readers. Build a community of people who grow alongside your brand.
Experiment With Digital Marketing
Use paid ads to drive relevant and filtered traffic to your website. Use communication and graphics that clearly describe what your brand offers.
Build An Influencer Network
There is nothing more reassuring than seeing a well-known personality using the brand you're looking into. A well-incorporated influencer network will work absolute wonders.
Show Up Wherever Your Audience Is
Depending on what you offer, ensure your presence on every relevant website and app to ensure maximum engagement.
Claim Your Profile On Local Directories
Ascertain your updated presence on local directories such a Google My Business and Yelp even if your company operations go beyond a certain local area. This way, information about your business will be accessible even without having to visit your website.
Extensively Research Competitors And Their Strategies
The best way to be a frontrunner online is to make sure you overcome competition. Remember to keep a check on what your competitors are doing to boost their online presence and develop strategies better than them.
Encourage Clients To Post Reviews Online
As a growing brand, do not shy away from asking for more honest customer feedback after the purchase. You will have to give your satisfied consumers a gentle push as they won't even consider leaving a review because everything is already fine. Indicate average rating numbers at the top of every product/service to increase feedback visibility and do not remove average or negative feedback to maintain authenticity.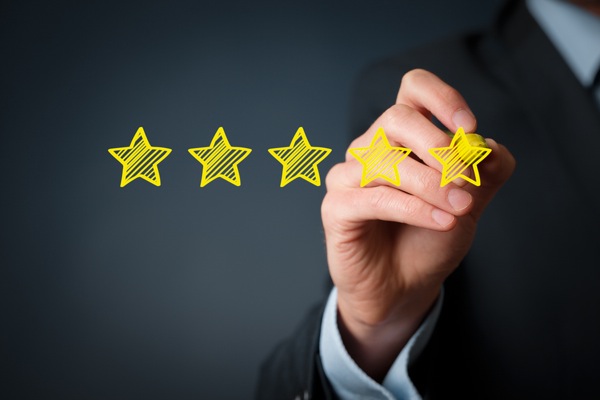 Enlist Your Products On Popular Marketplaces
A large chunk of your audience will gravitate towards eCommerce giants. Make sure you use that traffic to showcase your product to the right audience.
Ensure Your Website Is Mobile-Friendly
Post 2016, 90% of internet searches occur via mobile phones, leaving computers and laptops far behind. To keep up with this search trend, your website speed, orientation, and placement of critical information must be adapted for hand-held devices.
Use these tips and tricks and you'll surely see a significant upgrade in your online presence. They will help in driving traffic and improving conversions, both of which are critical in today's online marketplaces. Do remember that the first thing a person looking to make a purchase will be to search the internet, so be there when they come calling.