Having the appropriate tools is crucial if you want to produce content that stands out as a writer. We've gathered a list of 15 AI writing tools in this post that will help you become a better writer and increase your output. These resources can help you at all phases of the writing process, from coming up with ideas to editing and proofreading your work. Learn how to use these effective strategies to advance your writing!
Table of Contents
Introduction
With the uprising market industry, the demand for content writing is also increasing day by day. Today, Almost every marketing strategy are dependable on content. But writing can be a challenging and time-consuming task, especially if you're trying to create high-quality content.
Fortunately, the development of artificial intelligence (AI) has given writers access to strong tools that will improve the effectiveness and efficiency of their job. We'll share with you the top 15 AI writing tools in this article that every writer should get familiar with. These tools may assist you with a variety of writing tasks, including coming up with article ideas, enhancing grammar and style, and SEO optimization. Let's dig in and see how these tools may change the way you write!
Top 15 AI Writing tools for writers
Here are the 15 best AI content writing tools that you should try. They are categorised into different sections for your ease.
A. AI Writing tools for General Purposes
Best ai tools for content writing.
1. Jasper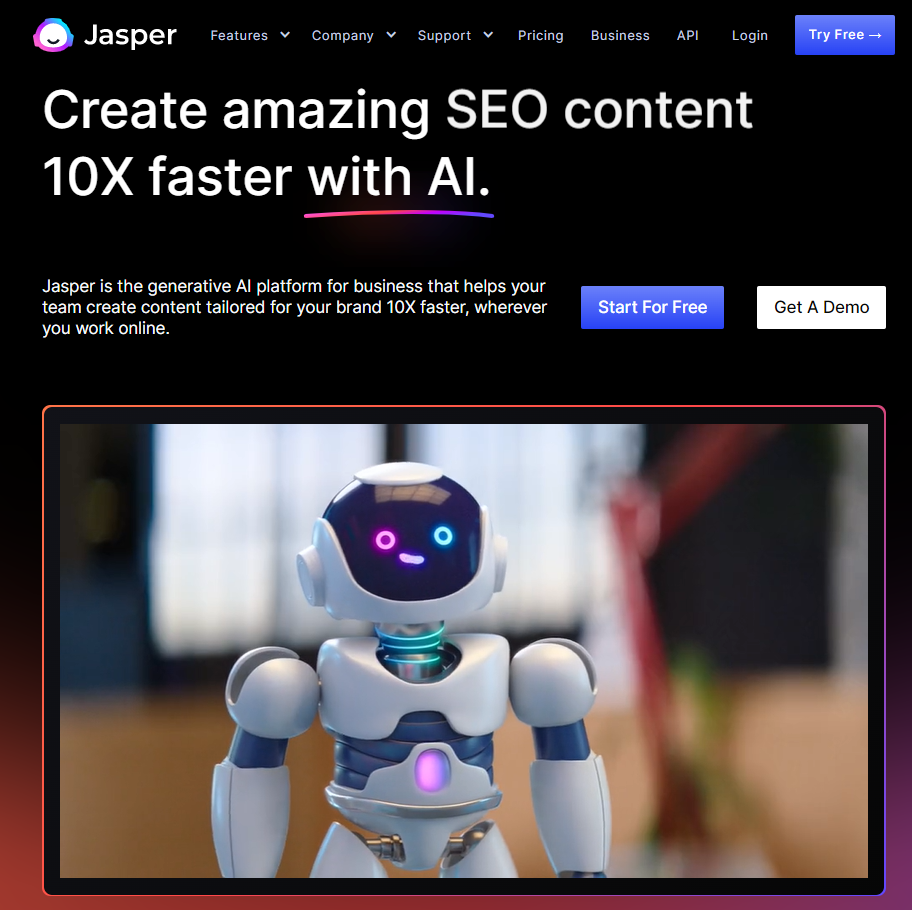 Jasper is a generative AI platform for business that enables your team to produce content that is specifically suited to your brand. You may build your own blogs, articles, books, scripts, and other material using Jasper. All you have to do is pick a topic, complete the form with your information, and Jasper will create the material for you.
Benefits:
Produce lengthy texts with AI-assisted outputs.
Integrated Plagarism Finder.
Integration with SEO Surfer for Keyword Research and Optimization.
Support of AI Wizard to generate sentences.
Pricing:
Jasper offers a Boss mode Plan which starts with a subscription of $49 per month and is billed annually. However, there are custom plans for Businesses which start at $499 per month. Click Here to know more about it.
2. Sudowrite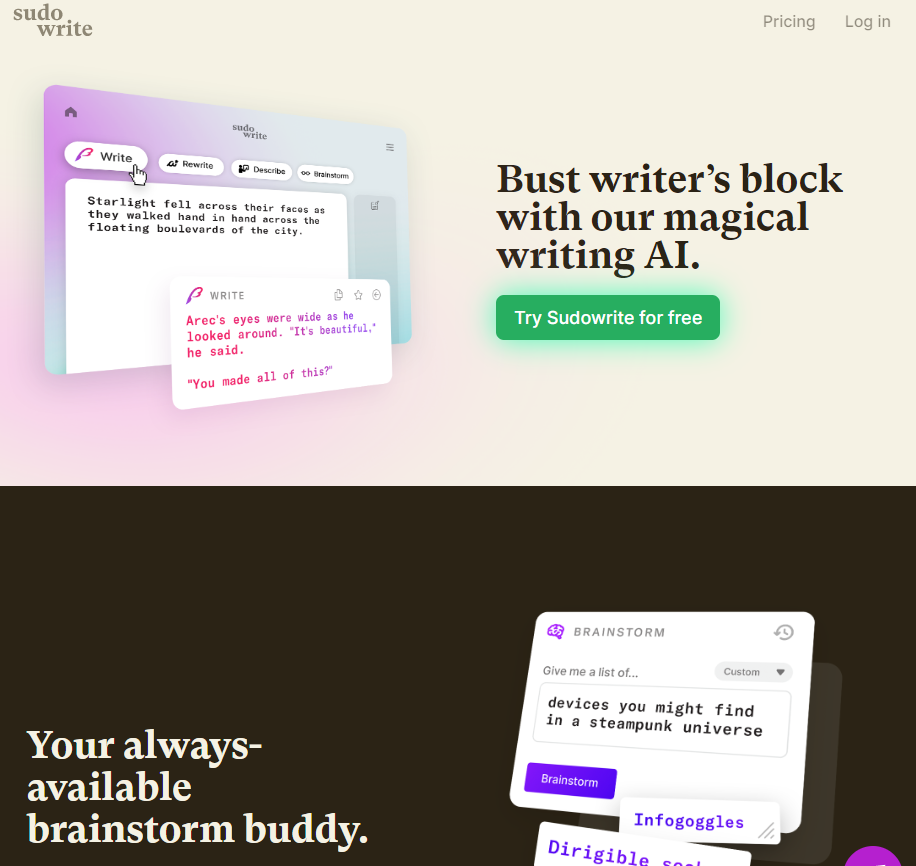 Sudowrite is an AI writing tool that helps you brainstorm ideas, create new material from old content, expound on a topic when additional words are needed, and generate fresh content. It was developed by a Canadian business named Sudowrite. The AI analyses content using machine learning techniques and offer tips on how to make it better.
Benefits:
Creates new ideas for inspiration.
Integrated Write and Rewrite tool for better optimized content.
AI assistant which suggests topics, corrections and suggestions.
Create fresh character concepts.
Pricing:
Sudowrite offers three plans which range from $10 to $ 100 per month if billed annually. All the plans come with different word limit and features which you can read here.
3. ChatGPT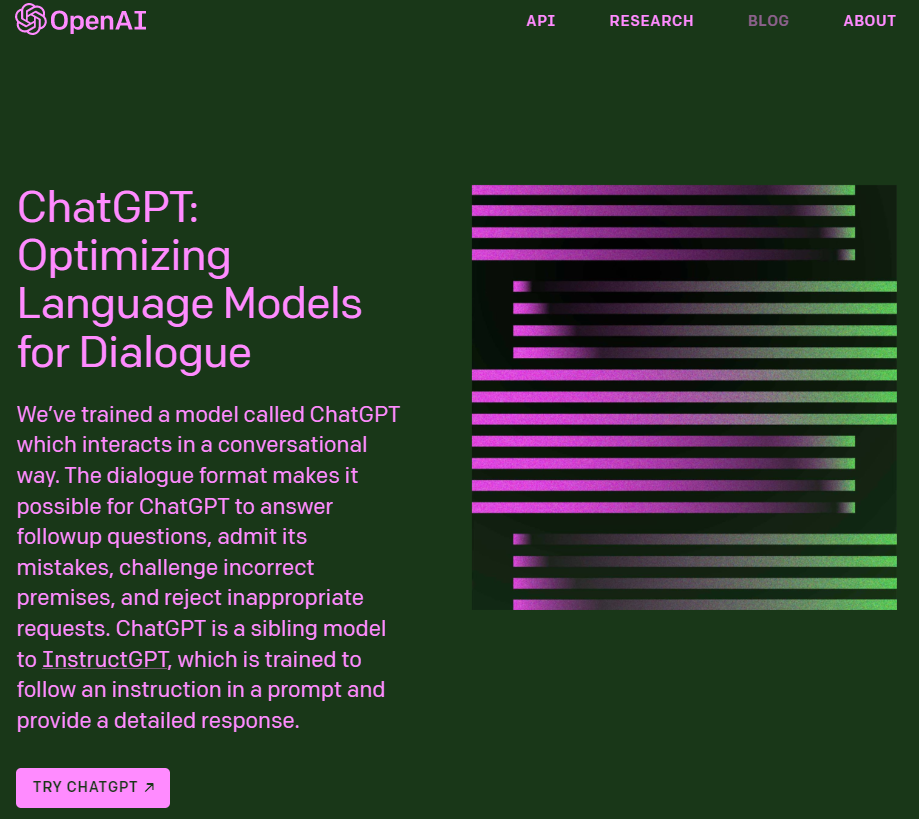 ChatGPT is an interactive assistant powered by AI that responds to user inquiries with customised and useful information. It can be linked to a variety of messaging platforms, including Facebook, Messenger and Slack. Advanced machine learning techniques are used by ChatGPT to comprehend user inquiries and deliver precise and pertinent answers.
Benefits:
Responds to user inquiries with individualised and detailed information
No word limit for generating content.
Trained to reject irrational demands
Remembering capabilities of previous conversations.
Pricing:
Chat GPT is a free tool to use.
B. AI SEO Tools for Writing
4. GrowthBar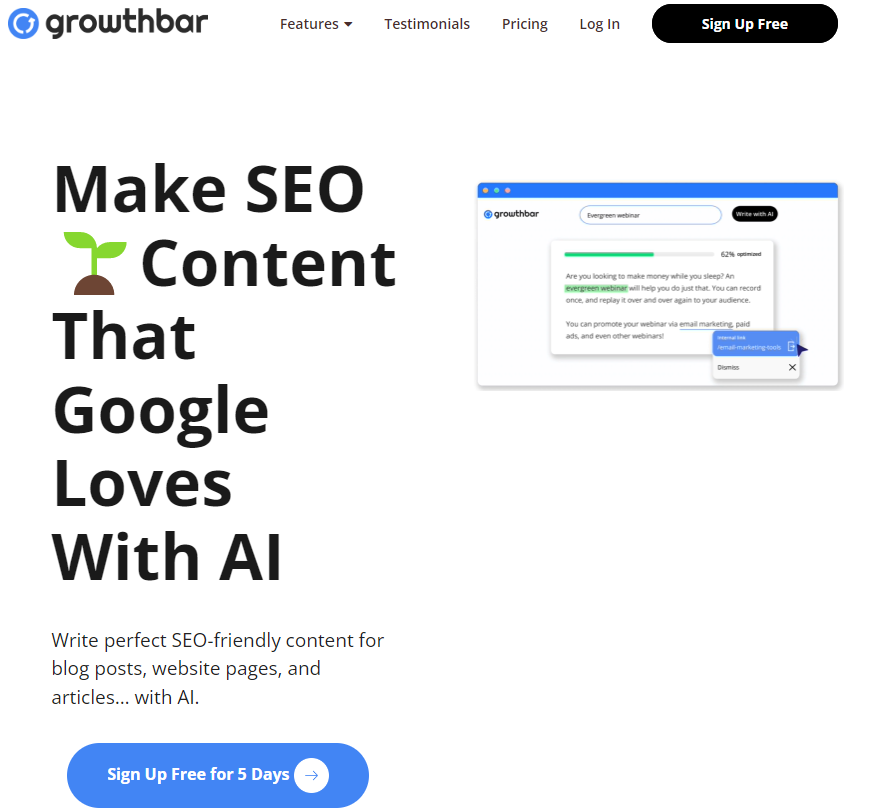 GrowthBar is an AI content authoring tool with SEO optimization facilities. GrowthBar is one of the best options if you're seeking for a single tool to write most of your marketing material. GrowthBar not only allows you to create content, but it also gives you lite features comparable to those of a tool like Ahrefs or SEMrush by enabling you to conduct keyword research, monitor your SEO performance, and look at various websites to see what they're ranking for. New features are continually being released by them.
Benefits:
Integrated Paragraph generator
SEO optimized meta descriptions for better reach.
High end content generator for fresh content.
Different AI Extensions for ease of work.
Pricing:
They offers a free trial for 5 days and then you have to choose one of the three plans that they offer. Their standard plan costs about $29 per month. The pro and Agency costs about $79 and $129 respectively. You can find out more about the pricing and features here.
5. Surfer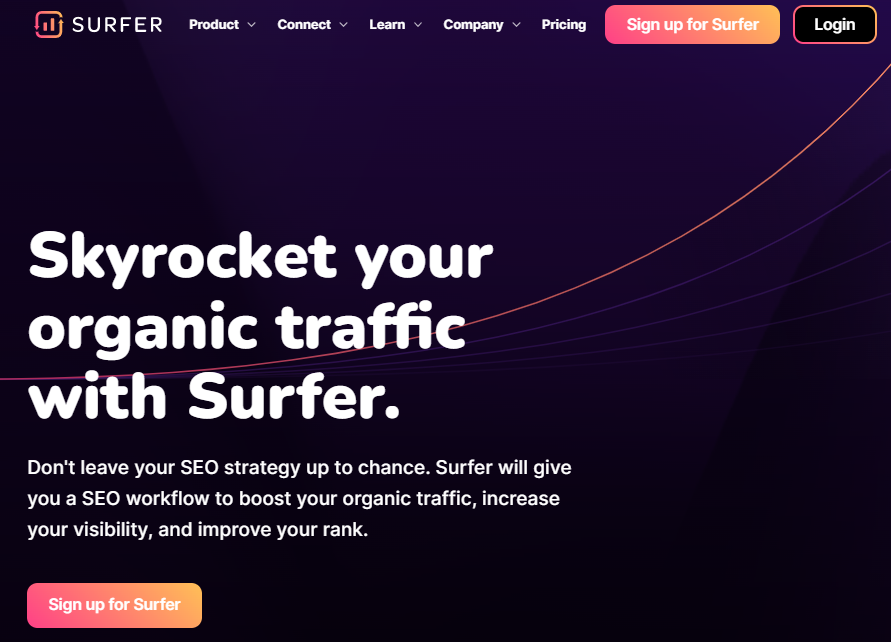 Surfer SEO is another artificial intelligence (AI)-driven SEO solution that may be used to raise website ranks and boost organic traffic. It was made by a Polish firm named Surfer. In order to assess search engine results and offer data-driven insights and suggestions, the application employs machine learning techniques.
Benefits:
Integrated SEO Writers dictionary.
AI outline facility with unique headings.
High end HTML enabled content editor.
Keyword surfer facility.
Surfer Academy and writing masterclass for training purpose.
Pricing:
Surfseo plans start with basic subscription of $49 and can go all the way to $199 per month. They also provide custom plans for businesses. Click here to know about their plans and features.
6. Outranking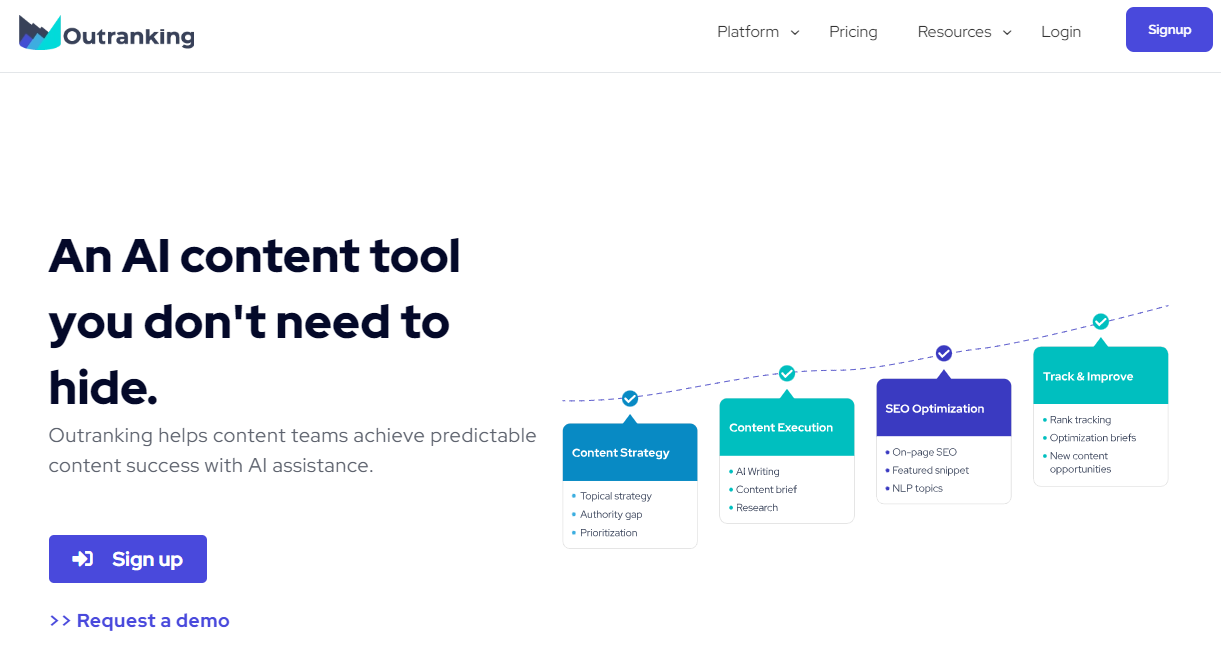 Another AI-powered tool, Outranking can be used in creating a comprehensive content strategy. It facilitates the generation of ideas, their execution, content optimization, performance tracking, and ongoing content improvement.
Benefits:
AI Writing support.
Helps in Content Optimization.
Helps in Developing Content ideas and strategy.
Contributes in Content Marketing..
Pricing:
Outranking have 4 plans in total:
Starter Pack: $490 per year
Solo Pack: $790 per year (One Domain)
Pro Pack: $ 1490 per year (Multiple Domains)
Company Pack: $2190 per year (Multiple Domains)
Click here to know their pricing plans in detail.
C. AI Copywriting tools for Content Creation
7. Peppertype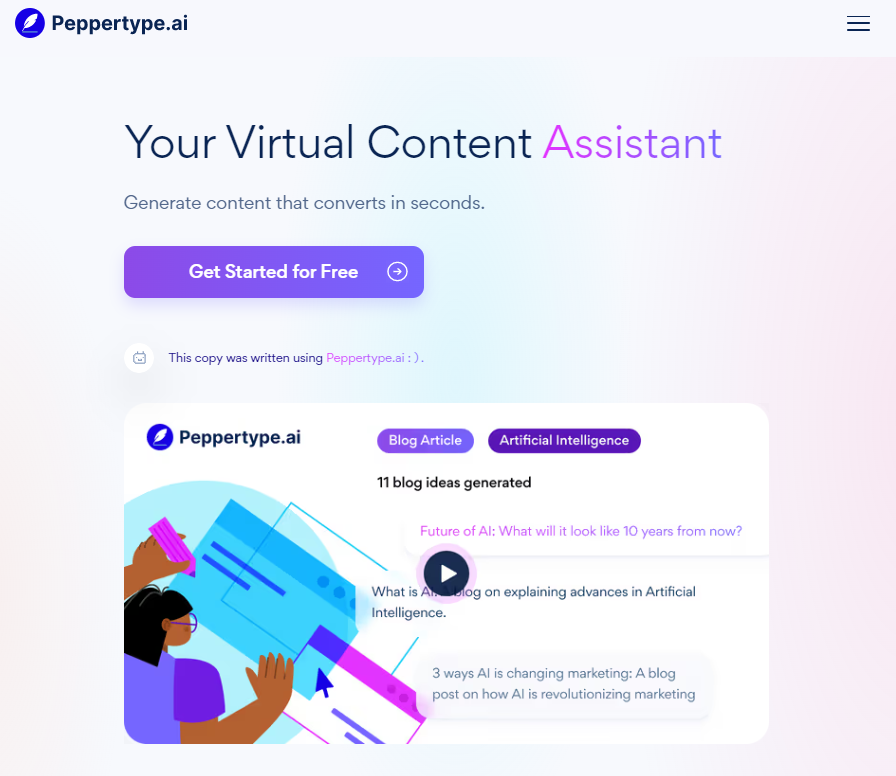 If you are loooking for copywriting tools fo content creation then Peppertype can be a good opion to consider. With Peppertype.ai, companies and marketers can rapidly and effectively produce high-quality content thanks to AI-powered copywriting tools. You may use Peppertype.ai to generate a variety of content, including blog entries, social network postings, ad text, and product descriptions. As a result of the tool's ability to produce content that is optimised for particular audiences and keywords, businesses may raise their search engine ranks and see a boost in website traffic.
Benefits:
Ability to format sentence for better engagement.
Engagement metrics for better analytics.
Grammar checker for error-free content.
Advanced Plagarism checker.
Pricing:
They offer two types of plans, Personal and Team. The Personal plan costs about $35 per month whereas the Team plan costs about $199 per month. The annual plans are 20% cheaper in case you want to consider them. Visit their Pricing page for more clarity.
Also Read: 11 Best Gumroad Alternatives in 2023
8. CopyAI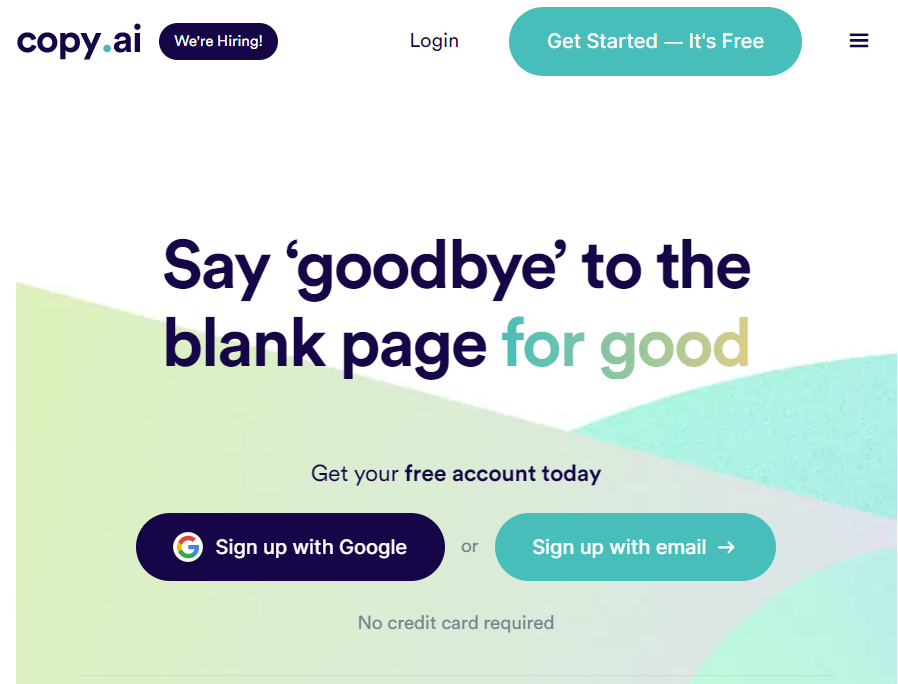 Copy AI is another popular copywriting tool which is free and offers many pro features in comparison to others. The tool can be used to generate a variety of material, including email subject lines, social media postings, ad text, and product descriptions.
Benefits:
Free online resources
User-friendly interface
Ability to write social media posts, digital ads,, websites, eCommerce copy, blogs, and sales copy.
Supports many languages (Pro version only).
Pricing:
Copy ai is free to use. However, some of the premium features are available in the pro plan which costs about $36 per month if billed annually. Visit their pricing section for details.
9. Neural Text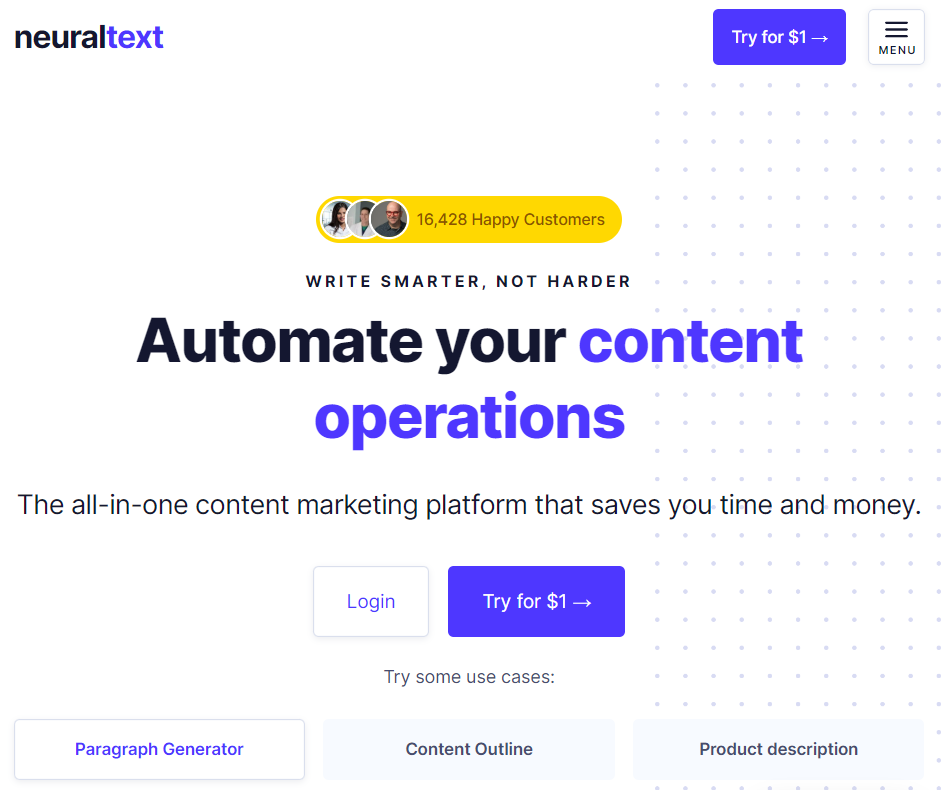 Neural Text is a platform that produces text automatically using machine learning. It has been used in a variety of fields, including marketing, education, and healthcare. Journalists have also utilised the platform to leverage AI to generate content. If you're searching for a free AI essay writer, this could be something to consider.
Benefits:
Strong content optimizer.
Integrated AI algorithm for better optimized content
Keyword Finder built in.
Pricing:
They offer a free 5-day trial for $1. Also, Neural Texxt has 3 plans starter ($19 per month), Basic ($49 per month), and Pro ($119 per month). Click here to know more about their plans.
D. AI Writing tools for Articles
10. Article Forge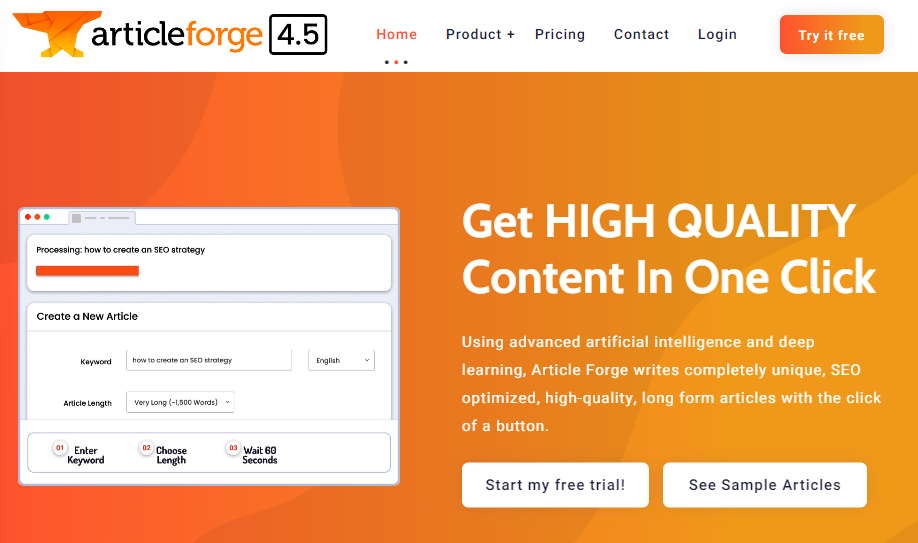 Article Forge is one of the best AI writing tools. Article Forge generates articles based on the keywords that users submit. An artificial intelligence engine is used by Article Forge to create original and educational material. For bloggers, content producers, and company owners, it is a helpful tool. The programme is quite adaptable and may be customised to a company's needs.
Benefits:
Built-in research capabilities
Customizable content templates
Multi-language support
Content scheduling and publishing facilities.
Pricing:
Like other AI writing tools, they also different plans based on your word limit. The pricing starts as low as $13 per month to $127 per month if billed annually. Click here to know more about their pricing plans.
11. Copysmith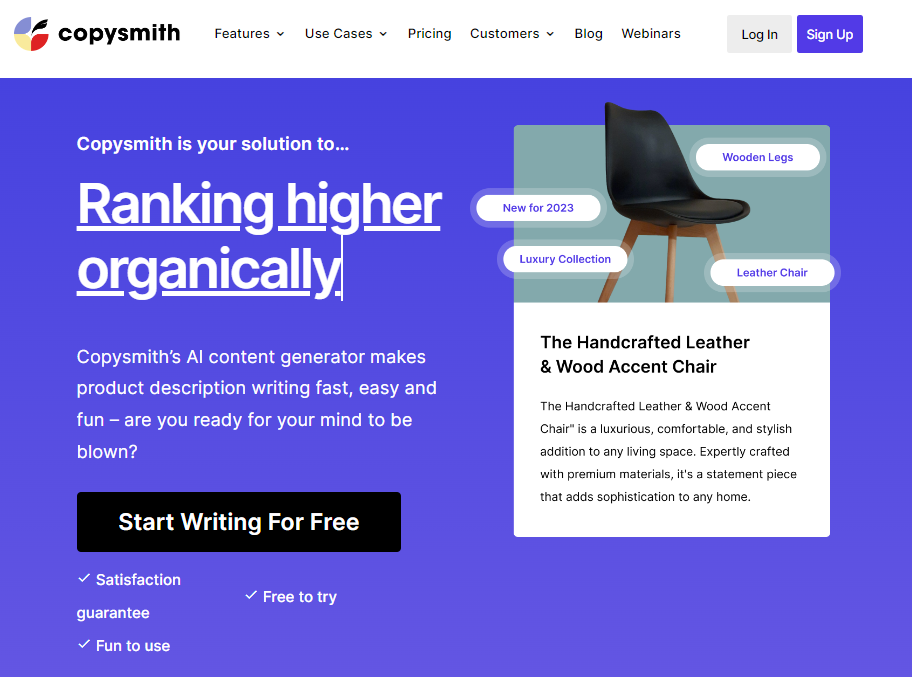 One of the most popular AI writing tools is Copysmith. Copysmith assists users in creating material for their blogs or website. Additionally, it offers a simple method for disseminating and promoting already-developed material. The platform provides several tools to assist users in creating various forms of content, with the article builder being the most well-liked because it enables users to create original pieces.
Benefits:
Many Default templates are available for use.
Built-in connectors with focus assist.
Powerful applications to make, manage and modify your writing.
Affordably priced and with excellent service.
Pricing:
Pricing starts at $19 and can go all the way upto $299 per month. Click here to know more.
12. AI Writer
AI Writer is an AI copywriting software content producers may quickly and easily come up with new ideas for their works. The platform provides a variety of writing services, including blog and article writing. It is well-known for being accurate and relevant.
Benefits:
High quality Content output capability.
Plagarised free Content creation using patent pending algorithm.
SEO friendly articles.
Provides citations.
Pricing:
The plans starts at $29 to $375 per month depending upon the plan you choose. Click here to check their pricing details.
E. AI Tools and Apps for Checking and Editing
13. Grammarly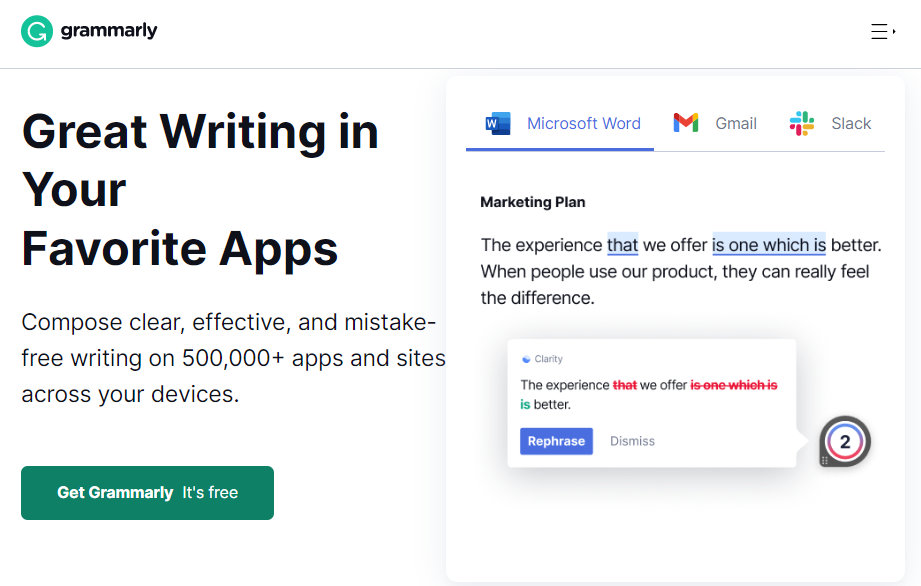 Grammarly is one of the best AI writing tools available online. Grammarly is an AI-powered writing assistant that suggests grammar and spelling fixes in real-time as users type. It may be used in a wide range of programmes, including word processors, social networking sites, and email.
Benefits:
Removes grammatical errors
Verify your spelling in the appropriate context.
Get assistance with all of your punctuation needs with punctuation correction.
Improve your writing's overall tone and style with these style recommendations.
Incorporated into a number of systems, including Google Docs.
Pricing:
Grammarly is free to use but it also comes with premium and business subscription that starts at $11.90 per month and $15.00 respectively. Click here to know more about their pricing plans.
14. WordTune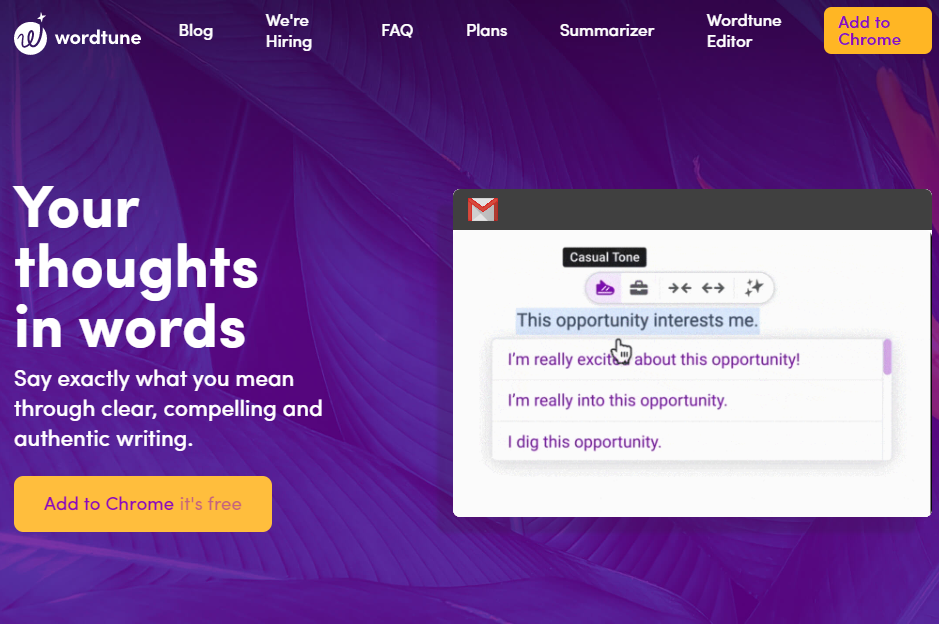 Wordtune provides a long-form document editor in addition to a browser extension for writing persuasive content. This AI Writing tool is the best choice if you want to self-edit and write more clearly. Anyone who writes online needs to consider Wordtune as it is compatible with various programmes.
Benefits:
Rewriting articles with artificial intelligence
Integration of Microsoft Word
Rephrase or lengthen your sentence
Grammar and spelling checks
Adjust the voice in your writing.

Pricing:
It is a free tool to use with some limitations. The pro versions start from $9.99 per month on an annual subscription.
15. QuillBot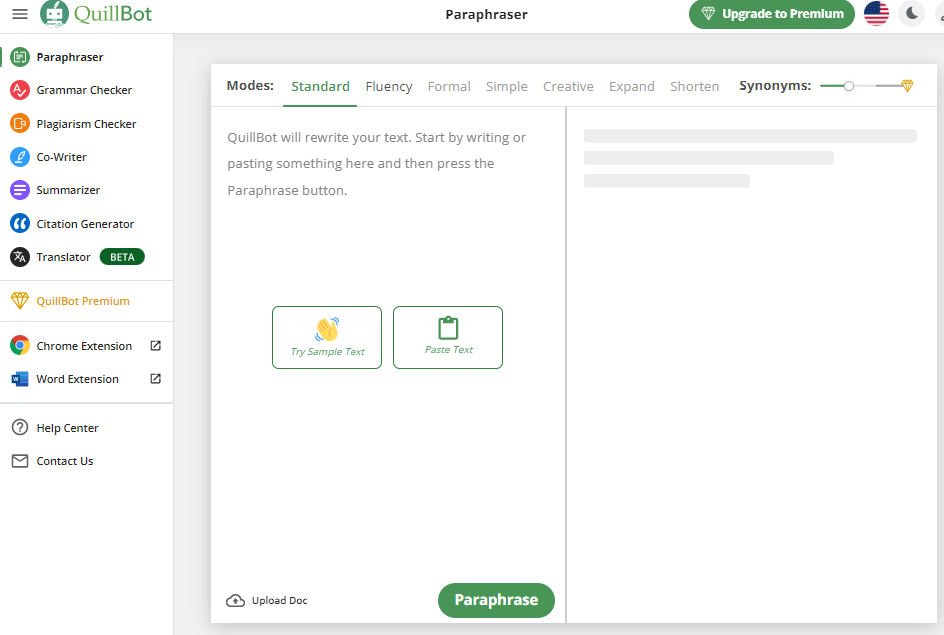 One of the most complete AI writing tools available is QuillBot. You shouldn't pass up using this instrument whether you're a student seeking an AI essay writer or need to research and create citations.
Benefits:
Works as a Paraphraser.
Have the facility of grammer checker.
Has an inbuilt Summarizer.
Citation generator.
Pricing:
Quillbot is a free tool to use but have some limitations of word limits and tone types. For full access, you need to have a premium subscription starting from $9.95 per month. Click here to know more about the plans.
Benefits of AI Writing Tools in Business
Improved speed of business
Efficiency and productivity gains
Improved Monitoring
New capabilities and expansion
Error free results with high end vocabulary support
Reduction in Human error.
FAQs
What are AI writing tools?

AI writing tools support content creators by using artificial intelligence (AI) algorithms. These tools may be used for a number of purposes, including idea generation, content editing, and search engine optimization.

How do writing AI tools function?

Large-scale data analysis and machine learning algorithms are used to find trends and produce material using AI writing tools. They can be programmed to identify particular subjects, fashions, or formats and make use of this knowledge to produce original, high-quality material.

Can AI writing tools replace human writers?

AI writing tools are intended to support human authors rather than to take their place. The originality and complexity of human writing cannot be duplicated by these technologies, despite the fact that they can produce high-quality content fast and effectively.

Are AI writing tools expensive? / Is AI Writing free?

Depending on the tool's capabilities and features, the price of AI authoring tools vary. Some tools may be used without charge, while others need a one-time fee or membership.

Do AI writing tools have any restrictions?

AI writing technologies have limits and need human editing to assure accuracy and audience fit. They might not be able to handle stuff that is extremely technical or specialised.

Do using AI writing tools raise any privacy issues?

Some AI authoring tools may compile user data and utilise it to enhance their algorithms. Before utilising any AI writing tool, it's crucial to check its privacy policies and take the necessary precautions to secure your personal data.

Can writing AI tools boost SEO?

Yes, a lot of AI writing programmes contain capabilities that can aid with search engine optimization. They can locate and include pertinent keywords, evaluate the content's organisation and readability, and offer recommendations for improvement.

Is there an AI tool to write anything?
Conclusion
In conclusion, the development of AI writing tools has revolutionized the way we create content. These tools not only save time and effort, but also offer a range of features that can improve the quality and effectiveness of the content we produce.
From generating ideas to optimising content for SEO, AI writing tools have become an essential part of the content creation process for writers and businesses alike. In this article, we have discussed 15 best AI content writing tools that every writer should learn to use. Each tool offers unique features and benefits that can help writers to generate high-quality content, improve productivity, and increase engagement with their audience.
Also Read: AI Marketing Tools Marketers Must Know About