Looking for ideal birthday t-shirt design ideas? We've got your back! Here are some amazing suggestions to help you celebrate your's or your friend's special day in style. We have something for everyone, whether you want something amusing, charming, or just stylish. Take a look at our suggestions and start planning your perfect birthday dress immediately!
Table of Contents
Introduction
Birthdays are certainly one of the most important events in our life. They commemorate our birth anniversary, making it a day filled with joy, love, and important memories. Birthdays, whether we are five, thirty, or seventy, have special meaning because they represent development, successes, and the ability to create new experiences. A personalised touch can lift the celebration to a whole new level among the pleasant gatherings, sincere wishes, and delightful surprises.
Custom birthday t-shirts are a unique and entertaining way to make the birthday boy or girl feel extra special on their special day. These one-of-a-kind t-shirts not only give a sense of excitement and anticipation to the celebration, but they also serve as a lasting memory that captures the spirit of the occasion.
Best Birthday T-shirt Design Ideas to Consider in 2023
Here are some amazing birthday t-shirt design ideas for you :
Vintage Vibes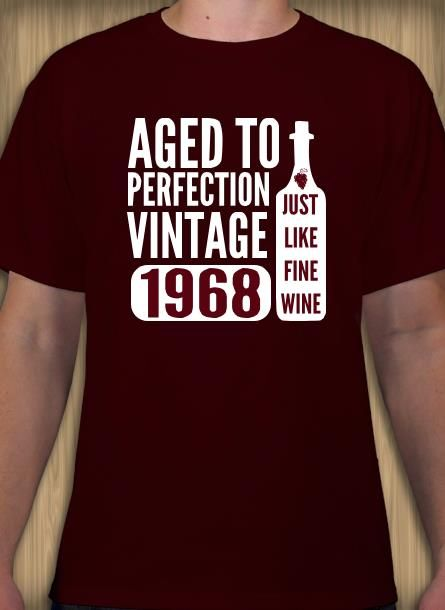 With the "Vintage Vibes" birthday t-shirt design, you can celebrate your birthday in classic elegance. This timeless and beautiful design is inspired by retro aesthetics, capturing nostalgia while bringing a touch of sophistication to your special day. Whether you're 18 or 80, the Vintage Vibes t-shirt emanates elegance and grace, making you feel like a celebrity from another era. Ideal for people who enjoy retro fashion and want to add a touch of old-world charm to their birthday celebration.
Age is Just a Number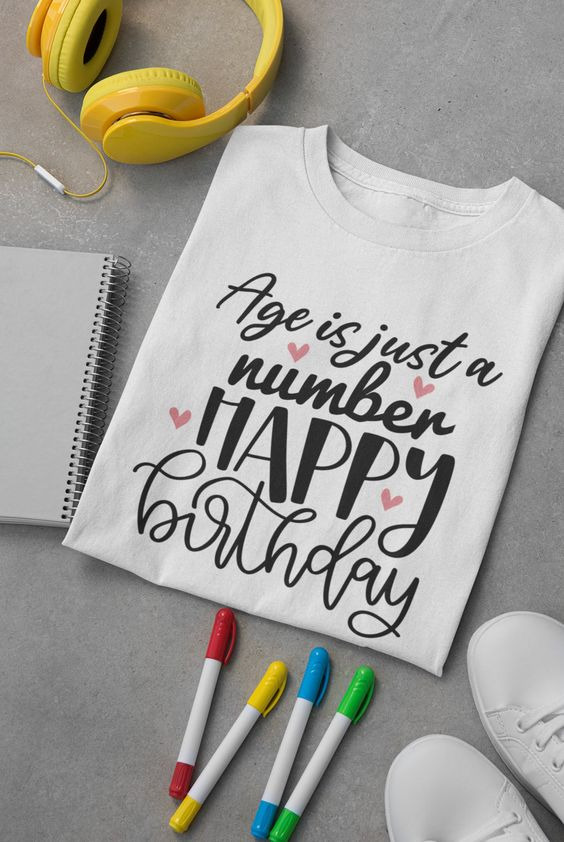 With the "Age is Just a Number" birthday t-shirt design, you may embrace the beauty of ageing. This concept highlights the idea that one's spirit or sense of adventure should never be defined by their age. The Age is Just a Number t-shirt proudly asserts, with strong lettering and humorous illustrations, that every year is an opportunity for new experiences and progress. It's ideal for people who approach life with a youthful spirit, reminding everyone that age is merely a marker of the myriad memories and accomplishments gathered through time.
Birthday Squad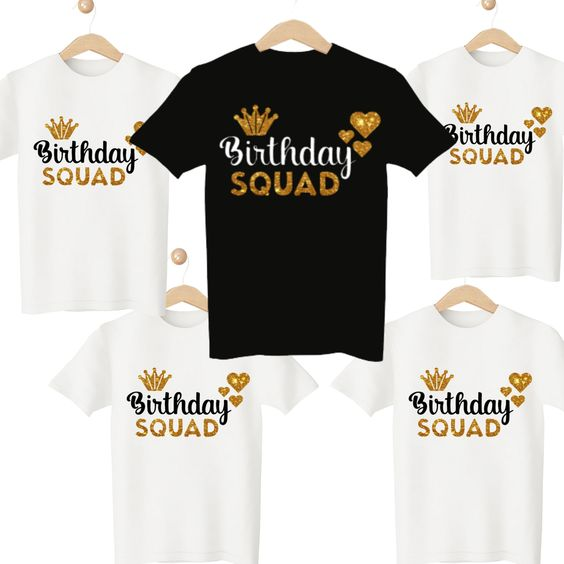 With the "Birthday Squad" t-shirt design, your birthday becomes a group celebration. This exciting and festive concept brings friends and family together, fostering a sense of community among partygoers. The Birthday Squad t-shirts may be personalised with names or nicknames, transforming your loved ones into a colourful and unified birthday team. This design sets the tone for an amazing and united birthday celebration, whether you're planning a group outing or an intimate gathering.
Party Animal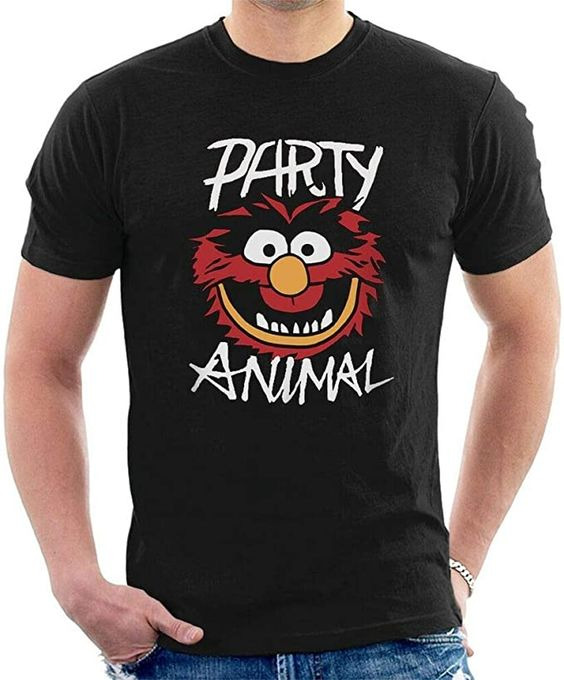 With the "Party Animal" birthday t-shirt design, you can express your wild side. This bright and whimsical concept features a variety of animals decked up in party hats and accessories, perfectly expressing the mood of a fun-filled birthday event. The Party Animal t-shirt is the ideal choice if you have a favourite animal or simply want to bring a bit of whimsy to the party. It's guaranteed to elicit conversation and laughter, setting the tone for an energetic and memorable birthday bash.
Born to Shine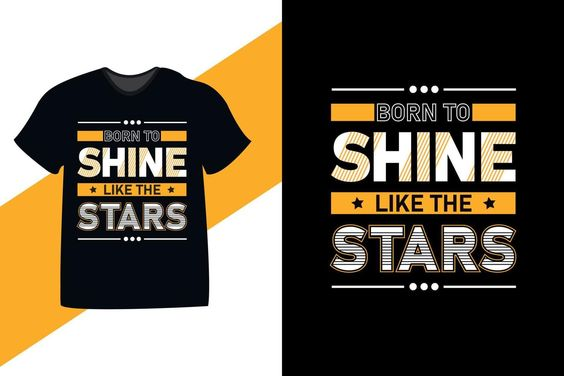 The "Born to Shine" birthday t-shirt design will put you in the spotlight. On your special day, this brilliant and beautiful concept is all about honouring your brilliance and inner glitter. The Born to Shine t-shirt exudes confidence and self-assurance with its dazzling graphics and eye-catching accents. It's the ideal choice for individuals who want to feel like a brilliant star while celebrating another year of life.
Let's Flamingle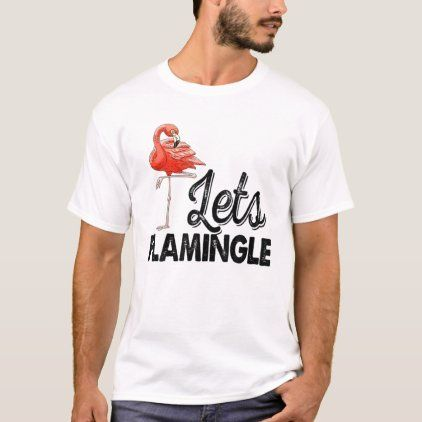 With the "Let's Flamingle" birthday t-shirt design, get ready to flamingle and flock together. This brilliant and tropical concept depicts flamingos in a party mood, conveying the sense of a vibrant and colourful event. The Let's Flamingle t-shirt brings a touch of paradise to your special day, whether you're planning a beach-themed birthday or simply adore the whimsical charm of flamingos. Allow the fun to begin as you and your guests join the flamingle and enjoy the joyful atmosphere.
Sweet & Sassy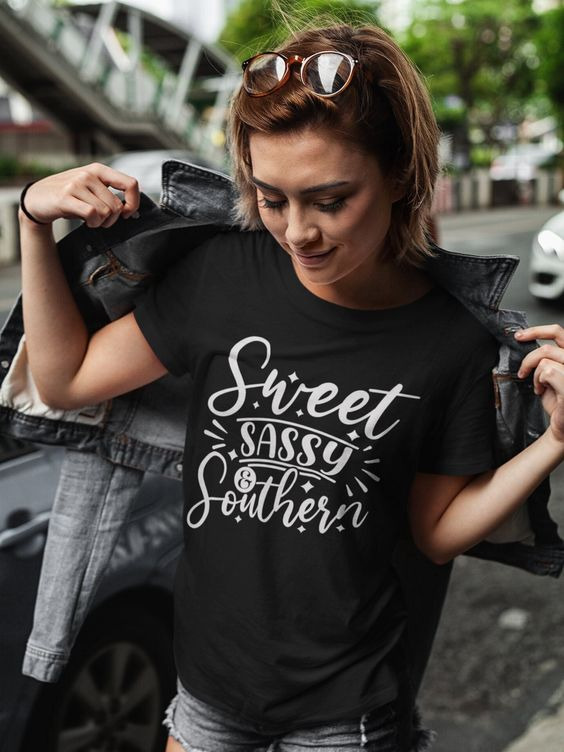 With the "Sweet & Sassy" t-shirt design, you may add a bit of attitude and humour to your birthday. This idea blends sweetness with a bit of sass, showcasing your endearing personality and clever wit. The Sweet & Sassy t-shirt design is ideal for folks who enjoy making people smile and getting into mischief on their birthday. This design, with its adorable graphics and creative wordplay, sets the tone for a joyful celebration.
Wild One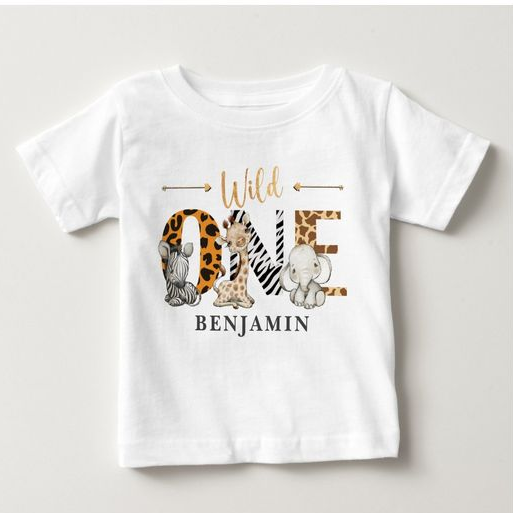 With the "Wild One" birthday t-shirt design, you may channel your inner adventurer. This design conveys a sense of adventure and inquiry, whether you're celebrating a child's first birthday or expressing your wild spirit. The Wild One t-shirt, with its wilderness-inspired designs and strong lettering, lets everyone know that you're ready to take on new challenges and explore undiscovered territory as you embark on another exciting year of life. It's ideal for nature lovers and those looking for a life full of adventure and wonder.
Keep Calm and Birthday On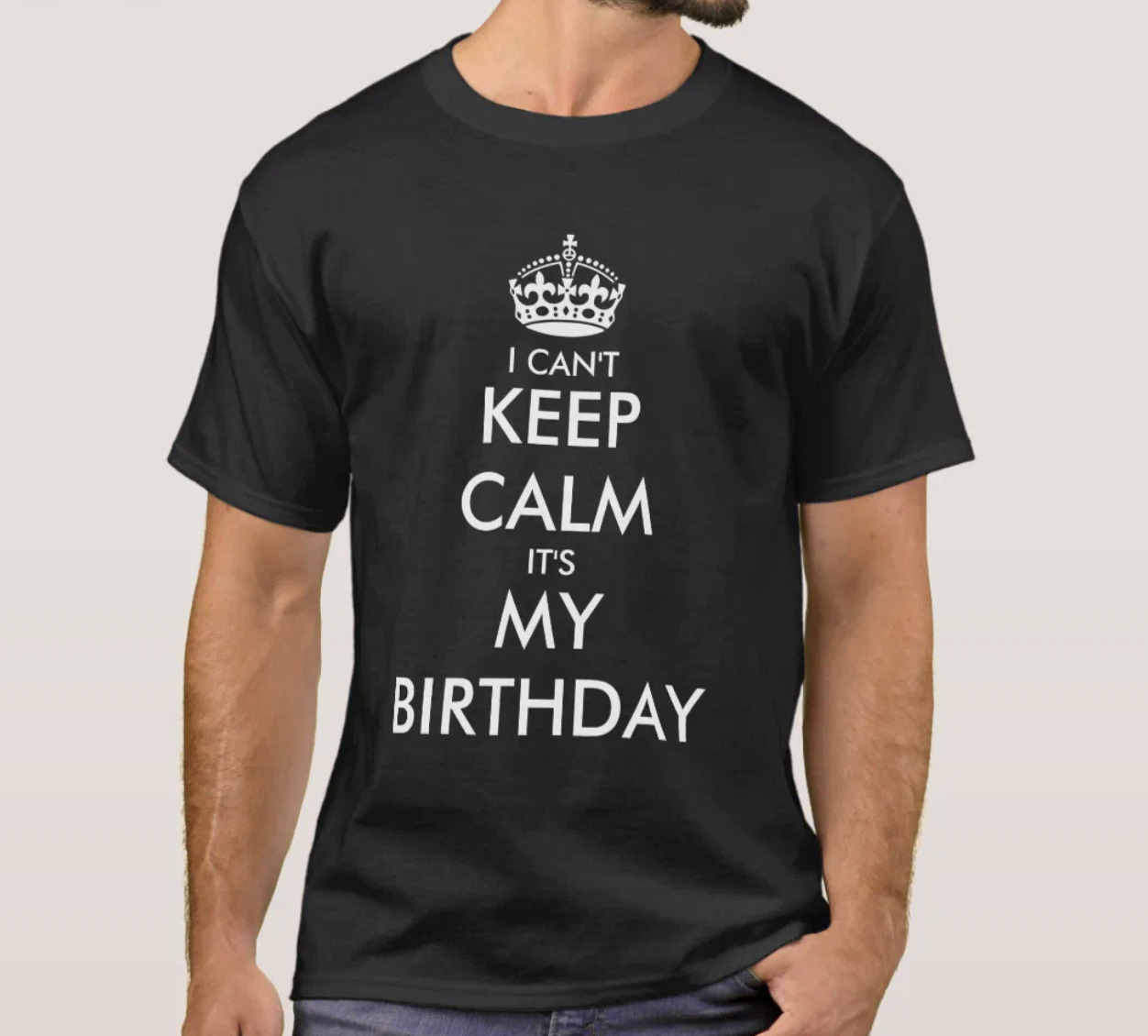 Keep your calm and enjoy your birthday with the "Keep Calm and Birthday On" t-shirt design. This innovative take on the traditional "Keep Calm" motto instills a sense of serenity and composure in the birthday celebration. The Keep Calm and Birthday On t-shirt serves as a reminder to enjoy the moment and embrace the joy of your special day, no matter what surprises or problems come your way. It's ideal for people who prefer a more laid-back and relaxing approach to birthday parties while still enjoying the excitement.
Happy Birthday to Me!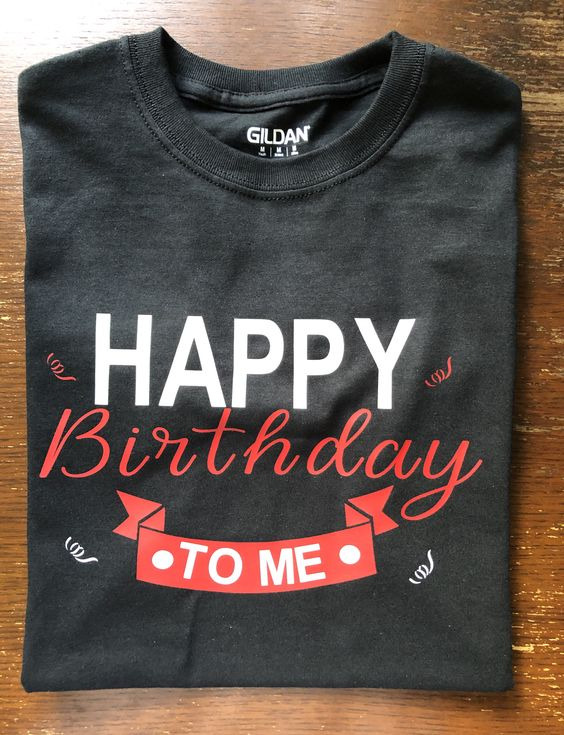 The "Happy Birthday to Me!" t-shirt design is all about self-love and self-celebration. This design focuses on the birthday person, commemorating their unique journey and accomplishments. The Happy Birthday to Me! t-shirt, with its strong and cheery font, is a joyful and confident way to celebrate your special day with pride and excitement. It's an excellent option for individuals who enjoy the thought of honouring themselves and telling the rest of the world that their birthday is a day to be celebrated in spectacular style.
Create and Sell Custom T-Shirts with Blinkstore and Mockey!
Are you prepared to transform your innovative ideas into a successful business? You can bring your birthday t-shirt design ideas to life using Blinkstore, a popular print-on-demand platform, without making a substantial investment. Not only can you make custom t-shirts, but you can also make hoodies, sweatshirts, mugs, posters, and other items.
Step 1: Create Your Own Free T-Shirt Store
It's simple to get started! Sign in with your Google account and establish a new store with a unique name that will act as your subdomain at seller.blinkstore.in. There's no need to be concerned about passwords!
Step 2: Create Your Own T-Shirt Online
Once your store is up and running, it's time to let your imagination run wild. Click "Add/Edit New Product" and then select a t-shirt to work on. You can effortlessly submit your designs from Canva or Photoshop to Blinkstore's user-friendly t-shirt editor. Personalise your T-shirt by deciding on a design and a colour. Set your target profit margin and add a catchy title and compelling description. Blinkstore handles printing and shipping, and the cost of postage is included in the base price.
Step 3: Begin Selling and Making Money
When your t-shirt designs are complete, put them up for sale in your store. It's now time to start marketing your t-shirt firm online and making money from sales. As your business grows, you can even expand to offer additional products on Blinkstore's storefront, all for free!
Mockey: Bringing Your Designs to Life
To get a clear picture of how your designs will look in real-life scenarios, use Mockey – an AI-Powered platform that generates high-definition mockups for free. With Mockey's help, you can showcase your t-shirts and other products in professional, eye-catching mockups, making your online store even more appealing to potential buyers.
So, if you're excited to dive into the world of custom creative t-shirt design ideas and entrepreneurship, Blinkstore and Mockey are your perfect allies. Start creating, start selling, and watch your t-shirt business soar to new heights!
FAQs
What are the ideal t shirt design ideas for 50th birthday?
Vintage vibes, Age is just a number are the best ideal birthday t shirt design ideas for 50th birthday.
What are the best birthday t-shirt design ideas in 2023?
Here are some of the best birthday t-shirt design ideas in 2023:
1. Vintage Vibes
2. Age is Just a Number
3. Birthday Squad
4. Party Animal
5. Born to Shine
Where can i get custom t-shirts online?
You can visit Blinkstore, design your own t-shirts online and get them delivered to you or your customers.
Conclusion
In conclusion, birthday t-shirts provide a wonderful and personal touch to this special day's celebration. From the timeless appeal of "Vintage Vibes" to the vivid festivities of "Let's Flamingle" and the self-aggrandizing enthusiasm of "Happy Birthday to Me!," these designs convey the essence of individuality and joy that birthdays signify. Whether it's accepting age as a number, uniting a "Birthday Squad," or unleashing the untamed energy of a "Wild One," these t-shirts generate memorable memories and develop a sense of connection among friends and family. As we "Keep Calm and Birthday On," let these birthday t-shirt ideas boost our festivities and make each passing year even more spectacular and memorable.