Discover the best 25 ideas for t-shirt designs for any occasion. Find ideas for your next t-shirt project here, from amusing and imaginative designs to contemporary and timeless styles. These ideas will make you stand out from the crowd, whether it's a casual outing, a big event, or simply showing your personality.
Table of Contents
Introduction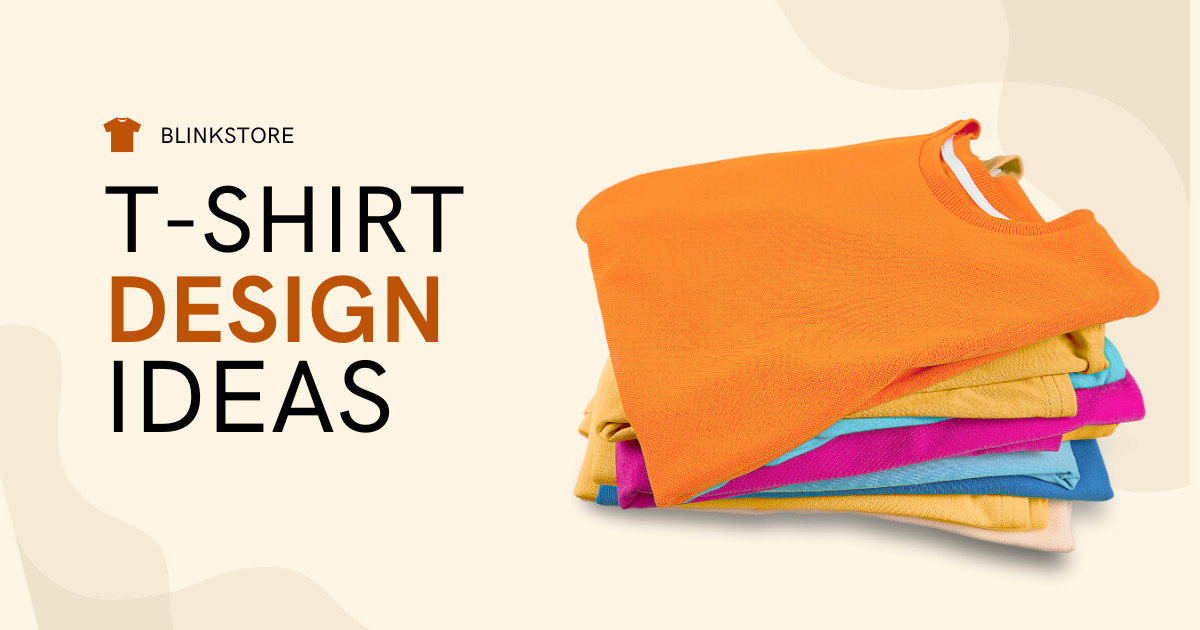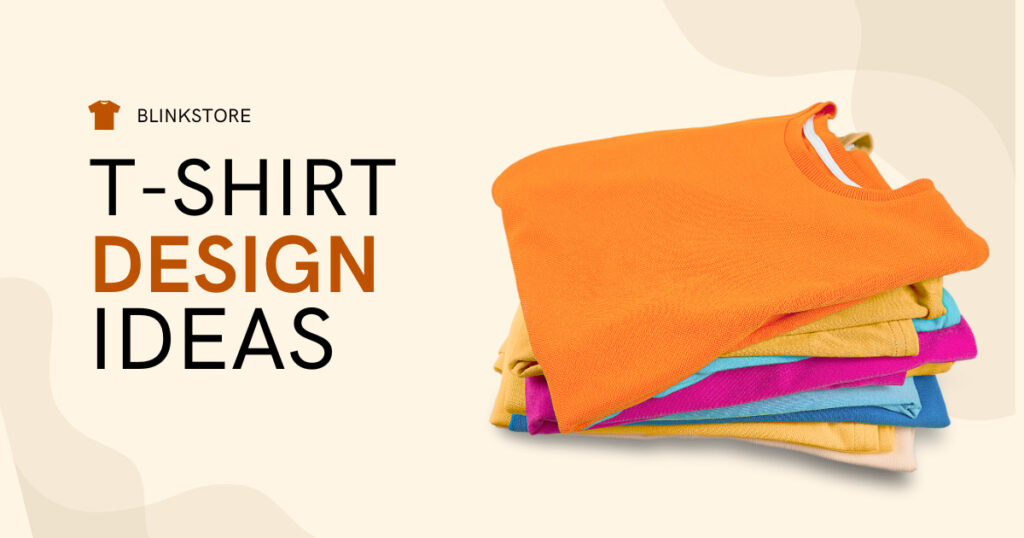 T-shirts have long been a fashion mainstay due to its comfort, adaptability, and ability to exhibit personal flair. A well-designed t-shirt may make a dramatic statement whether you're going to a casual gathering, attending a major event, or simply expressing your unique individuality. Customization has grown in popularity, allowing people to design t-shirts that truly express their interests, passions, and personality.
With so many t-shirt design ideas available, it might be difficult to discover inspiration and select the appropriate design for any occasion. The possibilities are endless, ranging from classic font and minimalistic designs to hilarious slogans and abstract artwork. The idea is to discover designs that not only match your personal preferences but also have a broad appeal, making them appropriate for a variety of events and places.
One of the most significant benefits of t-shirt customising is the ability to include your own originality into your outfit. By experimenting with various themes, styles, and visual features, you can make t-shirts that are one-of-a-kind and stand out from the crowd. So, let's get started and explore the universe of t-shirt design ideas. Prepare to let your imagination run wild, make a statement, and confidently wear a t-shirt that truly symbolises who you are, no matter what the circumstance.
Best T-shirt Design Ideas to Consider in 2023
Here are some amazing design ideas for t-shirt that you can consider and take inspiration from. By using this ideas, you can also start your own custom-design t-shirt business with Blinkstore! Read on to know more about this.
Cool t-shirt design ideas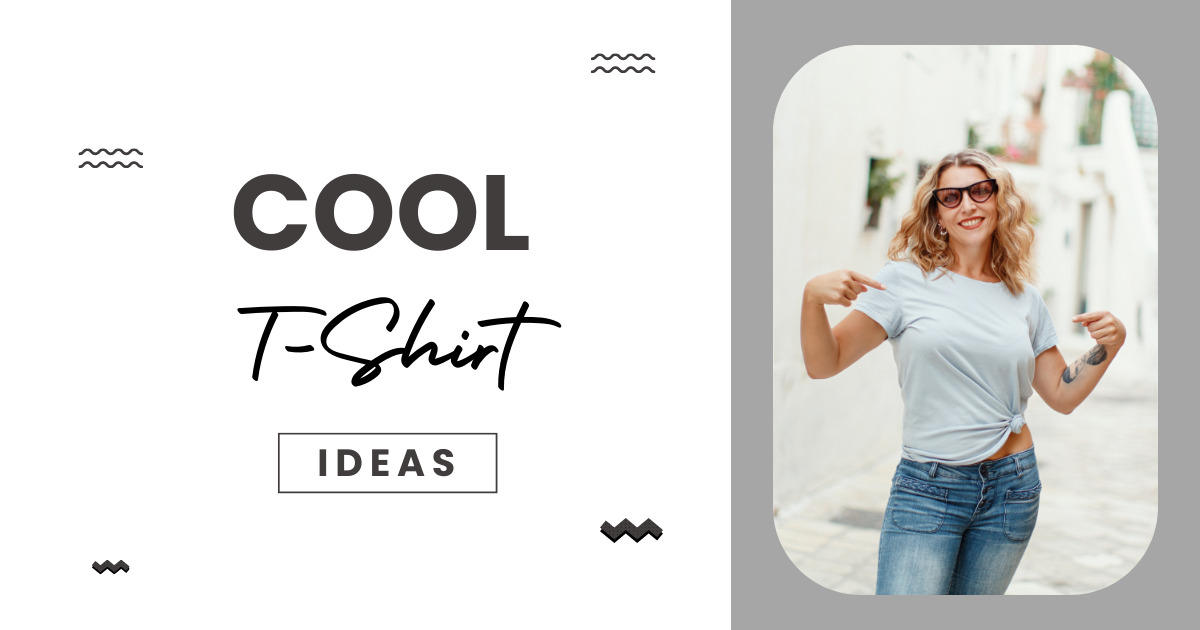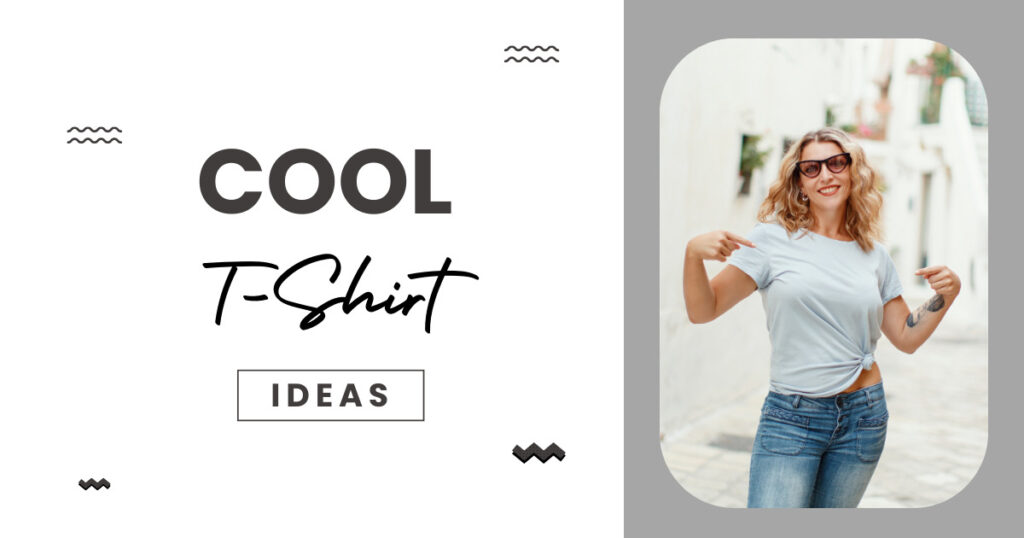 Infuse your t-shirt collection with designs that are stylish and distinctive. Experiment with abstract patterns, edgy images, and bright colour combinations to create visually appealing designs that express your personality.
Typography
Make a powerful statement with t-shirt designs that contain impactful typography, such as employing bold fonts, witty wordplay, or motivating quotes to produce visually attractive designs that catch attention.
Pop Culture References
Pay homage to your favourite films, TV shows, or iconic figures with t-shirt designs that integrate pop culture references, revealing your interests and creating conversations among lovers of the same genre.
Old Revival
Design t-shirts inspired by old aesthetics to tap on nostalgia. These designs, which range from vintage-inspired images to throwback logos and typography, lend a stylish and nostalgic vibe to your clothing.
Artistic Mash-Ups
Combine various artistic forms, such as pop art, surrealism, or street art, to produce unique and visually appealing t-shirt designs. Experiment with combining various components, colours, and styles to create an own artistic mash-up.
Embroidered t-shirt design ideas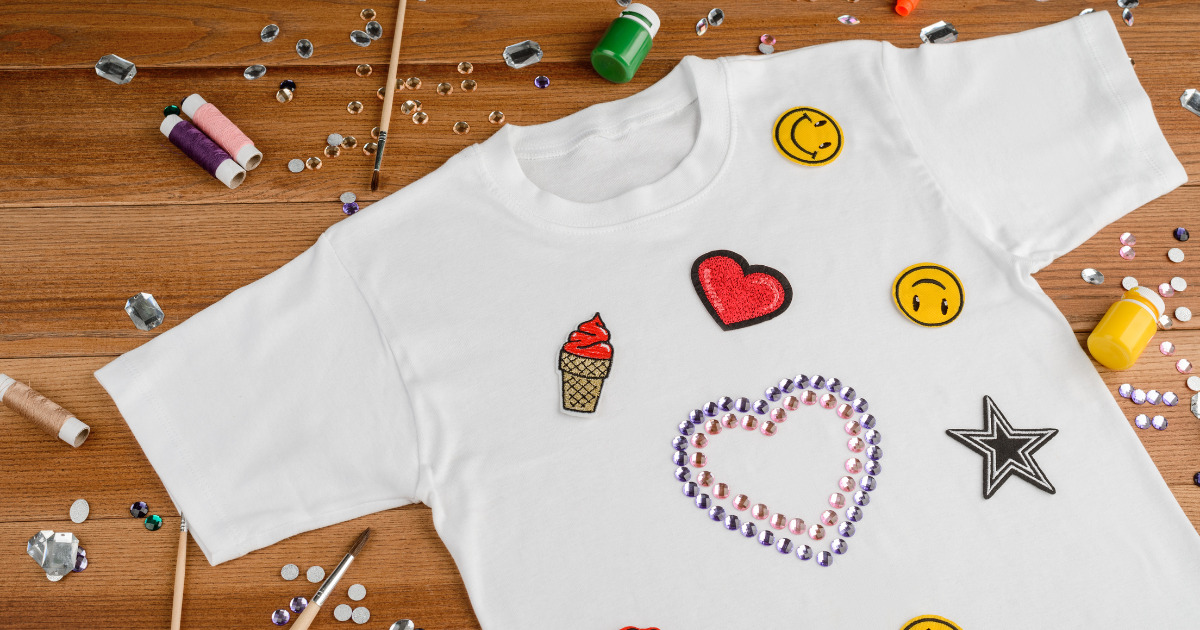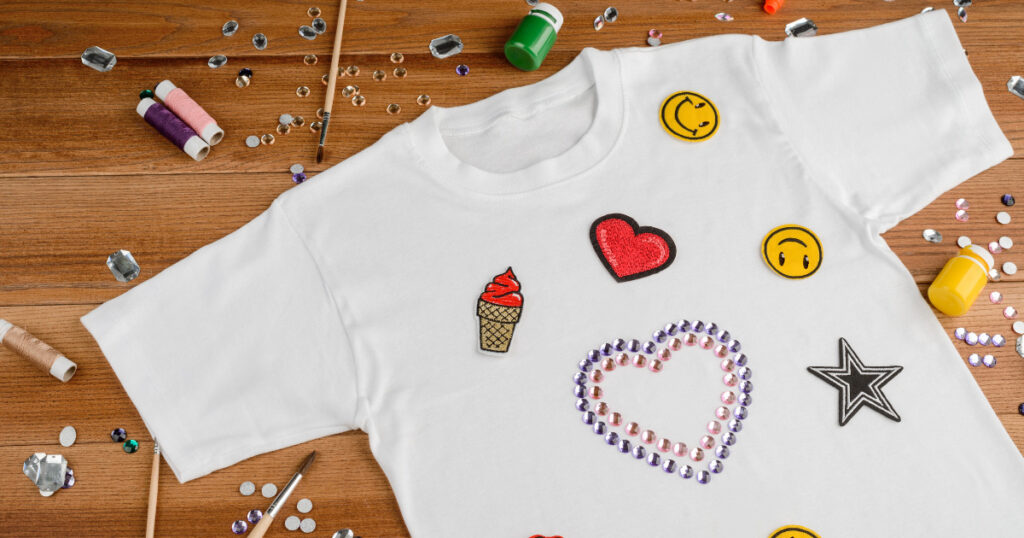 With exquisite and complex embroidery, you can up your t-shirt game. Embroidered designs, from delicate floral motifs to detailed monograms, bring a touch of luxury and artistry to your t-shirts.
Intricate Floral Embroidery
Discover nature's beauty with embroidered t-shirt patterns that feature delicate flowers, foliage, and botanical motifs that offer a touch of elegance and femininity.
Monogrammed Masterpieces
Create a stylish and customised look by embroidering elaborate monograms, initials, or names onto your t-shirts.
Geometric Embroidery
Combine the accuracy of geometric shapes with the beauty of embroidery to create innovative and eye-catching designs that blend traditional craftsmanship with modern aesthetics.
School t-shirt design ideas
Custom-designed t-shirts that symbolise your educational institution are a great way to show off your school spirit. Include your school's logo, motto, or mascot in the design to promote togetherness and pride among students and staff.
Mascot Magic
Display your school spirit by creating t-shirts that feature your favourite mascot in a creative and engaging way, inspiring unity and team support.
Academic Achievements
Incorporate pertinent symbols, graduation hats, or academic insignia into your school t-shirt designs to commemorate academic accomplishments such as graduation or honour roll.
Class Pride
Make class-specific t-shirts that highlight the graduation year, class motto, or inside jokes, encouraging students to feel a sense of solidarity and nostalgia.
Hobby t-shirt design ideas
Wear t-shirts that reflect your hobbies to show off your interests and enthusiasm. Design t-shirts that incorporate appropriate symbols, instruments, equipment, or allusions to reflect your distinct personality, whether you enjoy music, painting, cuisine, or gaming.
Musical Melodies
Honour your love of music by making t-shirts with musical instruments, notes, or phrases that represent your appreciation for rhythm and melody.
Artistic Expressions
Wear your creativity on your sleeve with t-shirts that feature paintings, sketches, or artistic skills.
Game On
Show off your gaming zeal with t-shirt designs inspired by your favourite video games, integrating iconic characters, gaming systems, or references that are meaningful to other gamers.
Cute t-shirt design ideas
With lovely t-shirt designs, you may spread joy and cuteness. Incorporate adorable animal images, playful typography, or delightful figures to design t-shirts that will make everyone smile.
Adorable Animal Illustrations
Win hearts with t-shirts with adorable animal illustrations, ranging from energetic kittens and puppies to loving pandas and bunnies.
Whimsical Cartoon Characters
T-shirt designs featuring famous cartoon characters from your childhood or popular animated icons known for their cuteness will bring you joy and nostalgia.
Sweet Treats & Foodie Designs
Satisfy your sweet craving with t-shirts depicting delectable sweets, colourful candy, or food-related puns, which will add a lovely touch to your outfit.
Family t-shirt design ideas
With personalised t-shirt designs, you may celebrate the link of family. Make identical or coordinating t-shirts with your family name, inside jokes, or key anniversaries to develop a strong sense of unity and affection.
Matching Family Outfits
Create a sense of connection and togetherness for the entire family by designing matching t-shirt designs with coordinating colours, the family name, or a common message or symbol.
Generation Legacy
Emphasise the love and connection between family members by producing t-shirts that highlight the different generations within your family, such as grandparents, parents, and children.
Inside Jokes and Family Slogans
Display your family's own sense of humour or develop a personalised family motto that reflects your shared experiences and makes everyone grin.
Sports team t-shirt design ideas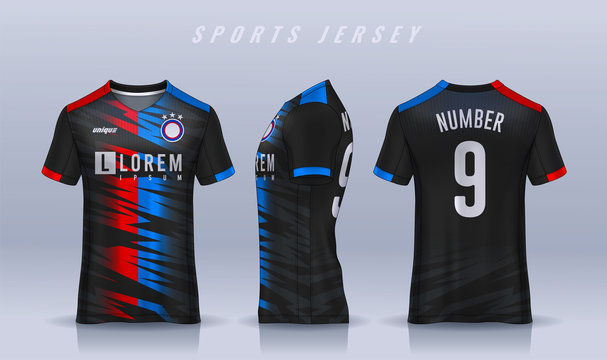 Create t-shirts with team colours, logos, and messages to support your favourite sports team. Whether you're a fan or a player, sporting team-inspired t-shirts will instill a sense of community and excitement.
Team emblem and Colours
Show your support and passion for your favourite sports team by including their emblem and team colours into the t-shirt design.
Player Tributes
Show your respect and loyalty to your favourite athlete or sports hero by designing t-shirts with their name, jersey number, or key moments.
Motivational Quotes
Create t-shirt designs that feature motivational team mantras, slogans, or mottos, providing a source of motivation and solidarity for players and spectators alike.
Seasonal t-shirt design ideas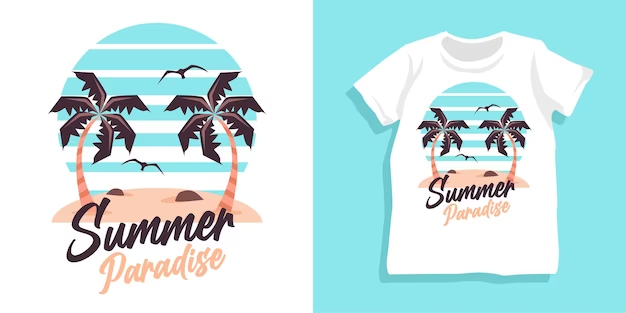 Design t-shirts that express the spirit of each season, such as spring, summer, autumn, or winter. Incorporate seasonal motifs into your designs, such as blossoming flowers, beach scenery, falling leaves, or snowflakes.
Spring Blossoms & Floral Delights
Capture the essence of spring with t-shirt designs that include blooming flowers, colourful petals, and refreshing colour palettes.
Summer Vibes & Beach Themes
Create t-shirts with beach-inspired themes such as palm trees, waves, sunsets, or tropical designs to express the carefree attitude of summer.
Cosy Fall and Winter Scenes
Embrace the cosy ambiance of fall and winter by designing t-shirts with falling leaves, snowflakes, warm beverages or festive holiday themes to add seasonal cheer to your wardrobe.
Design and Sell Custom T-shirts With Blinkstore
Now that you know some of the coolest t-shirt ideas, you can now use your imagination and create your own custom t-shirt online and sell them to earn profits. And guess what, it doesn't even require significant investment and anyone can do it. Excited already?
You can use Blinkstore, one of the most popular print on demand platforms for bringing your t-shirt design ideas into reality. But don't assume that Print on demand is only possible with only t-shirts. In fact, on Blinkstore we do print-on-demand for more than 30 products including t-shirts, hoodies, sweatshirts, crop-tops, crop hoodies, bottles, coffee mugs, posters, cushion covers, mobile phones, etc. So you can start your own t-shirt store, and as it starts doing good sales, you can launch many more products on Blinkstore's storefront which will be provided to you for free! Let's take a step by step process on how to do this.
Step 1: Use Blinkstore to create a free t-shirt store.
Sign up with your Google account at the seller.blinkstore.in. There is no need to remember a password. Select "New Store" from the "Create +" menu. Select a name for your store that will also serve as the subdomain.
Step 2: Create t-shirts easily online.
Click "Add/Edit New Product" and then choose a t-shirt to design. Upload your Canva or Photoshop designs with the simple t-shirt editor. You can also use Mockey, a high-end free mockup generator for designing your t-shirts and other apparels. Position the design and choose a t-shirt colour. Set the t-shirt's title, description, and profit margin. The cost of shipping is included in the base price, and Blinkstore handles printing and shipment.
Step 3: Begin selling t-shirts online.
Put your t-shirt designs for sale at your store. Start making money from sales by promoting your t-shirt company online. Don't forget to withdraw your profits as well.
FAQs
What types of t-shirt designs are the most popular?
The most popular t-shirt designs frequently feature popular subjects such as witty quips, iconic symbols, or fashionable graphics.
How do you come up with shirt design ideas?
Explore current fashion trends, discuss innovative thoughts, and observe popular culture to gain ideas for shirt designs.
What t-shirt designs are popular right now?
Oversized and loose fits, vintage-inspired designs, and simple graphics are all popular t-shirt fashions.
How do you make an unique t-shirt?
Combine original artwork, inventive typography, or personalised statements that show your individuality and resonate with your target demographic to create a unique t-shirt.
Conclusion
In conclusion, t-shirt design ideas provide numerous opportunities for expressing originality and own style. There are many possibilities to explore whether you're seeking for cool, cute, or unusual designs. The key to creating designs that engage with your target audience and make a statement ranges from embracing popular trends to injecting your designs with own flare. You can make t-shirt designs that are visually appealing, commercial, and representative of your distinct personality by experimenting with numerous concepts, themes, and artistic techniques. So go ahead and let your imagination go wild to create t-shirts that stand out and leave a lasting impact. Also, don't forget to check out Blinkstore for the best quality custom t-shirts and other merchandise.