If you're a coffee mug enthusiast looking for great coffee mug design ideas, you're in for a treat. This article not only contains numerous mug design ideas suitable for every age group but also explores the diverse world of mug design, offering inspiration for various occasions and preferences.
Table of Contents
Introduction
Coffee mugs are a popular gift item and a great way to show someone you care. They can also be a fun way to express your personality or interests. If you're looking for some creative coffee mug design ideas, you've come to the right place.
In this blog post, we'll discuss 25 creative and unique coffee mug design ideas. We'll cover a variety of topics, including coffee quotes, animals, plants, slogans, logos, colorful illustrations, typography, funny designs, motivational quotes, TV and cinema, simple designs, personalized designs, couple designs, seasonal designs, office designs, hobby designs, and more.
So whether you're looking to create a custom mug for yourself or a special someone, or you're just looking for some inspiration, we hope you'll find something you like in this list
If you are looking to sell your extraordinary design ideas, Blinkstore is here to help you. Blinkstore is an eCommerce store builder designed for selling custom-designed merchandise without the hassle of managing inventory and shipping logistics. If you want to create your own print-on-demand business with Blinkstore, check out the complete guide on How to Start a Print on Demand Business With Blinkstore. This might give you useful information for getting started on your entrepreneurial path.
Minimalist coffee mug design ideas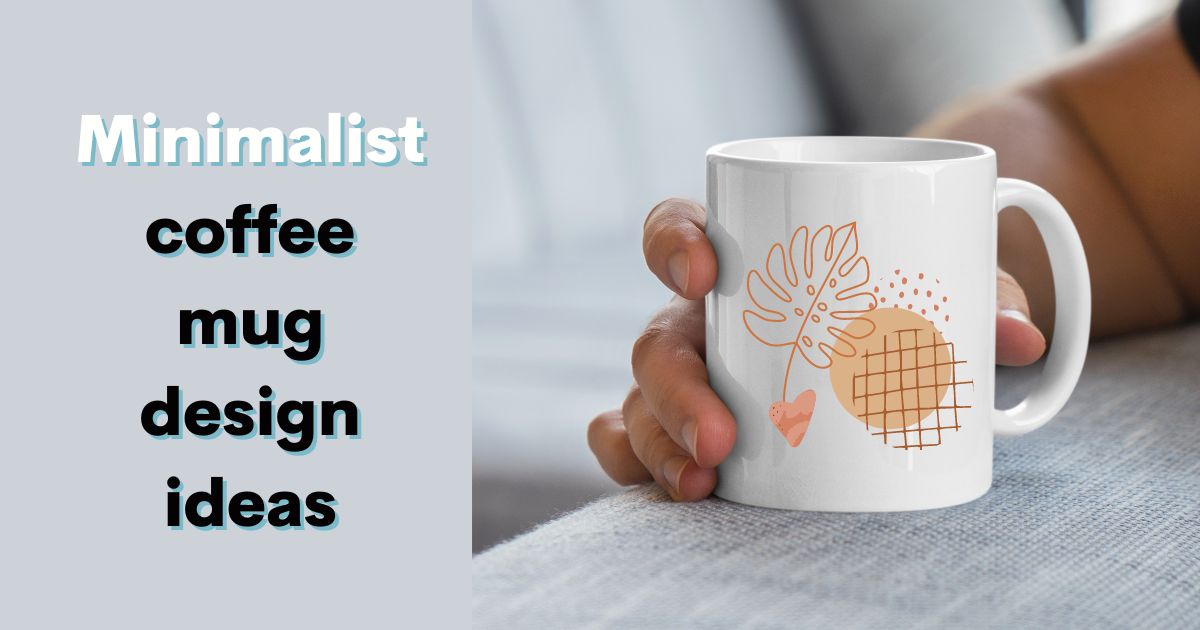 Discover the elegance of simplicity with these minimalist coffee mug designs. From monochrome classics to nature-inspired tranquility, these mugs bring a touch of calm and sophistication to your morning coffee routine
Monochrome Magic
Embrace the allure of simplicity with a matte black coffee mug that exudes modern elegance. Its contrasting white handle adds a touch of sophistication to your morning routine. Alternatively, you can opt for a minimalist white mug featuring a delicate coffee bean icon, a subtle nod to your favorite brew.
Geometry in Simplicity
Elevate your coffee design mug ideas and experience with a hexagonal-shaped coffee mug, a geometric masterpiece that combines form and function in one eye-catching design. For those who appreciate clean lines and understated charm, a cylindrical mug adorned with a minimalist, symmetrical pattern is a perfect choice.
Nature Coffee mug Design Ideas
Infuse a touch of nature into your mornings with a serene blue coffee mug adorned with a subtle leaf pattern, reminiscent of a calming forest. Alternatively, start your day with a mug as warm and inviting as a sunny morning by choosing a sand-colored coffee cup mug design ideas featuring an elegant tree silhouette
Space-Inspired Elegance
Reach for the stars with a deep navy coffee mug adorned with constellations and stars, making your coffee ritual feel like a celestial journey. If you're an early riser, a cosmic-themed coffee mug featuring a gradient from dark to light might be the perfect choice to signify the transition from night to day.
Textured Tranquility
Immerse your senses in the tactile experience of a ceramic coffee mug design ideas with handcrafted textures, adding a delightful touch to your morning coffee routine. Alternatively, experience the tranquility of a frosted glass coffee mug, where its textured grip provides both comfort and style as you savor each sip.
Whimsical Coffee Mug Design Ideas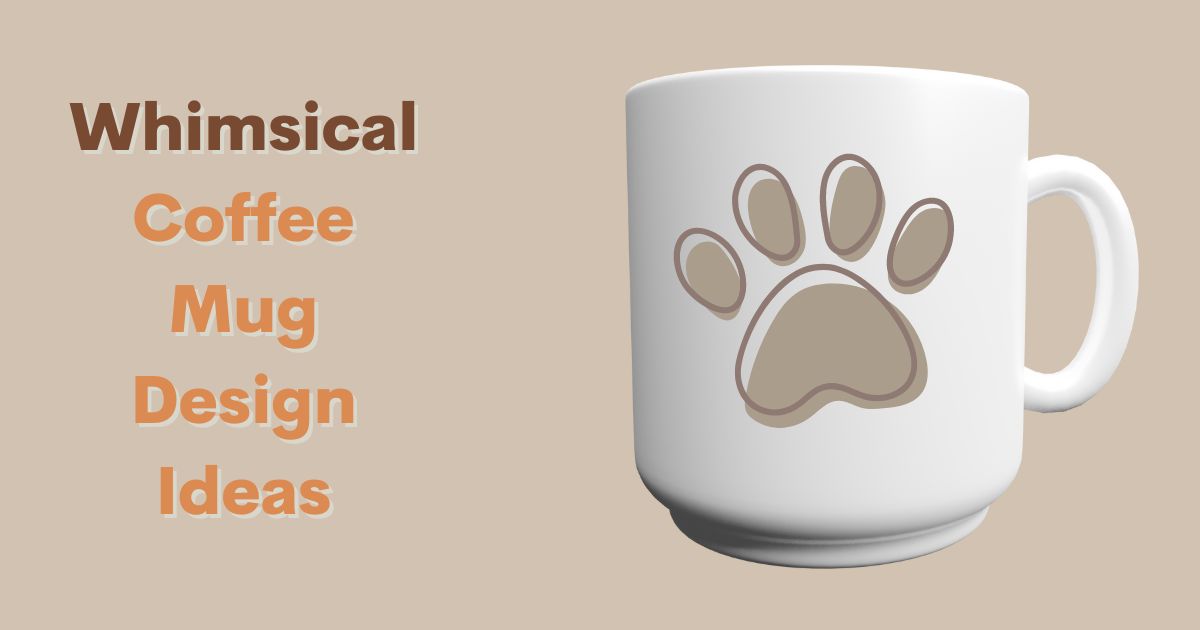 Add a dash of playfulness to your coffee break with whimsical coffee mugs. Whether you're a fan of cute animal motifs, iconic cartoons, or pop culture references, these mugs bring a smile to your face with every sip.
Animal Friends
Bring a touch of whimsy to your morning routine with a coffee mug adorned with adorable animal illustrations. Perfect for kids and adults who adore animals, these coffee mug design ideas add a delightful charm to your coffee moments. Additionally, consider a cat-shaped mug with playful cat ears for an endearing and quirky twist.
Cartoon Capers
Relive the nostalgia of your favorite cartoons with coffee mugs showcasing beloved characters. These coffee mug design ideas infuse a playful spirit into your mornings and serve as a reminder of cherished childhood memories. For an even more immersive experience, start your day with a 3D coffee mug shaped like a classic cartoon character's head
Pop Culture Perfection
Express your fandom with coffee mugs featuring iconic quotes from your beloved movies or TV shows. These mugs not only hold your coffee but also ignite conversations and celebrate your passion for pop culture. You can also transform your coffee break into a pop culture celebration with collectible mugs displaying the logos of your favorite franchises.
Playful Patterns
Add a touch of whimsy to your coffee routine with mugs adorned with playful doodles and sketches. These coffee mug design ideas are perfect for creative souls who appreciate a hint of artistry with their morning brew. Alternatively, elevate your coffee experience with a polka-dot mug, infusing a sense of playfulness and cheer into your daily rituals.
Retro Vibes
Travel back in time with vintage-inspired coffee mugs featuring classic design elements. These coffee mug design ideas evoke the charm of bygone eras, making your coffee breaks feel like a nostalgic journey. For a dash of 1950s flair, choose a mug showcasing retro typography, reminiscent of a simpler and more elegant time.
Personalized Coffee Mug Design Ideas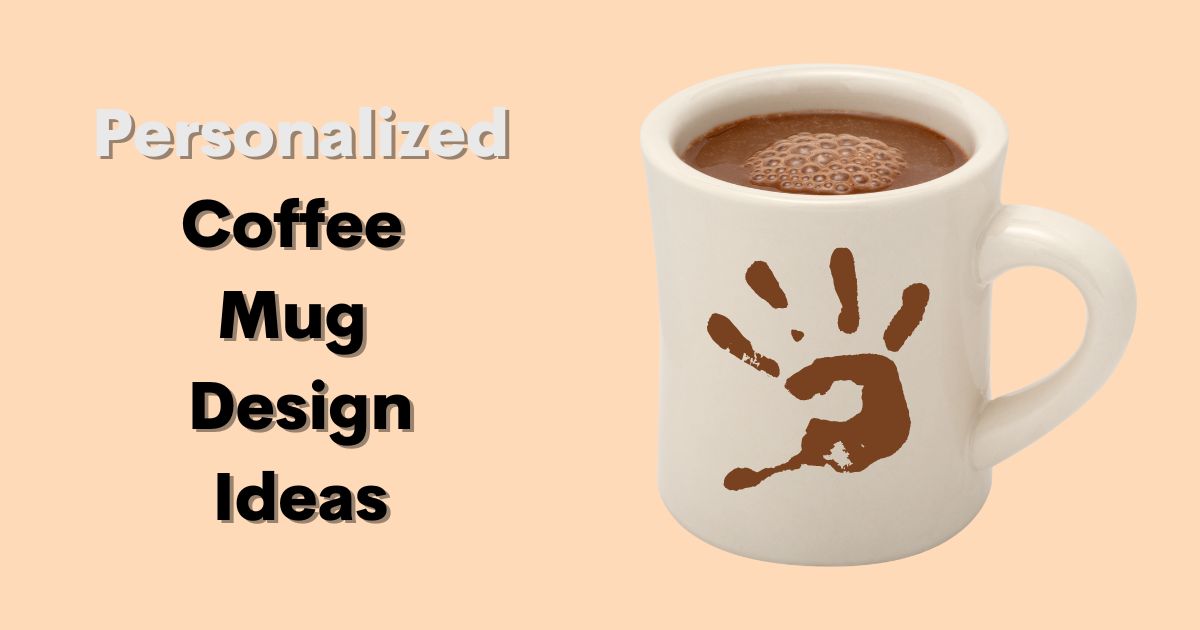 Make your morning coffee uniquely yours with personalized coffee mugs. From monogrammed elegance to custom photo mugs, these designs celebrate your individuality and special moments.
Name in Lights
Make your coffee mug uniquely yours with personalized options such as your name or a special message. These mugs add a personal touch to your mornings and serve as a reminder of your individuality. Additionally, consider a mug featuring your zodiac sign and birthdate for a personalized astrological connection.
Picture Perfect
Turn your coffee mug into a canvas for your cherished memories by choosing a photo mug. These mugs can showcase your favorite family pictures, vacation snapshots, or any moment that warms your heart. Alternatively, opt for a custom mug displaying a special vacation memory that takes you back to your adventures with every sip
Monogram Mania
Add a touch of elegance with a monogrammed coffee mug featuring your initials in a stylish font. These coffee mug design ideas are a sophisticated choice for those who appreciate timeless design. You can also explore monogrammed mugs with unique border designs that further reflect your style.
Hand-Painted Masterpiece
Elevate your coffee experience with a hand-painted ceramic mug featuring unique, intricate artwork. These mugs are one-of-a-kind pieces of art that enhance your daily coffee ritual. Alternatively, consider a custom mug featuring a watercolor portrait of your beloved pet, celebrating your furry companion with every sip
DIY Delight
Unleash your creativity with a plain white coffee mug that comes with a DIY painting kit. These mugs invite you to become the artist, allowing you to customize your mug according to your artistic vision. Additionally, explore a chalkboard coffee mug that enables you to write a fresh message or doodle each day, adding a fun and interactive element to your mornings.
Sustainable Coffee Mug Design Ideas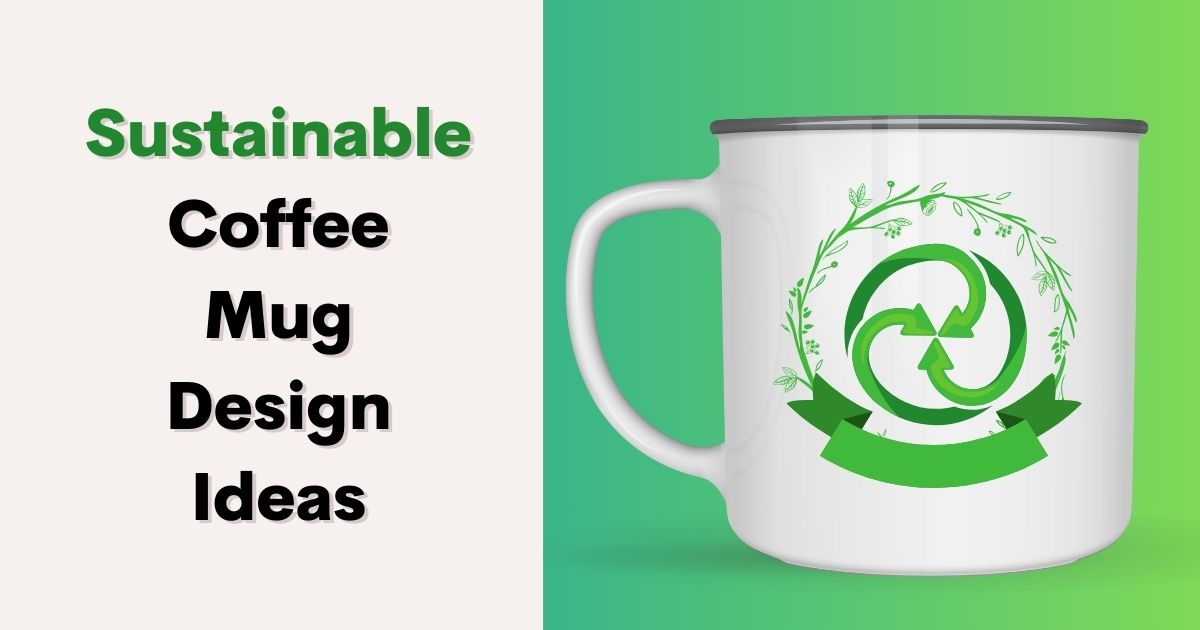 Embrace sustainability without sacrificing style. Eco-friendly coffee mugs made from bamboo, glass, recycled materials, clay, or stainless steel offer an environmentally conscious and chic way to enjoy your coffee.
Bamboo Beauty
Experience eco-friendly elegance with a coffee mug made from sustainable bamboo. Its natural finish adds warmth and charm to your coffee moments. Alternatively, opt for a bamboo-fiber mug with a convenient silicone lid, perfect for eco-conscious coffee lovers on the go.
Glass Glamour
Indulge in transparency and sophistication with transparent glass coffee mug design ideas featuring a silicone sleeve for a comfortable grip. For the coffee enthusiast who seeks temperature control, a double-walled glass mug keeps your coffee hot while keeping your hands cool.
Recycled Radiance
Embrace sustainability with a coffee mug crafted from recycled materials, showcasing a rustic texture that tells a unique story. Alternatively, explore a ceramic mug featuring accents made from recycled glass, adding a touch of eco-conscious elegance to your coffee breaks
Earthy Elegance
Connect with nature through a clay coffee mug featuring earthy tones and hand-carved designs. These mugs embody the essence of artisan craftsmanship, enhancing your coffee experience. For plant lovers, consider a terracotta mug with a built-in succulent planter on the handle, bringing a touch of greenery to your mornings.
Stainless Steel Sleekness
Opt for modernity with a stainless steel coffee mug boasting a sleek matte finish. These mugs are both durable and stylish, making them an ideal choice for coffee aficionados. Alternatively, stay caffeinated on the go with a travel-friendly stainless steel mug equipped with a spill-proof lid, perfect for those busy mornings
Unique Coffee Mug Design Ideas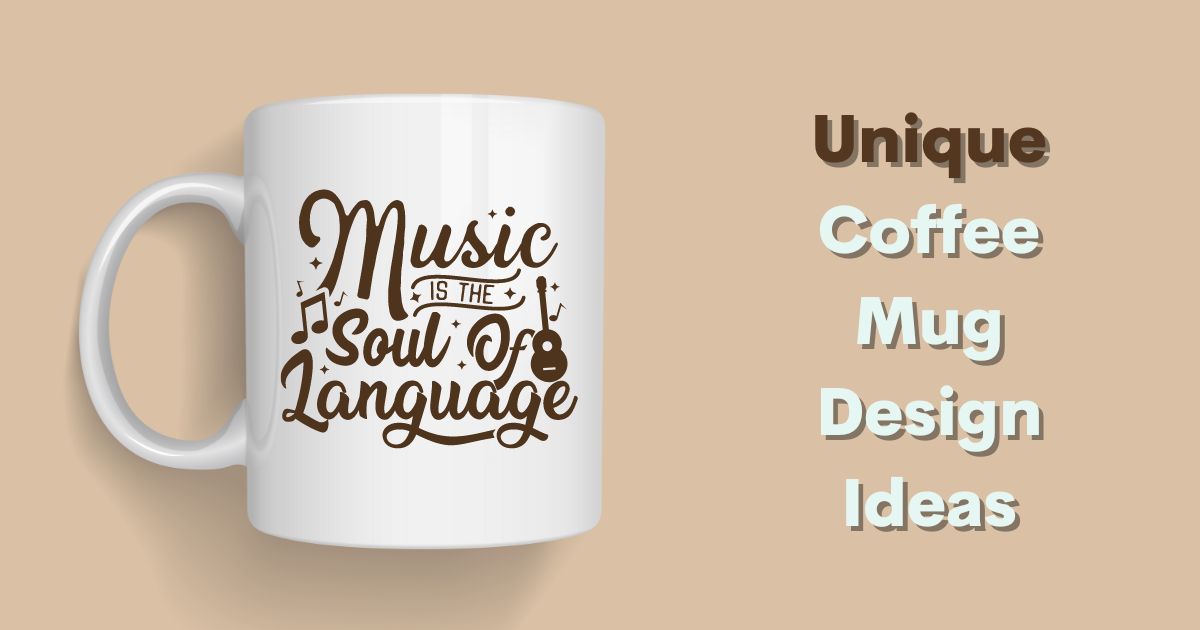 Break away from the ordinary with quirky and unique coffee mug designs. Solve puzzles, enjoy music, experience magic, admire 3D artistry, and engage with interactive innovations—all in the palm of your hand with these inventive mugs.
Puzzle Pleasure
Add an element of intrigue to your coffee routine with a coffee mug featuring a built-in crossword puzzle, offering brain-teasing fun with your caffeine fix. Alternatively, explore a Rubik's Cube-inspired mug with rotating sections, making your morning coffee an engaging challenge
Musical Mug
Turn your coffee mug into a musical delight with a built-in musical note pattern that plays a tune when tapped. These mugs add a harmonious touch to your coffee breaks. For music enthusiasts, consider a mug with a handle shaped like a mini guitar neck, allowing you to strum your way into the day
Magic Mug
Experience coffee magic with a heat-sensitive mug that reveals a hidden message or image when hot liquid is poured in. Watch as your morning message slowly appears as you enjoy your brew. Alternatively, opt for a disappearing ink mug, where your morning message fades gradually as you sip your coffee, creating an ever-changing coffee experience.
3D Artistry
Elevate your coffee ritual with a coffee mug featuring a 3D sculpture emerging from the bottom. These mugs offer a tactile and visual surprise as you finish your drink
Interactive Innovation
Bring technology to your coffee mug with a built-in LED screen that displays custom messages or images. These mugs allow you to start your day with personalized inspiration. Explore a mug with a QR code that leads to a daily dose of an inspirational quote or a humorous joke, adding a touch of interactivity to your coffee moments.
Conclusion
In summary, the world of coffee mug design offers something for everyone. Whether you prefer minimalist elegance, whimsical charm, personalization, sustainability, or unique innovations, there's a coffee mug design to match your style.
Minimalists can enjoy sleek monochrome and geometric designs, while nature lovers can find solace in earthy and celestial-themed mugs. Those seeking a touch of whimsy can choose from animal, cartoon, or pop culture-themed mugs. Personalized options allow you to make your mug uniquely yours, while eco-friendly materials cater to sustainability enthusiasts. For those who love a twist, there are puzzle-solving, musical, magic, 3D, and interactive mugs to add excitement to your coffee routine.
With such a diverse range of coffee mug designs, there's a perfect mug waiting for you to make your morning coffee routine more enjoyable and personal. Whether you're making mugs for yourself or to sell, these mug design ideas can help you get started. Remember that a well-designed mug can brighten someone's day, elicit emotions, and serve as a treasured keepsake.
Are you excited about the mug design ideas mentioned here and eager to see how they would look in reality? Mockey AI has you covered with their Free Mockup Generator. With over 1000+ templates to choose from, you can bring your mug design ideas to life and visualize how they will appear in the real world.
If you're interested in learning how to create a product using Mockey AI, I recommend checking out their comprehensive guide titled '5-Step Guide On How To Create Product Mockups Using Mockey.' This guide provides detailed instructions and insights on the process, helping you enhance your skills in creating stunning product mockups
FAQ
Can I personalize a coffee mug design idea with my own design or photo?
Yes, many places offer the option to personalize coffee mugs with your own designs, photos, or messages. You can often find these services online or at local print shops.
Are there age-appropriate coffee mug designs for children?
Yes, there are coffee mug design ideas suitable for children, featuring themes like cartoon characters, animals, and playful patterns. Always ensure that the materials used are safe for kids.
Are these coffee mug design ideas suitable for all types of mugs?
Yes, these ideas can be adapted to various types of mugs, including ceramic, porcelain, glass, stainless steel, and travel mugs. The key is to choose the right printing method and materials for your chosen design.
Where can I get my custom mug designs printed?
You can get your custom mug designs printed through Blinkstore, a renowned company specializing in mug design and printing services. Blinkstore offers a range of customization options, high-quality printing methods, and a user-friendly online platform for designing and ordering custom mugs. Visit the Blinkstore website for more details on their services and pricing.
Can I order custom mugs as gifts for friends and family?
Yes, custom mugs make wonderful and thoughtful gifts for loved ones, offering a personal connection and a lasting memory.
How do I choose the right image for coffee mug design ideas?
Select an image or design that holds personal significance or resonates with the recipient's interests. High-resolution images often produce the best results.
What are some classic mug design options for everyday use?
Classic mug design ideas option include solid colors, simple patterns (like stripes or polka dots), and timeless themes like nature, animals, or inspirational quotes.
Are these unique coffee mugs expensive?
Prices vary, but you can find both affordable and premium options.
Can I use heat-sensitive magic mugs for cold drinks?
Yes, but the color-changing effect works best with hot liquids.
Can I use personalized coffee mugs for both hot and cold beverages?
Yes, personalized mugs are typically suitable for both hot and cold drinks. However, be cautious with extremely hot beverages as they can affect the longevity of personalized prints.