Boost your everyday coffee with 25 charming DIY mug design ideas. From watercolor wonders to decoupage desires, unleash your creativity and customize your sips like never before. Discover endless possibilities to craft the perfect mug for you or a unique gift for loved ones
Table of Contents
Introduction
Coffee mugs are not just vessels for your daily caffeine fix; they're also an opportunity to express your creativity and personality. DIY mug design is an excellent way to personalize your morning routine and make your coffee or tea moments even more enjoyable. Whether you're a seasoned DIY enthusiast or just looking for some creative inspiration, This blog contains a list of 25 fantastic DIY mug design ideas that will help you kickstart your artistic journey.
If you're interested in exploring even more design ideas, don't forget to check out our blog "30+ Mug Design Ideas to Sell and Gift." Let's dive into the world of personalized mugs!
25 Creative DIY Mug Design Ideas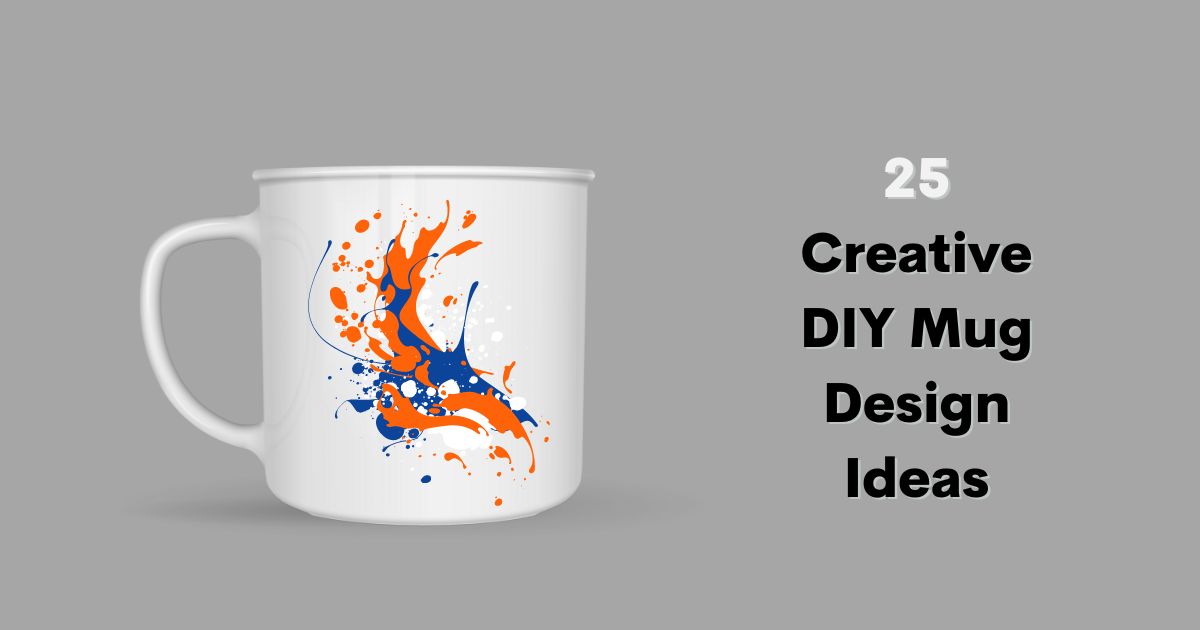 Here are some DIY mug designs to craft a personalized gift for your loved ones and also to make your morning beverage even better.
Glass Pained Mug
Transform your ordinary mugs into exquisite works of art with glass paint. Create intricate designs, vibrant patterns, or even lifelike landscapes on the glass surface. These hand-painted mugs not only add a touch of elegance to your morning coffee but also make for a stunning and personalized gift that your loved ones will cherish.
Sharpie Art
Unlock your creativity with DIY mug design ideas that use colorful Sharpie markers and draw intricate patterns, inspiring quotes, or personal messages. Let your imagination run wild as you decorate the mug with your favorite designs or even turn it into a canvas for a mini-masterpiece.
Marble Effect
Create a captivating mug that mimics the luxurious look of marble with this DIY idea. Using nail polish and water, you can easily dip your mug into a swirling blend of colors, resulting in a stunning and unique marble pattern. Each mug becomes a one-of-a-kind piece of art, making your morning coffee feel like a sip of sophistication.
Photo Collage
Turn your morning coffee ritual into a heartwarming journey down memory lane with a DIY design idea. Personalize a plain mug with cherished photographs of family, friends, or special moments in your life. Simply print and mod-podge these photos onto the mug's surface, creating a sentimental keepsake that warms your heart every time you take a sip.
Chalkboard Mug
Add a touch of whimsy and versatility to your morning routine with a DIY chalkboard mug. Coat a plain mug with chalkboard paint, transforming it into a creative canvas that can be customized daily. Write inspirational quotes, doodles, or reminders right on the mug's surface with regular chalk. The best part? You can erase and redesign your message as often as you like, making every cup of coffee or tea a unique and delightful experience.
Gradient Beauty Mug
Elevate your mornings with a touch of artistic elegance by creating a Gradient beauty mug. DIY mug design ideas involve blending two or more harmonious colors on your mug's surface, creating a visually captivating transition from one hue to another.
Quotes Mug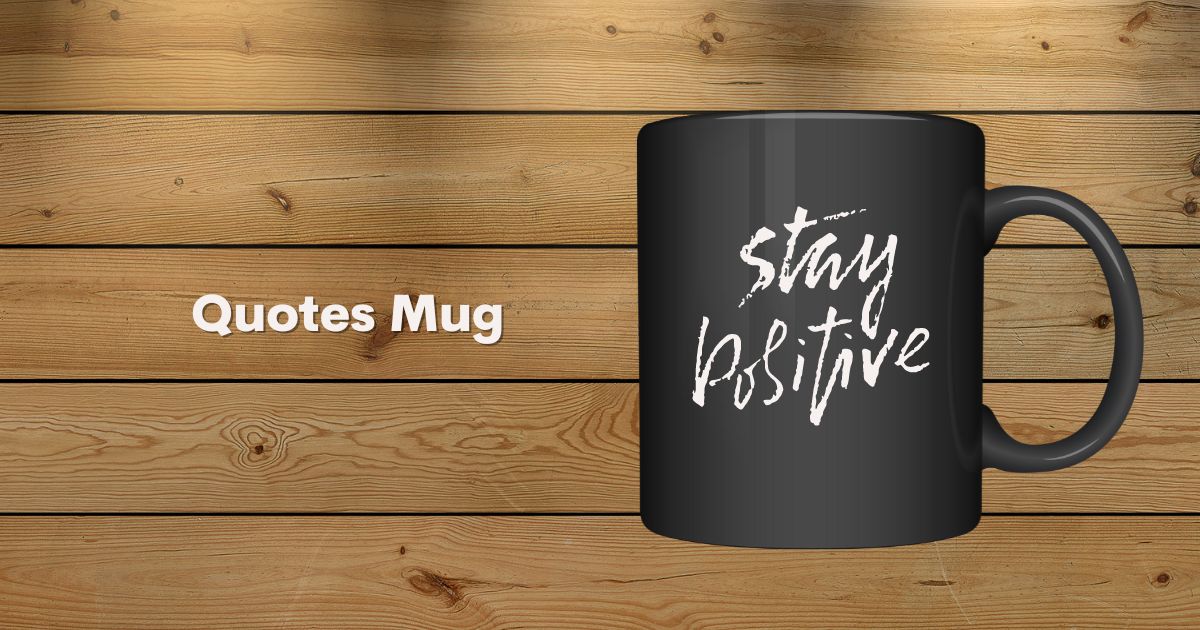 This is one of the coolest DIY mug design ideas, Start your day on a positive note with a personalized mug adorned with your favorite inspirational quotes. With this DIY mug design idea, you can choose quotes that resonate with you, motivate you, or simply bring a smile to your face. Write these uplifting words on the mug using permanent markers or ceramic paint pens.
Night Mug
Bring the celestial beauty of a starry night sky to your morning coffee with these enchanting DIY mug design ideas. Using deep blues and shimmering whites, paint your mug to recreate the tranquil ambiance of a starlit night. Add tiny stars, a crescent moon, or even a constellation to make it uniquely yours.
Water-Colored Mug
Immerse yourself in a world of artistic wonder with water-colored DIY mug design ideas. Using watercolor paints, you can create a dreamy and ethereal masterpiece on your plain mug. Blend soothing colors, create abstract patterns, or paint delicate landscapes—the choice is yours.
Whether you're an experienced painter or a beginner, this design allows you to explore the limitless possibilities of watercolors while enjoying your favorite drink.
Geometric Patterns Mug
Add a modern and stylish flair to your morning coffee routine with a geometric pattern DIY mug design ideas. Using masking tape or stencils, create eye-catching geometric shapes and designs on your plain mug. Play with squares, triangles, hexagons, or any other geometric patterns that catch your eye.
Doodle Art Mug
Unleash your inner creativity with whimsical and spontaneous drawings that turn blank spaces into captivating visual journeys. Explore the world of doodle art and transform ordinary surfaces into playful and unique expressions of your imagination.
Personalized Initial Mug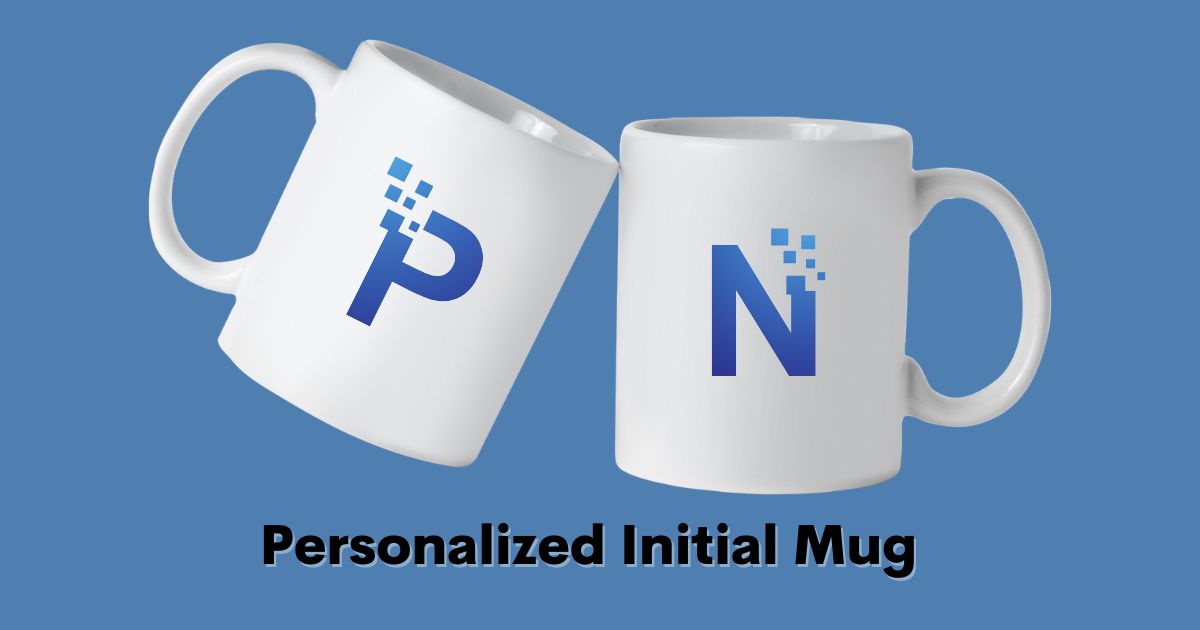 One of the best DIY mug design ideas to craft a personalized present for your loved one is a personalized Initial mug. This will add a unique and meaningful start to the day.
Nature-Inspired Mug
Immerse yourself in the beauty of the natural world with our creative DIY mug design ideas. Use leaves, flowers, or ferns as stencils to craft mugs that bring the serene charm of the outdoors to your daily coffee ritual.
Galaxy Mug
Explore the cosmos from the comfort of your morning coffee. With our galaxy-inspired DIY mug design ideas, you can transform plain mugs into mesmerizing celestial wonders, featuring deep blues, purples, and a touch of sparkle for an out-of-this-world sip.
Animal Lover Mug
Celebrate your passion for creatures big and small with DIY ideas. Paint your favorite animals or pets on your mugs and turn every sip into a heartwarming homage to your furry or feathered friends.
Minimalist Stripes
Embrace simplicity with DIY minimalist stripe ideas. Elevate your mugs with clean, modern lines and geometric patterns in muted colors, creating a stylish and understated addition to your daily coffee routine.
Fingerprint Art Mug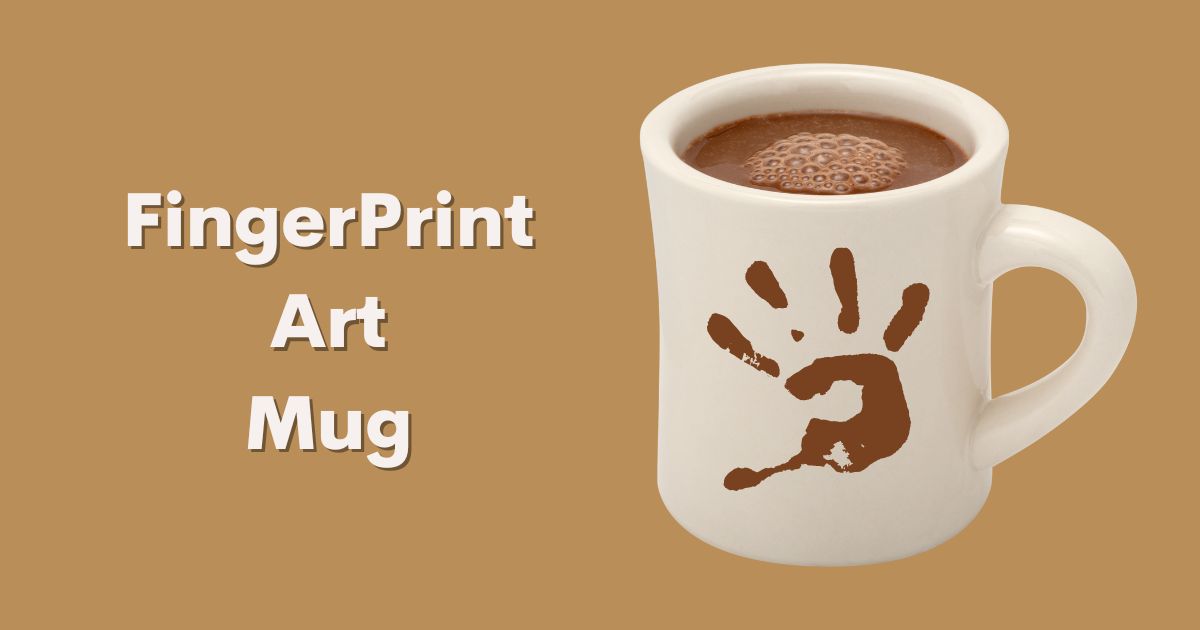 Make your mark on your morning routine! With fingerprint art DIY mug design ideas, turn plain mugs into personalized masterpieces. Create adorable characters or unique patterns using fingerprints, adding a touch of creativity and fun to your coffee breaks.
Vintage Mug
Step back in time with DIY vintage-inspired ideas. Recapture the elegance of bygone eras by painting delicate floral patterns and classic motifs on your mugs. Sip your favorite beverages in timeless style with these charming, antique-inspired designs.
Pop Culture Mug
Show your love for your favorite movies, TV shows, or music legends with creative DIY mug design ideas. Paint iconic symbols, characters, or references on your mugs and bring a touch of pop culture magic to your morning routine. It's a fun way to celebrate your fandom!
Complementary Colors
Explore the fascinating world of color theory. Experiment with complementary colors to create visually captivating designs on your mugs. These harmonious combinations will make your daily coffee or tea an aesthetically pleasing experience.
Superhero Mug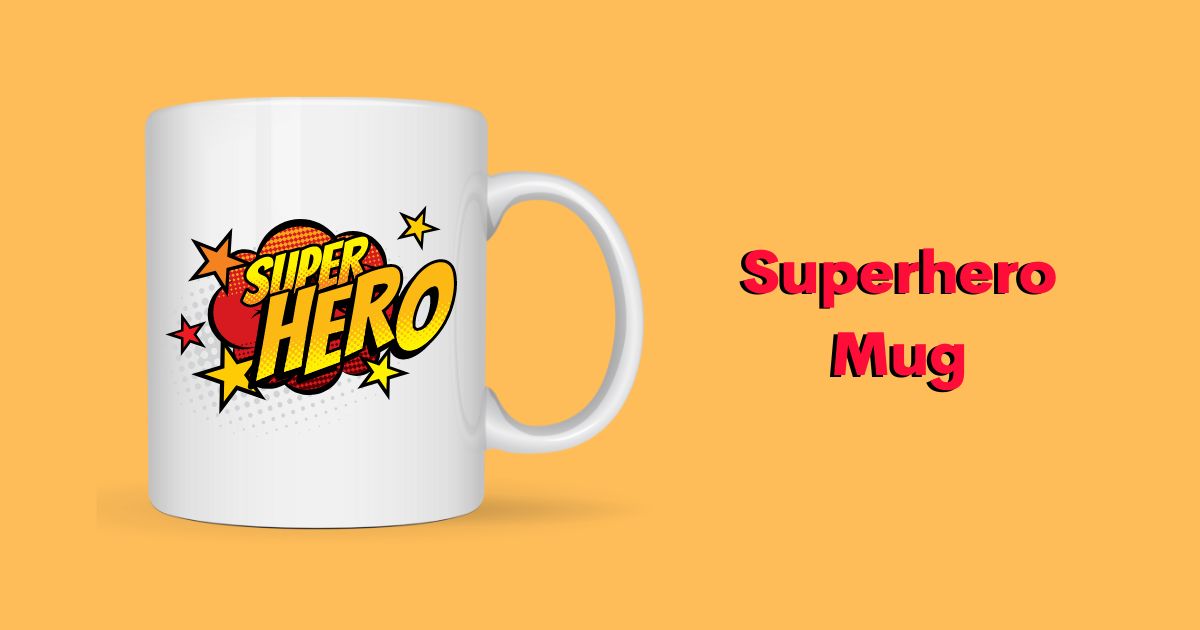 Transform plain mugs into powerful tributes to your favorite comic book characters, adding a dose of heroic flair to your morning routine.
Anime Mug
Dive into the vibrant world of anime with your DIY mug design ideas. Whether you're a fan of classic series or the latest releases, decorate your mugs with beloved anime characters, symbols, and scenes, and let your passion for Japanese animation shine during every sip.
Glow in the Dark Mug
Elevate your coffee breaks to a new level of enchantment with DIY glow-in-the-dark ideas. Infuse your mugs with a touch of magic by incorporating glow-in-the-dark paint into your designs, creating an otherworldly, luminous experience when the lights go out.
Message Mug
Write personal notes, inside jokes, or loving messages on your mugs, spreading warmth and smiles with every sip. It's a thoughtful and delightful way to start your day.
Tropical Paradise Mug
Escape to an island oasis every morning with DIY tropical paradise ideas. Paint your mugs with palm trees, pineapples, flamingos, and vibrant beach scenes, transforming your coffee or tea into a mini vacation for your senses.
Conclusion
These 25 DIY mug design ideas are simply the start of your creative journey. Whether you're an experienced artist or a newbie, there is a style right here for everybody. With a little imagination and some primary components, you may rework simple mugs into unique, customized pieces of practical artwork. So, seize your brushes, paints, and markers, and begin sipping in fashion!
Are you excited about the mug design ideas mentioned here and eager to see how they would look in reality? Mockey AI has you covered with their Free Mockup Generator. With over 1000+ templates to choose from, you can bring your mug design ideas to life and visualize how they will appear in the real world.
If you're interested in learning how to create a product using Mockey AI, I recommend checking out their comprehensive guide titled '5-Step Guide On How To Create Product Mockups Using Mockey.' This guide provides detailed instructions and insights on the process, helping you enhance your skills in creating stunning product mockups
FAQ
What is DIY mug design?
DIY mug design refers to the practice of decorating plain mugs with various creative techniques, such as painting, drawing, or adding personalized elements, to make them unique and visually appealing.
What materials do I need for DIY mug design ideas?
You will typically need plain mugs, various art supplies like paint, markers, brushes, stencils, and optionally, an oven or other sealing methods depending on your chosen design technique.
Are there any specific types of mugs that work best for DIY designs?
While you can decorate most types of mugs, it's advisable to choose plain, ceramic mugs as they provide a smooth surface that is ideal for painting and other design methods.
How do I make my DIY mug designs permanent and dishwasher-safe?
To make your designs permanent and dishwasher-safe, you can either bake the mugs in an oven at a specific temperature or use dishwasher-safe sealants or Mod Podge to protect your artwork.
Can I use regular acrylic paint for DIY mug design?
Acrylic paint can be used, but it's important to ensure it's safe for use on ceramics and porcelain. Heat-setting or sealing with a dishwasher-safe product is crucial for longevity.
How can I get inspiration for my DIY mug design ideas?
Inspiration can come from anywhere – nature, art, personal experiences, or even popular culture. You can also browse online platforms like Pinterest or Instagram for design ideas.
Is it possible to fix mistakes in a mug design?
Yes, depending on the type of mistake and the stage of your design, you can often fix errors by carefully painting over them or using appropriate correction techniques.
What are some creative themes for DIY mug designs?
There are countless themes to explore, including nature, space, quotes, animals, abstract art, travel, and even personal memories. The possibilities are limited only by your imagination.
Do I need any special artistic skills to create DIY mug designs?
No, you don't need to be a professional artist. DIY mug design welcomes all skill levels, and many simple yet beautiful designs can be created by beginners.