Searching for a great and distinctive Instagram name for girls? There is no need to look any further! Our collection of 300+ Instagram usernames for girls is the finest resource for selecting the perfect username for your profile. We've got everything from adorable and catchy to edgy and bold. Don't settle for a generic username; instead, use this list of Instagram names for girls to stand out and express themselves.
Table of Contents
What is an Instagram username?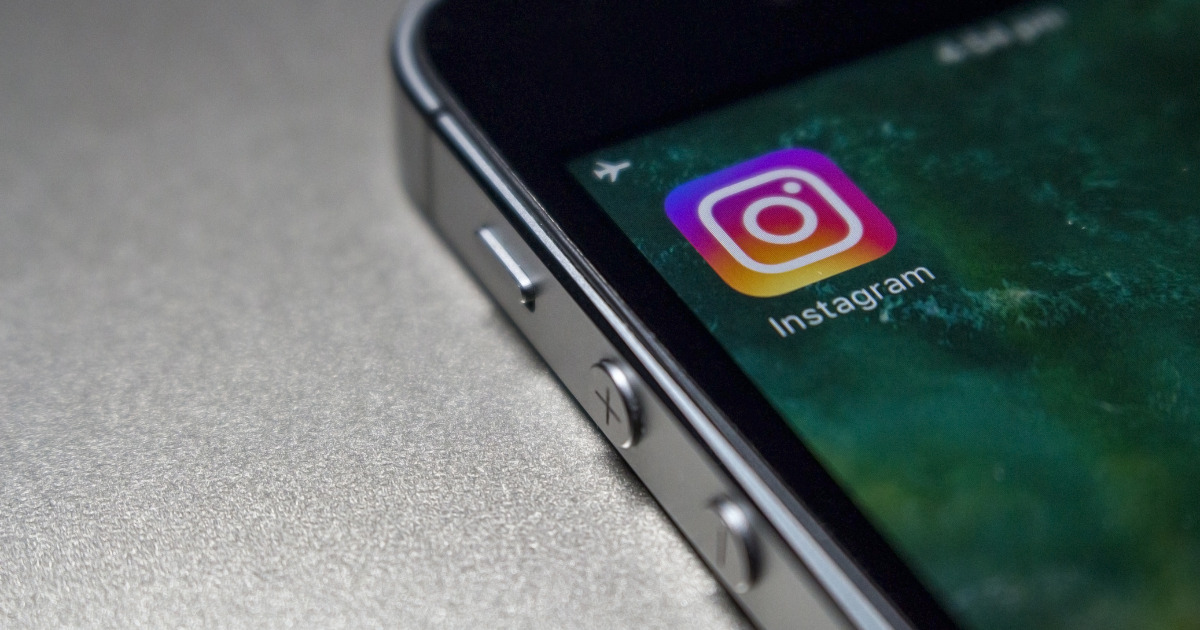 A handle, or Instagram username, is a unique identifier that symbolises a user's account on the network. It is the name that is displayed on their profile page and is used to identify them in posts, stories, and comments. A username on Instagram can be up to 30 characters long and contain letters, digits, periods, and underscores. It is critical to select a username that is simple to remember, expresses your personality or brand, and is not currently in use by another user.
Also Read: 150+Best Hashtags for Instagram: How to find the most popular hashtags for Instagram Reels
Stylish name for a girl for Instagram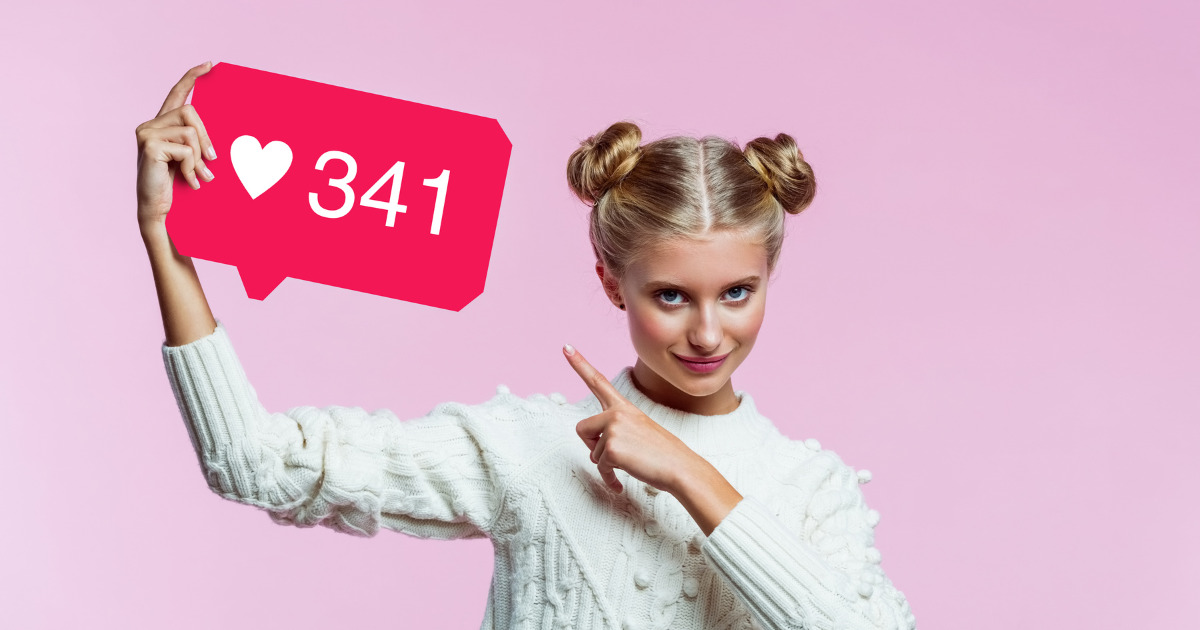 Here are some stylish attitude names for Instagram for girls.
QueenlyVibes
RebelChic
SassySiren
BadassBabe
FearlessFashionista
GirlbossGlow
ChicChick
GlamGoddess
StyleSiren
BossBabeVibes
TrendsetterTales
ClassyCouture
EdgyElegance
FashionFrenzy
GlamorousGirl
FierceFemme
HighFashionista
BoldBeauty
LuxeLady
MajesticMaven
PoisedPrincess
RadiantRebel
DaringDiva
ChicConfidence
EmpoweredEnchantress
FabulousFierce
GlitterGoddess
HighHeelHottie
IconicImpressions
JetsetJewel
KillerKouture
LavishLifestyle
ModelMaterial
NaughtyNinja
OutrageousOpulence
PrincessPosh
QuirkyQueen
RedCarpetReady
StylishSoul
TastefulTrendsetter
UnapologeticallyUnique
VIPVixen
WittyWoman
XquisiteXpression
YummyYogini
ZenZephyr
AmbitiousAngel
BeautifulBadass
ConfidentChick
DivineDame
ElegantEmpress
FlawlessFemme
GorgeousGuru
HeavenlyHoney
InspiringIcon
JazzyJewel
KineticKitten
LivelyLady
MysticMuse
NobleNymph
OptimisticOracle
PassionatePrincess
QuaintQueen
RadiantRose
SereneSiren
TrailblazingTigress
UniqueUnicorn
VibrantVixen
WonderWoman
XoticXcellence
YouthfulYogi
ZanyZephyr
AdventurousAngel
BeautifullyBold
CourageousCouture
DazzlingDame
EnchantingEmpress
FearlessFlame
GraciousGoddess
HeavenlyHues
InspiringInnovator
JoyfulJourneyer
KindheartedKitten
LovelyLioness
MajesticMermaid
NurturingNoble
OptimisticOasis
PowerfulPrincess
QuirkyQuartz
RadiantRaven
SpiritedSoul
ThrivingTrendsetter
UnconventionalUnicorn
VibrantVenus
WhimsicalWarrior
XceptionalXperience
YouthfulYearner
ZenZone
AdventurousAurora
BraveBeauty
Also Read: Instagram Bio Ideas: 10 Steps to Crafting The Perfect Copy For Your Brand
Instagram id names for girls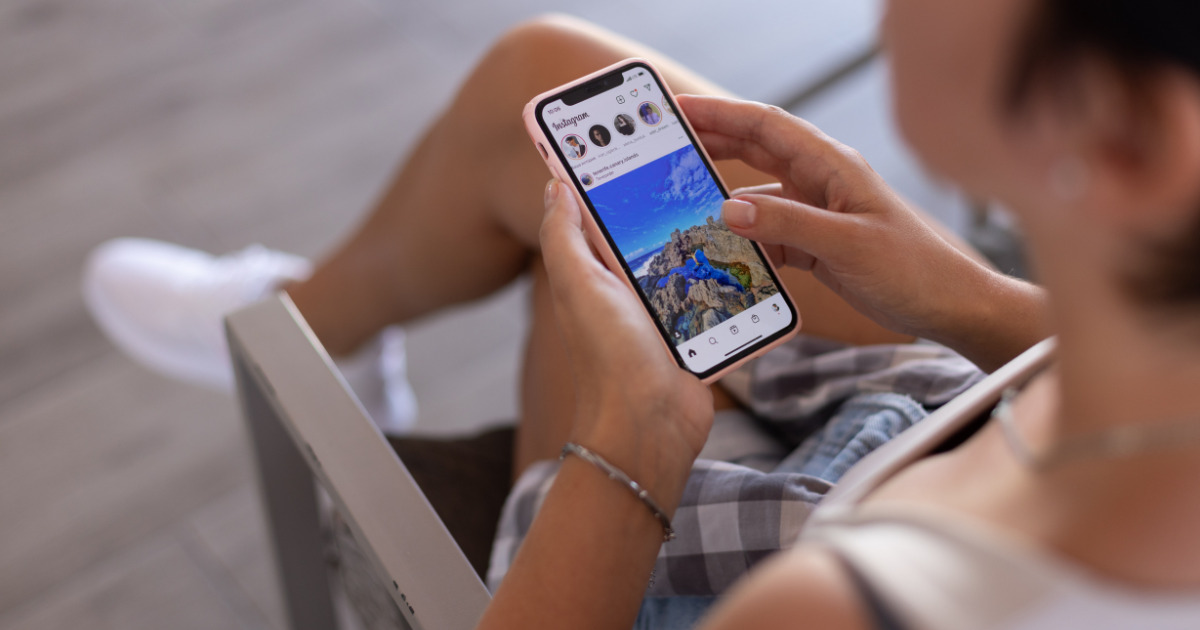 Here are some other Instagram names for girls to use on Instagram as their usernames:
Magic Peach
Cupcake Hugs
Chocolaty Queen
Tigger Fresh
Twilight Queenbee
Mystical Dimples
Bikewithgirl
Makegirls
Lovecapri
Hot Babe
Peace Hug
Lil Cutie
Jelly Cuddles
Kara
The Call Me Hanny
Sizzling Teapot
Live Chic
Beauty Babe
Sleepy Tinker
Super Giggles
Candycane Missy
Tiger Kitty
Instafreack
Bunny Passion
Lavender
Best Instagram names to get followers for girl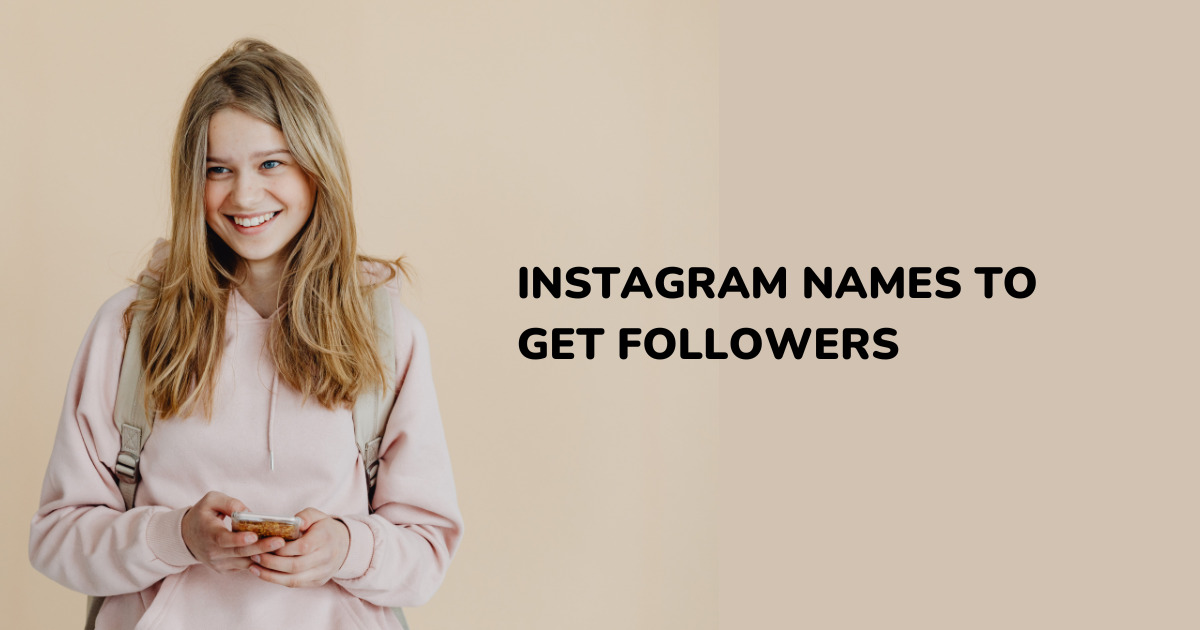 Here are some other Instagram names for girls to get followers:
InstaGoddess
SocialButterfly
FollowMeFairy
TrendyTraveller
LifeofaGirl
BeautyAddict
BossBabeLife
CreativeCraziness
DreamChaser
EnchantingEmpress
FashionistaFever
GlamorousGal
HappyHippie
InstaFamous
JustBeYou
KillerLooks
LoveLifeLive
MemorableMoments
NatureNinja
PassionatePursuits
QueenofSocial
RadiantRays
SassySoul
TravelTales
VibrantVibes
Creative Instagram Names for Girls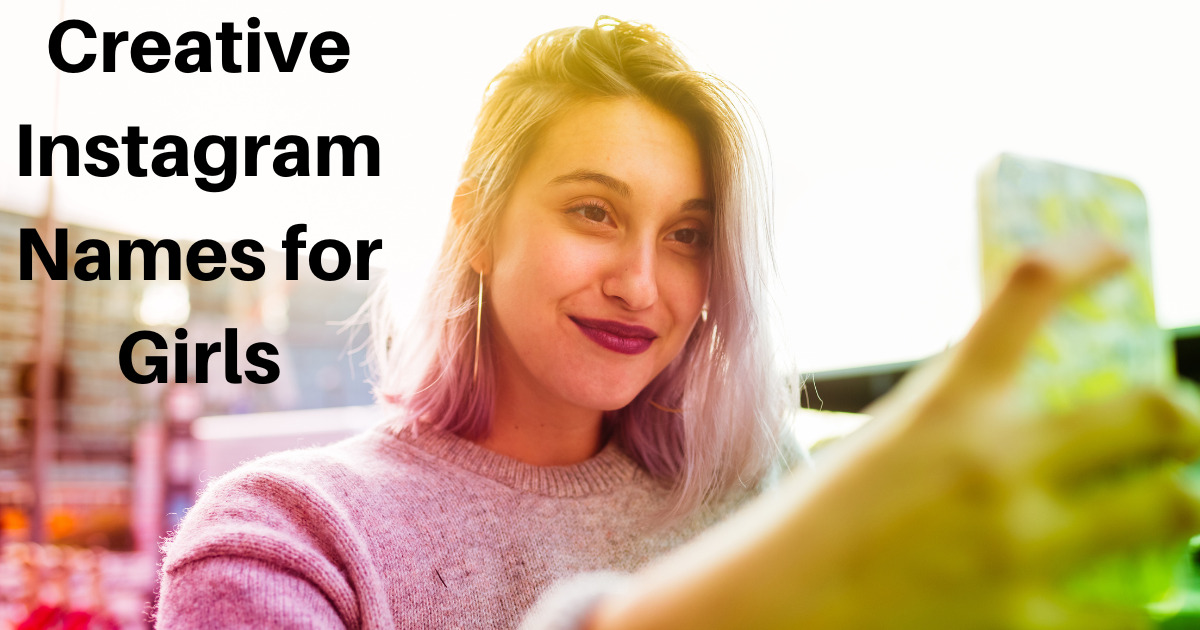 Here are some Instagram Names that are for creative people:
TheBookishMuse
TheTravelingGal
TheFashionista
TheFoodie
TheArtist
TheWriter
ThePhotographer
TheAdventurer
TheCreator
TheDreamer
TheIdealist
TheOptimist
TheLovingHeart
TheFunnyGirl
TheKindSoul
TheIntelligentOne
TheStrongOne
TheIndependentOne
TheUniqueOne
TheOneAndOnly
TheGirlWithTheGoldenHair
TheGirlWithTheBlueEyes
TheGirlWithTheSparklingSmile
TheGirlWithTheBeautifulSoul
TheGirlWhoCanDoAnything
Trendy Instagram Names for Girls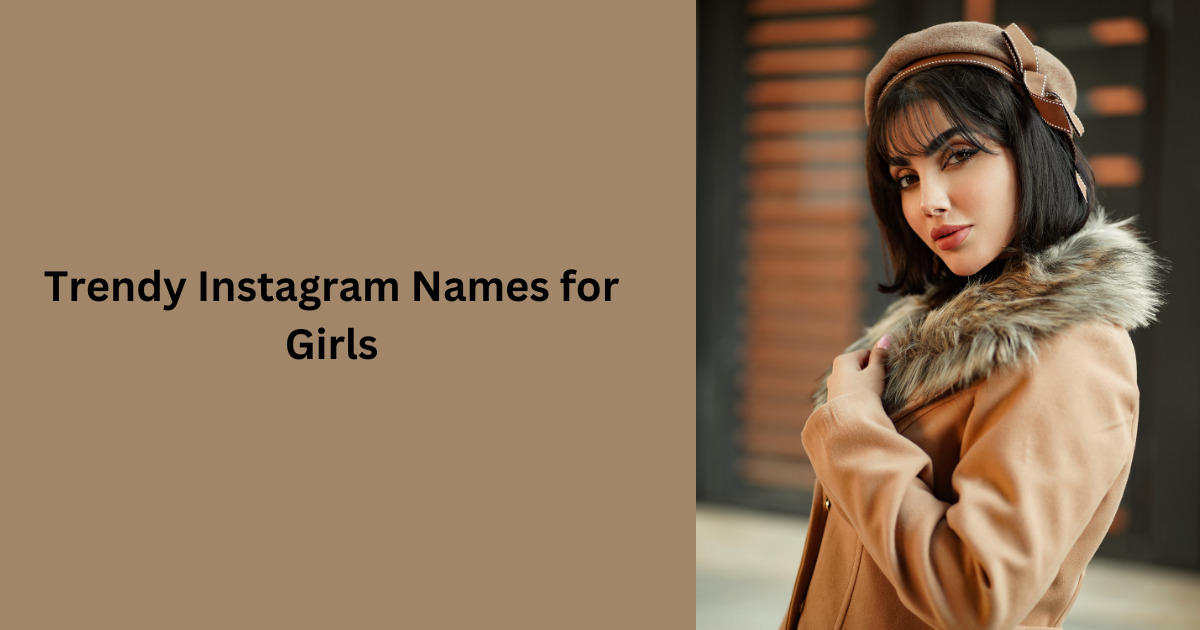 Here are some Instagram Names for girls that are currently trending:
thetrendsetter
instamaster
fashionnbeauty
confidentchic
bossbabeeee
selfmadegirl
picture_ready
exotic_her
shedreams
therebelgirl
adventureseeker
wanderlust_gal
travel_addict
foodie_heaven
fashionista_girl
styleicon
glamgirl
beautyqueen
instafamous
influencer
Classy Instagram Names to Consider for Girls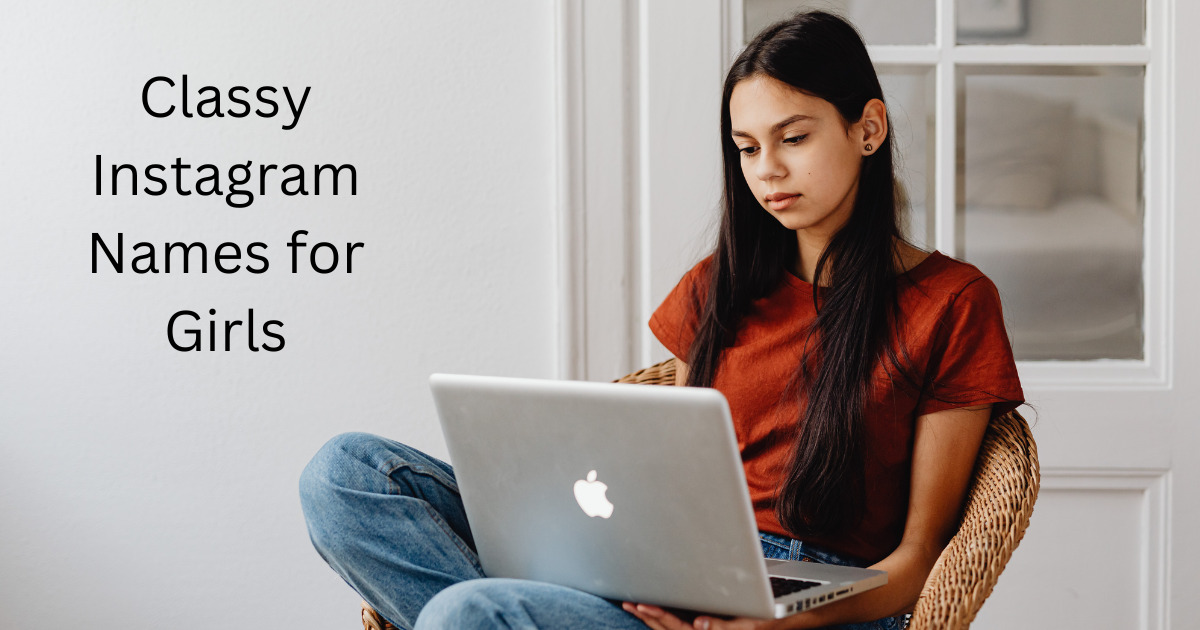 Here are some classic Instagram names for girls:
ElegantAura
SophisticatedDame
GracefulGlimmer
ChicAndTimeless
RefinedLady
ClassyEnigma
PolishedPerfection
GlamorousWhisper
PoisedElegance
StylishSilhouette
ClassyInfluence
GracefulCharm
ExquisiteEssence
SophisticatedStyle
ElegantMaven
ClassActQueen
TimelessBeauty
LuxeAndLovely
HighClassDiva
ChicSerenade
LadylikeGrace
ClassyFinesse
RegalPresence
CoutureChic
ClassicElegance
DistinguishedDame
OpulentAffinity
NobleSophistication
Elegant Instagram Names for Girls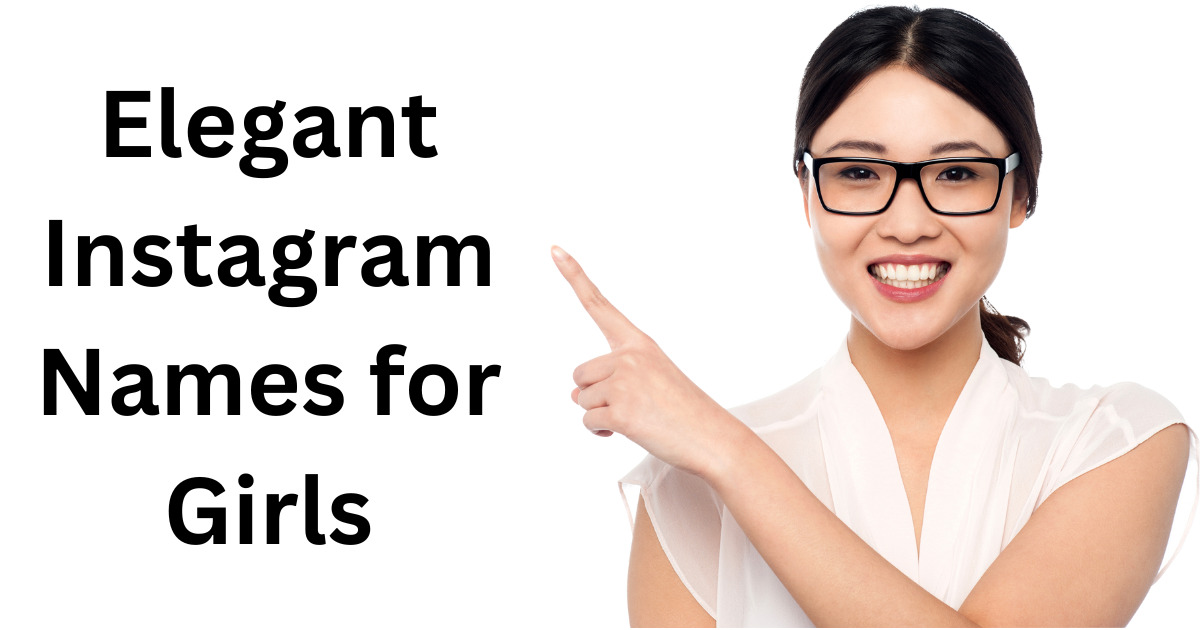 Here are some elegant Instagram Names for girls:
GracefulWhisper
EnchantingElegance
SereneSwan
MajesticMaven
TimelessCharm
SophisticatedSoul
ElegantEnigma
RadiantGrace
ClassyGoddess
DaintyDarling
OpulentAura
RegalLady
PoisedPerfection
RefinedDame
GracefulGazelle
ChicSophisticate
PolishedPresence
LovelySerenade
ExquisiteGlimmer
DelicateDuchess
EleganceUnveiled
GracefulWhim
DivineEthereal
EffortlessElegance
RefinedRoyalty
SublimeSilhouette
ElegantEssence
GracefulGlow
SeraphicStyle
RadiantRefinement
Inspirational Instagram Names for Girls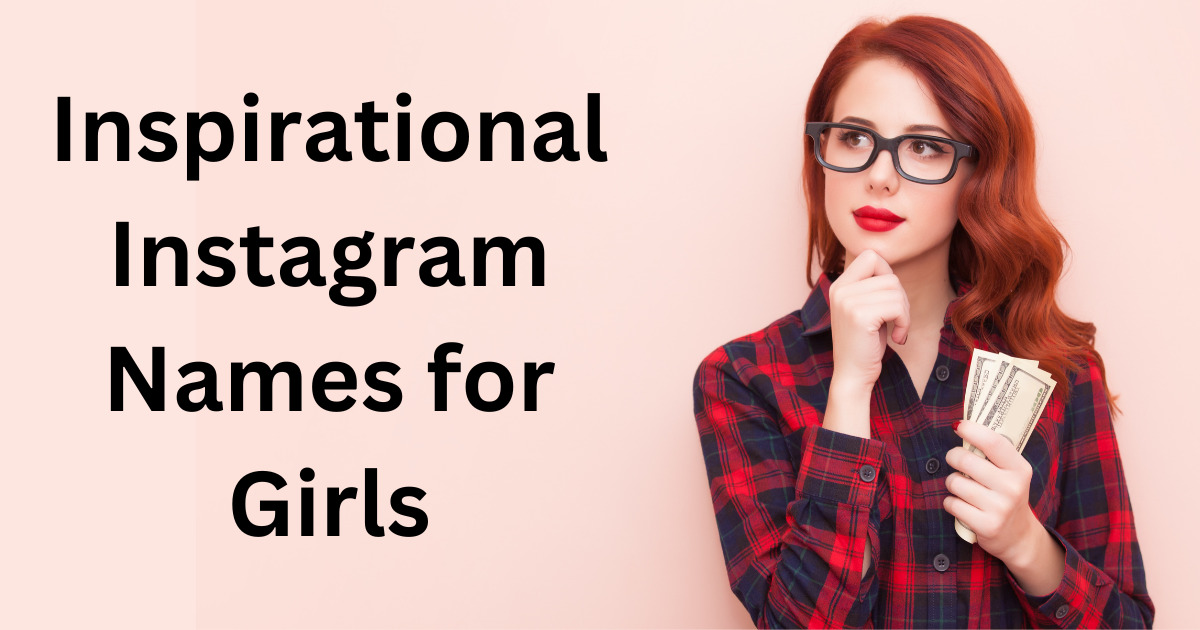 Here are some Inspirational Instagram Names for Girls that you can consider:
EmpoweredDreamer
FearlessJourney
InspireHerSoul
RadiantRising
LimitlessPassion
BraveHeartedGirl
FlourishAndThrive
DreamBeliever
InspiringVibes
BoldlyBeYou
RiseAboveFear
SparklingStrength
InspiredMomentum
EmpowermentQueen
TrailblazingSpirit
IlluminateHope
DreamBigShineBright
InnerStrengthRevolution
FearlesslyAuthentic
InspireTheFuture
MotivatedMiracle
CourageousSoul
EmpoweredWarrior
InspirePurpose
RadiatePositivity
Glamorous Instagram Names for Girls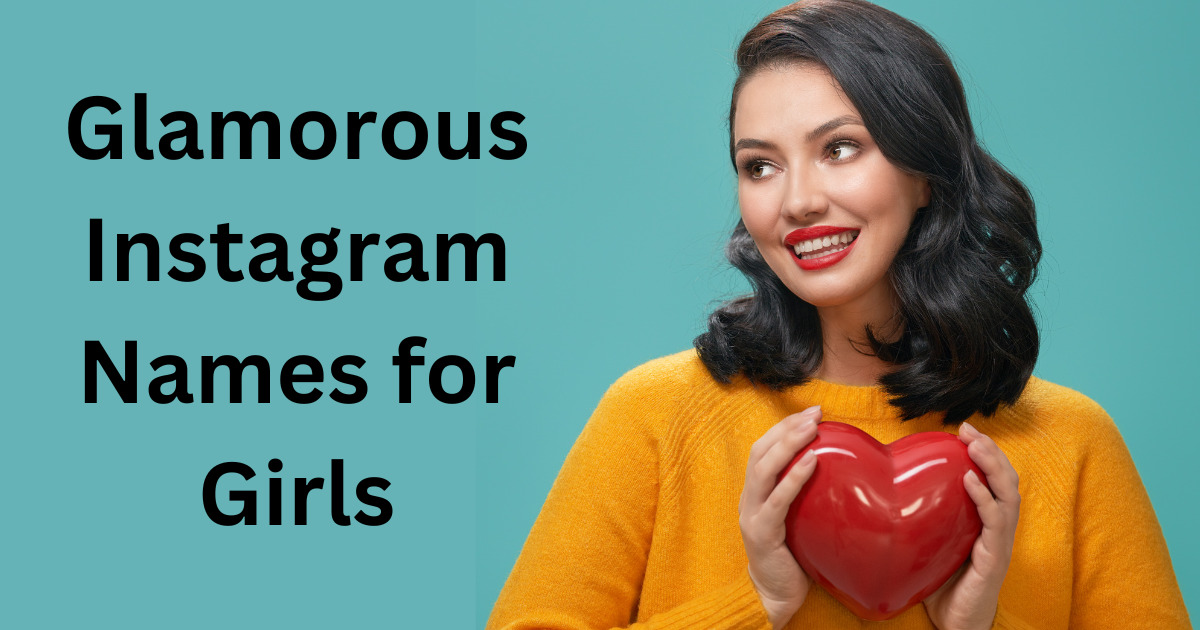 Here are some glamorous Instagram names for girls:
GlamDiva
RadiantGoddess
GlamourousGlimmer
LuxeLifestyle
SparklingStarlet
GlitzAndGlam
GlamorousChic
DazzlingBeauty
GlamourQueen
ChicGlamazon
OpulentGlow
GlamFatale
GlamorousVogue
GildedGlamour
GlamourElixir
GlamorousGoddess
StylishGlamour
GlamorousAffair
DiamondDiva
FabulousGlam
GlamourEnvy
GlamorouslyMe
GlamSlayer
AlluringGlamour
GlamourousSiren
FAQs
How do I choose an Instagram username for girls?

1. Choose a name that reflects your personality or brand.
2. Maintain simplicity and rememberability.
3. Consider employing keywords that are relevant to your expertise or interests.
4. Avoid using numerals or special characters unless they are absolutely necessary for the name.

Can I change my Instagram username for girls?

Certainly, you can alter your Instagram username for girls, but doing so regularly can confuse your followers and make it difficult for people to find your account.

Can I use an Instagram username that is already in use for girls?

No, you cannot use a name that is already in use in Instagram.
Conclusion
In conclusion, having a distinct and cool Instagram username for girls might help you stand out on the platform. With so many users, having a unique username might help you gain followers and establish a distinct online presence. The list of 150+ Instagram names for girls is a great place to start when looking for the perfect username to match your personality, style, and interests.
The main thing is to be real and true to yourself, whether you choose a pretty and catchy name or an edgy and striking one. So go ahead and use a username that shows your unique personality to make your Instagram profile stand out.