Sweatshirts are a wardrobe essential, and selecting the proper size can make all the difference in terms of comfort and appearance. However, with so many various brands and styles to choose from, it can be tough to know which size is best for you. That's why we've put together this complete guide to the best sweatshirt size chart to assist you in finding the correct fit.
Our expert tips and methods can help you get the proper size sweatshirt every time, whether you're buying it online or in-store. Say goodbye to ill-fitting sweatshirts and hello to comfort and confidence. Read now to choose the best sweatshirt size for you!
Table of Contents
Understanding Sweatshirt sizing
Sweatshirts are popular since 1950 and today it is also one of the trending fashion items that everyone loves to wear. However, like every other clothing, Sweatshirts also have their size charts. Though different brands use different sweatshirt size charts, the average sizes remain almost the same. So if you are planning to buy a sweatshirt for yourself, you should have an understanding of the dimensions and sizes of sweatshirts.
Typically the unisex sweatshirts range from S to XXXL. Depending on your height, weight and comfort, you should choose the best fit between these sizes. This becomes quite easy if you are shopping physically in an offline store as you can just try the product to see its fit but as the world has adopted the trend of online shopping, It can be difficult to guess the perfect size. Hence, the Sweatshirt size chart is crucial to understand if the sweatshirt would fit perfectly. We will discuss this soon in this article.
Getting Accurate Body Measurements
Accurate body measurements are essential for selecting the correct size sweatshirt. By carefully measuring your physique, you can ensure that you get a size that fits well, is comfortable, and looks nice. To begin, use a measuring tape to obtain measurements of your chest, waist, hips, and other pertinent body areas. While measuring your physique, keep the following points in mind:
During your chest measurement Make sure the measuring tape is under your arms. Check that the measuring tape is neither too tight or too loose. You will acquire erroneous dimensions if you do it too firmly, and your dress will not fit properly.
Always take your measurements from the highest point of your shoulder to the desired hemline.
When measuring your waist, measure 2 inches above your belly button, as this is your natural waist measurement and the thinnest area of your waistline.
Measure a Sweatshirt
A sweatshirt can be measured by laying it on a flat surface, such as a table, and using a measuring tape of some kind. You can even measure certain portions of your body to determine which sweatshirt size is perfect for you. Making these measurements is simple and time well spent.
A simple guide to accurately taking sweatshirt measurements is provided below.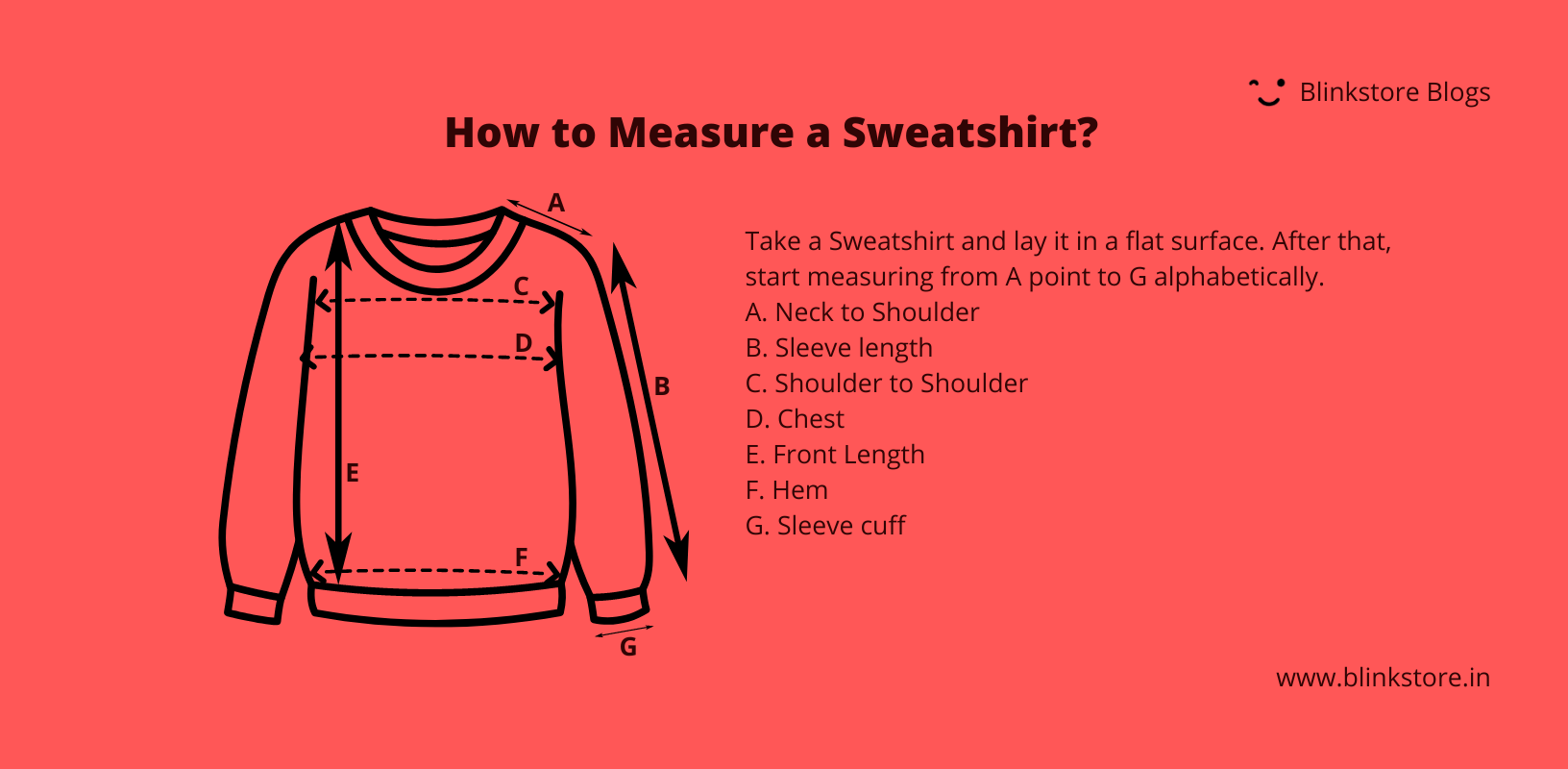 A. Neck to Shoulder: Measure from the centre of the neck to the end of the shoulder (where sleeve starts).
B. Sleeve length: Sleeve length is measured from shoulder to wrist.
C. Shoulder to Shoulder: Measure the distance between your shoulders.
D. Chest: Measure around the widest portion of your chest, close under your arms, and make sure the tape is flat across the back.
E. Front Length: Measure the distance between the highest point of the shoulder and the desired hemline.
F. Hem: Measure from one side to the other, but make sure you measure from above the elastic area (If sweatshirt have any).
G. Sleeve cuff: Measure the diameter of the wrist at its broadest point. Allow adequate space for watches and jewellery that are frequently worn. Take this measurement from above the elastic area, just like you did for the hem length.
Also Read, hoodie size calculator Hoodie Size Chart to help you find the right hoodie for yourself
Different brands, different sizes width length
Different brands and styles of sweatshirts can have different sizing standards, which can make it difficult to know which size is right for you. This is why, while choosing a size, it is critical to examine the brand and design of the sweatshirt. For example, one brand's size chart may run small, while another brand's size chart may run large.
Some brands may be more fitting, while others may be more loose and relaxed. To guarantee that you get the appropriate size, acquaint yourself with the sizing chart for the specific brand and style of sweatshirt you're thinking about buying. It's also a good idea to read customer reviews to see what other people think about the sweatshirt's sizing. This might help you determine how the sweatshirt fits and if it is true to size, small, or large.
Standard Size Charts for men and women
Here are some standard sweatshirt size charts (width length size, length size width, size width length) which you can use as a reference for purchasing a sweatshirt:
Mens sweatshirt size chart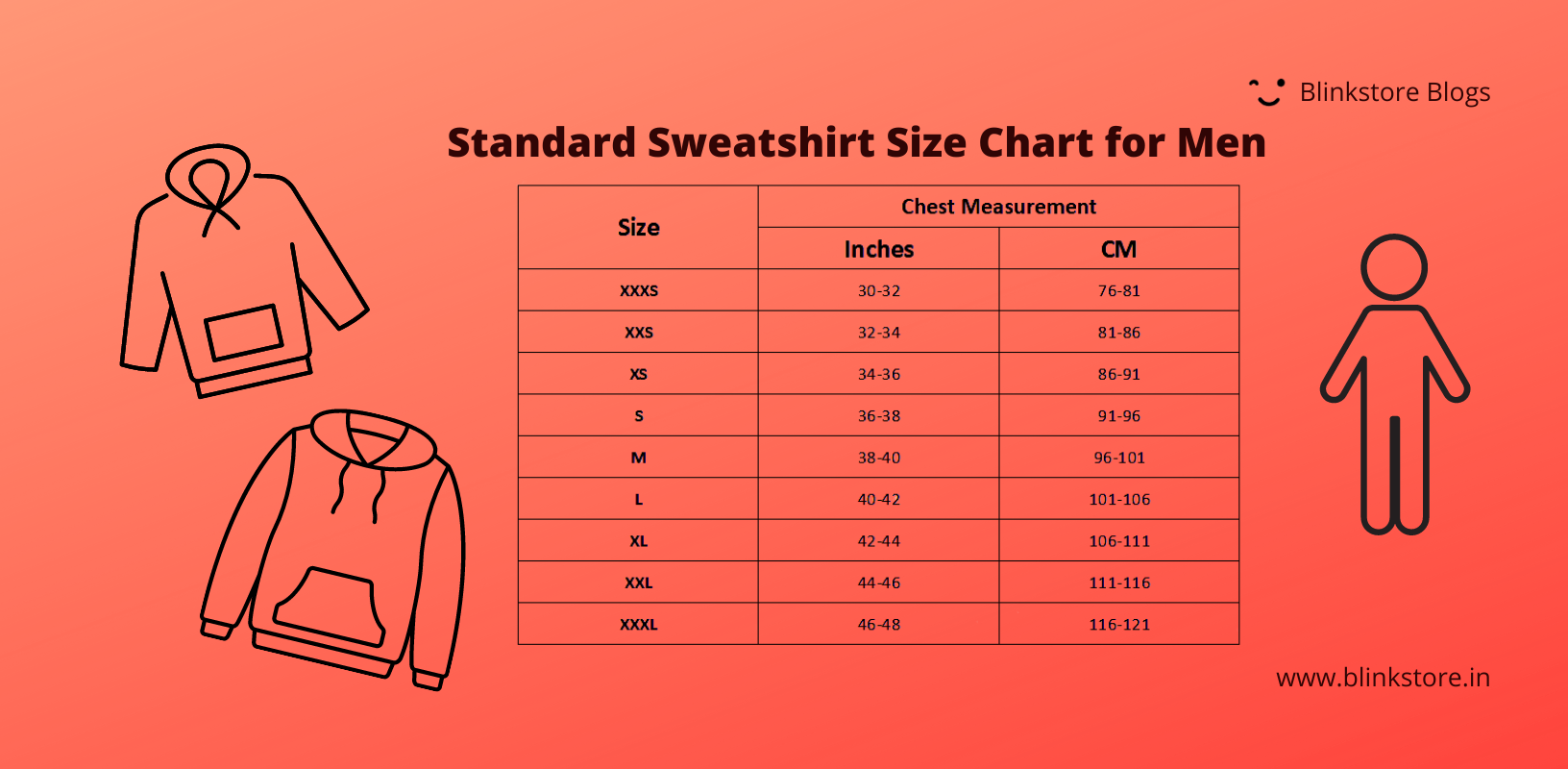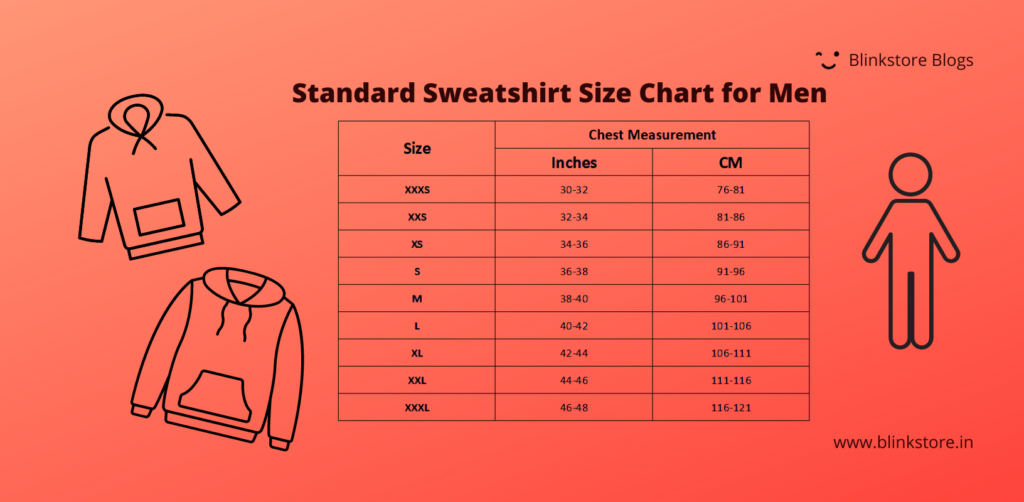 Women's sweatshirt size guide
Reebok sweatshirt size chart

Fort collins sweatshirt size chart
Puma size chart for sweatshirt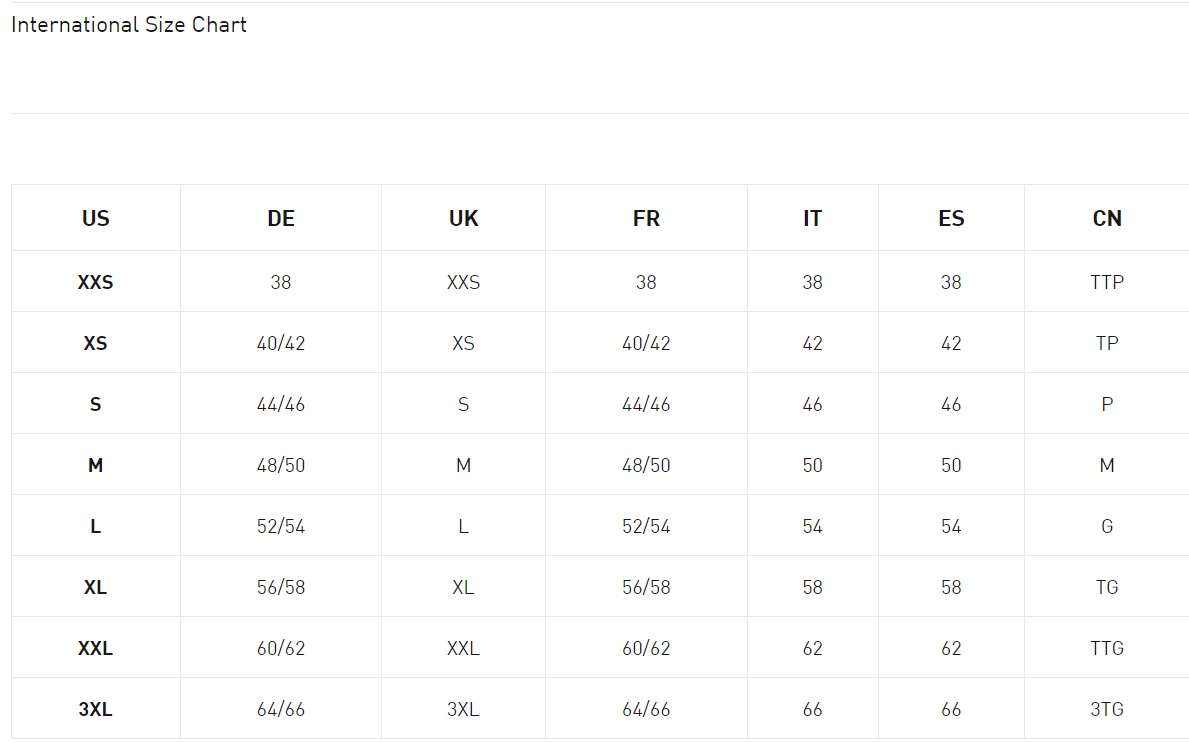 FAQs
How do I know my sweatshirt size?
By measuring your chest and length in inches you can know your sweatshirt size. An actual chest is armpit to armpit on the garment. Itself to gauge your chest to fit size you'll need to wrap an inch tape around you. Than see the above size charts to find your perfect fit.
What size is 36 in sweatshirt?
In Men's Hoodies & Sweatshirts Size Guide 36 is XS to M.
What size is an XL sweatshirt?
The size of an XL Sweatshirt is 42-44 inches on the chest
What size is medium sweatshirt?
The size of an XL Sweatshirt is 38-40 inches on the chest.
Conclusion
In conclusion, a sweatshirt size chart can help if you are shopping online and not sure about the fittings. A sweatshirt size chart also helps when the clothing brand you are looking for doesn't provide a size chart of its own. Hopefully, after reading this article and analysing the sweatshirt size charts, you can now confidently choose the perfect size for your yourself.
Also, don't forget to visit Blinkstore to get customised sweatshirts and hoodies of your choice. If you are an influencer or a content creator, you can also create your merchandise and sell them at your profit margin. Good luck!