T-shirts are wardrobe classics that comes in a number of sizes. However, selecting the correct size can be difficult, especially if you're purchasing online or trying a new brand. How many times have you purchased a T-shirt only to discover that it is a size too small or far too large? This "Ultimate Guide to T-Shirt Size Chart for Men and Women" strives to simplify the process by providing all of the information you need to know about selecting the correct t-shirt size, including measurements, size conversions, and fit advice.
Table of Contents
What is a T shirt size chart?
A T-shirt size chart is a table or guide used by clothing manufacturers and merchants to assist customers in determining the correct T-shirt size to purchase. The chart normally contains measures for various body sections (such as the chest, waist, hips, and so on) and matches those dimensions to common T-shirt sizes (such as small, medium, large, etc.). The chart may differ depending on the brand, country, and intended use.
Why do we need a T shirt size chart?
T shirt size charts are useful because they give a standardised reference for finding the proper t-shirt size. T-shirts can vary in size and fit from brand to brand, and different styles within the same brand can have varying specifications. A size chart considers these variances and provides a clear, consistent set of measurements that may be used to discover the correct t-shirt size. Using a t-shirt size chart, you can guarantee that the t-shirt you buy fits properly, is comfortable to wear, and satisfies your size and fit requirements. This can save you time, reduce stress, and keep you from having to return or exchange things due to sizing issues.
How can I find my T shirt size?
Follow the following steps and find your t-shirt size that fits you the best:
1. Select the Tshirt type
As you know, there are various types of shirts available for both men and women. So accordingly you need to select the type of t-shirt you want to wear and then you can proceed to the next step.
2. Take measurement of your body
After you are done selecting the tshirt type, you need to take measurements with of your chest, waist, hips, and other relevant body parts, using a measuring tape. Keep this points in mind while measuring your body:
While taking your chest measurement Make sure the measuring tape is placed beneath your arms. Make sure the measuring tape is neither too tight or too loose. If you do it too tightly, you will receive incorrect measurements and your dress will not fit properly.
Always Measure your length from the highest point of your shoulder to the desired hemline.
Measure 2 inches above your belly button when measuring your waist, as this is the natural waist size and thinnest section of your waistline.
3. Follow the Standard Size chart
Look for the manufacturer's or retailer's T shirt size charts and compare your measurements to them to determine your size. For reference, you can also use the standard-size charts listed below.
Also Read: How To Start an Online Clothing Store With No Money in India – 4 Simple Steps
T shirt size charts for Men
Here are some illustrations of widely used clothing for men using a standard size chart which you can refer to buy clothes. However, it is always suggested that go for the sizes in which you feel comfortable. Find the m size in number t-shirt here.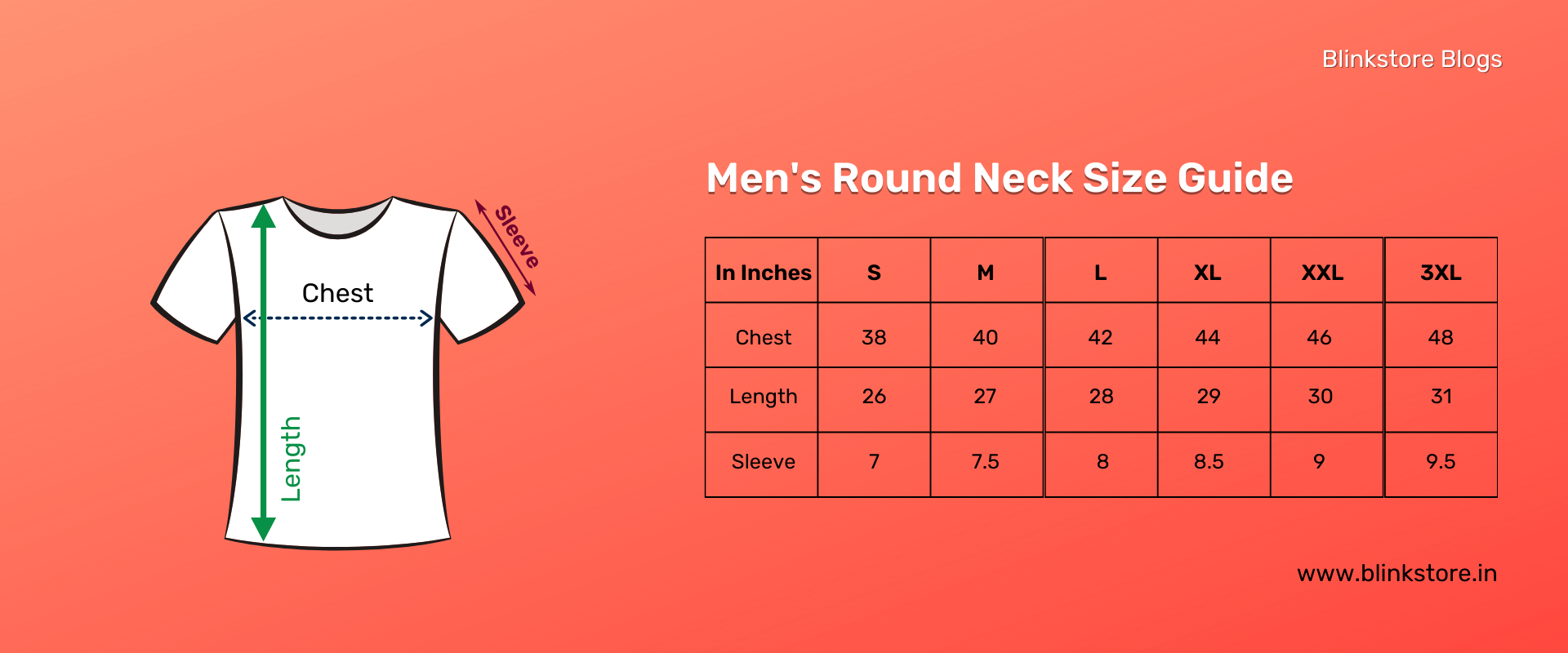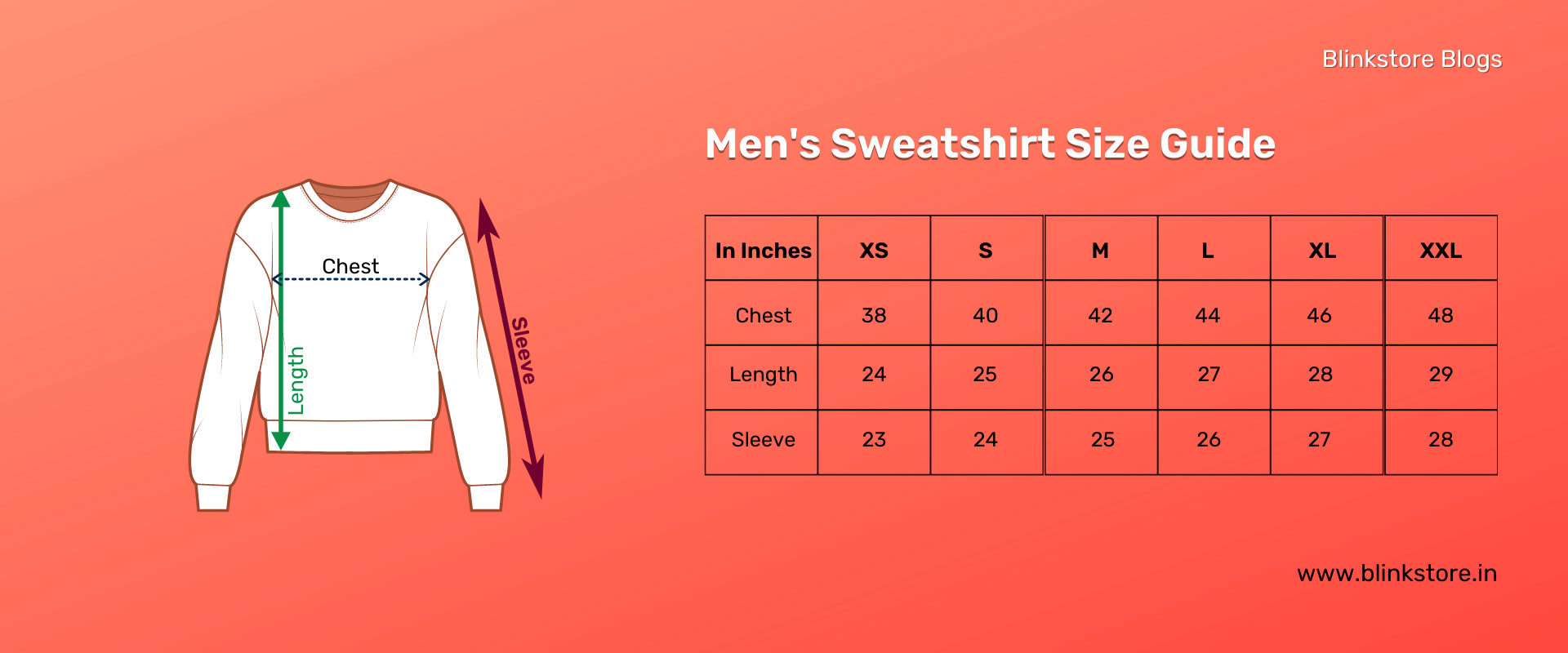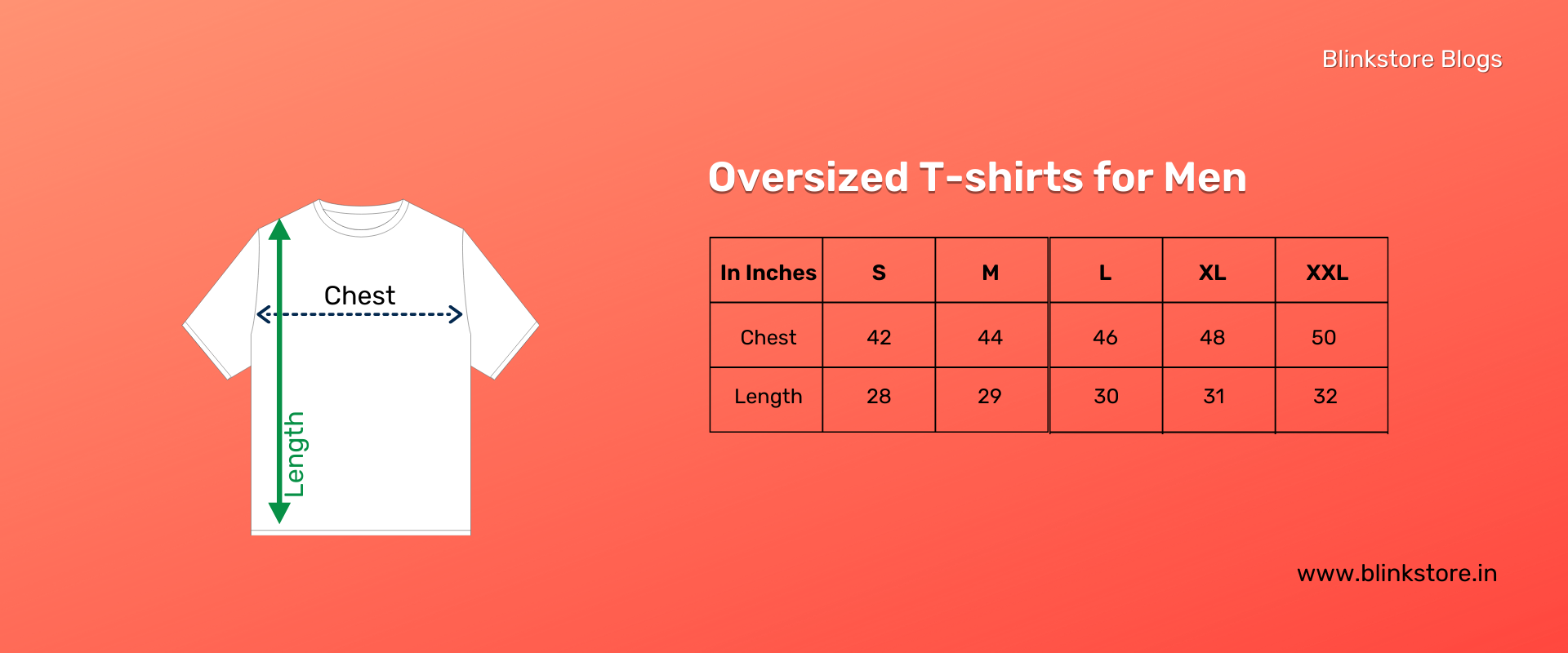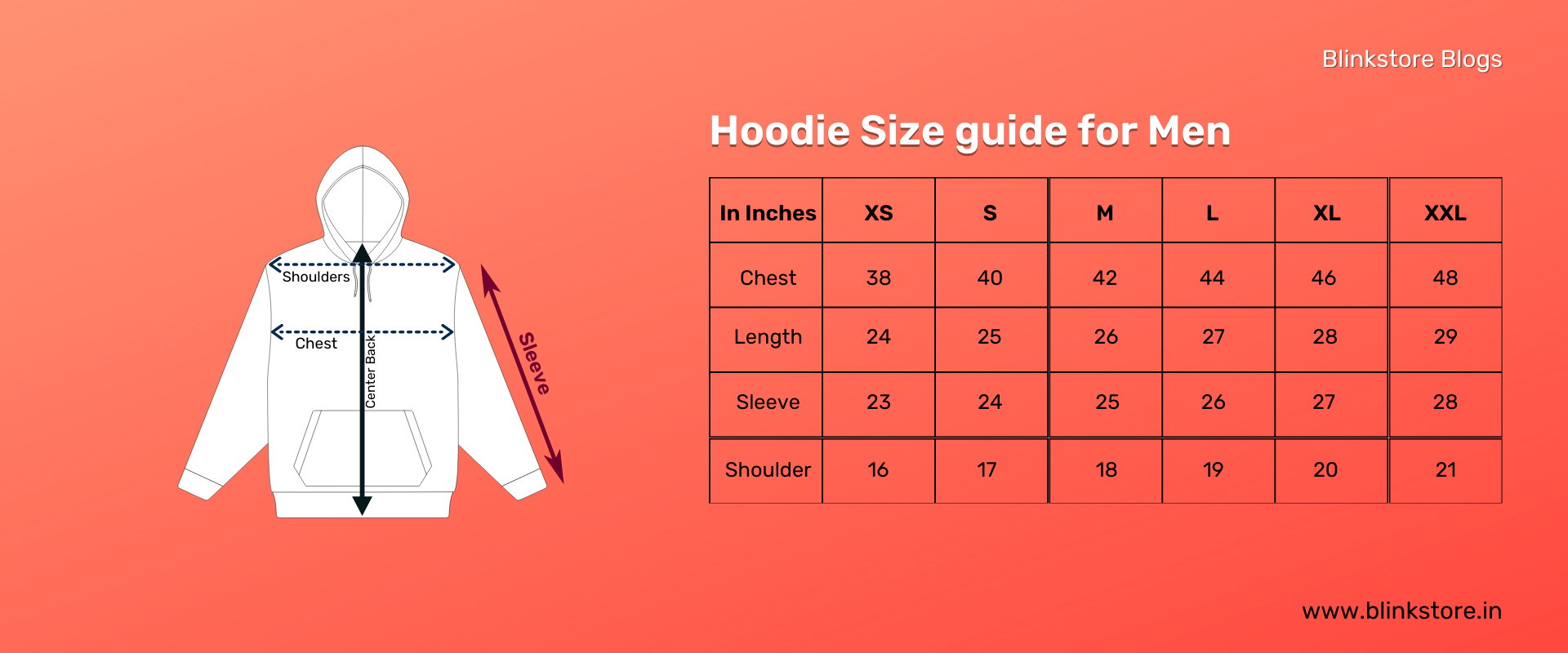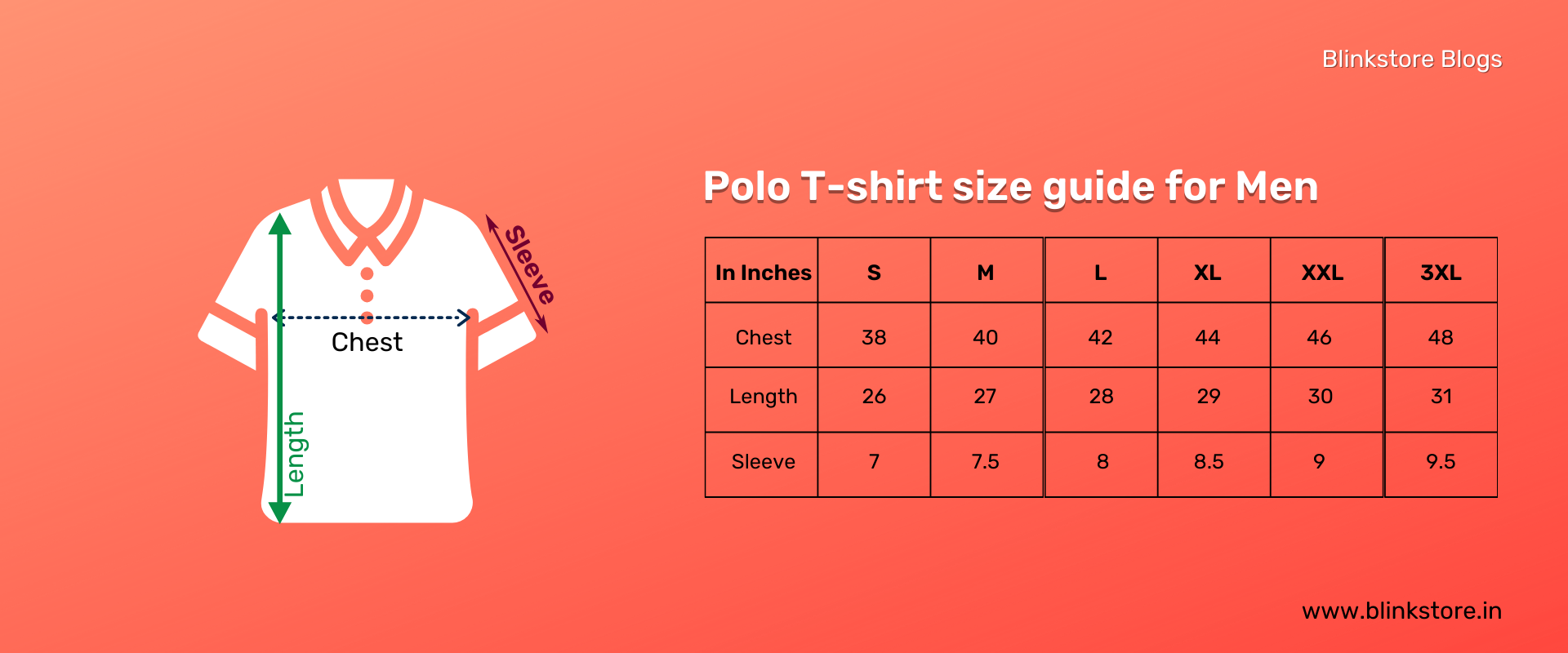 Additional Tip: Are you still buying readymade printed T-shirts? Visit Blinkstore and get your customized apparel today!
Womens T shirt Size Chart
Women's T shirt size chart provides a guide to determine the correct size of a T-shirt to purchase based on the wearer's body measurements. Here is some T shirt size chart India for females to follow: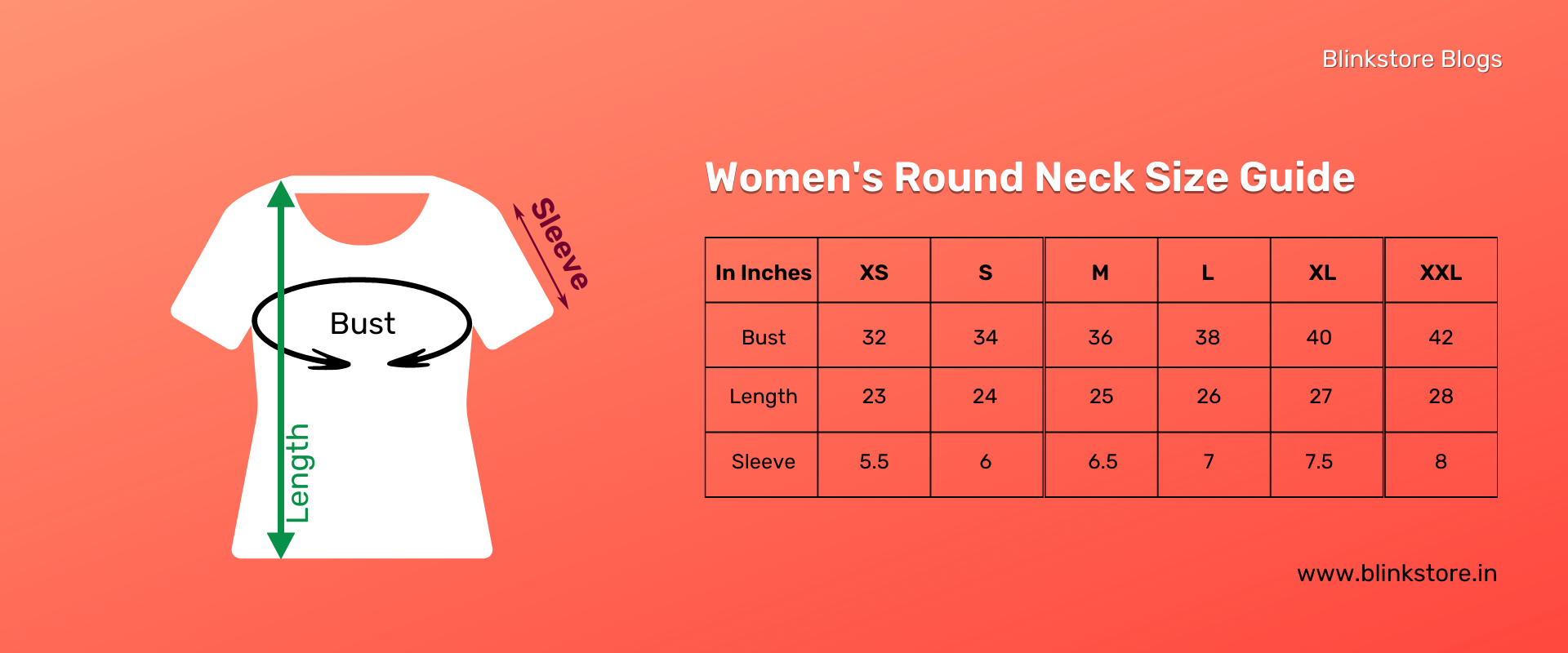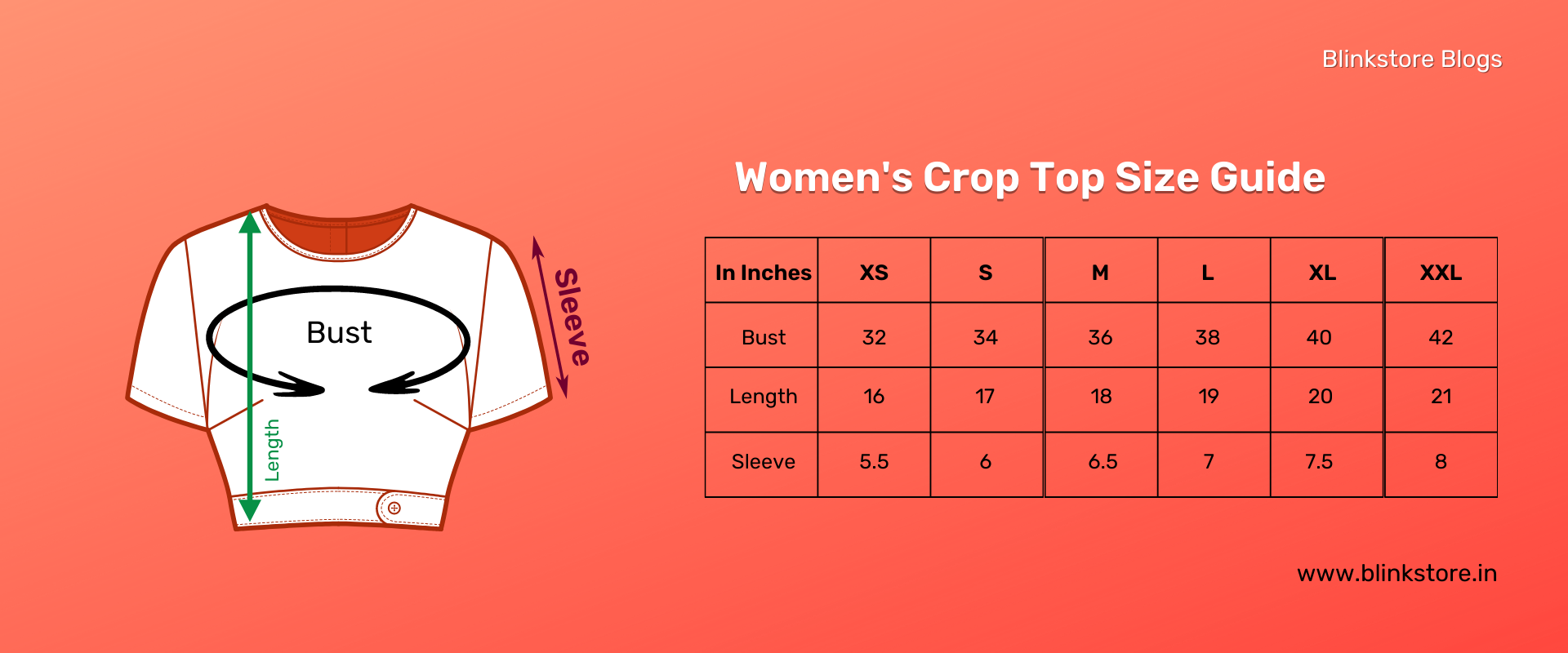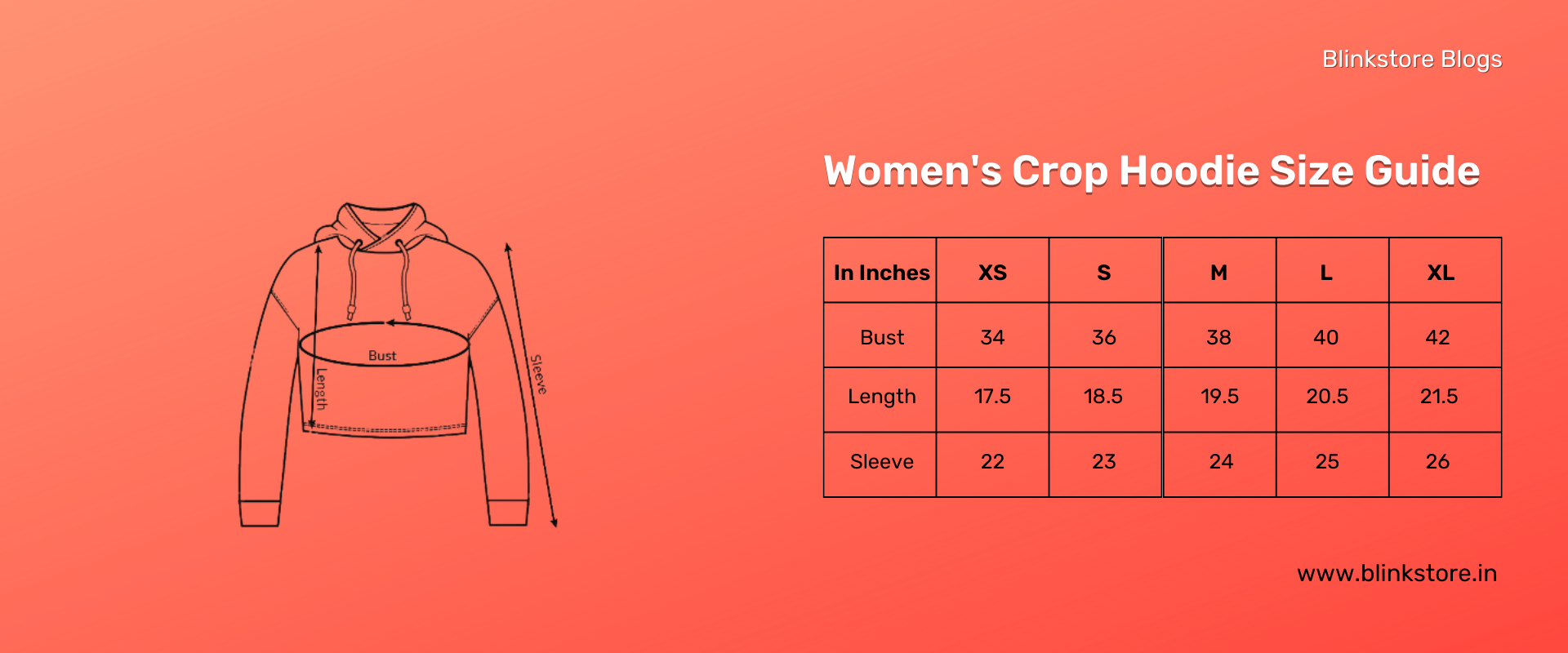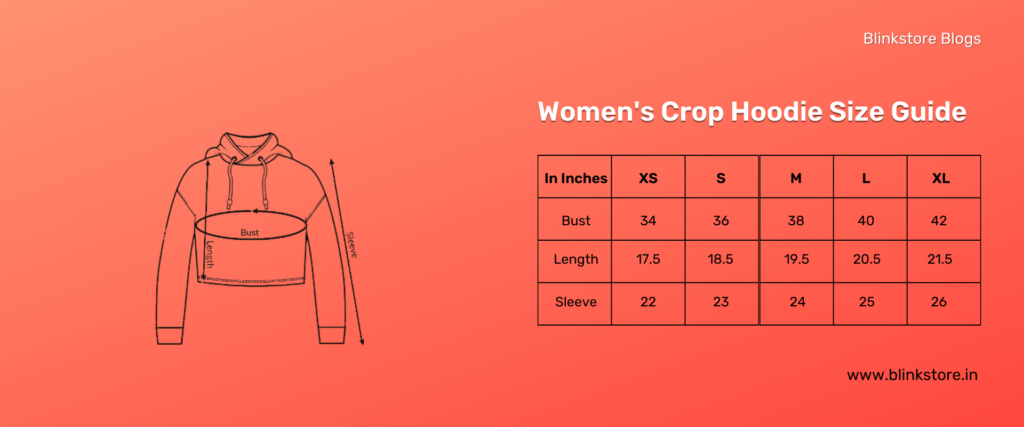 Note that these measurements are standard that most of the brands follow but it may vary slightly based on location, material, brand and country.
T shirt size guide charts for kids and toddlers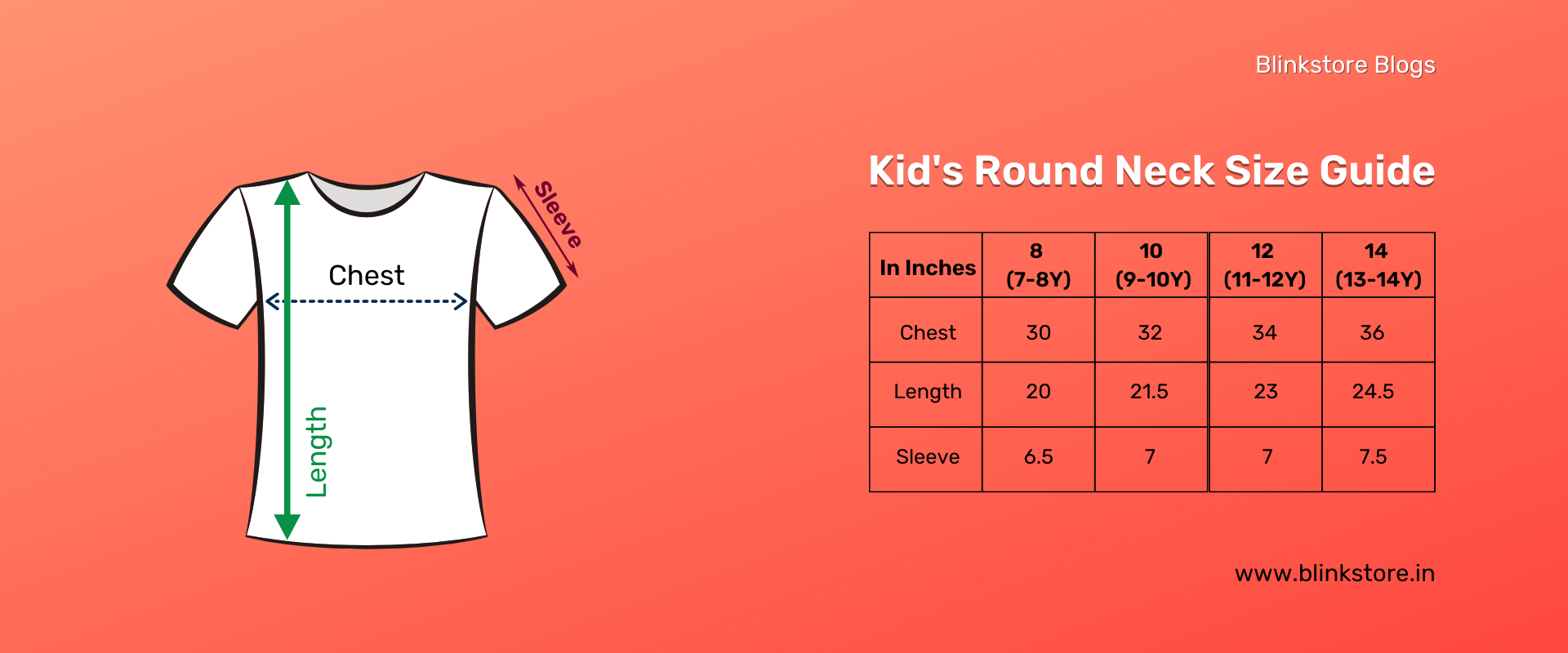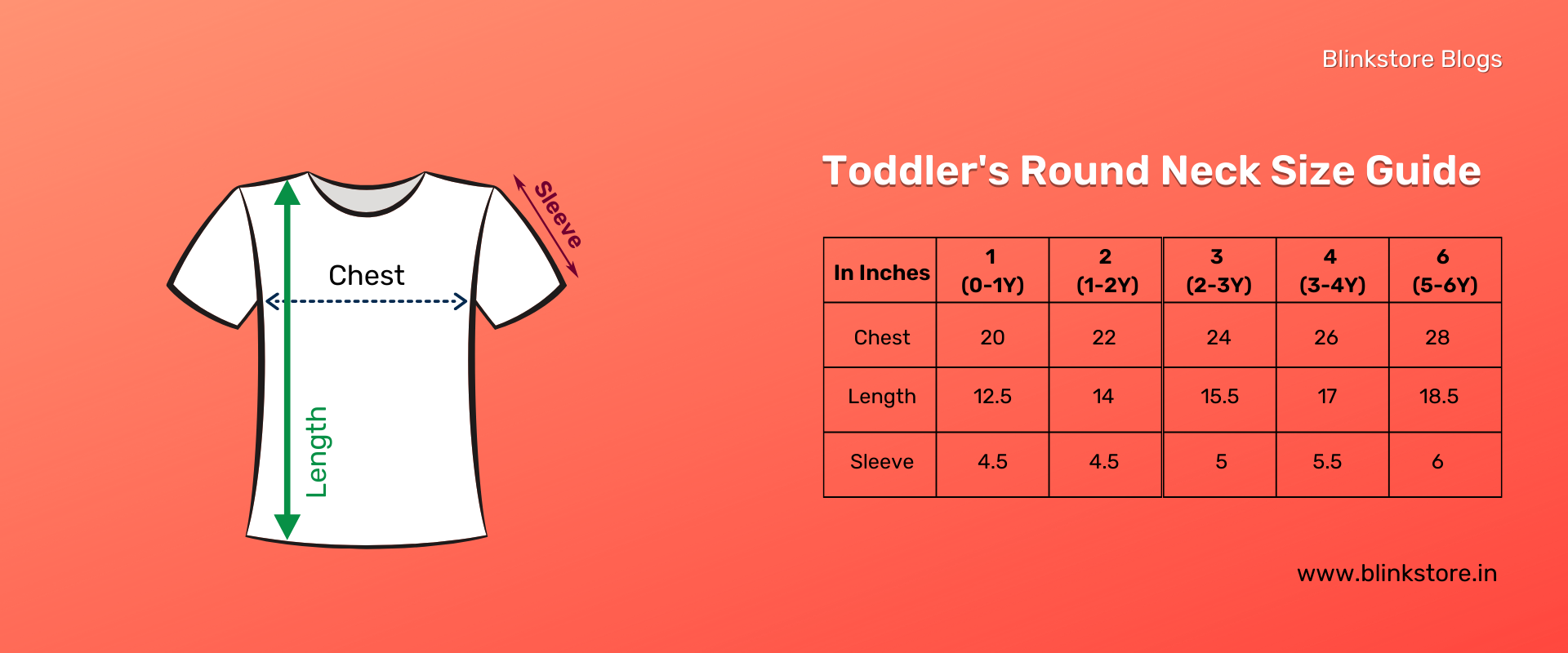 Different T shirt materials
Now that you know about the t shirt size charts, let's take a look at the materials that are used widely in making these T shirts. T-shirts are made from a variety of materials, each with its own distinct set of qualities. The following are some of the most prevalent T-shirt materials:
1. Cotton: Cotton is the most preferred material for T-shirts since it is soft, breathable, and long-lasting.
2. Polyester: Polyester is a lightweight, quick-drying, and easy-care fabric that is commonly used in athletic and performance T-shirts.
3. Rayon: Rayon is a soft and draping synthetic material that is frequently used to give T-shirts a sumptuous feel.
4. Spandex: Stretchy and form-fitting, spandex is frequently mixed with other textiles to produce snug-fitting T-shirts.
5. Bamboo: Bamboo is a popular eco-friendly alternative to typical T-shirt materials since it is sustainable, breathable, and moisture-wicking.
6. Hemp: Another ecological alternative to typical T-shirt materials, hemp is durable, absorbent, and anti-bacterial.
Besides, there are many other blends and mixtures are used to prepare different types of t-shirts for specific needs.
Additional Tips to choose the best T shirt for you
In case you are unable to understand the T shirt size chart, Here are some additional tips for you to choose the right T-shirt :
Choose a T-shirt that fits well, isn't too big or too small, and flatters your body form.
Consider the T-material, shirt's as different materials have varied features such as breathability, softness, and durability.
Consider the intended purpose of the T-shirt, such as casual wear, athletic wear, or layering, and select a material and style that meets your requirements.
Consider the T-shirt neckline, such as crew neck, V-neck, scoop neck, and so on, and select a style that flatters your face and neck.
Consider the length of the T-shirt, particularly whether you want to wear it tucked in or untucked, and select a length that works for you.
Check the T-care shirt's recommendations, since some materials may require specific care, such as dry washing or air drying.
Consider the T-brand, shirt's as different companies may have varied sizing and quality requirements, and choose a brand you trust.
Remember that the best T-shirt for you is one that fits well, feels comfortable, and matches your needs, so choose carefully! There are many T shirt size calculators as well which will also help you to get your idle fit T-shirts.
FAQs
How do I know my Tshirt size?
To determine your T-shirt size, measure the widest part of your chest just under your armpits and compare your measurement to the size chart provided by the manufacturer or retailer. Keep in mind that sizes can vary between brands and styles, so it's always best to try on a T-shirt of the same brand and style for the best fit.
Which size is M or L?
"M" typically corresponds to medium size, while "L" corresponds to large size. However, it's always best to check the size chart provided by the manufacturer or retailer to ensure the correct fit.
Is 42 shirt size L or XL?
The size of a T-shirt labeled as "42" can vary depending on the brand and style, but it typically falls into the large (L) size range. It's always best to check the size chart provided by the manufacturer or retailer to determine the correct size.
What size is XL t-shirt?
The size of a T-shirt labeled as "XL" typically corresponds to extra-large size, which is larger than a standard large (L) size. However, it's best to check the size chart provided by the manufacturer or retailer to ensure the correct fit.
Conclusion
In conclusion, a T shirt size chart is a useful tool for finding the right fit when shopping for T-shirts. When choosing a T-shirt, it's important to consider the fit, material, purpose, neckline, length, care instructions, and brand, as well as to measure your body and compare your measurements to the size chart. By following these guidelines, you can find the ultimate T-shirt that fits comfortably and meets your needs in 2023.