Discover a wealth of zero investment business ideas in Mumbai! Explore innovative opportunities to start your business in India's financial capital. Whether you're a freelancer, entrepreneur or looking for side hustles, our blog has you covered.
Table of Contents
Introduction
Welcome to our comprehensive guide on zero investment business ideas in Mumbai! If you are eager to start an entrepreneurial journey without a investment, you have come to the right place. In this blog, we will uncover a wide range of creative and practical opportunities for entrepreneurs and freelancers in Mumbai, India.
These business ideas will enable you to launch a company without any investment, whether you live in this thriving city or thinking about tapping into its booming market. Explore the amazing world of no investment business opportunities that Mumbai has to offer.
50 zero investment business ideas in Mumbai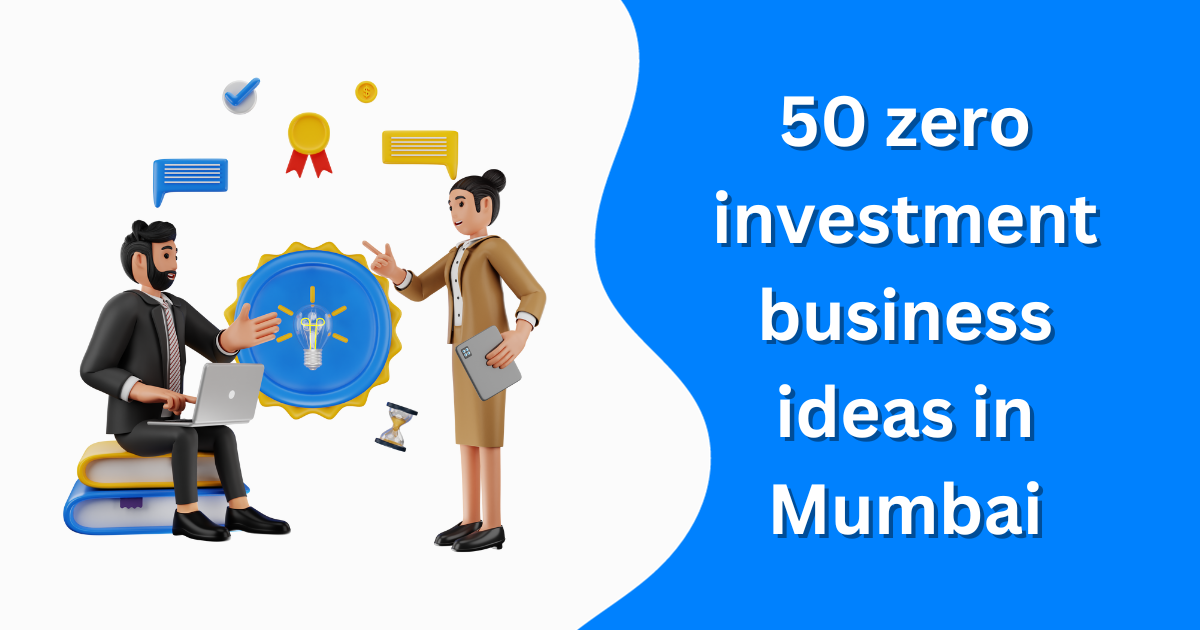 Here are some of the Top zero investment business ideas in Mumbai
Start an ecommerce store on Blinkstore and sell custom designed products like Tshirts, mugs, and Tote Bags. When a purchaser orders a product, Blinkstore prints and ships the product, permitting you to income without investing in printing gadgets. Explore the world of print on demand with Blinkstore (More on this later)
2. Freelancing
Showcase your skills and knowledge as a freelancer in Mumbai. Whether you are a writer, designer, programmer, or businessman, Mumbai's diverse markets offer countless opportunities to work remotely and earn a sustainable income without investment.
3. Content Writing
Dive into the world of content creation in Mumbai, where businesses hunger for compelling narratives. Offer your writing talents to craft engaging blog posts, articles, & website content for clients, all without the need for upfront capital.
4. Virtual Assistance
Join Mumbai's digital workforce as a virtual assistant. Remotely assist companies with administrative work, handling emails, scheduling , and other tasks. You can use your organizing skills to help companies grow in this bustling metropolis for no cost, all while working from the comfort of your own home.
5. Social Media Landscape
Navigate the dynamic social media landscape of Mumbai's businesses. Offer your expertise in managing and growing their online presence. With no initial investment, you can help companies engage with their audience, create compelling content, and boost brand visibility in this bustling city, all while working from your digital command center.
6. Graphic Design
Unleash your creativity as a graphic designer in the heart of India's commercial capital. From designing eyecatching logos to crafting stunning visuals, Mumbai's diverse clientele awaits your artistic touch. The best part? You can kickstart your graphic design career with zero investment
7. Online Tutoring
As an online tutor, you can enter the world of education. Use your knowledge of numerous subjects to offer valuable learning opportunities to students in Mumbai and beyond. You may have a significant impact on kids lives, help them achieve academically, and affect the future of education in Mumbai city without making any initial investment.
8. Youtube Channel
Create a Youtube channel to Take center stage in Mumbai & Share your ideas, expertise, and creativity with a global audience. With zero investment.
9. Podcasting
You can start your podcast with minimal investment, connect with a global audience, and become a voice of influence right from the heart of Mumbai's rich cultural tapestry.
10. Photography
Capture the essence of Mumbai's vibrant life through your lens. From street photography to event coverage, the city offers endless visual opportunities. With zero initial investment, you can transform your passion for photography into a thriving business.
11. Event Planning
Help clients create unforgettable experiences, from weddings to corporate gatherings. With no upfront investment, you can leverage your organisational skills to design & execute memorable events, tapping into Mumbai's bustling event scene and making dreams come true for your clients.
12. Affiliate Marketing
Promote products and services from various companies online and earn commissions for every sale or lead generated through your referral links. Partner with Businesses that align with you and market their products to your audience, Making it a effortless zero investment business opportunity in Mumbai.
13. Blogging
Blogging allows you to express yourself & monetize your blog through ads potentially generating income in Mumbai.
14. E-book Writing
Leverage writing skills to author Ebooks on a variety of topics. Self publish your works on platforms like Amazon Kindle and earn royalties for each sale made.
15. Translation Services
Use your language proficiency and offer translation services to individuals and businesses translate documents, sites or content from one language to another language.
16. Homemade Crafts
Craft and sell unique handmade stuffs in Mumbai online market and make a fortune without any investments.
17. Resume Writing
Help job seekers in mumbai by creating professional resume and cover letter that highlight their skills, experience and Interest for the job.
18. Digital Marketing Consultancy
Provide expert advice to small businesses and startups in mumbai on enhancing their online presence & marketing strategies. Offer services such as SEO optimization, social media management, content marketing guidance and so on. With your digital expertise, help businesses thrive in the online while growing your consultancy with low investments.
19. Logo Designing
Create eye catching logos and visual branding elements for startups , businesses, and organizations in Mumbai. With your design skills, you can help clients establish a strong brand identity.
20. House Sitting
Offer peace of mind to travelers and homeowners in Mumbai by providing house-sitting services. Take care of their properties, look after pets, and ensure everything runs smoothly while they are away.
21. Pet Sitting
Care for pets in Mumbai while their owners are away. This zero investment business involves feeding, walking, and providing companionship to pets, ensuring their well being. It's a rewarding venture for animal lovers and can be a convenient way to earn income in Mumbai while helping pet owners with their furry friends.
22. Yoga or Fitness Instruction
Share your passion for fitness and well-being by offering yoga or fitness instruction in Mumbai. Conduct classes in parks, online, or even in clients' homes. This zero-investment business not only promotes a healthy lifestyle but also allows you to earn income while helping others achieve their fitness goals in the city.
23. Language Classes
Teach a language you're proficient in to eager learners in Mumbai. Offer classes either in person or online, helping individuals enhance their language skills for personal or professional purposes.
24. Tour Guide
Showcase the beauty and culture of Mumbai by becoming a tour guide. Share your local knowledge and passion for the city's landmarks, history, and cuisine with tourists and visitors.
25. Financial Consultancy
Provide expert financial advice and planning services to individuals and small businesses in Mumbai. Help clients manage their finances, invest wisely, and plan for their future. This zero investment business leverages your financial expertise to assist others in achieving their financial goals and securing their financial well being.
26. Stock Trading
Engage in stock trading with a small capital in Mumbai. Utilize your knowledge of the financial markets to buy and sell stocks, aiming for profits through strategic trading decisions. While it involves some level of risk.
27. Drop-in Daycare
Provide convenient daycare services in Mumbai for parents who need childcare occasionally. Offer a safeenvironment where parents can leave their children for short period of time, such as when they have errands to run or appointments to attend.
28. Content Curation
Curate and compile valuable content on a specific topic of interest. Create website or social media account where you regularly share and organize relevant articles, videos & resources. Monetize through ads, Affiliate marketing, or Sponsorships.
29. E-commerce Reselling
Embrace the world of Ecommerce by starting a reselling venture as one of the zero investment business ideas in Mumbai. Partner with established online platforms, source products at competitive prices, and market them.
30. Computer Repair
Providing computer repair services is one of the smartest Zero investment business ideas in Mumbai. Use your technical skills to diagnose and resolve computer problems for individuals and small businesses in town.
31. Online Surveys & Market Research
Online Surveys & Market Research are excellent zero investment business ideas in Mumbai. Start by conducting market research and gathering valuable insights from local to global audiences. Offer your expertise to businesses looking to understand their target markets better all without the need for significant upfront capital.
32. Music Classes
Share your musical talents and offer music classes as one of the zero investment business ideas in Mumbai.
33. Travel Planning
Embark on zero investment business ideas in Mumbai by helping travelers via helping travelers plan their dream journeys. Provide customized travel itineraries, accommodation hints and insider recommendations to create a memorable experience. Use your expertise of the town and travel expertise to assist clients create unforgettable journeys without having to pay hefty prematurely charges.
34. Virtual Event Hosting
Explore innovative zero investment business ideas in Mumbai by becoming a virtual event host. Plan and facilitate on line events, conferences, webinars, and workshops, bringing human beings collectively in the digital realm.
35. Cooking Classes
Spice up your incomewith these zero investment business ideas in mumbai . Share your cooking expertise by offering cooking classes. Teach participants how to prepare delicious dishes and cuisines, either in person or through online . Whether it's mastering local Indian cuisine or exploring international flavors, your cooking classes can attract food enthusiasts eager to learn.
36. Home Decor Consultancy
Embark on a creative journey with zero investment business ideas in Mumbai.Offer domestic decor consultancy offerings to people and groups seeking to beautify their living or working areas. Provide expert recommendation on indoors design, fixtures selection, colour schemes, and decor arrangements.
37. Car Pooling Services
Create an online platform with Zero investment that connects the passengers who are willing to share the ride around the city. you can also implement the platform fee and make fortune out of it.
38. Plant Nursery
Grow all kinds of plants such as decorative flowers, medicinal herbs, and Blomming Flowers, then sell them in the nearest market or in any online platform.
39. Home-based Beauty Services
Offer all kinds of beauty services such as facials, hair color, haircuts and massage in home , without investing in rental parlours. Promote your business idea in online and get customer reviews for every services.
40. Home Cleaning
Home cleaning services are one of the common zero investment business ideas in Mumbai, offer cleaning services to busy residents and business workspace and help them to maintain their environment clean.
41. Web Design and Development
Start your zero investment business ideas in Mumbai by offering web design and web development services. Create a user attractive websites for local businesses and startups. This business ideas is most suitable for someone who is interested in creating and designing websites.
42. Online Coaching
Starting an online coaching center to share your knowledge in a specific field or subject and guiding individuals to achieving their goal is one of the best Zero investment business ideas in Mumbai.
43. Mobile Car Wash
Offer professional car wash services to you surrounding apartments, workspace and in busy residency.
44. Handyman Services
If you are an expert on repairing pipelines or Electronic devices offer your skill in preparing and maintaining the household.
45. Bicycle Rental
If you have Bicycle in good conditions then Rent your bicycle online for passengers or foreign who are visiting our country.
46. Delivery Services
Start a delivery service where you facilitate the transportation of goods or food from local businesses to customers. Collaborate with restaurants, stores, or e-commerce platforms to handle their deliveries.
47. Catering
Launch your catering business and offer delicious homemade meals for various occasions without the need for any significant upfront investment. Prepare and deliver mouthwatering dishes to clients hosting events, parties, or corporate gatherings in Mumbai.
48. Social Media Influence
Build a strong social media presence and collaborate with brands for sponsored posts.
49. Data Entry Services
Provide data entry and transcription services.
50. Video Editing
Offer video editing services for content creators and businesses.
Blinkstore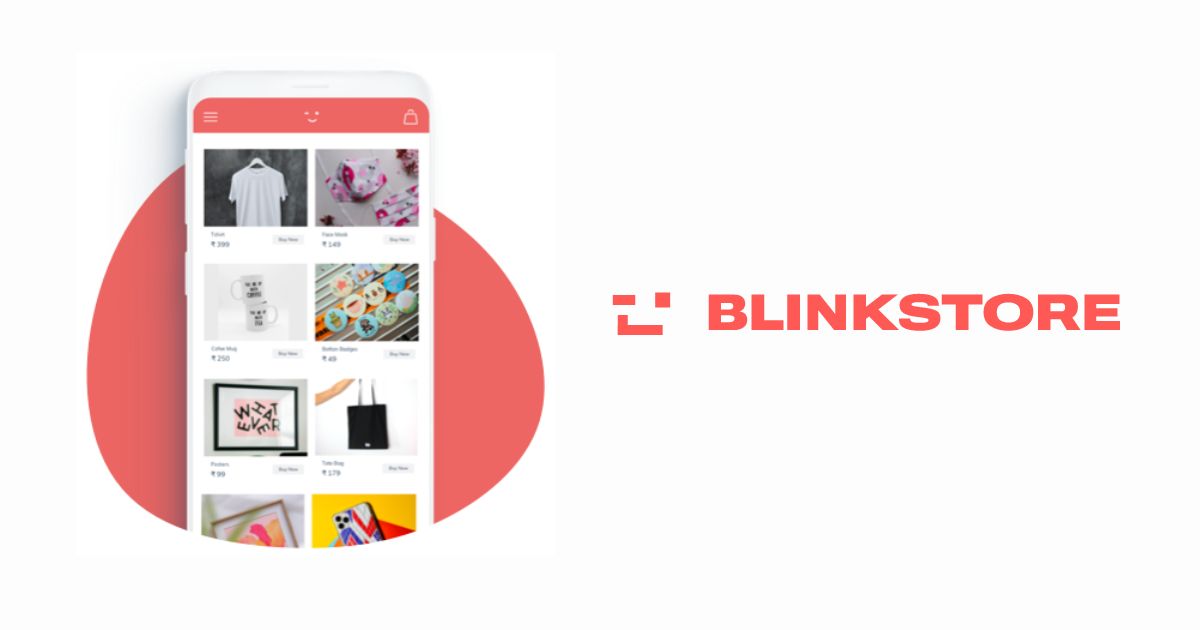 Blinkstore is the leading e-commerce platform in India that facilitates the process of starting a business with zero fees. Whether you want to try your hand at print-on-demand or sell custom products, Blinkstore offers an easy-to-use platform for aspiring entrepreneurs. Here's what sets Blinkstore apart.
Start Your Zero Investment Business with Blinkstore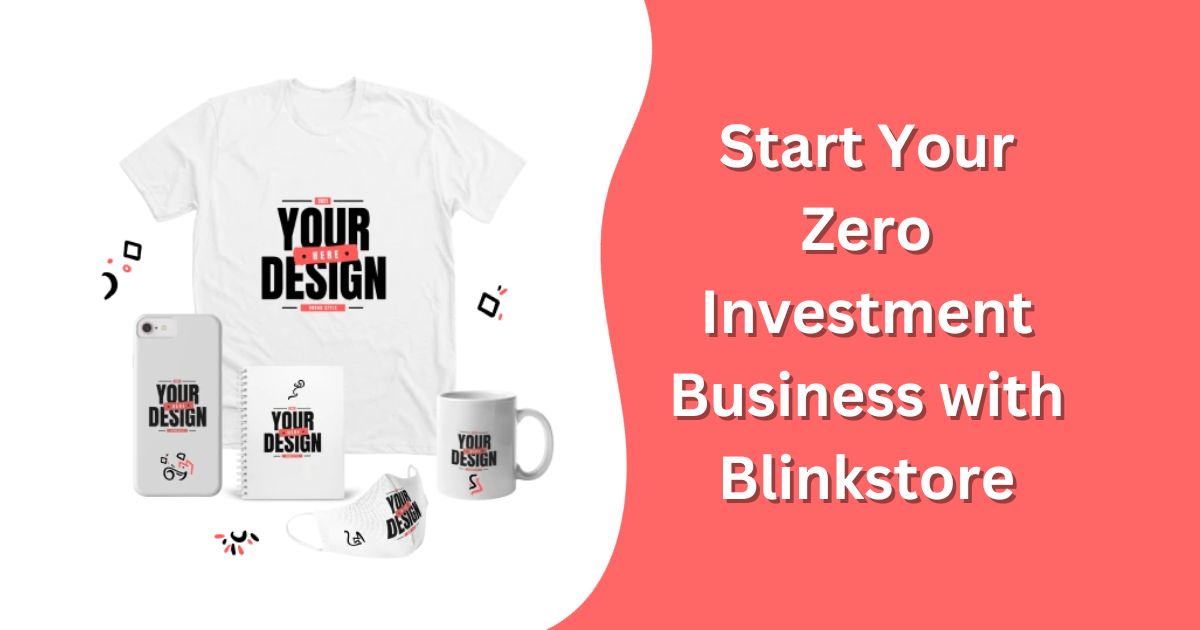 Starting a business in e-commerce doesn't require deep pockets or technical expertise. Blinkstore, India's leading platform, offers every investment opportunity for budding entrepreneurs. Here's why it's different.
User-friendly: No technical skills required; BlinkStore makes setting up your web store easy.
Product Assortment: Customize over 50 items from t-shirts to personalized phone cases.
Effort management: BlinkStore handles printing, packaging, and distribution, making your job easier.
Comprehensive Guide: For those new to print-on-demand, Blinkstore provides a detailed guide on "How to Start a Print-on-Demand Business With Blinkstore."
With BlinkStore, your creativity thrives, making it ideal for Indian online sellers. Don't let costs deter your dreams – start your zero investment business in Mumbai with Blinkstore today!
Steps to start your zero investment business with Blinkstore
Register: Visit the Blinkstore website to register for an account.
Design your products: Create or post your own unique design for the product you want to sell.
Set prices: Set your prices based on profit.
Shop your store: Once you're happy with the look and product details of your store, print them out.
Promote your products: Use social media, online marketing, and networking to promote your products and attract customers.
Monitor and adjust: Monitor your sales and customer feedback, and adjust as necessary to improve your business
If you are looking for ways to promote your business online, don't worry – we've got you covered. You can refer to the blog titled 10 Ways to Promote Your Business Online to learn more about effectively marketing your business and products online.
Conclusion
Mumbai offers a wide range of zero investment business opportunities for people who are looking to start their entrepreneurial journey. No matter whether you are a student or a common man who has a business idea Mumbai has you covered. Most of the above-mentioned zero investment business ideas in Mumbai don't require any upfront cost but consider investing in the promotion of your business online. Promoting yourself better than your revivals will help to reach clients in the business world, so consider investing a minimal amount of your profit into marketing.
FAQs
How can I start a low investment business in Mumbai?
To start a low investment business in Mumbai, begin by identifying your skills and interests. Research the market, identify the current trends in the market, research about competition, create a small business plan, and establish an online presence. Networking and marketing are also crucial for success.
Which Business is Most Profitable in Mumbai?
Some profitable options in Mumbai include Real estate, IT services, digital marketing, and health care related businesses.
what are the best zero investment business ideas in mumbai
Some of the best zero investment business ideas are print-on-demand, Freelancing, Affiliate marketing, Event hosting and so on.
What business can I start in Mumbai?
Start a business based on your skill and interest, for Example If your interest designing and sales you start a print on demand business by designing your product and promoting it using your marketing skills.