The Indian ecommerce market is growing rapidly, and there is now a wide variety of platforms available for businesses of all sizes. In this blog post, we will discuss the 10 best ecommerce platforms in India, based on factors such as popularity, features, and pricing.
Introduction
In the era of digital transformation, the Indian ecommerce landscape has experienced remarkable growth, with millions of businesses taking advantage of this lucrative market. Choosing the right ecommerce platform is crucial for success, as it can significantly impact your online business. In this blog, we'll explore the ten best ecommerce platforms in India, each offering unique features and benefits to cater to different business needs.
If you looking for a guide to start your ECommerce business refer to our recent blog on "How To Start an Ecommerce Business In India – 2023 Best Guide". This will guide you to open a business online in India
What is Ecommerce?
eCommerce, short for "electronic commerce," refers to the buying and selling of goods or services using the internet or other electronic means. It involves online transactions between businesses (B2B), businesses and consumers (B2C), and even between consumers (C2C). eCommerce has become a significant part of the global economy, transforming the way people shop and do business.
What is an Ecommerce platform?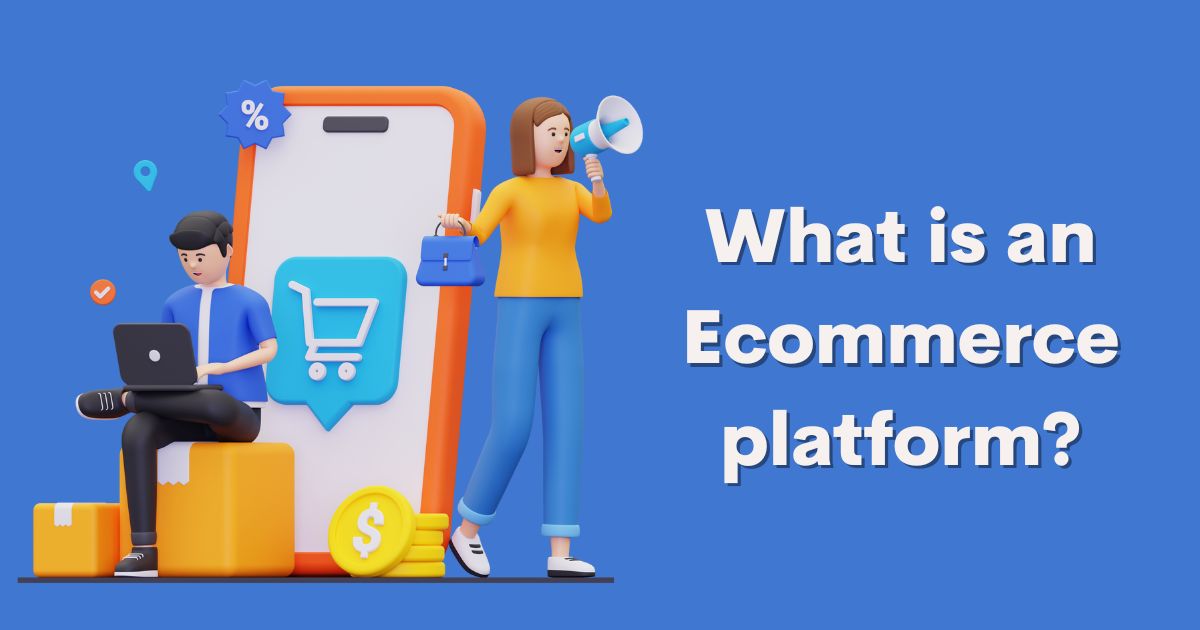 ECommerce platforms are the backbone of online retail businesses, allowing them to operate efficiently and effectively in the digital space. These platforms provide the necessary tools and features to create and customize a digital storefront, list products, accept payments, manage inventory, and handle various aspects of online sales.
With the vibrant eCommerce landscape in India, these Ecommerce platforms in India are instrumental in bridging the gap between businesses and consumers in the dynamic and competitive digital marketplace.
Different Types of Ecommerce
Different Types of Ecommerce
Ecommerce encompasses various models, catering to different business needs and consumer interactions. Here are the four primary types of ecommerce:
B2C (Business-to-Consumer): B2C ecommerce involves businesses selling products or services directly to individual consumers. In India, numerous ecommerce websites follow this model, This approach is also known as DTC (Direct-to-Consumer).
B2B (Business-to-Business): B2B ecommerce involves businesses selling products or services to other businesses online. B2B ecommerce platforms facilitate transactions focused on wholesale buying, often for resale or supply chain purposes.
C2B (Consumer-to-Business): In C2B ecommerce, consumers hold the selling power. This can include consumers selling their influence, such as featuring a social post on an ecommerce website or offering reviews and feedback in exchange for compensation. It's a less traditional but emerging model.
C2C (Consumer-to-Consumer): C2C ecommerce enables consumers to sell products or services directly to other consumers. This trend has gained popularity with the sharing economy. Platforms like OLX, and eBay facilitate C2C ecommerce by providing a marketplace for individuals to buy and sell products to each other.
Selecting the best ecommerce platform depends on the type of ecommerce business you operate and your specific goals and requirements.
If you want to know more about e-commerce and its types, its pros and cons refer to this blog "What is Ecommerce?"
10 Best Ecommerce Platforms in India
Here are some top Ecommerce platforms in India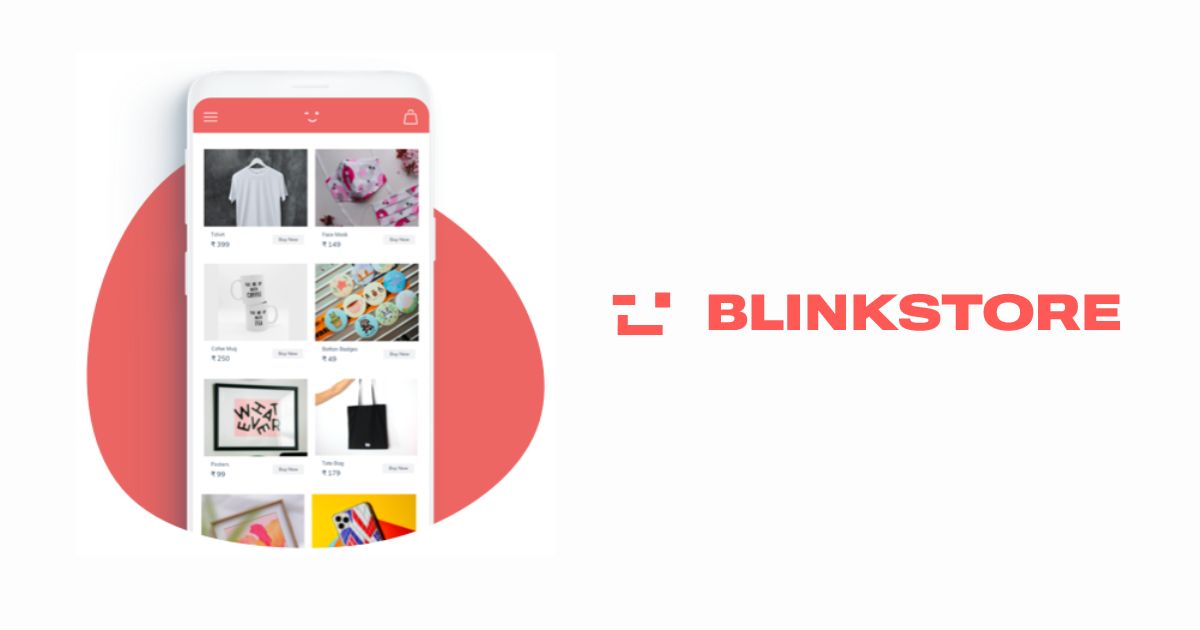 Blinkstore is the best ecommerce platform in India, known for its user-friendly approach. It's perfect for anyone looking to sell custom-designed products without the hassle of managing inventory or shipping logistics. With Blinkstore, you get a personalized online store for your brand, and you can print your unique designs on over 50 different products. It's as easy as promoting your products on social media, and Blinkstore takes care of printing and delivering them to your customers quickly.
Whether you're just starting or an experienced entrepreneur, Blinkstore offers a seamless way to bring your creative business ideas to life. It's a straightforward and innovative platform that simplifies eCommerce, making it the best choice for aspiring online sellers in India. Blinkstore simplifies eCommerce, making it accessible to everyone, and this is what makes it the preferred choice for aspiring online sellers in India. It's where creativity meets convenience, making it the best eCommerce platform for those looking to turn their ideas into thriving online businesses.
For those aspiring entrepreneurs who are eager to embark on their print-on-demand journey with Blinkstore, the platform provides a valuable resource in the form of a comprehensive guide. Titled "How to Start a Print-on-Demand Business With Blinkstore", this guide is an indispensable tool that offers useful insights and step-by-step instructions, making it an invaluable companion on your entrepreneurial path.
Amazon India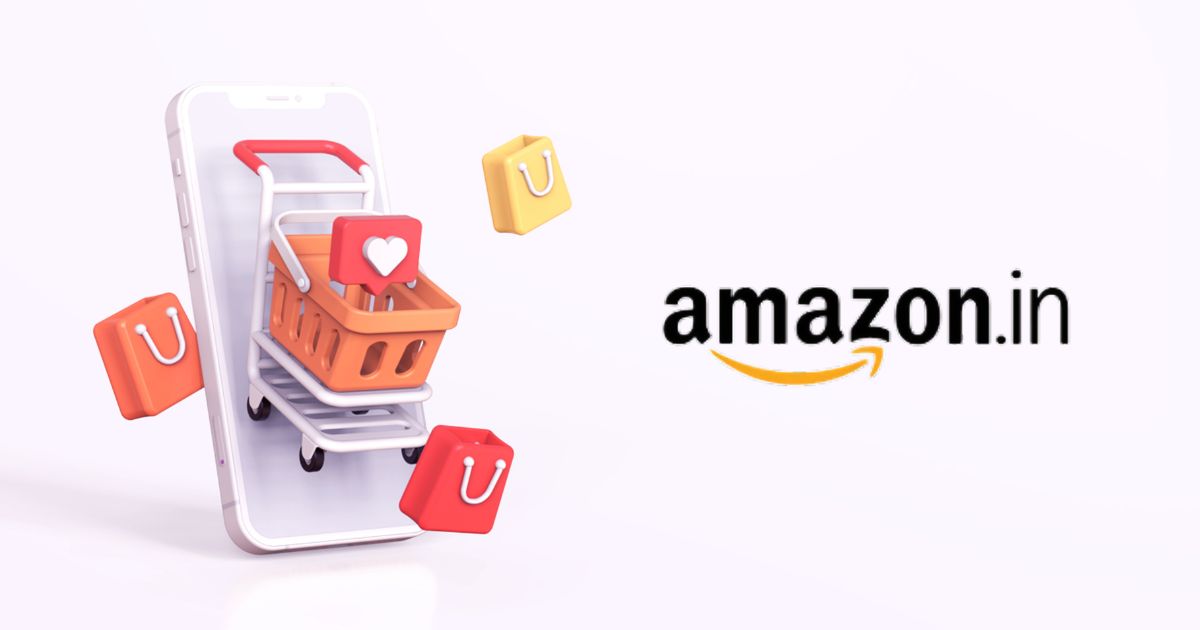 Amazon India, a subsidiary of the global retail giant, made its debut in the Indian market in June 2013, and since then, it has experienced remarkable growth and success and become one of the best ecommerce platforms in India. The brand has become synonymous with super-fast same-day and next-day delivery services, catering to the demands of today's frequent shoppers. It has also emerged as the preferred platform for many high-demand brands, such as Xiaomi and Apple, to unveil their latest gadgets, including televisions and smartphones.
One of the key factors contributing to Amazon India's popularity is its commitment to providing competitive prices and offering free shipping options to customers. Amazon India's product pages feature a user review section at the bottom, which adds an extra layer of trust and credibility for potential buyers, as they can read real customer experiences and opinions.
Flipkart
Flipkart one of the prominent ECommerce platforms in India, began its journey by venturing into the online retail market much like Amazon did – by initially focusing on book sales. However, since its inception, Flipkart has rapidly expanded its offerings to encompass various other retail segments.
One of the standout aspects of Flipkart in the eCommerce market is its reputation for providing incredibly affordable electronic items, including mobile phones and home appliances. Flipkart's annual event, known as 'Big Billion Days,' has become one of the most anticipated discount extravaganzas in the Indian eCommerce industry. During this event, customers eagerly await substantial price reductions, with discounts sometimes reaching up to an impressive 90%.
Flipkart's strategy of offering irresistible discounts has been a winning formula for capturing and retaining customers in the highly competitive eCommerce market in India. The company's journey is marked by a series of strategic acquisitions that have further solidified its position.
Shopify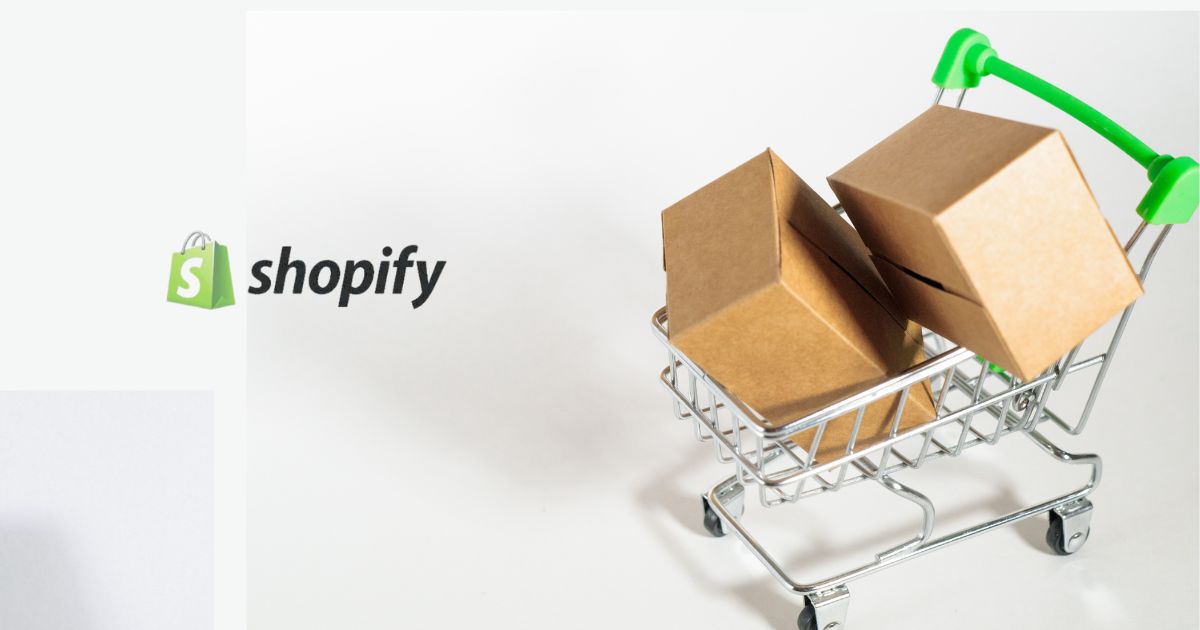 Shopify is one of the Ecommerce platforms in India, tailored to simplify the creation and management of online stores. Its versatility makes it suitable for businesses of all sizes, offering an extensive array of features and functionalities to support your eCommerce venture. One standout feature is its integrated Point of Sale (POS) system, which can be effortlessly operated from your mobile device. This seamless integration enhances the retail experience by bridging the gap between your physical and digital stores.
Shopify prides itself on its user-friendly interface, enabling business owners to efficiently oversee inventory and customize their website to align with their brand identity. The platform is so confident in its capabilities that it offers a 14-day trial period, allowing you to explore its full potential firsthand. With Shopify, you can launch and scale your online business with ease, starting with minimal technical expertise and budget constraints. As your business expands, Shopify remains a reliable partner, capable of supporting your journey to becoming an international online brand without the need for platform changes.
BigCommerce
BigCommerce is one of the best eCommerce platforms in India with a track record of serving businesses worldwide. Its feature-rich offerings, integrations, and competitive pricing make it a compelling choice for those looking to establish or expand their online presence. However, businesses should evaluate their specific needs and preferences to determine if BigCommerce aligns with their long-term eCommerce goals.
BigCommerce is a well-established eCommerce platform that serves as the foundation for over 55,000 online stores worldwide. As a BigCommerce user, you gain access to a robust ecosystem of powerful third-party integrations, including Visual Website Optimizer and MailChimp. These integrations enhance your website's functionality and capabilities, enabling you to provide an exceptional online shopping experience for your customers. For those considering BigCommerce, the platform offers a 15-day trial period. This allows you to explore and experience the platform firsthand, ensuring that your decision is well-informed.
One of BigCommerce's standout features is its seamless integration with prominent sales channels like Google Shopping, Facebook, Amazon, eBay, and Etsy. This integration empowers you to reach a broader audience and expand your online presence effortlessly.
WIX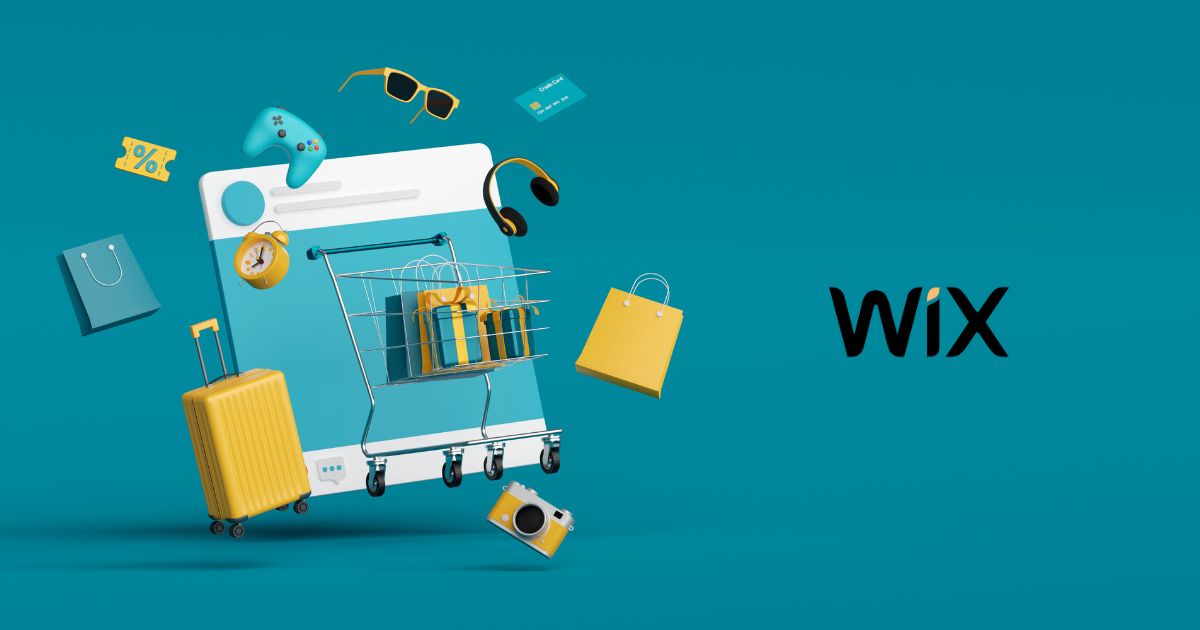 Wix has established itself as one of the leading eCommerce platforms in India known for its affordability and versatility. It boasts a strong presence in the market, currently hosting over 2000 stores across the country. What sets Wix apart is its exceptional customizability, allowing you to create personalized web pages that align perfectly with your brand identity.
Furthermore, Wix places a strong emphasis on website security, ensuring a safe online environment for both your business and customers. With a vast library of over 5,000 aesthetically pleasing templates, you have the freedom to choose a design that best represents your brand.
If your business deals with a significant number of products (more than 10), Wix might not be the optimal choice due to its less robust inventory tracking capabilities. In such cases, a platform with more advanced inventory management tools may be more suitable. Overall, Wix offers a strong platform for those looking to create an online store in India, particularly if customization and user-friendly design are high on your priority list.
IndiaMART
IndiaMART, with a straightforward motto of connecting buyers with sellers, has a unique history that sets it apart in the eCommerce landscape. The company traces its roots back to a time before the eCommerce boom when online users in India were relatively scarce. Today, IndiaMART stands as one of the premier eCommerce platforms in India, specializing in serving B2B (business-to-business) enterprises.
IndiaMART has emerged as a go-to destination for buyers in India seeking a wide range of products and services. These offerings span various industries, including industrial supplies, healthcare products, packaging machines, chemical dyes, and much more. IndiaMART's commitment to facilitating B2B commerce has made it an indispensable platform for businesses to connect, trade, and thrive in the dynamic Indian market. IndiaMART has played a vital role in connecting businesses and driving economic growth in India.
Myntra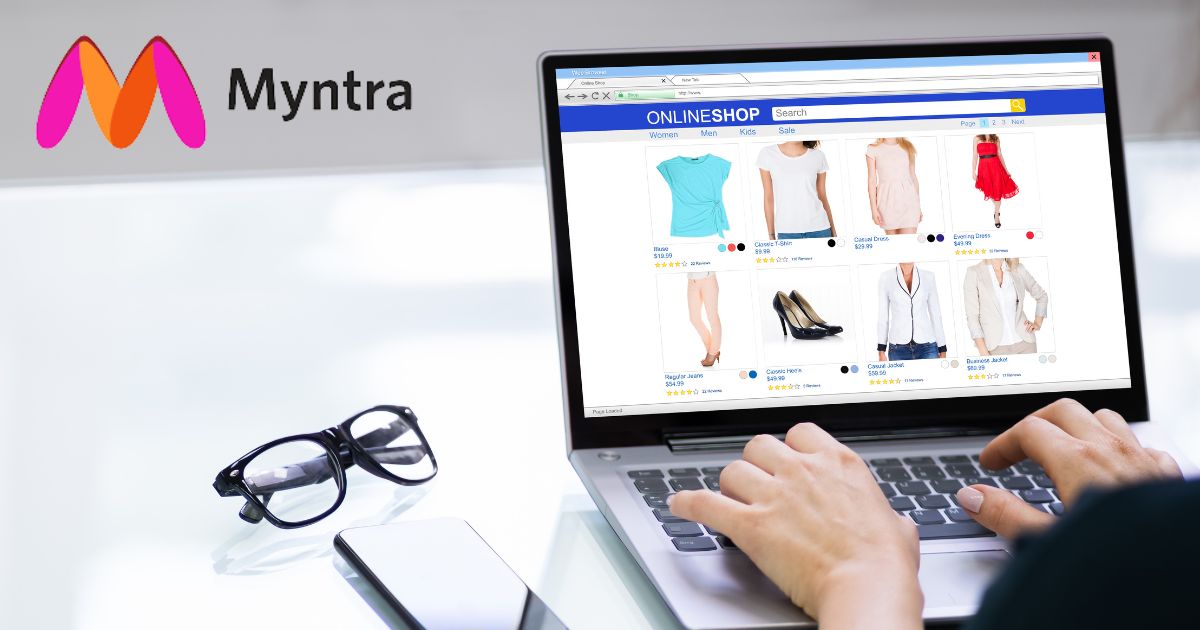 If you're on the hunt for a premier online platform to showcase and sell fashionable clothing and accessories, your search ends with Myntra. This is one of the best eCommerce platforms in India and has earned its reputation as one of India's largest platforms in the realm of fashion. One standout feature is Myntra's homepage, which prominently showcases ongoing discounts and sales. This strategic placement eliminates the need for customers to embark on extensive searches, ensuring that enticing offers are just a click away.
Myntra goes the extra mile in enhancing user satisfaction by allocating dedicated pages for each brand. When customers visit your brand's page, they are greeted exclusively with your offerings. This not only boosts brand visibility but also streamlines the shopping process, making it easier for customers seeking specific brands or products. As it continues to thrive and innovate in the dynamic world of eCommerce, Myntra remains a leading player in the Indian fashion industry, setting standards for user-friendly and trendsetting online shopping experiences.
Nykaa
Nykaa has emerged as a dominant player in the cosmetics market, making significant strides in the beauty and wellness eCommerce industry since 2012. Specializing in beauty, health, and wellness products, Nykaa offers customers an extensive range of beauty items while also providing valuable content, including product reviews, beauty-how-to-videos, e-beauty magazines, and expert-written articles. This combination of commerce and content has contributed to Nykaa's remarkable success in the eCommerce platforms in India. The company's foundation is built upon three core mission ideals: information, curation, and personalization, which are crucial in the realm of eCommerce platforms in India. Nykaa has expanded its portfolio with Nykaa Man, a dedicated website for men's grooming products.
Nykaa's unwavering commitment to quality, customer satisfaction, and strategic expansion has firmly established its position as a key player in the cosmetics market among eCommerce platforms in India, fueling its remarkable growth and industry recognition.
Meesho
Meesho has rapidly emerged as one of the fastest-growing eCommerce platforms in India, garnering a dedicated customer base within a remarkably short span. Positioned as a socially conscious consumer brand, Meesho is on a mission to empower the newly internet-savvy youth in India's non-metro regions. The company offers both a website and a mobile app, providing shoppers with convenient platforms to place orders and track the status of their packages.
What sets Meesho apart is its merchant-friendly approach – it doesn't charge any fees for merchants to register on the platform, nor does it deduct a percentage from their earnings. Instead, Meesho primarily generates revenue through in-app and website seller advertisements. It faces competition from formidable rivals such as SnapDeal and Myntra, as it continues to redefine the eCommerce space in India.
Top Ecommerce platforms around the world
These are some top e-commerce platforms around the world
WooCommerce
Amazon
Magento
Ebay
Shift4Shop
Squarespace
Conclusion
In the dynamic world of Indian eCommerce, choosing the right platform is vital for success. The 10 best eCommerce platforms in India discussed in this blog offer a range of features to suit different business needs, taking into account factors like popularity, features, and pricing. Among these platforms, Blinkstore stands out as a game-changer in the Indian eCommerce landscape. Amazon India and Flipkart are eCommerce giants known for their wide product selection and discounts. Shopify and BigCommerce provide versatility and scalability. Wix excels in customization, while IndiaMART serves B2B enterprises. For fashion, Myntra and Nykaa offer top-notch experiences. Meesho empowers small businesses.
As India's eCommerce market continues to grow, these platforms play a crucial role in bridging the gap between businesses and consumers in the dynamic and competitive digital marketplace.
FAQ
What is an eCommerce platform?
An eCommerce platform is a software solution that allows businesses to create and manage online stores, list products, accept payments, and handle various aspects of online sales.
What are the top eCommerce platforms in India?
Some of the top eCommerce platforms in India include Amazon India, Flipkart, Shopify, BigCommerce, Wix, IndiaMART, Myntra, Nykaa, Meesho, and Snapdeal.
How do I choose the right eCommerce platform for my business in India?
To choose the right eCommerce platform, consider factors such as your business size, budget, product range, customization needs, and target audience. Compare the features and pricing of different platforms to make an informed decision.
What is the significance of B2B and B2C eCommerce in India?
B2B (business-to-business) eCommerce involves transactions between businesses, while B2C (business-to-consumer) eCommerce involves businesses selling directly to individual consumers. Both play a crucial role in the Indian eCommerce market, serving different market segments.
How can I start an eCommerce business in India?
Starting an eCommerce business in India involves steps like selecting a niche, choosing one of the best eCommerce platforms in India, sourcing products, setting up a website, marketing, and managing logistics. Refer to our comprehensive guide for more details.
What are some key features to look for in an eCommerce platform?
Important features to consider include website customization options, payment gateway integrations, inventory management, marketing tools, mobile responsiveness, and customer support.
How do eCommerce platforms in India handle shipping and delivery?
Many eCommerce platforms offer integrations with logistics and courier services for shipping and delivery. Some also provide order-tracking features for customers.
What is the role of social commerce in India's eCommerce landscape?
Social commerce, where products are sold through social media platforms, is gaining traction in India. Several eCommerce platforms, like Meesho, and Mytra, leverage social networks to empower sellers and reach a wider audience.