Discover the definitive guide on how to start an ecommerce business in India by 2023. Learn how to traverse the dynamic internet market and achieve business excellence by following step-by-step plans, legal requirements, market insights, and best practices.
Table of Contents
What is an Ecommerce Business?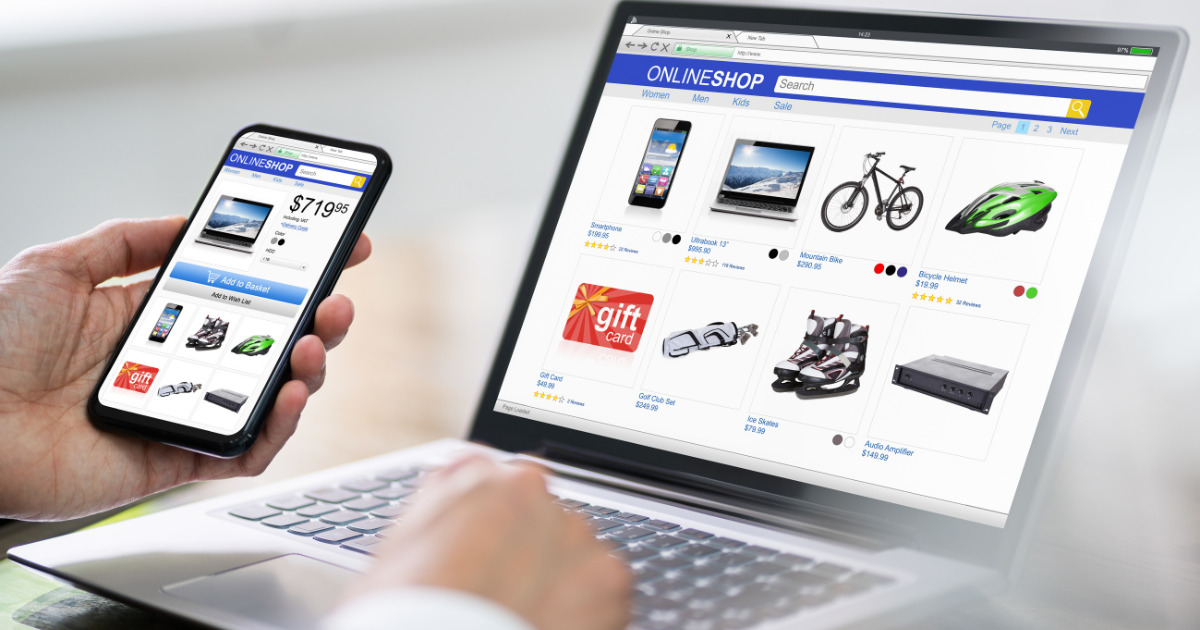 The buying and selling of goods and services over the Internet is referred to as an e-commerce business. Transactions are handled electronically in an e-commerce business, allowing customers to explore products, place orders, make payments, and receive things all through online platforms. This sort of business eliminates the need for physical storefronts and allows businesses to reach a worldwide customer base without being limited by geographical boundaries.
Ecommerce businesses can be B2B or B2C, which means they can sell to other businesses or directly to consumers. Ecommerce businesses can sell a wide range of things, including clothing, gadgets, furniture, food, and more. They can also sell services like vacation reservations, event tickets, and online courses.
How does Ecommerce Work?
Before you start learning how to start an ecommerce business in India, you need to understand how the ecommerce model works. Here is how it works:
The buyer browses an online store and selects the items they wish to purchase.
The buyer adds the items to their shopping cart and goes to the checkout.
The buyer provides their contact information as well as their shipping address.
The buyer selects a method of payment and completes the transaction.
The products are delivered to the buyer by the seller.
Inventory management, order processing, and customer data are managed behind the scenes by integrated software systems, allowing businesses to efficiently fulfil orders and give customer service, resulting in a seamless online shopping experience.
Benefits of Starting an Ecommerce Business in India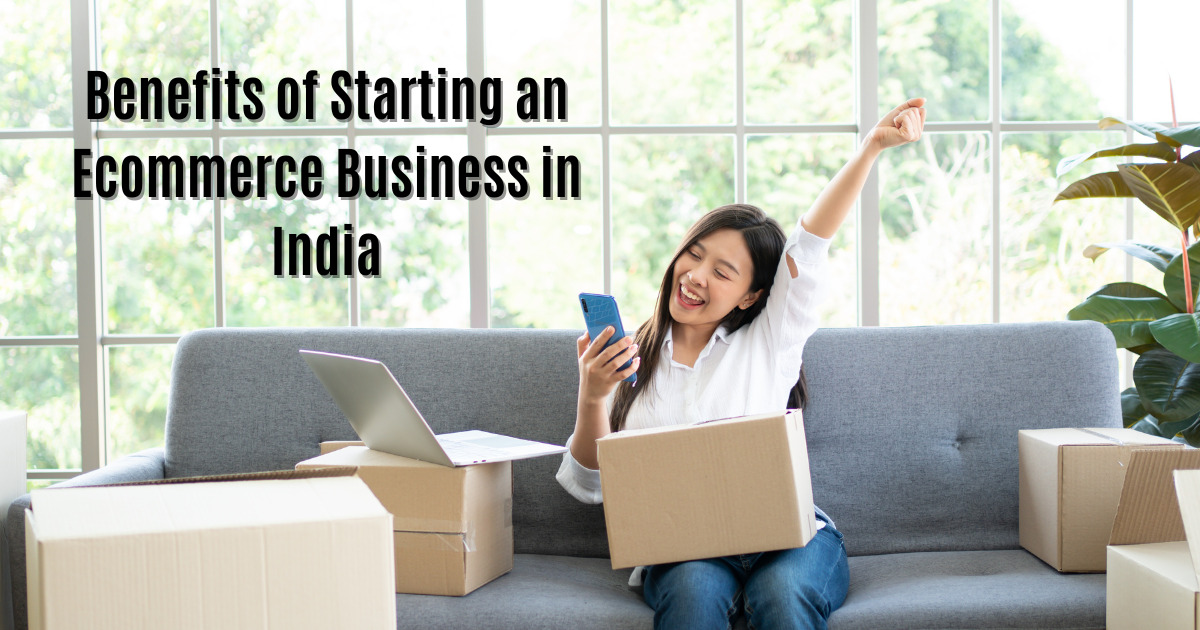 Here are some of the main benefits of starting an ecommerce business in India:
Expansive Market: Gain access to a fast-growing market with a huge and diversified population of 1.3B, offering enormous sales possibilities.
Low Expense: Reduced the need for large physical infrastructure, resulting in cost reductions in terms of rent, utilities, and manpower.
Increased Reach: Overcome geographical limitations to reach clients across the country, hence extending the customer base.
Data-Driven Insights: Collect and analyse customer data to make more educated business decisions, personalised marketing, and better product offerings.
Adoption of Digital Payments: Leverage India's evolving digital payment ecosystem to improve transactional convenience for customers and enterprises alike.
Government efforts: Take advantage of government efforts such as "Digital India," which promotes digital literacy and online transactions.
Scalability: E-commerce offers a scalable framework for accommodating business expansion and rising demand.
24/7 Accessibility: Your business is open 24 hours a day, seven days a week, allowing clients to shop whenever they choose.
Innovative Marketing: Use digital marketing methods to target specific demographics and effectively engage customers.
Reduced obstacles: When compared to traditional retail, there are fewer entry obstacles, allowing entrepreneurs to enter the industry with relative ease.
Types of Online Ecommerce Business in India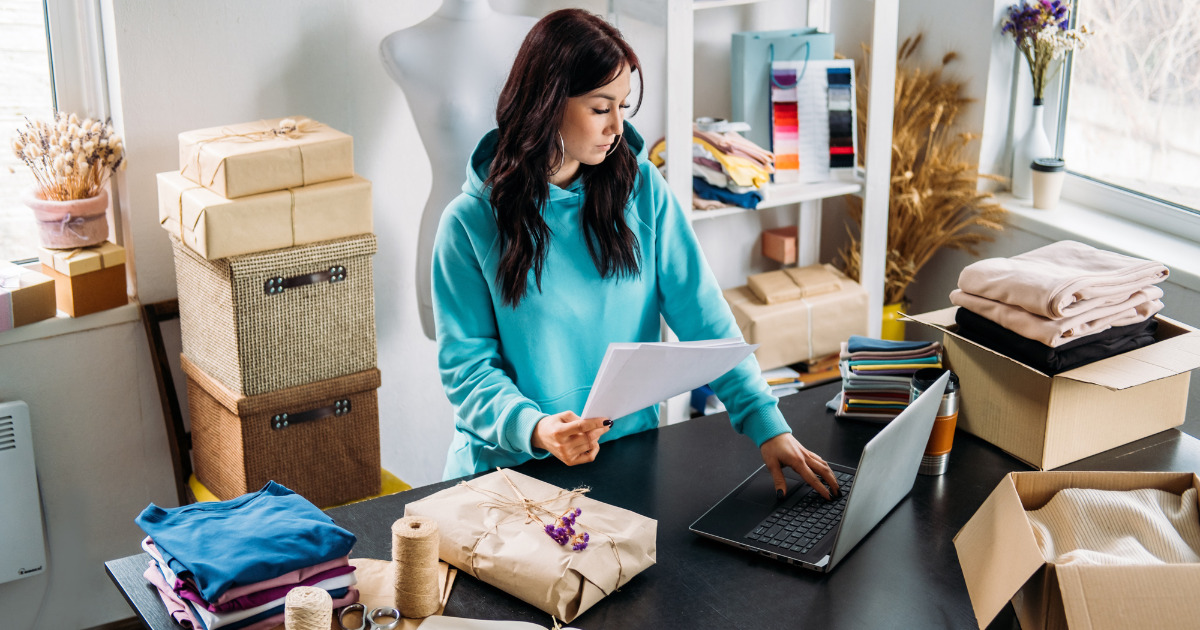 In India, there are many kinds of online ecommerce businesses. You need to know about all of them before you dive on how to start an ecommerce business in India. Here are a few of the most common:
Business to Business (B2B)
This form of ecommerce business sells items or services to other businesses. A B2B ecommerce business would be one that sells software to other businesses.
Business to Consumer (B2C)
This form of ecommerce firm sells items or services to consumers directly. A B2C ecommerce firm would be an online retailer that sells clothes to consumers.
Consumer to Consumer (C2C)
This sort of ecommerce allows consumers to sell products or services to one another. A C2C ecommerce business would be, for example, an online marketplace where people can sell used furniture.
Dropshipping
Dropshipping is an ecommerce business that does not hold any inventory. When a customer places an order, the merchant acquires the product from a third-party supplier and has it shipped to the client directly. The best example of this model would be print-on-demand where your products are only prepared when an order is placed. This eliminates inventory and maintenance costs and opens the door for customization. Read our detailed blog on Dropshipping vs. Ecommerce: Best one to choose in 2023 to get a clear idea about dropshipping and ecommerce.
Affiliate marketing
This sort of ecommerce firm receives a commission by promoting the products or services of other businesses. An affiliate marketer, for example, may promote a product on their blog and get a commission if someone clicks on the link and purchases the goods. You can go through our blog on Affiliate Marketing vs. Dropshipping to learn more about this.
Subscription-based
Subscription-based ecommerce enterprises charge clients a recurring price for access to items or services. A subscription-based business might be one that delivers fresh fruits and vegetables to consumers' homes.
How to Make an Ecommerce Business Plan?
A business plan for ecommerce is a document that covers your company's goals, tactics, and financial estimates. If you are looking for how to start an ecommerce business in India, you must know this first. It is a must-have tool for any ecommerce business owner because it will assist you in raising finances, attracting customers, and tracking your development.
To create an ecommerce business plan, you must first:
Define your company's objectives. What do you hope to achieve with your company?
Investigate the market. Who are your ideal clients? What are their wants and needs?
Determine your competition. What are your rivals doing well? What can you improve on?
Create a marketing strategy. How will you contact your intended audience?
Make a spending strategy. How much capital do you require to launch your business? How are you going to make money?
Your ecommerce business plan should be a dynamic document that is routinely updated as your company develops and evolves. It is an essential instrument for assuring your company's success.
Step by step guide on How to start an Ecommerce business in India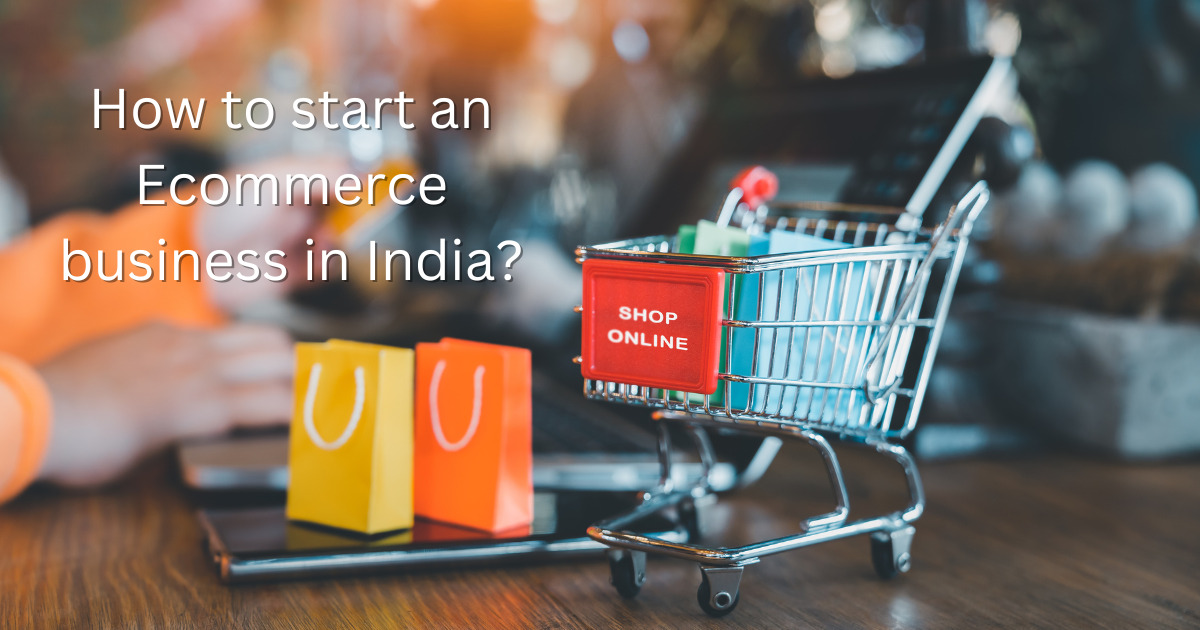 Here is a detailed step-by-step guide on how to start an ecommerce business in India with proper planning and execution:
Research your Business Idea
Determine a product or service that meets a market need while also aligning with your experience and passion.
Find your Niche
Narrow your attention to a certain market niche, allowing for targeted marketing and a unique value offer.
Conduct Market Research
Examine rivals, customer behaviour, and industry trends to acquire insights that can help you develop your business plan.
Choose your Product and Target Market
Choose products that will resonate with your target audience and provide a competitive advantage.
Validate your Product
To validate demand, test your product concept with a small audience or through pre-orders.
Sourcing your Product
Determine if you will manufacture your product, source locally, or use dropshipping, and establish dependable sources.
Write your Business Plan
As mentioned before, make a detailed plan including your company's goals, target market, marketing techniques, financial projections, and operational strategy.
Decide a Name and Legalize Your Business
Choose a distinct business name, register it, and complete all legal requirements such as licences and GST registration.
Choosing an Online Selling Channel
Decide where you'll sell your products: on your own website, through existing e-commerce platforms, or a combination of the two.
Set up your Online Store
Build and customise your e-commerce website to ensure a user-friendly layout, clear product descriptions, and easy navigation.
Find The Perfect Logo
Create a logo that reflects your brand identity and resonates with your target audience.
Select Payment Methods
Integrate secure and diversified payment gateways to cater to a wide range of consumer preferences. Consider adding options like credit cards, debit cards, net banking and UPI for the ease of the customers.
Prepare For The Launch
Thoroughly test your website, ensuring that all links and capabilities operate, and stock up on products.
Brand Your Brand
Develop a consistent brand identity, including graphics, tone, and messaging that are relevant to your target market.
Find Logistics Partner
Work with reputable logistics companies to ensure efficient order processing, shipment, and delivery.
Market your Business
Use a combination of digital marketing methods such as SEO, social media, content marketing, and paid advertising to boost your sales.
Build A Strong Customer Base
Focus on providing outstanding customer service, engaging with customers on social media, and gathering feedback to improve.
Additional Tips for Starting an Ecommerce Business in India
Here are some additional tips on how to start an ecommerce business in India and execute it perfectly:
Customise your content for diverse Indian languages and cultures.
For India's mobile-driven market, make sure your website is mobile-friendly.
Showcase reviews to gain buyer confidence and trust.
Display endorsements and influencer collaborations on social media.
Provide popular local payment methods to ensure smooth transactions.
Take advantage of amazing offers during Indian festivities.
To provide better assistance, provide multilingual support.
Optimise for local keywords to attract clients in your area.
Optimise site speed for different internet connections.
Successful Ecommerce Business Examples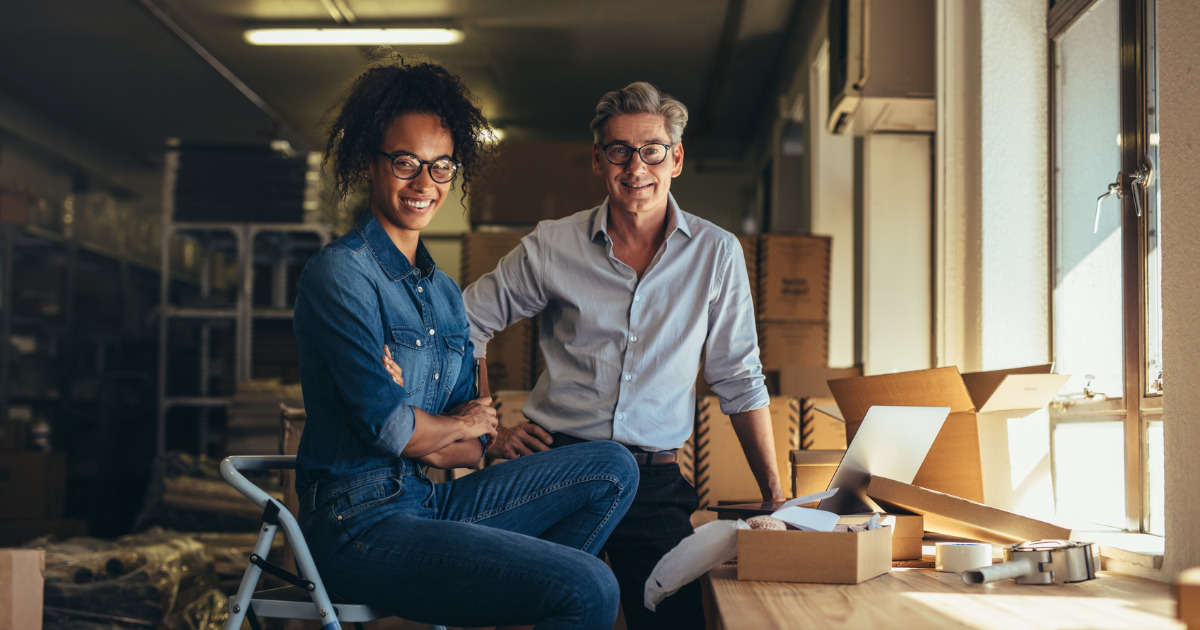 Here are some examples of some businesses that cracked the code on how to start an ecommerce business in India and are doing pretty well in their fields:
Boat is a smartphone, headphones, speaker, and other audio equipment manufacturer based in India. Aman Gupta and Sameer Mehta launched it in 2016. Boat has become one of India's most popular audio brands, because of its low costs and beautiful designs. In addition, the company has moved into other product categories such as smartwatches and fitness bands.
Bombay Shaving Company is a shaving and grooming brand based in India that provides razors, shaving lotions, and other grooming items. Mohit Agarwal and Ankur Warikoo launched it in 2016. Bombay Shaving Company has been successful in capitalising on India's growing demand for luxury shaving goods. The company sells a variety of items, such as safety razors, shaving brushes, and shaving creams.
Sugar Cosmetics is a cosmetics business from India that sells lipsticks, eyeliners, and other makeup items. Falguni Nayar created it in 2015. Sugar Cosmetics has become one of India's most popular makeup brands, thanks to its low costs and diverse product line. In addition, the corporation maintains a loyalty programme that rewards customers for their purchases.
Nykaa is an Indian e-commerce portal for beauty and personal care that provides a wide range of products such as makeup, skincare, haircare, and perfumes. Falguni Nayar created it in 2012. Nykaa has risen to prominence as India's largest beauty e-commerce portal, thanks to its diverse product offering, low pricing, and user-friendly shopping experience.
Firstcry is an Indian e-commerce portal for babies and children's products that sells a wide range of things such as apparel, toys, and feeding supplies. Supam Maheshwari and Tarun Jain launched it in 2010. Firstcry has established itself as the largest e-commerce site for babies and children's items in India, owing to its diverse product offering, low pricing, and user-friendly shopping experience.
Top Successful Print-on-Demand Stores Powered by Blinkstore
Now that you know how to start an ecommerce business in India, let's take a look at some of the top blinkstore powered print on demand businesses that are doing pretty good in this field: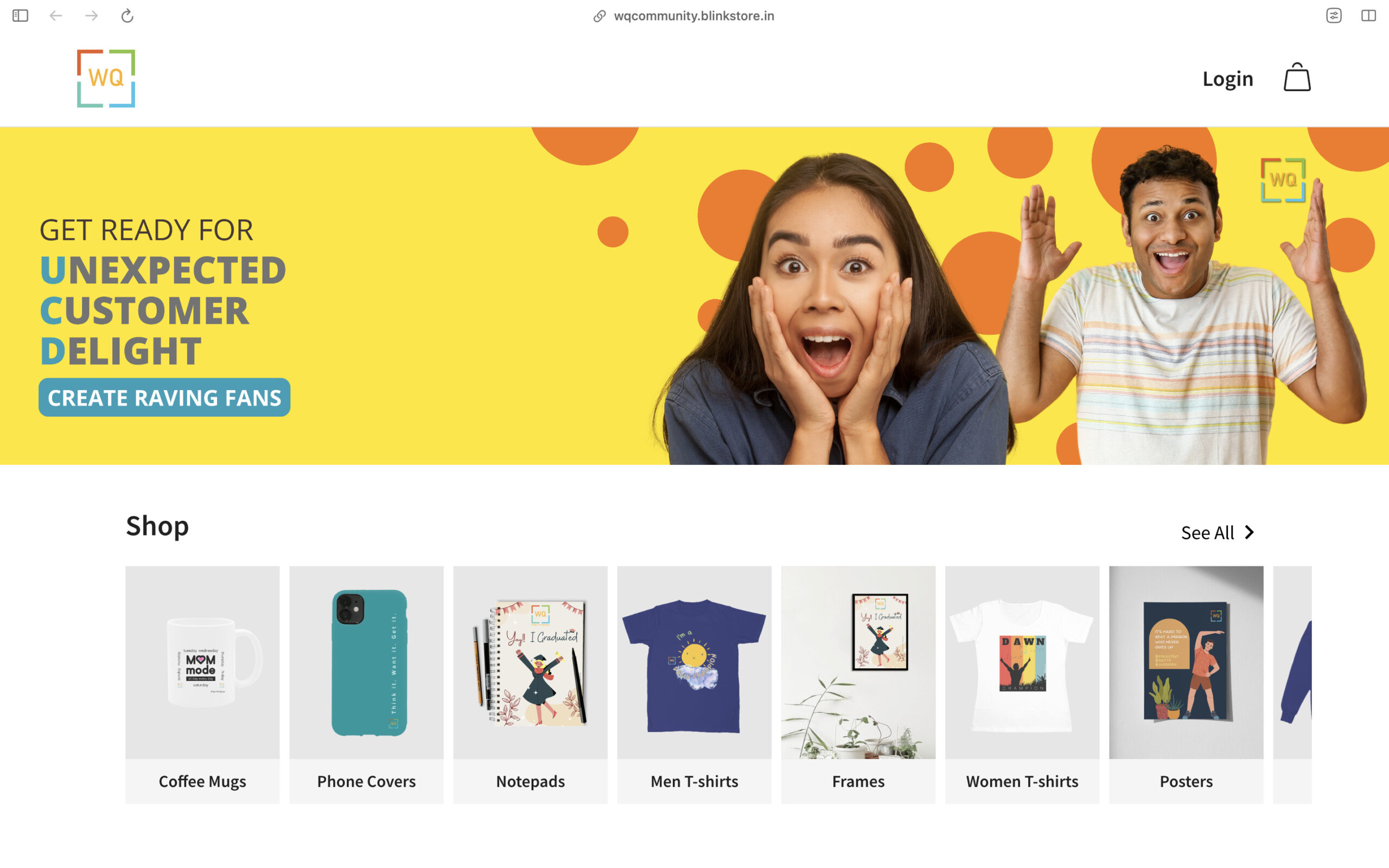 Wellness Quotient (WQ) is a community of like-minded consumers who believe that prevention is better than cure and who like to be actively engaged in the quest to improve their wellness quotient by following time-tested principles of well-being.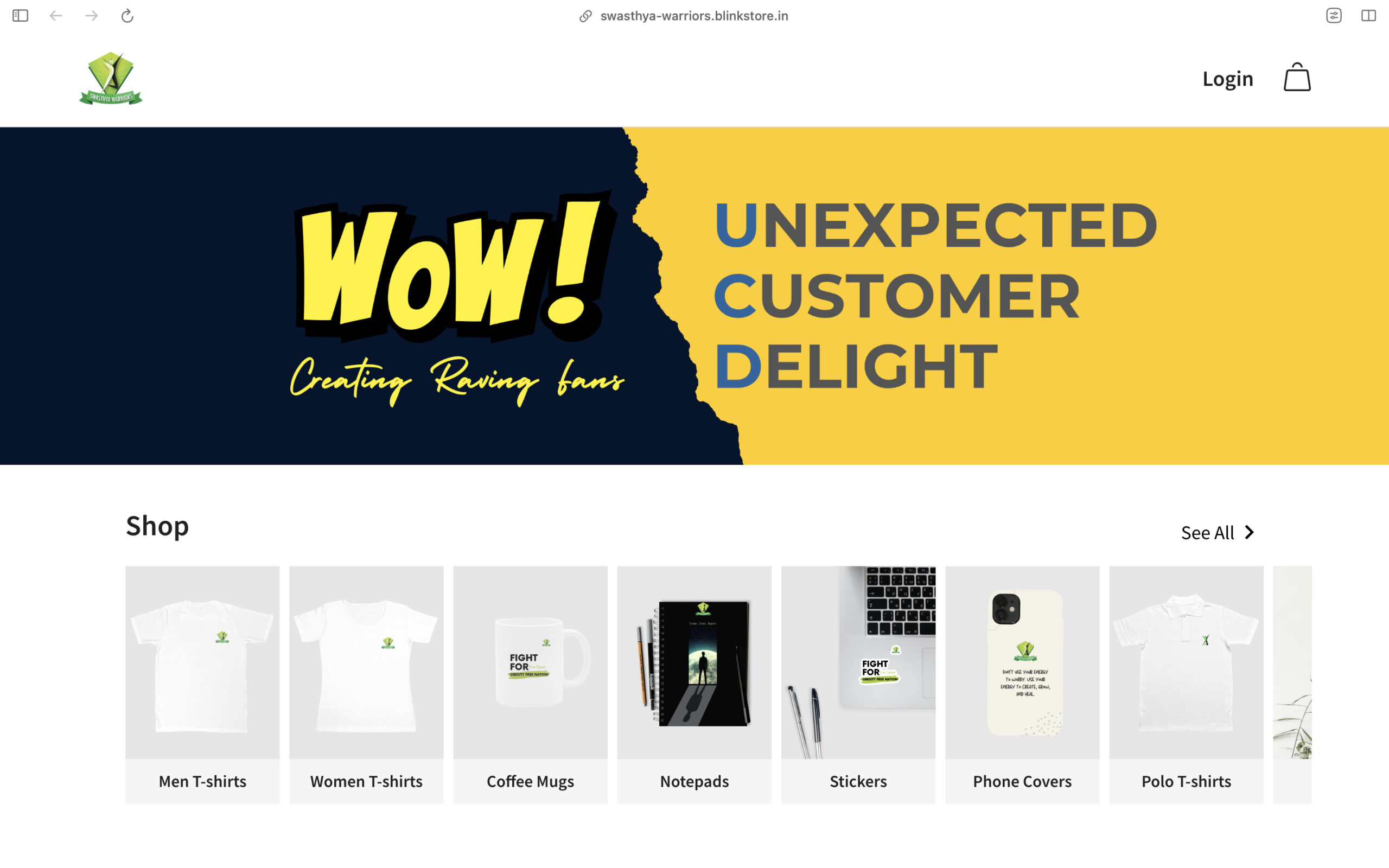 Next on the list, we have Swasthya warriors. They are also one of the most successful print on demand companies that focuses on quality and eco sustainability.
CLTR Studios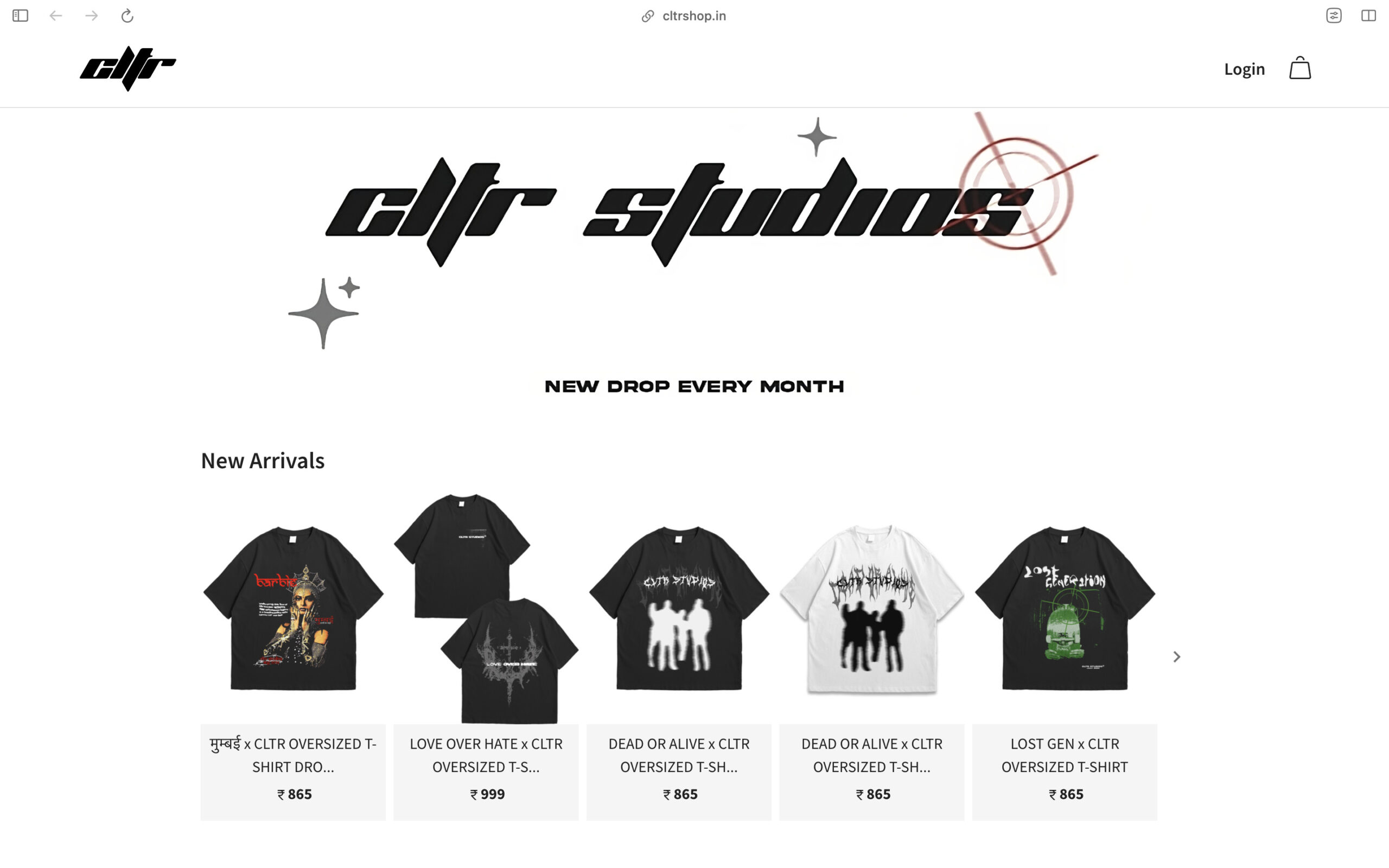 CLTR Studios has become one of the most reputed platforms when it comes to print on demand products. Their affordable and unique designs makes them stand out among the crowd.
Twocolors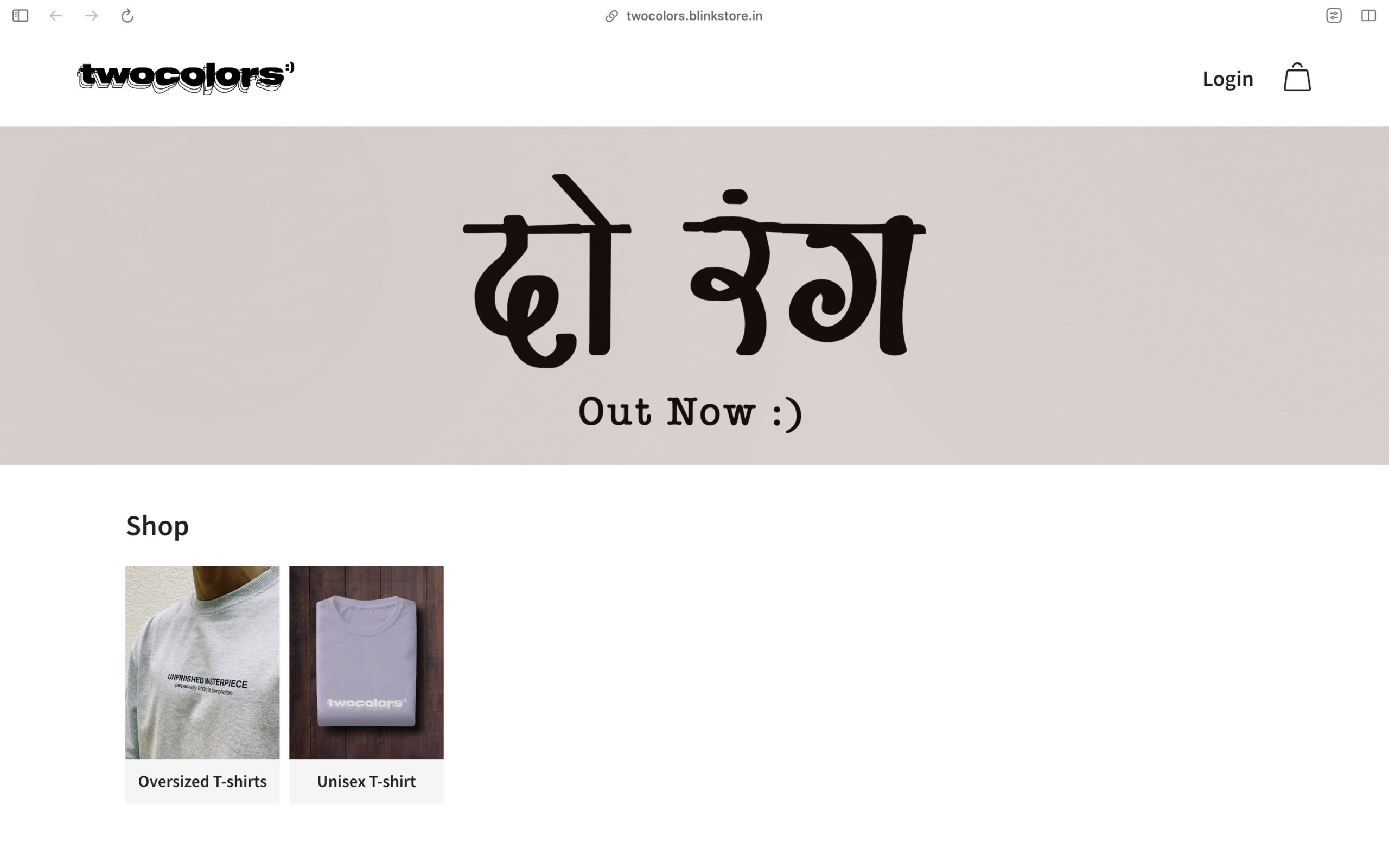 Twocolors is another popular store powered by Blinkstore that is doing really well in the print-on-demand business. They mostly focus on premium minimalistic designs and provides one of the most efficient customer support.
Sandshandiworks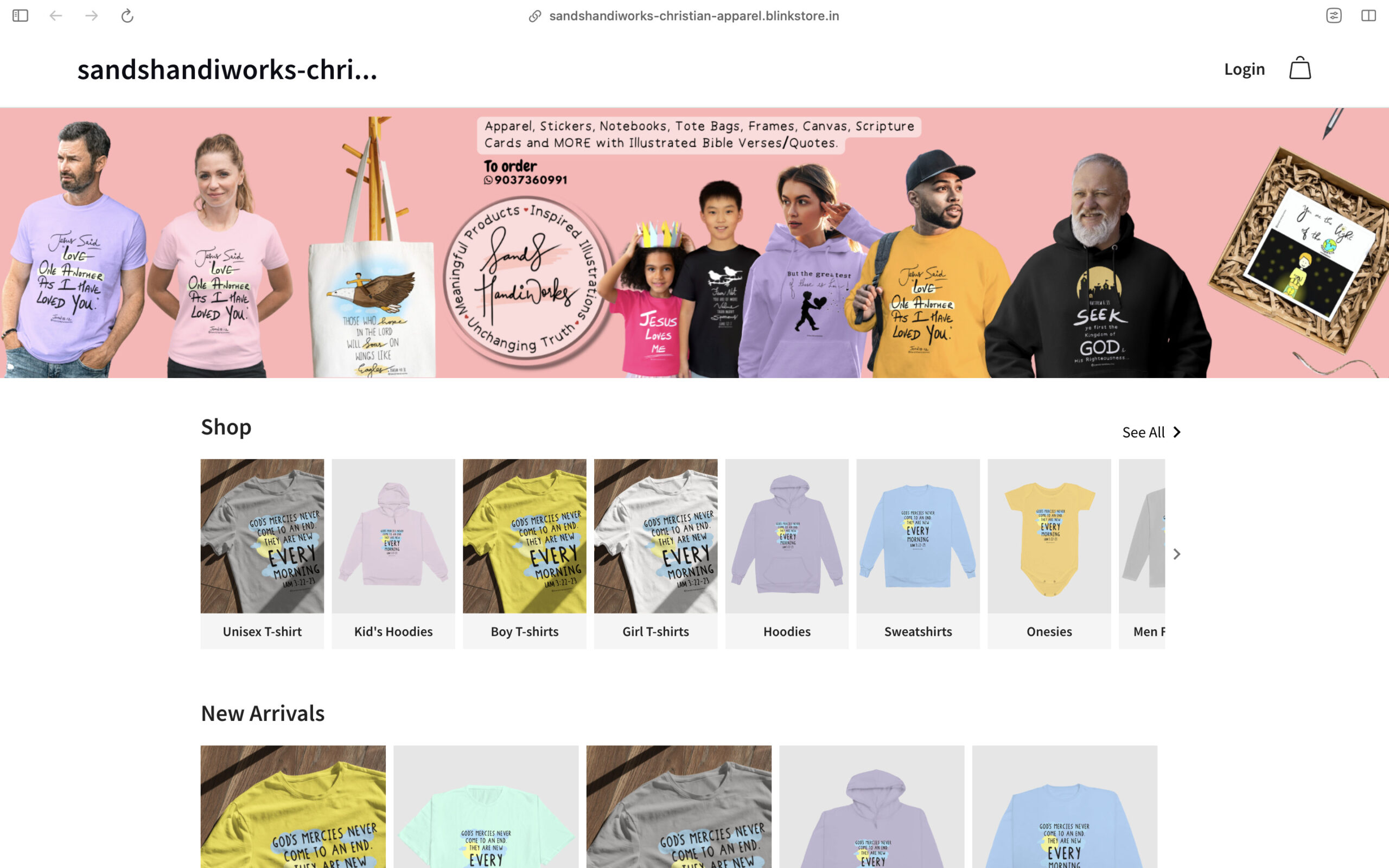 Last, but not least, we have Sandshandiworks which focuses on typographical designs that are always trendy and unique. These designs receive regular updates and always stays in fashion!
Conclusion
Starting an ecommerce business in India could be an excellent method to launch a new venture or expand an existing one. You can start a profitable ecommerce business with a little thought and effort. Hopefully, with our detailed guide, you will be able to figure out how to start an ecommerce business In India and become profitable.
FAQs
How to find the right eCommerce platform for my business?
Compare platforms based on features, scalability, cost, and user reviews to find the one that best meets your company's needs.
How can I start an eCommerce business in India for beginners?
Begin by studying your area, developing a business plan, selecting products, establishing an online store, and putting in place effective marketing methods.
Is e-commerce business profitable in India?
Yes, due to the developing digital market and rising customer desire for online purchasing, e-commerce can be lucrative in India.
How much investment is needed to start an eCommerce business in India?
Depending on your product range and business type, investment can range from a few thousand rupees for a small-scale operation to lakhs for larger setups.
Is e-commerce profitable?
Profitability in e-commerce is possible, but success is dependent on factors such as product selection, marketing strategy, operational efficiency, and market demand.
Is it easy to start e-commerce?
Starting an e-commerce business might be simple with good strategy, research, and execution, but it takes effort and devotion to thrive.
What is the highest salary in eCommerce?
Executive wages in e-commerce can range from several million to crores per year, depending on the function, firm size, and market conditions.
Which is the richest e-commerce?
Amazon is currently the world's richest e-commerce corporation.
What is the most successful e-commerce?
Companies such as Amazon, Alibaba, and Walmart have had tremendous success in the e-commerce industry.
What are the top 3 biggest online shopping sites?
Amazon, Flipkart, and Myntra are the top three largest online shopping sites in India.