Discover the most recent and innovative family t-shirt design ideas for 2023! Embrace the feeling of togetherness with our chosen assortment of fantastic designs that capture your family's unique bond. These fashionable t shirt designs will leave a lasting impact on your loved ones and everyone you encounter, with loving pictures and smart wording. With these must-know t-shirt design ideas for 2023, you can unite your family in style and create moments that will be remembered for years to come.
Table of Contents
Introduction
Family t-shirts are an excellent way to display your family's unique personality and closeness. Family t shirt designs are all about recognising what makes your family unique. Whether you have a sports-loving family, a music-loving family, or an adventurous family, there is a t-shirt design idea for you.
In this post, we'll go over some fantastic family t-shirt design ideas that you can use to make your own unique and memorable shirts. We'll also provide you some pointers on how to make outstanding family t-shirt designs. So, whether you're looking for a new family t-shirt design for your next vacation or simply want to show off your love for your family, keep reading for some amazing options!
What to consider for a Family T-shirt design?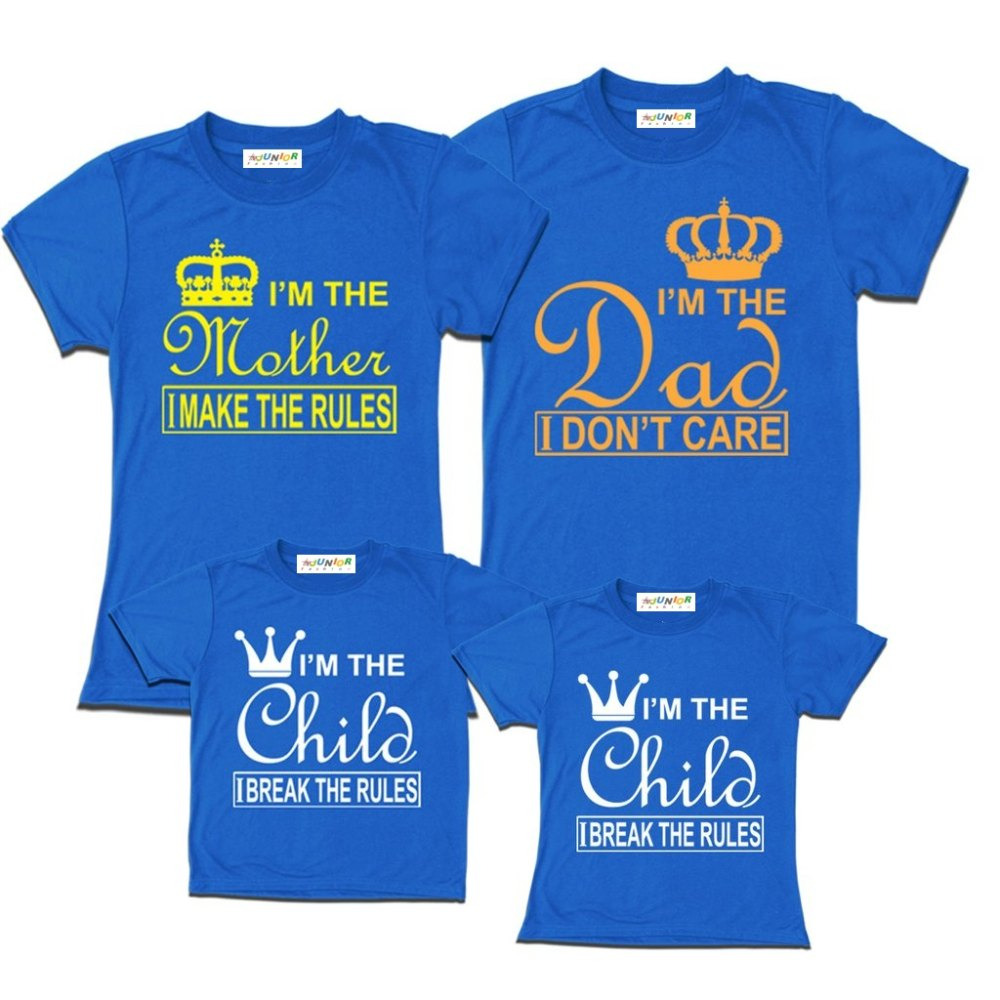 Here are a few things to think about when thinking of amazing family t-shirt design ideas:
The personality of your family. What are the interests, hobbies, and values of your family? What distinguishes your family? These details should be reflected in your t-shirt design.
The situation. Are you designing t-shirts for a particular event, such as a family reunion or vacation? If so, think about the occasion's theme and how your t-shirt design may reflect that topic.
The size and age range of your family. Not every t-shirt design will look nice on every member of the family. Make sure to select a design that is acceptable for your family's size and age range.
Your Budget is important too. Don't get too expensive. Establish and stick to a budget for your family t-shirt design idea.
Family T Shirt Design Ideas
Here are some amazing selective family t-shirt design ideas that you should know if you are looking for own custom t-shirt design ideas:
Family Team Jersey Design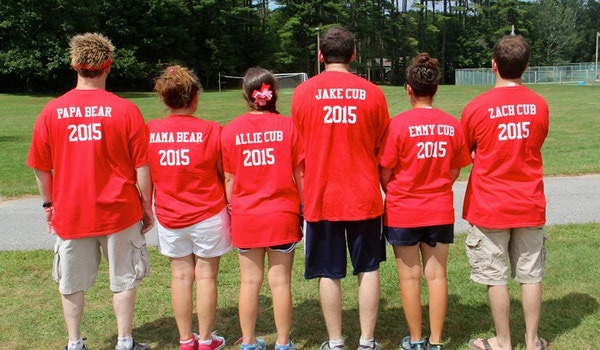 The Family Team Jersey Design honours the togetherness and solidarity that binds a family together. A family team jersey design is an excellent method to demonstrate your family's passion for sports. You can personalise your jersey with your family's name, initials, or the logo of your favourite team. You can also personalise the jersey with a phrase or quote, such as "Teamwork makes the dream work" or "We're a family, and we're always there for each other."
Generations of Love Tree Design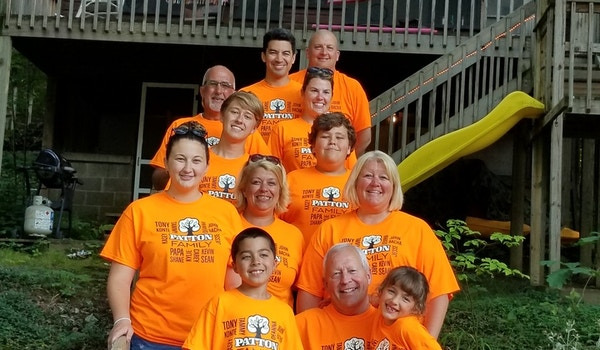 The Generations of Love Tree Design represents the profound ties that run through a family's generations. This creative and comforting family t-shirt design ideas display a towering tree with intricate branches, each representing a distinct generation, symbolising the family's heritage and growth. The names and birth years of grandparents, parents, and grandkids have been painstakingly interwoven into the design, resulting in a lovely display of family genealogy. This tree design serves as a reminder of the family's shared heritage and the ideals that continue to bloom within each generation.
Family Adventure Awaits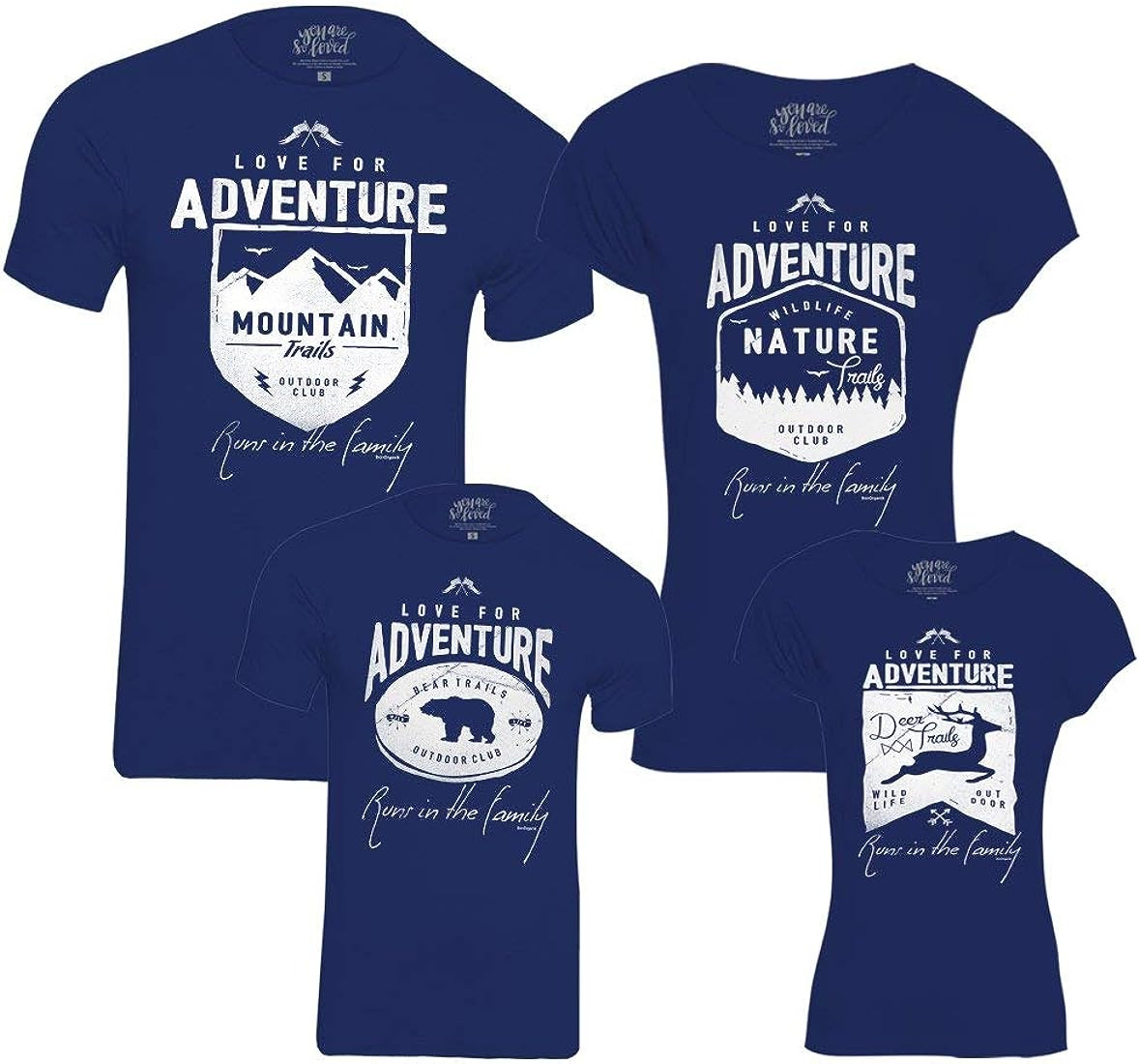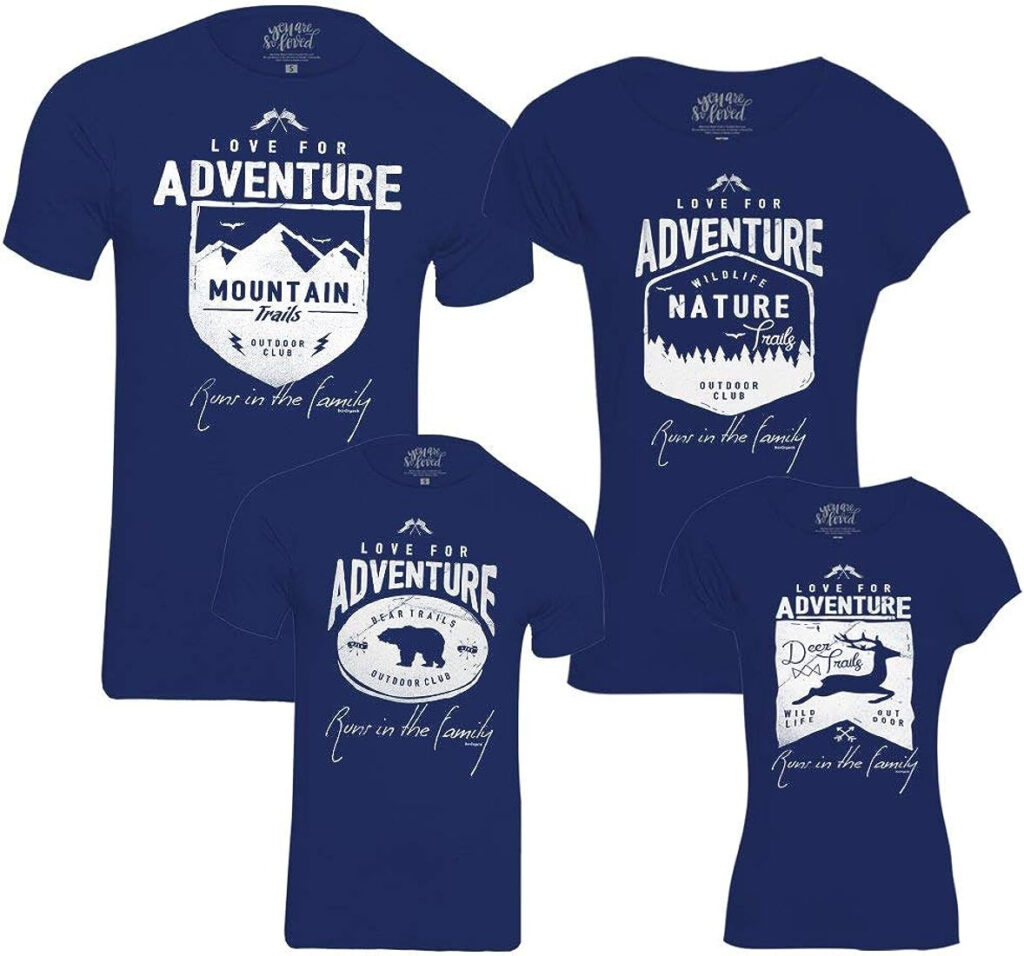 For families with a zest for adventure and exploration, the "Family Adventure Awaits" Wanderlust Theme t shirt design captures the thrill of embarking on journeys together. This design incorporates elements like vintage suitcases, globes, compasses, and wanderlust-inspired typography to evoke a sense of wanderlust and curiosity. The t-shirts serve as a rallying call for the entire family to embrace new horizons, create lasting memories, and cherish the joy of shared experiences.
The Original Crew Retro Design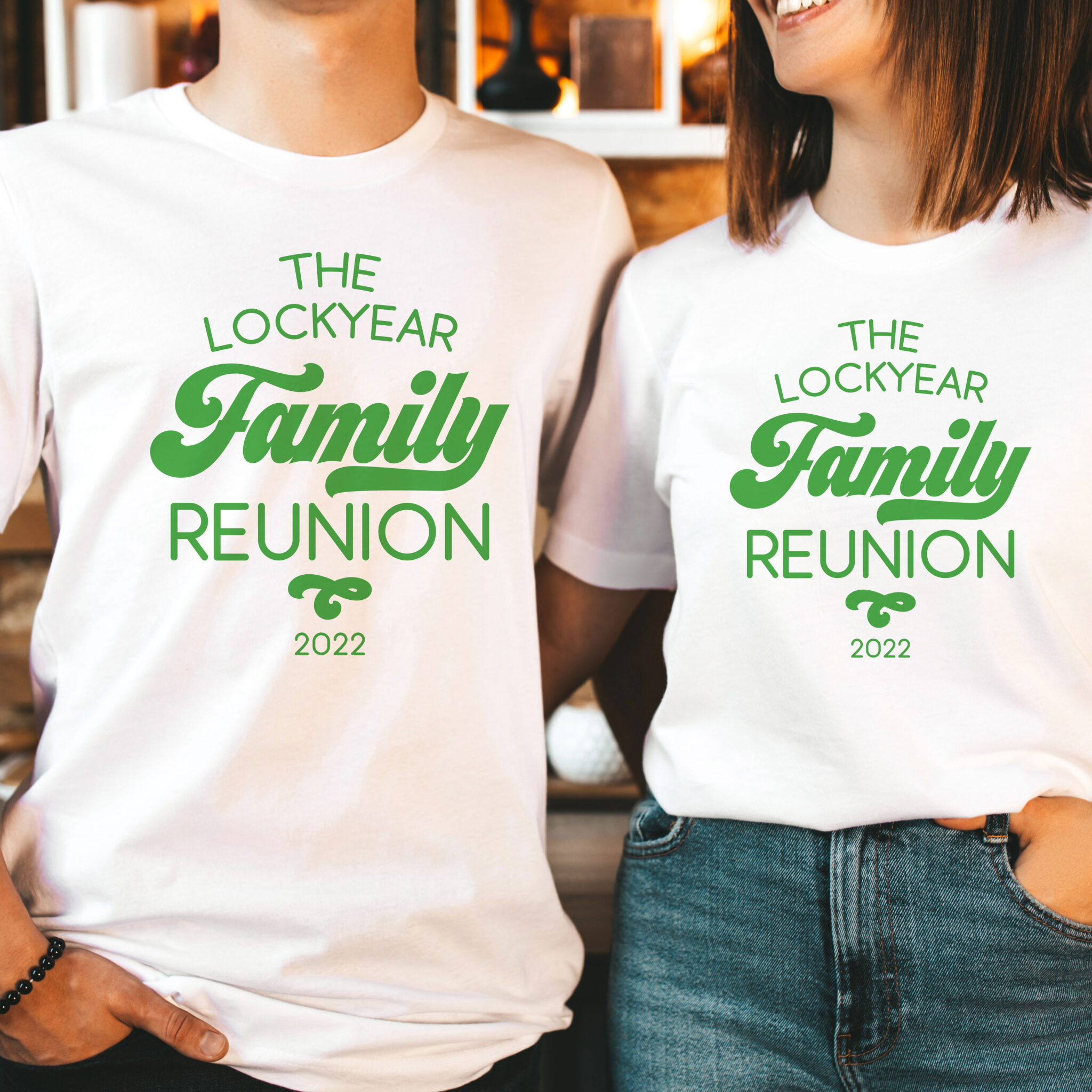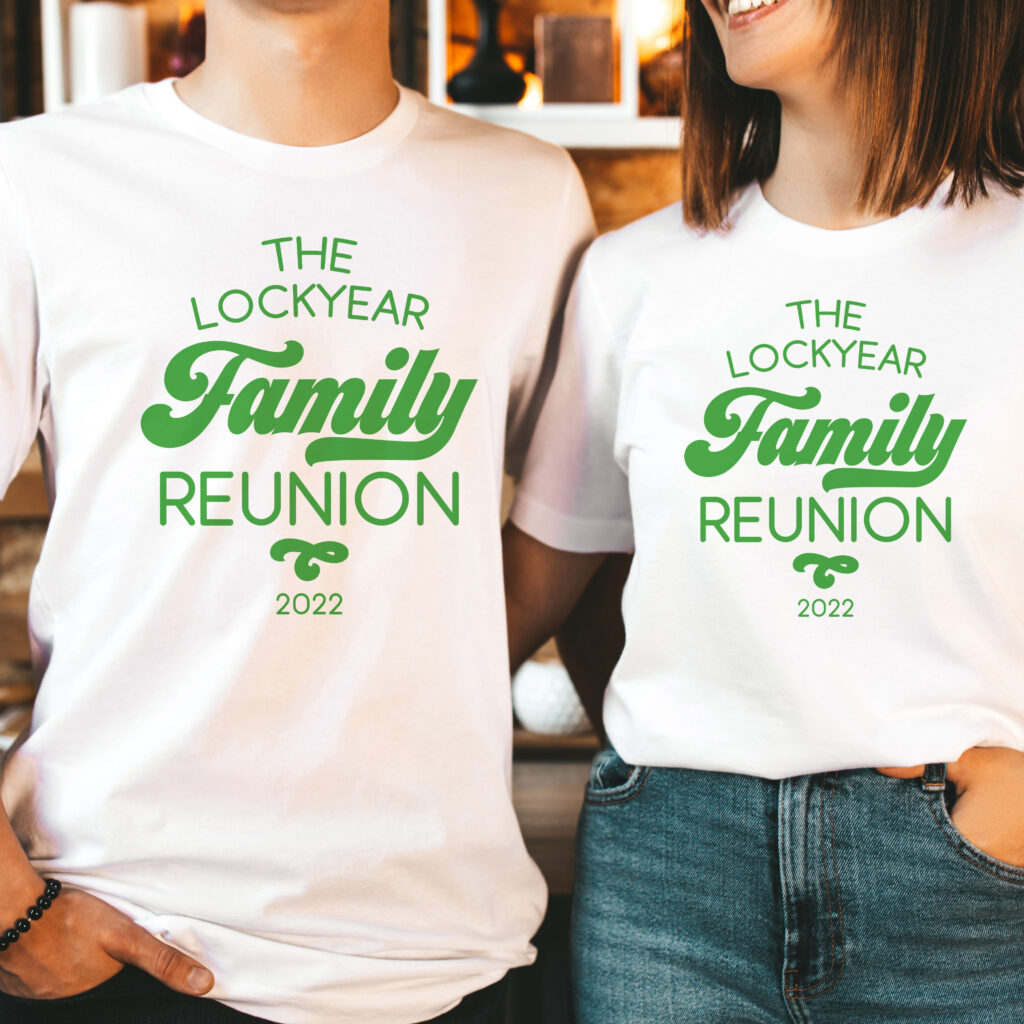 "The Original Crew" Retro Design is one of the most nostalgic and lovely family t-shirt design ideas that honour the enduring bond of family. This design is inspired by old aesthetics, with retro typefaces, brilliant colours, and classic patterns that give a sense of nostalgia. The family name is boldly shown on the t-shirts, along with each family member's name and birth year in a fashionable arrangement. This design not only pays homage to fond memories of the past, but it also fosters a sense of belonging and pride within the family.
Love Across the Miles Custom Map Design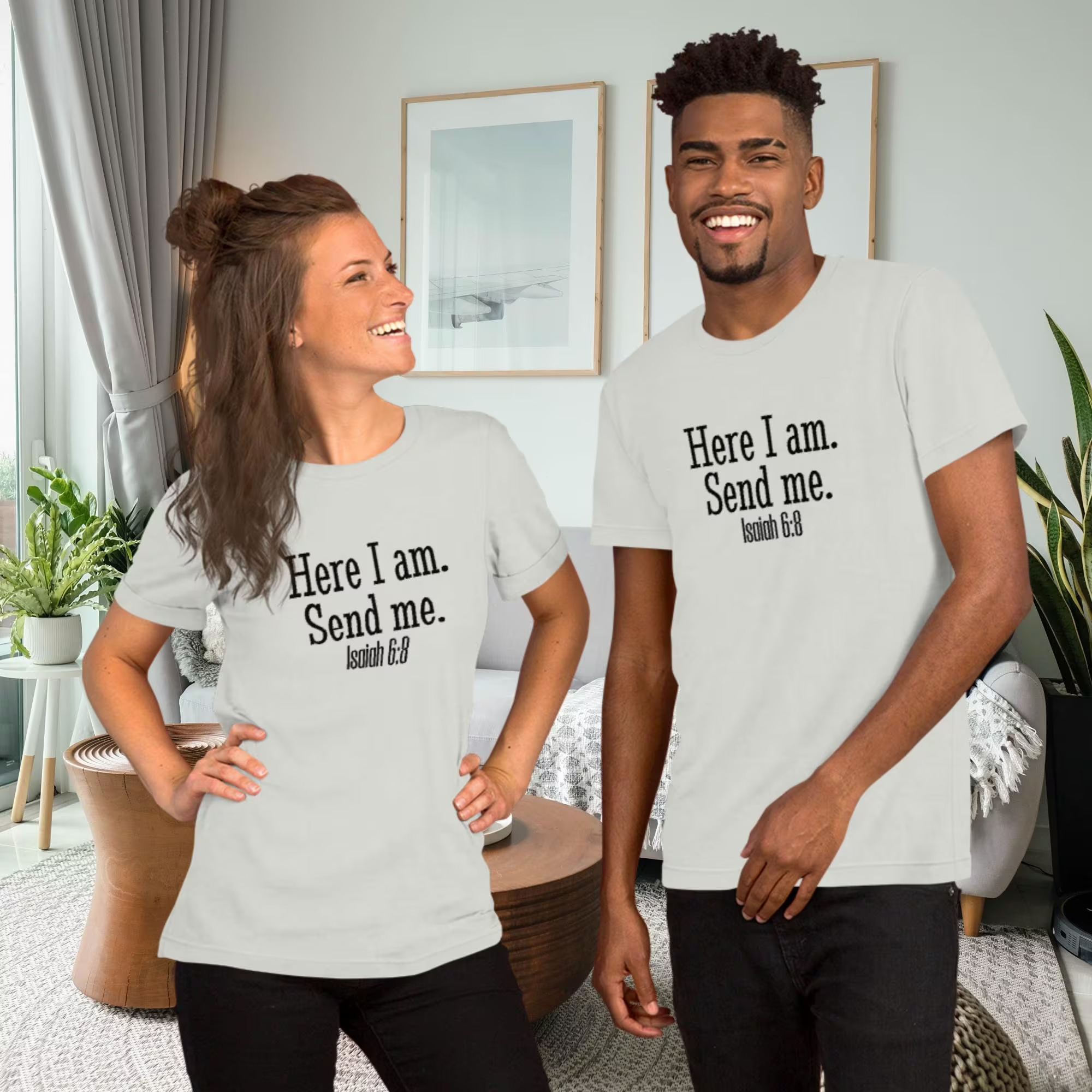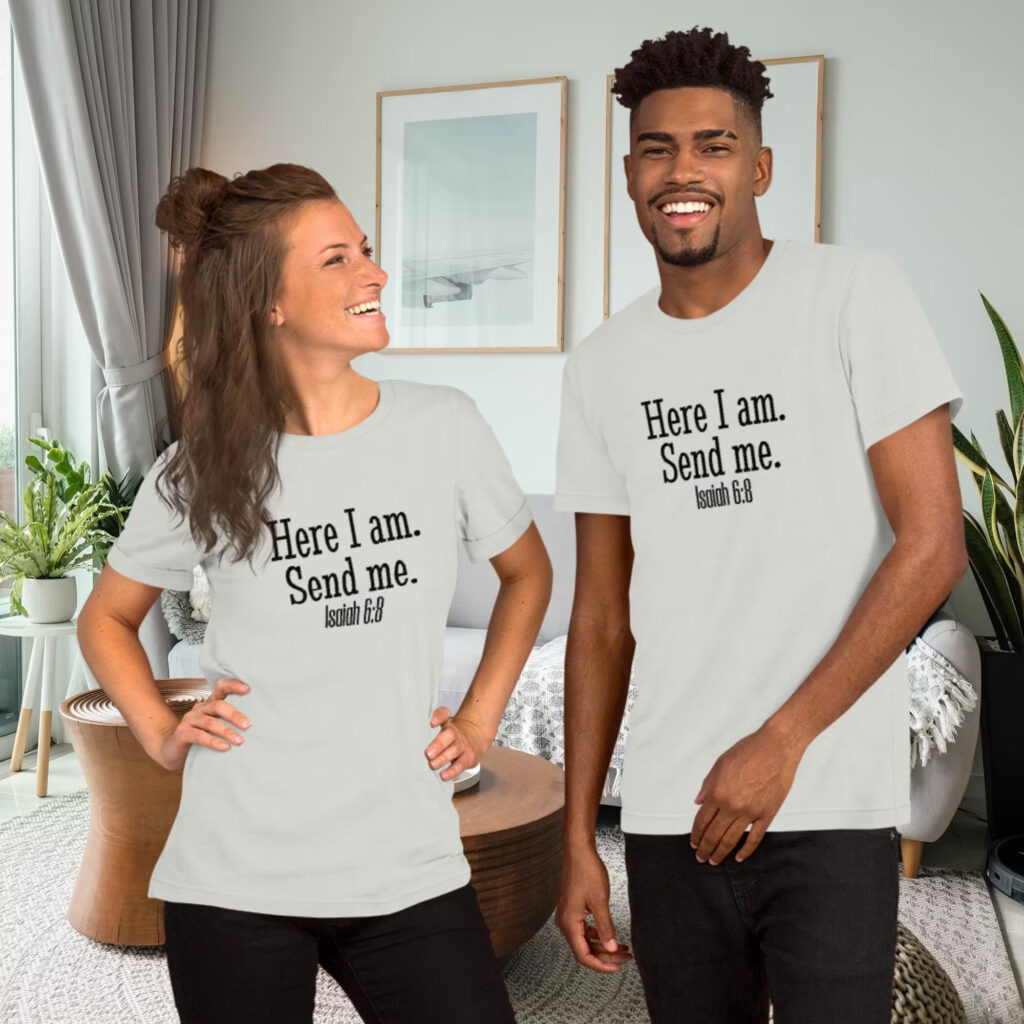 The "Love Across the Miles" Custom Map Design is a meaningful representation of interconnectedness for families all across the world. This design is an excellent way to remind your family that you are constantly thinking of them, even though you are separated by thousands of miles. It has a personalised global map with each family member's location indicated with a heart. You can personalise the map by writing anything like "I love you more than words can say" or "We're always together, even when we're apart."
Superhero Family Comic Book Illustration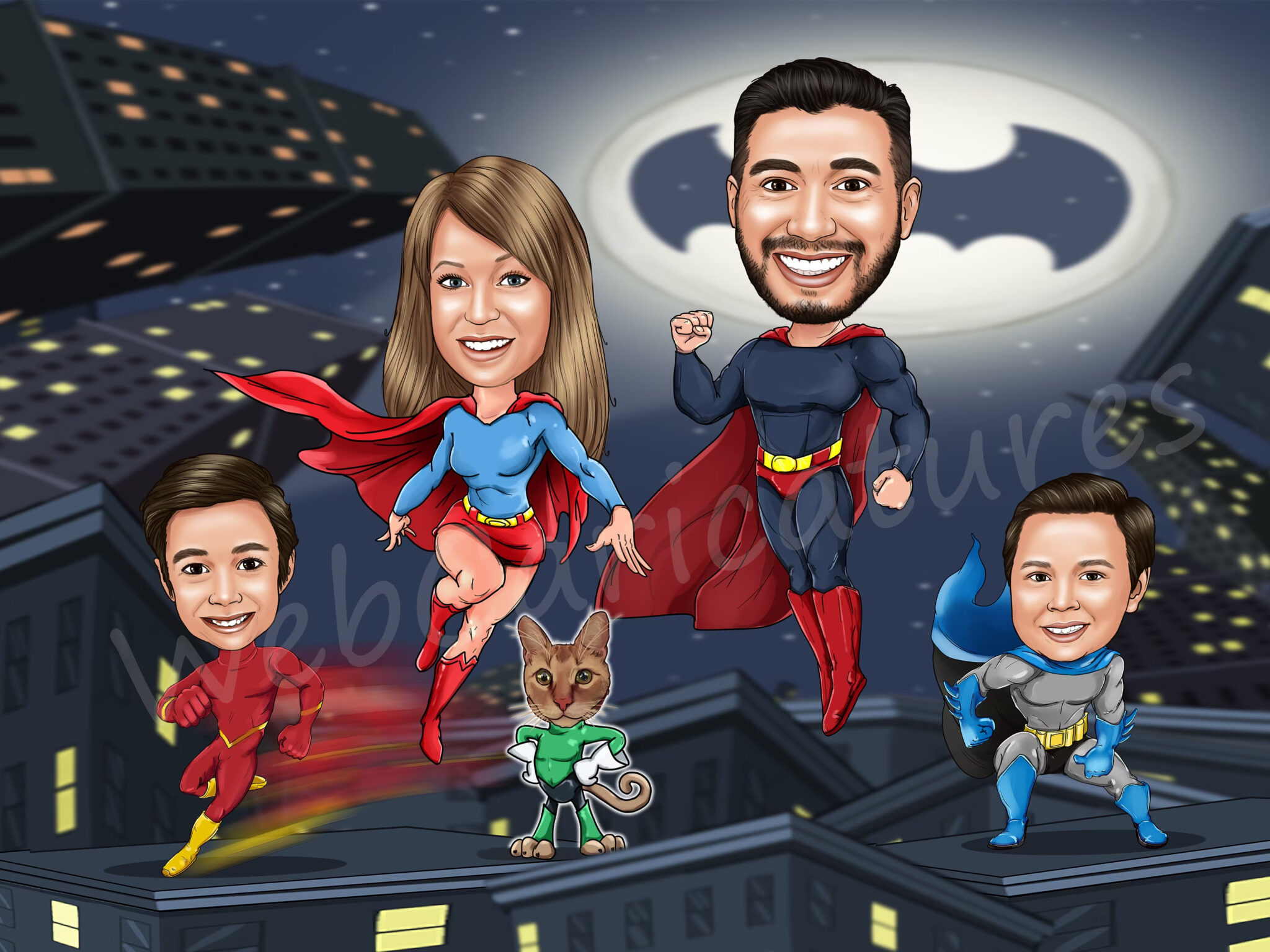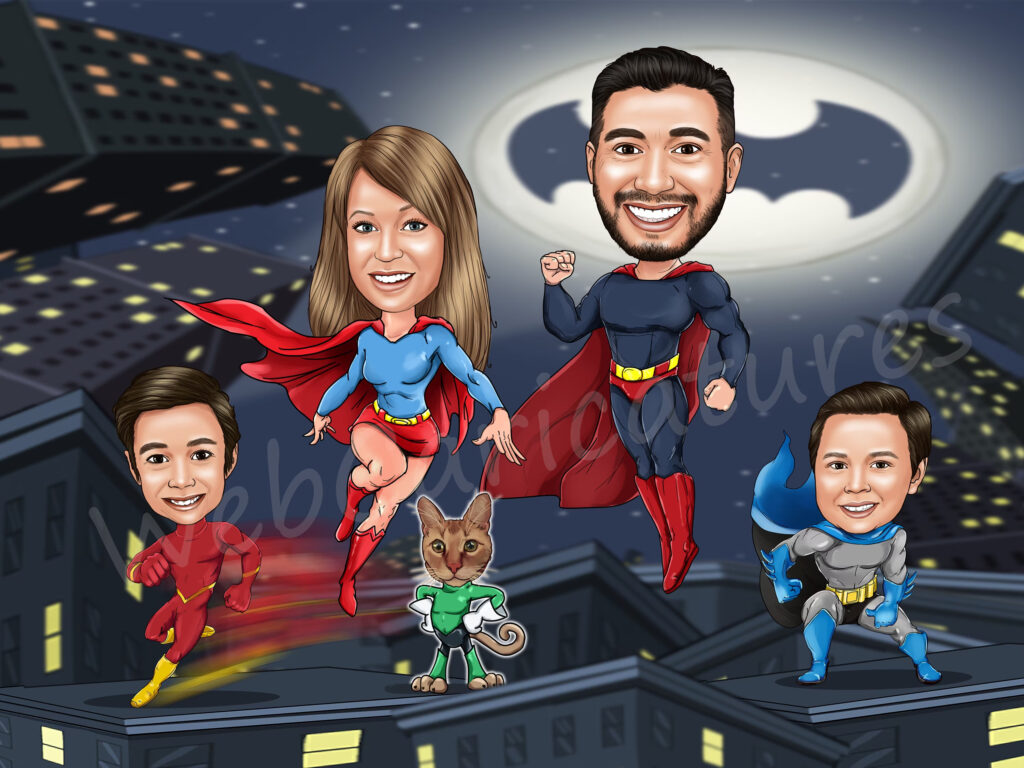 With the Superhero Family Comic Book Illustration design, you can unleash your family's inner superheroes. This design is an innovative and enjoyable way to showcase your family's distinct traits. With their individual superpowers and vivid outfits, this fun and inventive concept transforms family members into strong heroes. Each member of the family is given their own heroic identity and catchy moniker that reflects their personalities and interests. The t-shirts bring out the family's humour and inventiveness, encouraging a sense of collaboration and solidarity as they work together to overcome any problem that comes their way.
Recipe for Love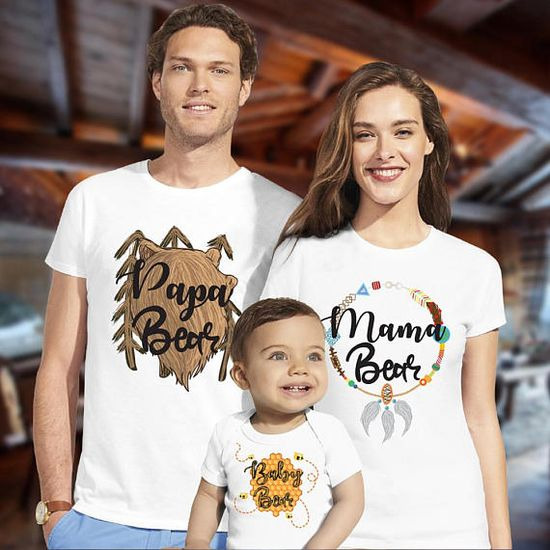 Next on the list of the best family t-shirt design ideas, we have the reciepe of love. Make some beautiful memories in the kitchen with the "Recipe for Love" Cooking Theme t-shirt design, where love and family come together. This charming design includes a vintage-style recipe card with a special recipe – the "Recipe for Love." The components are not traditional cooking ingredients; rather, they include crucial ingredients such as laughter, hugs, forgiveness, and shared moments. The design has a warm and inviting feel to it, representing the joy of cooking together and the nurturing strength of family relationships.
Unity in Diversity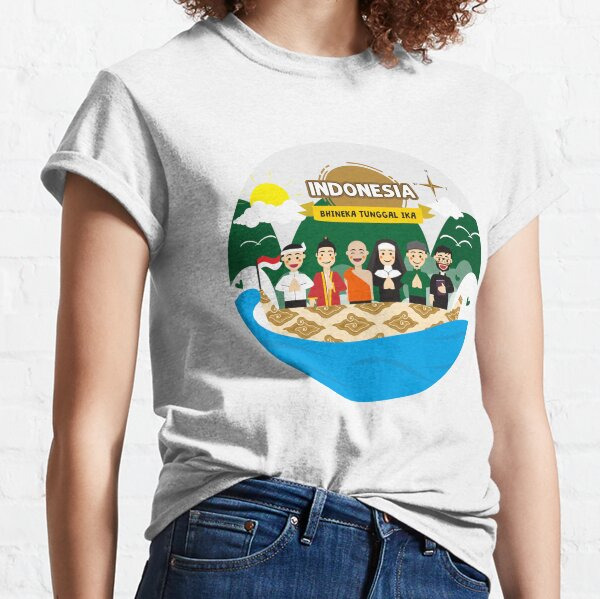 With the "Unity in Diversity" Globe Design, you can celebrate the beauty of diversity and togetherness. This strong concept depicts a globe covered with numerous colours, symbols, and patterns that represent each family member's own culture and heritage. The design celebrates the richness of diversity within the family, while the globe symbolizes the interconnectedness of all family members, regardless of their origins. "Unity in Diversity" t-shirts serve as a visual reminder of the family's commitment to supporting and respecting one another's differences, fostering an environment of inclusivity and acceptance.
Pawsitively Family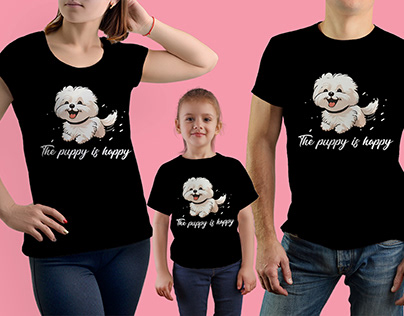 The "Pawsitively Family" Pet-Inspired family t-shirt design ideas capture the essence of their furry companions' involvement in their life, making it ideal for families who regard their pets to be valued family members. This lovely concept incorporates fun paw prints, adorable pet silhouettes, and the word "Pawsitively Family" on the t-shirts. The design emphasises the importance of pets in the family dynamic by symbolising the unconditional love, joy, and loyalty they provide to the home. Whether you have cats, dogs, or any other furry friends, the "Pawsitively Family" t-shirts highlight the particular link that makes your pets a vital part of the family circle.
The Family Band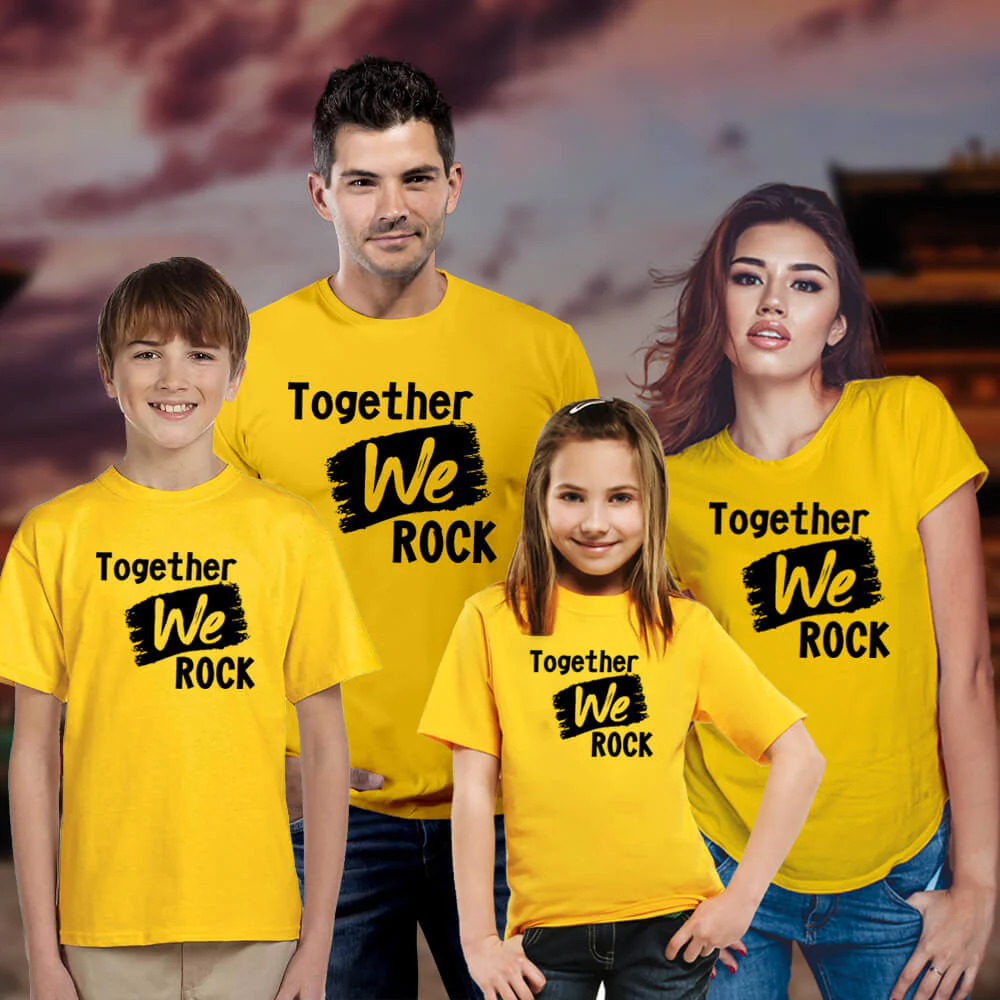 The Musical Harmony Theme "The Family Band" highlights the power of music and community. Each family member is transformed into a distinct musical instrument in this artwork, symbolising their different talents coming together to create a harmonic orchestra of love and joy. Wearing these t-shirts demonstrates your family's love of music and the unity that creates an unforgettable tune in life's symphony. It becomes a source of inspiration for each member, motivating them to support one another in their artistic endeavours and treasure the everlasting symphony of love, laughter, and togetherness that they produce as a family.
Design and Sell Custom T-shirts With Blinkstore
Now that you know some of the best family t shirt design Ideas, you can now use your imagination and create your own custom t-shirt online and gift them to your family members. You can also use your designs in different items and sell them online to book profits as well. And guess what, it doesn't even require significant investment and anyone can do it. Excited already?
You can use Blinkstore, one of the most popular print on demand platforms for bringing your family t-shirt design ideas into reality. But don't assume that Print on demand is only possible with only t-shirts. In fact, on Blinkstore we do print-on-demand for more than 30 products including t-shirts, hoodies, sweatshirts, crop-tops, crop hoodies, bottles, coffee mugs, posters, cushion covers, mobile phones, etc. So you can start your own t-shirt store, and as it starts doing good sales, you can launch many more products on Blinkstore's storefront which will be provided to you for free! Let's take a step-by-step process on how to do this.
Step 1: Use Blinkstore to create a free t-shirt store
Sign up with your Google account at the seller.blinkstore.in. There is no need to remember a password. Select "New Store" from the "Create +" menu. Select a name for your store that will also serve as the subdomain.
Step 2: Create t-shirts easily online.
Click "Add/Edit New Product" and then choose a t-shirt to design. Upload your Canva or Photoshop designs with the simple t-shirt editor. Position the design and choose a t-shirt colour. Set the t-shirt's title, description, and profit margin. The cost of shipping is included in the base price, and Blinkstore handles printing and shipment.
Step 3: Begin selling t-shirts online.
Put your t-shirt designs for sale at your store. Start making money from sales by promoting your t-shirt company online. Don't forget to withdraw your profits as well.
You can also use Mockey, an AI Powered platform to generate high definition mockups for free and get a more clear picture about how your design will look like in real life scenarios.
FAQs
What makes these family t-shirt design ideas unique in 2023?
The designs incorporate originality, style, and a strong sense of community, making them stand out as a representation of your family's personality.
What are some popular family t-shirt designs?
Some of the humorous family t-shirt design ideas in 2023 include family crests, matching clothes, funny sayings, and unique quotations.
How do I design a family t-shirt that everyone will love?
You can head over to the blinkstore and design your t-shirts with customization as per your needs.
Can I personalize the family t-shirt designs with our names and preferences?
Yes, through blinkstore, you get the option to design and personalize your t-shits in whichever way you want.
Conclusion
Finally, there are many fantastic family t-shirt design ideas that properly exemplify the essence of unity, love, and creativity. These designs, ranging from the sentimental "Generations of Love Tree Design" to the enthusiastic "We Are the Champions" Sports Theme, are strong statements of the unshakable relationships shared between families. Celebrate your clan's diversity with the "Unity in Diversity" Globe Design or embrace the thrill of being a part of "The Family Band" Musical Harmony Theme. Whether you want to show off your adventurous attitude with the "Family Adventure Awaits" Wanderlust Theme or honour the paw-some presence of pets with "Pawsitively Family," these t-shirts become cherished mementos of cherished memories and shared experiences.