Welcome to the ultimate guide to learning how to design and sell T shirts online in India. In India, the opportunity to start your own online business has grown tremendously in the recent past.
Throughout the year 2020 and onwards, we've seen millions of Indians take their existing businesses online or start a new business online. At the same time, starting an online business selling t-shirts, especially selling custom-designed t-shirts has also grown exponentially. We also saw inspiring stores of many youngsters starting an online t-shirt business in India and earning 1 lakh to 2 lakh Rs. of profits online within a few months.
It is indeed high time to start an online business in India. With more than ~800 million Internet users, which are growing at a quick rate and the e-commerce industry has grown to ~$60 billion in sales in 2021. People from all age groups, cities, communities, and interests are now joining the social media platforms. You can take advantage of this growth by launching an online t-shirt business that caters to their needs and design taste.
Table Of Contents
In this step-by-step guide, we'll discuss in-depth how you can design and sell t-shirts online in India, that too at zero upfront investment in the business. If you read this guide and follow it, you'll learn how to start, run, and grow your t‑shirt business in India.
What is an online t-shirt business and who can start it?
An online t-shirt business is where you create your own e-commerce website for your apparel brand and sell directly to the customers, without opening a physical retail store. In simple words, you can Design And Sell T Shirts Online In India.
An online t-shirt business has the following advantages over a traditional retail business:
No expense on rent, electricity, maintenance, and staff.
Your customers are not limited to the location of your store.
You can start your online t-shirt business with 0 rs. in upfront investment.
The risk is very low and the upside (profits) is high.
If you ask, who can start such a business? The short answer is "anyone and everyone". Whether you are a student, housewife, working a full-time job, social media influencer (content creator), preparing for competitive exams, a designer or a developer, or someone with a passion for business, with a little technical understanding you can launch your online t-shirt business. In this blog below, I've coveverd how to start the t-shirt store using Blinkstore in 3 easy steps.
What is Print-on-demand t-shirt business?
As the name says, "print" on "demand". In a print-on-demand business, the service provider (vendor) keeps an inventory of products ready in various colors with no designs on it. And the sellers create custom-designed t-shirts and list them in their stores to sell. As and when someone orders a product (in this case, a t-shirt), you send this order detail to your vendor. The PoD service provider prints the design on the t-shirt and delivers it to the buyer.
Here, you can read about the 11 best print-on-demand websites in India.
How does print-on-demand business work?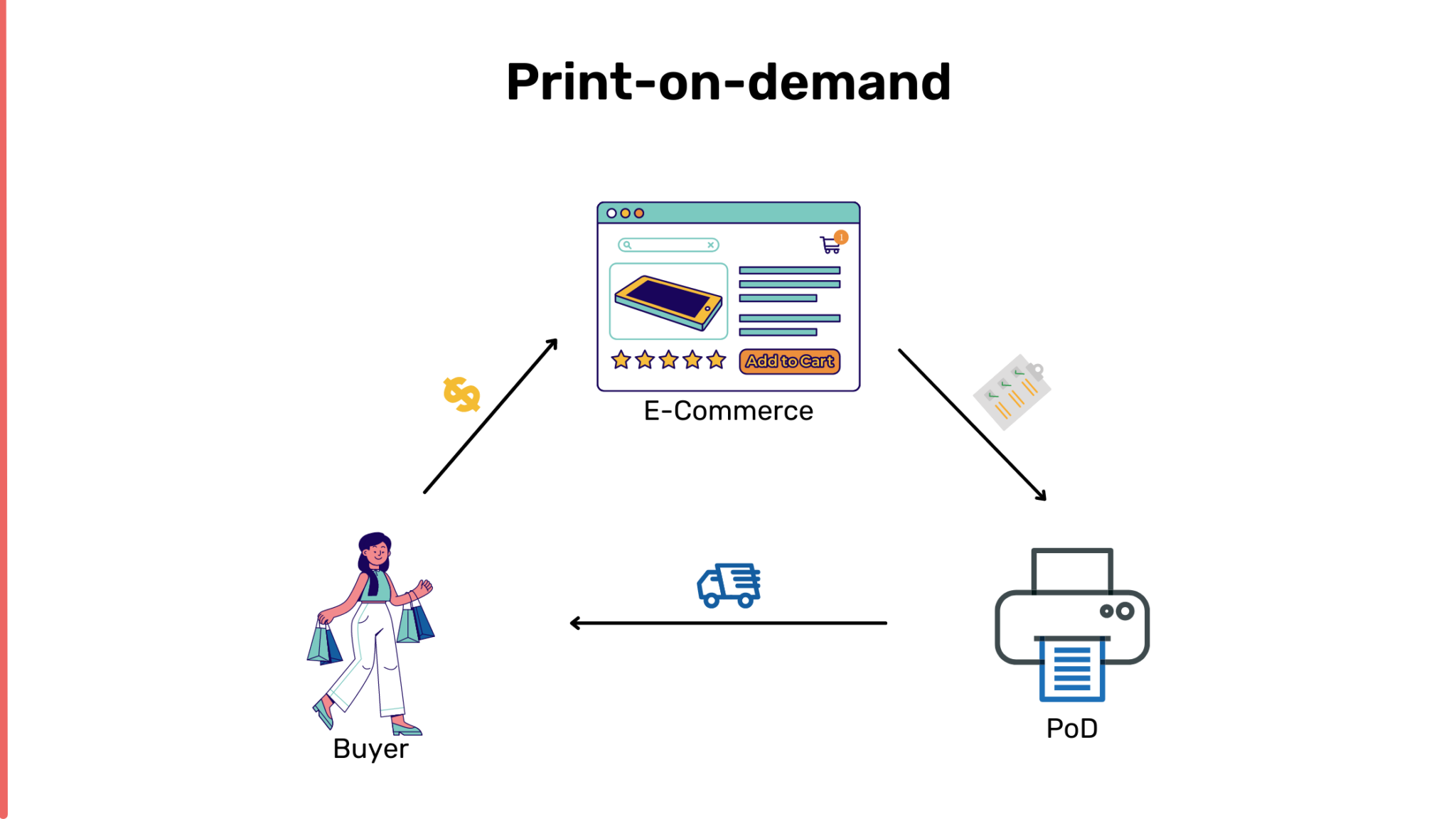 A print-on-demand store prints the product design that a customer has ordered online in real-time and delivers it. This method allows you to do business without pre-ordering your products in bulk. and you can sell shirts online without inventory. It not only saves you money in the upfront investment but also saves you time and losses in unsold inventory.
But don't assume that PoD is only possible with only t-shirts. In fact, on Blinkstore we do print-on-demand for more than 30 products including t-shirts, hoodies, sweatshirts, crop-tops, crop hoodies, bottles, coffee mugs, posters, cushion covers, mobile phones, etc. So you can start your own t-shist store, and as it starts doing good sales, you can launch many more products on the same storefront.
How much does it cost to start a t-shirt business?
It costs anywhere between 0 Rs. to 5,000 Rs. to start a t-shirt business depending on how smartly you start it. I'd explain both ways, the free-of-cost method and the method which requires some upfront investment.
Starting online t-shirt business for free:
With Blinkstore, you can create your e-commerce store, design t-shirts (and many more products), and start selling within 5 minutes with your own profit margins. And we manage the inventory, print-on-demand, payment gateway, delivery, and tracking for your business. You can withdraw your profits anytime easily. This method is further explained in this blog below.
Starting with 2,000 to 5,000 rs. Investment:
The other way around is to create a Shopify store and link with a print-on-demand service provider. Shopify costs $29/month in the basic plan and you can find a list of best print-on-demand services here.
How much money do t-shirt businesses make?
In India, a new online t-shirt business can start making 5,000 Rs. to 50,000 Rs. per month in 5-8 months of marketing effort. If you are also planning to design t-shirt and earn money in India, then plan no more and start executing it soon. Although there's no limit to how much money you can make in this business, it all boils down to what's your profit margin and how much is your marketing expense.
For example, if an online t-shirt store is selling at a profit margin of Rs. 100 per t-shirt and sell roughly 100 t-shirts in a month. The total profit will stand at Rs. 10,000 per month. From this, you'll need to deduct the money that you'll spend on paid marketing and tax.
T-shirt businesses like Bewakoof.com have yearly revenue of Rs. 200 Crore in India. So we can safely say that on revenues, the sky is the limit.
Is Online t-shirt business profitable?
Yes, most online t-shirt businesses are profitable in India. With careful planning and creative marketing, you can also create a profitable business out of selling t-shirts online. The range of profit that you can keep on your t-shirt designs can be from Rs. 50 per t-shirt to Rs. 500 per t-shirt depending on how valuable your designs are, how well you establish your t-shirt brand on social media, and how creatively you promote your store.
How to Create a T-shirt Design?
There are a few simple ways to use free designs tools available on the Internet that you can use to design t-shirts. People with creative ideas would find this step easy and interesting. But there's a lot of research goes into creating t-shirt designs that sell on the Internet. You also need to decide who is your target buyer and what kind of t-shirts they'd like. A shortcut to this is to design t-shirts that you yourself want to wear.
Find t-shirt design ideas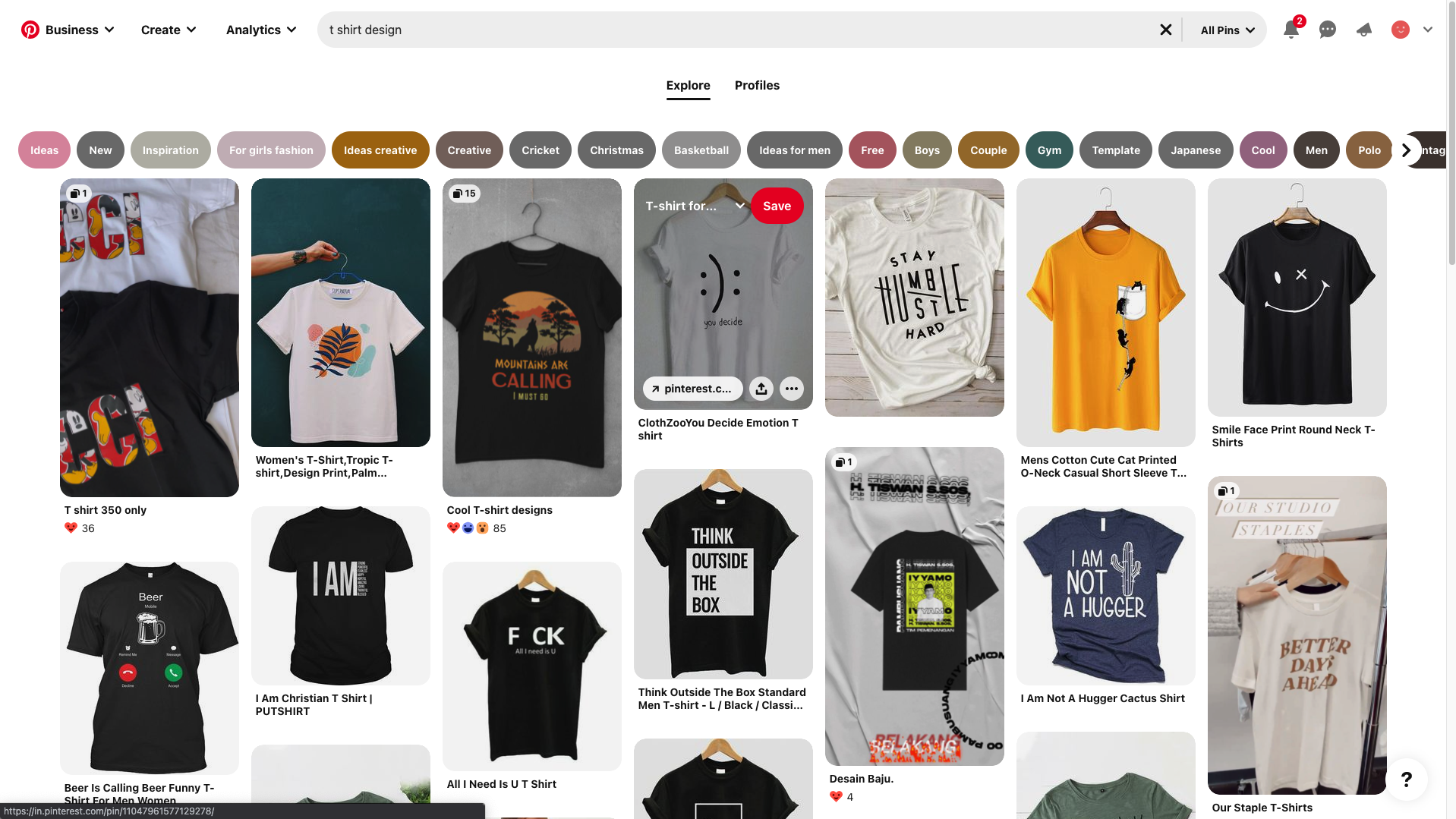 Go to Amazon, Flipkart, Myntra, Bewakoof, and Pinterest, and search for t-shirts. You'd see the most popular and top-selling t-shirts on these e-commerce websites. You can take inspiration from there and look for common patterns that people prefer in t-shirts. It could be minimal designs, meaningful designs, quotes on t-shirts, or illustrations. You don't want to copy these designs but take inspiration. So that when you finally sit for designing, ideas come easily to you.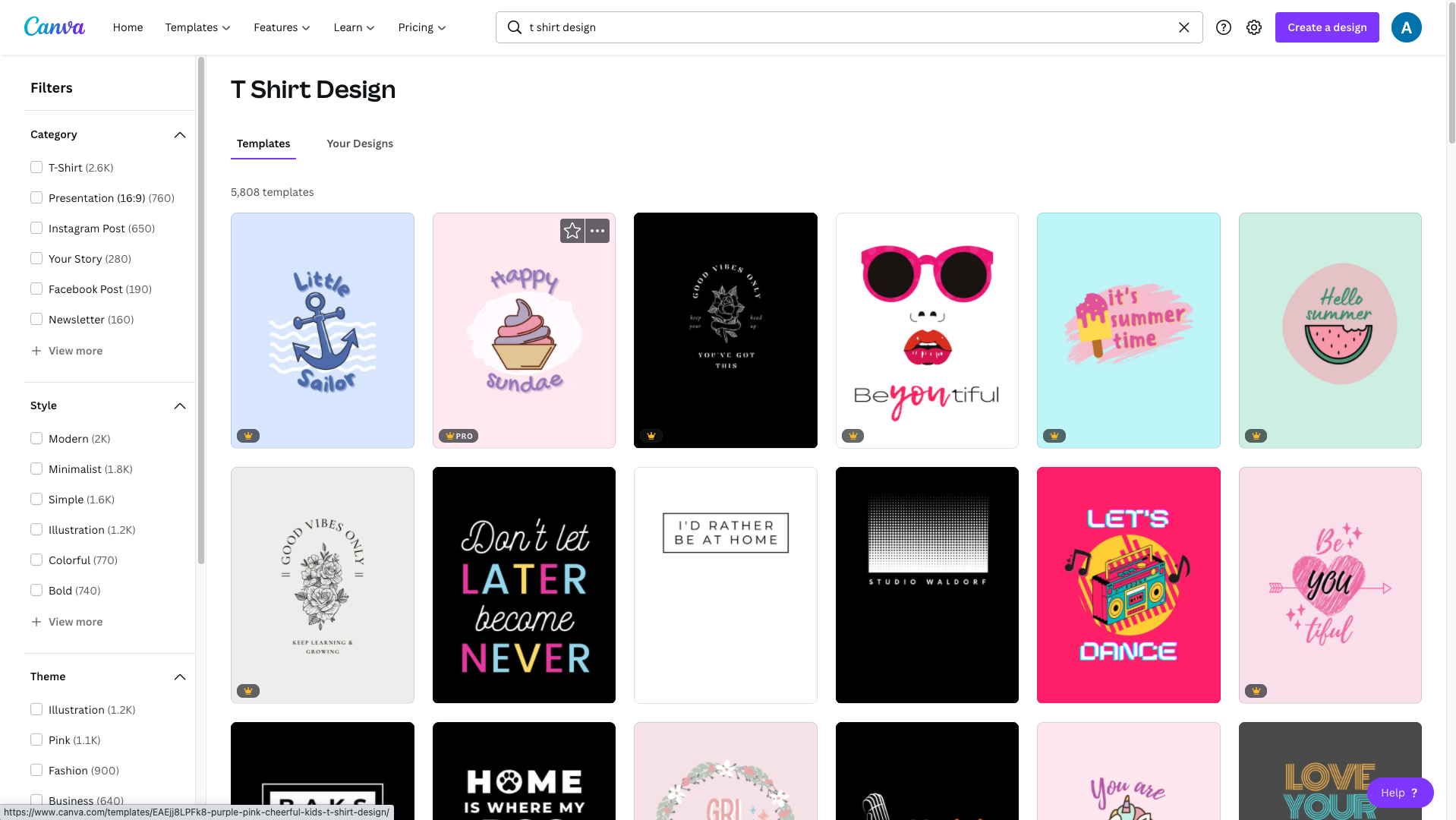 Canva is a freemium design tool. You can simply go to Canva.com and signup for a free account using Google. Canva has inbuilt design elements, design tools, stock images, and text formatting with a huge collection of fonts. It is an easy-to-learn design tool. And you can make decent designs for your t-shirt business without prior experience in design. You can download your designs in JPG, PNG, and more formats.
You might need to remove the background from your designs in some cases before uploading it on t-shirts. Background removing is a paid feature on Canva. So for that, you can use a free background remover tool www.remove.bg.
People with hands-on design experience with Photoshop will find it easier to make their designs in Photoshop. It is a very versatile design tool and will give you a large canvas to play with for t-shirt designs. Photoshop is a paid tool.
Figma is a free web-based design tool. It is widely used for UI/UX design but it is adequate for making designs for t-shirts. You can export your designs from Figma in image format as well. The best part about designing in Figma is that it allows you to easily collaborate with others on the same design file. So you may try it out for t-shirt designing and then share the link with your friends to suggest edits and make edits.
Hire a designer
While hiring a designer is a costly approach for designing t-shirts for your online business. But if you are serious about your business and yourself can't make decent initial designs, then this is a good option. You can also hire an intern or a designer on a contract/part-time basis based on your work requirements. Some places that you can explore for hiring a designer are Behance, Dribbble, LinkedIn, Fiverr, etc.
How to Start Selling T-Shirts with Blinkstore in 3 Steps
Blinkstore is the easiest and best platform to design your own t-shirt online in India. In just three steps you can create your own e-commerce store, design t-shirts online, and start selling, all it takes is 5 to 10 minutes of your time. Blinkstore is a free merchandise store builder, meaning that the cost of running your online t-shirt business with Blinkstore is zero rupees.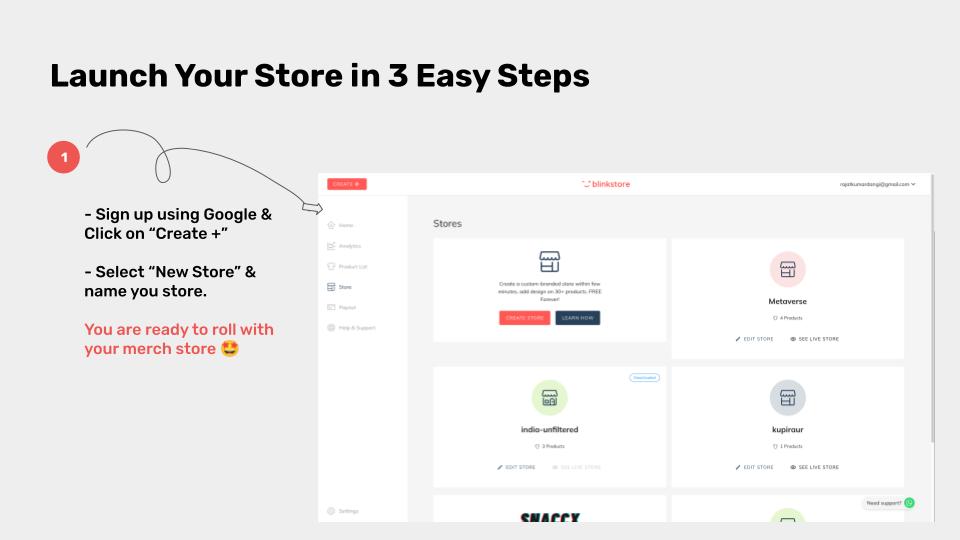 Step 1: Create t shirt store for free using blinkstore
Go to seller.blinkstore.in and sign up using Google (continue using google). On signing up on Blinkstore with Google, you wouldn't need to create or remember any password. Once you sign up, click on "Create +" on the top-left corner and select "New Store".
You'd be prompted to name your store. Whatever name you write will also become the subdomain of your store.
For example:
You write the name of the store as "snaccx" (my home store t-shirt design), then your store's Url (link) will be snaccx.blinkstore.in. If your store's name is "my business", then your store's Url will be my-business.blinkstore.in.
Later you can also link your own custom domain free of cost to your Blinkstore. Once you name your store, click on "create store". That's it! Your store is now live. Next, you can customize the theme, banner, logo, favicon, description, social media, etc. of your store. And design as per your brand need. You can also link Facebook and Google analytics to your store from the left panel.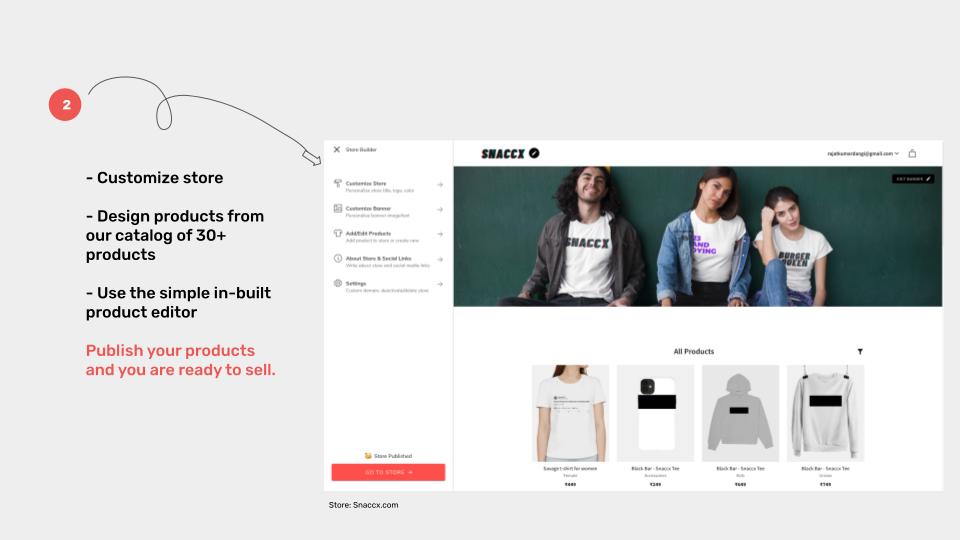 Step 2: Design And Sell T Shirts Online In India
To design t shirt, click on "Add/Edit New Product" on the left panel. From there you can select a t-shirt to design. The t shirt editor of Blinkstore is very easy to use and intuitive. You can simply upload the t shirts designs you make on Canva or Photoshop and upload them here. You can adjust the position of your design and select the color of the t-shirts. You can also make the same t-shirt design available in multiple colors.
In the next step, you'll need to write the t-shirt title, description, and entire profit margin. Remember that the shipping cost is already included in the base price of the product. And Blinkstore will take care of printing and shipping. So all you need to do is design amazing t shirts and choose a suitable profit margin for your business.
Once your t shirt design is done, publish it in your store. That's it! Your t-shirt designs are now ready to sell. You can start promoting your t-shirt store online and start earning money.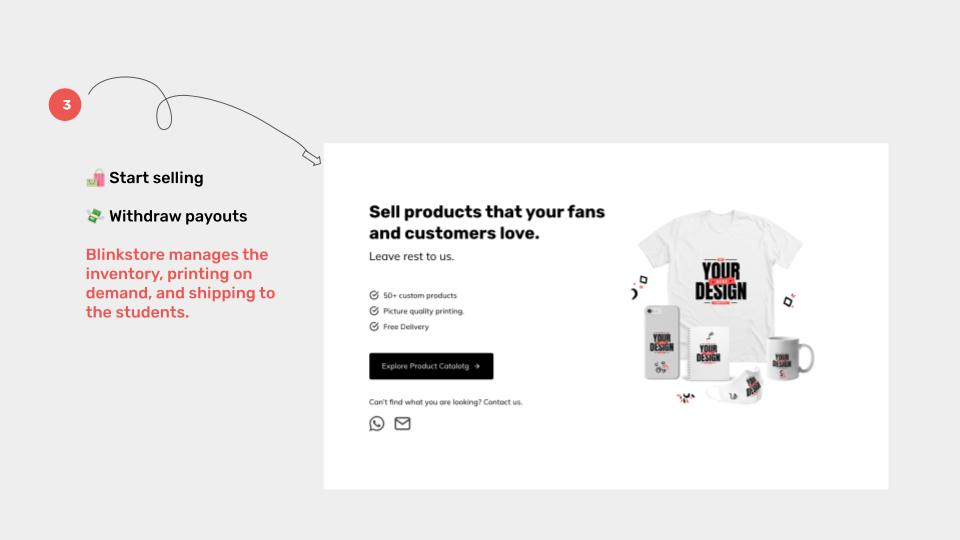 Step 3: Withdraw your profits to your bank account
After all this hard work, now is the time to reward yourself with some sweet profits of your t-shirt business. Blinkstore processed the profit withdrawal via UPI so that no transaction charges are incurred. Also, there's no minimum limit on how much you can withdraw as of now.
Blinkstore Demo Video: Create and launch your t-shirt store – Step-by-step process
If you face any difficulty in understanding the above mentioned 3 steps, you can watch the following video on how to use Blinkstore.
How to sell your t-shirt designs online?
For selling, you need a mix of organic sales and paid sales methods online. You'll need to start with market research, figuring out the channels you want to leverage, design content & creatives to use in your promotional material, and set a little bit of money aside for paid marketing expenses.
Find your target audience and niche
You need to decide and narrow down on what's your unique idea behind your t-shirt designs? You could be designing funny and funky t-shirts for college and school students. Youngsters like t-shirts with quotes, funny illustrations, minimal-looking cool designs, etc. You can also design t-shirts for an audience of a specific region, for example, a t-shirt brand for people who live in Delhi. They might enjoy t-shirts with designs that show their personality.
Your t-shirts designs can be targeted to a variety of audiences. For example, t-shirts for medical students, t-shirts for cricket fans, t-shirts for Bollywood fans, t-shirts for kids, t-shirts for pregnant women, t-shirts for couples, etc. Below are some examples on who you specify your target audience (niche) and create designs according to their taste —
Example of t-shirt design for Delhi people:
Example of t-shirt design for engineers and programmers:
Example of t-shirt design for medical students:
Example of t-shit design for anime lovers:
Put link to your t-shirt store on all your social profiles
If you do not intend to keep your t-shirt business, then you can start putting that long on your Instagram bio, Facebook profile, Pinterest, YouTube channel, personal website, your about.me profile, etc. This will allow Google (and other search engines) to crawl and save your store's link in their database. You can also create a LinkedIn and AngelList profile for your t-shirt brand and show it on the Internet as a clothing brand. These are basic steps you can take to give some visibility to your online t-shirt business.
Promote t-shirts designs on Social Media
You can either create separate social media accounts for your t-shirt business or use your personal profiles. Or do both. I'd suggest that creating separate profiles helps you establish a t-shirt brand online. And opens up the possibility of creating content and creating organic growth around it. If you happen to be a creator or influencer yourself, then you'd find content creation a little easier for promoting your brand. Post the t-shirts on your social media and showcase what t shirts you are designing under your brand.
Create Instagram reels, style guides, content to share style tips, memes, YouTube shorts, or promote your own brand as a creator on social media. Creating content that grows and brings engagement organically is among the best ways to promote your t-shirt business. Leverage platforms like Quora, Pinterest, Twitter, and blogging platforms to promote your brand.
Pro Tip: [Organic content idea] You can create video content on your journey of creating and launching your own t-shirt business online and share it on YouTube, Instagram, and Twitter. People would love to watch such content and would checkout your brand to see what are you up to.
Sell t-shirt designs among friends and Family
Your friends and family can be the first buyers of your brand. This is definitely not scalable, but the kind of feedback and word-of-mouth marketing you can get from your friends, friends of friends, and family members can be good enough for making the first 5 to 10 t-shirt sales. This will also allow you to check the product quality, how to designs look in real life, and maybe use them for product shoots.
You can ask your first few buyers to write positive reviews about your t-shirt brand on social media and tag your brand page. This will not only increase the reach but also help you gain trust among potential buyers.
Run a brand awareness giveaway
How to run a giveaway on social media to promote your brand:
To participate, people need to do a simple activity. For example: Tweet a word that rhymes with your t-shirt brand OR share a post on Instagram with your favorite t-shirt on.
Tag/mention your brand in the social media post, follow your social media pages, and tag 3 friends in the giveaway announcement post.
1 or 3 lucky winners will get free t-shirts from your brand.
Designing and selling t shirts online takes time, but well-planned, timely, and interesting giveaway contests can put your brand in front of thousands of people in a few days.
Social media influencers and partnerships
There are many ways to collaborate with social media influencers for promoting your t-shirt business. If you are a creator yourself with a decent following on social media, then you can do a collaboration with your friends who are also content creators. And do photoshoots, reels, shorts, etc. that you both feature in together with the t shirt designs of your own. You can share a percentage of your profits in exchange for the collaboration.
Here are three types of social media collaborations you can do Design And Sell T Shirts Online In India:
🤝 Barter collaboration —
In a barter collaboration, you barter the product in exchange for the promotional posts by the influencer (creator). A barter collaboration is well suited when the creator is also a potential buyer of your t shirt designs. This makes the content resonate with the audience of the creator and has a positive impact on your brand image. Barter collaborations usually work well with creators who have got a tight-knit audience of 1000 to 20,000 followers. It costs less and has something for everyone involved in the promotional activity.
🤳 Content collaboration —
When your brand's social media page of your personal social media profile itself has a decent number of followers (audience), you can do a collaboration with creators who are at your stage without product barter or money exchange. The upside in a "content collaboration" is that audience of both the creators get to see a new person, their content, and an engaging piece of content. You can do a t shirt photoshoot, video shoot, etc. where two creators appear together in a post and mention each other in the tags and caption.
💰 Paid collaboration —
The most straightforward form of collaboration on social media is where you pay a creator and in return, they post content showing/wearing your t-shirt. This kind of collaboration would give more conversion if you also launch a limited-time coupon/offer along with it.
I'd suggest that in the early days of your t-shirt business, build organic growth channels, brand awareness, and focus on making your t shirts designs appear at many places on the Internet. And later on, spend on paid collaborations. Your goal should be to cover the marketing expenses from your own revenue.
Social Media, YouTube, and Google Ads
All online e-commerce and D2C (direct to consumer) brands depend on paid online advertising for generating sales. Running an ad campaign comes in a brand's journey at different stages depending on their target audience, budget, and profit margins. The most popular platforms to run digital ads are Facebook (Instagram) and Google (YouTube, Search, and Banner Ads). We'll need a separate step-by-step guide on running online ad campaigns. But for this article, we'd say that you should only start paid advertising when your online t-shirt business is consistently selling a few pieces every week and you've some money set aside for experimenting with paid ads. At the same time, if done right, promoting your t-shirts via ads can be the best way for generating sales.
FAQs | Design and Sell t shirts online in India:
How to set up an online store for your t-shirt business?
You can use Blinkstore, Shopify, Woocommerce (WordPress), etc. to set up an online store for your t-shirt business. Using these platforms to set up an online store takes very little technical knowledge and these are easy to use for everyone.
How can I Design And Sell T Shirts Online In India?
You can list your t-shirts on marketplaces like Flipkart, Amazon, Etsy, Google business, etc to get organic sales from customers on these platforms. Or launch your own storefront using Blinkstore, Shopify, etc and promote your t-shirts on social media platforms, run paid campaigns, and collaborate with influencers and creators to sell t-shirts in India.
How can I sell my designs in India?
You are not necessarily selling your design, rather you are selling your designs on various products. The easiest way to sell your design online in India is to create a merch store online and sell designs on various products like t-shirts, hoodies, mugs, notepads, etc. 
Where can I Design And Sell T Shirts Online In India?
You can sell t-shirts on your store or by listing your t-shirt designs on social media, Amazon, Flipkart, Google Business, etc. While online marketplaces can give your organic sales, selling on social media directly to your customers will help you build brand value and a loyal customer base.
Can you put any design on a shirt and sell it?
Yes, you can put any design on a t shirt and sell it. As long as it does not violate copyrights issues and doesn't go against the law (such as provocative/offensive/hate content). You should not copy someone else's designs to put on t-shirts. Instead, create your original design for t shirts. You can also write name on t-shirt online and sell.
What type of t-shirts sell the most?
A variety of t-shirt designs are popular and sell the most online. It includes t-shirts with trendy design, minimal, quotes, memes, funny text on them, etc. People also buy couples t-shirts, t-shirts for special occasions, and t-shirt that represents who they are.
How can I start a Tshirt business with no money?
You can start your online T-shirt business using Blinkstore with no money. It is free to design and sell t shirts online in India using Blinkstore. It takes less than 10 minutes to create your own e-commerce store, design t-shirts, and start selling. Blinkstore is free forever.
What is a good profit margin for t-shirts?
Anywhere between Rs. 50 to Rs. 500 is a good profit margin for t-shirts. If you want to Design And Sell T Shirts Online In India to sell more, then you should try to keep the price between Rs. 499 to Rs. 999 depending on your designs and target audience.
How can I make my own t-shirt in India?
You can make your own t-shirt in India using Vistaprint, Blinkstore, Printful, teeshopper, teespring, etc, and order online. These are all print-on-demand services and will ship your designed t-shirt directly to you. The t-shirt can cost anywhere between Rs. 399 to Rs. 799 depending on size, design area size, and quality.
How to write name on t-shirt online?
To write name on t-shirt online, you can use Canva. Canva is a simple design tool on the web. To buy a t-shirt with your name on the t-shirt online, you can use Blinkstore, VistaPrint, or PrintRunner to design and buy t shirt for yourself.
Conclusion
It is fairly easy to Design And Sell T Shirts Online In India. With the options like Blinkstore, Shopify, and dozens of print-on-demand service providers, the best time to start selling t shirts online is now. Given that the cost of starting it is zero, one should give it a second thought before trying out the business.
India is growing, more and more Indians are coming online, using smartphones, and are shopping online. In the next 2-5 years, the apparel industry is expected to grow more than 30% in CAGR. All the upcoming demand for t-shirts and apparel needs to be fulfilled. And our bet is on homegrown small businesses that'll dominate the t-shirt and apparel industry. Blinkstore would be cheering and helping you grow your business by building the best technology, tools, and shipping high-quality products quickly.