Discover an enthralling collection of the top girl t-shirt design ideas you won't want to miss. Explore a world of elegant and expressive fashion alternatives, from trendy designs to empowering statements. Unleash your personal style with these must-have designs that celebrate every girl's spirit and individuality. Now is the time to make a statement with the appropriate girl t-shirt for you.
Table of Contents
Introduction
Welcome to the best of girl T-shirt design ideas, where creativity and style collide to produce eye-catching designs. In this modern era, we give the ultimate collection of the Best Girl T-shirt Design Ideas That You Must Not Miss. This collection is likely to capture your imagination, whether you're a fashion fan, a designer looking for inspiration, or simply someone who appreciates the beauty of a well-designed T-shirt. We have handpicked a broad selection of designs that cater to the individual interests and preferences of females everywhere, from cute pictures to strong fonts, brilliant colours to thought-provoking themes. Read on to know everything about these custom t-shirt design ideas in 2023.
Factors to consider while looking for Girl t-shirt design ideas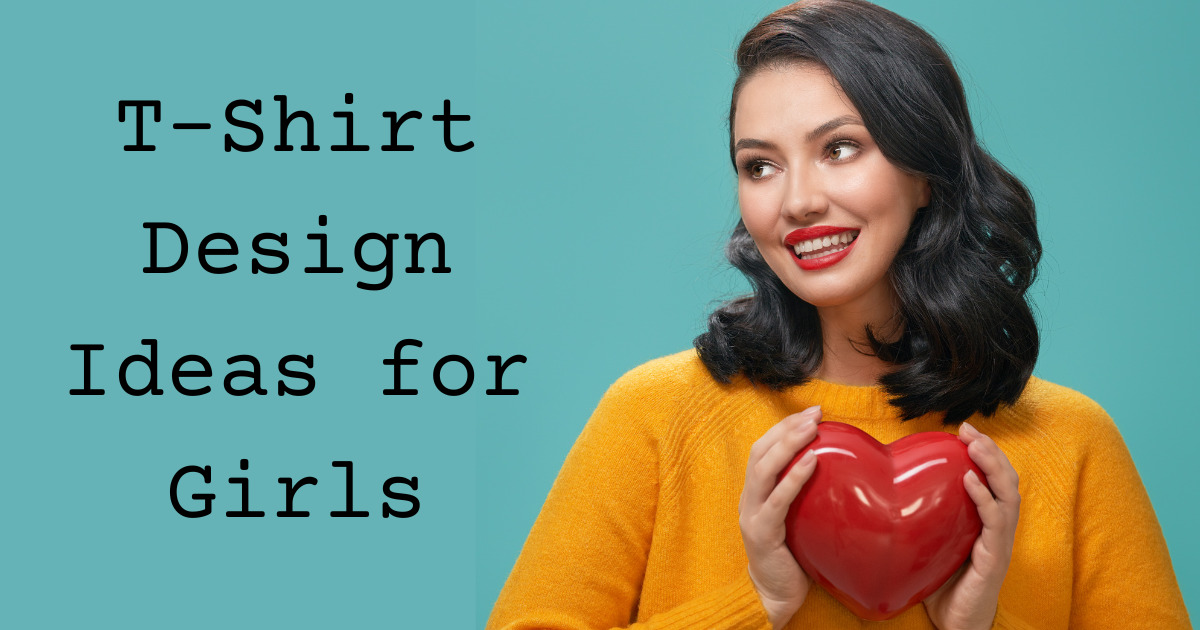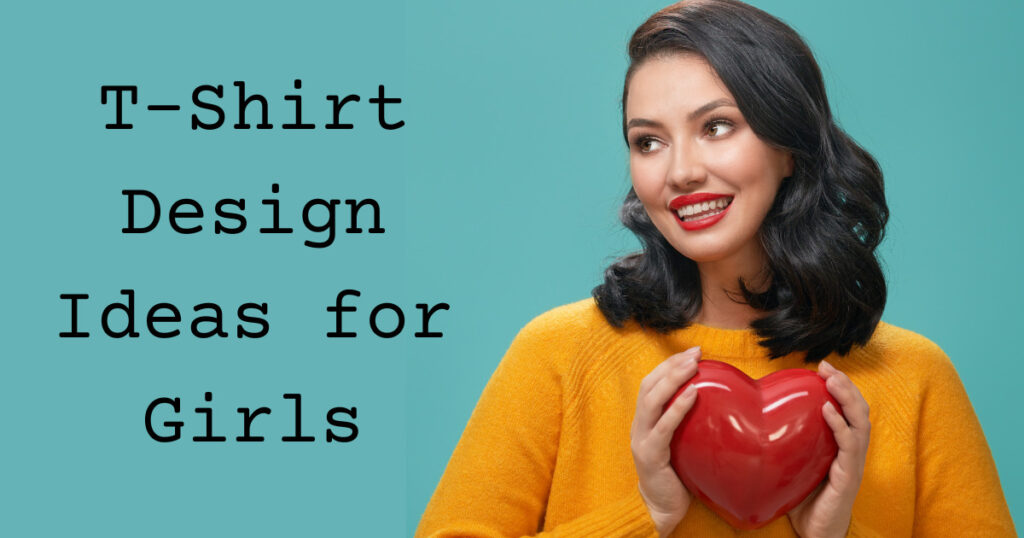 There are many factors to consider while looking for girl t-shirt design ideas to guarantee you find out the ideal design that appeals to your target audience. Here are some things to remember:
Target Audience
Determine the age range, hobbies, and preferences of the females you are designing for. Consider their personal style, hobbies, and current fashion. This will assist you in creating designs that are appealing to them.
Purpose
Determine the T-shirt's intended use. Is it for a specific occasion, a brand, a cause, or just for fun? Understanding the purpose will help you make design decisions.
Theme
Select a theme that corresponds to the interests of the target audience. Nature, animals, music, sports, art, or any other appropriate theme could be used. This will assist you in narrowing down design options and creating a coherent collection.
Colours
Choose a colour palette that complements the theme while also appealing to the target audience. Consider trendy colours and styles for the season or occasion. Use colours that are aesthetically appealing and elicit the appropriate feelings.
Typeface
Select a font style for your design. Think about legibility, readability, and overall attractiveness. To develop a visually appealing and effective message, experiment with different fonts, sizes, and arrangements.
Graphics and pictures
Include graphics or pictures that complement the design. These could be icons, symbols, patterns, or one-of-a-kind artwork. Ascertain that they are relevant to the theme and resonate with the intended audience.
Location
Consider where you want the design to go on the T-shirt. Do you want the front, the rear, or both? The visual impact and interaction of the design with the wearer can be influenced by placement.
Versatility
Create designs that may be simply applied to various T-shirt styles and colours. This will allow for greater manufacturing flexibility and appeal to a broader range of preferences.
Market Research
Examine existing T-shirt designs on the market, both online and offline, for inspiration and to uncover gaps or unique ideas. This will assist you in understanding current trends and differentiating your products from the common ones.
Feedback
Request input from your intended audience or potential customers. To evaluate their interest and preferences, share your design concepts and prototypes. Their feedback can assist you in refining your designs and creating more appealing solutions.
Ultimate Girl T-shirt Design Ideas
Here are some of the amazing girl t-shirt design ideas that you should consider in 2023:
Be Yourself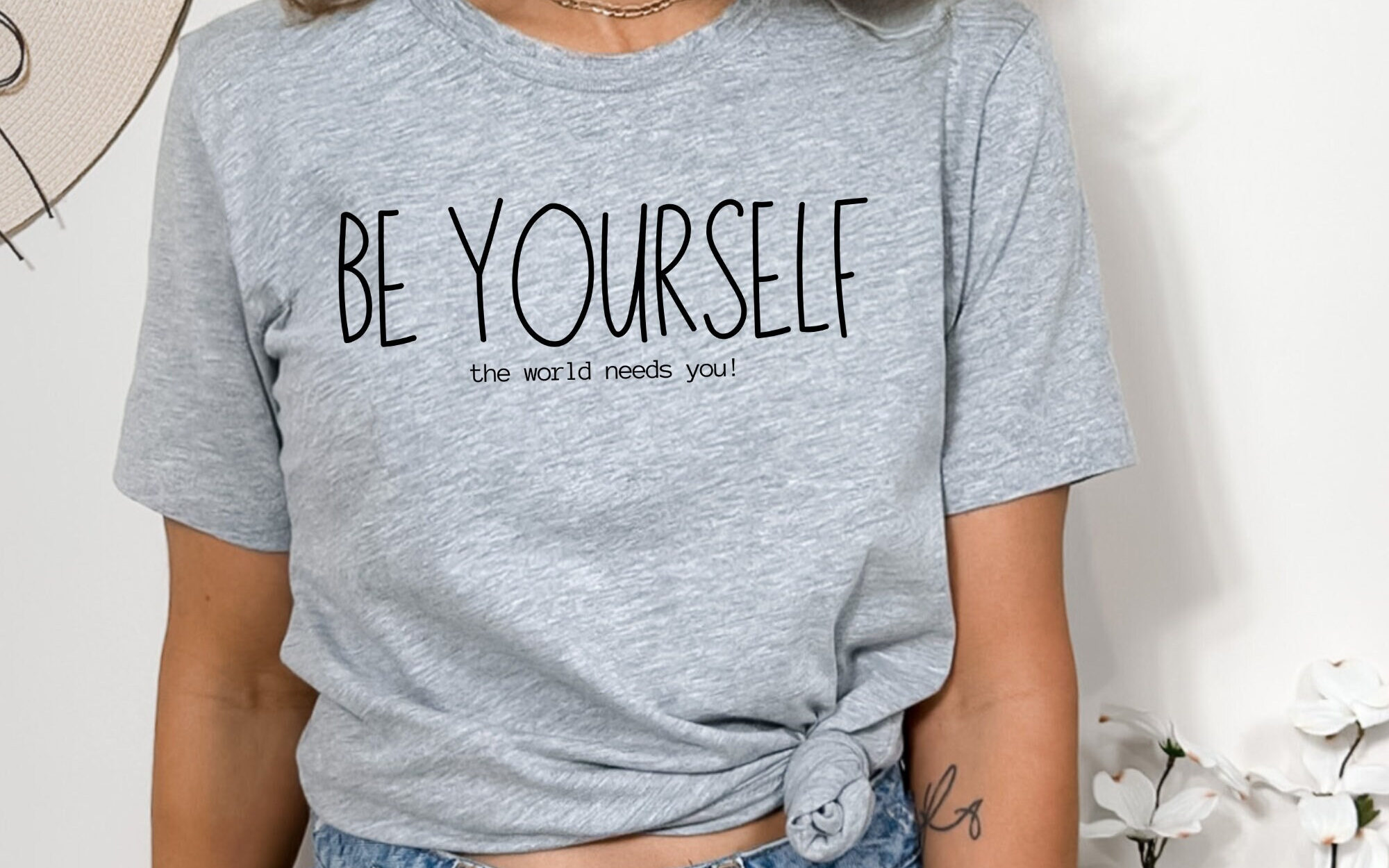 The "Be Yourself" T-shirt design encourages girls to accept their uniqueness and express themselves. This design might include a hand-drawn artwork of a girl surrounded by words such as "unique," "strong," and "confident." It acts as a reminder to stay true to yourself and to accept your unique idiosyncrasies, talents, and interests. This artwork encourages females to be proud of their uniqueness and embraces genuineness.
Floral Dream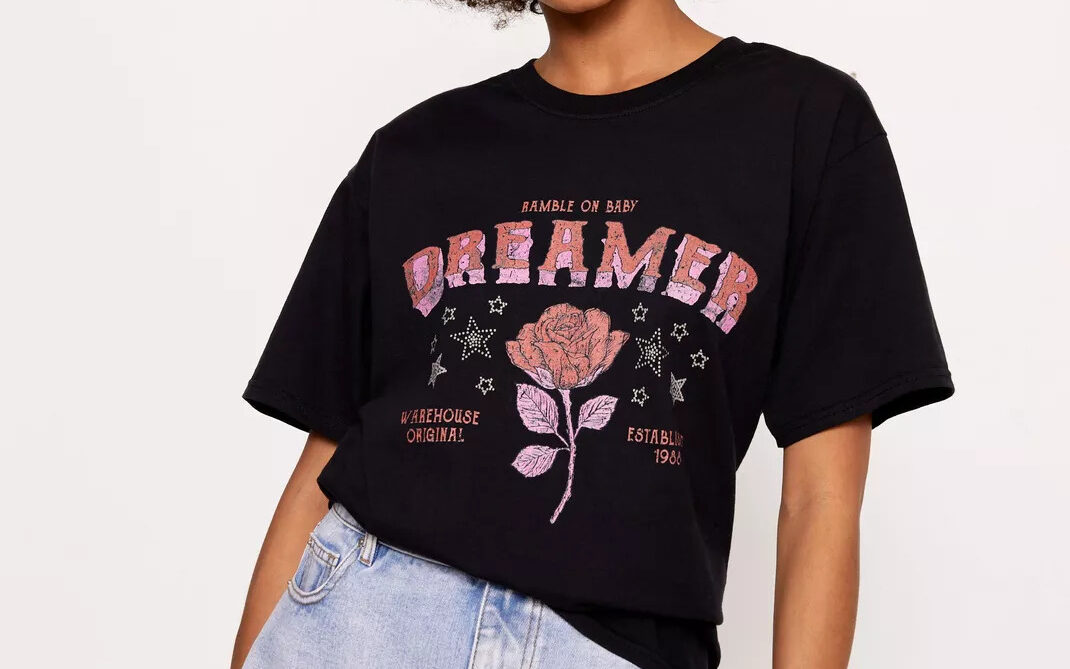 The "Floral Dream" T-shirt design idea combines the beauty of flowers with the dreams of females. This style frequently features a carefully illustrated arrangement of flowers in brilliant colours that spreads across the front of the shirt. The floral elements represent femininity, elegance, and growth, as well as calm and beauty. It's a style that appeals to those who enjoy nature's beauty and desire to incorporate it into their daily lives.
Music Lover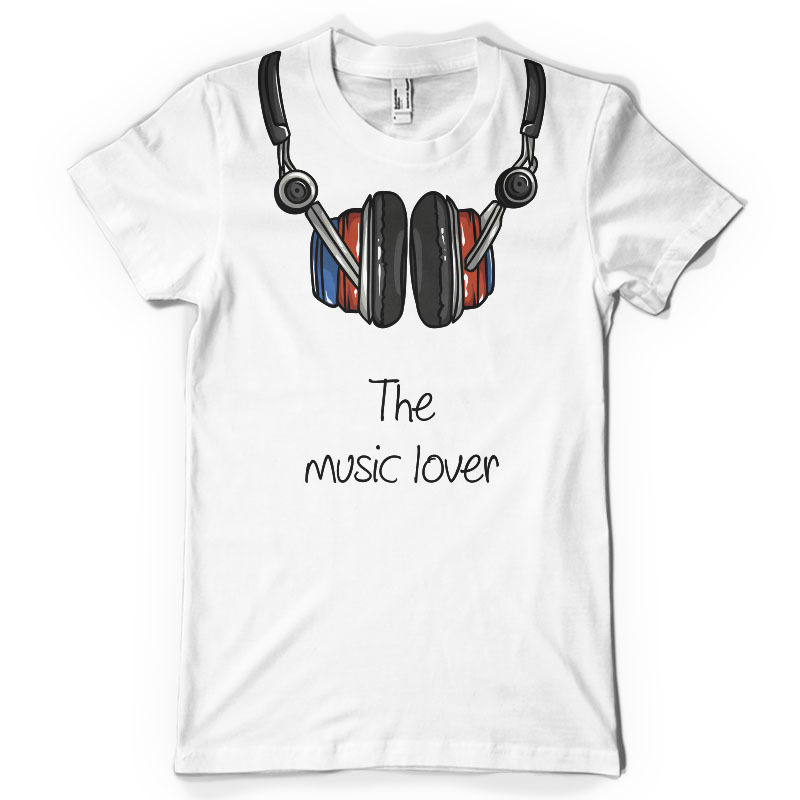 The "Music Lover" T-shirt design idea is ideal for girls who are passionate about music. To create an edgy and lively look, this design mixes musical components such as headphones, notes, and instruments. It expresses the wearer's love of music, admiration for all genres, and connection to the power of melodies and rhythms. Whether it's rock, pop, classical, or any other genre, this design speaks to music fans who wish to express themselves via their clothing.
Wild at Heart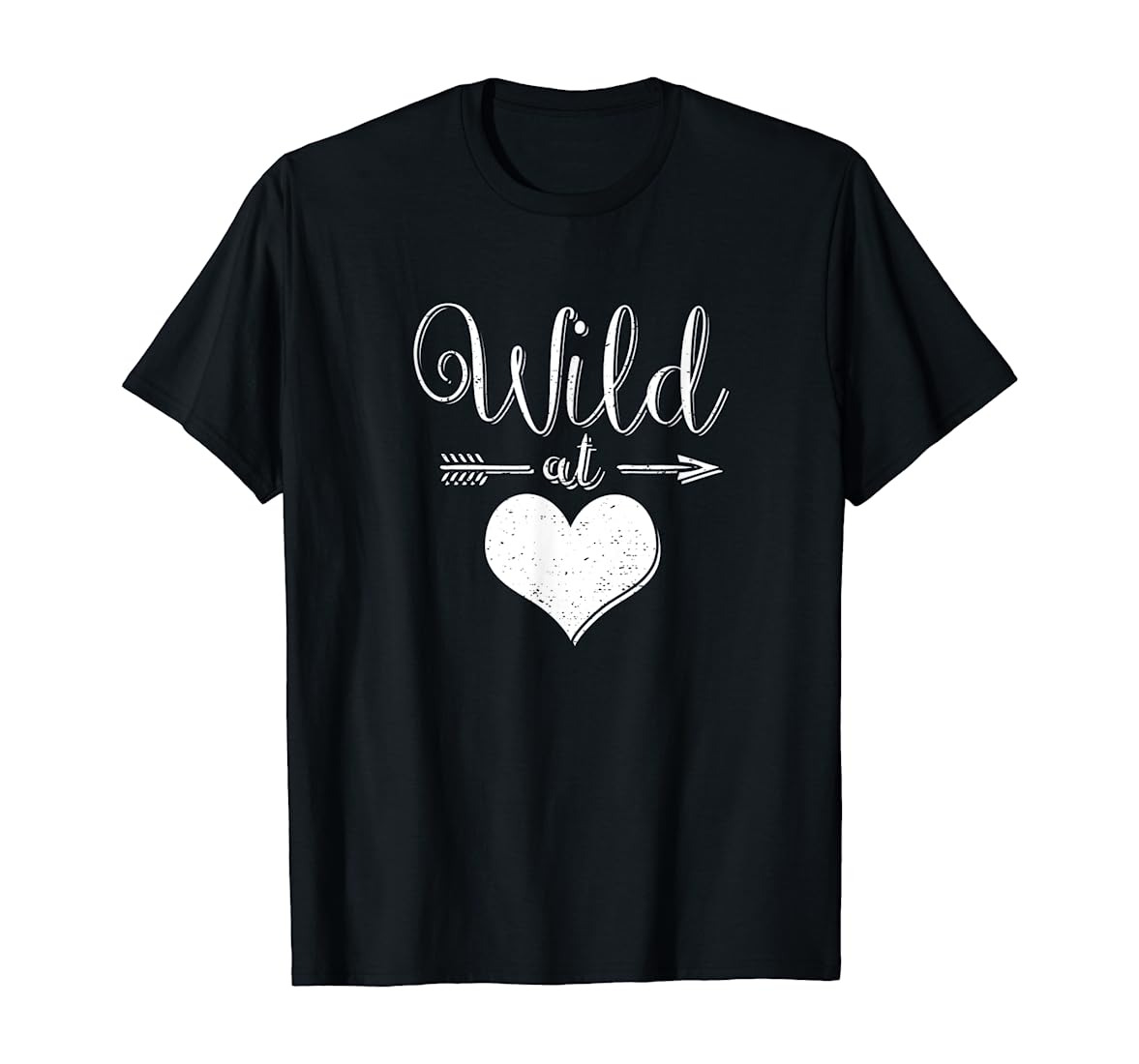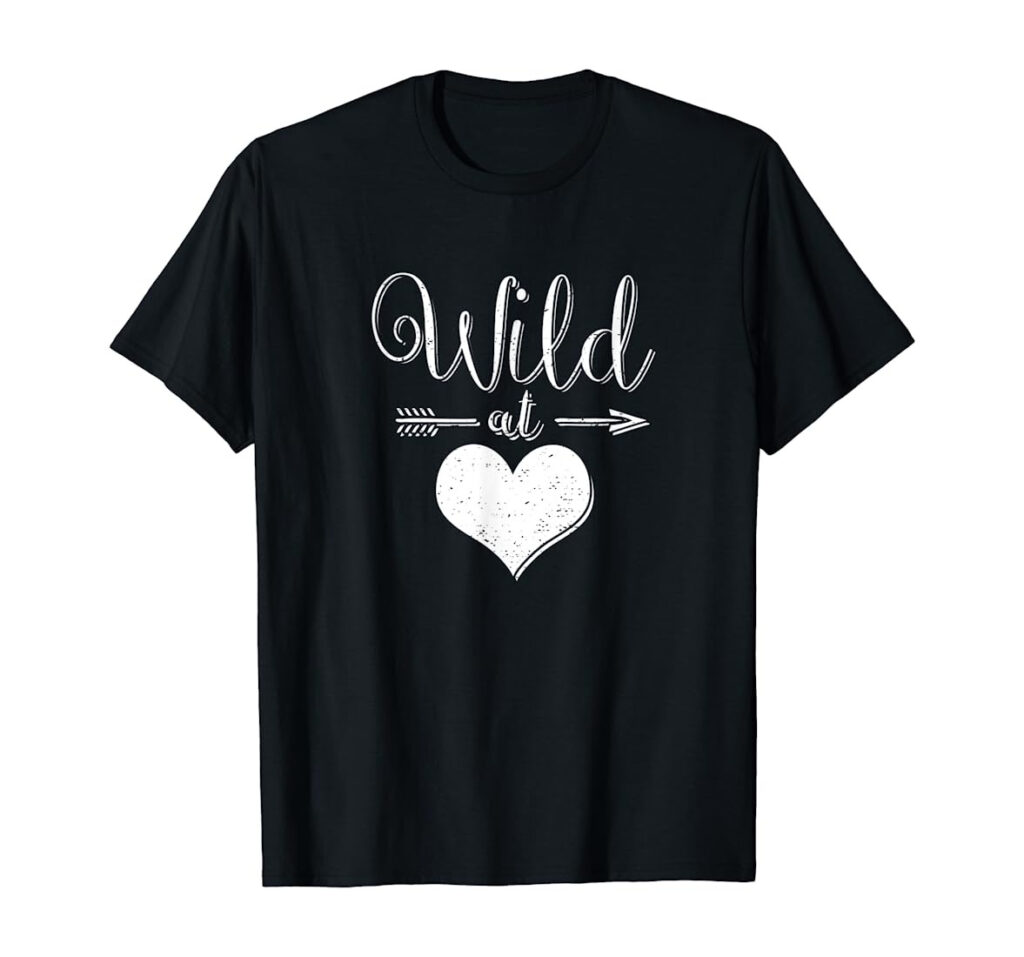 The "Wild at Heart" T-shirt design celebrates females' untamed passion and individuality. This design frequently includes a magnificent depiction of a majestic lioness wearing a crown, which represents strength, courage, and a free-spirited temperament. It represents breaking free from society's standards, embracing one's own wild nature, and pursuing aspirations and objectives boldly. This design appeals to those who exemplify tenacity and a desire to stand out from the crowd.
Adventure Awaits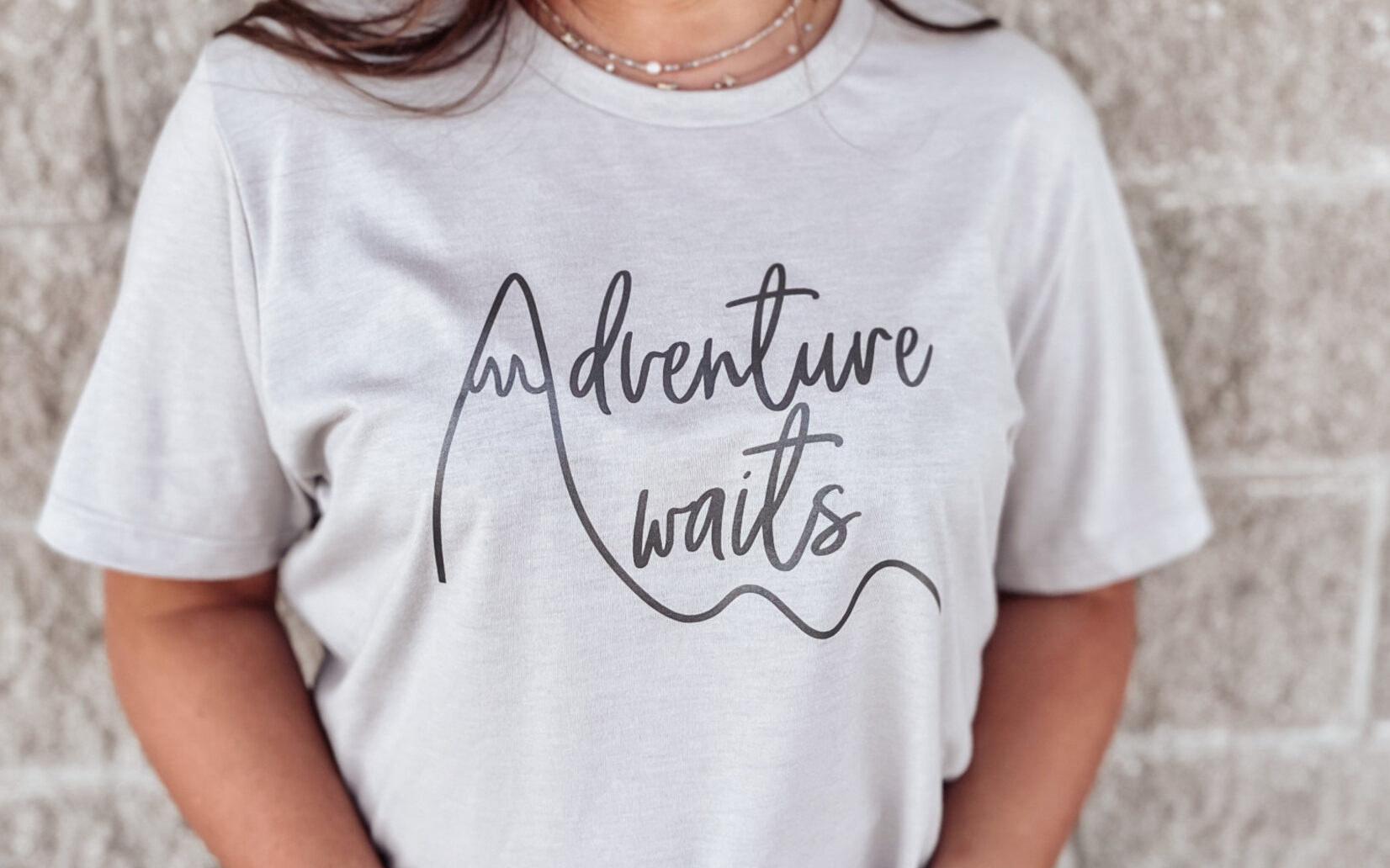 This design conveys the spirit of travel and wanderlust. This design frequently contains motifs like mountains, forests, and a compass, encouraging females to enjoy nature and embark on thrilling journeys. It arouses curiosity, courage, and a drive to explore new vistas. The design serves as a reminder to move outside of one's comfort zone, seek out new experiences, and create lasting memories along the way.
Dream Big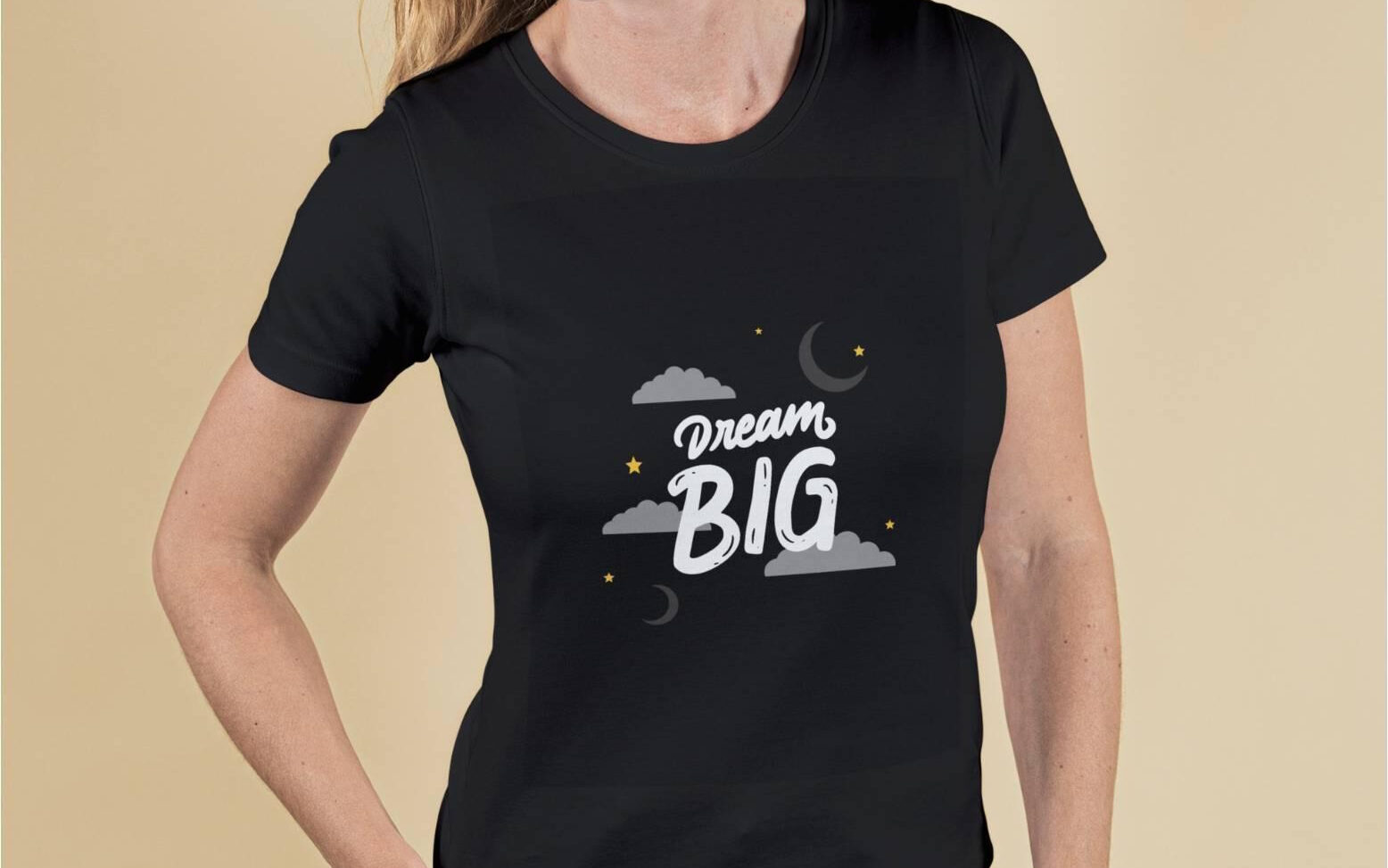 The "Dream Big" T-shirt design inspires ladies to pursue their dreams and believe in the power of their imagination. This design might include a charming graphic of a girl floating on a cloud surrounded by stars, representing the endless possibilities that lie ahead. It inspires girls to set ambitious goals, overcome obstacles, and strive for greatness. This design celebrates the power of imagination, determination, and the courage to pursue one's passions fearlessly.
Positive Vibes Only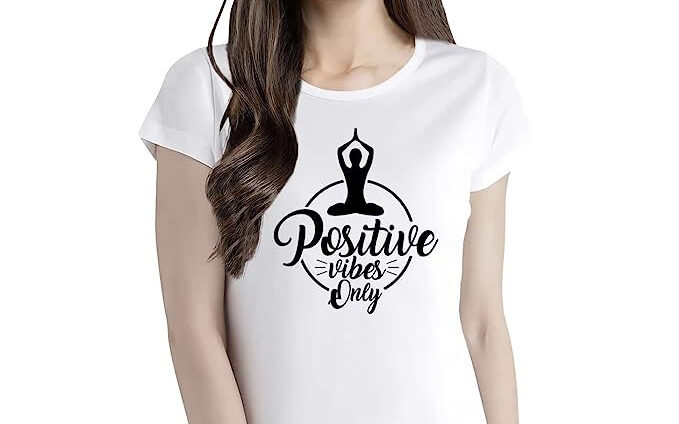 The "Positive Vibes Only" design promotes happiness, optimism, and positivity. To produce a joyful and vibrant design, this design uses colourful rainbows, flowers, and inspiring slogans. It is a reminder to look on the bright side of life, be grateful, and spread optimism to oneself and others. This design speaks to ladies who want to make a difference, uplift others around them, and establish a pleasant and inclusive environment.
Ocean Soul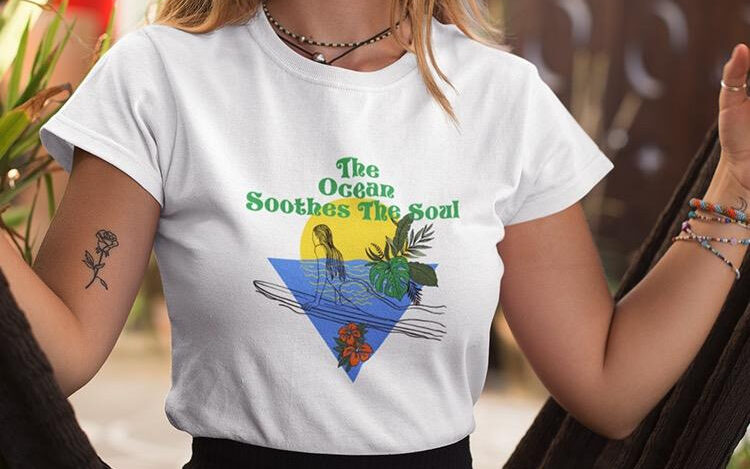 The "Ocean Soul" T-shirt design depicts the serenity and beauty of the ocean. This creative t-shirt design frequently features a tranquil picture of a mermaid swimming in the depths of the sea, surrounded by marine life and seashells. It reflects a strong connection to nature, a sense of freedom, and a fascination with the ocean's mysteries. This design appeals to individuals who are enchanted by the magical world beneath the waves and want to show off their love of the water.
Inspirational Quotes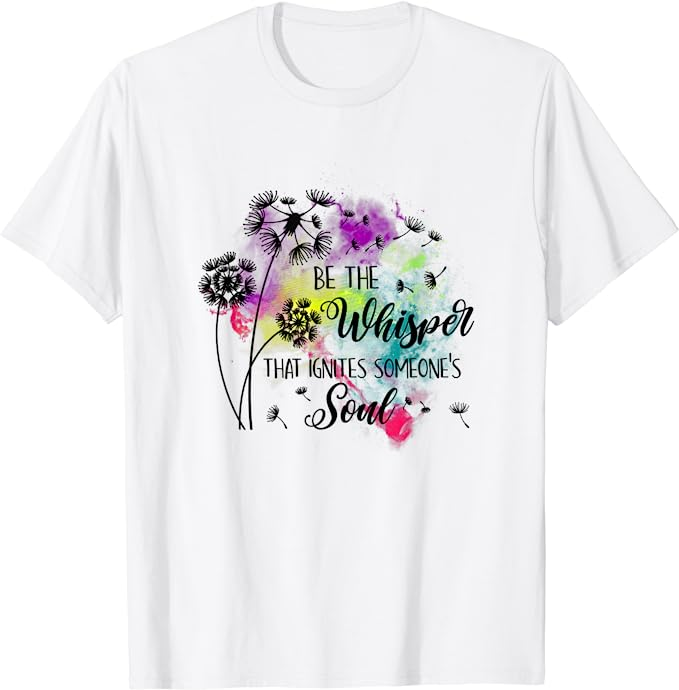 The "Inspirational Quotes" T-shirt design incorporates uplifting phrases from famous women throughout history. This design includes slogans that urge ladies to embrace their abilities, believe in themselves, and strive for greatness. It acts as a daily reminder of one's own inner strength and potential, instilling confidence, resilience, and resolve. This design empowers and motivates ladies to overcome problems and create a positive effect in the world, whether it's quotes about leadership, self-love, or perseverance.
Nature Lover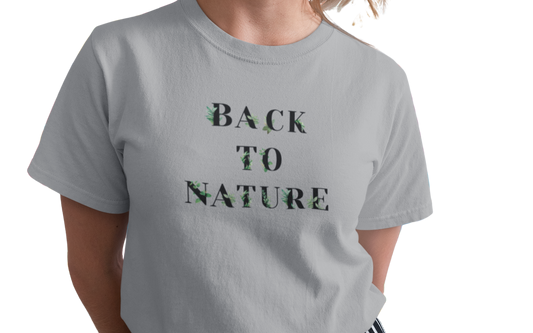 The "Nature Lover" T-shirt design concept honours the natural world's beauty and mysteries. This style frequently features beautiful botanical images of flowers, insects, and birds. It appeals to ladies who love nature's calm and tranquillity, promoting a deeper connection with the environment. It promotes an appreciation for outdoor activities, environmental care, and the preservation of our planet's biodiversity. This design is a visual salute to nature's splendour, reminding wearers to treasure and conserve our natural environment.
Geek Chic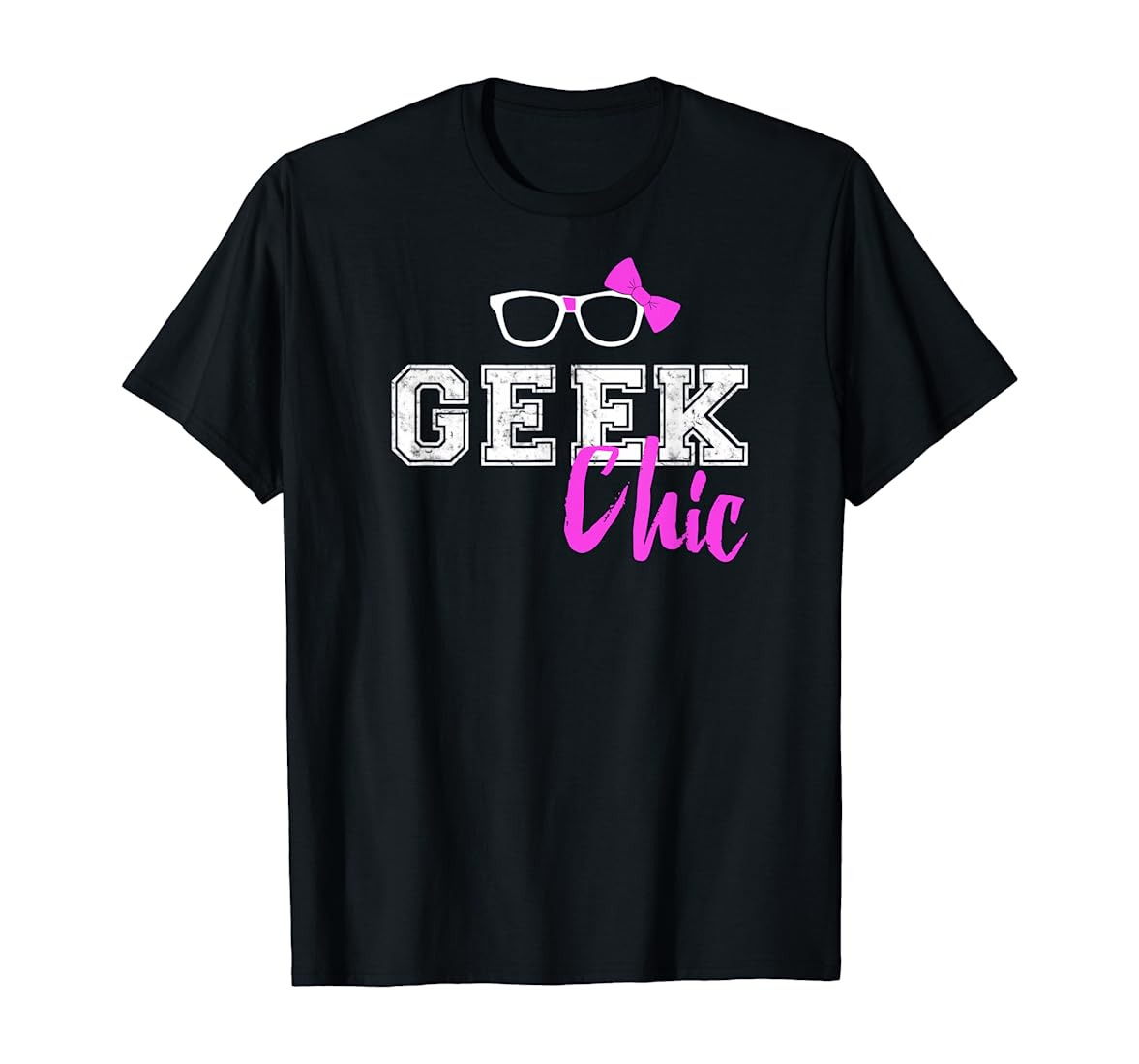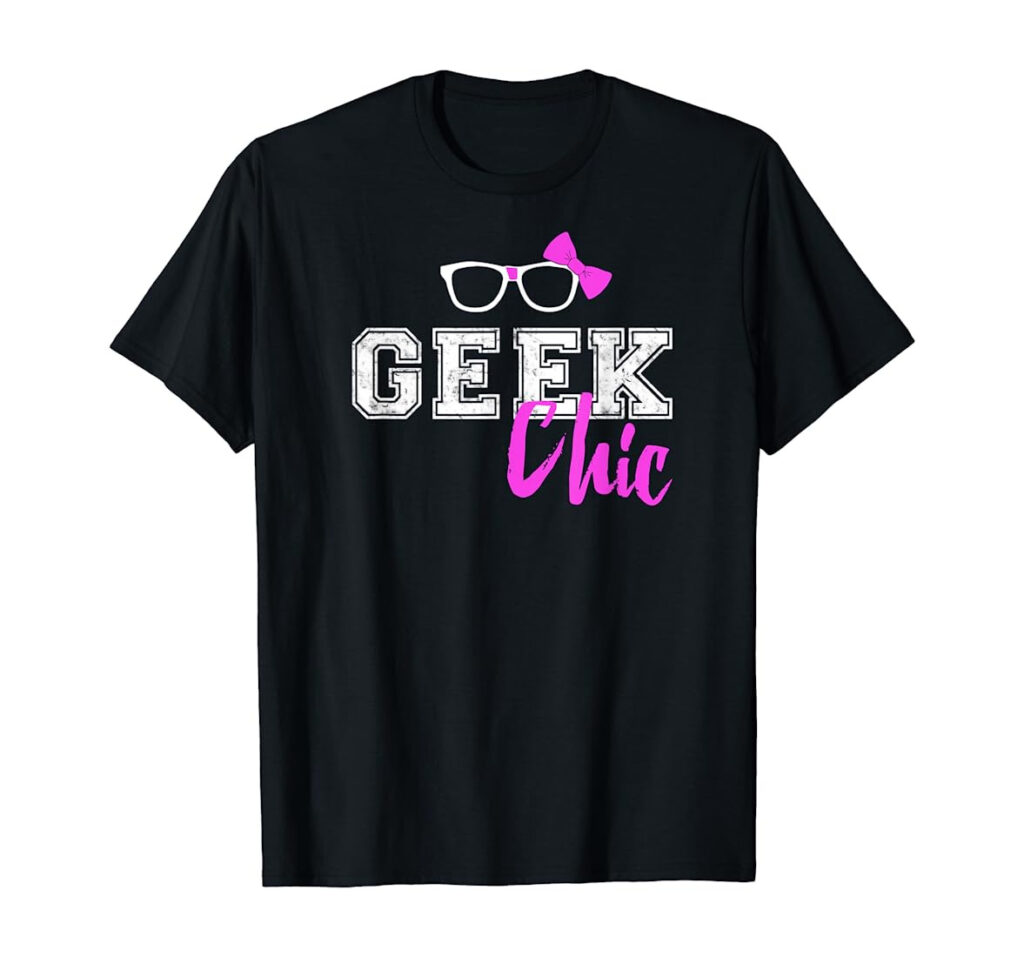 The "Geek Chic" T-shirt design mixes knowledge with flair, appealing to female geeks. This style frequently includes glasses, math equations, science symbols, or references to popular books, movies, or video games. It praises knowledge, curiosity, and the delight of being a geek. This design allows ladies to publicly display their interests while also creating a sense of community among other nerds. It's a homage to the power of information, imagination, and the thrill of discovery.
Girl Boss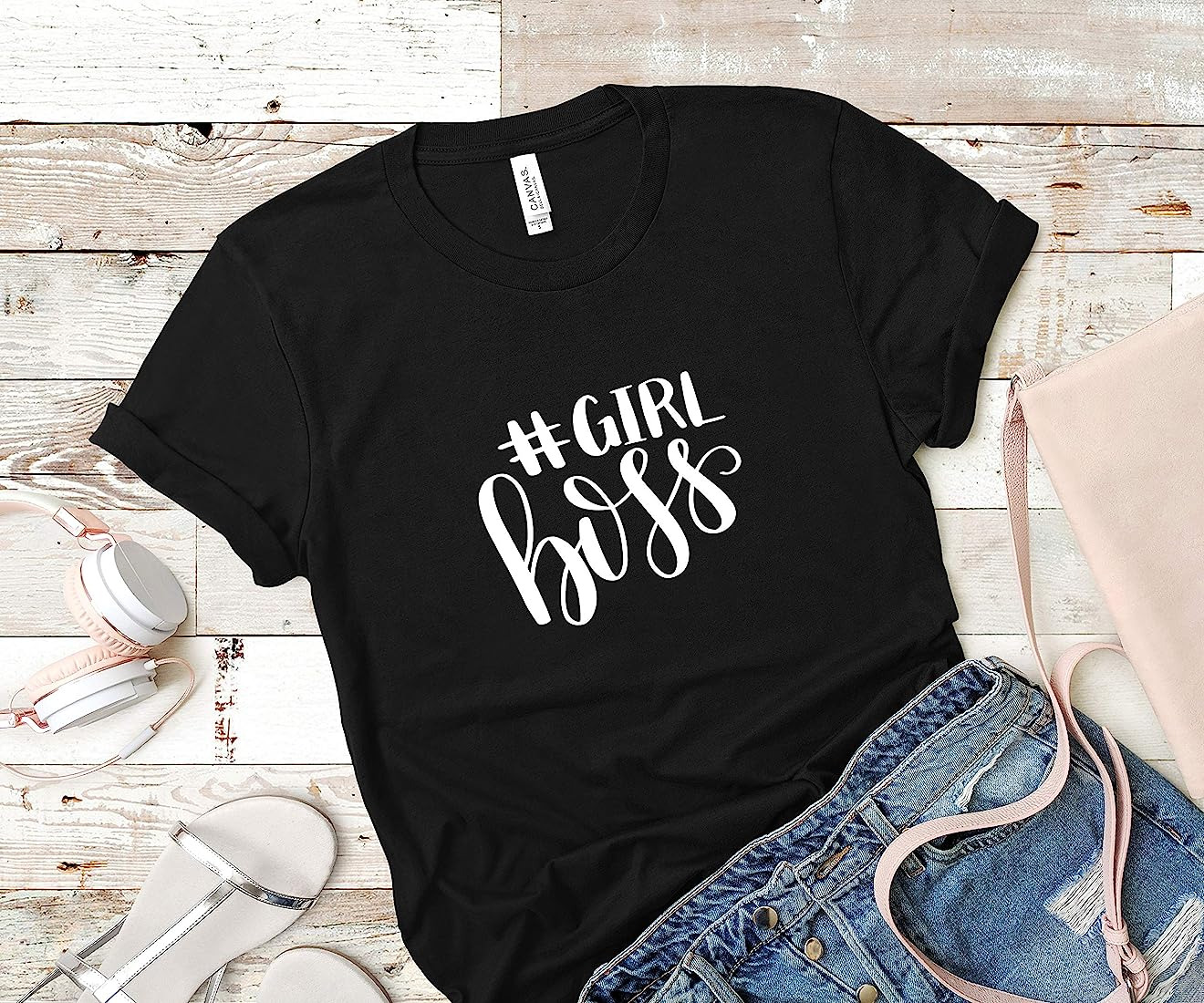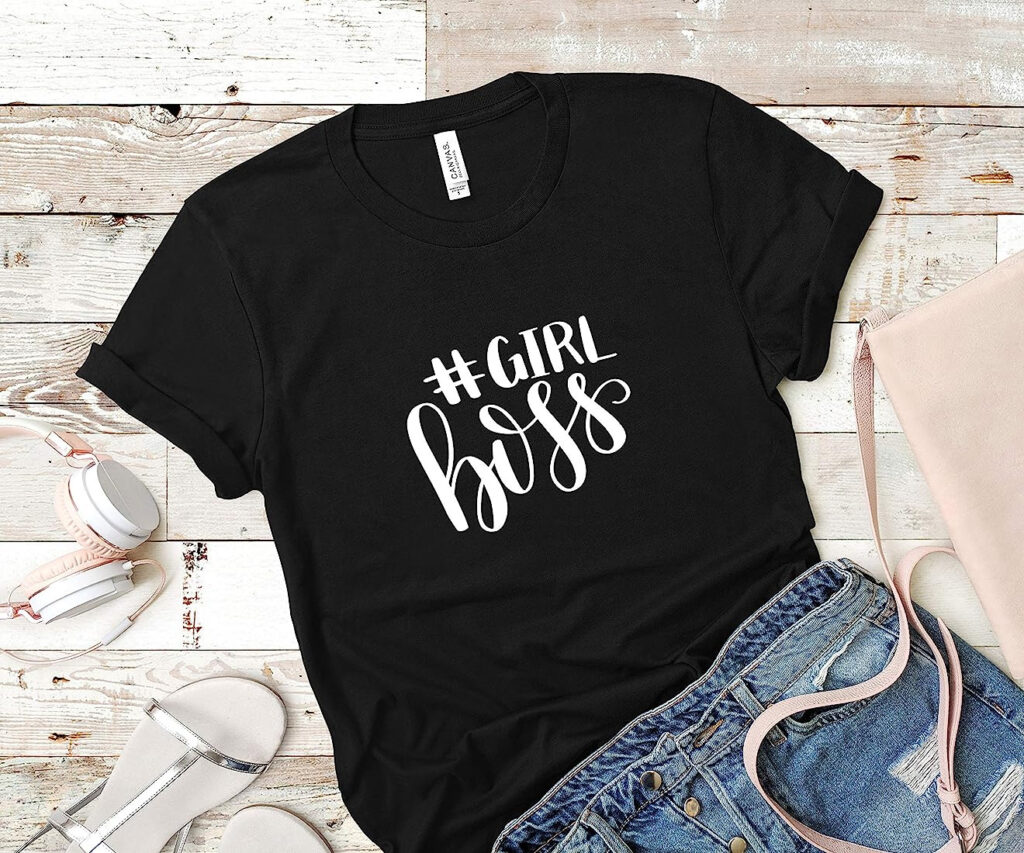 The "Girl Boss" T-shirt design idea exudes confidence, ambition, and feminine empowerment. This style frequently includes a silhouette of a lady wearing a power suit, expressing strength and resolve. It honours female leadership, entrepreneurship, and the removal of barriers. The design encourages girls to be strong, and aggressive, and to pursue their professional ambitions with tenacity. It is a symbol of empowerment, urging girls to realise their full potential, break down glass ceilings, and take charge of their own lives.
Love Yourself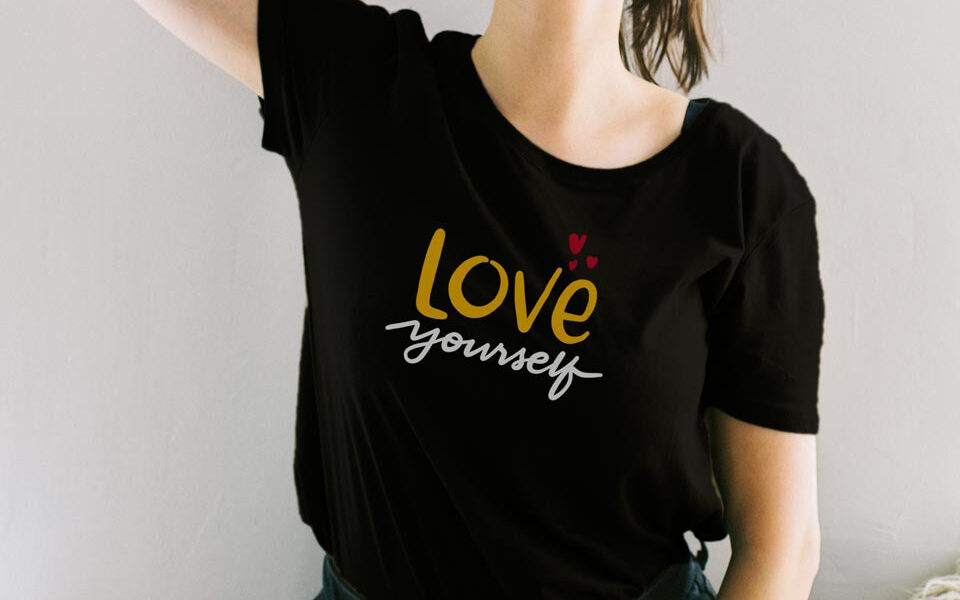 The "Love Yourself" girl T shirt design ideas promote self-acceptance and the value of embracing one's individuality. This design frequently includes the simple yet powerful slogan "Love Yourself" in an attractive and eye-catching typeface. It reminds us to prioritise self-care, build a positive self-image, and recognise our own worth and beauty. This artwork encourages ladies to be their own selves and radiate confidence from the inside.
Artistic Vibes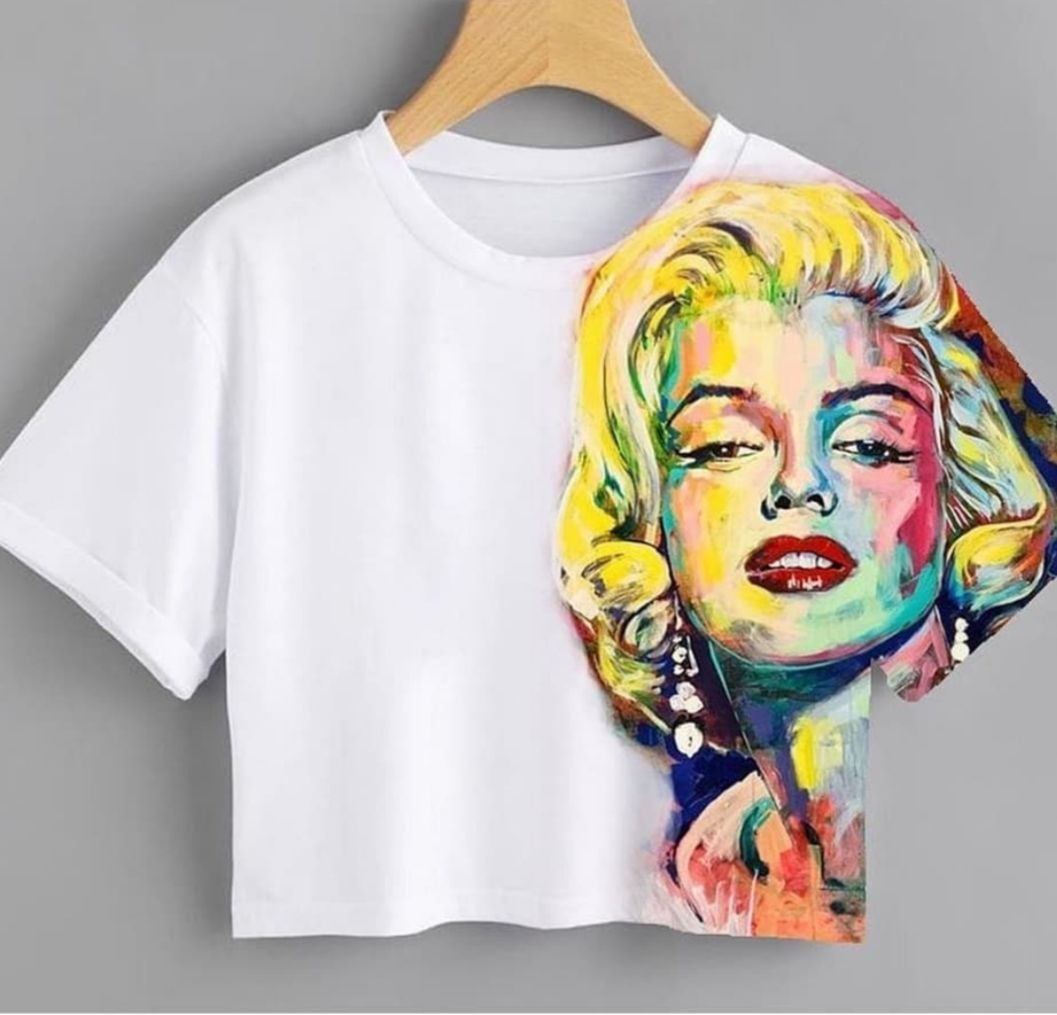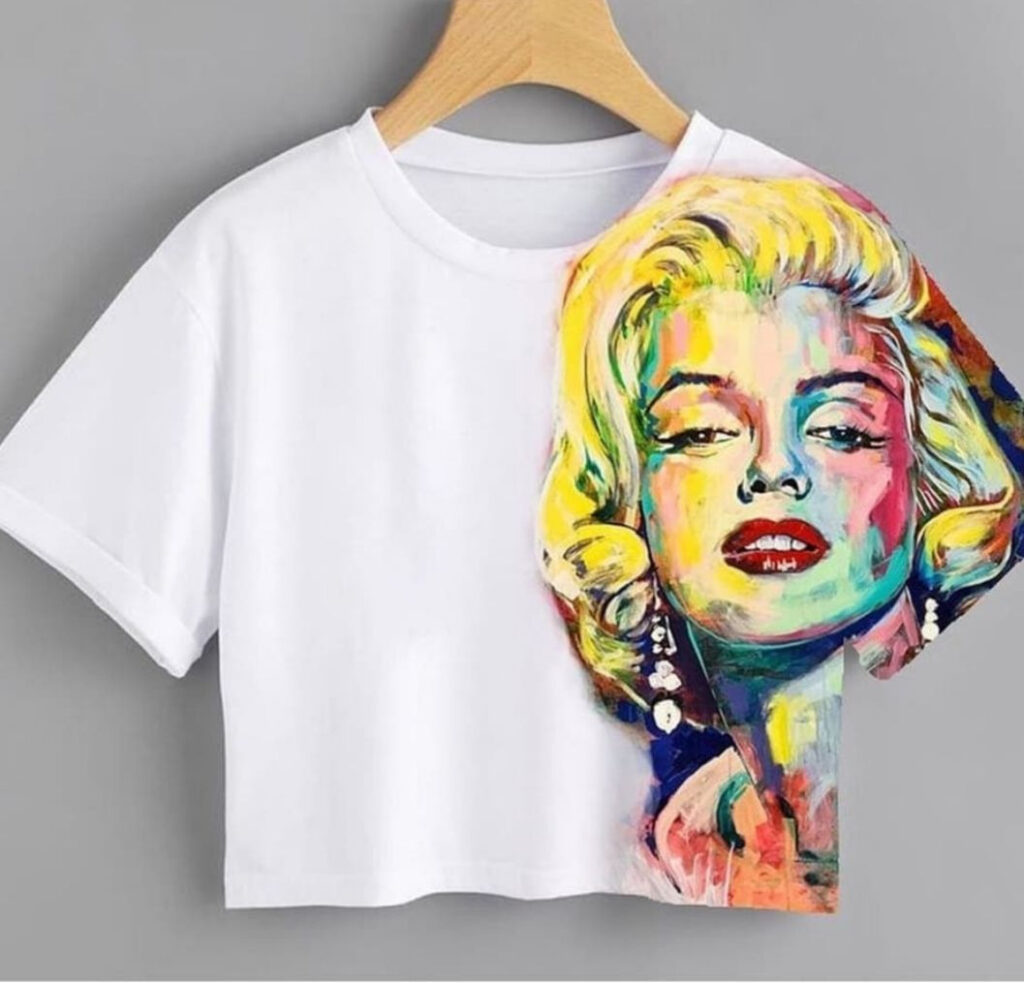 The T-shirt design concept "Artistic Vibes" embraces creative energy and encourages artistic expression. Paintbrush strokes, splatters, and creative elements are frequently used in this design to create a visually dynamic and appealing composition. It appeals to girls who enjoy different types of art and encourages them to pursue their artistic talents and passions. This artwork honours the beauty of creativity and serves as a reminder to live life creatively.
Girl Power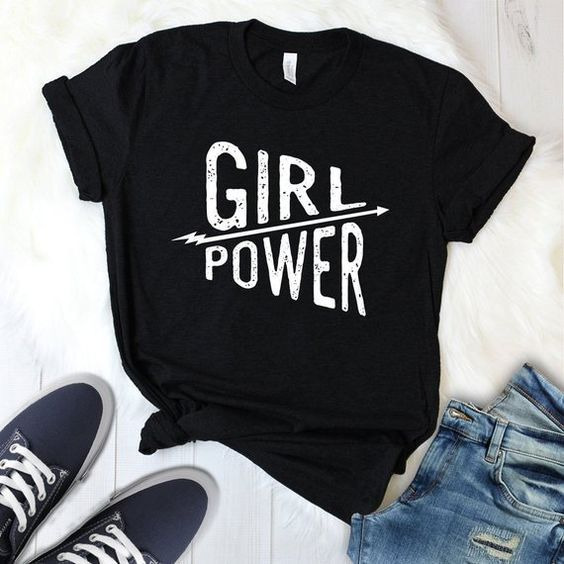 The "Girl Power" T-shirt design idea depicts female empowerment and honours girls' and women's strength, tenacity, and accomplishments. This design frequently includes a bold and striking "Girl Power" slogan complemented by symbols of strength such as a clenched fist or a lightning bolt. It acts as a reminder of females' infinite potential, intelligence, and skill. This design encourages ladies to defy preconceptions, challenge established norms, and pursue their aspirations with tenacity.
Design and Sell Custom T-shirts With Blinkstore
Now that you know some of the best girl t-shirt design Ideas, you can now use your imagination and create your own custom t-shirt online and sell them to earn profits or use it in your brand. And guess what, it doesn't even require significant investment and anyone can do it.
You can use Blinkstore, one of the most popular print on demand platforms for bringing your t-shirt design ideas into reality. But don't assume that Print on demand is only possible with only t-shirts. In fact, on Blinkstore we do print-on-demand for more than 30 products including t-shirts, hoodies, sweatshirts, crop-tops, crop hoodies, bottles, coffee mugs, posters, cushion covers, mobile phones, etc. So you can start your own t-shirt store, and as it starts doing good sales, you can launch many more products on Blinkstore's storefront which will be provided to you for free! Let's take a step-by-step process on how to do this.
Step 1: Use Blinkstore to create a free t-shirt store
Sign up with your Google account at the seller.blinkstore.in. There is no need to remember a password. Select "New Store" from the "Create +" menu. Select a name for your store that will also serve as the subdomain.
Step 2: Create t-shirts easily online.
Click "Add/Edit New Product" and then choose a t-shirt to design. Upload your Canva or Photoshop designs with the simple t-shirt editor. You can also use Mockey, a high-end free mockup generator for designing your t-shirts and other apparel. Position the design and choose a t-shirt colour. Set the t-shirt's title, description, and profit margin. The cost of shipping is included in the base price, and Blinkstore handles printing and shipment.
Step 3: Begin selling t-shirts online.
Put your t-shirt designs for sale at your store. Start making money from sales by promoting your t-shirt company online. Don't forget to withdraw your profits as well.
You can also use Mockey, an AI-Powered platform to generate high-definition mockups for free and get a more clear picture of how your design will look in real-life scenarios.
FAQs
What are the best girl t shirt design ideas in 2023?
Here are some of the best girl t shirt design ideas that you can consider in 2023:
1. Be Yourself
2. Floral Dream
3. Music Lover
4. Wild at Heart
5. Adventure Awaits
How can I sell my own designed t-shirts online?
You can visit Blinkstore, create your own free merch store and upload your designs on your desired product and sell them online easily.
What's the best t shirt design ideas for girls?
Here are the best five t shirt design ideas for girls:
1. Dream Big
2. Positive Vibes Only
3. Ocean Soul
4. Inspirational Quotes
5. Nature Lover
Conclusion
In conclusion, there are many Girl T shirt Design Ideas that include a diverse range of innovative and empowering designs. These designs encourage girls to embrace their aspirations and unconditionally accept themselves by celebrating individuality, self-expression, and girl power. These Girl T-shirt design ideas, which include powerful statements, nature-inspired drawings, and artistic features, serve as visual expressions of confidence and strength. Girls can make a powerful statement about their individual personalities, values, and aspirations by wearing these designs. Overall, these designs showcase the incredible potential of every girl and encourage them to express themselves through fashion.