Are you an artist looking to make money from your work? If so, selling stickers online is a fantastic way to get started! We will lead you through the full process, from creating your stickers to selling them online, in this guide. We'll go over everything you need to know, such as designing, printing, cutting and selling as well. So why wait? Read on to know how to make stickers to sell online.
Table of Contents
Introduction
Stickers are a great method to express yourself, decorate your stuff, and give your life a personal touch. If you're creative and have an aptitude for design, they can also be a terrific way to make money. This article is for you if you want to know how to make stickers to sell online. We'll help you through the entire process, from selecting the correct sticker paper and adhesive to designing high-quality designs and selling your stickers online. So, whether you're a beginner or an expert, keep reading to learn how to make stickers to sell online.
Why make stickers?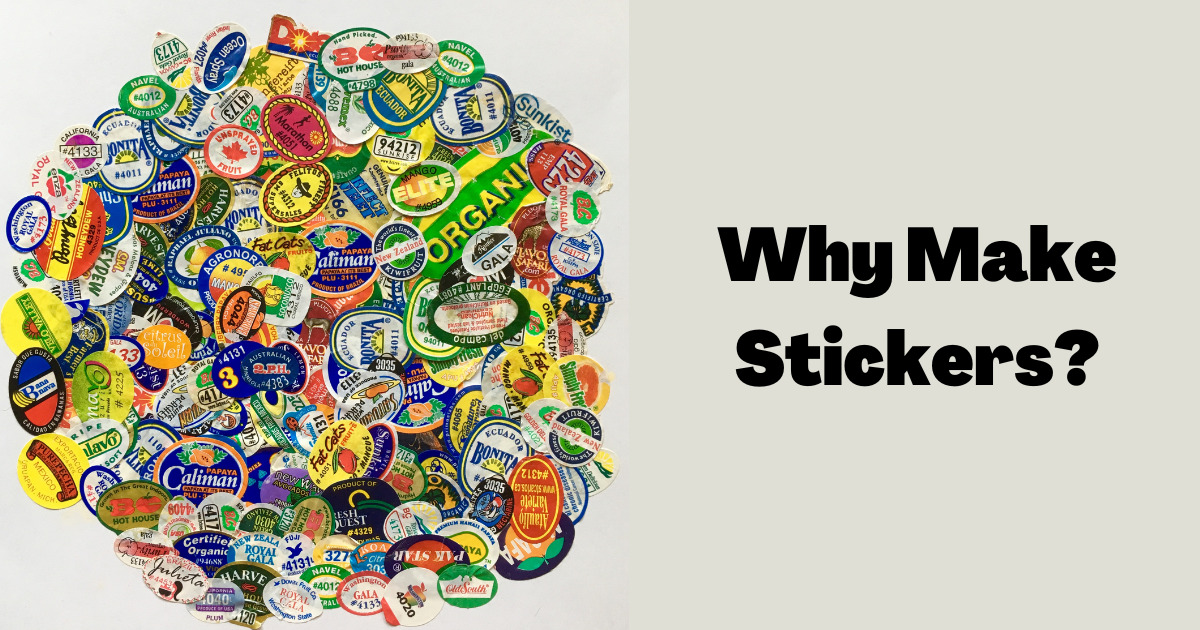 There are a variety of reasons why you could wish to create stickers. Here are a few examples:
Stickers are an excellent means to communicate your unique artistic vision with the rest of the world. You can either design your own stickers or customise pre-made stickers with your own text or photos.
To personalise your possessions, use stickers. Stickers are a quick and easy method to add personality to your belongings. Stickers can be placed on your laptop, phone, water bottle, or anything else you wish to personalise.
Stickers are a great way to express your opinions, interests, or personality. They can also be used to publicise a cause or a company.
If you're creative and have an aptitude for design, you can make money by selling stickers online. You may sell your stickers on a variety of prominent websites, including Etsy, Redbubble, and Amazon Handmade.
Whatever your purpose for producing stickers, it's a fun and satisfying activity that people of all ages may enjoy. So, what are you holding out for? Begin producing stickers right away!
How to Make Stickers to Sell Online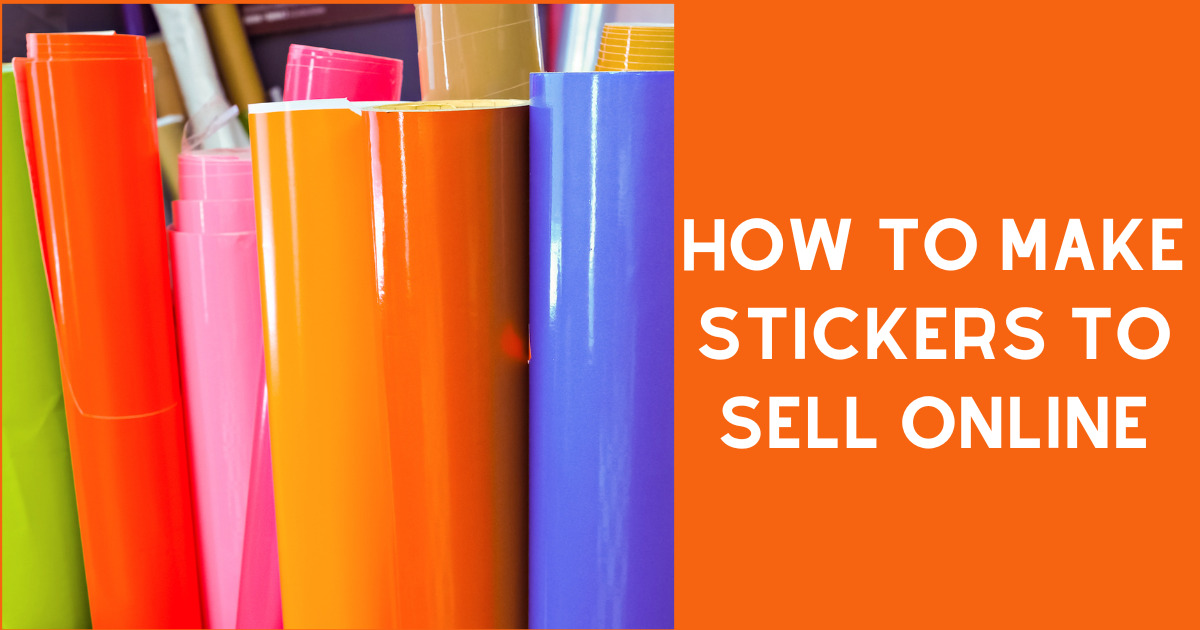 Sticker design for sale requires a deliberate and strategic approach to guarantee your designs stand out and attract clients. Here's a step-by-step tutorial to get you started:
Determine Your Niche: Determine your niche and target audience. Investigate trends, hobbies, and preferences to produce stickers that will appeal to your target audience.
Brainstorm Ideas: Create a variety of notions that are related to your area. Consider themes, styles, and messages that might be appealing to your target demographic.
Select Design programme: Choose design software that you are familiar with, such as Adobe Illustrator, Photoshop, or free equivalents such as Canva or Inkscape.
Make Original Artwork: Create unique and visually appealing designs. Whether you choose pictures, typography, or a combination, creativity will help your stickers stand out.
Consider Size and Shape: Keep your sticker's dimensions and shape in mind. Check that they are suited for a variety of applications and are simple to show.
Colour Scheme: Select a colour scheme that matches your design and generates the intended feelings. Colour consistency improves brand awareness.
Typography: When utilising text, choose clear and readable fonts that complement the concept of your design. For a finished appearance, pay attention to size, spacing, and placement.
Composition: Arrange your design elements in a way that is both balanced and visually appealing. Make focal points and think about how the design will look on the final sticker.
Resolution and quality: Create your stickers in high resolution to guarantee they look sharp and professional when printed.
Print prototypes: Print prototypes before mass production to evaluate colours, details, and overall appearance. Make any necessary modifications.
Collect Feedback: Seek feedback from peers or potential clients to help you improve your designs. Constructive criticism can aid in the improvement of your work.
File Preparation: Prepare your designs for printing by ensuring that they are in the suitable format and that any necessary bleed or trim areas are included.
Printing Options: Investigate various printing methods, such as digital printing or screen printing. Look for printing companies that provide high-quality outcomes and appropriate sticker materials.
Add Coating: Consider applying a protective coating, such as gloss or matte lamination, to improve the durability and aesthetic of the stickers.
Marketing Mockups: Create realistic mockups of your stickers on various surfaces. These mockups are suitable for usage in marketing brochures and product presentations. You can use Mockey.ai to generate these super realistic mockups for free.
Following these steps will have you well on your way to creating appealing stickers that not only reflect your creative vision but also resonate with your target audience, increasing their likelihood of becoming repeat buyers.
What types of stickers should I make?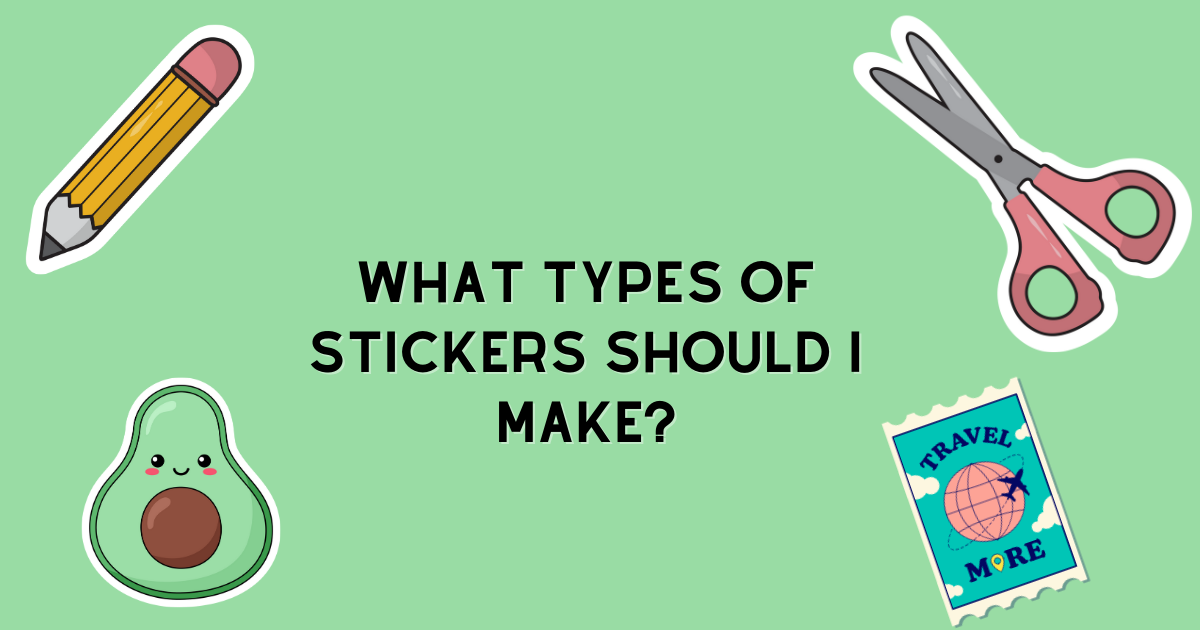 There are many types of stickers that you can create using your imagination and sell them online. Here are a few sticker design ideas to get you started:
Illustrations & Artwork: Use your unique illustrations, artwork, and designs to create aesthetically appealing stickers. These could include everything from charming figures to complicated patterns.
Typography and phrases: Create stickers with motivational phrases, humorous sayings, or inspiring quotes. Typography-based stickers can be very popular, especially if they correspond to current trends.
Pop Culture References: Popular trends, memes, movies, TV series, or iconic symbols that are relevant to your target audience should be capitalised on.
Minimalist and Abstract Designs: Because of their simplicity and versatility, minimalist and abstract stickers have a wide appeal.
Nature and Animals: Nature-inspired designs, such as flora, animals, and landscapes, might appeal to nature and animal fans.
Interests: Create stickers that appeal to specific hobbies or interests, such as gaming, sports, cuisine, music, or crafting.
Seasonal & Holiday Themes: Create stickers that correspond to the various seasons, holidays, and celebrations that occur throughout the year.
Customizable Stickers: Provide stickers that may be personalised with names, initials, or other details to make each customer's experience unique.
Travelling: Craft stickers that capture the sense of travel, adventure, and exploration, appealing to individuals with wanderlust.
Fandom & Fan Art: If you're a fan of a specific book, movie, TV show, or video game, consider making fan art stickers that other fans will like.
Food and Drink: Create stickers that feature favourite meals, beverages, and culinary aspects, aimed towards foodies and cookery enthusiasts.
Social and political: Create stickers that reflect vital social or political messages, allowing your consumers to support issues they care about.
Vintage & Retro: Tap into nostalgia by creating stickers with a vintage or retro feel, reminiscent of fashions from previous decades.
Educational and informative stickers: Create stickers with educational value, such as interesting facts, language lessons, or scientific principles.
Humour & Puns: Funny stickers with witty puns or jokes can make your clients grin and inspire them to spread your designs.
Different types of sticker finishes to know about
Here are some popular types of sticker finishes to be aware of:
Gloss: The most prevalent sort of sticker finish is gloss. It makes the sticker glossy and reflective. Gloss stickers are perfect for displaying stickers in high-traffic places, such as windows or cars.
Matte: This finish imparts a flat, non-reflective appearance to the sticker. Matte stickers are frequently utilised for stickers that will be applied to more delicate surfaces, such as laptops or phones.
UV coating: This treatment protects the sticker from fading and yellowing caused by sunlight exposure. UV treatment is an excellent choice for stickers that will be exhibited outside.
Lamination: This finish protects the sticker by adding a layer of protection, making it more robust and resistant to scratches and tears. Lamination is an excellent choice for stickers that will be used in high-traffic locations or exposed to the environment.
Holographic: This finish imparts a rainbow-like effect to the sticker. Holographic stickers are frequently utilised for eye-catching stickers or stickers that will be used in marketing materials.
Metallic: This treatment imparts a metallic sheen to the sticker. Metallic stickers are frequently used for stickers that are intended to appear opulent or high-end.
How do I sell stickers online?
The best and most effective way to make and sell stickers online is through Blinkstore, one of the largest print-on-demand platforms. The best part is you don't need to make hefty investments to get started. All you need is some time and creativity to invest. You only need to upload your favourite designs and Blinkstore will take care of the rest including sourcing, printing, shipping and payment so that you don't need to worry about anything. Here is how to make stickers to sell online using Blinkstore:
1. Visit the Blinkstore website
To begin, launch your web browser and navigate to the Blinkstore website.
2. Sign Up or Log In
If you don't have an account already, click the "Sign Up" or "Create an Account" button to create one. You must enter your email address and create a password. Log in with your existing credentials if you already have one.
3. Create a new store
Once you've logged in, you'll be sent to your Blinkstore dashboard. From here, you can create your first store. Click on the "Create +" button in the top left corner and select "New Store". Write the name of your store when prompted. Make sure to select a name that you want for your sub-domain.
4. Add Products to your store
Once you have successfully created your store, you can add products for further customization. Browse through the catalogue and select stickers from the list.
5. Upload your design
Once selected, upload your design there. Make sure to maintain 300 pixels per inch dimension. For eg. to get a 10×10 inch print make sure the design is of dimension 3000×3000 pixels.
6. Preview your design
After uploading, adjust the sticker position and click on Preview. Once you are satisfied, you can click continue.
7. Add Product Description
Add your product title and description along with some relevant tags. Set your product margin as per your desire and hit publish. Your custom sticker is now live at your store and it's ready for sale.
8. Promote your store
Your store is all set now to sell your stickers. Promote it on social media, collab with creators to share your products to your audience.
How to price stickers for sale?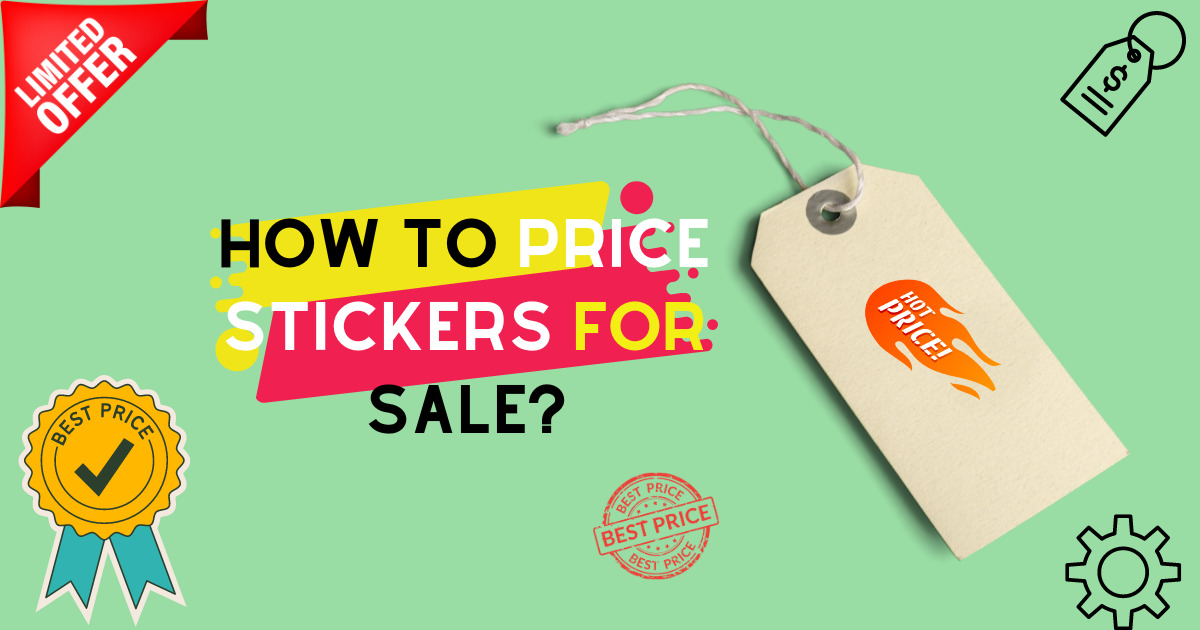 Pricing becomes a significant factor in price-sensitive markets like India. No matter how good you know about how to make stickers to sell online, ultimately the pricing will decide how much sale your product will be able to generate. Here is a simple formula to set the sticker prices:
Cost Per Sticker + Desired Profit Margin = Sticker Selling Price.
Here are a few things to think about when pricing stickers for sale:
How much does it cost you to design and sell a sticker? This covers material, printing, and shipping costs.
How much do you want to profit from each sticker? Aim for a profit margin of 20-30% as a general rule.
What do other sellers charge for comparable stickers? You don't want to overprice or underprice your stickers in comparison to the competitors.
What makes your stickers special and valuable? You can charge a high price if your stickers are of high quality and unique.
FAQs
How to make stickers and sell them online?
Here is a step-by-step process on how to make and sell stickers online:
1. Visit Blinkstore and create your account
2. Create your store and finish adding up products
3. Select Stickers from the product catalogue and upload your desired design
4. Position the sticker perfectly and finalize the product
5. Set product description and profit margin and publish to start selling.
Where can I make my own stickers for free?
How do I print stickers?
To print stickers, you need to get sticker paper and make sure you get the right type of paper for your type of printer. You can also partner with print-on-demand platforms like Blinkstore to print the stickers for you.
Conclusion
Lastly, selling stickers online requires a combination of creativity, strategy, and commercial knowledge. You can start a successful sticker business that resonates with clients and generates pleasing profits by creating appealing designs, setting competitive prices, and employing efficient marketing. To build a lasting and rewarding online endeavour, remain agile, listen to client feedback, and constantly tweak your strategy. Hopefully, with our guide, you now know how to make stickers to sell online. Don't forget to check out Blinkstore for the best quality print-on-demand products including stickers and start your entrepreneurial journey today!