Joggers are a type of casual pants that have gained popularity in recent years for their comfortable fit and versatility. Discover the finest way for determining your joggers size with our Best Guide to Joggers Size Chart. This comprehensive guide includes step-by-step directions and helpful hints to guarantee that you always achieve the right fit. You'll be able to correctly measure yourself, compare your measurements to the size chart, and choose the correct size for maximum comfort and effortless style with our instructions. Say goodbye to ill-fitting joggers and welcome to your new favourite pair that perfectly fits you.
Table of Contents
Why Jogger Size Matters?
When it comes to joggers, the Joggers size chart plays an important role in providing comfort and style. Too small joggers that are too small can be constrictive and uncomfortable, producing concerns such as bunching or digging into the skin. Conversely, too large joggers that are too large might be loose and droopy, making them difficult to move in and detracting from their appearance. Joggers should fit snugly but not too tightly to allow for comfortable mobility and an attractive appearance. Furthermore, getting the proper fit in joggers can help ensure that they last longer, since joggers that are too tight or too loose are more likely to wear out sooner due to the extra strain on the fabric.
Types of Joggers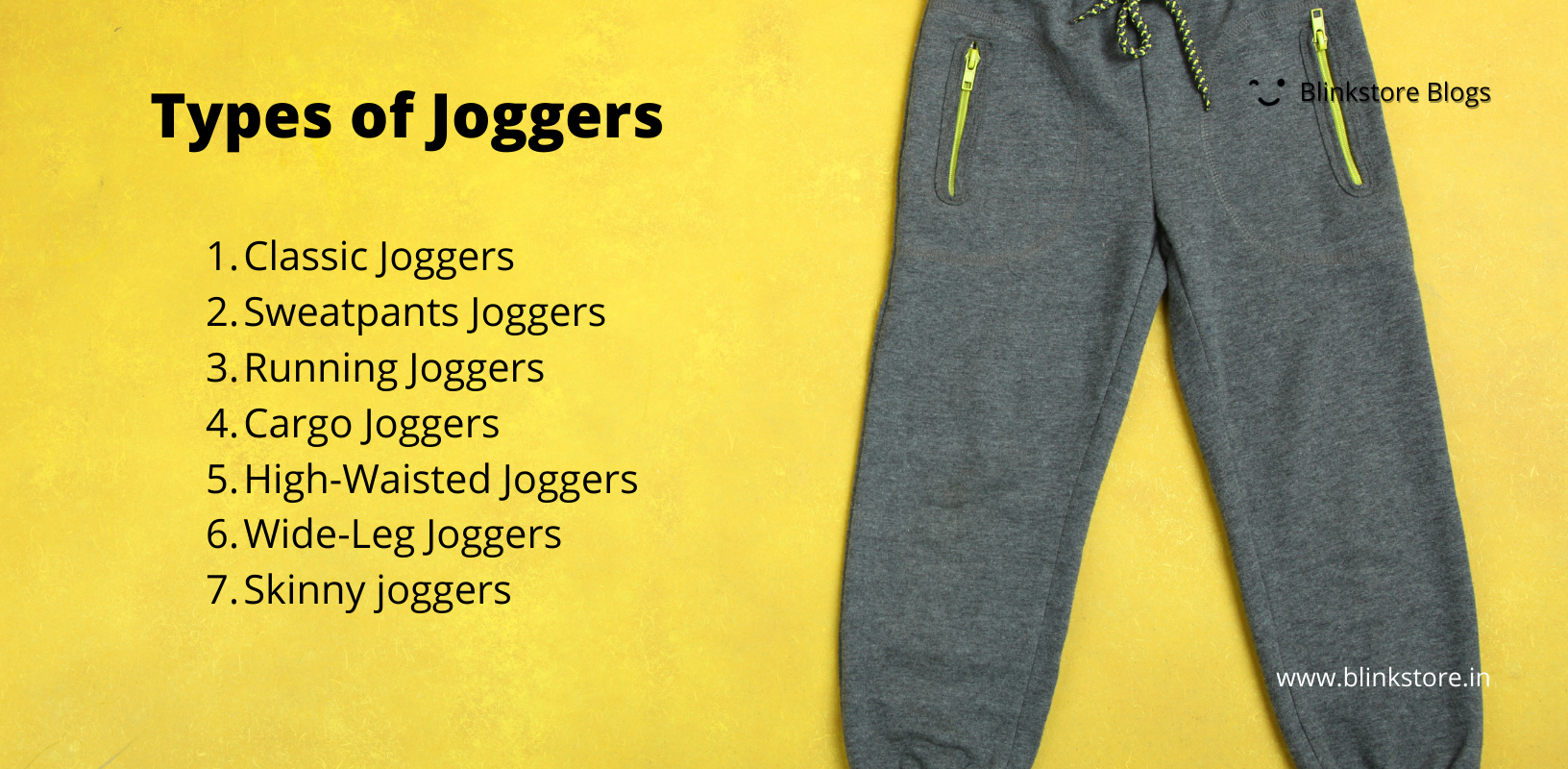 Joggers are informal, comfy pants ideal for athletic or leisure activities. Most of them follow a standard joggers size chart. Joggers come in a variety of styles, including:
Classic Joggers: A conventional jogger style with a tapered leg and an elasticized waistband.
Sweatpants Joggers: These are similar to standard joggers, but they are made of a heavier, more robust fabric and often have a fleece inside for added warmth.
Running Joggers: These joggers are designed primarily for running and other high-impact exercises, and they frequently incorporate moisture-wicking fabric and other performance-enhancing characteristics.
Cargo Joggers: Cargo Joggers are joggers with pockets and utility-style details including cargo pockets and knee patches.
High-Waisted Joggers: Joggers feature a higher waistband that provides greater coverage and a more structured style.
Wide-Leg Joggers: Joggers having a looser, more relaxed fit through the leg, usually with a large leg opening.
Skinny joggers: Skinny joggers are joggers with a slim, close-fitting silhouette through the leg and a narrow leg opening.
Also Read: Guide to T Shirt Size Chart India (For Men and Women)
How to Measure Yourself for Joggers
The secret to obtaining the best fit in joggers is to carefully measure oneself. Here's how to measure yourself for joggers step by step:
Waist Measurement: Wrap a flexible tape measure around the narrowest region of your waist, which is usually right above the belly button, and measure it. Make sure the tape measure is level and snug but not too tight, and measure in inches.
Length measurement: You can either measure a pair of joggers that fit you well or measure yourself from the waist down to the desired length of the joggers. When measuring yourself, stand up straight and keep your legs close together. Take an inch measurement and use it as a guide when checking at our standard joggers size chart or ordering joggers online.
Hip Measurement: Wrap the tape measure around the fullest area of your hips, normally at the level of your hip bones, to measure your hips. Make sure the tape measure is level and snug but not too tight, and measure in inches.
Inseam measurement: To determine your inseam, measure the length of your inner leg from your crotch to your ankle with a tape measure or a piece of string. Then, using a tape measure, determine the inseam length in inches.
Thigh measurement (optional): Some joggers may include a thigh measurement on the size chart, which can help ensure a comfortable fit in the thigh area. Wrap the tape measure over the fullest region of your thigh, ensuring that it is level and snug but not too tight, and take the measurement in inches.
Also Read: Hoodie Size Chart to help you find the right hoodie for yourself
Understanding Jogger Size Charts
Jogger size charts are used to determine the proper size of joggers depending on an individual's measurements. To achieve a suitable fit, these charts normally provide measurement requirements for the waist, hips, inseam, and sometimes thigh and calf circumference. Because sizing varies between brands and styles, it is critical to carefully read the size chart and acquire precise measurements. You can use the sizing guide to guarantee that you get the correct size joggers for a comfortable and fitting fit. You can always refer to our standard joggers size chart since most reputable brands follow those measurements when creating joggers.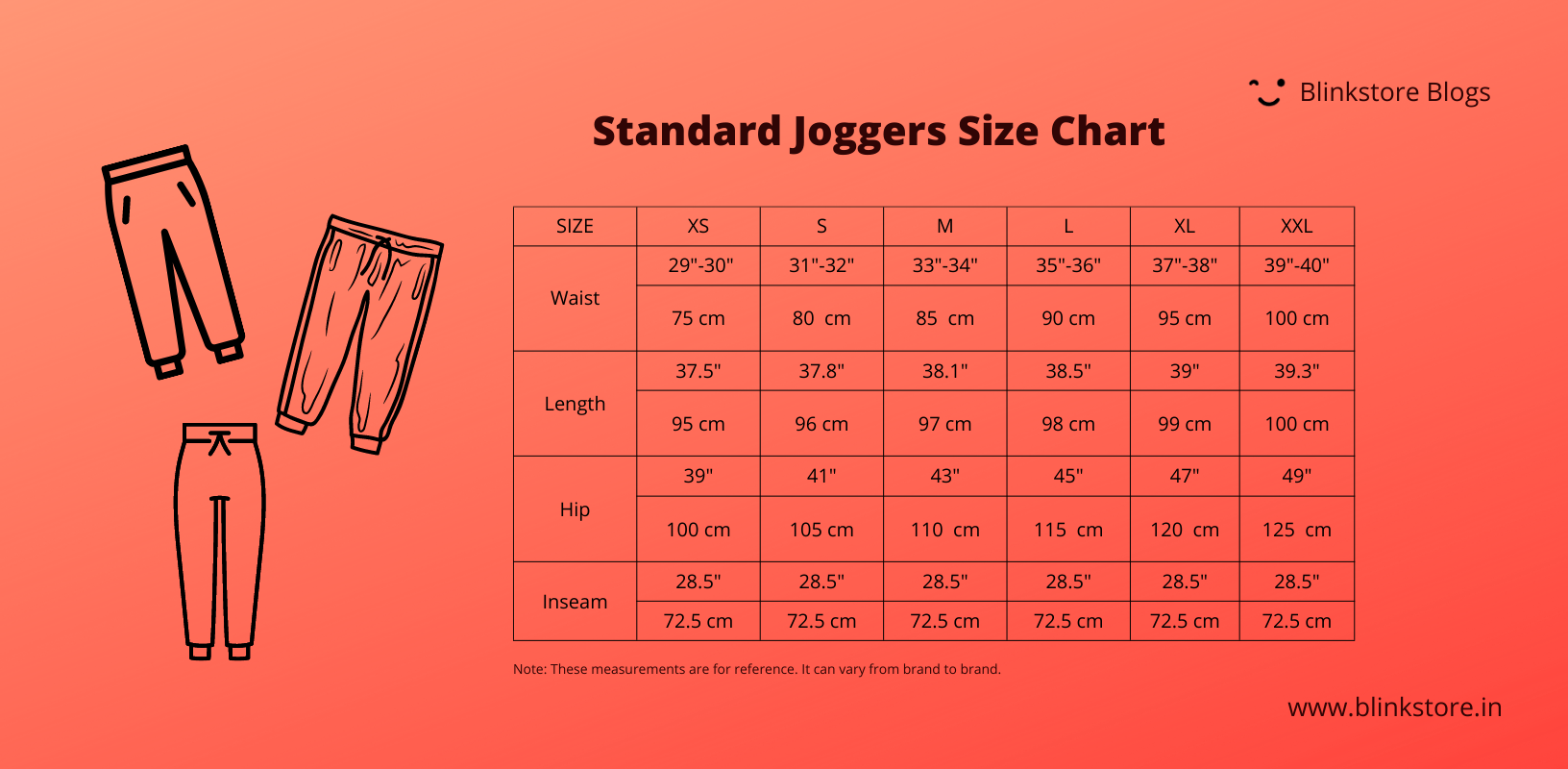 Tips for Finding the Perfect Fit (normal brand)
Perfect Measurement: Take precise measurements of your waist, hips, inseam, and, in some circumstances, thigh and calf circumference. Use a measuring tape that is neither too tight nor too loose.
Examine the size chart: To find the suggested size, consult the brand's or retailer's size chart and compare your measurements to the chart.
Try on several sizes: If you're not sure which size to get, try them all on to see which one fits best.
Material: The stretchiness and thickness of the cloth can have an impact on how the joggers fit. For comfort, if the material is heavy and not particularly elastic, it may be advisable to size bigger. If the fabric is thin and elastic, you might be able to size down for a more snug fit.
Waistband: It should be comfortable and snug without biting into your skin. If you're concerned about having the perfect fit, look for joggers with adjustable waistbands.
Examine the length: Check that the inseam is the correct length for you, especially if you plan to wear the joggers with sneakers or other shoes.
Try with shoes: Try them on with the shoes you intend to wear: Joggers that fit well with one type of shoe may not fit as well with another, so try them on with the shoes you want to wear.
FAQs
How do I know my size in joggers?
To determine your size in joggers, you will need to measure your waist, hips, inseam, and potentially thigh and calf circumference, and then compare your measurements to the brand's size chart.
What size joggers do I wear?
The size of joggers you wear depends on your waist, hip, inseam, and thigh and calf circumference measurements, and can be determined by comparing them to the brand's size chart.
What size is XXL in men's joggers?
XXL in men's joggers refers to a waist size of 44-46 inches and a hip size of 47-49 inches, but can vary depending on the brand and style of joggers.
Should joggers be tight or baggy?
Joggers should have a relaxed, comfortable fit that is not too tight or too baggy, with a tapered cut that is loose around the thigh and narrows towards the ankle.
What size joggers should I get?
The size of joggers you should get depends on your personal measurements, which should be compared to the brand's size chart to determine the best fit for you.
What are medium size joggers measurements?
The exact measurements of medium size joggers can vary depending on the brand and style, but generally a medium size is equivalent to a waist size of 32-34 inches and a hip size of 38-40 inches.
What is a standard joggers size chart?
A standard joggers size chart usually lists waist size, hip size, and inseam length measurements, and provides a corresponding joggers size for each set of measurements, but can vary by brand and style.
Where can I find mens joggers size chart?
You can refer to the standard joggers size chart mentioned here in this blog or follow the joggers size chart shared on different brands' websites.
Achieving the Ideal Fit with Our Guide
Finding the correct fit for your joggers may be a fascinating experience! You can choose the most comfortable and functional joggers for you by using our joggers size chart and guidance. With a little effort and some helpful hints, you can avoid the usual blunders that can stymie your quest for the perfect fit. So don't put it off any longer; begin your search today and enjoy the comfort and functionality that your perfect fit in joggers will bring!