We all have heard the old adage that the first impression last forever. Even if you've listened to this pearl of wisdom before, you must acknowledge that it still holds true and can be applied to every circumstance, including employee onboarding. Engaging a worker begins as soon as they walk through your door. But occasionally even before that.
Therefore, a list of welcome kit ideas for a new employee is crucial for a smooth onboarding process. Statistics show that the new employee welcome kits effectively boosts employee performance by almost 20%. Read this article to find out 15 Welcome Kit Ideas for New Employee:
Table of Contents
New Employee Welcome Kits
The biggest asset of any company is its employees. It is intended to help a new recruit feel valued and like a company member. So to make the work environment productive and efficient, employees must be recognised and valued by their company. And the first step in doing this is making a great impression on prospective hires. And the first step in doing this is making a great impression on the newly recruited employees.
You may do this by giving new hires joining kits for onboarding. A welcome kit is the best Kickstarter since it gives you the chance to make your workers' first day extraordinary. Some benefits of welcome kits are mentioned below.
Benefits of corporate welcome gift
The advantages of giving your new hires onboarding gifts are listed below.
Creates a sense of excitement in the new employee.
Sets the stage from the start for a pleasant working environment.
Enhances your company culture and incorporates new hires into it.
Establishes a bond between the company and the employees
Helps in boosting work quality.
Encourages the employees to uphold business principles.
Reduces retention percentage.
15 Welcome kit ideas for new employee
Employee welcome gifts are an important aspect of the employee onboarding process, despite the fact that they may appear to be optional. It has a significant impact on how new employees view your business. A great welcome package demonstrates your concern for your staff and desire for a positive workplace environment. Additionally, new recruits are happier, more at ease, and more involved right away. Therefore, these exhibits are essential for promoting and presenting the corporate culture.
Welcome kit
This onboarding kit can be a great option allowing employees to use it from their first day at work. With goods like a notebook and other desk accessories to customise the workspace, the materials in this onboarding gift box will offer the recipient a joyous start to their trip. If you need guidance to design and customise welcome gifts for new employees, you can seek help from corporate gifting companies. They will help you plan and execute your ideas.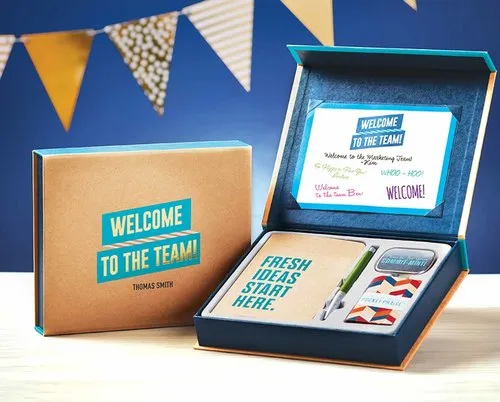 Customisable joining Kit
A customised joining kit is something every employee wishes when they join any company. So giving personalised gifts packed in a custom-made welcome kit is the best thing you can give your employees. You can order different customised corporate gifts from any print-on-demand vendors and make your employees onboarding a memorable one.
Company Swag kit
Swag stands for Stuff We All Get. Company Swag bags can be a great addition to any employee welcome package. Company Swags are some of the company-branded products that every employee looks forward to getting. Company swag bags can include:
Water bottles
Customised branded t-shirts
Notebooks
Name embedded pens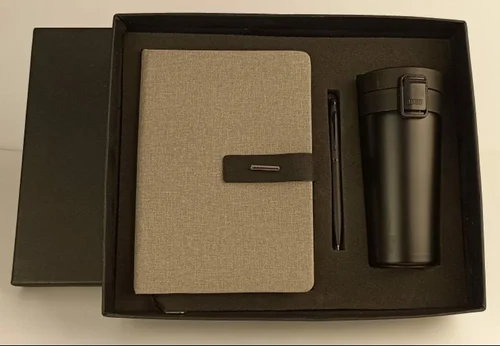 Almost any essential can be converted to company Swag with Blinkstore. They provide 100+ high-quality products with pan-India delivery within 7 business days.
Office Supplies
Providing the necessities of a workday is the best way to welcome someone. The most fundamental yet essential component of any employee welcome kit is probably office supplies. It eliminates the need for the new hire to look for these items on their own by making sure they are included in their welcome kit.
Office supplies can include anything that a worker could need on a daily basis for his job. These things are what we call "necessities," and not having them might make it very difficult to complete a task. Here is a quick list of office products that will greatly simplify life for a new employee:
Workplace Storage and box holders
Notebooks and notepads
Pens, Markers, Highlighters
Scissors, staplers, double tape
Work-from-home kit
With the recent trend of hybrid work culture, a work-from-home gift cannot go wrong with this employee onboarding gift box for newcomers. This gift box's components can all be personalised with the business name and logo. To make it more distinctive, the name of the employee can also be added. You can visit Blinkstore and design your work-from-home kit for your employees. The kit can include:
A customised Notebook
An embedded pen with custom naming
A Mouse pad
A flask and so on.
Tech Necessities
Modern jobs require the use of technology. Whether it's a computer, keyboard, mouse, or other accessories. So tech gifts can be a great way to help your employees work and make it easier and more efficient. Also, modern generations love techy products so that's a bonus point. Some tech gifts can be:
A portable Bluetooth Speaker
Headphones or EarPods
Smartwatches
Fitness band etc.
Eco-Friendly Gift
If you're eager to demonstrate your commitment to the environment, even in the smallest things, eco-friendly gift packages are fantastic. Giving new workers eco-friendly goodie boxes, for instance, can instantly increase likeability. It has a strong message that may spread like wildfire and can begin with your decision to live sustainably. Some of the gifts that can be included in an eco-friendly gift hamper are: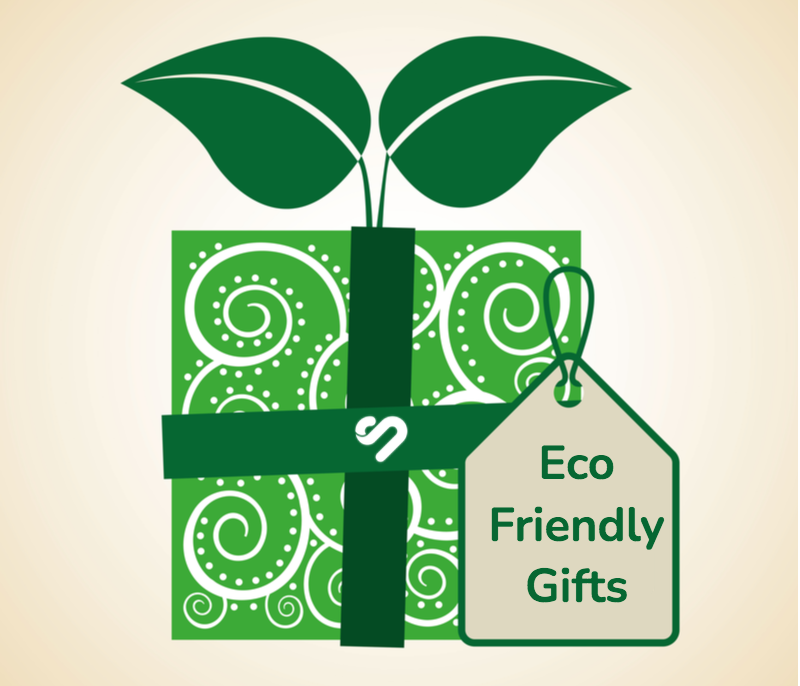 A Customisable environment-friendly cap
A Bamboo finished water bottle
An environment awareness note
A greeting card made of eco-friendly material
Shopping bags with custom brand logo
Health and Fitness Pack
A wellness kit promotes self-care and contains items that make recipients feel good inside and out. Hence it is a fantastic choice to promote physical and mental health among the employees. It could consist of a cost-free membership to a healthy food delivery service, access to a gym nearby or on-site, a fitness tracker, a yoga mat or general health insurance.
Desk Accessories
A desk is the one place where an employee spends most of their time at work. Gifting desk accessories as a welcome gift for new employees would be a great idea. Adding some accessories will emit positive work culture and will improve productivity. Some of the desk accessories that might be useful are:
Desk organisers
Photo frames
Coffee Mugs
Digital Clock
Personalised accessories
Personalised accessories give a personal touch to the welcome gifts. Customised gifts make the employee feel special. Here are some gift ideas that you might like:
Personalised Notebooks
Photo frames
Stationery items
Embroidered Cushions
Customised mobile covers
Grooming essentials
Self-care and professional obligations at work are both factors in personal grooming. In order to establish respectability and uphold health and safety standards, employees must be properly groomed. Given that grooming touches on private facets of employees' daily routines and lives, grooming gifts may be advantageous to the employees.
Gift Vouchers
Gift vouchers are a great idea to welcome new employees to any company. Gift vouchers from popular platforms like Amazon, Flipkart, and Myntra for shopping or company like Swiggy, and Zomato can be given for food purchases. This way it provides freedom of choice for the employees as they can buy whatever they wish.
Customised attires
Clothing attires, such as T-shirts, shirts, hats, sportswear, or other clothing items like hoodies, Swag bags, etc., are one of the most popular options in the corporate world. By giving the recipients something helpful, they could support the development of your brand. However, don't overdo branding or logos; instead, offer clothing that people will want to wear.
Gift Hampers
The concept of giving gift hampers has been effective for a while in Indian corporate tradition. A pack full of sweets and dry fruits are appreciated by everyone. Also, with Blinkstore, you can customize the hampers with your designs and make them look more attractive.
All in a Backpack gift
Giving a customised backpack gift is a unique way to prove to the new hires that the company have their backs. In the backpack you may include things like:
A power bank
Laptop Sleeve
Computer cover
A Customised keychain etc.
As they pack their backpack and stride out the door, your new employee will have that additional spring in their step thanks to this wonderfully fashionable and incredibly useful bundle of goodies. This backpack gift will tie everything together by looking excellent and holding everything at once.
FAQs
What is the best platform to design a welcome kit for new employees online?
Blinkstore, one of India's largest print-on-demand vendors, is the best platform for you to design your welcome kits for new employees completely online. You can also get them shipped across India in case of remote teams.
Who are the top employee welcome kit vendors in India?
Here is a list of the top 5 gift vendors in India:
1. Blinkstore
2. Sparket
3. Tiny mammoth
4. Chumbak
5. Spentacorp
What goodies did you get with the google new employee welcome kit?
Along with many facilities, Google gives a welcome gift to its new employees which contain:
1. Mugs
2. Custom branded t-shirts
3. A laptop bag
4. Tech gadgets & many more
What should be in a new hire welcome kit? (employee welcome kit ideas)
A new welcome kit should contain:
1. A Welcome Letter
2. Delicious Snacks
3. T-Shirts, hoodies, and other clothing.
4. Tech Accessories.
5. Employee Handbook
6. Wellness Items
7. Team Culture Handbook etc.
What's the price for a Custom onboarding welcome kit?
The price of a custom onboarding welcome gift depends on many factors like product type, quality, product items and many more. However, on average, it usually costs around 1500 to 3000 if ordered in bulk.
Conclusion
Welcome kit plays an essential role in the organisation to ensure an exciting and smooth onboarding process for the new employees. New joiners feel welcomed and comfortable. It is the ideal way to establish a rapport with your staff and inspires them to perform well at work. Hopefully, with some onboarding tips and Induction ideas, you are now ready to design your welcome kit for your new joiners. To get this blog as Employee welcome pack pdf, you can print and save this blog as a PDF.
Also, don't forget to visit Blinkstore for designing your welcome kit. Blinkstore provides one of the finest quality products in bulk with over 100+ options to choose from. With fast shipping and top-notch customer support, Blinkstore excels in all.