This article discusses the 12 Best Print On Demand Sites For Artists:
Blinkstore
Society6
PrintAllOverMe
Printrove
Printful
Redbubble
Zazzle
Printbaba
Qiknik
PrintVenue
Vendorboat
Printland
If you're an artist or designer and looking for the best POD sites for artists? Then this is the right platform for you.
Ready? Let's Start it.
Table of Contents
What is Print-on-demand for Artists?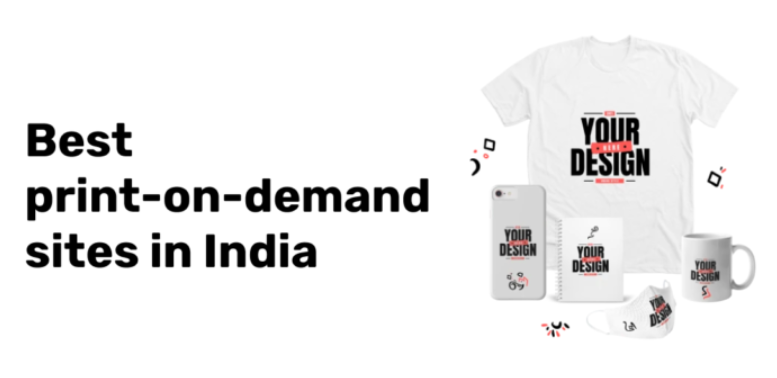 Print-on-demand is a system where vendors handle the printing of designs on various products, such as clothing or home decor, for commercial use. They use the design provided to them and print it on white-label products, then ship them directly to the customer. This allows businesses to avoid the hassle of managing inventory and shipping logistics, and instead focus on building and promoting their brand. Print-on-demand is becoming increasingly popular in India, with new companies entering the market on a daily basis.
There are some best print on demand sites for artists and designers who wants to start their business without much of investing. Watch the following tutorial or read how to create an online store to get started with Blinkstore.
Criteria List
There are various criteria to consider when selecting a print-on-demand platform for artists:
1. Product variety
The site should provide a diverse selection of products on which artists can print their designs, such as apparel, home decor, and accessories.
2. Print quality
To ensure that the artist's creations are precisely and tastefully displayed, the site should employ high-quality printing procedures and materials.
3. Fulfillment choices
To effectively meet the demands of the artist, the site should provide a variety of fulfilment options, such as drop-shipping and warehousing.
4. Pricing
The site's pricing should be competitive for both the artist and the buyer.
5. Customer service
The site should give responsive and helpful customer service to artists who may have queries or difficulties.
6. Integration
To make it easier for the artist to sell their works, the site should integrate with prominent e-commerce platforms such as Amazon and BigCommerce.
7. Payment and royalties
To ensure that artists are adequately compensated for their work, the site should have a clear and open payment and royalty policy.
8. Branding
To help artists create their identity, the site should allow them to apply their own branding to their items.
9. Customization choices
The site should provide a number of customization options to meet the needs of the artist.
10. Reputation
The site should have an excellent reputation in the business for providing high-quality products and satisfying customers.
12 best print on demand sites for artists to showcase and sell their art
After evaluating and selecting the following criterias, these are the best print on demand sites for artists which can be used to showcase and sell their art and make money online.
1. Blinkstore

You can make your ideas a reality with Blinkstore. Blinkstore is one of India's leading print-on-demand operators, where you can upload your own designs and have them printed on over 100 different products. In addition to print-on-demand, a free shop with e-commerce features, an integrated payment system, and a mockup generator is included. You may also automate your corporate presents with a few mouse clicks. Blinkstore offers the following extra benefits:
There can be an unlimited number of stores and product listings. This allows you to set up your own company store and order things as needed.
Blinkstore will print your graphics on the products of your choice and distribute them to the buyer directly.
On-demand support is provided for DTG, DTF, and screen printing, among other things.
The regular rate also covers delivery fees, removing the need for a premium.
Fast shipping throughout India. Blinkstore typically ships orders within 3 to 7 days of being placed.
There are also no minimum order values, so you can order whatever you want from a diverse choice of products.
Product Catalogue includes:
Custom Hoodies, sweatshirts, T-shirts
Customized coffee mugs
Custom Tote Bags, duffle bags etc.
Customizable Mobile covers
Photo frames
Maternity T-shirts
Swag bags
Corporate gifts and many more!
Blinkstore stands out from the pack by providing excellent customer service and a pleasant user experience, making it one of the best print on demand sites for artists who wish to design different products.
Contact details:
Website: www.Blinkstore.in
WhatsApp : +91-9161351816
Cellular: +91-7016696617
Email: [email protected]
2. Society6
Society6 is an online marketplace where artists and designers may sell their work in the form of art prints, phone covers, and home decor goods. Society6 lets artists to upload their designs and then handles production, shipping, and customer service. Artists can also make money by marketing their products on their personal social media profiles. It is also considered to be one of the best print on demand sites for artists. Society6 has also grown in popularity as a venue for independent artists and designers to display and sell their work.
Product Catalogue includes:
Wall arts, Canvas arts
Home decor items like rugs, curtains, pillows
Custom apparels like Boxy t-shirts, hoodies
Bags and accessories
Furtunitures
Office and table top items etc.
Pros:
Wide range of products available, including home decor, clothing, and accessories.
Large customer base.
Easy uploading process for artists.
Regular sales and promotions to help drive sales.
A variety of features such as the ability to offer discounts on your products.
Cons:
Lower profit margins compared to other platforms.
Some artists have reported issues with quality control and customer service.
Limited control over the final product, as Society6 handles production and fulfillment.
No real-time inventory tracking.
Artists have to pay an extra fee to get access to some features
Contact details:
You can Click Here and get in touch with the society6 help team.
3. PrintAllOverMe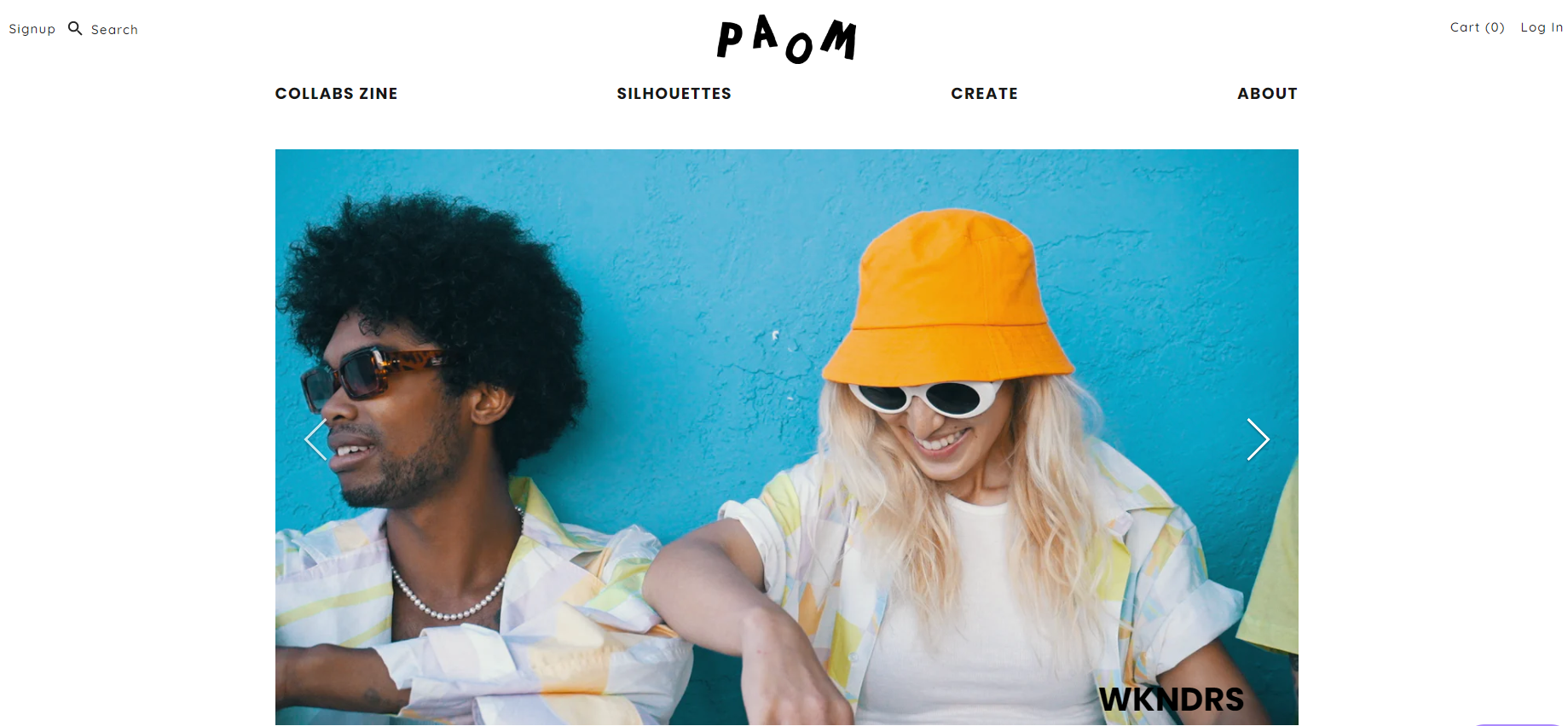 Print All Over Me (PAOM) is a clothing and accessories brand as well as an online marketplace where users may design custom printed apparel and accessories. Customers can build one-of-a-kind clothing by selecting from a choice of pre-existing designs or uploading their own photographs. The unique patterns are printed on a range of textiles, including cotton, silk, and fleece, using digital printing technology.
PAOM's business model is based on a print-on-demand system, which implies that clothes are only manufactured once an order is placed. This allows buyers to participate in the creative process while also reducing waste because the things are manufactured only when someone purchases them. PAOM allows the artists and influencers to create products based on their imagination and creativity making them one of the best print on demand sites for artists.
Product Catalogue Includes:
Apparels like hoodies, t-shirts, tanks etc
Accessories such as tote bags, scarves, and bandanas
Home decor products
Gift items
Face mask
Bedding items
Bags and many more!
Contact Details:
You can directly visit the help section and connect with them for any type of queries or help.
4. Printrove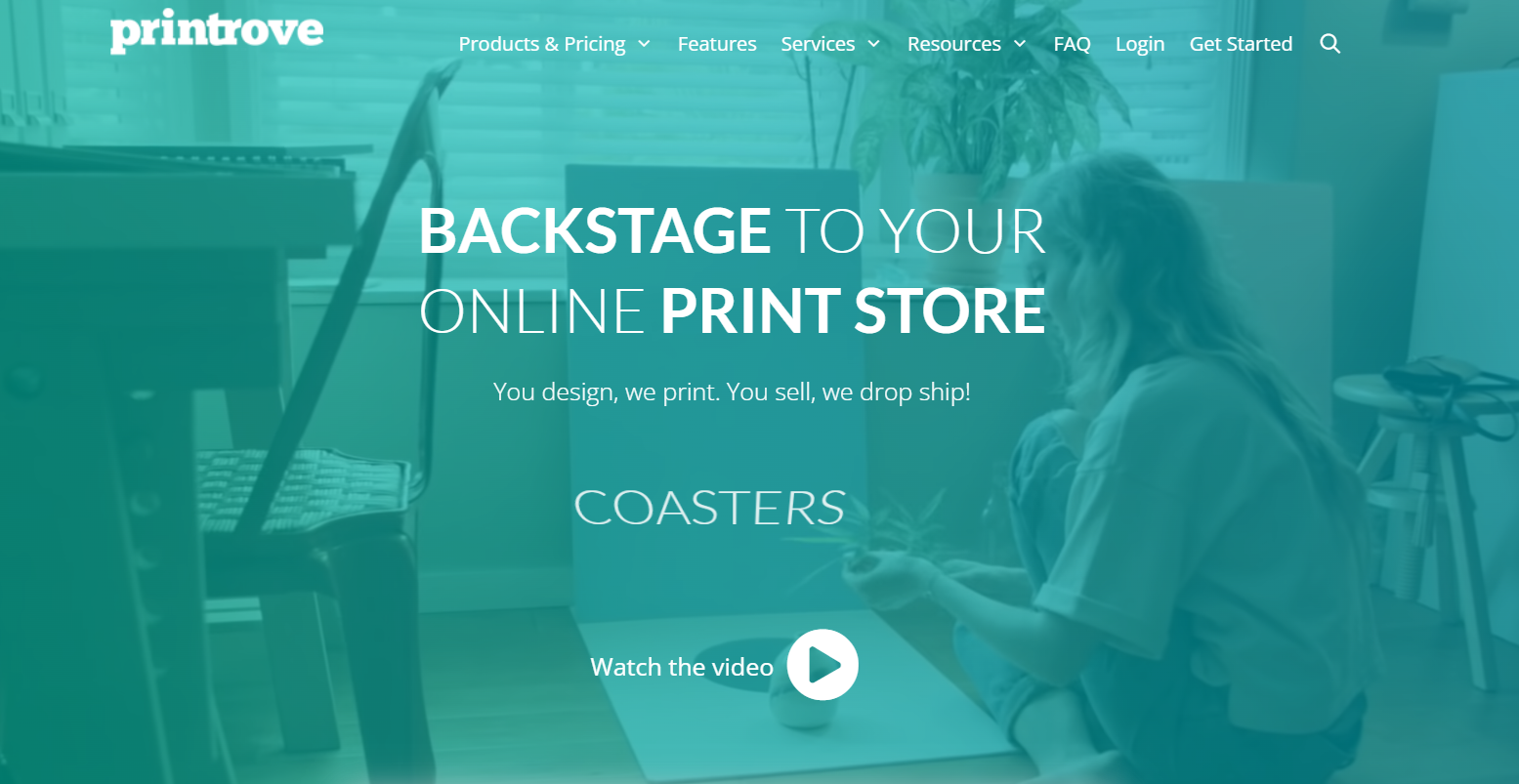 Printrove is a print on demand sites for artists that lets artists and designers to upload their artwork and designs and have them printed on a variety of things such as clothes, home decor, and accessories. The platform then handles the artist's printing, shipping, and customer service, allowing them to focus on developing new creations. Artists can determine their own profit margins, which on some products can be as high as 99%.
The platform is user-friendly and simple to use, with several product customization choices. Artists can sell their creations on items such as phone covers, posters, and stationery. It also has an automated order fulfilment mechanism, which makes it simple for artists to manage their orders.
Product Catalogue includes:
Men's clothing
Women's clothing
Hoodies
Mugs
Coasters
Notebooks
Sweatshirts
Women's Crop Hoodies
Phone cases
Pop grips
Posters
Mouse pads and many more!
Contact Details:
You can visit [email protected] and drop your queries via email for any assistance.
5. Printful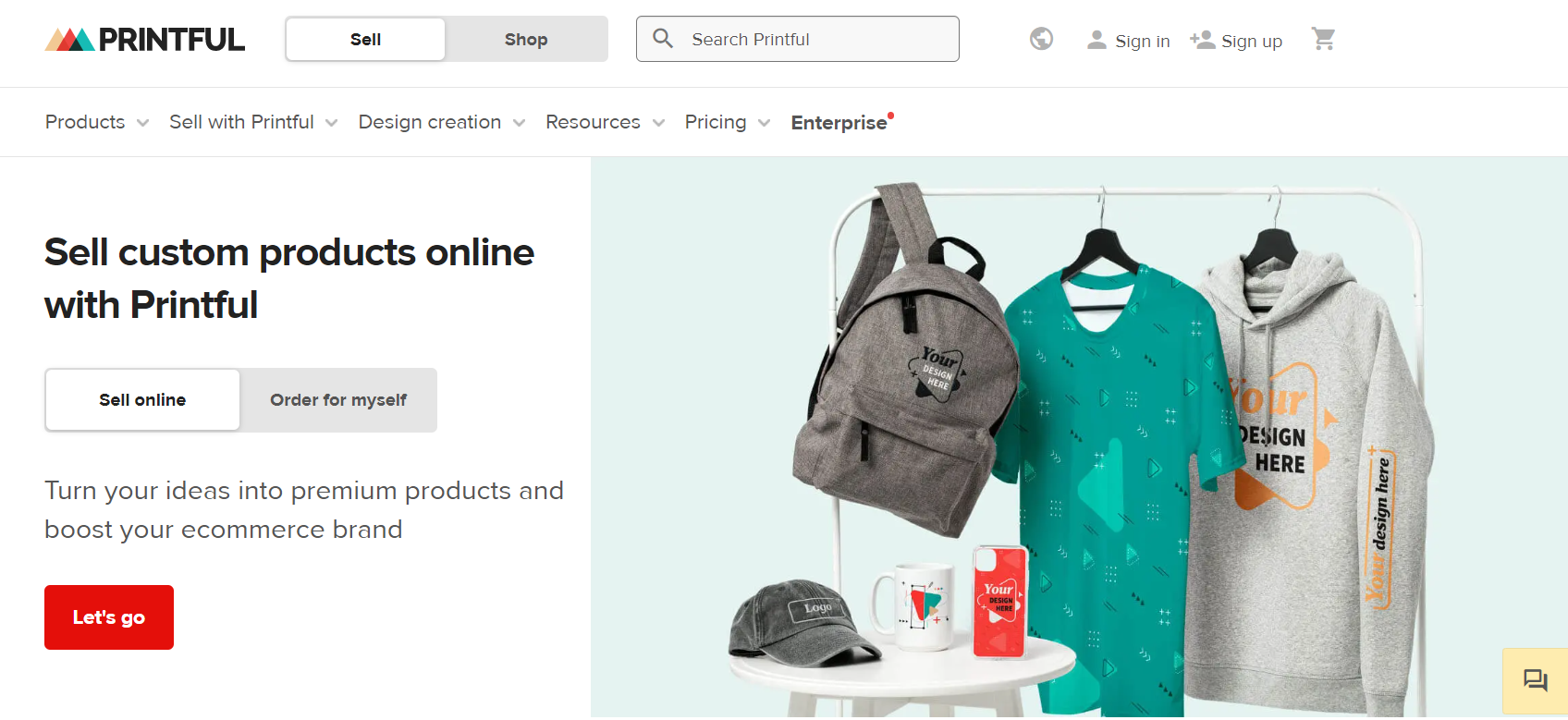 Printful allows it's users to create, design, order, sell or store the products they design. They are one of the best print on demand sites for artists as they provide full flexibility when it comes to design. They have over 350+ listed products to choose and customize. They also offer premium category for premium collectors as well as environment friendly options for environment conscious buyers. You can take your products further to 20+ ecommerce platforms like Shopify, Amazon and many more and upscale your business.
Product Catalogue includes:
Women's crop top
Unisex track pants
Unisex organic t-shirt
Baseball Cap
Kids and youth clothing
Accessories like glasses, hats and other wearable customizables
Phone cases
Necklaces and many more!
Contact Details:
You can directly email your queries at www[email protected] or connect with them at +1 (818) 351-7181.
6. Redbubble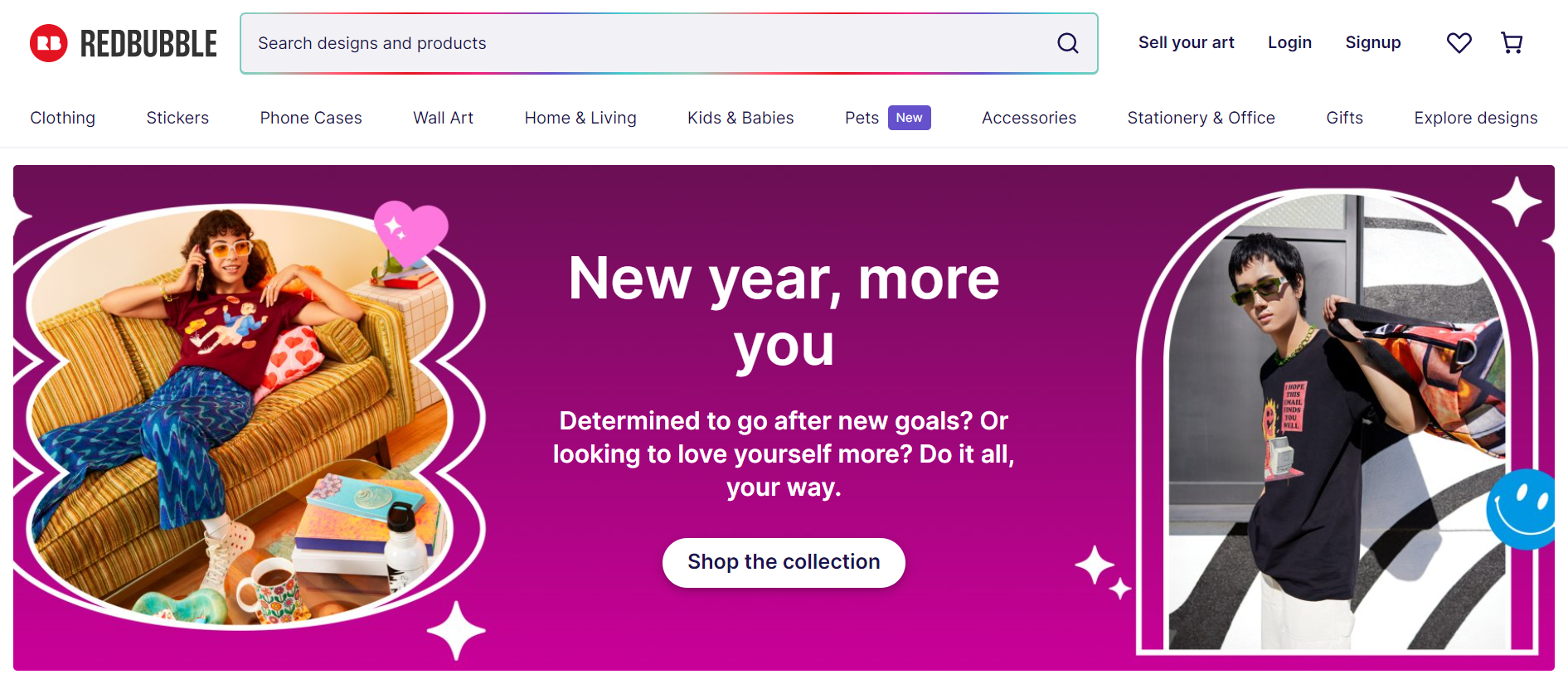 Redbubble is a platform that connects artists and designers with consumers who are looking for unique, one-of-a-kind products. It offers a wide range of products, including clothing, accessories, home decor, and more, all of which feature designs created by independent artists from around the world. The platform is considered to be one of the best print on demand sites for artists as the products are only produced when they are ordered, allowing artists to sell their work without the need to keep inventory or handle shipping.
Additionally, Redbubble provides a variety of tools and resources to help artists promote and manage their businesses, including analytics, marketing support, and the ability to connect with customers directly.
Product Catalogue includes:
Clothing accessories for kids, men and women
Different stickers for cars, helmets, laptops etc
Custom phone cases
wall art
Home decor items
Mask for kids
Pet accessories like bandanas, supplies, bowls etc.
Contact details:
You can directly contact them by filling the request form at the contact us section at the bottom of the webpage.
7. Zazzle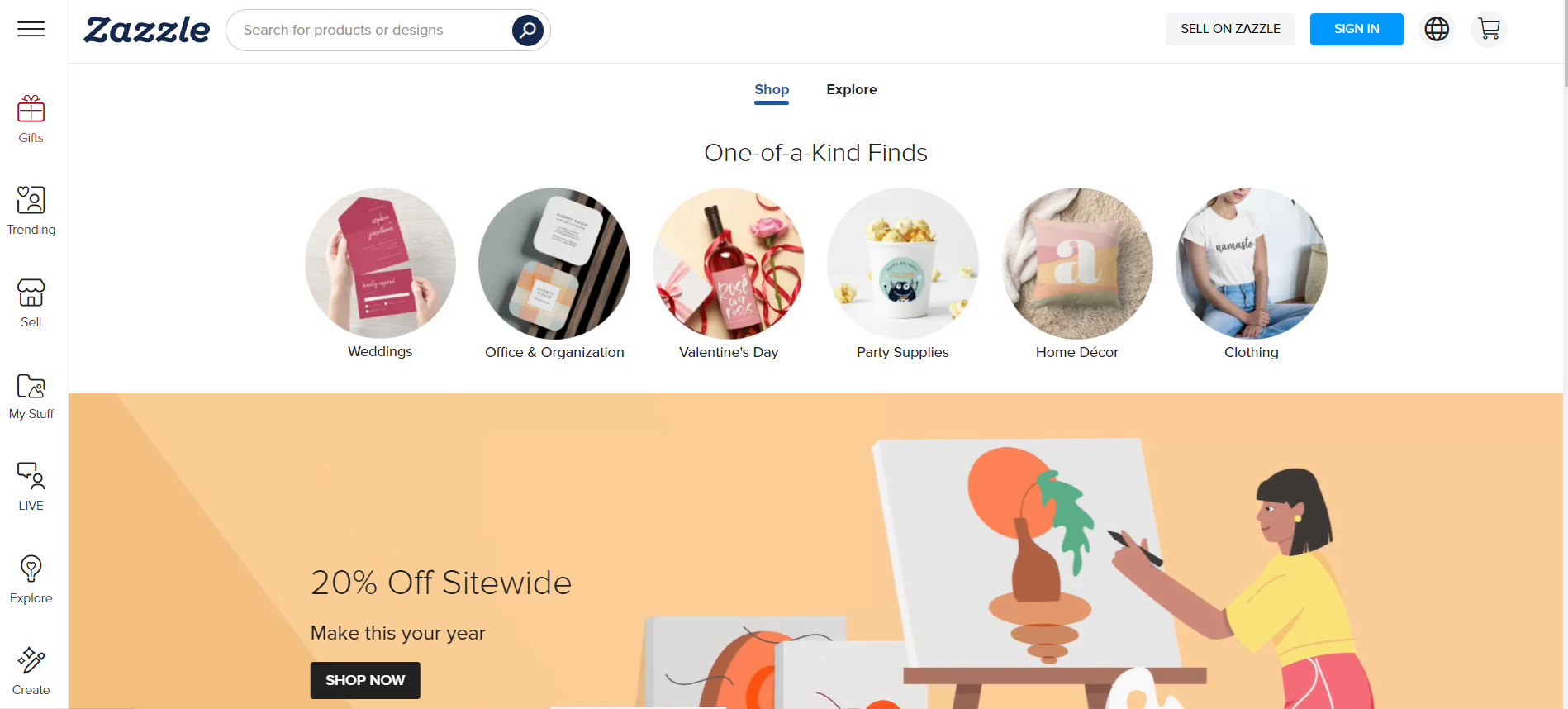 Zazzle is an online marketplace for influencers and artists who wish to showcase their ideas or design on certain things and wish to sell them online. This platform has a diverse product offering and allows artists to define their own business margins. The opportunity to determine profit margins and a wide selection of items are both advantages. Cons include a lower client engagement rate when compared to other platforms.
Product catalogue includes:
Wedding collections
Special occasion collections like Christmas, Valentine's day
Custom made cards and invitation forums
Art and wall decor
Home decor and living accessories
Sports, toys
Crafts and party supplies and many more!
Contact details:
You can directly visit their website and ask for support from the about section.
8. Printbaba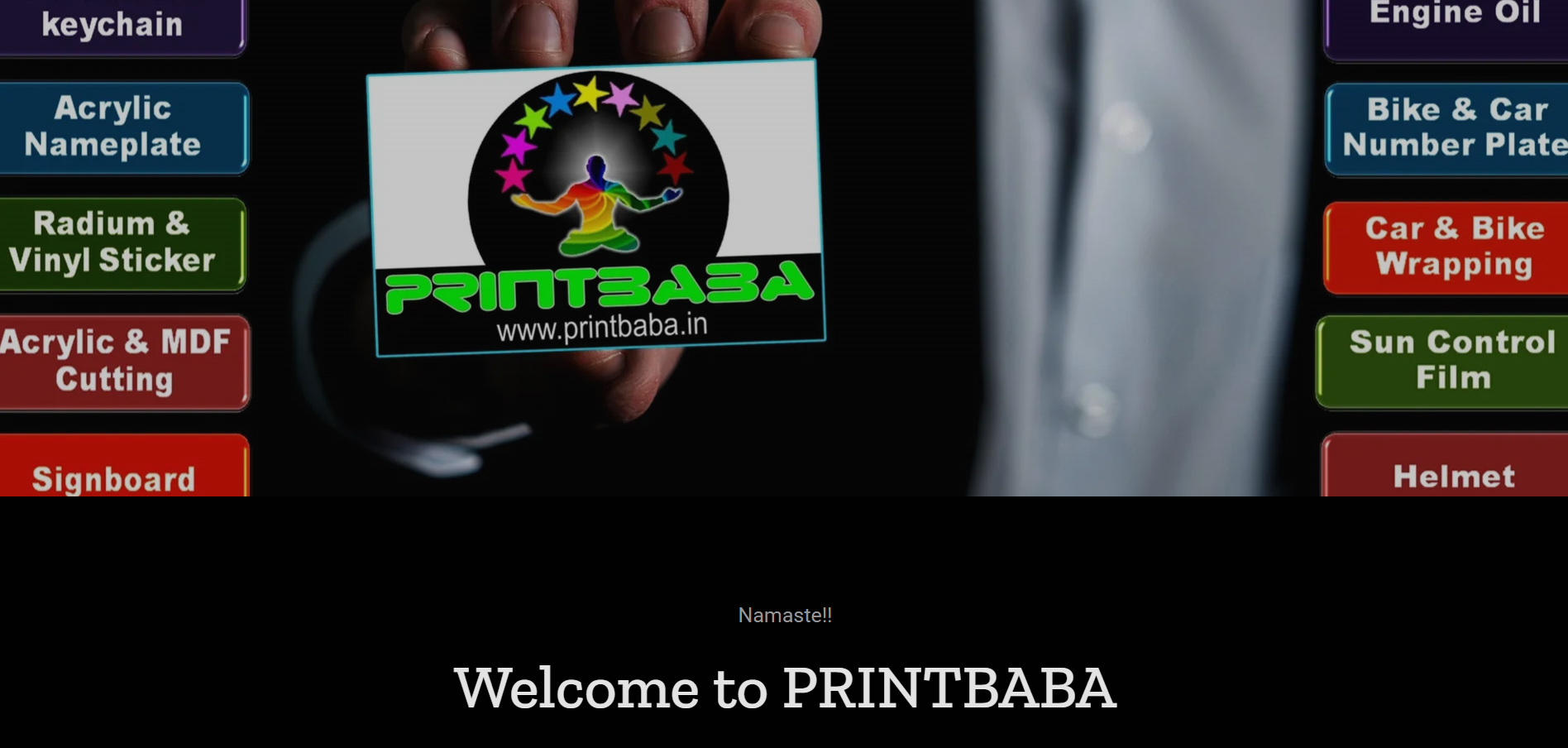 Printbaba is an online printing company based in India that offers a wide range of printing services for customers. The services include:
Business cards
Brochures
Banners
Mug and Tshirt printing
Keychain customization
Acrylic Nameplate
Custom Signboard
Customers can use the company's user-friendly online design tool to customize their products to their specific needs. Customization options are available for all products. They also offer free shipping and cash on delivery options for customers in India making them one of the best print on demand sites for artists.
Contact Details:
You can reach out to them directly via +91 8108787460 or drop an email on [email protected].
9. Qiknik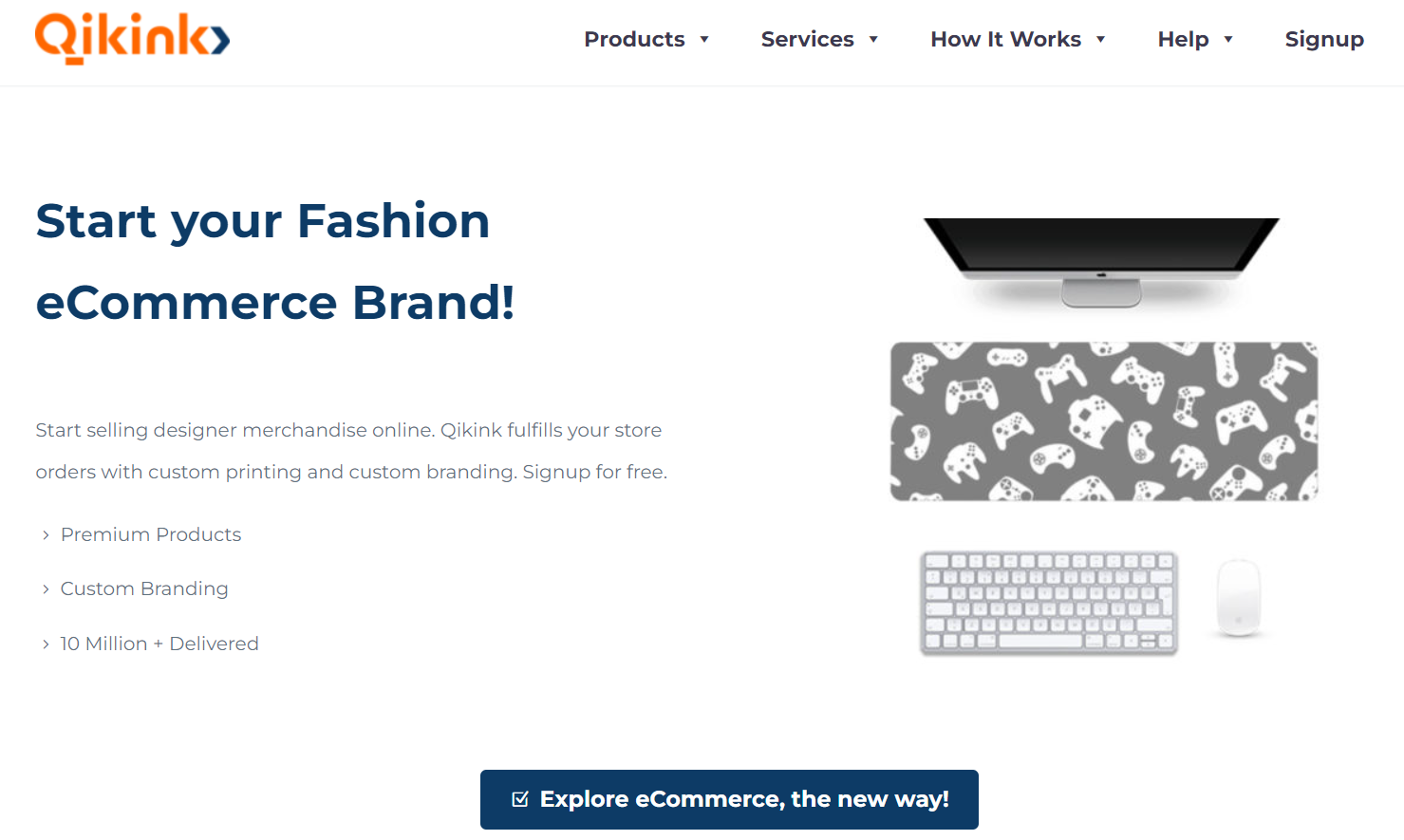 Qikink offers Print on Demand and Dropshipping services. You can sell our products with your artwork printed on them under your own brand. They print these and give to your customer with your company's logo. The best thing about qikink is the wide range of items, colours, and printing possibilities available. They have the most extensive library of any print-on-demand company in India. They also provide support for All Over Print (AOP) products.
Product catalogue includes:
Airpod cases
Bomber Jacket
Track pants
Cushion Cover
Crop Tank
Kid wears
Men and women hoodies, T-shirts
Mobile covers and many more!
Contact Details:
You can directly convey your concerns at +91 97871 13135 or at [email protected].
10. PrintVenue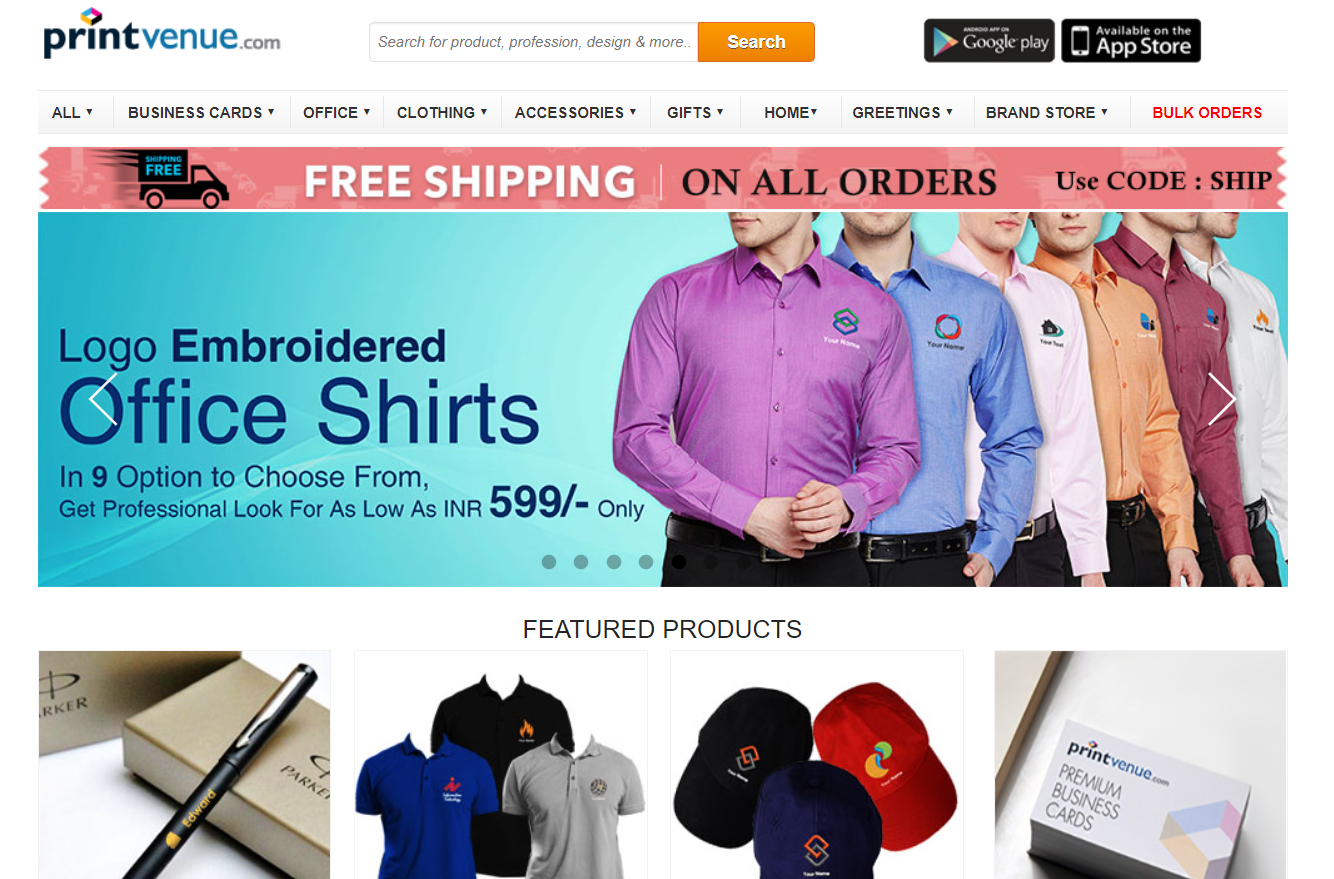 Printvenue is an e-commerce website that sells personalised and customised products such as business cards, mugs, keychains, t-shirts, and much more. Customers can build and order their products using an easy-to-use online design tool. They also provide a number of customising possibilities, such as logo and image uploads, text editing, and so on. They offer delivery services throughout India as well as international delivery alternatives to customers. They also claim to provide a money-back guarantee on all purchases which makes them one of the best print on demand sites for artists.
Product Catalogue includes:
Premium pens with custom logo
Logo embroidered polo t-shirts
Custom caps
Business cards
Custom logo hoodies
Custom photo calenders
Pen drives
Personalised diaries and pen
Desk organizers and more!
Contact details:
You can contact their Customer Care on 011-4084-4540 (10 AM – 7 PM) or drop them an email at [email protected].
11. Vendorboat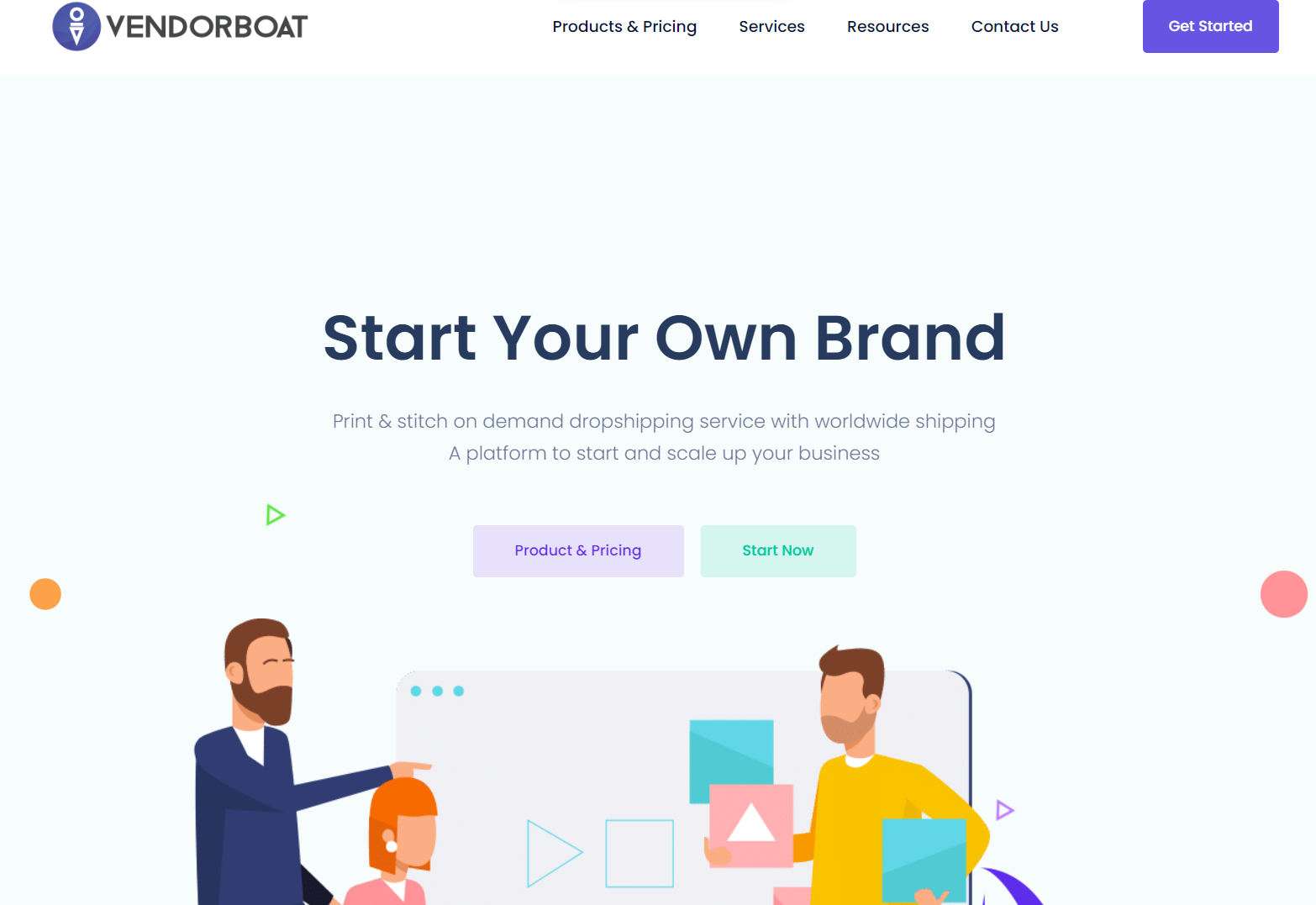 Vendorboat is a B2B e-commerce platform that connects businesses with suppliers and manufacturers in India. They offer a wide range of products and services across various categories, including office and stationery, home and living, personal accessories, and more. They also offer a user-friendly online design tool for customers to create and order their products.
Vendorboat's platform allows businesses to easily browse and compare products from multiple suppliers, and also allows suppliers to connect with potential buyers and promote their products. They also offer a variety of customization options for customers, including logo and image uploads, text editing, and more.
Product catalogue includes:
Round neck t-shirts
Deep neck tank
Tank hoodies
Unisex hoodies and sweatshirts
Plastic phone case
silicon covers
Pop grips
Coasters
Cushion covers and other home decor items!
Contact details:
You can connect them via Whatsapp on +91 7409651573 or via email on [email protected]
12. Printland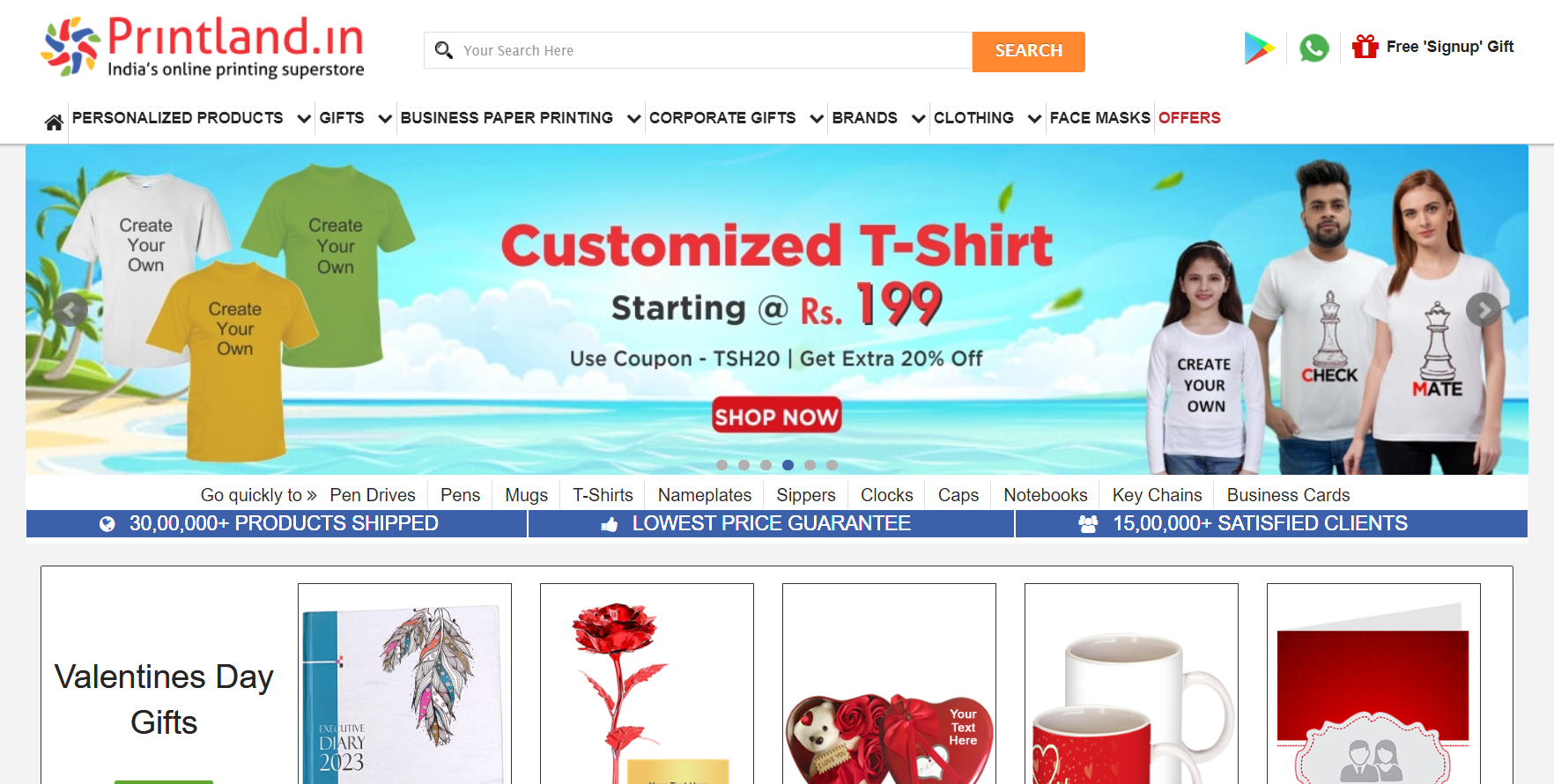 Printland is another popular website which is considered as one of the best print on demand sites for artists to customize and do business online in India. They provide a wide range of products to choose from including corporate gifts as well. They promises to deliver high quality printed materials at an affordable cost all over India.
Product catalogue includes:
Pens
T-shirt
Masks
Mugs
Slippers
Notebooks
Diaries and many more!
Contact details:
You can directly contact them on 011 4222 2888 this number.
FAQs
Which website is best for print-on-demand for artists?
Blinkstore is currently considered to be the best print on demand sites for artists and influencers.
Is Society6 better than redbubble?
The price scheme is the primary distinction between Society6 and Redbubble. While Society6 specifies how much you can make from a certain item's sale (typically 10% off the retail price), Redbubble allows you to decide how much you want to sell the goods for, or how much you want to profit from it.
How much does Displate pay artists?
By posting the links to your artworks on social media, you will receive 50% of the entire sale value though Displate.
Conclusion
In conclusion, choosing the best print on demand sites is important if you want to upscale your business and deliver high quality products to your customers. There are many options listed in this article and depending upon your need, you should choose the right one.
However, if you are still in doubt and confused to pick the best upon so many options, you should choose Blinkstore. They not only provides you with the best quality materials but lets you decide the profit margin and sell accordingly. So why wait? Visit Blinkstore and start selling your art online and book profits.