Discover the most exciting and captivating company t-shirt design ideas that are sweeping the fashion world. Explore the latest styles, from elegant minimalist designs to bright and vibrant graphics. Don't pass up the opportunity to show off your company's style with these top popular t-shirt designs.
Table of Contents
Introduction
Company t-shirts are more than simply a uniform; they are an excellent tool to exhibit your corporate identity and foster team unity. In today's fast-paced business world, it's critical to keep up with the current trends in workplace t-shirt designs to ensure your team stands out from the crowd. This post contains a list of the top popular company t-shirt design ideas that you should not overlook.
These ideas will inspire you to produce distinctive and visually appealing t-shirts that reflect your company's beliefs and resonate with your target audience, ranging from minimalist designs to bold and imaginative ideas. So, whether you're a startup, a small business, or an established corporation, keep reading to learn about the latest trends in company t-shirt design ideas that will help you make a lasting impression.
Why think about Company t-shirt designs?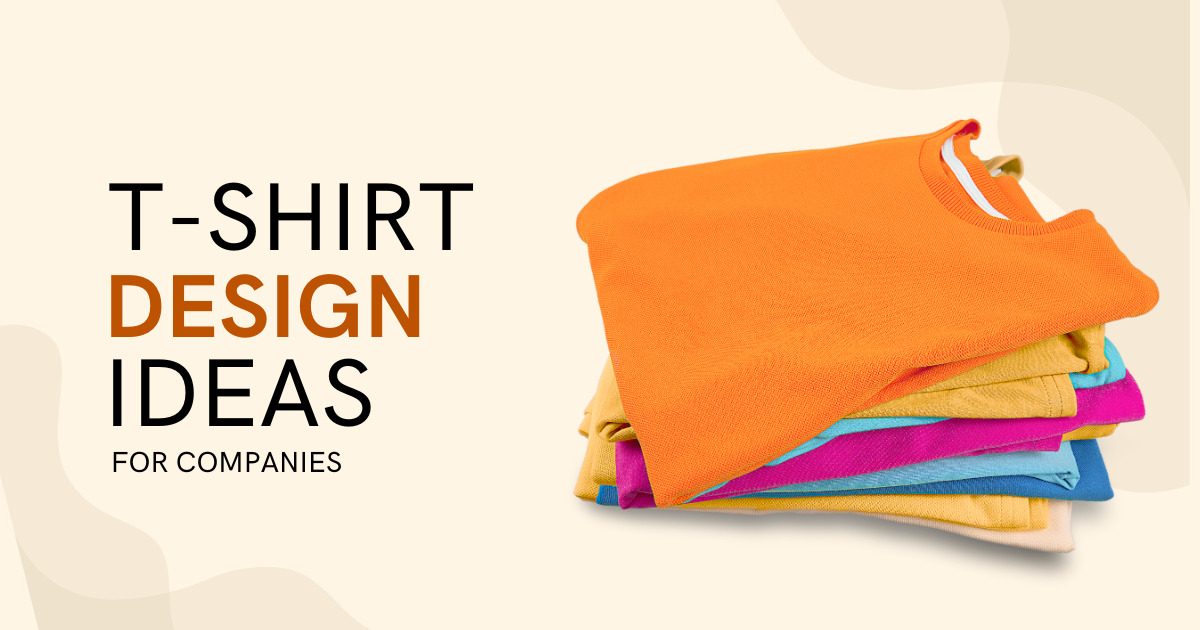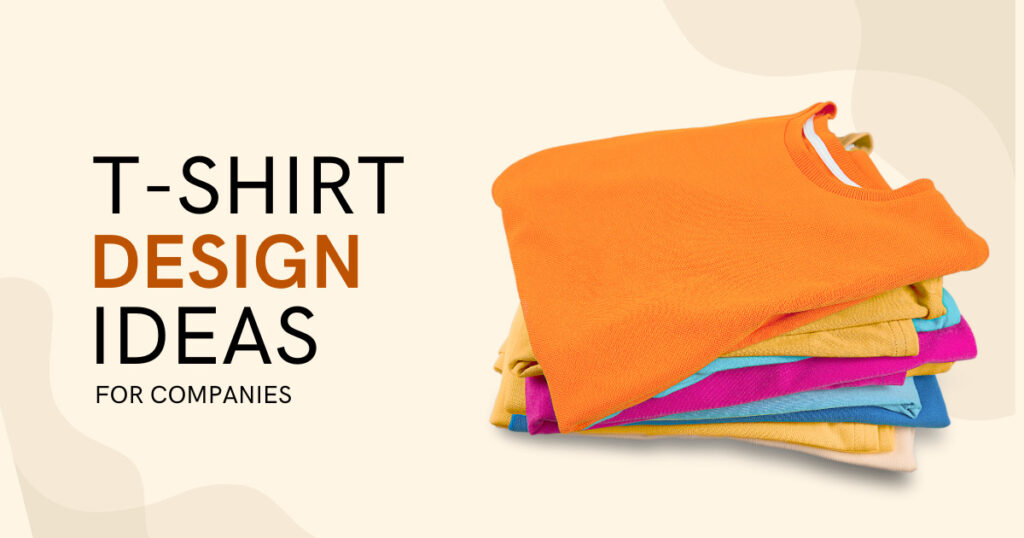 Before we jump into different company t-shirt design ideas, we need to understand why do we need to design a t-shirt according to the company theme in the first place. Here are some of the main benefits of a custom t-shirt design:
Branding and identity
Company t-shirts act as walking billboards for your company. They establish a visual depiction of your company's identity, allowing employees to demonstrate their connection to the organisation. A well-designed t-shirt featuring your company's logo, colours, and motto can assist to enhance brand recognition and leave a lasting impression on customers, clients, and the general public.
Employee Morale and Team solidarity
Company t-shirts foster employee solidarity. When everyone wears the same shirt, it promotes togetherness and teamwork. It also fosters a sense of pride and belonging inside the organisation, which can increase employee morale and foster a healthy work environment.
Professionalism and cohesion
Uniformity in dress code might improve your company's professional image. By supplying employees with company t-shirts, you can create a uniform and coherent appearance, which is especially important in customer-facing tasks. It helps to portray a cohesive image and reinforces your company's professionalism and credibility.
Marketing and Promotion
Personalised company t-shirts can be utilised as a low-cost marketing strategy. Employees who wear them outside of the workplace become brand ambassadors, spreading the word about your business everywhere they go. This type of organic advertising can raise brand recognition, attract new customers, and expand brand reach without incurring major additional marketing costs.
Personalization
T-shirts can also be personalised, making them even more unique. You can include the employee's name, the company logo, or a personalised greeting. However, remember don't overdo things and try to keep the design simple and attractive.
Best Company T-shirt Design Ideas
Here are some of the latest t-shirt design ideas that you can consider in 2023:
Logo-centric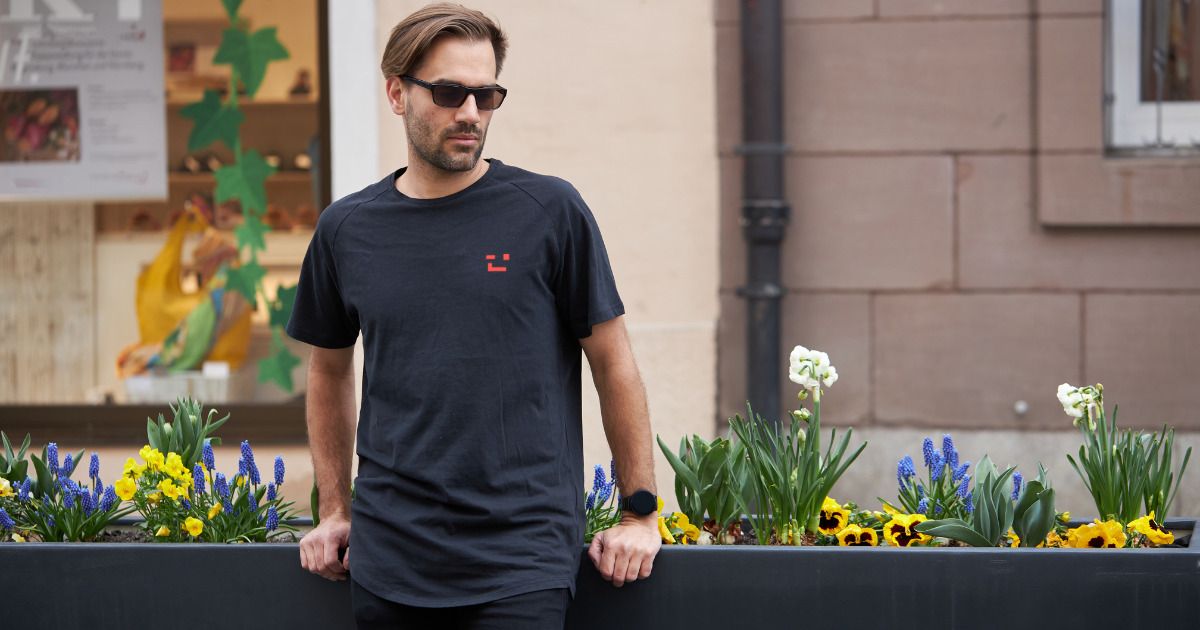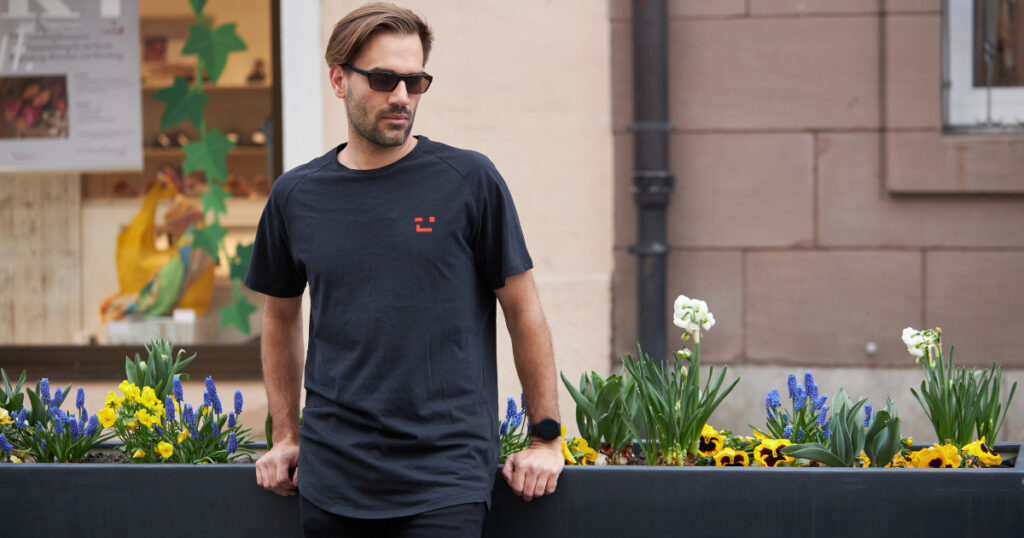 Logo-centric t-shirt designs prominently display the brand logo, often in a bold, eye-catching font. This is an excellent strategy to publicise your company and brand. A coffee business, for example, may have a t-shirt with its emblem on the front and a message like "Love Coffee" on the reverse. This is one of the most successful company t-shirt design ideas of all time.
Here are some logo-centric design concepts:
Bold Emblem
Create a powerful and eye-catching emblem that incorporates your company logo. Strong typography and visual elements should be used to frame the logo and give it a strong presence on the t-shirt.
Logo Collage
Create a creative collage out of numerous versions or variants of your corporate logo. Arrange them in an eye-catching pattern to create a visually appealing design that demonstrates your brand's progress or diversity.
Logo Mashup
Combine your corporate logo with other well-known symbols or logos to create a one-of-a-kind and eye-catching design. This concept can aid in the formation of alliances, collaborations, or the elicitation of a sense of shared values with other companies or causes.
Slogan-based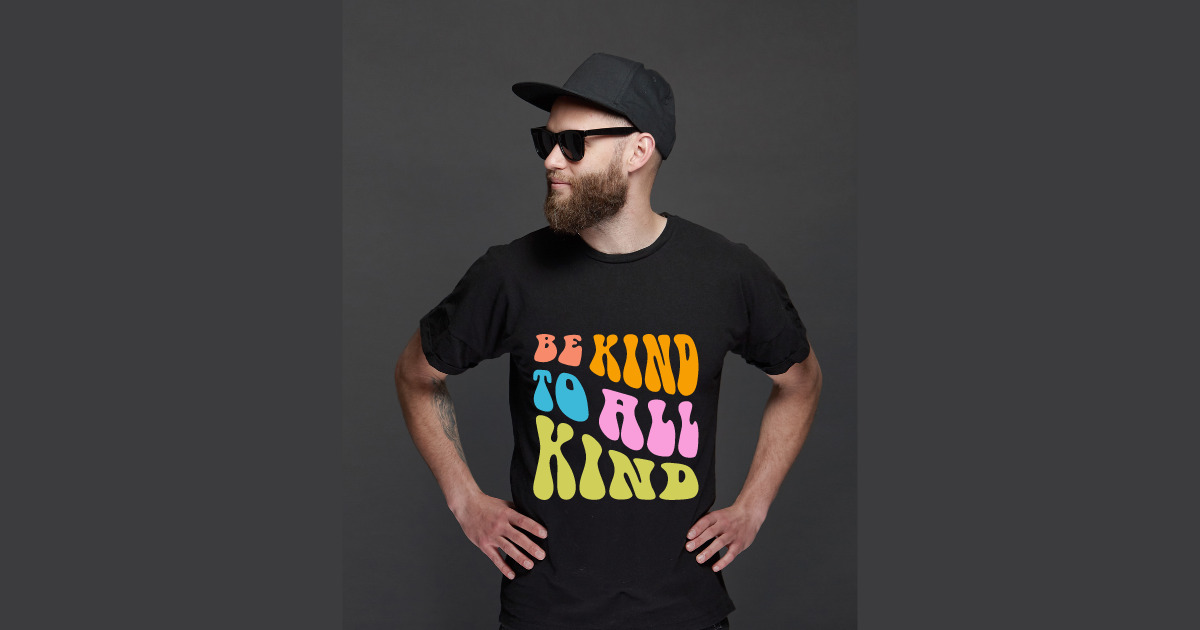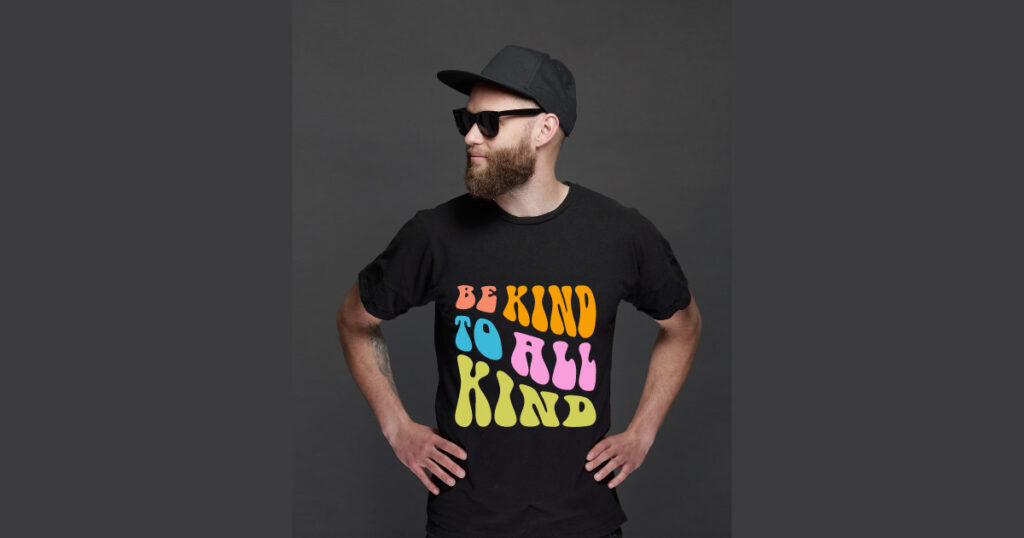 Slogan-based designs feature a short, catchy slogan that reflects your company's values or mission. This is a great way to connect with your target audience and make a lasting impression. For example, a company that provides customer service could have a t-shirt with the slogan "We're here to help" on the front.
Here are some examples that you can consider:
Minimalist Typography
To highlight your statement, use a clean and minimalist style. To build an aesthetically beautiful design that emphasises the impact of your message, experiment with fonts, sizes, and placements.
Wordplay
Incorporate witty wordplay or puns into your slogan design to convey a sense of levity and originality. This concept might help you build a memorable and cheerful design that will appeal to your target demographic.
Statement Font
For your phrase, use a bold and eye-catching font type. Typography becomes a design element that visually enhances the importance and impact of your message.
Image-based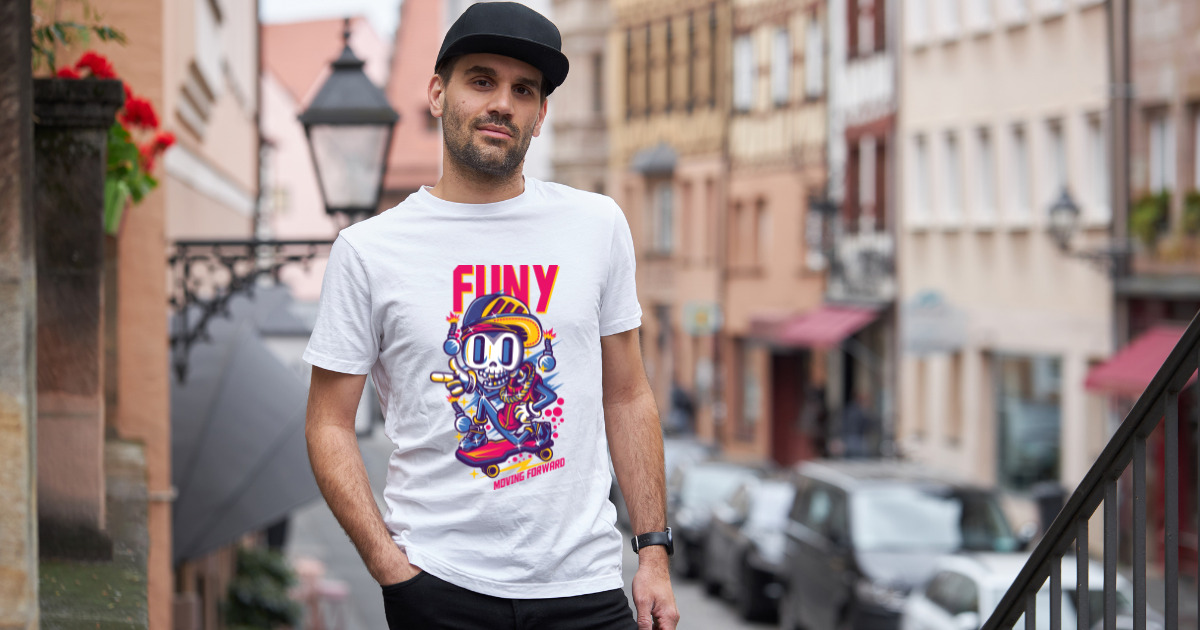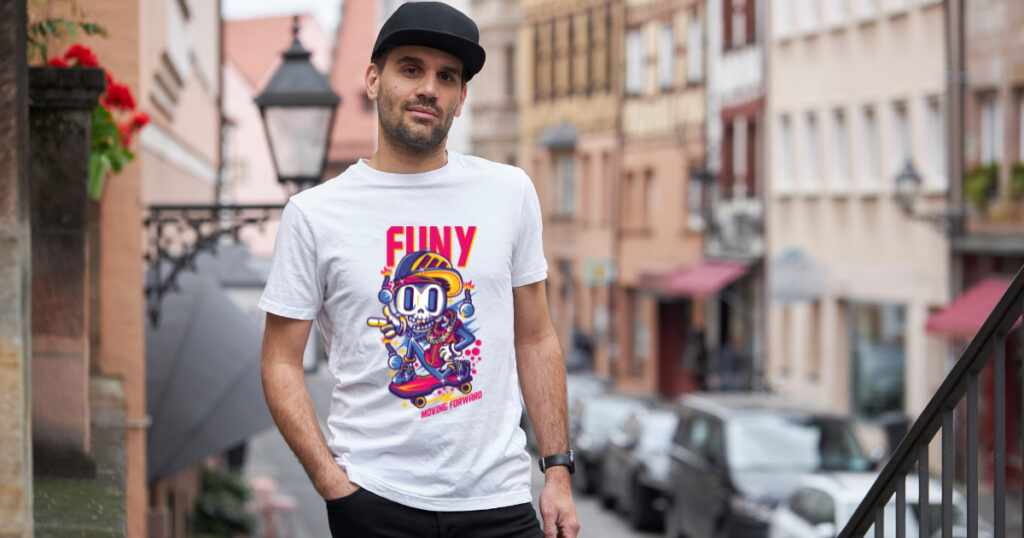 Images or illustrations that reflect your business or its products or services are used in image-based designs. This is a terrific technique to add visual interest to your t-shirt and make it more visually appealing. A company that sells handmade jewellery, for example, may have a t-shirt with an image of a woman wearing a necklace.
Here are some examples that you can consider:
Illustrative Scenes
Create rich and detailed illustrations of scenes associated with your business or industry. This method can add depth and storytelling to your t-shirt design while visually conveying the soul of your company.
Symbolic Imagery
Use symbolic images or icons to express the essential values or mission of your brand. These graphics can elicit emotions and associations, resulting in a visually striking and thought-provoking t-shirt design.
Photographic Prints
Put high-quality images of your brand on t-shirts. Photographic prints, whether of nature, people, or products, can generate aesthetically beautiful designs that capture attention.
Quote-based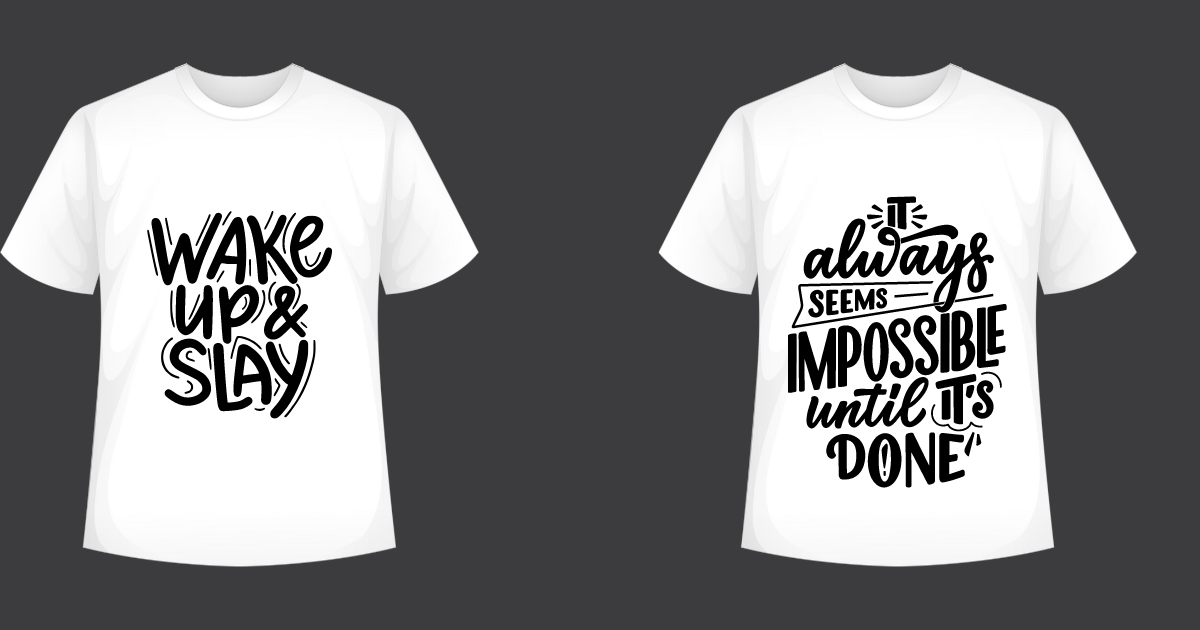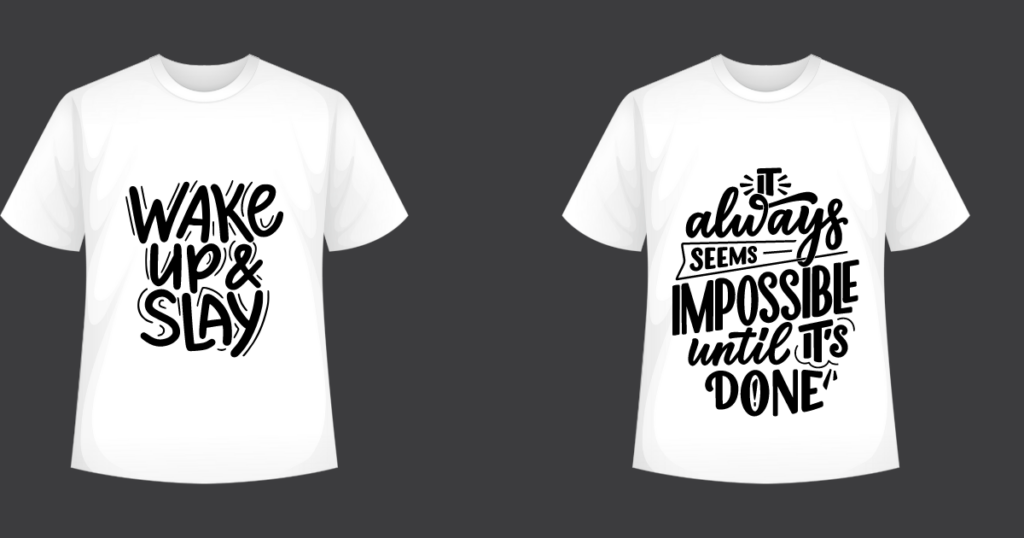 Quotation-based designs incorporate a well-known quotation or statement that is relevant to your business or its target audience. This is an excellent approach to add a personal touch and make your t-shirt more thought-provoking. A corporation that supports sustainability, for example, may have a t-shirt with the motto "Reduce, reuse, recycle" on the front.
Here are some examples that you can consider:
Handwritten Quotes
Use handwritten or script fonts to give your quote-based design a personal and authentic sense. This method gives warmth and uniqueness to your t-shirts.
Typographic Art
Turn your quotes into eye-catching typographic art. Experiment with various styles, layouts, and colours to develop a design that not only communicates the content but also serves as an artistic focus point.
Quotes with Interactive Components
Include interactive components in your quote-based designs. This could involve designing t-shirts with quotes that are only fully visible when the wearer interacts with the fabric, for as by folding or flipping sections of the cloth.
Humorous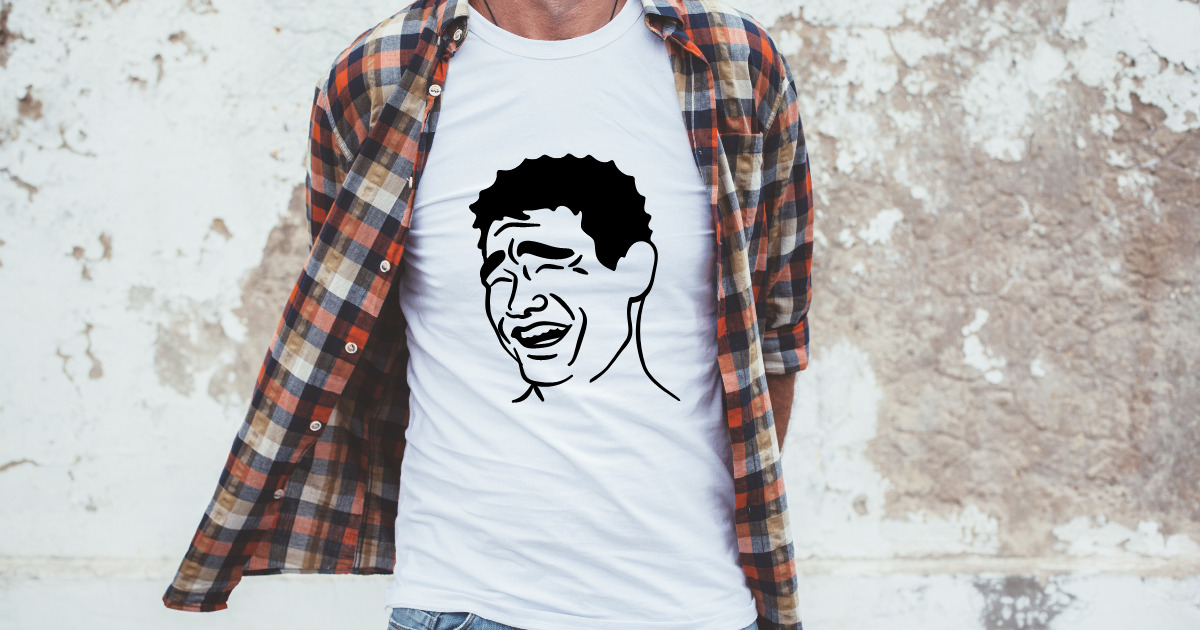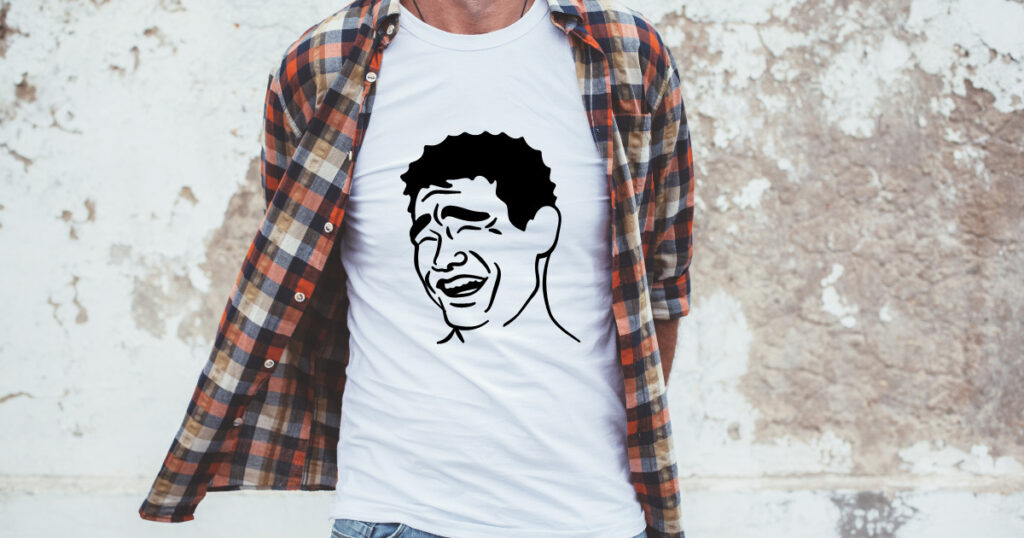 Humorous designs include a humorous or clever statement or image that is sure to make people laugh. This is a terrific way to add some individuality and fun to your t-shirt. A software company, for example, could have a t-shirt with a witty coding meme on it.
Here are some examples that you can consider:
Statements with Puns
Use witty wordplay or puns that connect to your business or brand. Statements that are playful and funny might make others grin and start conversations.
Illustrations
Create amusing illustrations depicting amusing circumstances or including comical themes connected to your company's products, services, or industry. The visual humour enhances the design by adding an extra element of fun.
Pop Culture Mashups
Create a hilarious twist by combining pop culture references with your business or logo. This can include lightheartedly and amusing parodying of renowned logos, personalities, or iconic pictures.
Colorful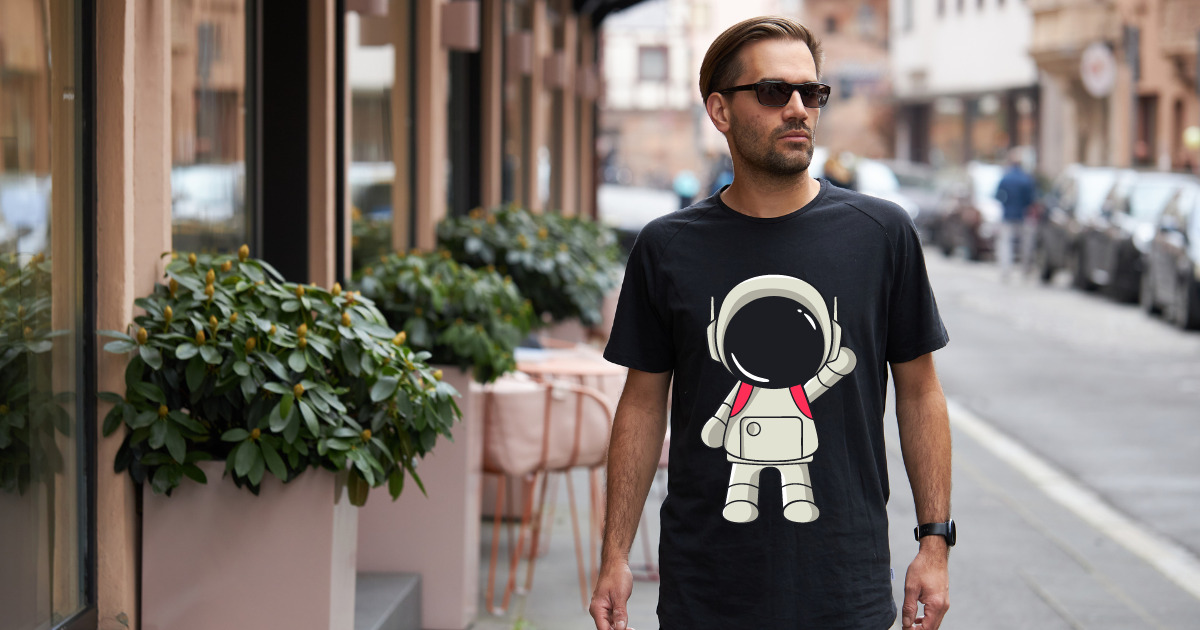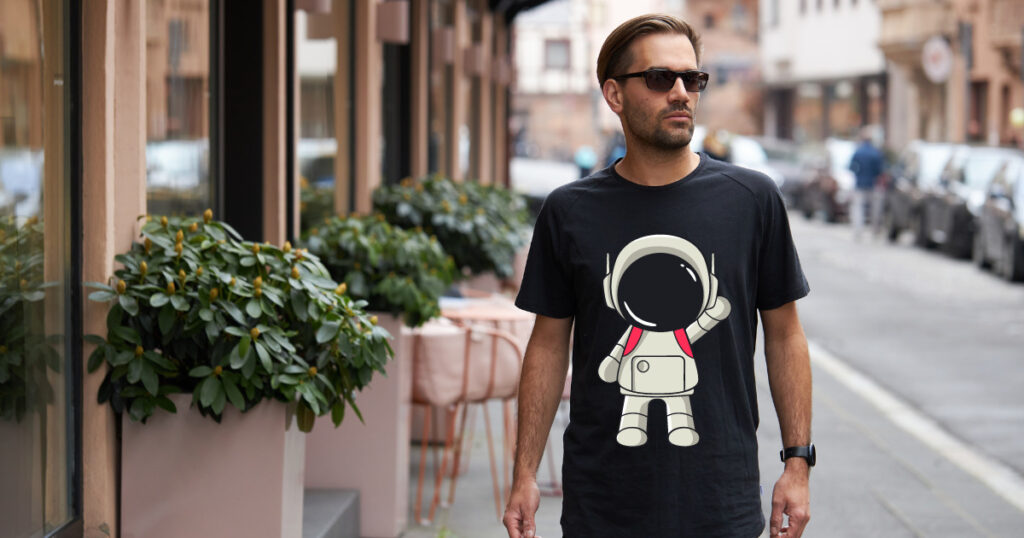 Colourful designs use bright, strong colours that will stick out. This is a terrific technique to add visual appeal and make your t-shirt stand out. A company that sells children's toys, for example, may have a t-shirt featuring a colourful cartoon character on the front.
Here are some more colorful company t shirt design ideas that you can consider:
Gradient Patterns
To create aesthetically appealing graphics, use gradients or ombre effects with a variety of brilliant colours. This approach gives your t-shirt designs depth and dimension.
Colourful Typography
Try with different colours for typography elements like corporate names, slogans, and phrases. The mix of contrasting and complimentary colours can provide an eye-catching and attention-grabbing impact.
Abstract Colour Splashes
Incorporate abstract colour splashes or paint-like textures into your t-shirt designs to provide a dynamic and artistic touch. This results in a visually appealing design that sticks out.
Minimalist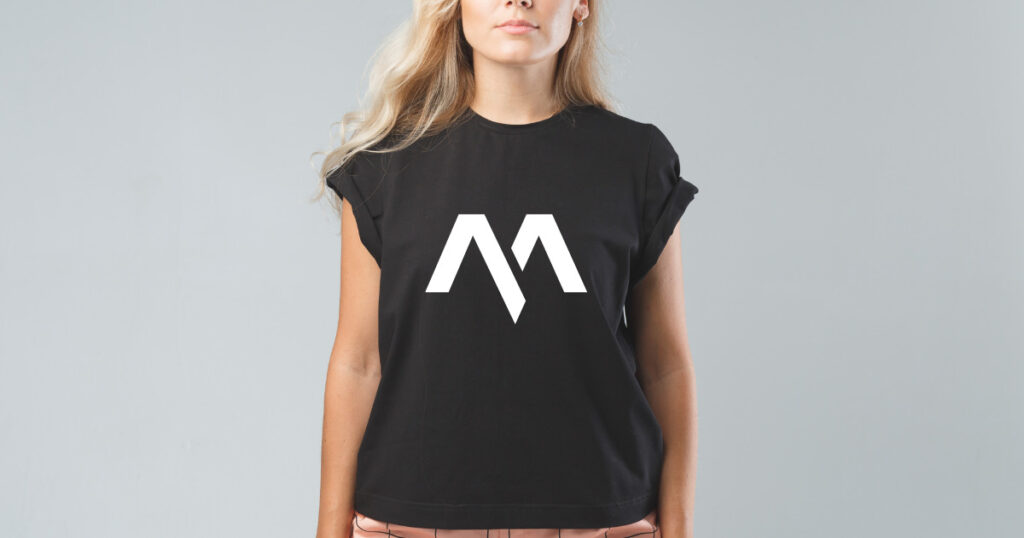 Minimalist designs are straightforward and subtle, often containing only a few elements such as the company logo or a short sentence. This is an excellent method to achieve a timeless and classic look. A company that sells luxury items, for example, may have a t-shirt with a minimalist design that contains its emblem in a basic font.
Here are some more minimalistic company t-shirt design ideas that you can consider:
Monochromatic Logo
Use a single colour or simple line art to create a minimalist version of your corporate logo. This results in a simple, modest style with enduring appeal.
Minimalist Typography
Minimalist typography with clean and legible typefaces should be used. Keep the design minimal, employing only the words or phrases that are necessary to represent your brand's message or values.
Geometric Shapes
To create minimalist patterns or groupings, incorporate simple geometric shapes such as squares, circles, or triangles. This gives your t-shirt designs a trendy and polished look.
Retro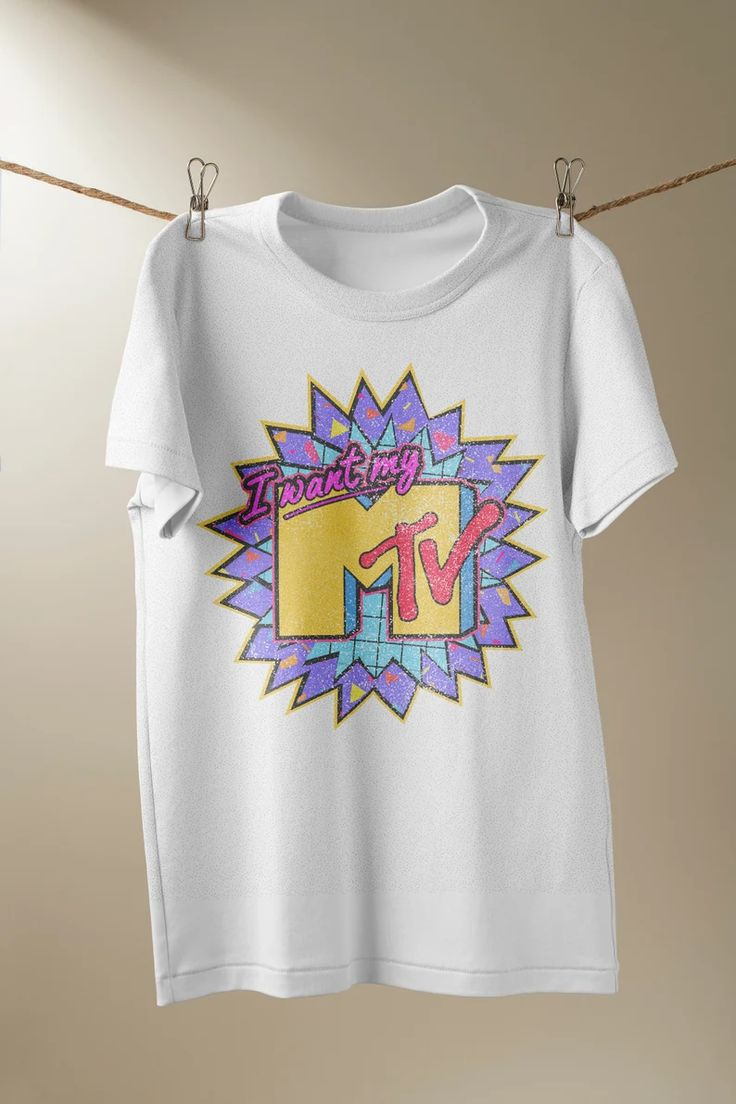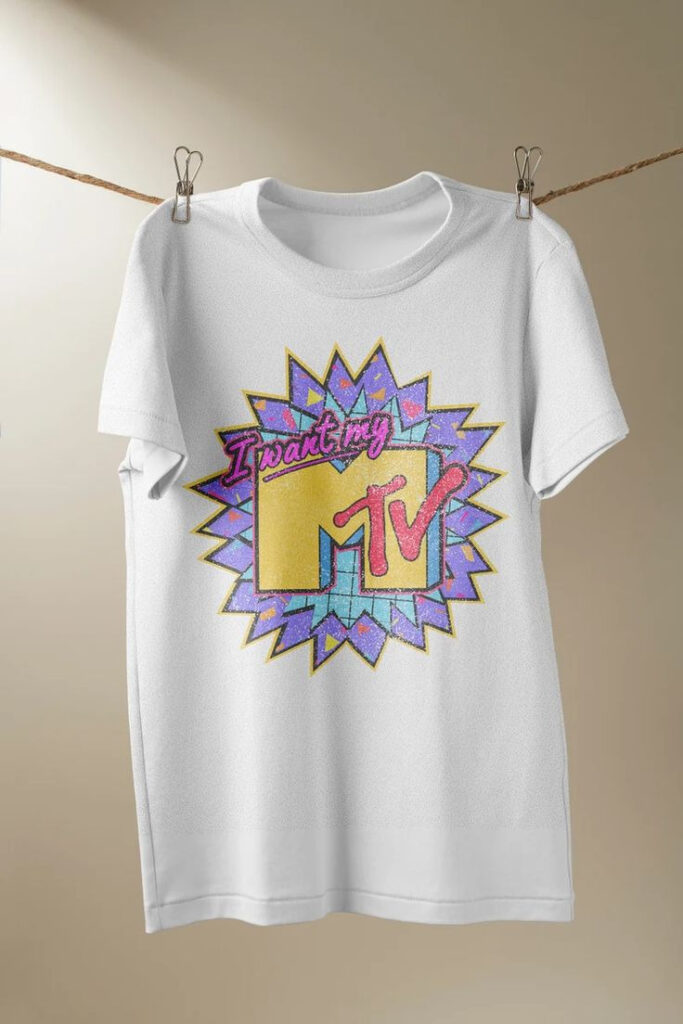 Retro designs have a vintage or retro style that will turn heads. This is a terrific way to give your t-shirt some personality and style. A vintage clothing firm, for example, may sell a t-shirt with a retro design that features a popular design from the 1960s or 1970s.
Here are some more retro company t-shirt design ideas that you can consider:
Vintage Typography
Create a vintage look by using retro-inspired fonts and typography styles. Consider typography from different decades, such as Art Deco, disco in the 1970s, and arcade in the 1980s, to convey a unique nostalgic feel.
Retro visuals
Include retro-inspired visuals, patterns, or illustrations that are relevant to your business or sector. Cassette tapes, pixelated art, and retro autos all add a nostalgic feel to your projects.
Distressed Effects
Use distressed textures or fading effects to give your t-shirt designs an aged or worn-out look. This contributes to the retro look and offers the appearance of a bygone design.
Graphic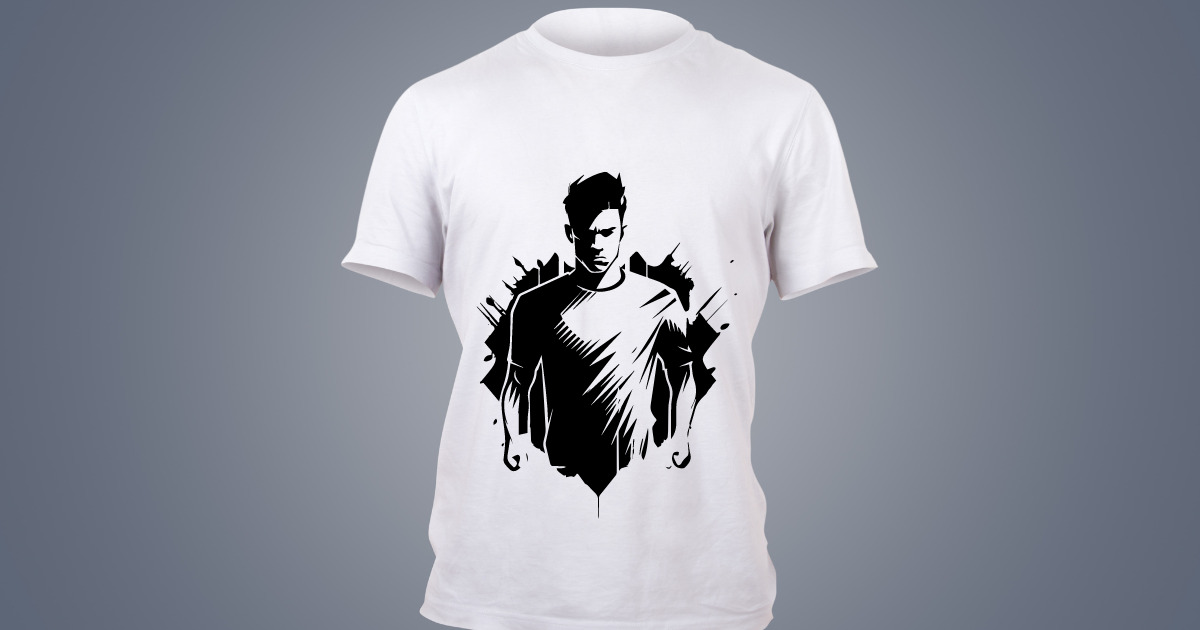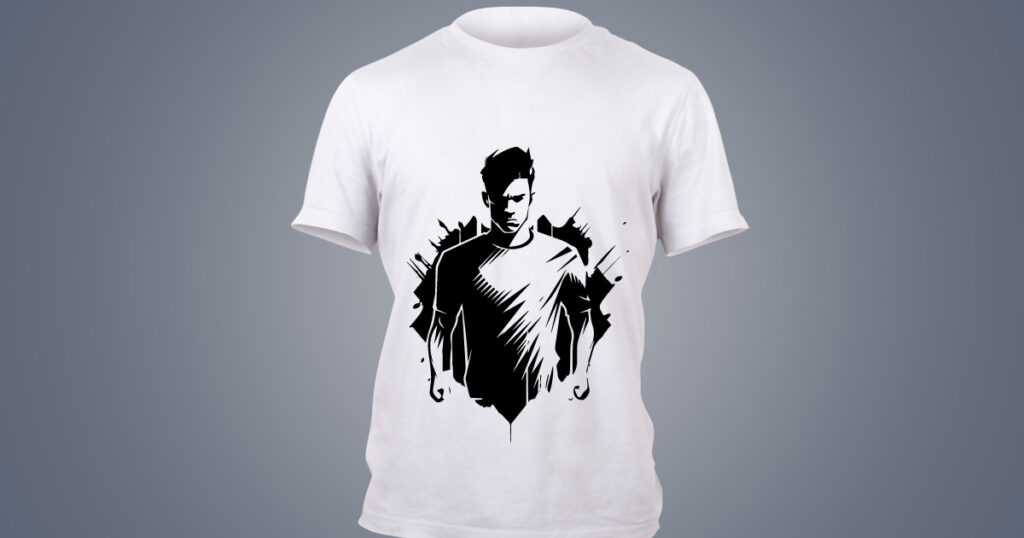 Graphic designs include intricate or complicated graphics that are sure to attract the viewer's attention. This is an excellent technique to add visual appeal and make your t-shirt stand out. A company that sells art materials, for example, may create a t-shirt with a graphic design that depicts a number of different art equipment.
Here are some more company t-shirt design ideas for all graphic lovers:
Abstract Artwork
Create abstract artwork that incorporates distinctive forms, lines, and colours. This design concept is open to interpretation and provides a creative touch to your t-shirts.
Pop Art
Draw inspiration from pop art's vivid and bold aesthetic. Create visually appealing designs by combining bright and contrasting colours with memorable symbols or pictures.
Illustrative Storytelling
Create graphics to communicate a story about your company or industry. This can be a series of images or a single powerful illustration that conveys the essence of your company's story.
Custom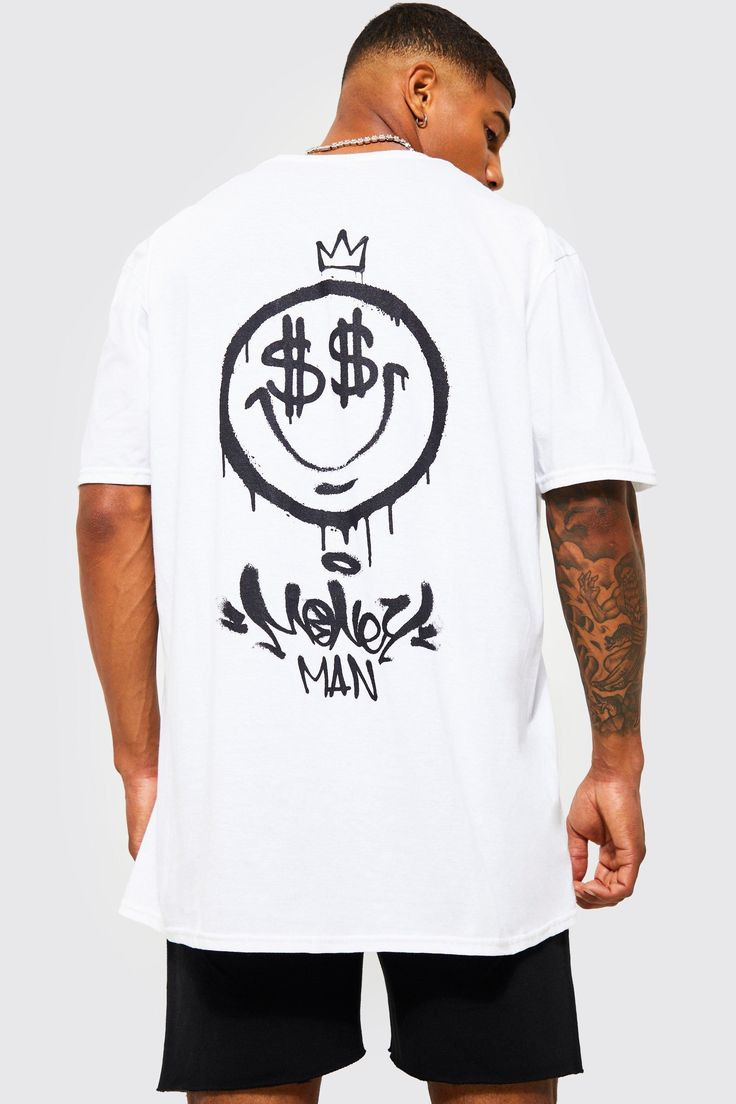 personalised designs are totally tailored to your exact requirements, whether you want to include your company's emblem, a personalised slogan, or even a personal photograph. This is a fantastic technique to make a unique t-shirt. A company that offers custom furniture, for example, may have a t-shirt with a custom design featuring a photo of one of their furniture pieces.
Here are some more custom company t-shirt design ideas:
Collaborative Art
To develop collaborative artwork for your t-shirts, involve staff, consumers, or artists in the design process. This generates a sense of community and engagement, which results in designs that reflect a variety of viewpoints.
Hand-Drawn Designs
Commission or create hand-drawn designs with complex details and unique touches. Hand-drawn artwork gives your t-shirts an authentic and handcrafted touch.
Bespoke Patterns
Create bespoke patterns that reflect the identity or goods of your brand. These patterns can be utilised all over or as accents on particular regions of the t-shirts to create visually appealing and harmonious designs.
Design and Sell Custom T-shirts With Blinkstore
Now that you know some of the best company t shirt design Ideas, you can now use your imagination and create your own custom t-shirt online and sell them to earn profits or use it in your comapny. And guess what, it doesn't even require significant investment and anyone can do it. Excited already?
You can use Blinkstore, one of the most popular print on demand platforms for bringing your t-shirt design ideas into reality. But don't assume that Print on demand is only possible with only t-shirts. In fact, on Blinkstore we do print-on-demand for more than 30 products including t-shirts, hoodies, sweatshirts, crop-tops, crop hoodies, bottles, coffee mugs, posters, cushion covers, mobile phones, etc. So you can start your own t-shirt store, and as it starts doing good sales, you can launch many more products on Blinkstore's storefront which will be provided to you for free! Let's take a step by step process on how to do this.
Step 1: Use Blinkstore to create a free t-shirt store
Sign up with your Google account at the seller.blinkstore.in. There is no need to remember a password. Select "New Store" from the "Create +" menu. Select a name for your store that will also serve as the subdomain.
Step 2: Create t-shirts easily online.
Click "Add/Edit New Product" and then choose a t-shirt to design. Upload your Canva or Photoshop designs with the simple t-shirt editor. Position the design and choose a t-shirt colour. Set the t-shirt's title, description, and profit margin. The cost of shipping is included in the base price, and Blinkstore handles printing and shipment.
Step 3: Begin selling t-shirts online.
Put your t-shirt designs for sale at your store. Start making money from sales by promoting your t-shirt company online. Don't forget to withdraw your profits as well.
You can also use Mockey, an AI Powered platform to generate high definition mockups for free and get a more clear picture about how your design will look like in real life scenarios.
FAQs
What will be the most popular T-shirt design trends for businesses in 2023?
Minimalist graphics, inspirational slogans, geometric patterns, and nature-inspired designs are some popular company t-shirt ideas in 2023.
How may T-shirt designs help to improve business culture?
T-shirt designs that reflect the company's beliefs and culture help employees feel a sense of connection and unity.
Can we add our company logo to these T-shirt designs?
Yes, most design templates may be personalised with your company's logo and colours.
Conclusion
Finally, these company t shirt design ideas show a diverse and appealing variety that reflects the most recent corporate trends. These designs, which range from powerful slogans to sophisticated aesthetics, allow businesses to communicate their corporate identity, build unity, and leave a lasting impact. Businesses may build their sense of community, inspire shared ideals, and generate favourable brand impressions for employees and customers alike by adopting these trending T-shirt designs, making a forceful statement in the competitive landscape of 2023.