Trying to decide between Dropshipping vs Print On Demand for your e-commerce business? Our guide discusses the advantages and disadvantages of each model, as well as the most recent trends and success tactics. Make an educated choice and launch your online business with confidence!
Table Of Contents
What is Dropshipping?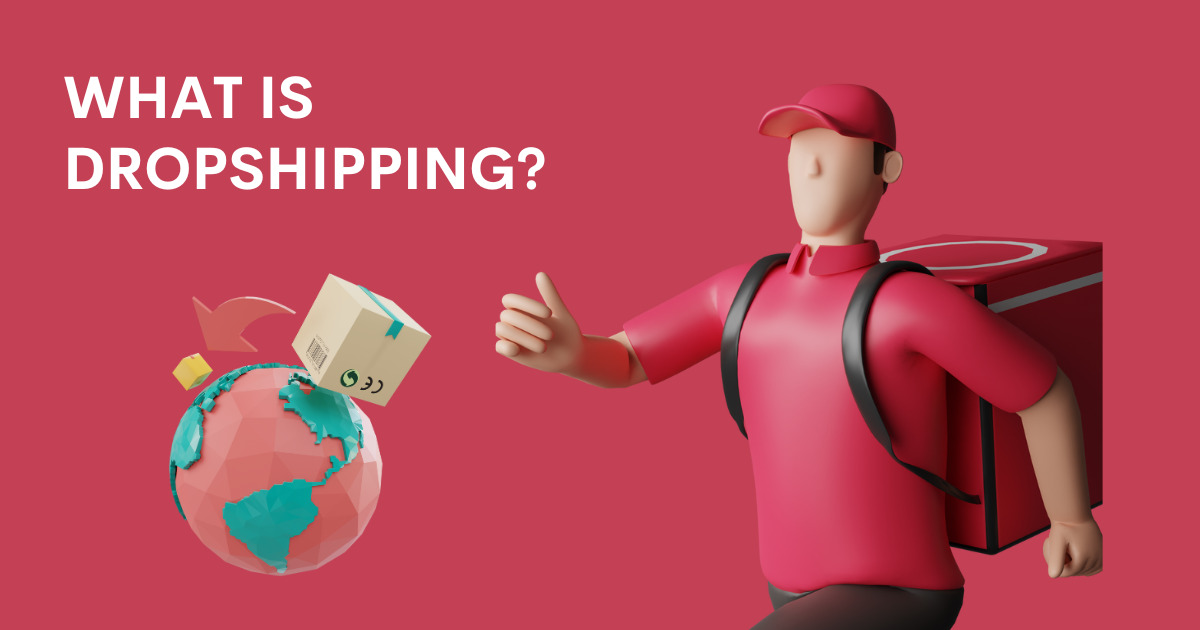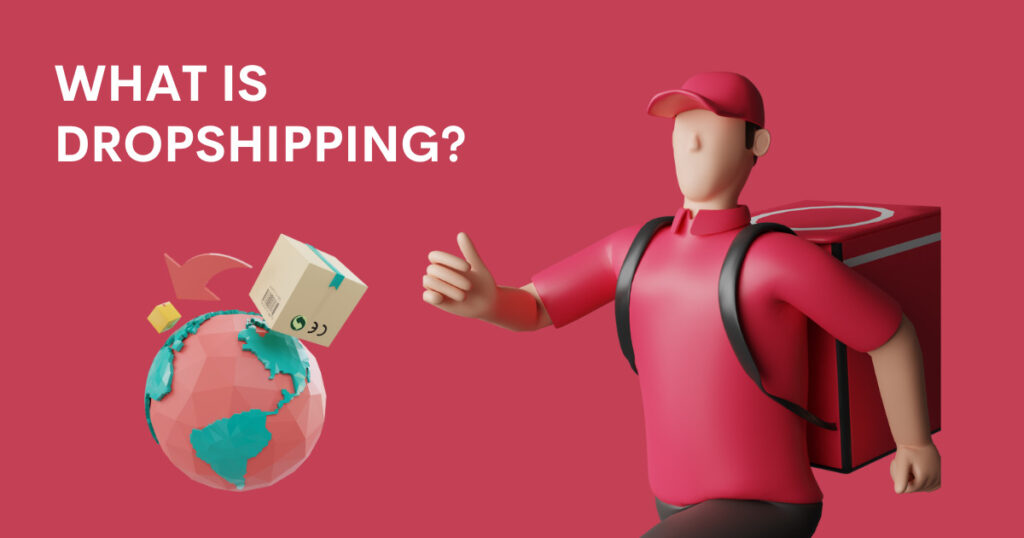 Dropshipping is a unique approach for the ecommerce industry. It is a type of fulfilment that does not require inventories to sell things.
To fulfil orders, merchants now deal with a third party, either a wholesaler or a manufacturer, who handles inventory and delivery. Sellers must only pay after an order is confirmed.
The fact that the business owner does not really acquire or own the merchandise distinguishes dropshipping from traditional retailing. Instead, they operate as a go-between for end users and dropshipping suppliers.
Advantages of Dropshipping
In the battle of Dropshipping vs print on demand, let us first discuss the advantages of Dropshipping:
1. Excess Expenses
There are no expenditures associated with opening a physical business, such as overhead fees and stocking actual merchandise.
2. Simple to get started
This way, you'll reap the benefits of selling things that you don't have to produce yourself!
3. Easy to scale
Many dropshippers' experiences show that they can generate more money with dropshipping than with print on demand.
4. Easy Management
Dropshipping normally necessitates a few steps to run your organisation. However, it is important to note that with POD, you are also responsible for the actual design of the product.
Disadvantages of Dropshipping
Like every other model, the dropshipping model also has some disadvantages. So before we go into the ultimate comparison of Dropshipping vs print on demand, let's take a look at the demerits of dropshipping:
1. Highly competitive
Dropshipping gives you little control over the goods, which makes it tough to justify purchasing your product over someone else's. POD allows for greater creativity in the design. While they may compete for the same tees, hoodies, corporate gifts, mugs, wallets, and so on, there is still space for them to appeal to a wider audience than other PODs.
2. Less Control Over Products
There is no control over the product design. While not always a concern depending on the product. Having no control over a product's design means it is unlikely to be innovative or have a "wow" effect that will pique people's interest. You can get around this by having your logo on the product that you'll discuss with your supplier, but it's not always enough to compete.
3. Difficult to Build Brand Image
Building a brand is one of the cornerstones of an ecommerce business's success. This allows you to establish trust and set the price you believe is fair rather than what the market dictates. But with Dropshipping, it can be a little difficult to establish a strong brand image.
4. Long shipment times
Depending on the dropshipping partner you employ, shipping periods can vary and sometimes it takes longer than usual. The saddest part is that you have no control over that.
What is Print on Demand?
Print on demand is a variation of the dropshipping strategy. With print on demand, vendors are more than just a middleman whose sole purpose is to sell things. Instead, by developing the designs, they participate to the manufacture of their items.
Print on demand suppliers will assist them in printing their designs onto white-label products and delivering them to buyers. In order to fulfil requests, a printing company either owns the manufacturing or outsources the printing services. You can read our post to learn more about print on demand sites and how it works.
Advantages of Print on Demand
Previously we talked about the advantages of Dropshipping, Now in the battle of Dropshipping vs Print on Demand, lets take a look at the advantages of Print on Demand model:
1. Minimal start-up costs
Similar to dropshipping, the start-up costs are relatively minimal. You only need to make a design, which can be found for a reasonable price by conducting a Google search.
2. Complete Design Control
By using POD, you have complete creative control over the designs of the things you sell.
3. Experiment freely
In contrast to the usual bulk purchase prices of printed materials, reading out your clients with a variety of ideas is completely free. If one of your ideas isn't a hit with your audience, you won't have spent any money trying it out.
4. Straightforward business model
The fact that the entire process from printing to delivery is handled is possibly the most significant advantage of print on demand.
5. Faster turnaround times
With POD, you can swiftly fulfil orders and deliver products to your clients, resulting in higher customer satisfaction and repeat business.
6. Reduced waste
Excess items from traditional printing methods may go unsold and end up as waste. POD allows you to produce only what is required, decreasing waste and environmental effects.
Disadvantages of Print on Demand
Before jumping into Dropshipping vs Print on Demand comparison, let's analyze the demerits associated with print-on-demand.
1. Production control is limited
Because production is outsourced to a third-party printer, you may have limited influence over the final product's quality. This can be a problem if you offer products with high-quality standards or wish to assure uniformity across your whole product line.
2. Higher per-unit costs
While POD can be cost-effective for small production runs, when creating greater volumes, the per-unit cost can be higher than traditional printing processes. This can limit your profitability and make scaling your firm more difficult.
3. Shipping fees
Because products are printed on demand and supplied directly to clients, shipping fees may be greater than if bulk orders were shipped to a warehouse or distribution centre.
4. Longer order fulfilment periods
While POD can offer faster turnaround times than traditional printing processes, order fulfilment can still take longer because each product is printed on demand. This might have an influence on consumer satisfaction and result in poor reviews.
Print on Demand vs Dropshipping: Similarities
In comparison with Dropshipping vs Print on Demand, both models share some similarities that are highlighted below:
1. Inventory less Model
POD and dropshipping both reduce the need for merchants to keep goods, lowering upfront costs and freeing up space.
2. Low upfront costs
With both models, there is no need to invest in expensive equipment or materials, lowering the barrier to entry for new enterprises.
3. Outsourcing production
In both models, production is outsourced to third-party suppliers, which reduces the need for in-house production and allows sellers to focus on other elements of their business.
4. No Shipping or Handling Costs
Aside from inventories, dropshipping and print on demand businesses do not have to worry about product transportation. All orders will be printed, packaged, and sent on your company's behalf by print-on-demand and dropshipping vendors.
5. Better Risk Management
Another significant advantage of both models is the absence of unsold stock risk, as all orders are delivered on demand. It means you just have to pay for the merchandise when you place your order.
Dropshipping vs Print on Demand: Differences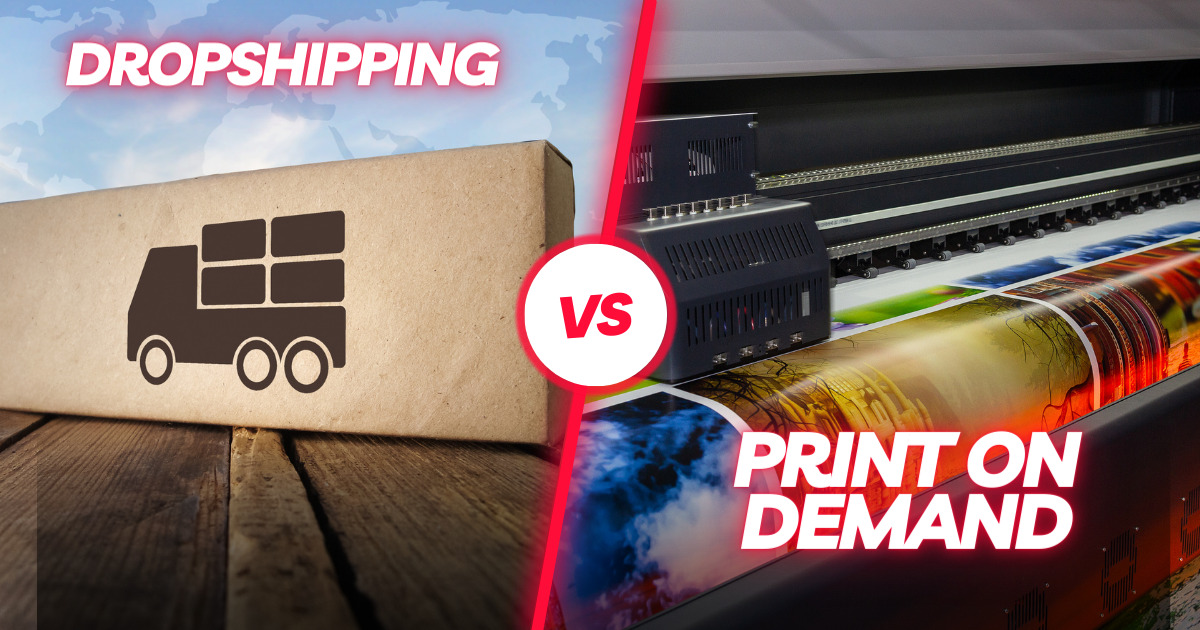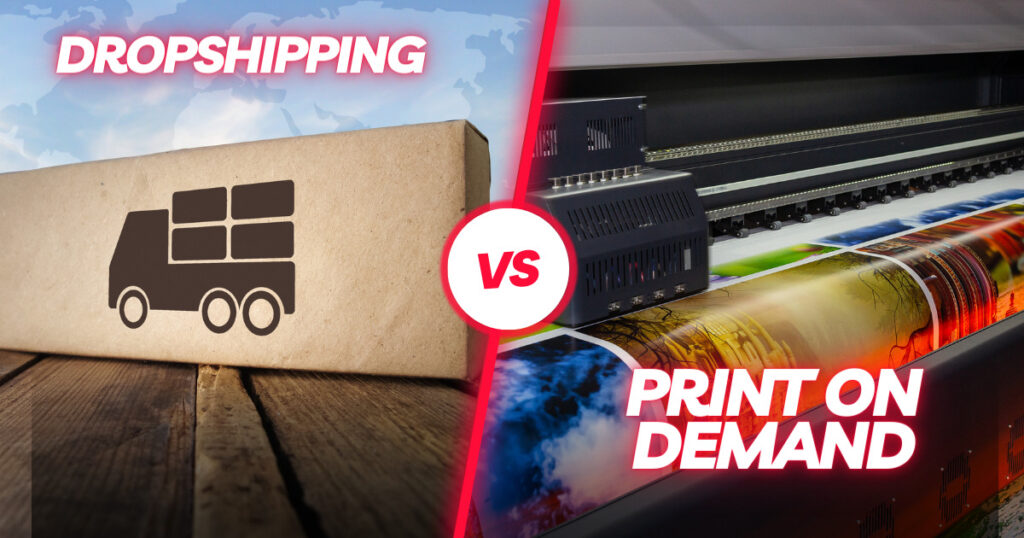 Now finally, let's talk about the major differences between Dropshipping vs Print on Demand:
Product Range
Both dropshipping and print-on-demand companies provide a diverse range of products. Print on demand focuses on products that can be customised and printed, such as clothes such as T-shirts and hoodies, home and living items such as mugs, posters, canvas, and accessories such as phone cases, keychains, and jewellery.
Dropshipping, on the other hand, is based on ready-to-sell products. Print-on-demand offers a much smaller product range than dropshipping.
Production
Another main point to consider in the battle of Dropshipping vs Print on Demand is the production process. Products are pre-made by a manufacturer or supplier and shipped to the client on behalf of the seller through dropshipping. This means the seller has limited influence over the manufacturing process and quality control. Print on demand allows sellers to have more control over the production process and the quality of the final product because products are printed on demand as orders are received.
Also, Dropshipping, of the two models, might provide a considerably more tempting price in terms of production. It is acceptable because print on demand products are printed as they are ordered. They are also very configurable, which helps to justify the greater price.
Customization
Both dropshipping and POD allow for customization, however, the degree of customisation differs between the two models. Because the products are pre-made by a manufacturer or supplier, personalization choices may be limited with dropshipping. Because POD products are printed on demand, customization possibilities are often more versatile, allowing for greater customisation and personalization.
Quality Control
Product quality is a clear flaw in both dropshipping and print on demand businesses. Because vendors do not own the inventory or the products. Everything is handled through dropshipping or print on demand providers, making it difficult to control product quality.
However, quality control can be more difficult for dropshippers than it is for print on demand merchants. The reason for this is that print on demand has fewer products. And you may practically create many listings with various designs for each product. As a result, you can order a single sample for a line of products for your online store. Dropshipping requires you to order each product in your product catalogue in order to check the quality, which can be difficult with a high-volume store.
Inventory Processing Time
The time it takes to fulfil an order from the moment it is placed to the time it is dispatched to the client is referred to as inventory processing time. Inventory processing time is often reduced with dropshipping because products are pre-made and ready to ship. Because products are printed on demand, inventory processing time may be longer with POD, but overall production time is usually shorter than with traditional printing processes.
Upfront Cost
One of the primary advantages of both dropshipping and print on demand (POD) is their inexpensive initial investment as compared to traditional retail methods. However, the initial costs for each model can differ. There are costs connected with putting up a website or online store, as well as fees for working with manufacturers or suppliers when dropshipping. There are also costs connected with establishing a print-on-demand service, such as printing equipment and supplies, with POD.
However, you can omit or reduce these costs by partnering with different dropshippers or e-commerce frameworks.
Delivery Time
Another key element to consider when deciding on Dropshipping vs Print on Demand is delivery time. Dropshipping delivery times might vary based on the manufacturer's or supplier's shipping schedule, affecting customer satisfaction. Delivery time with POD can also vary based on the printing and shipping process, however, because products are printed on demand, turnaround time can be faster than with traditional printing techniques.
Scalability
Dropshipping and print-on-demand businesses both offer opportunities for expansion. Dropshipping is easier to grow because it only requires the items to be shown on the website. Furthermore, they are free to explore different markets in order to expand their business. Meanwhile, print-on-demand can only be expanded if more designs are added to the library.
Profit Margin
Profit margin is another crucial element to consider when deciding on Dropshipping vs Print on Demand. Profit margins may be reduced with dropshipping because the seller must pay for pre-made inventory and transportation charges. Profit margins can be better with Print on demand since the seller has more control over production costs and price. Higher profit margins using POD, on the other hand, may be dependent on factors such as personalization and market competitiveness. Blinkstore even offers sellers to control their margins which can earn them more profits in comparison to others.
Market Competition
Finally, in the comparison list of Dropshipping vs Print On Demand, we have another important element to consider i.e. Market Competition. Sellers who use dropshipping may face competition from other sellers who offer the same pre-made products from the same manufacturer or supplier. Merchants who use Print on demand can also face competition from other merchants who offer similar customisable products. However, because Print on demand provides greater product versatility and uniqueness, sellers may be able to differentiate themselves more easily from competitors.
FAQs
What do you mean by dropshipping?
Dropshipping is an ecommerce approach in which the seller does not keep inventory but rather collaborates with a manufacturer or supplier to satisfy client orders. The products are shipped straight to the customer by the manufacturer or supplier.
What is print on demand?
Print on demand is an ecommerce concept in which the seller offers customised products, such as t-shirts or mugs, that are printed only when a client orders them. This concept enables retailers to provide a broader choice of products without investing in inventory.
In dropshipping vs print on demand, which model has the quickest delivery time?
Dropshipping and POD delivery timeframes may differ depending on the manufacturer's or supplier's shipping schedule, as well as the printing and shipment procedure. POD items, on the other hand, are printed on demand, therefore turnaround time can be faster than traditional printing processes.
In dropshipping vs print on demand, Which model has higher profit margins?
Because the seller has more control over production costs and price, POD often has higher profit margins. Dropshipping profit margins may be lower because the vendor must pay for pre-made merchandise as well as shipping fees.
In dropshipping vs print on demand, which of the two models is more scalable?
Scalability is possible with both dropshipping and POD. However, the choice of products given by the manufacturer or supplier can limit dropshipping scalability, whereas POD scalability can be more flexible.
Conclusion
In conclusion, print on demand vs dropshipping are two prominent ecommerce methods that each have their own set of pros and downsides for online businesses. Both approaches have cheap initial costs, scalability, and product options that are flexible. However, there are differences between the two models in areas such as product range, production, customisation, quality control, inventory processing time, delivery time, profit margins, and market competitiveness.
The optimum model for your ecommerce business should be determined by your specific objectives, budget, and product offerings. Sellers should make an informed decision on whether to use dropshipping, Print on demand or a combination of both to maximise their profitability and growth potential in the highly competitive ecommerce marketplace by carefully evaluating these criteria. Hopefully, by now you have a clear idea about dropshipping vs print on demand model. We wish you luck. Also, don't forget to check out Blinkstore for the best print on demand products and services.