Go no further if you're looking for the best e-commerce framework to build your online store in 2023. This comprehensive comparison of the top 23 ecommerce frameworks, including Blinkstore, Magento, Shopify, WooCommerce, and others, will assist you in making an informed choice.
Discover the best website builder framework for your e-commerce brand, whether it's a small startup, D2C Brand, or a major corporation. We help you choose to the right platform so you can keep selling your brand products online with confidence.
Table of Contents
What is E-Commerce Framework?
E-commerce website builders are software platforms that give organisations the tools and infrastructure they need to build and run online storefronts. These frameworks are intended to make the process of developing an e-commerce website easier by providing a variety of features and functionality that may be tailored to a company's specific requirements.
Whether you own a small business or a major corporation, selecting the correct e-commerce platform is important to the success of your online venture. In this post, we'll look at the top 23 e-commerce frameworks and help you pick the best one for your company.
Types of E-commerce Framework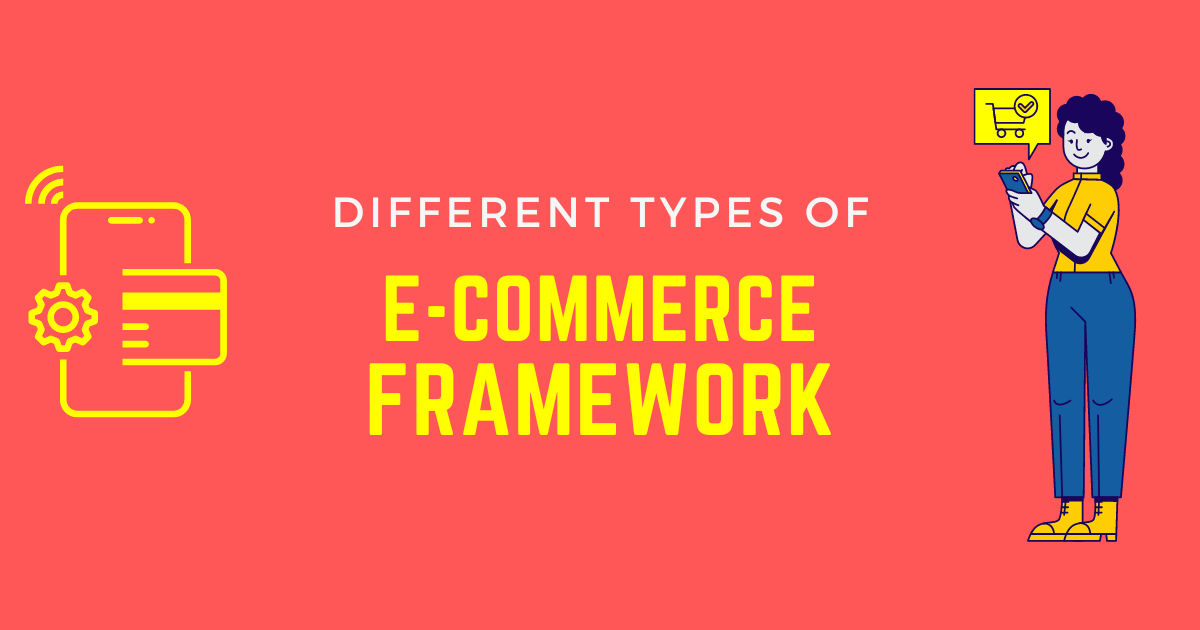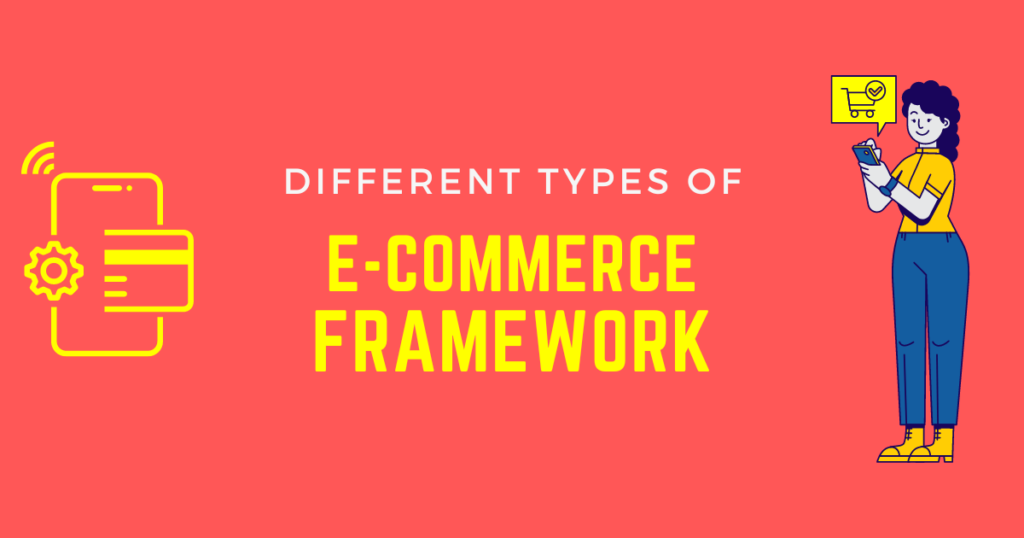 There are various sorts of e-commerce frameworks accessible, each with its own set of features and benefits. The following are some of the most frequent types of e-commerce frameworks:
Open Source E-commerce Frameworks:
These are free e-commerce frameworks that allow you to tailor the online stores as per your requirements. Magento, WooCommerce, and OpenCart are examples of open-source e-commerce frameworks.
Cloud-based E-Commerce Frameworks:
These are hosted systems in which the provider maintains and updates the e-commerce platform. Companies pay a monthly price for features like hosting, security, and support. Shopify, BigCommerce, and Volusion are examples of cloud-based e-commerce frameworks.
Headless E-Commerce Frameworks:
These are e-commerce systems that allow firms to divide their online store's front-end and back-end. This allows for greater design and customization flexibility, as firms can employ different technologies for different parts of their store. Reaction Commerce and Sylius are two examples of headless e-commerce frameworks.
All-in-one E-Commerce Frameworks:
These are e-commerce platforms that offer a comprehensive set of tools and features to businesses, such as web hosting, website design, marketing tools, and more. Wix and Squarespace are two examples of all-in-one e-commerce frameworks.
Custom-built E-Commerce Frameworks:
These are e-commerce platforms designed from the ground up for a specific firm. This option offers the most customising options, but it also necessitates the most technical skills and resources.
Things to Consider When Choosing an E-commerce Framework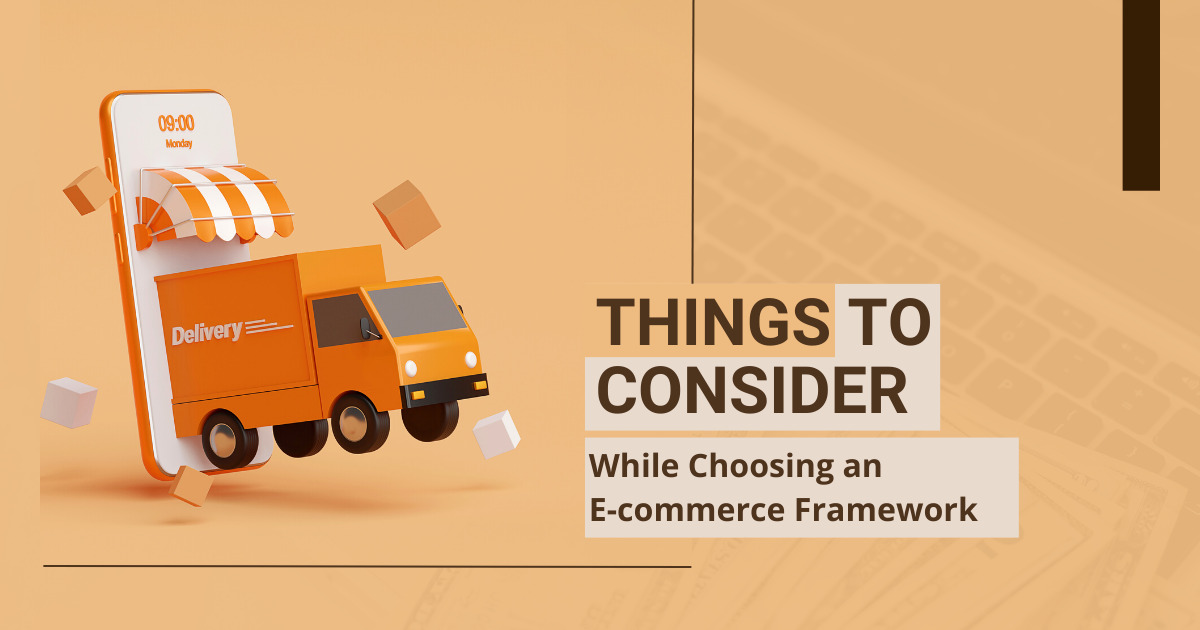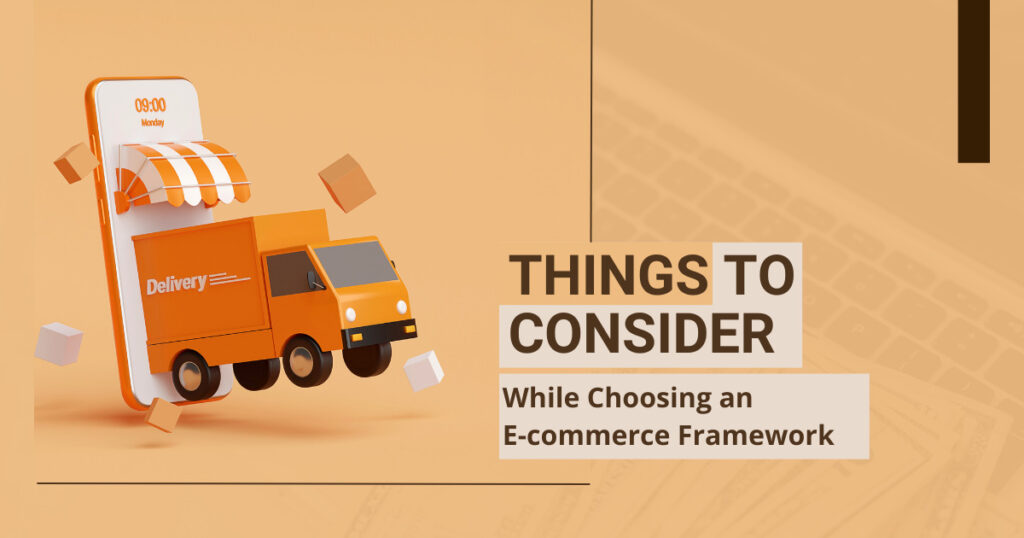 Selecting the correct e-commerce framework is one of the biggest Challenges for Most Businesses When Going Online.
8 things to keep in mind while choosing an e-commerce framework:
Scalability
Ease of use
Product Adminstration
Customization
Payment Gateways
Security
Support
Cost
Scalability:
Your e-commerce infrastructure should be able to grow with your company. Search for a platform that can grow with your business, whether you're starting small or hoping to expand.
Ease of use:
Your e-commerce framework should be simple to use and navigate. Seek a platform with simple interfaces that will walk you through the process of setting up and managing your online business.
Product administration:
Your items are vital to your business, so you want to ensure that maintaining your inventory is simple, including adding products, altering their information, and tracking stock levels. Certain e-commerce frameworks will allow you to acquire a high-level perspective or drill down to the details with very little technical know-how, from SKUs and variations (size, colour, quantity) to product names and photos.
Customization:
Your e-commerce platform should allow you to tailor your online store to your brand and company requirements. Search for a platform with a variety of design and customization possibilities.
Payment gateways:
To create a flawless checkout experience for your clients, your e-commerce framework should allow a range of payment choices. Look for a platform that connects with well-known payment processors like PayPal, Stripe, and Authorize.net.
Security:
To secure your clients' data and avoid fraud, your e-commerce framework should include comprehensive security measures. Look for a platform that employs SSL encryption and adheres to industry standards like PCI DSS.
Support:
Your e-commerce platform should offer dependable customer service to assist you in resolving any issues that may emerge. Seek a platform that provides responsive customer service over numerous channels, such as email, phone, and chat.
Cost:
Your e-commerce architecture should be affordable. Seek a platform with straightforward pricing and flexible plans that can scale with your company. Take into aware that certain e-commerce frameworks may charge extra for features like hosting, support, and plugins. Considerations When Selecting an E-commerce Framework
23 Best E-commerce Frameworks in 2023
The best e-commerce frameworks you can consider in 2023:
Shopify
BigCommerce
Magento
Volusion
MyDukaan
WooCommerce
Gumroad
Demandware
Squarespace
Wix
Instamojo
Ecwid
Builder.ai
Fynd
Big Cartel
Weebly
Godaddy
Selz
3dcart
Constant Contact
Mozello
Square Online Store
Zen Cart
Let's dig deeper into pros, cons, pricing, and many others factors that make each of these website builders unique. And how you can choose the right one for you business: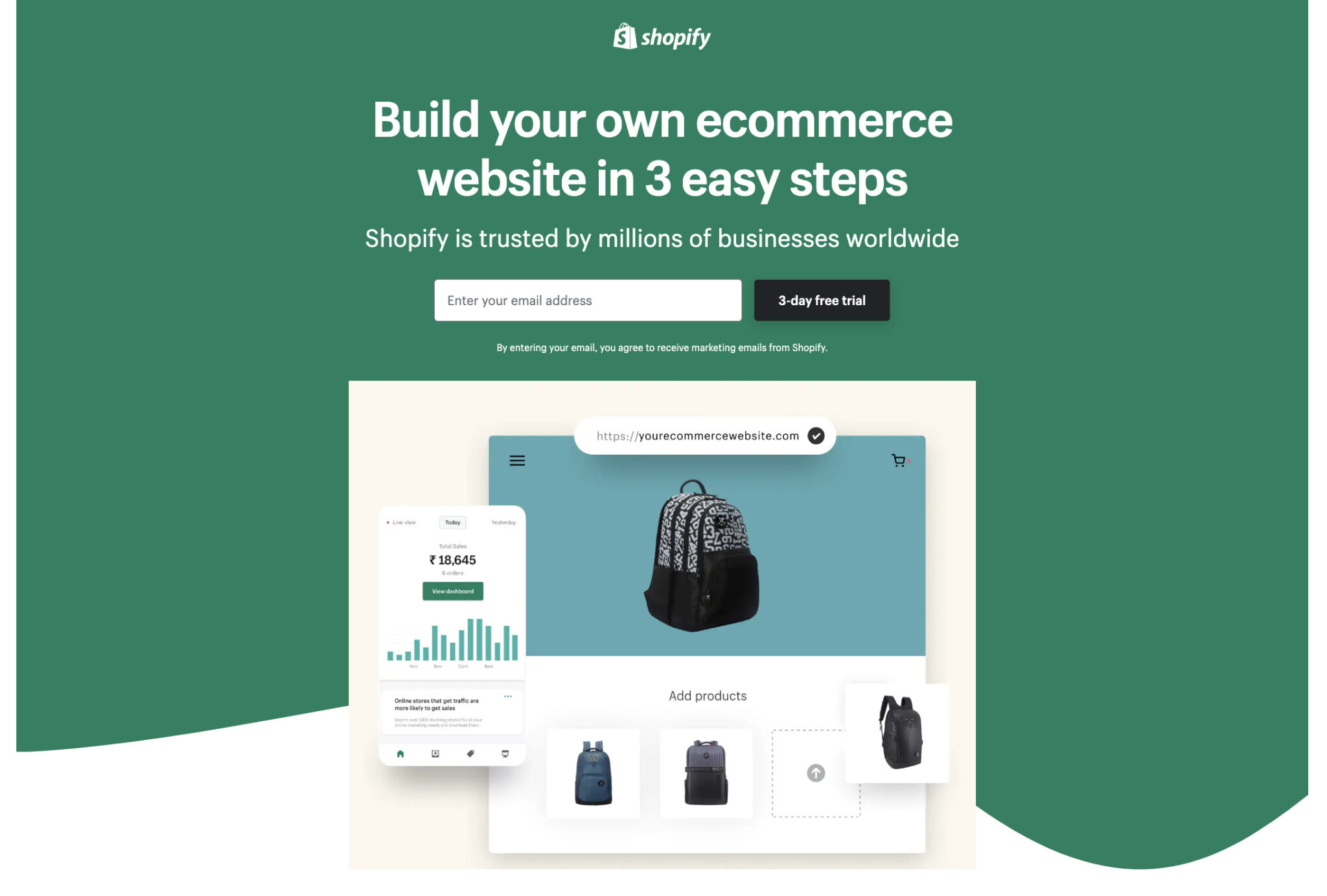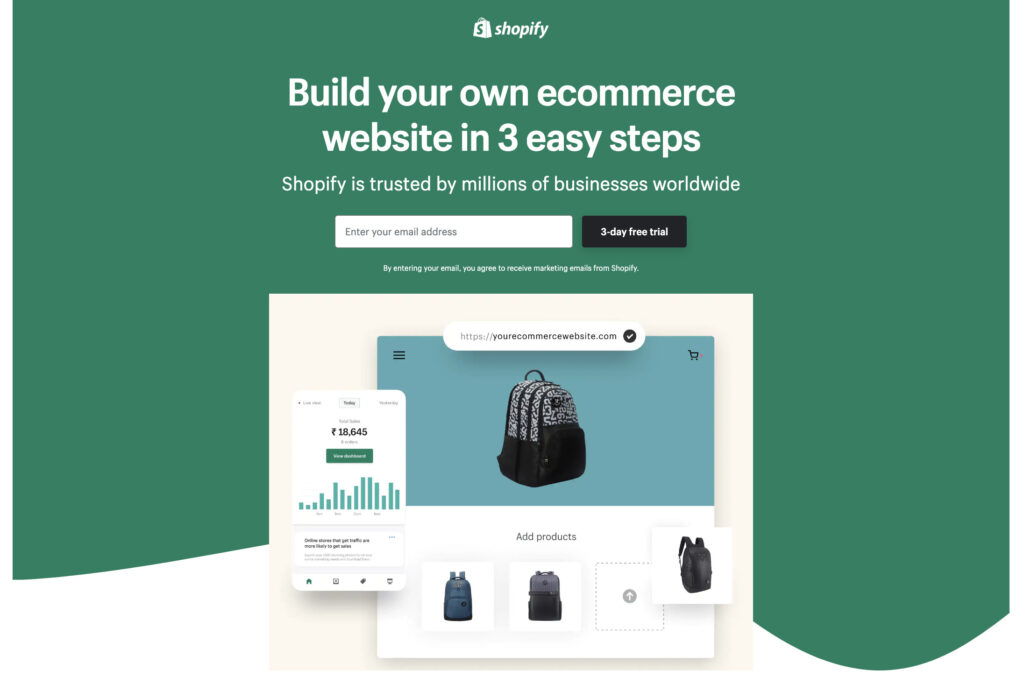 Shopify is one of the world's most well-known eCommerce platforms. It was created in 2006 and is the second most popular platform, accounting for 23% of the market. Shopify includes a plethora of eCommerce capabilities, such as unlimited products, unlimited storage, gift cards, discount codes, in-person point-of-sale, and nearly anything else you can think of. Shopify also includes several pre-installed features, including SEO optimisation, social media integration, and email marketing tools.
E-commerce services on Shopify enable businesses to sell real and digital products, manage inventory, handle payments, and give discounts and promotions. The platform works with common payment channels like PayPal and offers safe checkout alternatives. Shopify also offers a variety of customization options, such as the ability to add product variants, alter delivery prices, and generate discount codes.
Shopify starts at $29 per month and goes up to $299 per month. There is a two-week free trial available, which can be extended.
BigCommerce is frequently regarded as a direct competitor to Shopify, as it offers many of the same features. BigCommerce is designed for power users and those with technical expertise, and it is packed with options and features that can be tailored to any site. You may use a drag-and-drop visual page builder to create your site, customise themes using HTML/CSS/JS, optimise the checkout process, connect to APIs, use coupons, and dozens of other features.
BigCommerce plans start at $29 per month. While there is no free plan, there is a one-month free trial, which is rather long compared to the competition.
Magento is an eCommerce-specific Content Management System (CMS). It was bought by Adobe in 2018 after being launched in 2008. The platform offers a variety of customization possibilities for businesses, allowing them to design their online store to their exact requirements. This includes the ability to customise themes and layouts, add additional features via third-party plugins and extensions, and link with a variety of payment channels. Magento is well-known for being a robust software package with a steep learning curve. It also includes almost every eCommerce function imaginable, from live search to complicated product recommendations.
Although the software is open-source and free to use, you should probably use Adobe's online service. You must contact their sales team to obtain a price estimate.
Volusion is a pioneering E-commerce website builder founded in 1999 that allows you to get your business online quickly and easily. Its website-building tools cover the fundamentals, such as constructing home and product pages, integrating more than 30 payment choices, and marketing an unlimited number of products.
Volusion also offers a variety of e-commerce capabilities such as inventory management, payment processing, and the ability to give discounts and promotions. Volusion's platform also offers advanced capabilities such as multi-channel selling, SEO optimisation, and CRM integration to enterprises. This makes it an excellent alternative for enterprises with complicated e-commerce needs.
Volusion has four pricing options: Professional: $79 per month; Private: $29 per month; Commercial: $299 per month; Prime: Individual price based on individual company requirements.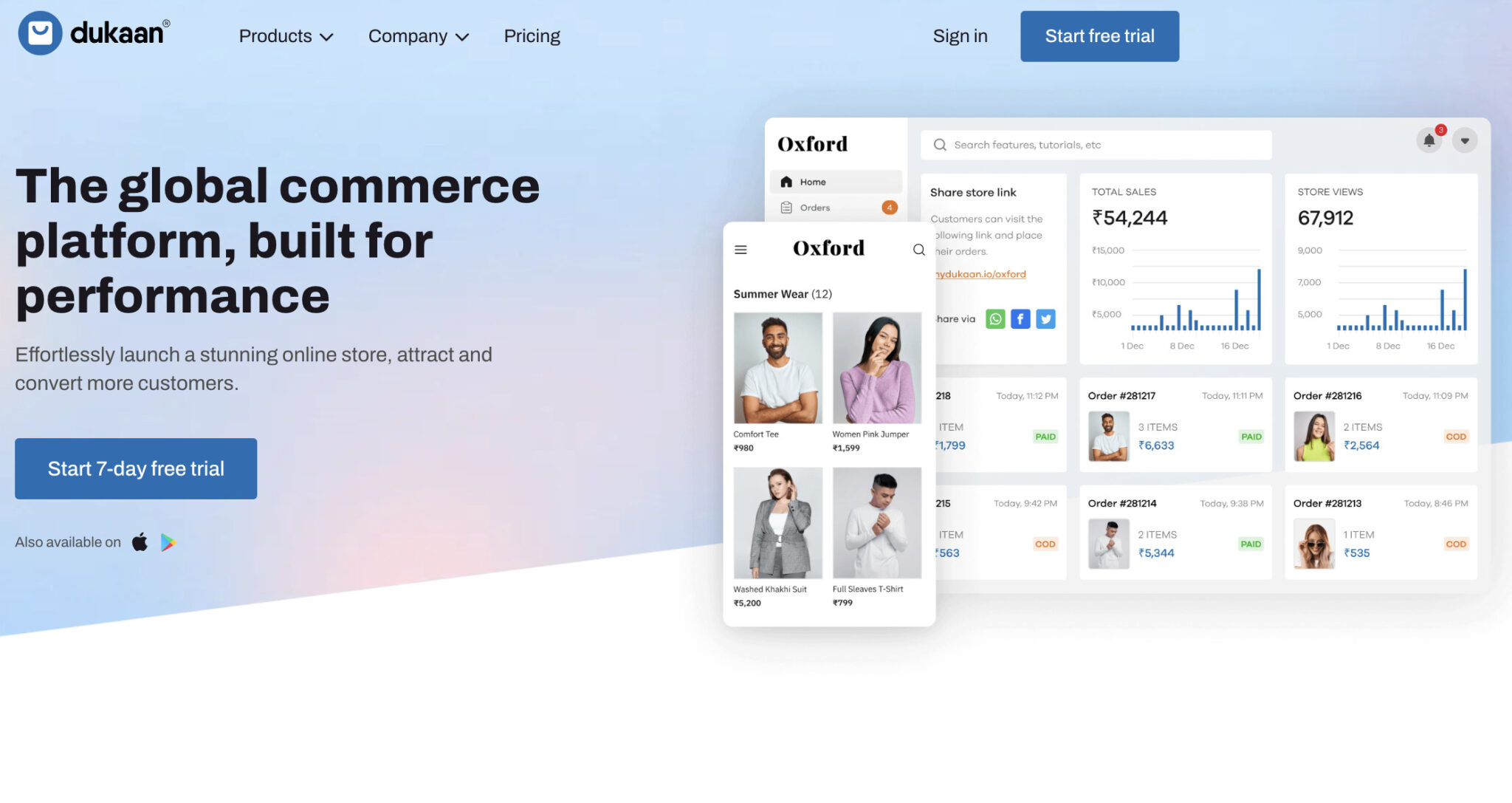 MyDukaan is a mobile-first e-commerce platform that was launched in 2020 in India. It is intended to provide small businesses and entrepreneurs with a simple and easy-to-use platform for creating an online store that does not require technical or coding experience. One of MyDukaan's major benefits is its user-friendly design, which makes it simple for businesses to launch an online store utilising the mobile app. The platform provides a variety of customisable templates to assist businesses in creating a professional-looking online store that is consistent with their brand.
MyDukaan, in addition to its simple appearance, provides a variety of e-commerce services, such as the ability to sell physical and digital products, manage inventory, process payments, and give discounts and promotions. The site also works with well-known payment gateways such as Paytm, Razorpay, and UPI.
The pricing structure of MyDukaan is also appealing to small enterprises. It provides a free plan that allows companies to set up an online store with up to 100 products. Paid versions with extra features and functionalities such as custom domains, product reviews, and customer analytics are also available.
WooCommerce is a free and open-source platform with approximately 4 million sites in total and 28% of all eCommerce websites. It is a WordPress plugin that adds E-commerce capabilities to your website rather than a standalone website builder. It is recommended that you collaborate with a developer if you decide to use this E-commerce website builder.
WooCommerce manages numerous website aspects such as shipping, secure payments, inventory connectivity, and tax administration. WooCommerce's functionality, like that of WordPress, may be improved with thousands of WordPress plugins, themes, and extensions created expressly for WooCommerce.
WooCommerce is entirely free to download and install. Installation is also simple, with a step-by-step wizard guiding you through the process.
Gumroad is an e-commerce site that allows producers, artists, and authors to sell digital products directly to their audience, such as e-books, software, music, and courses. It was first released in 2011, and its user-friendly interface has made it a popular choice among independent creators and small enterprises. It is intended to make it simple to develop content and deliver it to subscribers.
If you're a creative looking for an easy way to sell things to your audience, Gumroad is worth a look. It is more creator-friendly than other alternatives, and its delivery features are quite distinctive.
The base plan is free, but there is a 5% fee additional 3.5% + 30 cents for every transaction. The 5% cost is waived if you pay $10 per month, you may add your domain, and you can share unlimited video and other content from your Gumroad account. If you think GumRoad commission is too high, here are some of the Best Gumroad Alternatives in 2023 to consider.
Demandware, now known as Salesforce Commerce Cloud, is a software-as-a-service platform for companies looking to streamline their omnichannel operations. It allows you to manage sales in both digital and physical channels from a single platform and incorporates integrated AI technologies for personalisation. The comparatively small number of agency partners who are familiar with designing and developing on the platform is one downside of Salesforce Commerce Cloud.
Demandware provides a bespoke pricing strategy depending on the specific demands and requirements of the organisation.
Its pricing structure guarantees that organisations only pay for the features they require, making it a cost-effective alternative for companies of all sizes.
Squarespace is a website-building and e-commerce platform that allows businesses to create professional-looking websites and online storefronts. It was established in 2004 and has since evolved to become one of the most popular website builders, with over 3 million active projects.
One of Squarespace's key advantages is its simplicity. The platform offers a variety of configurable templates that are simple to change and adapt, enabling businesses to construct professional-looking websites without substantial technical experience. Squarespace also includes several built-in capabilities, including email marketing, social media integration, and SEO tools.
The website builder is intended for certain use cases such as subscriptions, digital content, and in-person transactions. Squarespace is rather tough to adjust beyond the common use cases, therefore if you require a highly customised website, it may be challenging to use.
The Business plan starts at $26 a month and includes almost everything you'll need to launch an eCommerce store for your brand. There is a 14-day free trial available that does not require a credit card to sign up for.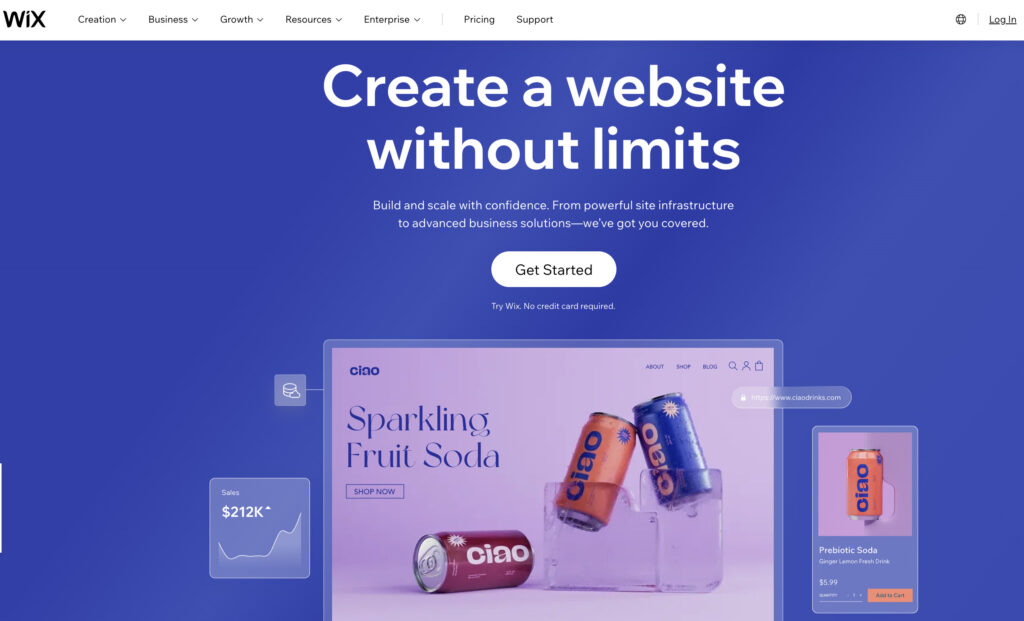 Wix is another popular E-commerce platform and website builder with a drag-and-drop interface and over 110 million users worldwide. Its experience in developing websites and online stores is obvious, and it is now positioned at the top of our E-commerce rankings with a 4.7 out of 5 scores.
Wix provides a plethora of possibilities for building an eCommerce site. An online store, services and subscriptions, in-person sales, drop shipping, and other features are all possible. There are also templates for restaurants, hotels, events, photographers, and other occupations.
Wix offers several different plans. While there is a free plan, it has restricted functionality and requires you to utilise a yourwebsite.wix.com domain. It does, however, allow you to construct a free online eCommerce website. Business plans begin at $23 per month.
Instamojo is an Indian-based E-commerce Framework that allows small and medium-sized enterprises to sell their products and services online simply and cost-effectively. Because the platform is developed with simplicity and convenience of use in mind, it is a popular choice among organisations of all sizes. You get a store with a payment gateway included at no extra cost here. With a plug-and-play format, it's the simplest platform for setting up and managing an online store. You also get tools for email marketing, customer retention, abandoned cart recovery, and Facebook and Google Shopping integrations.
In terms of cost, Instamojo provides a free online shop plan that includes basic eCommerce functionality. You can sign up for premium shop plans beginning at $3,999 per year. There is a transaction fee that ranges from 2% to 5% depending on the plan.
Ecwid is an e-commerce software service provider that offers online selling solutions for small enterprises. It was established in 2009 and is based in California. It operates in 175 countries and has over 9 million merchants. It is primarily intended to add e-commerce to an existing website, while it can also be used to develop new websites. It facilitates multichannel selling by allowing vendors to add this website to Etsy, eBay, and Facebook.
Ecwid is free to set up, but the free plan is only valid for the online store. A premium plan is required if you wish to smoothly connect your products to other marketplaces. These prices begin at $15 per month. These plans also include MailChimp automated marketing, a white-label branded mobile app, unlimited items, point-of-sale in-person purchases, Facebook Messenger live chat, and a slew of additional tools designed to help you sell more products.
Builder.ai allows you to create an eCommerce site and app from the ground up. Sachin Dev Duggal established it in 2012. This software startup earned multiple honours for its initiative to make eCommerce businesses easier to run. Their goal was to create software that bridges technological divides, allowing anyone to establish their website. Builder.ai's website integrates safe payment methods.
Here you can easily build your app/site in as little as two weeks. With many catalogues and a product carousel, you can provide your clients with a better buying experience. Also, everything is designed for both Android and iOS users.
They also promise that there will be no additional costs deducted from sales profits. However, because the price structure is not the same for everyone, the cost will entirely depend on what you use and choose while constructing your eCommerce business.
Fynd Platform is for anyone who wants to launch a new online business or expand an existing one. It makes no difference if you are a newbie; Fynd Platform simplifies everything for everyone. You have complete freedom to sell your goods on sites like Amazon, Flipkart, Google, AJIO, Myntra, Facebook, Tata CLiQ, and many others, including your website, utilising the Fynd Platform. Fynd is also India's largest omnichannel platform and cross-platform technology firm, specialising in AI, ML, Big Data Operations, Gaming + Crypto, imaging, and learning solutions.
Fynd Platform has three E-commerce price categories that are charged on an annual basis: Essential: $7.50/month; Business Unlimited: $18.77/month; VIP: $31.29/month.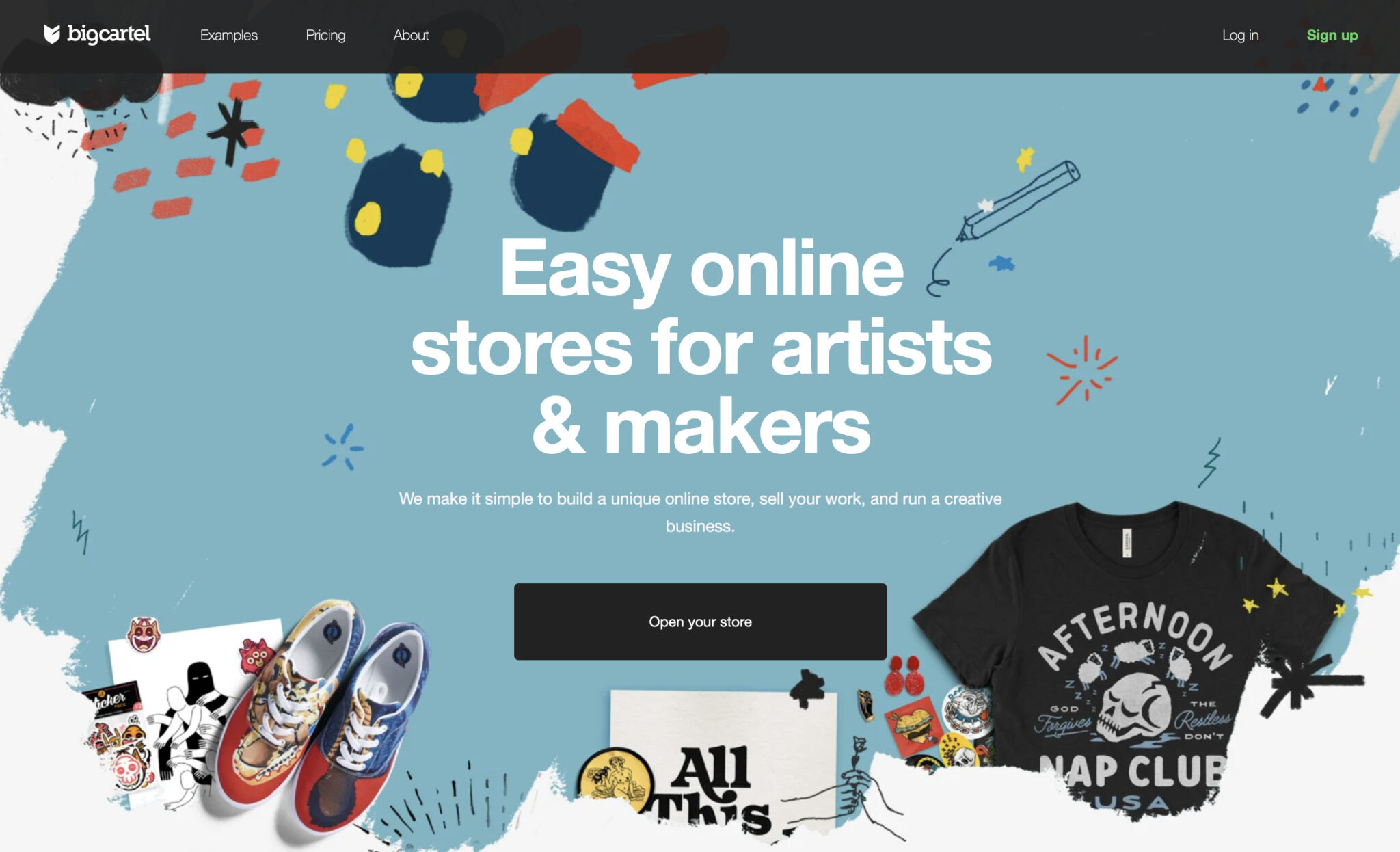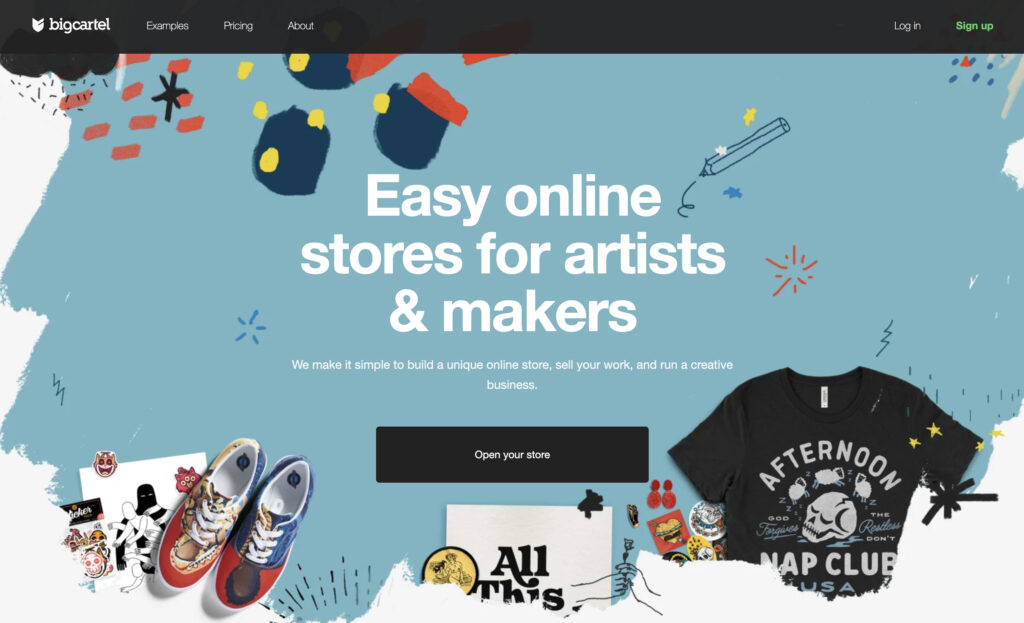 Big Cartel is another cloud-based e-commerce platform that allows artists and manufacturers to sell their products online simply and cost-effectively. It was established in 2005 and has since grown to be a popular choice for small enterprises and independent artists.
The platform is intended to be simple to use, especially for those with little to no e-commerce experience. Big Cartel offers a variety of configurable themes that are optimised for desktop and mobile devices, allowing businesses to construct professional-looking storefronts without sophisticated technical knowledge.
The basic free plan offers a personalised domain, a configurable theme, shipping tracking, and other basic services for operating your shop and allows for 5 products. Paid options start at $9.99 a month to add more goods, integrate with Google Analytics, and access other services. Consider BigCartel if you're an artist or designer looking to effortlessly start an online store for your work.
Weekly is another famous E-commerce Framework that allows anyone to build a website for free. Nevertheless, to use your domain name or remove adverts, you must purchase a plan. The free plan provides important features like real-time shipping prices and discounts, but upgrading is required to have access to further services. Further features of Weebly include email marketing, SEO, analytics, a mobile app, shipping capabilities, inventory management, and payment with Stripe, Square, and PayPal.
Personal plans begin at $9 per month and include the possibility to add your own domain. Weebly is a good option if you want a simple drag-and-drop eCommerce website builder with the most basic capabilities.
GoDaddy is most known for its website-building services, but it also has facilities for launching online storefronts. You may simply create e-commerce websites with GoDaddy's AI-based website builder. GoDaddy has built-in tools for email marketing campaigns and search engine optimisation (SEO), however, these are fairly limited. Although you can begin immediately, your GoDaddy website can only support up to 1,500 product sales. GoDaddy also integrates Google Analytics to track the number of visitors to your website. Furthermore, GoDaddy automatically evaluates your website to guarantee that it is optimised for search engines such as Google and Bing.
GoDaddy also offers website backup services that allow you to restore your website in the event of a hack or disaster. If your website has been compromised, this is a useful tool. GoDaddy's website builder offers four pricing tiers, with the Basic plan starting at $6.99 per month and ranging up to $29.99 per month when billed annually.
Selz is an E-commerce builder aimed mostly towards beginners. It provides a straightforward and user-friendly platform that allows you to sell across different E-commerce channels to enhance sales. Selz specialises in providing a simple and streamlined E-commerce experience, making it an excellent alternative for people searching for a simple and effective way to sell things online.
You can use Selz to develop an online presence anywhere you have one, whether it's a website, blog, or social media account. This tool allows you to offer your products through several channels, broadening your reach and potentially improving your sales. Selz allows you to upload up to 25 product images with a video or audio preview to offer buyers a strong first impression before they buy. You can sell both physical and digital things, and Selz provides several tools to help you sell digital goods more easily and securely. Selz also offers SEO tools for creating meta tags, names, and URLs for items and categories. Recently Amazon has decided to shut it down.
Selz pricing options start at $26 per month and run up to $199 per month.
3dcart is a low-cost cloud-based E-commerce platform that provides a simple shopping cart for companies looking to sell their products online. It was launched in 1997 and has since grown to be a popular choice for businesses seeking to establish an online presence. Although it lacks some of the advanced capabilities found in other website builders like Shopify or Wix, 3dcart's pricing, sales reporting, and mobile-responsive layouts make it an excellent choice for store owners wishing to establish an online presence quickly.
3dcart integrates over 160 payment methods into your store, making payment processing simple. Furthermore, the platform includes SEO capabilities that boost site search exposure, making it easier for shoppers to find your store.
Following the 15-day free trial, the E-commerce solution offers four premium options: Starter Shop for $19/month, Basic Store for $29/month, Plus Store for $79/month, and Pro Store for $229/month. Although the Startup Shop is equal in price to other options, it only allows for one admin login rather than limitless access.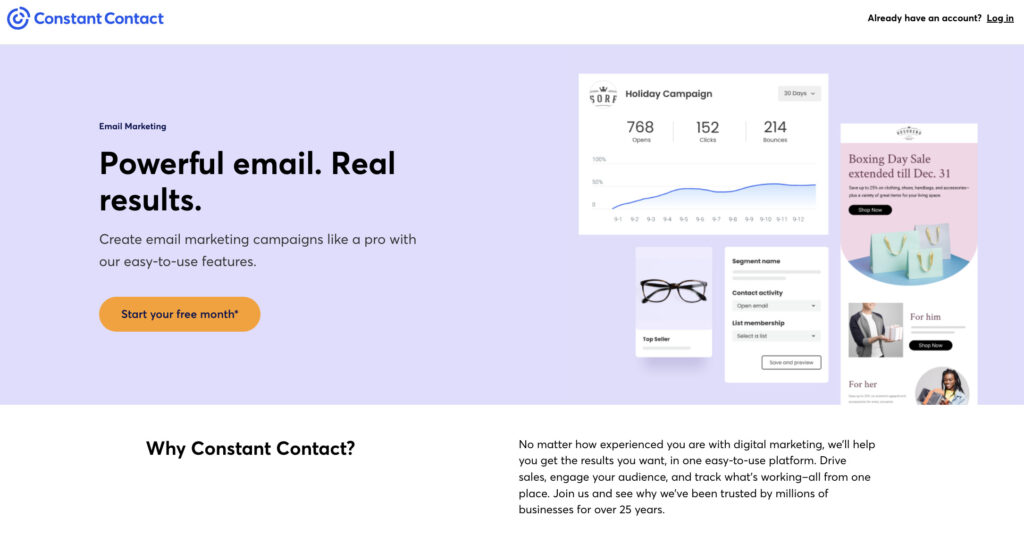 Constant Contact is a well-established email marketing company that was formed in 1995. They provide an online store in addition to email marketing.
You can select one of several themes and then personalise it to meet your business. It includes the majority of the features you'll need to run an eCommerce store, such as coupons, integrated shipping, digital downloads, and mobile-friendly layouts.
Businesses may utilise the platform's customised templates to send professional-looking emails that are optimised for desktop and mobile devices. Constant Contact also offers list-building tools, automated email campaigns, and real-time data to assist organisations in measuring the efficacy of their email marketing efforts.
Constant Contact is free to use and can be a great choice to start email marketing.
Mozello, which was founded in 2011, is a low-cost page builder that allows you to establish a website or an online store. It has a vibrant, colourful look, which is a refreshing break from some of the other possibilities.
Everything is mobile-friendly, multilingual-ready, and has a design that can be customised. It also has marketing and SEO functions to assist you in growing your business. You don't need any technical abilities, and you may choose from a variety of readymade themes, each developed by a skilled designer.
Mozello's most significant advantage is its inexpensive cost. There is a free version on a subdomain called yourname.mozello.com. Plans begin at $7 per month if you wish to utilise your domain. This includes, as a bonus, registering the domain name. There are no transaction fees, and you can use PayPal, Stripe, or Braintree to make your payment.
Overall, Mozello is a good option for people looking for a free or low-cost way to experiment with eCommerce and who like a more fun, light-hearted style.
Square is a digital payment solution that allows you to accept payments both online and in person. Square, a popular payment processing firm, launched it, and it is designed to function in tandem with its range of products and services. They are well known for its small white "square" device that fits into a headphone port, but they also offer an online payment service. As a result, they are an excellent alternative for firms that operate both online and offline and wish to merge the two. You can also provide pickup and delivery, appointment scheduling, and other services.
The basic plan has no monthly fee, and each transaction costs 2.9% + 30 cents. This is great for any startup enterprise with few resources. It also has a $72 monthly premium plan that allows businesses to sell an infinite number of products and includes sophisticated features like abandoned cart recovery and configurable shipping restrictions.
Zen Cart, which has been operating since 2003, is a free, open-source e-commerce platform. It was created to be user-friendly and configurable, making it appealing to businesses of all sizes.
Zen Cart's interface is very easy and simple to use. The platform offers a variety of configurable designs that are designed for desktop and mobile devices, making it simple for even people with little to no website design experience to construct professional-looking stores. Zen Cart also comes with several built-in features, like SEO optimisation, social media integration, and email marketing tools.
Zen Cart is free to use, which is one of its most significant advantages. Businesses, on the other hand, may be required to pay for web hosting, domain registration, and any third-party plugins or themes that they desire to use. Overall, Zen Cart is a wonderful alternative for businesses looking for a free and easy-to-use e-commerce platform.
FAQs
What is Framework in E-commerce?
An e-commerce framework is a platform or software application that allows firms to develop and operate an online store. Product administration, inventory management, payment processing, shipping and fulfilment, and marketing and SEO are all supported by e-commerce frameworks.
What factors should I take into account while selecting an e-commerce framework?
It is critical to consider budget, scalability, customisation choices, integration capabilities, security features, and ease of use while selecting an e-commerce platform. It is also critical to analyse the platform's features and functionalities to verify that they correspond with your business goals and objectives.
What is the best e-commerce framework for beginners?
E-commerce frameworks such as Squarespace, Wix, and GoDaddy are excellent choices for novices because they are simple to use and do not require any coding or technical knowledge. These platforms include a variety of customisable themes and designs, allowing businesses to easily construct a professional-looking online store.
Which e-commerce framework is most adaptable?
Magento, Shopify, and WooCommerce are the most customizable e-commerce frameworks. These platforms offer a variety of customisation tools and features, making it simple for businesses to establish a unique and personalised online store that corresponds with their brand.
Which e-commerce framework is the least expensive?
E-commerce platforms such as 3dcart, OpenCart, and Ecwid provide affordable price plans for enterprises of various sizes and sorts.
Conclusion
Finally, selecting the correct e-commerce framework for your company can have a huge impact on its performance in the online market. In this exhaustive comparison, the 23 best e-commerce frameworks offer a variety of features and functionalities to fit enterprises of all sizes and types.
There is a range of alternatives available to accommodate the individual needs and tastes of businesses, ranging from simple website builders like Squarespace and Wix to more complicated platforms like Shopify, Magento, and Demandware. While selecting an e-commerce framework, it is critical to examine elements such as budget, scalability, customization possibilities, and integration capabilities.