Looking for free Etsy alternatives? Here are the top eight alternatives to Etsy for 2023. Find the ideal alternative of Etsy that meets your demands and enables you to succeed in the creative e-commerce industry, from niche-focused platforms to international marketplaces.
Table of Contents
Introduction to Etsy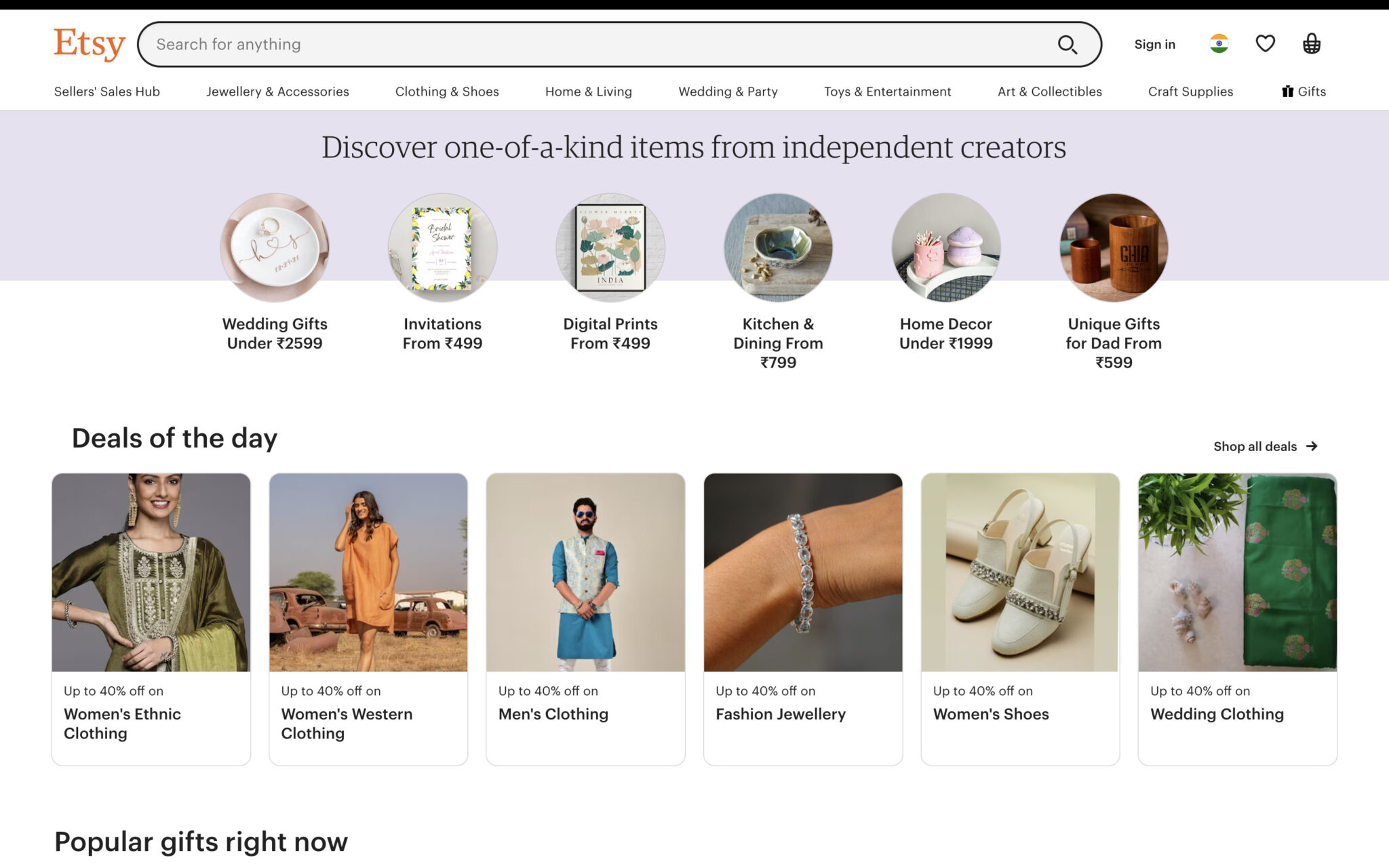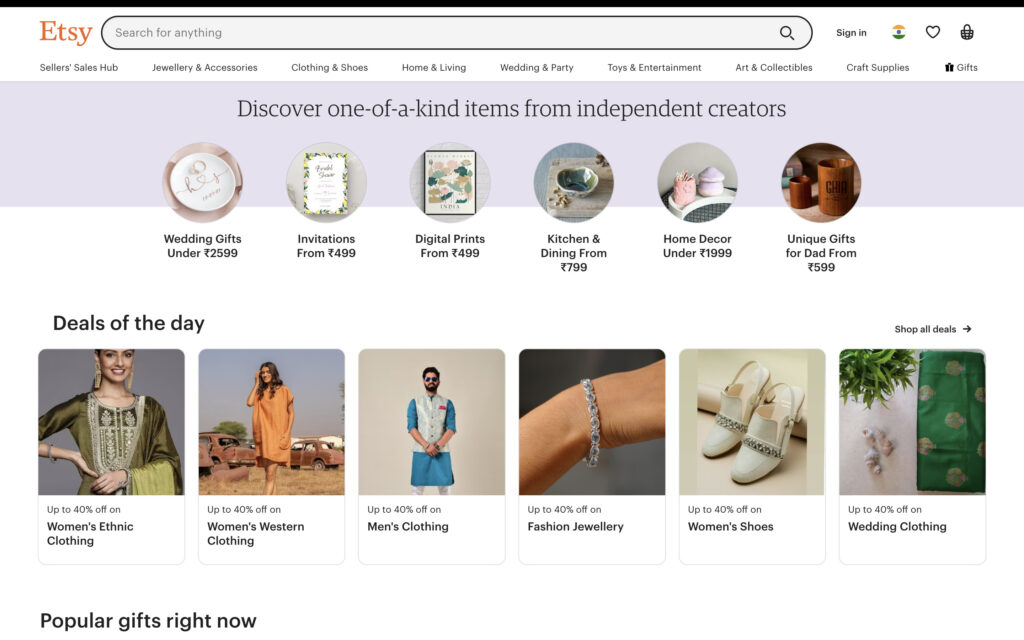 On Etsy, users buy and sell handmade, vintage, and craft supplies online. Since its launch in June 2005, Etsy has developed into a major global marketplace with more than 5 million vendors and 80 million customers. For individuals looking for one-of-a-kind and handcrafted goods, Etsy has emerged as a top option.
Etsy offers a varied assortment of goods that cater to different likes and preferences with a huge selection of categories, including handcrafted crafts, jewellery, home décor, apparel, and more. Small enterprises and independent vendors can showcase their creativity, build their brands, and connect with a worldwide client base in a welcoming environment provided by the platform.
Because Etsy is a community-driven platform, it encourages communication between consumers and sellers, enabling customised experiences, special requests, and open dialogue. Customers can quickly find and buy unique products while supporting independent craftsmen thanks to Etsy's user-friendly interface and powerful search tools. We have covered a detailed blog on Etsy Dropshipping so make sure to check it out before looking for the alternatives.
Merits and Demerits of Etsy
Here are some advantages of Etsy:
Etsy provides a large selection of unique products.
They provide assistance to small enterprises as well.
It has an active marketplace for buyers and dealers.
Etsy has a pleasant user interface to interact.
There are many support and resources available for sellers.
With Etsy, you can access a worldwide audience.
Etsy runs on low costs in comparison to others.
Etsy also provides payment security.
Here are some disadvantages of Etsy:
There is an increased rivalry between sellers in Etsy.
The fee schedule for transactions and postings makes it difficult for sellers to do business.
On Etsy, there are fewer chances for personal branding for sellers.
Sellers often face difficulties with logistics and shipping.
Occasionally occurring quality control issues are also a major factor to consider in Etsy.
How Blinkstore can Help?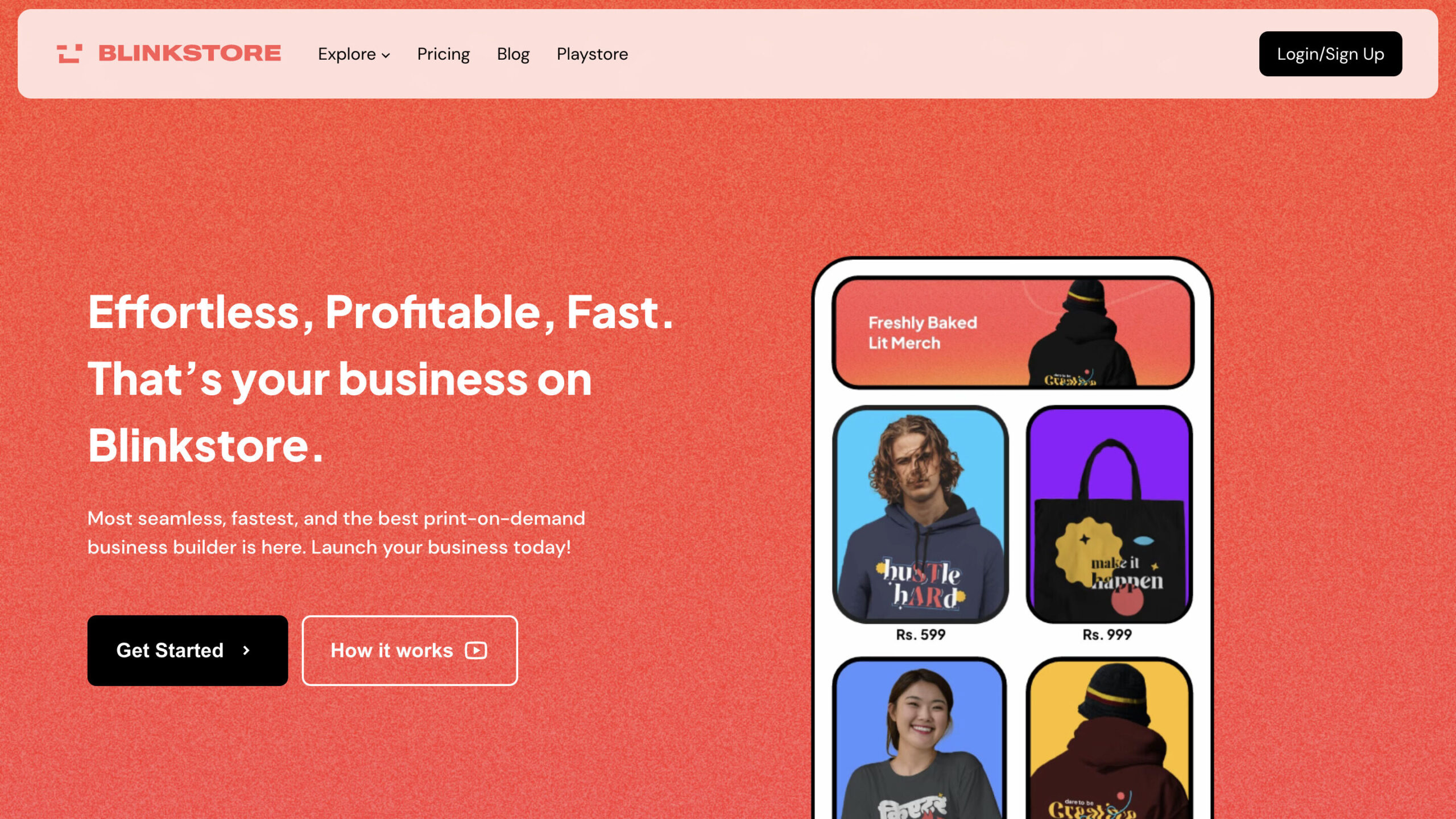 Blinkstore, one of the largest print-on-demand websites offers a lot of customisable gifts like swag bags, corporate gifts, and custom apparel at a great price with premium quality. It doesn't matter whether you are seeking corporate gifts for your employees, or looking for some swag bag ideas for your team members, Blinkstore got you covered. Blinkstore provides many different products that are completely customizable.
You can reach out to Blinkstore for any print-on-demand products at [email protected] or write to us on WhatsApp support at +91-916135181
Best Etsy Alternatives For Web Building
Here are some of the best Etsy alternatives for web building to consider in 2023: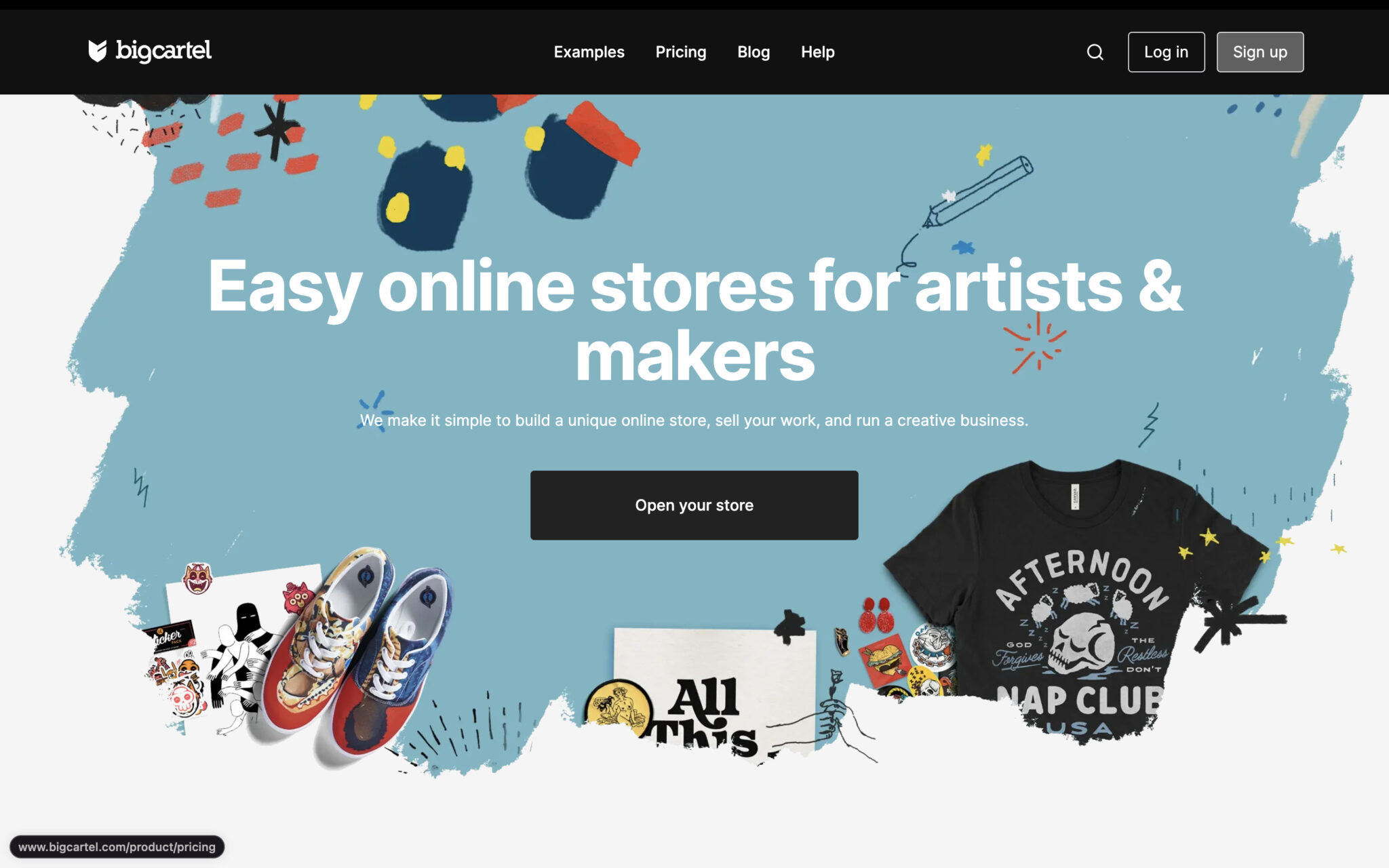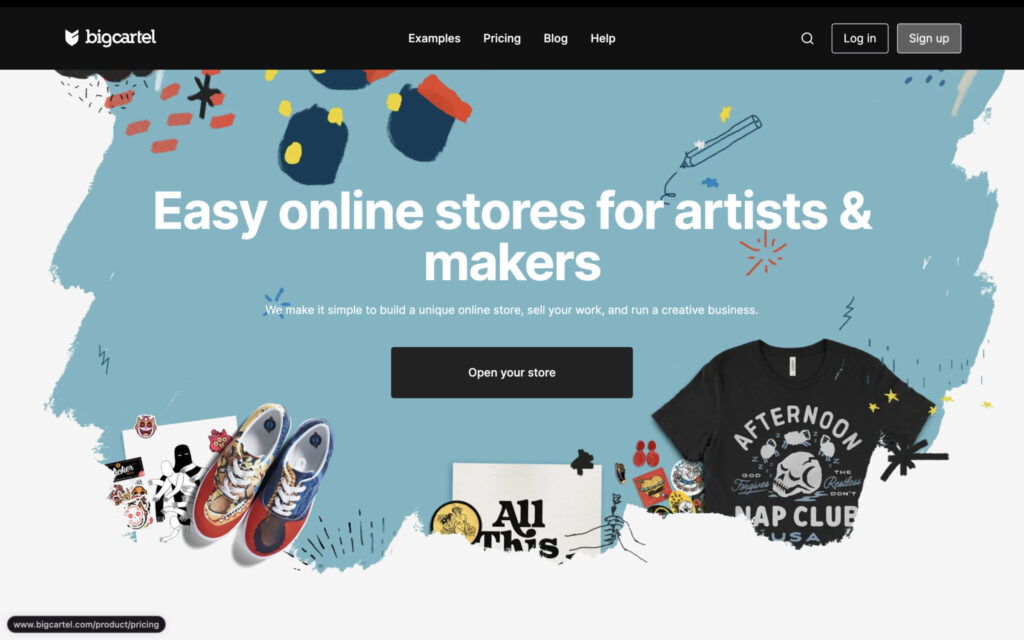 One of the well-liked Etsy competitors in India is ig Cartel, which makes it simple and affordable for creators to sell their products online. It has grown to be a well-liked option for independent enterprises and artists since its founding in 2005. The platform is created with ease of use in mind, especially for those with little to no e-commerce experience. Big Cartel offers a variety of scalable themes that are appropriate for desktop and mobile devices, allowing businesses to construct professional-looking shops without any technological expertise.
The basic free plan offers a customisable domain, a theme that is configurable, delivery tracking, and other crucial capabilities for managing your shop. It also has a 5-product limit. Starting at $9.99 a month, paid alternatives are available to access more services, add more items, and integrate with Google Analytics.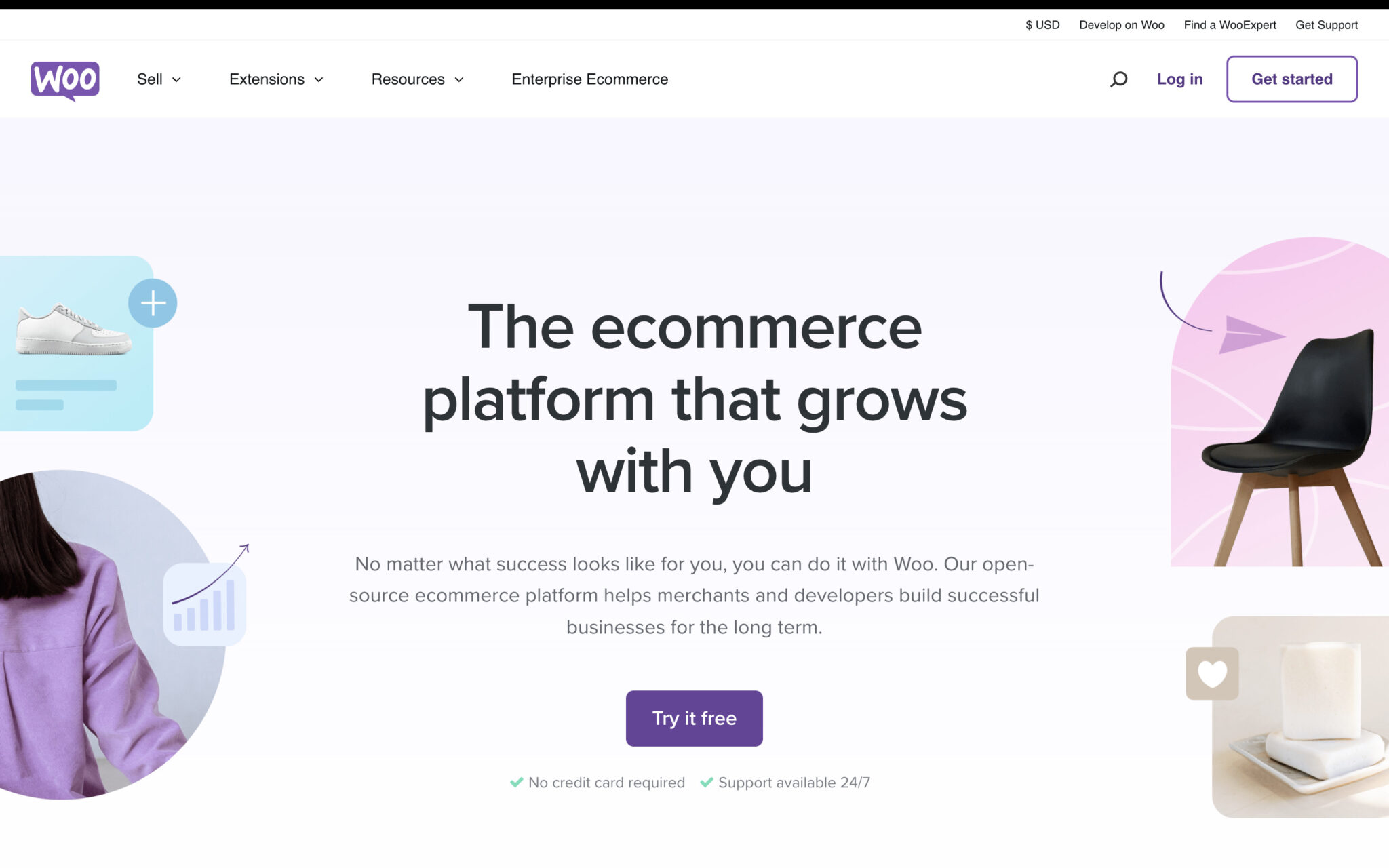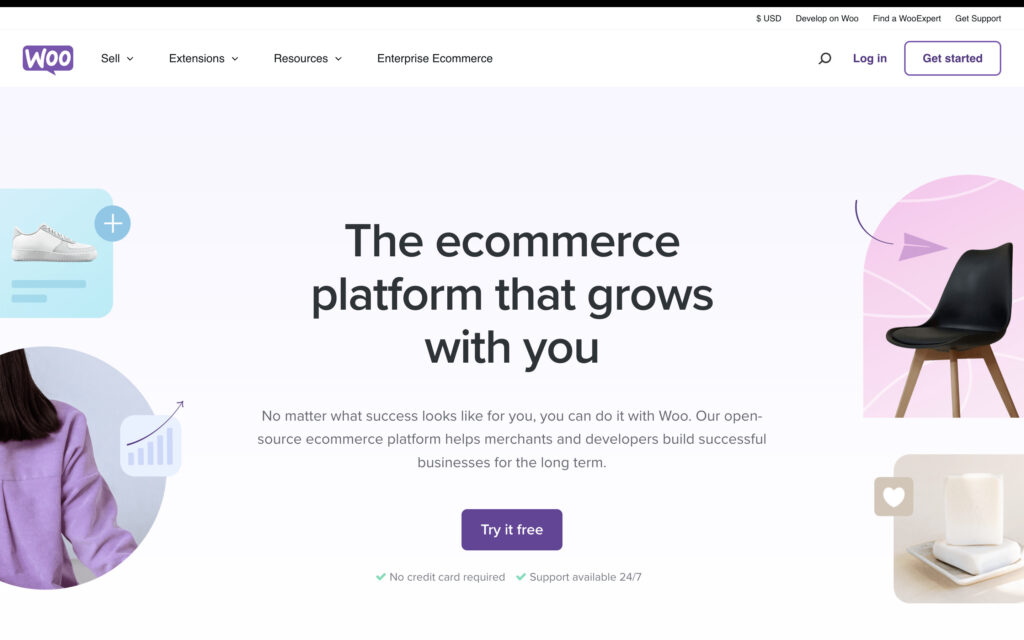 Woocommerce is the next option on our list of Etsy alternatives in India. The open-source and free WordPress e-commerce plugin is called WooCommerce. It is a popular choice for businesses who want more control over their e-commerce platform. An online store builder, payment processing, shipping, marketing, and analytics are just a few of the many services offered by WooCommerce. The annual setup fee for a WooCommerce store might be between $50 and $1,000 or more. In our blog post titled Ultimate Guide to Woocommerce Dropshipping, we went into great detail regarding woocommerce.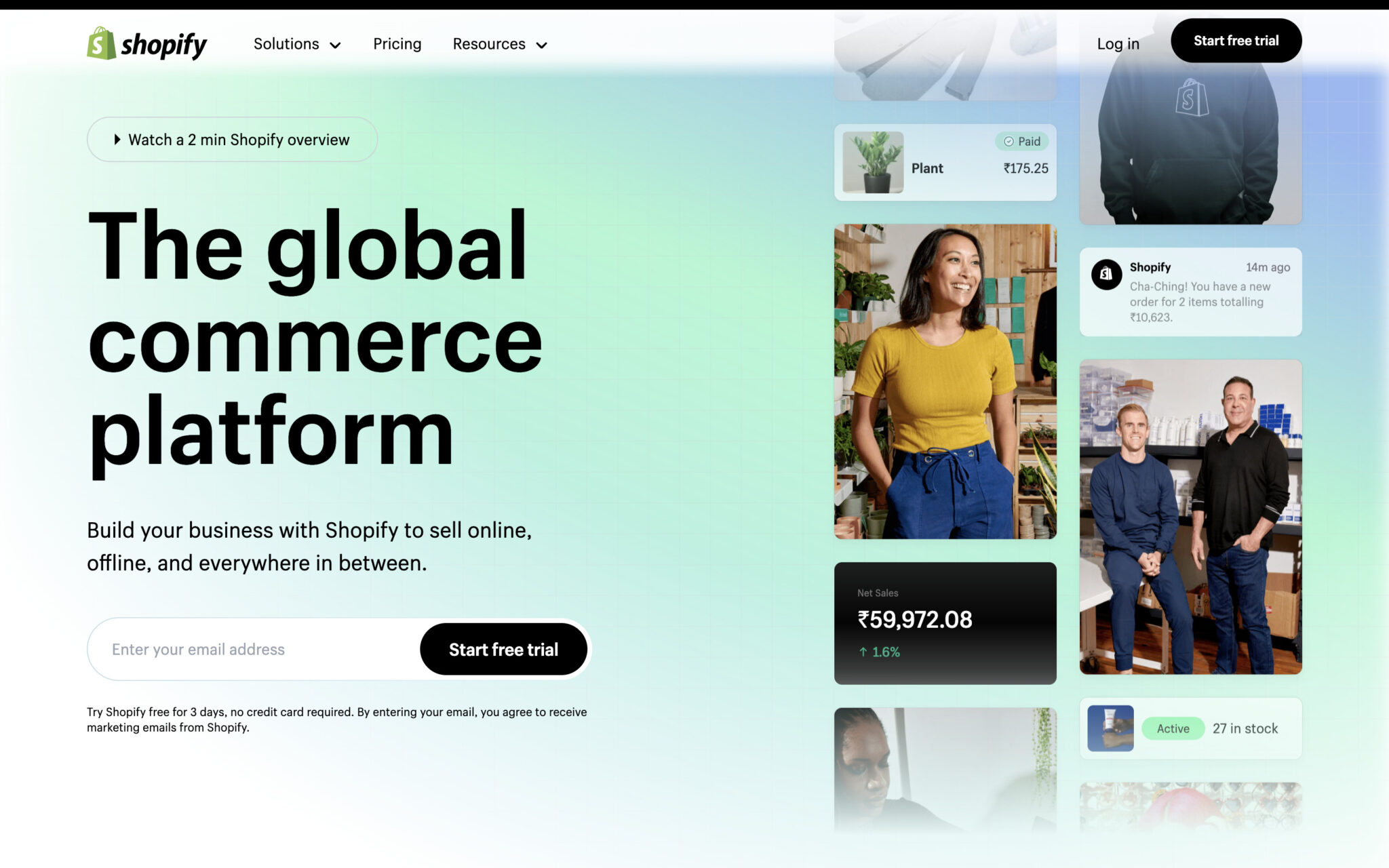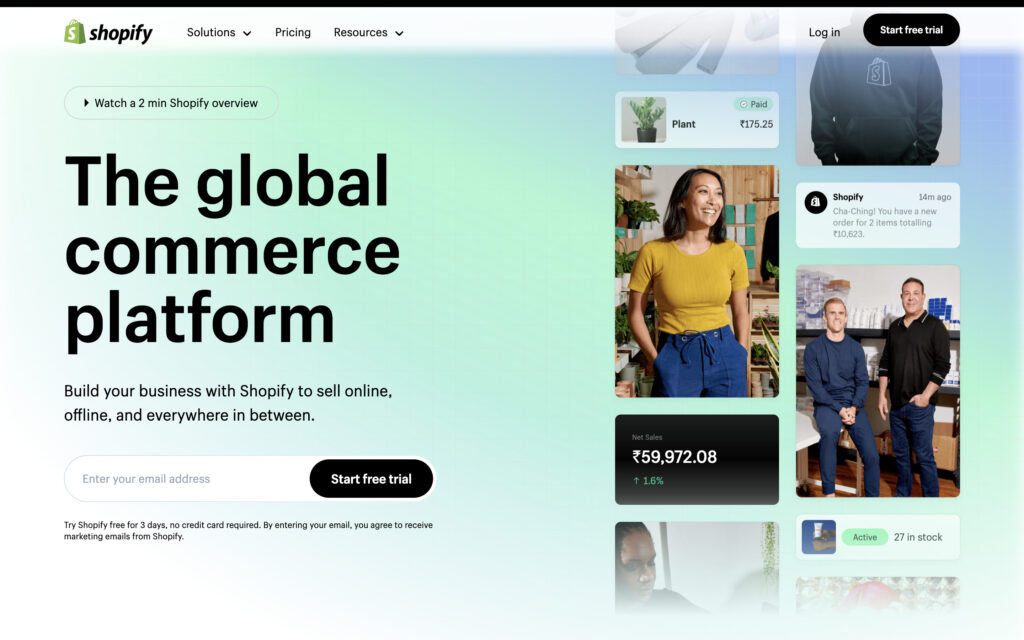 Popular e-commerce platform Shopify enables companies of all sizes to quickly create, modify, and manage their online stores. Shopify, which was established in 2006, has gained popularity and is now a well-liked substitute for business owners and entrepreneurs looking to establish an online presence.
One of Shopify's key advantages is its user-friendly design, which makes it usable by those with little to no technical knowledge. Customers may customise the look and feel of their company to reflect their corporate brand using the platform's drag-and-drop editor and variety of expertly produced themes. The annual plan for Basic Shopify is $399 USD.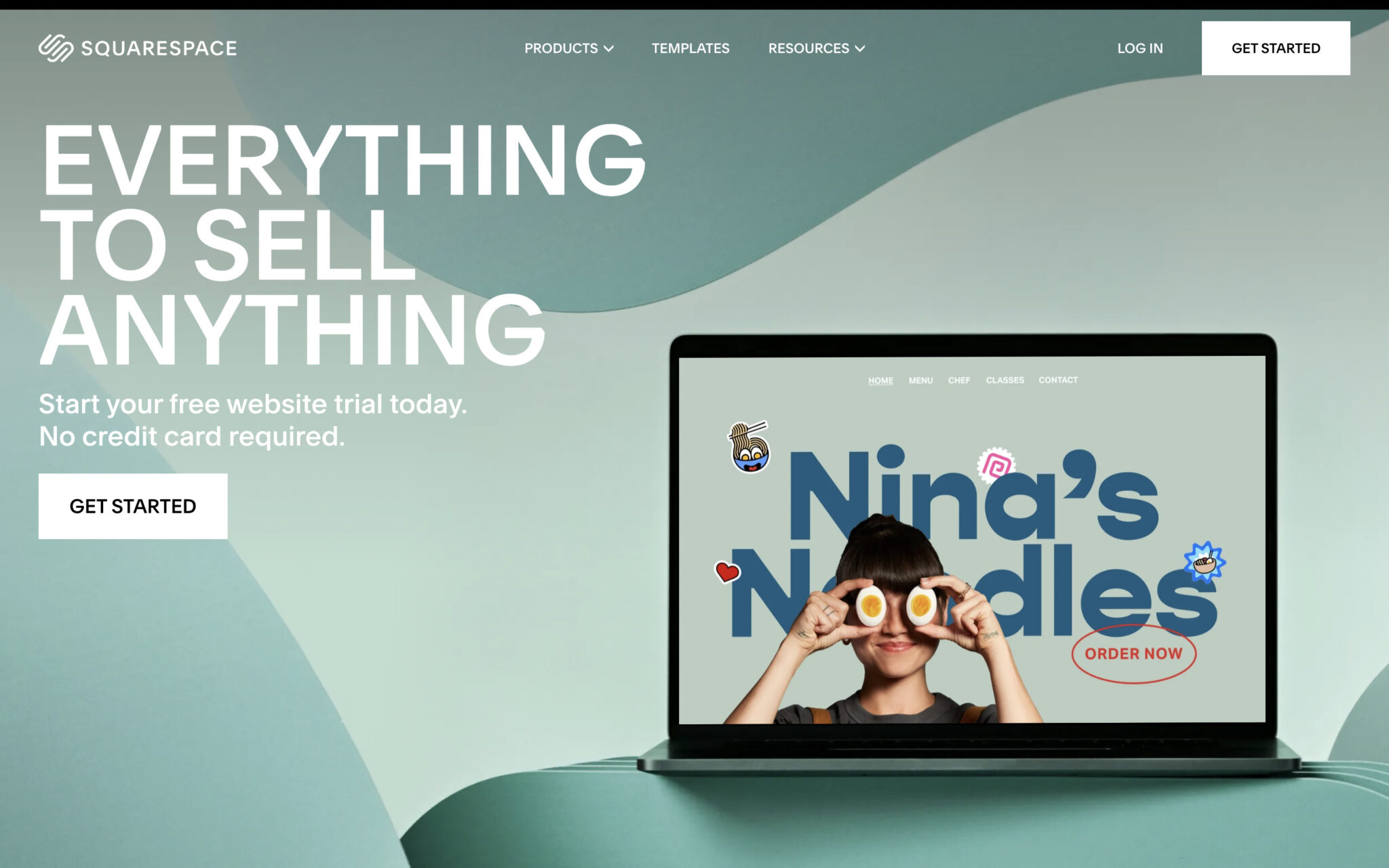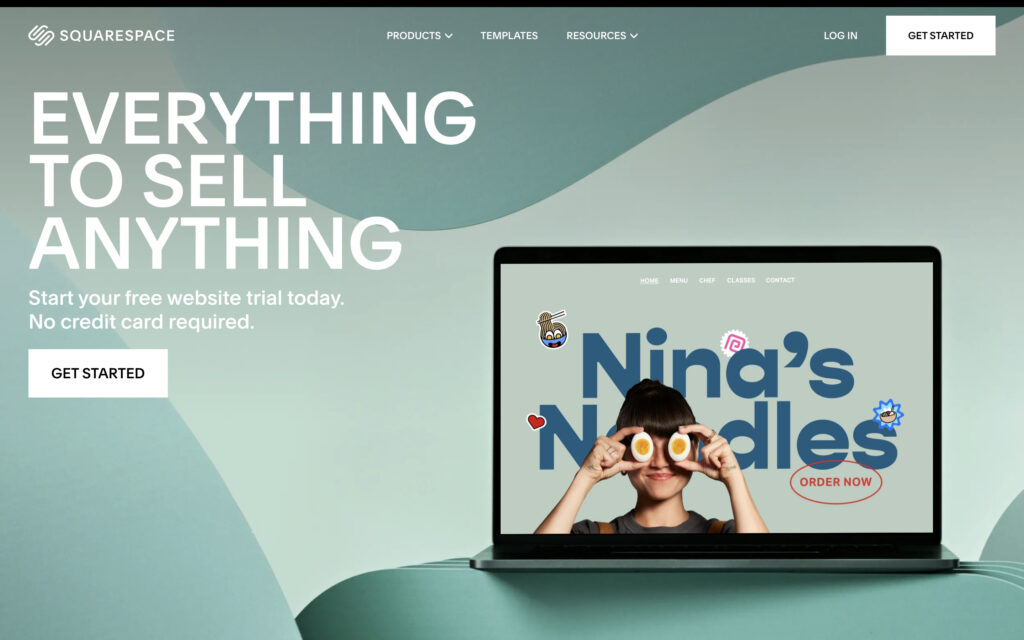 Squarespace, one of the top Etsy alternatives in India, allows businesses to create aesthetically pleasing websites and online stores. The website builder specifically targets use cases for subscriptions, digital content, and in-person transactions. Because it is tough to customise Squarespace beyond the basic use cases, it can be challenging to utilise if you require a fully customised website.
The Business plan, which costs $26 per month, includes almost all of the components you'll need to create an eCommerce store for your company.
Market Etsy Alternatives In 2023
Previously we talked about the Etsy alternatives for web.building. Now we will discuss what are the best market alternatives to Etsy in 2023: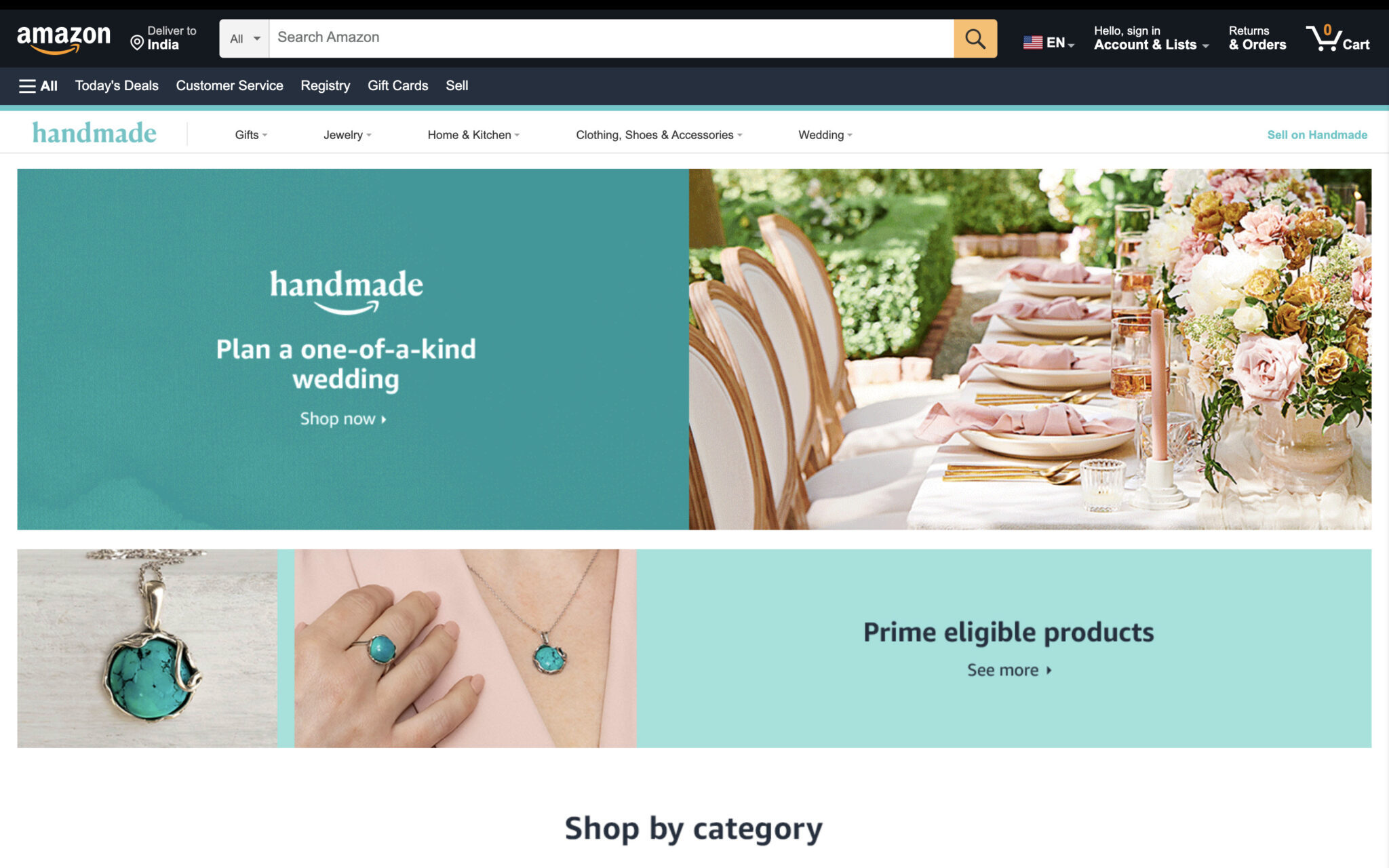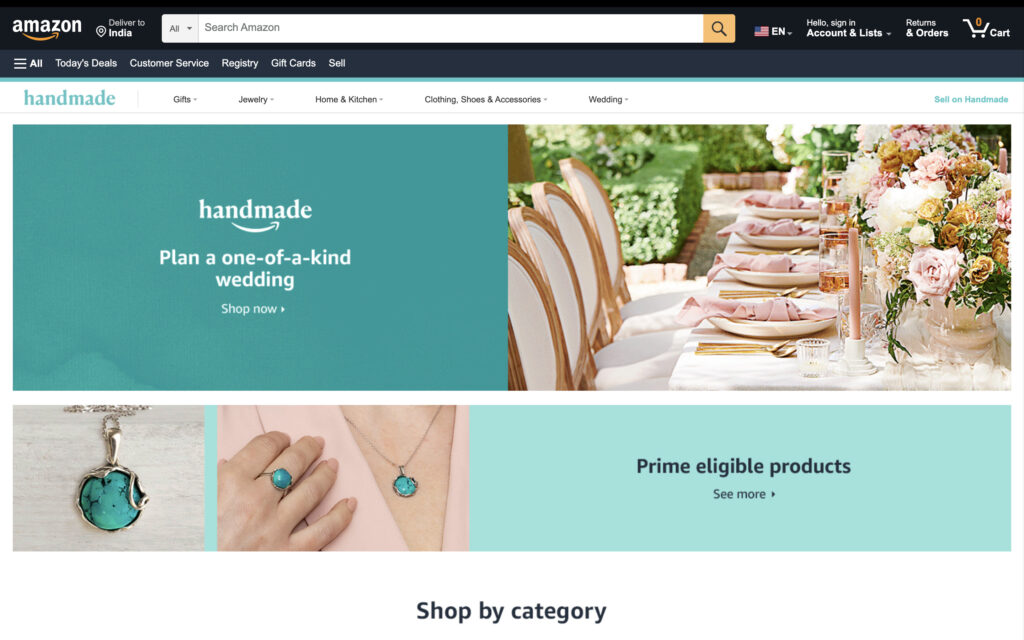 Amazon Handmade is a marketplace where makers may meet people interested in purchasing their products from Amazon. Amazon Handmade gives vendors a centralised platform to list their goods and handle orders. In contrast to the mass-produced goods that are frequently offered on Amazon, Amazon Handmade makes it simpler for customers to locate products that are actually handmade.
Additionally, it provides better customer care than Etsy, with a team from Amazon's customer support department on hand to help with any problems that may arise. You need a Professional selling account, which costs $39.99 a month, in order to sell on Amazon Handmade. However, after your first month, your Pro selling cost is waived if you are accepted for Amazon Handmade.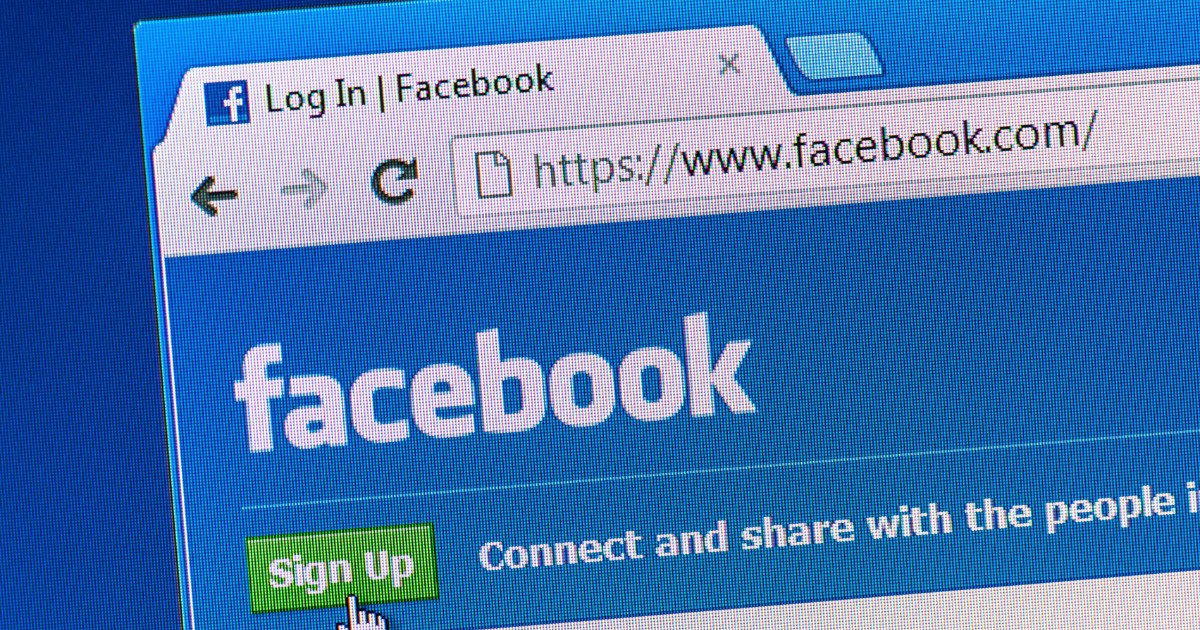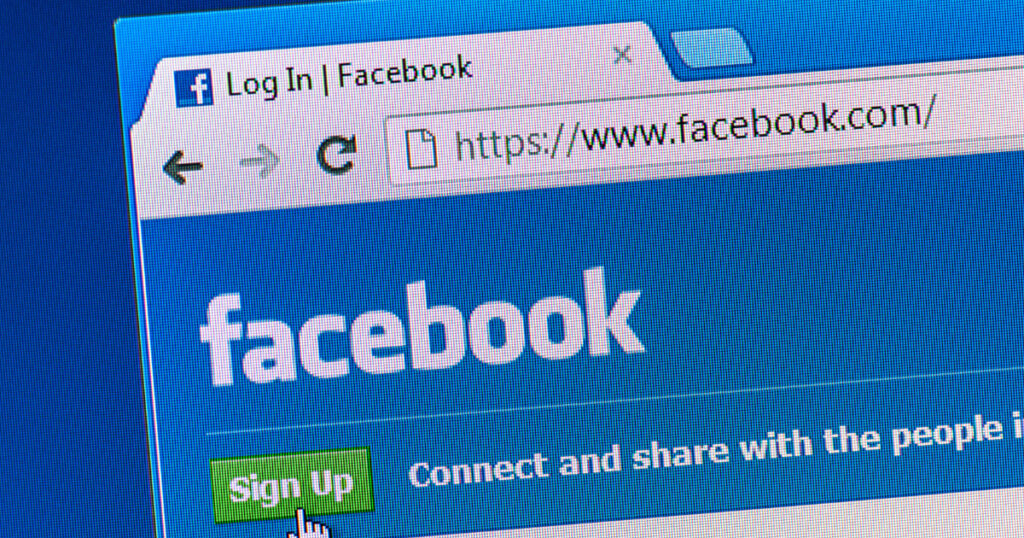 Next on our marketing list of Etsy alternatives, we have Facebook Market place. The advertising and inventory options accessible to Facebook Marketplace for Business members are not available to regular Facebook users. Some business users could also be eligible for Facebook-hosted shops, which allows customers to purchase your handcrafted goods without ever leaving Facebook. Customers can message you directly through your Facebook Marketplace profile in any case. It costs nothing to list your goods on Facebook Marketplace, and Facebook doesn't necessarily take a cut of your sales.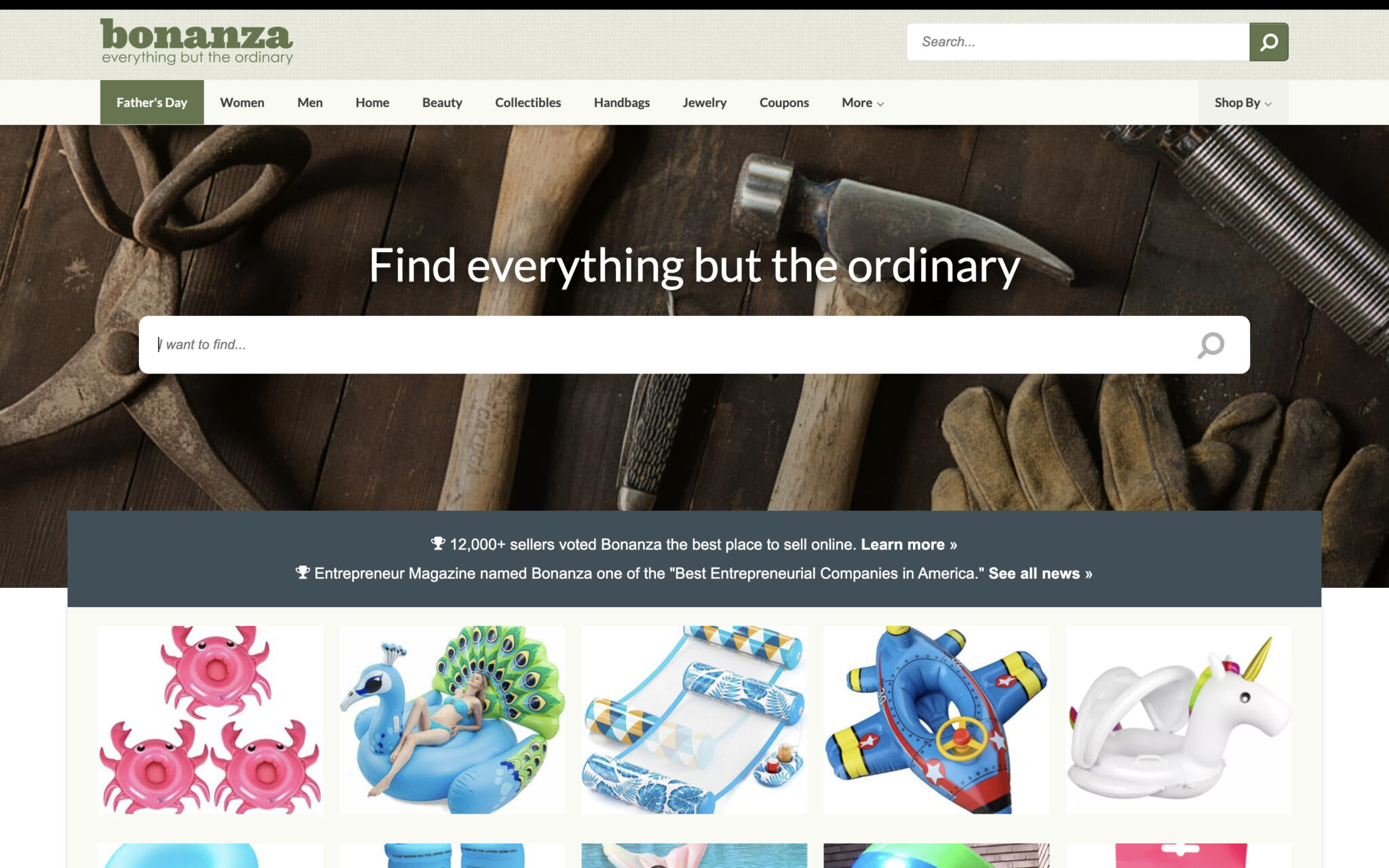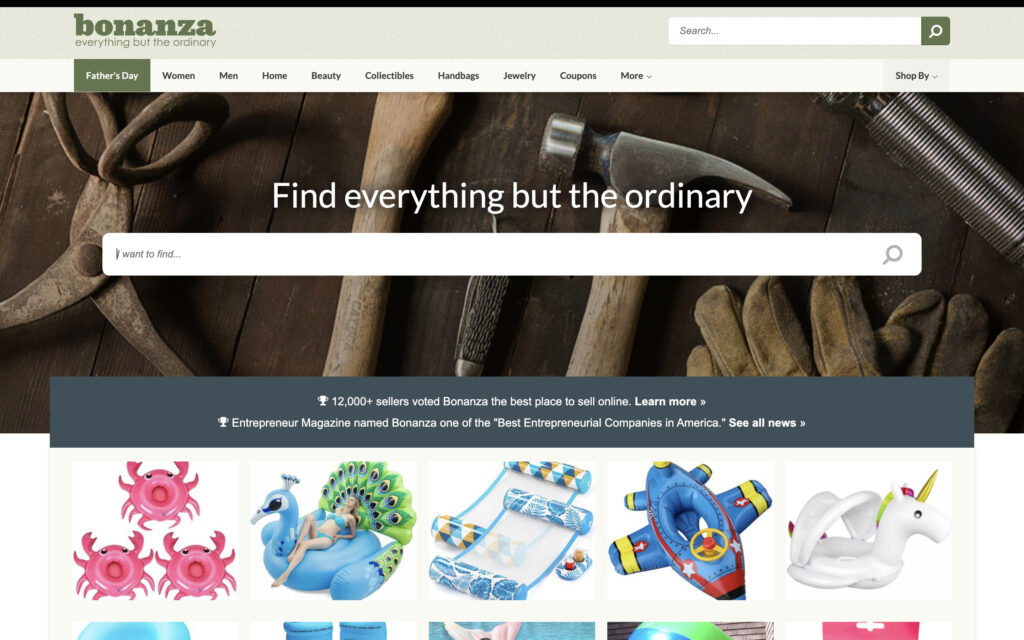 Bonanza is a marketplace that functions similarly to Etsy and concentrates on the selling of distinctive goods such collectibles, handmade goods, and artistic creations. As well as giving vendors access to a ready-made consumer base through its built-in market, Bonanza also enables you to set up an independent online business. On Bonanza, listing products is cost-free, however the website charges fees based on ultimate value.
Bonanza makes it simple to get started by allowing you to import your products straight from Etsy. Additionally, it adds automated listings to Nextag, eBay, and Google Shopping, and it has marketing and analytics features.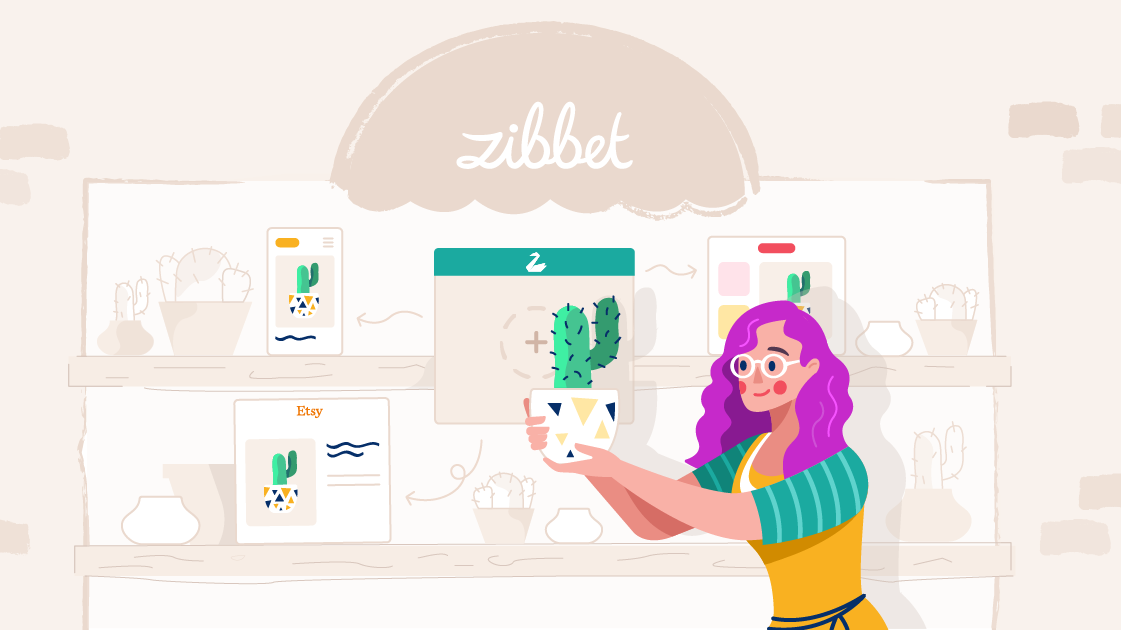 Lat but not the least, we have Zibbet, a great Etsy alternative gives creators the option of having a standalone website and access to its market user base. Sellers manage inventory across all platforms from a single spot after importing products from their pre-existing accounts on sites like Etsy or eBay.
Additionally, Zibbet has a number of built-in features for analytics, data tracking, shipping, inventory, and order administration. Each channel, such as your Etsy account, is charged a set monthly price by Zibbet.
FAQs
Whata are the best alternatives to Etsy for artists?
These are some of the best etsy alternatives for artists:
1. Amazon Handmade
2. Facebook Marketplace
3. Bonanza
4. Zibbet
What are some alternatives to selling on Etsy?
These are some of the best alternatives to Etsy for selling purpose:
1. BigCartel
2. Woocommerce
3. Shopify
4. Squarespace
Which is better : Shopify vs. Etsy?
Individual needs and preferences will determine whether to choose Shopify vs Etsy. Shopify gives greater customization and control for creating branded online stores, whereas Etsy offers a ready-made marketplace with an existing client base and a focus on handcrafted, vintage, and unusual products.
Conclusion
In conclusion, looking at alternatives to Etsy in 2023 offers up a world of opportunities for creatives, artisans, and small-business owners. People can locate online markets that offer distinctive features and various communities by taking these 8+ finest Etsy alternatives into consideration. These options offer thrilling chances to display goods, make connections with customers, and extend reach beyond Etsy's marketplace. These alternatives provide sellers aiming to succeed in the creative e-commerce market with compelling options, whether they are looking for a platform that targets particular categories or one with a wider worldwide reach.