How to earn money from Instagram in India? is a very frequently asked question by creators and people who want to become Instagram celebrities. Instagram is the biggest social media platform in India. With more than 230 million Indians using Instagram, it is a go-to platform for brands, individuals, communities, creators, etc. No one wants to miss out on their Instagram presence and growth.
Table of Contents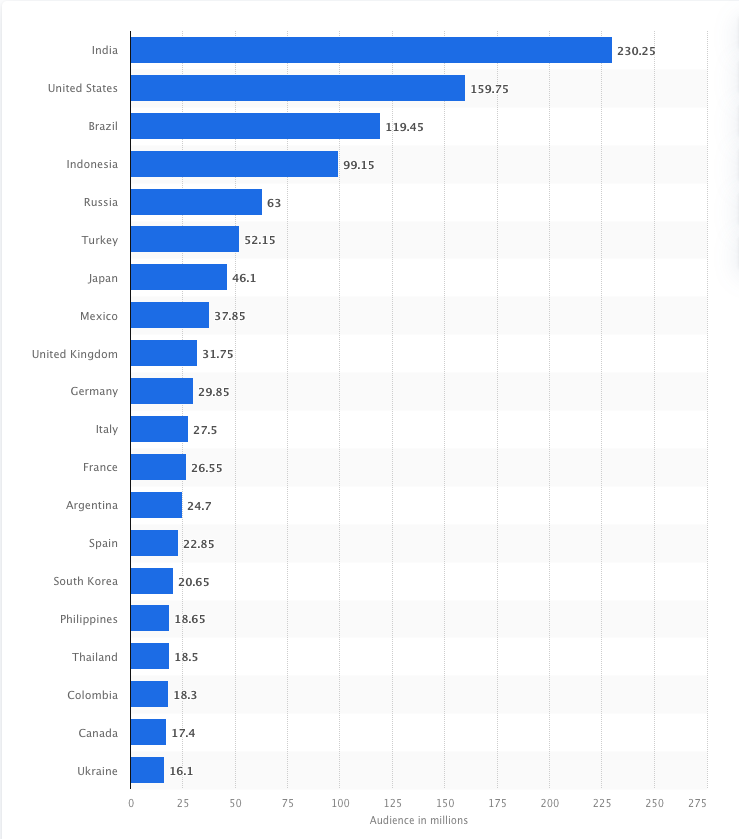 While there are a lot of resources, tools, and knowledge out there on the Internet on how to grow your followers on Instagram, there's a lack of solid information and advice on how to earn money from Instagram. Especially when it comes to earning money from Instagram in India. Because many monetization tools that are available for Instagram's users in the West have not yet launched in India. So creators in India need to get their way around and be creative about their Instagram monetization.
In this article, we've mentioned the 15 best ideas to help you earn money from Instagram in India, let's dive in!
Let's first look at how much money the biggest celebrities make on Instagram. This is what the world's biggest celebrities charge for posting one sponsored (promotional) post on their Instagram account. This data is estimated. The actual numbers may vary. This is very exciting for the average Instagram creator and it shows how valuable your audience is and how much money you stand to make if you create great content consistently, provide value, and command engagement.
| | |
| --- | --- |
| Creator | Estimated Average Price Per Post (INR) |
| Christiano Ronaldo | ₹3,45,92,543 – ₹5,76,54,214 |
| Ariana Grande | ₹2,90,58,182 – ₹4,84,30,303 |
| Dwayne Johnson | ₹2,84,26,150 – ₹4,73,76,867 |
| Priyanka Chopra | ₹2,99,09,451 |
| Virat Kholi | ₹5,04,67,560 |
| Shraddha Kapoor | ₹1,18,91,493 |
| Alia Bhat | ₹1,22,68,886 |
| Deepika Padukone | ₹1,24,47,675 |
People are curious about Instagram's 1 million followers income India. And wonder how to earn money from Instagram by uploading photos or how much Instagram pays for 1k followers (also, how to make money on Instagram with 500 followers). Before we go into the specific ideas, we'd like to clarify that Instagram never pays its users. There's no program run by Instagram that pays its users for having a high number of followers or engagement on the posts.
Another question that has a "not so exciting answer" is "How to earn money from Instagram without followers?". There's no way to monetize your Instagram or make money from Instagram if you do not have any followers. Because followers have equal reach and engagement.
Can you make money on Instagram?
The short answer is "Yes". Yes, you can make money on Instagram. Instagram itself is working towards helping and enabling its users to make money on Instagram.
Here's a post that Mark Zuckerberg wrote on Facebook 👇
"We want to build the best platforms for millions of creators to make a living, so we're creating new programs to invest over $1 billion to reward creators for the great content they create on Facebook and Instagram through 2022," Zuckerberg wrote in a Facebook post.
Here's a quick overview of how to monetize Instagram traditionally. The most widely popular way is to build an audience on your Instagram and then divert a percentage of that audience to your YouTube channel, online course, online store, or affiliate links in the bio.
In this blog, we'll discuss these monetization methods and also get deep into the new ones.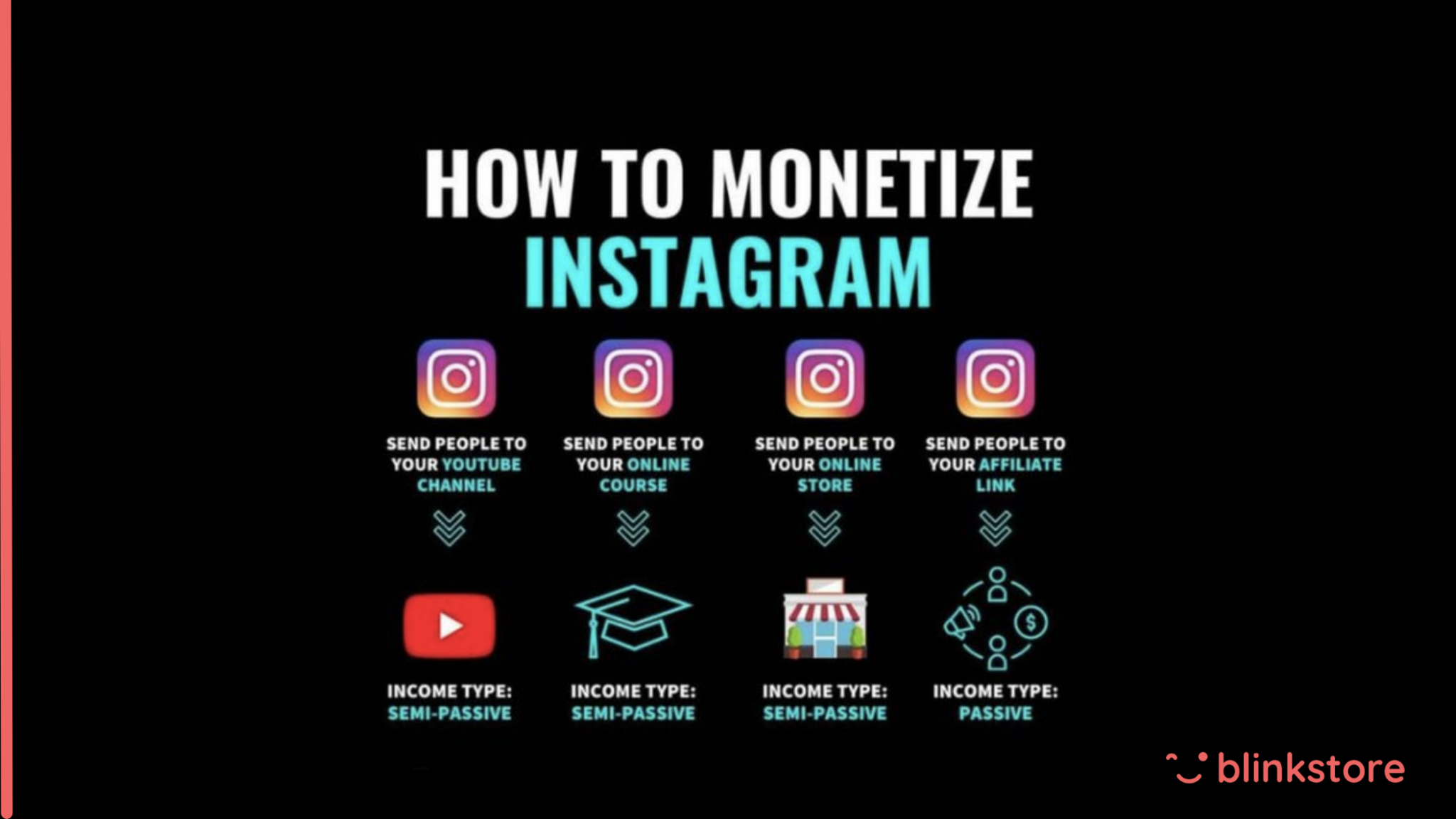 Not only that you can make money from Instagram. But Facebook and Instagram are building the platform in a way that enables you (content creators) to monetize it. It is evident from their recent announcement of a $1 Billion fund to pay creators as incentives.
Instagram (Facebook) is also launching community and region-specific funds to incentivize creators in various domains. One such example is the launch of the Black Gaming Creator Program by Facebook.
How much money can you make on Instagram?
A survey by HypeAuditor with influencers gave them the following results how much money you can make on Instagram based on your follower range.
But please understand that how much money your followers are worth also depends on your niche, what kind of people follow you, your reputation, and your content type. This chart can help you put a ball part number to quote any brands approaching you for paid/promotional content.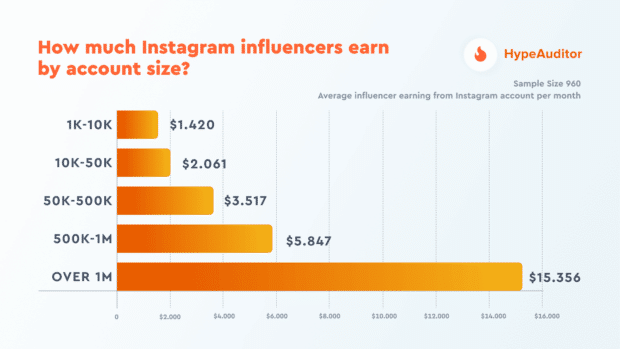 Also, this data is more apt for Instagram creators in the West and might not apply as it is in India. In our experience and research, we've come across the following numbers quoted by Instagramers on how much they charge brands based on their followers. Then we talked to a few brands to understand how much money the brands are willing to pay Instagram creators in India based on their followers.
Here's the range that we came across: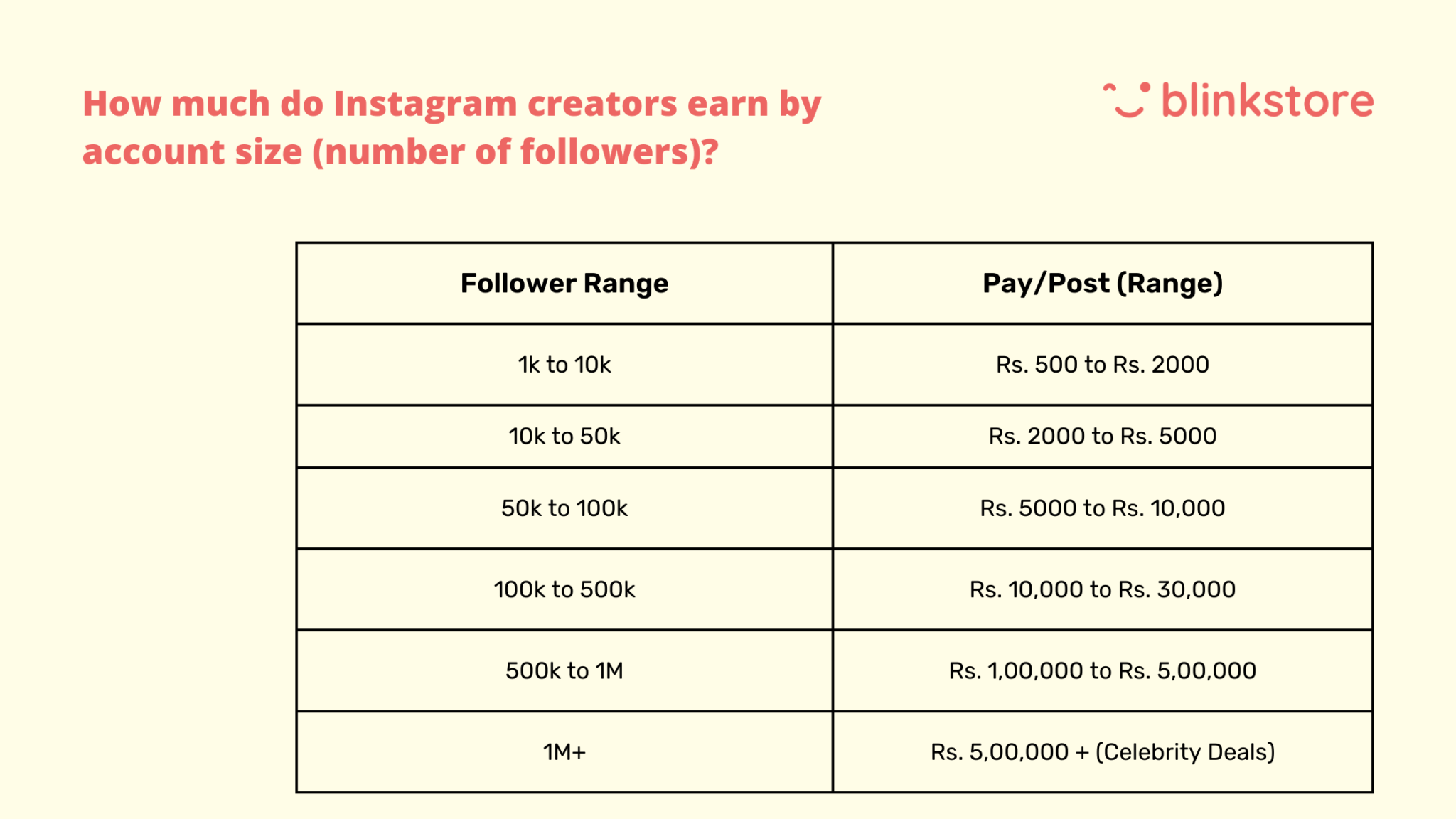 Instagram 1k followers income India
Creators on Instagram in India with 1k followers can potentially earn between Rs. 500 to Rs. 2, 000 per post, although actual earnings depend on factors like niche and engagement rate. Their income also comes from various sources, including ads, partnerships, fan memberships, and affiliate marketing. As follower count increases, so does earning potential.
Instagram 10k followers income India
Micro-influencers in India, with 5, 000 to 10, 000 followers, can earn around ₹6k to ₹6k per post. However, these earnings vary based on niche and other factors, and creators have income sources beyond posts, making exact revenue estimation difficult.
Instagram 1 million followers income India
Creators in India with follower counts ranging from 500,000 to 1 million can potentially earn an average of up to 484,190 Rupees per month
15 Ideas on How to Earn Money from Instagram in India
Now that our building blocks and fundamentals are ready for Instagram monetization, we can dig deeper into the 15 ideas for earning money from Instagram in India.
Please note that as a creator, you do not need to try all of them. Instead, pick one that you think suits you the best and test it out (as an experiment) for a month or two. Then slowly try out other ideas throughout 12 months. This journey will make you rich with the knowledge of Instagram monetization. And you'd know exactly what works for you, what you are good at, and what monetization method makes the most money for you. It is important to keep the effort and earnings in balance. You'd not want to put a huge effort into earning very little.
1. Instagram Super Follow
Twitter's "super follow" feature and OnlyFans model of premium (paywalled) content is making Instagram build its own von of it. Instagram is calling it "Super Follow". Instagram is calling it "Subscription". Just like you support YouTubers by paying for their channel's membership, Instagram will allow creators to launch subscriptions that fans can purchase for exclusive content.
A paid subscription will allow the fans to view exclusive stories posted by the creator. The TechCrunch article on this feature mentions that Instagram has confirmed that this feature is under development. And will be soon tested publicly.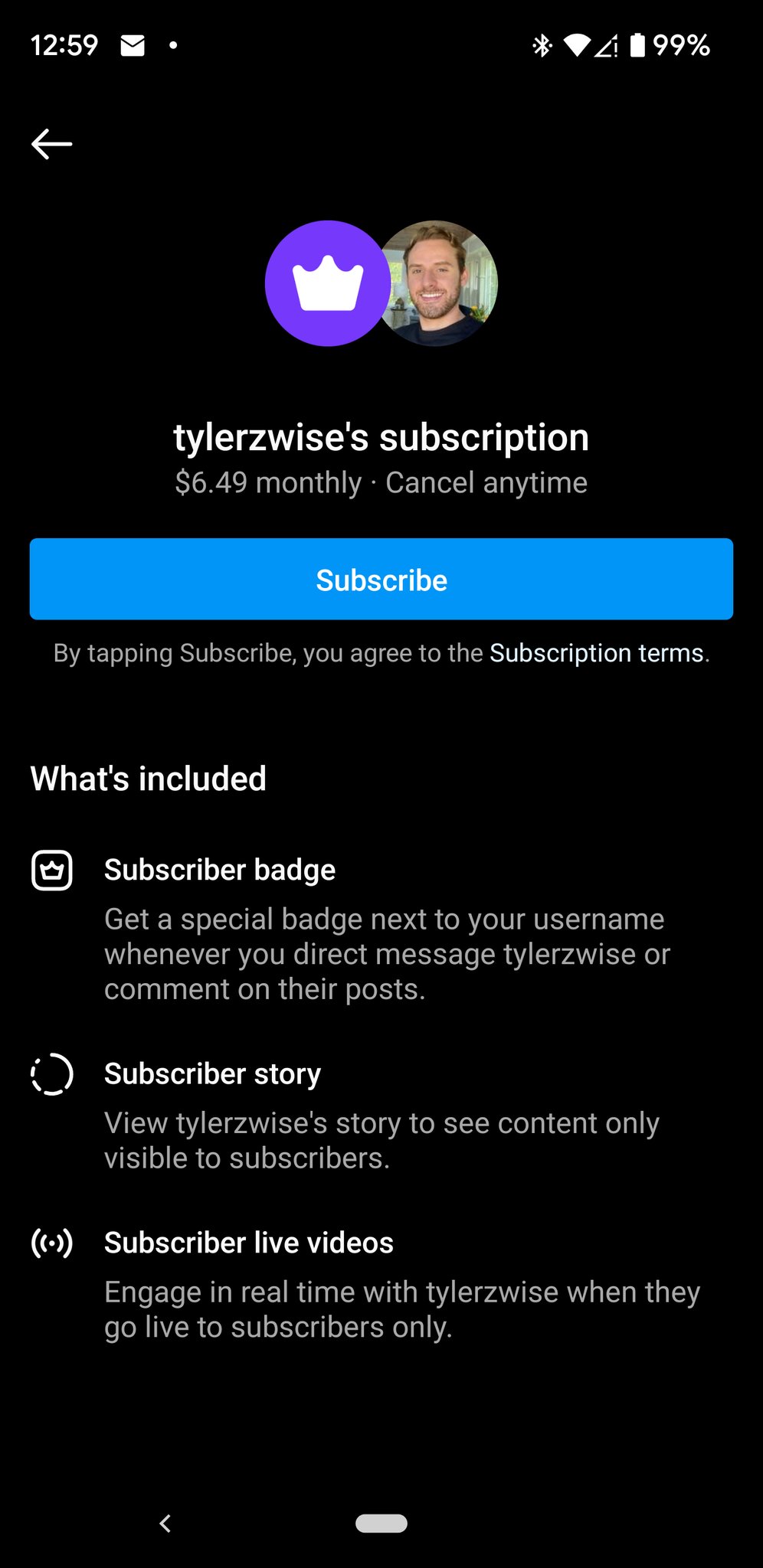 Till the time Instagram Super Follow or Instagram Subscription is not out, we can only speculate on it. But this is going be bto ecoming huge for creators to make money on Instagram.
2. Brand Partnerships
The oldest and the most reliable monetization method on Instagram is brand partnerships.
The process is simple, brands reach out to creators to promote their products, services, content, or brandbrandsugh content created by you. This works both ways, creators also actively reach out to brands either directly or by registering themselves on influencer marketplaces to get visibility in front of brands.
If you have a good number of followers on Instagram, you can also register yourself on influencer marketplaces to organically get interest from brands on partnerships.
Here's what you should prepare to pitch brands your services:
Brand Kit / Creator Kit: Includes your past work, your audience, your audience growth over the past 6 months, your account reach, etc.
Your niche and the kind of content you create.
Your expertise
Your charges per post, story, reel, IGTV, and mentions.
This kit serves as a resume for you and allows brands to quickly make a decision. We recommend that the negotiation stage should only be reached once you establish that the brand likes your work and they are willing to do a partnership. Be upfront and clear about your deliverables, get everything in wten over email from the brand, and behave professionally. Such collaborations are the same as freelance work and you must take it like that.
For payment, we recommend that you take partial payment before the task and the rest after the completion of the deliverable. Be respectful of their time and money and ensure that they also understand your time and effort invested into the partnership.
3. Design and Sell T-shirts Online in India
Here's the complete guide on how to design and sell t-shirts online in India.
Creators around the world sell their own social merchandise or their artwork and designs on products. This is a very popular monetization method and something that anyone can start doing in India without spending any money and very little time on it.
If you are an Instagram creator in India, then you can use Blinkstore to quickly launch your merchandise store. Blinkstore is free forever and it takes less than 1 minute to create, customize, and launch your merch store in India. You can design and sell 30+ variety of products, here's the complete print-on-demand catalog available on Blinkstore.
How it works?
You create your store, customize your choice of products, set your profit margins, and start promoting on your Instagram.
Note: For any use case other than print on demand, you can create your own e from other various website builders on the Internet.
Your followers and fans buy the products from your store.
Blinkstore will manage the inventory, print-on-demand, and shipping on behalf of your store. In short, fulfillment is on us. Blinkstore ships to 27,000+ pin codes pan India. So that your products reach every corner of India.
To redeem/withdraw your profits from Blinkstore, you will need to write to us at [email protected] the screenshot of your pending payout and your UPI ID.
As of June 2022, Blinkstore is powering 3000+ merchandise stores run by creators in India.
4. Promote Affiliate Links
Affiliate link promotion is a tried and tested monetization method. Basically, the concept is that anyone with good traffic and visibility on the Internet can send some of that traffic to specific affiliate links and the platform would pay you for sending them the traffic.
Amazon runs a very popular affiliate program. To earn money from Instagram by using affiliate links, you'd first need to create an Affiliate account on Amazon. Once your affiliate account on Amazon is verified/approved, you can create affiliate links to different products and put them in your bio.
Usually, Instagram creators recommend certain products or their own gadgets to their followers. And put the affiliate link in their bio. So if their audience wants to purchase it, they can simply go to the profile, click on the affiliate link, and purchase from there. This will help you earn anywhere between 2% to 10% of the total purchase value depending on how much affiliate revenue sharing Amazon is doing on that particular product.
5. Sponsored Content
Sponsored content is very similar to Brand partnership with minute differences. Brands sometimes pay creators to make content for them to promote their events, products, brands, services, etc. The brands sponsor this content. They also try to make it look organic or non-promotional content. Where the creator would post content and subtly plug the brand's CTA within the caption.
Brands would pay you in a similar way for a sponsored post as they pay for the brand partnership. Sponsored posts are mostly one-time things and could be a barter deal instead of a paid one. Brands sometimes sponsored you by giving you their products for free and in return, you'd create content about their product and post it on your social media.
6. Set up an Instagram Shop
Instagram Shop is another such feature that is only available to a select number of brands and accounts. To enable Instagram Shop on your account, go to settings and find the Shop feature. You'd need to apply for it and not every brand gets it. That's why we are not going to cover the shop feature in detail.
7. Fan Membership & Exclusive Content
There are many platforms for you to launch your fan membership or exclusive content. The popular strategy adopted by Instagram creators is to build an audience on Instagram and then promote memberships and exclusive content to them and put a link in their bio to access it.
You can use BuyMeaCoffee, Patreon, Ko-fi, OnlyFans, YouTube, etc. to launch your paid membership. The trick behind exclusive content is to post teasers on Instagram reels and stores, behind the scenes, reviews written by your existing fans of the exclusive content, etc. This is a great way to build excitement and hype up your exclusive content.
Also, try to keep it affordable and think about the value your buyers would be getting. As a thumb rule, it is always better to underprice your content or product than to overprice it. Because an overpriced product is bound to bring bad reviews people always love value-for-money products. And once you've built enough audience that trusts you with your unique content, you can price it well.
Honest also pays well to content creators. If you publicly show the cost of producing your content, the time it takes you to shoot and research, and the value it has that is not easily accessible anywhere else on the internet, the viewers themselves consider your price to be justified.
8. License photographs and videos
If you are a photographer or a cinematographer, you can try licensing your original photographs to startups and corporates. There are many websites where you can sell your photos and videos as stock photos and videos. Licensing takes it a step further, where you keep the ownership of the photograph and lend it for usage to brands for a specific period of time.
9. Consulting
If you are an Instagram creator who has grown well on the platform and you understand what it takes to ideate and create good content that leads to organic growth. Then you can be a great asset for a brand looking to grow its own Instagram growth. Many Instagram creators work with one or multiple Instagram pages over a monthly retainer (salary) to help them with content creation, content strategy, caption writing, hashtag research, and posting.
You can start consulting for Instagram growth as well. First, you'd need to create your Twitter and LinkedIn profile and showcase yourself as an Instagram growth expert. Your own profile growth will act as proof for the brands and will make them trust you more. You can become a very successful social media manager, social media consultant, or community builder for brands.
Consulting provides you the security of a job while you also get enough time to keep working on your Instagram growth. For example, there are many travel influencers who work full-time or part-time with companies in the travel industry and also travel very frequently to create content for clients and their own page.
10. Sell your own physical products.
Many artists, DIY craft makers, and creators who produce consumer products at home sell those products and artwork on Instagram. The ideal way to sell your own physical goods is by promoting your products in stories, reels, and posts, collecting orders via DM, taking payments via UPI, and shipping the products using a courier service.
Most small DIY Creators and artists follow this to sell their own physical products on Instagram. You can also opt for creating your own store on Shopify, Etsy, WordPress (woo-commerce), Dukaan, Wix, etc. and showcase your products in a better way with automated order collection and payments.
These days, selling your own physical products on the Internet doesn't require a lot of effort. The tech platforms and courier services have made e-commerce an easy execution for almost everyone.
If you wish to sell your designs and artwork printed on Physical products like t-shirts, hoodies, phone covers, etc. Then you can create your store on Blinkstore, upload your designs on products, and start selling at your own profit margins. Blinkstore will take the case of your inventory, print-on-demand, and shipping.
11. Badges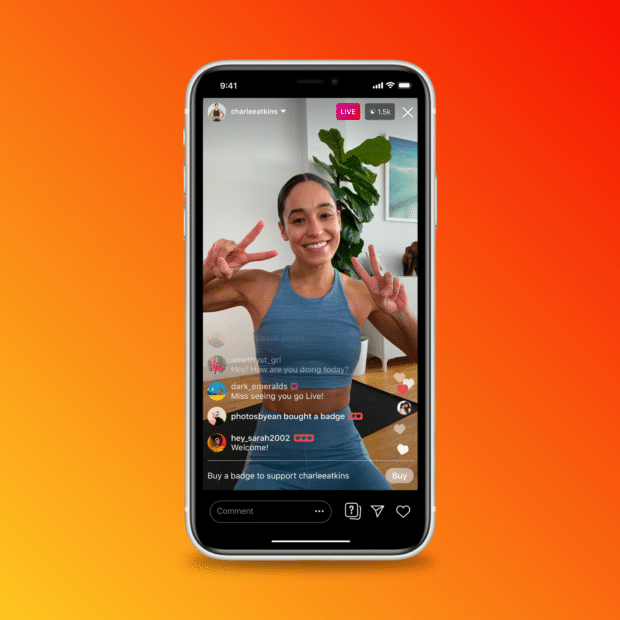 Instagram has announced donation badges within Live Streaming. If you are the kind of creator who goes live very often, then you can utilize the donation badge option on Instagram. The domain sticker will stay on your live stream and viewers can tap on the sticker and pay you.
12. Product Reviews
Products reviews on Instagram are a great way to monetize your audience. Once you get a good audience, then brands would pay you to review and promote their products on your page. Product reviews are a big part of monetization for beauty bloggers, gadget reviewers, travel content creators, DIY creators, chefs, artists, and home decor content creators.
These categories of content creators have a wide range and variety of gadgets and products that they use. And you can regularly share your views on each of these products. The great thing about such product review content is that the options are unlimited. Each product category has several brands, each brand has several products, each product comes in many varients, and the brands also keep launching newer products. The possibility of creating product review content on Instagram is endless.
13. Sell your merch
We've talked about designing and selling t-shirts online from your Instagram store. This way of making money on Instagram from India is very close to that. When it comes to selling your merch, you can either go with designing merch that is cool, funny, funky, and relatable for your niche audience. Or you can create merchandise with your own username or brand name on it.
Both of these categories of merch work. You can also launch new merch drops every few weeks or months in collaboration with other creators. And keep the newness factor On for your followers. Blinkstore is the best way to create your merchandise store online and to sell amazing products to your fans and followers
14. Start a paid newsletter
If you like writing and are good at gathering insights and writing crisp and valuable content, then you can consider launching your own newsletter. At first, you can start with a free newsletter and as you get an audience for it, you can release paid newsletters once a month. Substack and Revue are the most popular newsletter platforms on the Internet.
15. Offer paid tutorials, cohort-based courses, or masterclasses
Launching courses and paid community picked up the pace and became a trend during the 2020 pandemic. A lot of creators started their own online classes and started teaching online. To earn money on Instagram in India, teaching online is a great option. If you have expertise in a certain subject and think that you can help people learn new topics then you can go ahead and launch your online workshops and classes.
The easiest (and free) way to host paid workshops is by taking registration in a Google form or on a Razorpay Payment Page and hosting the workshop on a free Zoom account or Google Meet. You can also use Lu.ma to easily and quickly build your even page and start accepting registrations. We'd recommend that you do not start online teaching on a paid platform and first get your hands dirty with the free alternatives. The barrier to entry to your followers is the lowest when you do it directly. And 100% of your earnings stay with you as profits.
How to make money on Instagram as a creator (build a strong following)
Here's an infographic to summarize how you can build a strong following on Instagram 👇
Follow these tips to make your content on Instagram stand out and gain more organic reach.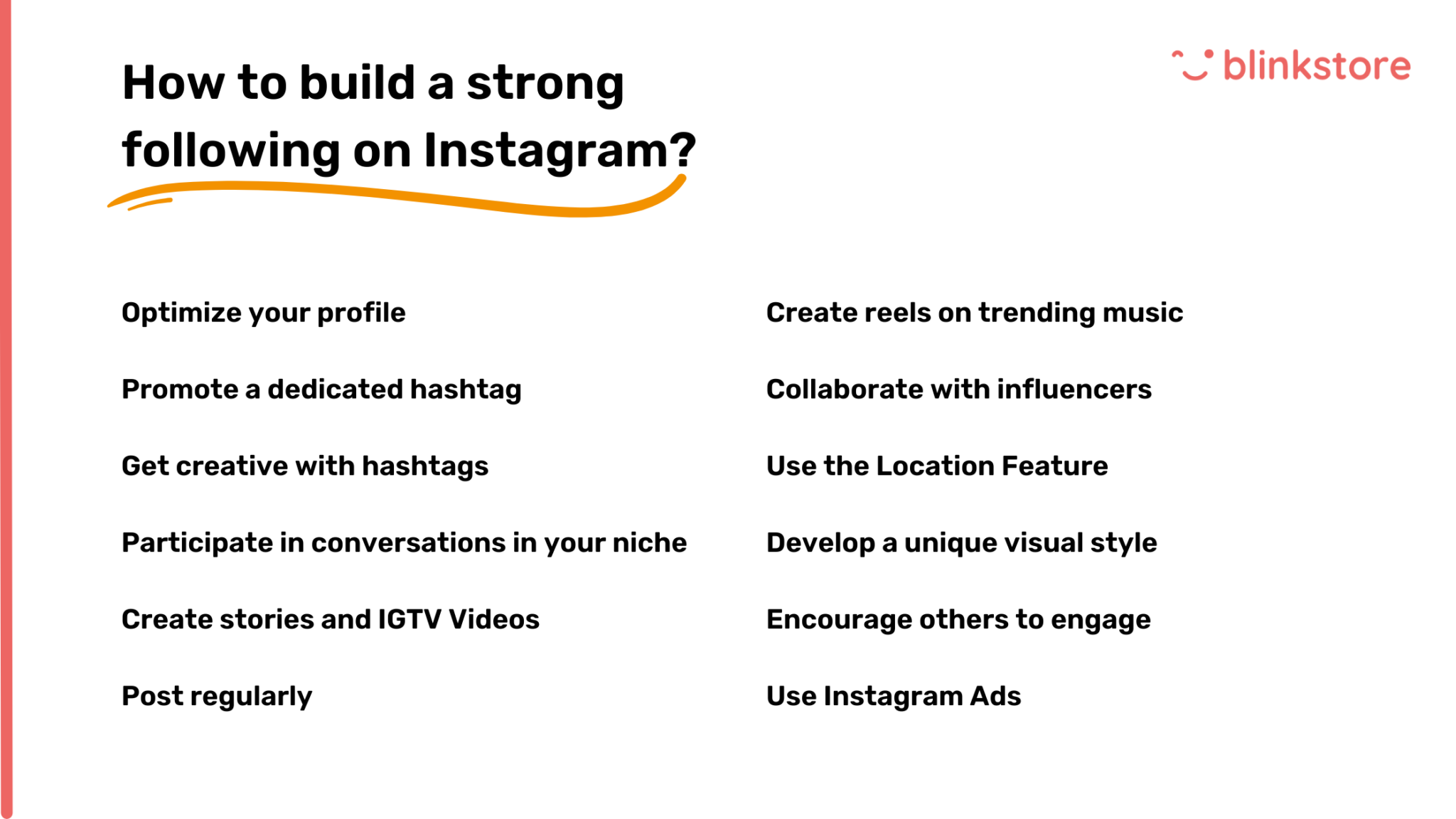 Bonus: How to make money on Instagram as a business
Instagram has a lot to offer to businesses. Reels, IGTV, Live Streaming, Stories, Videos, and Static posts are there for creating content. Brands can also create their own filters to enable good creators to make content with their filters. Instagram Shop, Ads, and Paid Partnership features are built and designed to help you make money on Instagram as a brand.
Check out these mind-blowing stats about Instagram:
1) 1 billion users are active every month. That's almost three times the US population.
2) 500 million users post a story every day. Almost double the US population.
3) 71% of US businesses (both large and small) use Instagram for branding and marketing.
4) 50 percent of Instagram users (500 million people) follow at least one business account.
5) There are 2 million Instagram advertisers every month.
6) Time spent on Instagram increases by 80 percent every year.
7) Brands get 4x more engagement on Instagram than they do on Facebook.
8) 80% of Instagram users make a purchase decision about a product while browsing the app.
9) 71% of Instagram users are under the age of 35, making it an ideal platform for brands targeting young adults.
Conclusion
Instagram is a great platform for creators to make money online in India. As a creative individual, you should first focus on identifying your niche, creating great content, and then start experimenting with monetization methods. It could be a long road and you might do this part-time for months or years, but there is a real possibility of becoming a full-time Instagram creator.
Get started with one of these Instagram monetization strategies today!
Further Read:
50 ideas on how to earn money online in India.
If you are also on YouTube and looking to create content and monetize your YouTube channel, we'd recommend you read how to earn money from YouTube in India.
FAQs on How to earn money from Instagram in India
How to earn money from Instagram reels in India?
Instagram is working on a feature named "Bonuses" which will help users to earn money when they post new Reels. However, Instagram has not confirmed this yet. But we can safely assume it's coming, and there might also be some criteria like Snapchat's Spotlight.
Ways on How to Make Money from Instagram in India:
– Become an affiliate.
– Create sponsored content
– Brand collaborations.
– Sell your items.
– Earn badges.
– Navigate to 'Profile' and click on 'Professional Dashboard'. If your profile is eligible for Instagram monetization, you might see the option 'Set Up Badges'.
Can I make money on Instagram in India with 12k followers?
You can make thousands and lakhs of rupees in 12k followers. But it depends on the niche, engagement with the content, and what monetization method you are using. Ultimately, it also depends on how much your audience loves your content? Most micro-influencers who have 5-10k followers make an average of ₹6,531 per post.
How many followers do you need to make money on Instagram?
With just 1000 or so followers, you can make money on Instagram in India. The key is engagement — followers who like, share, and comment on your posts are important. Even if you have 1,000 followers who are engaged, the potential to make money is there.
How do you make money on Instagram?
In this blog, we've covered 15 amazing ideas on how to make money on Instagram in India. Here are 5 ways to make money on Instagram:
– Create sponsored content
– Promote your business and sell products
– Sell your merchandise online
– Earn badges through Live videos
– Monetize your videos with ads
Do Instagram users get paid?
Instagram allows you to get paid with the help of IGTV Ads, Branded Content, Badges, Shopping, and Affiliate Marketing. But creators can also earn from sponsored posts, paid membership, licensing the photos and videos they produce, and also by becoming social media consultants.
How much does Instagram pay for 1k followers in India?
Creators on Instagram in India with 1k followers can potentially earn between Rs. 500 to Rs. 2, 000 per post, although actual earnings depend on factors like niche and engagement rate. Their income also comes from various sources, including ads, partnerships, fan memberships, and affiliate marketing. As follower count increases, so does earning potential.
How many rupees earn from Instagram in India?
Influencers who have 5k to 10k followers make Rs 6,000/post on average. Creators with 50k to 80k followers usually charge around Rs. 14,000/post. As you move towards creators with 250k to 500k followers, they charge around Rs. 50,000/post. Also, understand that there are no standard rates in the industry and how many rupees you earn from Instagram in India can vary a lot. Here's some data that can help you make a decision:

How much does Instagram pay for 1k followers in India
Instagram itself does not pay users based on their follower count.
Earnings for users with 1,000 followers would primarily come from collaborations, sponsored content, or other monetization methods with brands or sponsors.
How much Instagram pay for 1,000 followers in India
Creators on Instagram in India with 1000 followers can potentially earn between Rs. 500 to Rs. 2, 000 per post, although actual earnings depend on factors like niche and engagement rate. Their income also comes from various sources, including ads and partnerships,
How much Instagram pays for 10k followers in India
Micro-influencers in India, with 5, 000 to 10, 000 followers, can earn around ₹6k to ₹6k per post. However, these earnings vary based on niche and other factors, and creators have income sources beyond posts, making exact revenue estimation difficult.
How many followers on Instagram to get paid in India
Instagram itself does not directly pay users based on their follower count. Instead, users can earn money through various monetization methods on the platform, including sponsored posts, affiliate marketing, brand partnerships, and more.
How much can Instagram Influencers earn?
1k Followers: ₹500 to ₹2,000 per post, depending on niche and engagement.
10k Followers: Around ₹6,000 per post for micro-influencers.
1 Million Followers: Up to ₹484,190 per month for creators with 500k to 1M followers.
What's the best way to make money on Instagram?
There are several ways to make money on Instagram:
i) Advertising and sponsored posts
ii) Selling your own products
iii)Affiliate marketing
iv) In-stream video ads
v) Instagram shop
How easy is it to make money on Instagram?
Making money on Instagram varies in difficulty and depends on multiple factors. Earning potential is influenced by factors such as follower count, engagement rate, niche, location, and partnerships.
How do I find brands to work with?
To find brands for Instagram collaborations, follow these steps:
i) Observe influencers in your niche.
ii) Join influencer networks.
iii) Use niche-specific keywords for brand searches.
iv) Research competitors' partnerships.
v) Define your niche and audience.
vi) Reach out to brands directly.
Also Read: How to earn money from Facebook in India