We've got 50 Ideas on how to earn money online in India. In this ultimate guide on how to earn money online in India, we are covering these 50 ideas in detail. We've researched and curated these 50 money-making ideas for students, people who want to work from home and earn money in India, people who want to learn how to earn money online without investment in mobile, how to make money online for beginners, and also ideas to earn money from home for ladies in India.
Table of Content
The goal behind this guide is to help anyone in India with the knowledge of how to earn money online in India and become financially stable by creating an extra source of income. Or to help them establish their first source of income. In this digital India, the opportunities are endless and we are only limited by our skills and efforts. And with the Internet, the skills can be acquired for free. With that powerful message in mind let's dive deep into this ultimate list.
Before we jump in, here is a quick bonus for you. These 12 popular ways are mentioned here to give a glimpse of what to expect in this blog.
12 most popular ideas on how to earn money online in India:
50 Ways on how to earn money online in India
50 ways on how to earn money online in India are divided into the following 6 buckets (or 6 different categories). There might be some overlap among these ideas, that are suitable for almost everyone to try out. For example: Starting an online print-on-demand business in India with zero upfront investment is suitable for students, professionals, and also suitable for people who want to work from home.
So we'd suggest that you go through the complete list and take note of what you'd like to try out. Some of these ideas to make money online in India are time-consuming and with ideas, you can start within minutes and get going. Our recommendation again is that you read this article with a pen and paper by your side and keep jotting down things that you find interesting and doable.
Pro Tip: Don't think that it is not a guide on how to earn money online in India for beginners. Whatever field you pick, give it some time and effort to observe how it fits in your life and whether it makes you feel excited about working on it or not. Because if you do what you love, you'd never work a day in your life.
How to earn money online in India for students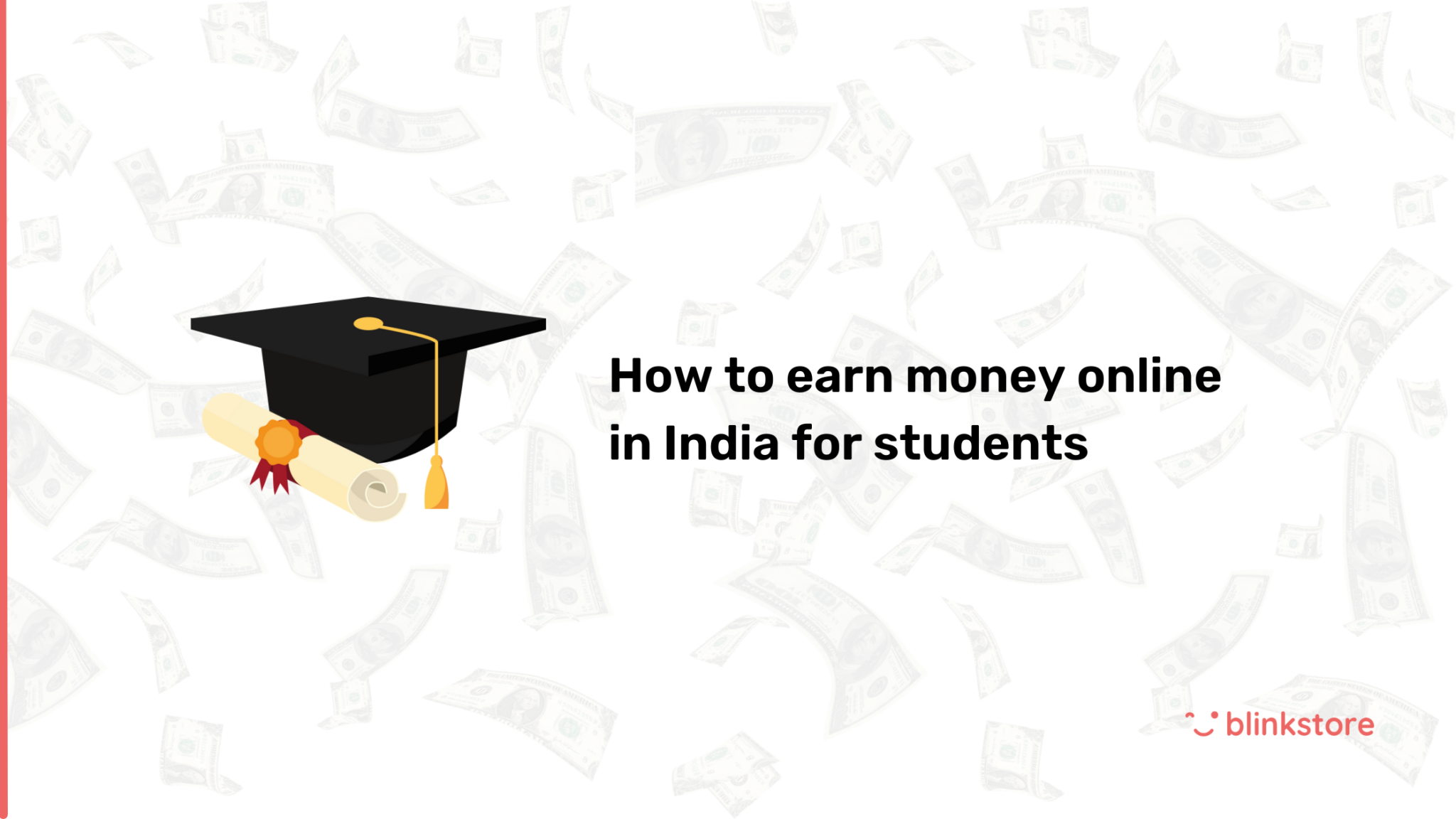 1. Open an Online Store
After 2020, we've seen a wave of people taking their store online or taking their offline business online. While some have also started an online store to sell products either in their locality or across India. Some apps that you can use to take your existing business/store online are Dukaan App, Bikayi, Business on Bot. These apps make it easy for you to create a digital store for your offline business. And you can start sending the link to your store to your customers on WhatsApp and take their orders on your digital Dukaan.
Those who don't have an existing offline business can also use the above applications can take advantage of them. The best part about running an online store is that you may not necessarily rent a shop in a crowded market or locality. You can use your home as a warehouse and create your digital store using MyDukaan, Bikayi, or BusinessOnBot and start selling. These applications let you upload and manage catalogs, collect payments, manage order history, etc. The other platforms that we'll discuss in-depth in later parts of the blog for starting an online store are Blinkstore, Shopify, and WooCommerce.
2. Dropshipping
To understand the dropshipping business in-depth, you can read the guide to starting a Dropshipping business in India and "what is dropshipping?". In short, a dropshipping business is where you neither own the inventory nor manage the shipping, but you still sell products online through your own e-commerce store. A dropshipping business has three parts to it, launching your own e-commerce store, curating and listing products for sale, and marketing the product (+ some customer care).
Let's understand each step in dropshipping briefly. To start your own eCommerce store you can use Wix, Shopify, WebFlow, or Woocommerce. To source products, you will need to link your store to Alibaba or Wish. When you list these products for selling, you'll be adding your profit margins on top of it. Once your setup is ready, you can start marketing via social media, google ads, and youtube ads. The dropshipping pattern will handle the shipping to the buyers on your behalf.
Bonus (Reselling / Social Commerce): In India, Meesho is also very popular and gets you going with an easier version of dropshipping without any hassle, i.e, Reselling or social commerce. With Meesho, you'll need to create your account on it, select products that you want to sell in your network, and send these products directly to potential buyers via WhatsApp. When they ask you to make a purchase, you order it from Meesho and sell it to the buyer with your profit margin on it. Meesho says that you can start your business from home with zero investment.
3. Start print-on-demand business
A print-on-demand business is one in which you sell t-shirts, hoodies, mugs, cushion covers, phone covers, and a variety of other custom-designed products online without managing the inventory. In such a business, the products are printed on demand when a buyer places an order for it online. And the print-on-demand service provider prints and ships (deliver) the product on behalf of the seller. Hence the name "print" is on "demand".
The easiest way to start a print-on-demand business in India is to launch your store using Blinkstore, design 30+ products from its catalog, put your own profit margin on the products, and start selling within 10 minutes. Blinkstore is also free forever for the sellers. There are many other PoD platforms in India, you can read this blog to learn more about the Best Print-on-demand sites in India.
4. Sell Digital Products Online
Artists, content creators, educators, and professionals in any domain can sell a digital product online. A digital product can be anything, it can be a PDF document, or presets in lightroom (by photographers), curated resources in form of docs/PDFs, images, videos, NFTs, illustrations, logos, etc. Any kind of digital content that has value and saves time for others, and isn't available for free easily can be sold digitally. One of the biggest value adds in paid content is that it saves time and effort in the life of the buyer.
There are many platforms that you can use to sell your digital products and make money online in India. Here are a few that you can try out: GumRoad (a simple tool to collect payment and sell anything online), RazorPay Custom Hosted Pages (simply collect payment and send your digital product via email to the buyers), and Instamojo (easy way to collect payment online).
Bonus: NFTs are in the craze these days, if you are an artist, illustrator, photographer, musician, or someone with a creative mind, you can create NFTs of your work and sell them online on OpenSea (the largest NFT marketplace). How to create and sell NFTs online needs a separate blog in itself that we'll write soon. In the meantime, you can read this guide by OpenSea "How do I sell NFT".
5. Look for Freelancing Work
As a student, this question must be on top of your mind: "how to earn money online in India?". If you are a student with certain skills in programming, designing, writing, researching, organizing or managing things, video/photo editing, etc. Then you can look for freelancing work. Oftentimes, when someone asks about how to earn money online in India as a student, these sites are suggested to them: Freelance India, Upwork, Fiverr, or Truelancer. You should signup on to all the freelance work job portals and create your updated profile, highlighting what you can do for others.
As a student, you can easily earn money online by dedicating a few hours daily to your freelance work or by dedicating your weekends to freelancing. Freelancing as a student will not only help you make money online but also help you add valuable experience to your resume.
6. Try Content Writing Jobs
Content is king on the Internet. And also long as search engines keep indexing text content and optimizing the search engine rankings on the basis of text content, there'll be no shorting of content writing jobs. Most students have the experience of writing assignments, essays, research papers, etc. And what could be better if you can use your research and writing skills for earning money online as a student.
There are quite a few websites that can help you get a content writing internship or job. You can sign up and create your profile on Internshala, Freelancer, Upwork, and Guru. There are three ways a content writing job or internship will pay you 1. Pay per word basis, 2. Pay per article basis, or 3. (fixed) Pay per month. You can negotiate on what model you would like to work on based on your time schedule. Pay per word and pay per article is usually more flexible and as a student, you can work on such content writing jobs as per your timetable allows.
In the fixed monthly pay model, you'll be finishing the assigned content writing tasks and you'll get the stipend at the month-end. As you become a more experienced writer and are able to command more money, the pay per word could be beneficial for you.
7. Start Blogging
Blogging has been around since the Internet became mainstream. If is one of the most suggested idea on how to earn money online in India. It is the easiest and also one of the most powerful ways to be present on the Internet, get traffic, and be able to monetize it. Starting your own blog on the Internet is simple, you can use any of these trusted and powerful blogging platforms and create your account on them: WordPress, Medium, Weebly, Substack, or Blogger. Once you are signed up, you can customize the look of your blog and start writing.
Platforms like Substack would take your blog to the next level where you can also send it as a newsletter and has an option to put a paywall on your blog. Medium's membership program also allows you to put a paywall on your blog. As a beginner blogger, you should first focus on finding your content niche, building your own audience and traffic, and optimizing your blog for search engine ranking (SEO). And when you have enough high-quality content that you think people would pay to read, you can make your blog premium and people would pay you to read your blog.
Many bloggers on Medium and Substack earn good monthly income by blogging and with effort, consistency, and given enough time, you can achieve it too.
8. Google AdSense
Google Adsense is a proven way how to earn money online in India. This is also the answer to how to earn money online with google. Before we jump into it, let's quickly understand how Google Adsense works and what is it. Google is the biggest advertising company on the Internet, millions of websites sell digital space on their web pages to Google. And google sells this virtual Ad space to brands that want to show ads to the visitor on those websites. The money that companies spend on Google Ads gets distributed to the websites on which the Ads were shown and a part of that money goes to Google.
For you to take advantage of AdSense and make money online in India with Google Adsense, you'll need a website with decent traffic. Then you'd need to create an AdSense account and get your website verified on it. Google usually verifies websites with good content and decent traffic. Once your website is verified and connected with Google Adsense, you can insert the Ad's code provided on the Adsense console in your blogs. Now Google will start serving relevant Ads on your website based on the content and audience of your website.
Follow the best practices and you'd start earning a stable income from this source. There are certain websites with millions of monthly traffic that are earning more than 1 lakh rs. Per month through Google AdSense.
9. Look For Translation Jobs Online
Translation jobs are plenty and as the Internet platforms continue to move into regional content, expanding and optimizing the content for other languages will continue. In India, the platforms like Sharechat, Pratilipi, and others look for people for creating regional content and translating content into regional languages. For international translation jobs, you can checkout Stepes, Gengo, and others.
If you've command over the English language or your native language, in addition to one more language then there's a high probability of you landing a part-time translation job online. You can also search for translation jobs on LinkedIn, Upwork, Fiverr, and Freelancer.
10. Beta Test Apps and Websites Before They are Released
Students in CS and IT fields are well-versed with tech and this could be something that they can do easily. Here are some websites that you can join as a beta tester and accomplish how to earn money online in India: BetaTesting, Tester Work, Test.io, or TryMyUI.
Anyways, most students these days are good with the Internet, gadgets, and mobiles, this is an easy way to make money online for students. All you'll need to do is sign up on the above-mentioned platforms and do detailed testing of the website or application. In the testing, your job is to find out what doesn't work in the app/website, what bugs are still present in the production, and what improvements can make the user's experience on that particular application or website.
11. Gig-based remote jobs (another form of freelancing)
The gig economy was a big buzzword a few years ago. In Gigs, companies hire people to do a single task repeatedly. The workers can do the work as per their availability, and they'll be paid on the basis of work done. Food delivery, Uber, freelancing, pay-per-hour models, etc. come under the gig economy. You can sign up on these suggested platforms (Upwork, PeoplePerHour, Kool Kanya, Fiverr, or Truelancer) for gig work and create your profile. Make your profile, update it with the relevant skills you have, and what kind of job you are looking to do. And start applying.
You can also find gig work in your locality or in your city. For example, if you are good with pets, you can become a pet waker. If you know how to play a musical instrument, you can start playing that in events and pubs as a side gig. If you are good with physical training, you can take up a few clients and work out with them. There are a lot of doors that you can open just by acquiring one skill that has some demand in the market, and you'll be unstoppable at making money in India.
12. See if Affiliate Marketing Works for You
In Affiliate marketing, you send traffic from your website or blog (using an affiliate link) to an e-commerce platform on specific products. And if the people from within the traffic from your website make a purchase on that website, you'll receive affiliate commission which can be anywhere between 1% to 10% of the purchase value. Or it could be a fixed reward for affiliates.
Websites that send affiliate traffic are called "Affiliate Partners". And e-commerce that offers such value do it under their affiliate partner program. Amazon has the world's most popular affiliate reward program. You can learn more about Amazon's Affiliate Marketing Program here.
Now you'd think, how would I pursue people who are reading my blog or visiting my website to click on affiliate links and make a purchase. The answer is that you'd need to be creative with your content. The easiest way to start is by reviewing products in your niche. For example, if you are a lifestyle blogger, you can start reviewing household products and put amazon affiliate links under them. As and when your readers read your blog, they'd make a consideration and will click on those links to go to Amazon.com. And from there, even if that doesn't purchase that exact product and make another purchase, you'll still receive rewards for sending valuable converting users to Amazon.
When you start setting up an affiliate account, you might need to read these resources: what is an affiliate code, and what is an SEO score.
13. Sell your Photos and Videos
If you are a photographer and thinking "how to earn money online in India?", this is for you! Selling stock photos and videos online is a huge industry. With more and more businesses coming online and leveraging digital content for growing their business online. The need for relevant, realistic, and high-quality photo and video content is at an all-time high. The demand for stock photos and video is likely to keep growing as people are relying on content marketing to grow their businesses on social media platforms like Instagram, TikTok, YouTube, and Twitter.
You might assume that you'd need to be a professional photographer in order to make money online in India by selling your photos and videos. But that isn't entirely true. With decent camera skills and an understanding of the market, you stand a decent chance to make money online with it.
First of all, you need to understand that there's a shortage of authentic regional stock photos and videos on the Internet. And second is that you have to research, consistently upload stock photos and videos, and forget them. You do not need to market your stock photos and videos. Here are some websites that you can try out to sell your photos and videos online: Shutterstock, Pexels, istockphoto, pixabay, Adobe Stock.
Pro Tip: Offer brands to create reels, youtube shorts, and visual content for their social media and promotional/marketing needs.
How to earn money online in India without investment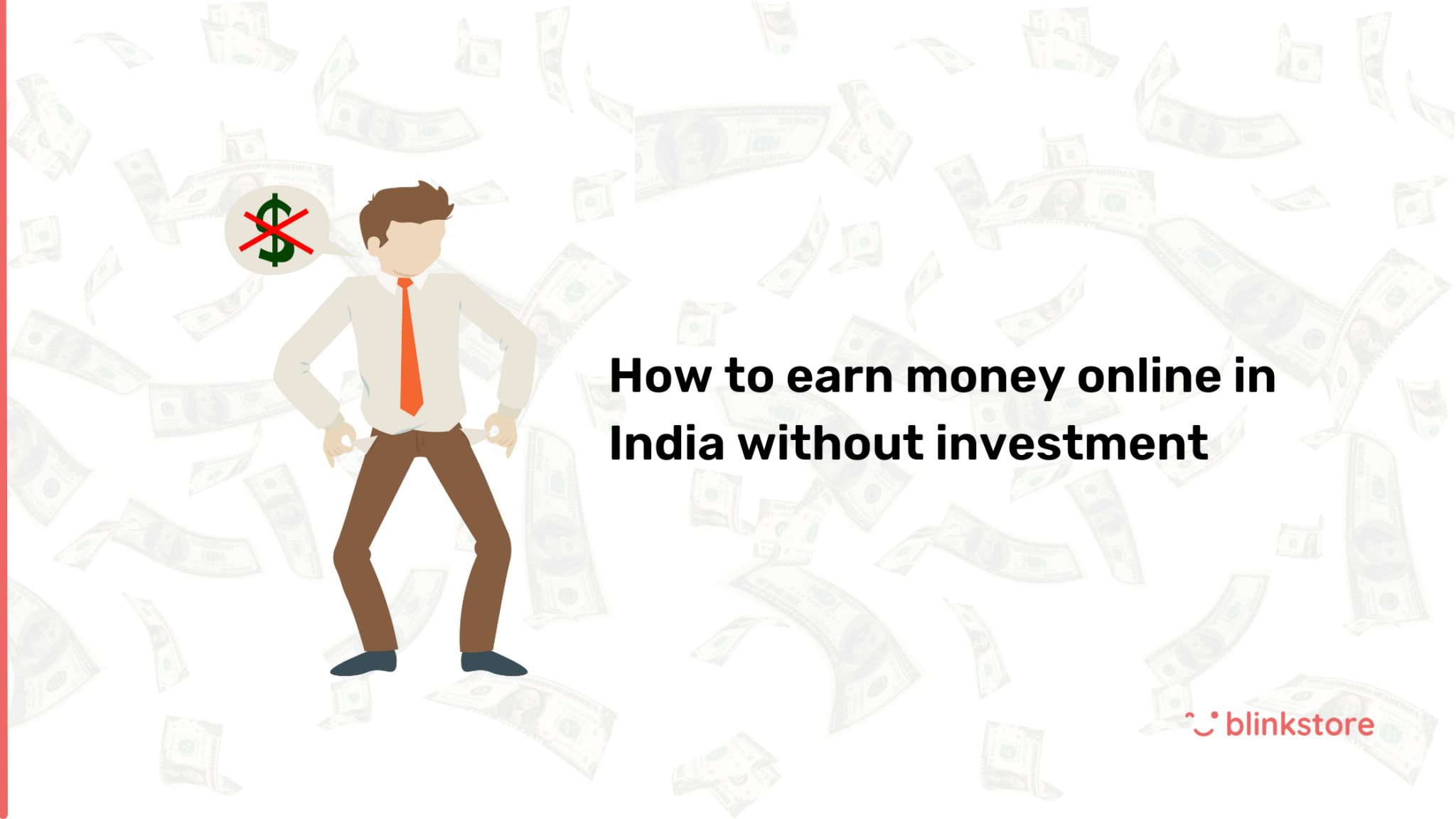 14. Selling with online platforms
There are many websites and online marketplaces from where you can pick products and start selling online or offline. Some of these online selling platforms are: Ebay, Reselling with Meesho, Selling using Shopsy by Flipkart. The process of selling online with reselling platforms or marketplaces is simple, you pick the products of your choice for selling and sell it online or in your circle. The platforms will handle the shipping on your behalf and you'll receive your profit margin. By doing this business you can answer the question of how to earn money online in India without investment.
15. Publish Books / Writing Books
In the digital age of the Internet, writing and publishing books is easy and also free. Gone are the days when writers were required to find a publishing house and get hard copies printed for their books and market it to sell them in the bookstores. Amazon Kindle Direct Publishing, GoodReads (for distribution/marketing), Kindle, and E-books have changed the game for writers and made it possible for anyone to write, publish, and sell books online. You can also leverage social media and Google Books for promoting your book.
If you want to sell books in paperback, then you can check out NotionPress. With NotionPress, ​​you can publish your book in both eBook and paperback formats to reach a wider audience and gain more visibility. Other popular ebook publishing platforms in India are Juggernaut, YourQuote, and Pratilipi.
Also, figure out what kind of book you'd like to write. For research purposes, you may read the broad categorization of books here the main difference between fiction and nonfiction.
16. Consulting
Due to remote work, you are no longer limited by the city you live in. As long as you have the skills and you know how to make yourself visible in front of the relevant opportunities, you can work anywhere in the world from your home and make a decent amount of money easily. Consulting is a type of work where you help companies, brands, or teams in strategy, planning, and sometimes execution on a specific task at hand.
Consulting jobs are available in various fields like Human resources (HR), marketing, technology and programming, legal, etc. You can sign up on LinkedIn, AngelList, Indeed, Hirect, and more such platforms to see what kind of consulting jobs are available in the market. You can also upfront negotiate and plan the working hours and scope of work with your client as a consultant. You can start consulting side-by-side with your current job, owned business, or also as a homemaker. Consulting allows you to work on your terms and as time permits you. If you are an expert (professional) in any field or skill, you can try your hands at consulting and make money online in India with no investment.
17. Start your online t-shirt business
Do you know that you can design and sell t-shirts online In India? Do you know that it takes less than 10 minutes to start your own t-shirt brand online and you can do it with zero upfront investment?
With Blinkstore, you can create your own online t-shirt store, put design and t-shirts, and start selling at your own profit margins in less than 10 minutes. Along with T-shirts, blinkstore also provides you with hoodies, sweatshirts, joggers, kid's clothing, women's clothing, and 30 more varieties of products. The best part about starting your online business with Blinkstore is that it requires very little time commitment and no investment.
Before you jump into creating your store, designing t-shirts, and making them live on Blinkstore. We'd suggest that you do in-depth research on the market, figure out what kind of t-shirt designs you'd like to sell, who is the right target audience of buyers for your t-shirts, and how you'll promote your t-shirt brand among them. For example, your target audience can be tech bros who'd like t-shirts with cool one-liners on them and you'd promote it in Facebook groups of developers. Voila! There is a t-shirt business brief ready for you to test.
How to work from home and earn money in India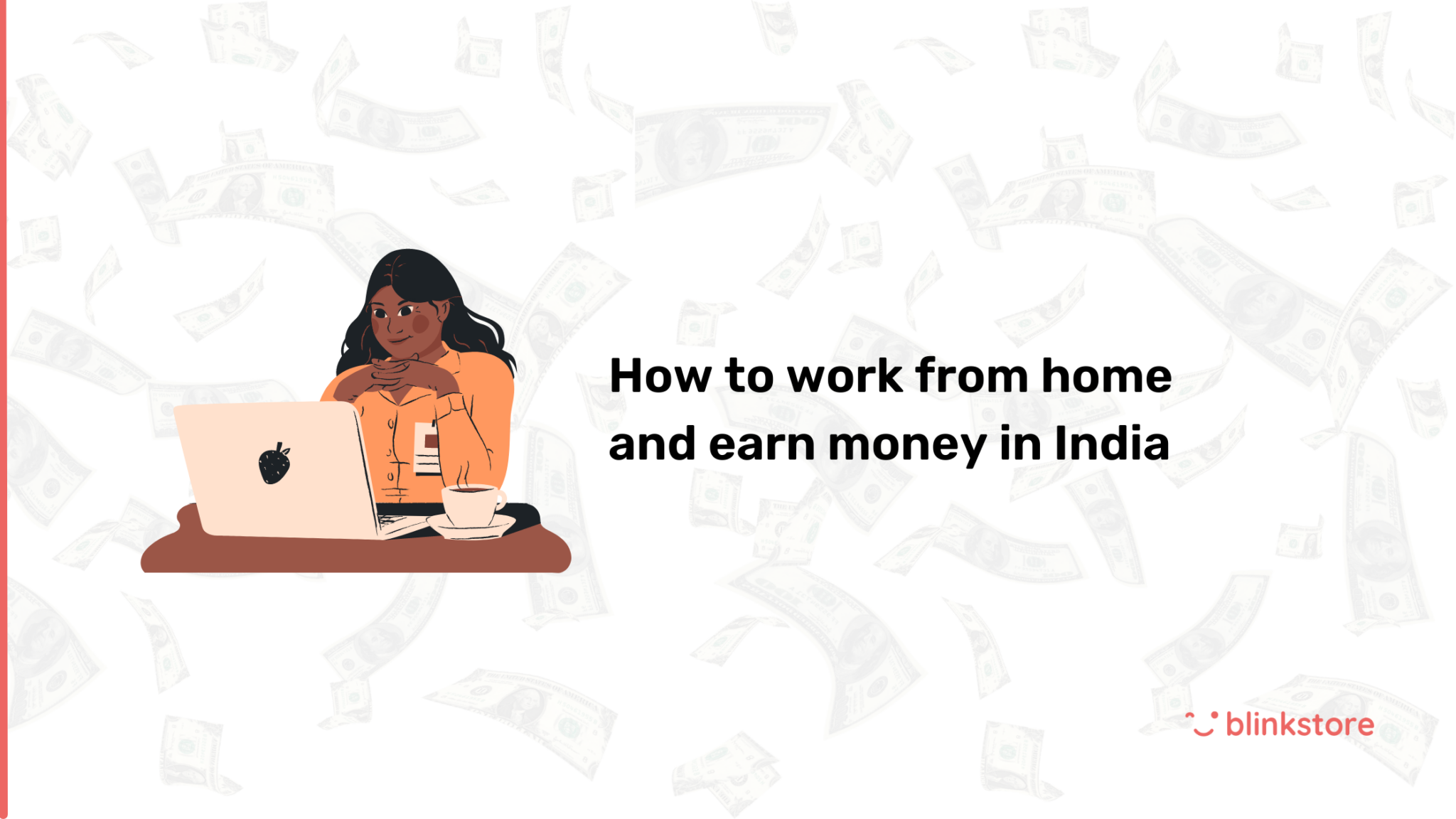 18. YouTube Videos / Become a YouTuber
YouTube has become the biggest source of entertainment, information, news, and music for the Indians. Not only in India, but YouTube is also the biggest video-based social platform in the world. No doubt that people come to YouTube for anything they are searching for on the Internet, it is also the 2nd biggest search engine after Google.
After the launch of Jio in India, YouTube content consumption skyrocketed in the country. That led to many new youtube creators crossing the mark of 1 million views on their videos and also 1 million subscribers on their videos. You can read YouTube's monetization policy here in detail. To be eligible for monetizing your YouTube channel and earning via Google Adsense, your channel must have at least 1000 subscribers, 4000 hours of content watched, and no policy violations.
The kind of user-generated content on YouTube that gets the most views fall broadly into two categories: Entertainment and Educational. You can research and find out on YouTube about what kind of content is not available in good quality in terms of content and value, and start creating competitive content around that. Or you can also bring something unique to YouTube content with your personal vlog, life journey, etc. Make ensure that your videos add value to someone's life, and you'll definitely get some views on your content.
Read the complete guide on How to earn money from YouTube in India.
19. Learn Stock Market Trading / Invest in Stocks
After the stock market crash in 2020's Pandemic, the stock market growth has been tremendous. Which has drawn a lot of new investors to the party. People who are not institutional investors are called Retail Investors, and we've seen a surge in the number of retail investors joining the market in the last 2 years.
You can also read this guide by Investopedia on How to Start Investing in Stocks: A Beginner's Guide. For people in India, there are now plenty of trusted applications available on PlayStore and iOS for buying and selling stocks. Some of the most popular stock trading apps in India are Groww, PayTm Money, Zerodha, Upstox, Smallcase, etc. Getting started with stock market trading is not difficult, because all these apps are very user-friendly and simple to understand.
The difficult part is learning about the market, picking the right stocks, and buying & selling at the right time. And that is something that we can't teach you. To get started, you can watch videos on Groww YouTube Channel to learn the basics and stay updated with what's happening in the market.
20. Build Apps and Sell Them
This is something that developers, entrepreneurs, and product makers would find interesting. If you have the skills required to make a mobile app, web app, or website with utility, then this is something that you try. There are websites for selling your side project (or app): Microacquire, SeedProof, Tiny Acquisition, SideInvest.
This is a relatively tougher thing to pull off than many other things mentioned on this ultimate guide to making money online in India. But it is highly rewarding. Once you create your mobile or web app and have some users on it (paying or non-paying), you can list it for sale on the above-mentioned websites. If someone finds it interesting as a potential business, then they'll send you an acquisition offer to purchase the rights and ownership of your app.
21. Make Effective Use of Social Networking websites/apps (Become an influencer)
Utilizing your own presence on social networking websites and apps like Twitter, Instagram, LinkedIn, YouTube, Moj, etc. by building a large follower base to monetize it later is something that many people are successfully doing. Becoming a social media influencer is now seen as a full-time job and it has the potential to not only help you make money online as a side income but over time can become your complete source of income.
To become popular on social media, there are a few basics that you need to keep in mind and follow. Number one is to have your own unique content niche. Your niche defines what kind of content you'd be uploading and who'll be consuming it. Post that, you need to define your content type and accordingly pick a social media platform. For example, if you want to go with long-form video content, then you'd choose YouTube. On the other hand, if you want to go with very short text content in any niche, you'd choose Twitter.
The second thing about this is to create great content that is worthy of consumption, sharing, and liking. You'll need to ideate, plan, and create your content in bulk to stay consistent with churning out content on your social media. Slowly you'll start developing an understanding of what your audience likes and responds to. As you grow your audience, you'll start getting paid brand deals, and that way you can start earning money online with your social media.
Further Read: 15 Amazing Ideas on How to Earn Money From Instagram in India
22. Create Podcasts
The audio and video podcasts have taken up the Internet by storm. All big tech companies have invested in their podcast apps and podcast experience. Google, YouTube, Spotify, Amazon, all the big tech companies have something launched in the podcasting space. People love listening to podcasts because, unlike videos, podcasts don't need active attention. That allows people to listen to podcasts while driving, working, working out, running, cooking, or traveling. And the ability of podcasts to be creative, informative, educational, and entertaining has made it the favorite content format for many. You can also read the complete step-by-step tutorial on how to start a podcast.
Here's how to approach starting your own podcast. Research and narrow down on your niche depending on your area of expertise and interest. Get a basic mic from Amazon. Install OBS for better controls on the recording. And start recording your podcast using Anchor. Anchor is the easiest way to make a podcast. Once you record it, distribute your podcast on Spotify, Google Podcast, Amazon Podcast, and other podcast marketplaces to promote it.
23. Virtual Assistant
Some CXOs and people with very busy schedules around the world hire virtual assistants for themselves. The job of virtual assistants is usually to help others manage their time by managing email inbox, scheduling meetings, taking up manual jobs, managing calendars, managing social media, or curating content.
The websites for finding virtual assistant jobs are the same as the websites for finding freelance work and remote jobs. You need to sign up on these platforms and search for "Virtual Assistant Jobs". You can also follow this link that'll directly take you to virtual assistant jobs: Upwork – Virtual Assistant Jobs. Here's a detailed guide on How to become a virtual assistant with little experience.
24. Traffic Exchange
If you search on Google "traffic exchange websites", you'll find dozens of websites on your search result that promise your free traffic. Apart from free traffic, traffic exchange websites also offer things are like free followers on Twitter, YouTube, etc.
The way these websites work is by giving you a certain number of free credits that you can utilize to bring traffic to your site or gain followers. To earn more credits, you will need to follow other Twitter accounts, visit websites given on their dashboard, and watch youtube videos. By doing all these things, you can accumulate credits. And these credits are worth some money. You can either use these credits to boost traffic on your website, grow your own followers, or sell it to others.
Here's a list of 20+ Traffic Exchange websites along with how they work, their pros, and cons.
25. Take Online Surveys
Taking online surveys to make money is a really easy way to create your second source of income. It is also similar to working from home, but you can't expect this method to help you make lots of money. On online survey sites, you'll need to signup, complete your profile, and participate in opinion surveys and product surveys.
In opinion surveys, you would go on to fill a form with insights about you and submit it to get money or some kind of online coupon. In product surveys, you'd need to use a mobile or web application and then fill up the survey about the product. Such things help the makers of the product and brands to understand the consumer perspective. Here are some websites that you can sign up for online and take surveys to make money: MobRog, Rakuten Insights, Toluna, ValuedOpinions Swagbucks. Additionally, you may read this for an in-depth guide on how to do online surveys and make money online in India by Chegg India.
26. Buy and Sell Domains
The startup and tech sector around the world is booming. We are seeing thousands of new startups every year and even more tech products, side projects, and initiatives that are completely on the Internet. And getting a domain name is something that every digital entity needs to have their address on the Internet.
Buying and selling domains is a huge business. Some people carefully plan and buy domain names that look brandable and marketable. And list them on sale for 2nd hand domain marketplaces. And some people just out of luck land on domains that some company wants and they pay a premium price to purchase that domain.
How to earn online in India by buying and selling domains? First, you'd need to research the Internet, domain providers like GoDaddy, and create a list of domains that look brandable and marketable. One pro-tip here is that .com domains are highest valued and getting your hands on a .com domain with a good name is equivalent to finding gold. These days .io, .so, .co, etc. domain name extensions are also popular and companies consider a variety of domain name extensions because of the unavailability of .com domains.
Once you find good domains names that are available for sale, you can purchase them and list them on various domain marketplaces for sale. You'd also need to renew the domains on a yearly basis if you are not able to sell them. So this requires some good investment as well. As and when buyers reach out to you for buying your domains, you can negotiate a price and sell it at a premium. 2nd Hand domain marketplaces: Sedo, NameCheap, GoDaddy,
Read this small article to understand the domain name types and How to sell a domain name for complete understanding.
27. PTC Sites
PTC websites stand for Paid To Click websites. As the name suggests, you get paid to click on Ads and to spend time on PTC sites. The websites are paying you to watch and click on Ads on other websites or on their own website. There's usually a limit on how many ads you can watch or click on. And some PTC websites would require you to not only click on the Ad, but also visit the website, signup, and try the product.
Some popular PTC sites to make money online in India are YSense, PrizeRebel, InboxDollars, Scarlet Clicks. Find some of the highest-paying PTC websites here with the detailed description, pros, and cons of using them.
28. Start Your Own Website
You'd notice that starting your own website is a common theme in many ideas out of these 50 ways on how to earn money online in India. The reason is that owning your own website in any niche and having decent traffic can open multiple money-making opportunities for you. Some of those monetization methods are: Traffic monetization by AdSense, Premium Content, Affiliate links, Merch website using Blinkstore, paid services.
Some of the best free and paid website builders are webflow, weebly, wix, Carrd, etc.
29. Create Software Reviews
There are many websites on the Internet that pay you money, gift cards, and coupon deals for reviewing softwares. User reviews on online softwares are very valuable for companies and also useful for the new buyers to make an educated purchase. That's why companies pay people to write detailed and high-quality software reviews online.
This is somewhat similar to getting paid for testing apps and softwares online. The 4 most popular websites on how to earn money online in India by creating software reviews are Capterra, Gartner, G2, and ApperWall. These websites pay you in US dollars, so you'd need to create a PayPal or Payoneer account to withdraw your earnings. Read about these 4 websites to Earn money by writing software reviews here.
How to earn money online in India from home for ladies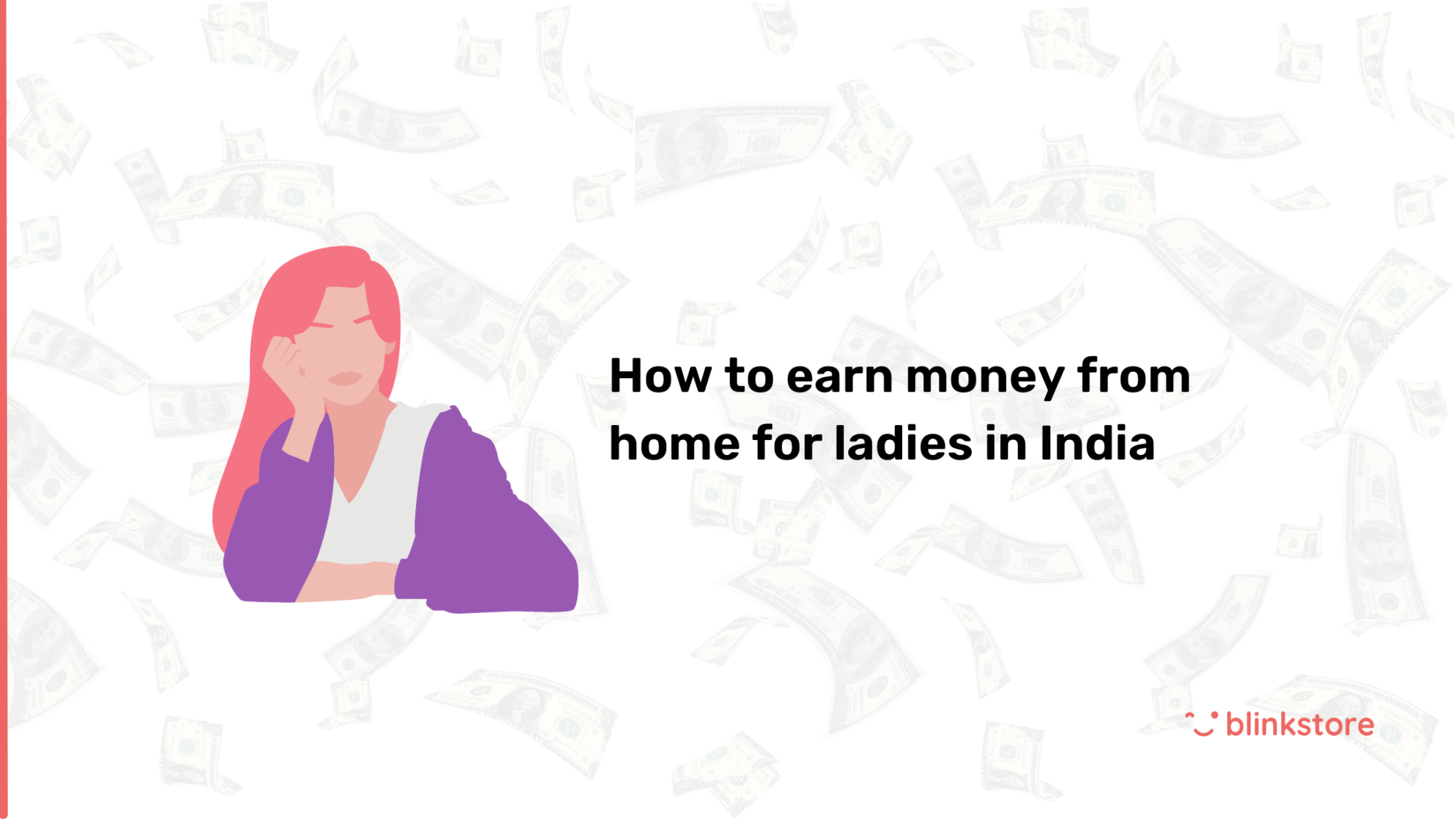 30. Find Data Entry Jobs
Online data entry jobs are ideal for work from home and also for homemakers who can't take out long hours from their busy daily schedules. To do data entry jobs, all you need is a basic laptop and a decent Internet connection. And you can get yourself going in an online data entry job to start earning money online. Some trusted and reliable data entry jobs websites are Axion Data Entry Services, Data Plus, Freelancer, or Guru.
You can also search for "data entry jobs online" on any freelance jobs portal, LinkedIn, Indeed, and Naukri, and you'll find plenty of vacancies to apply in. Most of these jobs also do a small training program before you start working for them. Which allows you to get a data entry job without difficult technical skills.
31. Opt for Online Tutoring
Teaching online has become a big market in India. Ed-tech startups raised the highest amount of money in India's startup ecosystem. And Ed-tech startups also generated the most amount of profits in India. Making money online in India by teaching online has become fairly easy now. And the pandemic also taught people that educating from home and studying from home is both possible and can be done effectively.
Teaching online is not only limited to the traditional courses and subjects taught in schools and colleges. Now people teach all kinds of skills online. Teachers and Ed-tech platforms in India have done a tremendous job at creating live teaching platforms and by effectively teaching new skills to millions of students. Learning new things online via YouTube videos or live classes is now common for many people in India who are constantly looking for learning new skills and growing in their personal and professional life.
To start teaching online, you can start with creating your social media presence as a teacher, making a WhatsApp group for your students, hosting free classes for them on Google Meet, and helping them out with little things. As you develop and establish your basic audience, you can go on to launching premium live courses for your students. You can also use online teaching platforms like BitClass, TagMango, and Graphy to launch, run, and manage your online classes.
32. Social Media Content Creator
There are many women on social media platforms who are homemakers and create amazingly engaging content on their social media accounts. You do not need to be an expert or professional in any domain to become a popular content creator on social media. Content that honestly shares your lifestyle, your beliefs, and what makes you unique also has a high demand among content consumers.
You can use your social media to showcase your life, share vlogs, teach how you manage money, teach how you manage your health, etc. There's a huge audience out there that is looking for honest and genuine content on such topics. Two such examples are these YouTube channels, GardenUp which makes amazing content on gardening, and PickUpLimes which makes great content on the vegan lifestyle, gardening, and life in general.
Now you'd think, how can this help earn money from home for ladies in India. If you've enough followers or viewership on your social media, then it can be monetized. There are two ways to earn money from your social media, barter collaboration or paid collaboration with brands. Brands would reach out to you or you may approach brands to strike a promotional deal for their products. In such a deal, you'd need to create some content around that product for your social media audience. It could be a review, product placement, or an ad interruption in between. The brands can either compensate you for this by sending products for free (barter) or by paying you (paid).
33. Sell Home Decor and Lifestyle Products Online
If you are super interested in making handmade home decor products like wall hangings, flower pots, macrame art, stationery holder, diaries, and calendars, then you can use this skill to make money online in India. You need to start with researching on Amazon, Flipkart, Pinterest, and a normal google search to see what kind of products appear on top when you search for the product that you are going to make and sell online. Whatever products that appear on top are most probably high selling and people are interested in them. Now you can give a special creative touch to your products with trending designs.
To sell them online in your own city or across India, you can create your shop on MyDukaan, Bikayi, Shopify, Wix, or WordPress. We'd suggest that instead of jumping into creating your website for selling your handmade products, create your social media pages on YouTube, Instagram, Pinterest, Twitter, and start posting photos and behind-the-scenes videos. Use this content to showcase your products, what makes them special, what's the story behind them, and what's your process.
You can start collecting orders in Instagram DMs and also on WhatsApp, collect payment directly on GPay or PhonePe, and ship them the product easily with ShipRocket. ShipRocket will use the best courier partner available for picking the product from your location and delivering it to the buyer.
Pro-tip: Launch your own Lifestyle and Home Decor brand with Blinktore by selling custom-designed cushion covers, mugs, coasters, wall posters, framed posters, tote bags, and mobile covers. Launching your own brand on Blinkstore will cost you zero rupees and will take less than 10 minutes to get started. Try it now!
34. Sell Home Made Organic Products Online
There are many individuals and brands on the Internet that are selling homemade or 100% organic products using naturally sourced raw materials. There's a demand in the market for organic homemade products. But people find it difficult to trust a big brand name when they promote products under the organic label. Because people who are available of the importance of using natural and organic products know that big companies at an industrial scale can't possibly make 100% organic products.
This creates a big market opportunity for people who know and can learn the skill for creating organic spices (homemade masala), Scented Candles, Organic Soap, Organic Beauty Products, etc. at home. The advantage of an independent person manufacturing (hand making) products at home is that you can show them behind the scenes, share your process with your buyers, and establish trust with them. You can also sell these products at a premium price and make money online in India. Other than selling it via social media, WhatsApp, and in your locality and network, you can sell your handmade products online on these marketplaces Etsy, LBB, The Indian Craft House, Kreate World, Amazon Karigar.
35. Sell Digital Course
Creating and selling pre-recorded digital courses is a great way to make money online in India. There are many platforms that you can utilize for uploading and distributing your course online like Udemy, Coursera, SkillShare.
In order to launch your paid online course, you'll need to do a few things. First, you'll need to research and figure out what kind of courses are not available on the Internet that overlap with your area of expertise. Then you need to figure out what are the things that available courses in the market are lacking. It could be course quality, missed topics, poor assignments, or high prices. With this research and knowledge in your mind, you should approach the creation of your course curriculum, record your course videos at home or at a recording studio near you, edit it, and upload it on the course distribution platforms like Udemy, Coursera, and Skillshare.
Selling digital courses online is a sure-shot way of creating a sustainable and ever-generating source of money online.
36. Design and Sell Costume Jewellery Online
Currently, around 20% of e-commerce buyers shop for jewelry online in India. This number is ~70% in the USA. You can read more about how big is the Online Jewelry market in India. The point we are trying to make is that this is a growing trend. And the demand for the types of preferred jewelry varies from region to region. People have different tastes, trends come and go, different occasions need different types of jewelry, and people in different cultures have their own preferences. And if you are someone who is skilled in costume jewelry making, then you may consider doing its business online.
By now you know the common theme of launching your business online and gettings sales as we've mentioned in various ways to make money online. You need to start with a smaller variety in your inventory, create your social media presence, create content around your product, and grow your audience. You can also take it to the next level by creating your own e-commerce website.
Without a website, for collecting payments, you can use RazorPay Pages, PhonePe, or Gpay. Collect order details in DMs on your Instagram or WhatsApp. And ship the order using ShipRocket. Here's an in-depth guide on how to sell jewelry online.
37. Start cloud kitchen (or Tiffin center)
The Cloud kitchen industry has been booming lately. There has certainly been a shift to how Indians approach eating outside and ordering in. There are more Indians today who are comfortable ordering from home, trust the cloud kitchens for basic hygiene. And also trust the major food delivery companies Swiggy and Zomato for delivering the food on time. If Swiggy and Zomato are operational in your city, then running a cloud kitchen from your home can be a good side-business.
You can either do it at scale or do it as per your time permits to just make some extra income every month. But you must know that setting up and running a cloud kitchen is an operationally intensive job. And this business has a low-profit margin. But if you are able to create a unique offering, balance taste & price, and cater to a gap in the market, your cloud kitchen can very well take off. You can either register for your cloud kitchen and sell online as Swiggy Partner, Zomato Partner or create your independent restaurant online using DotPe and start collecting orders.
38. Start pickle business
Indians love pickles. Pickles are a part of almost every household in India. And a lot of those who live away from home or don't have someone in their family for making homemade pickles, rely on the packaged pickles sold by big food brands. A small pickle business is something that many ladies and families in India have been doing. And the interesting thing about pickles is that every family has its own traditional recipe and unique taste.
Starting an online pickle business is a good way to earn money from home for ladies in India. You can start either with a small number of varieties or start with only one specialty to manage your inventory and also to gauge the demand. Then create your social media presence and start promoting it in your network. You can also choose a brand name for your pickle or use your own name or surname as the pickle's brand name for a homemade and personalized touch. Launch it as a brand, create an online website for your pickle business, and leverage the power of social media to spread the word about your pickle business. With the right effort and promotion, selling homemade organic pickles online in India can become a good profitable business.
39. Sewing business from home
If you know how to sew (or stitch) garments, tote bags, handbags, custom-designed clothing, then you can explore starting your own online sewing business from home. The demand for custom-made and homemade garments has remained as it is for many. In fact, there's an increased demand for fashionable homemade clothing. If you have got the sewing skill, then you can read this blog and get 21 Sewing business ideas to start from home and earn money in India. You'd again need to help of WhatsApp, MyDukaan, Bikayi, Instagram, and Facebook to promote your sewing business online in your city.
40. Open a daycare for toddlers
If you happen to live in a metro city or a locality where there are many working women or many corporate offices in your vicinity, then opening a daycare for toddlers can be a perfect business. Although there are many logistical requirements and limitations to opening this business and promoting it online, this can be a good profitable small business.
Opening a daycare your own space or a rented space will require an upfront investment. And you'd also need to be good with managing staff, parents, and the toddlers. Here's a detailed guide on how to start a home daycare center in India. You can take your business online by listing it on Google My Business and making it visible to potential customers.
41. Open a daycare for pets
If you are a pet lover and you know how to handle pet dogs and cats. And if you have got an open terrace, garden, and space in your home, you can turn it into daycare for pets. There are some other factors too for consideration, do you have pets in your locality (5-10 km radius), can people in your locality afford and are looking for a pet daycare while they go for work or outstation, etc. Other than that, you will need to make some changes to your designated area in your home to make it pet friendly, safe, and attractive for pet owners to consider your pet daycare. The biggest prerequisite is that you must enjoy being with dogs and know how to handle them.
Now to make it work and get customers, you'd need to take your local business online with the help of Google My Business. Create a profile of your pet's daycare on Google my business, specify the location, timings, pricing, photos, and services you offer. Google will make your local business visible on the map and it'll be visible to the people who are looking for a pet daycare in your vicinity. You can also leverage the power of YouTube and Instagram by creating interesting content in your daycare around the pets and show much the pets enjoy being at your daycare. You can collect payments online via Razorpay pages and manage your small business with ease.
How to earn money online in India easily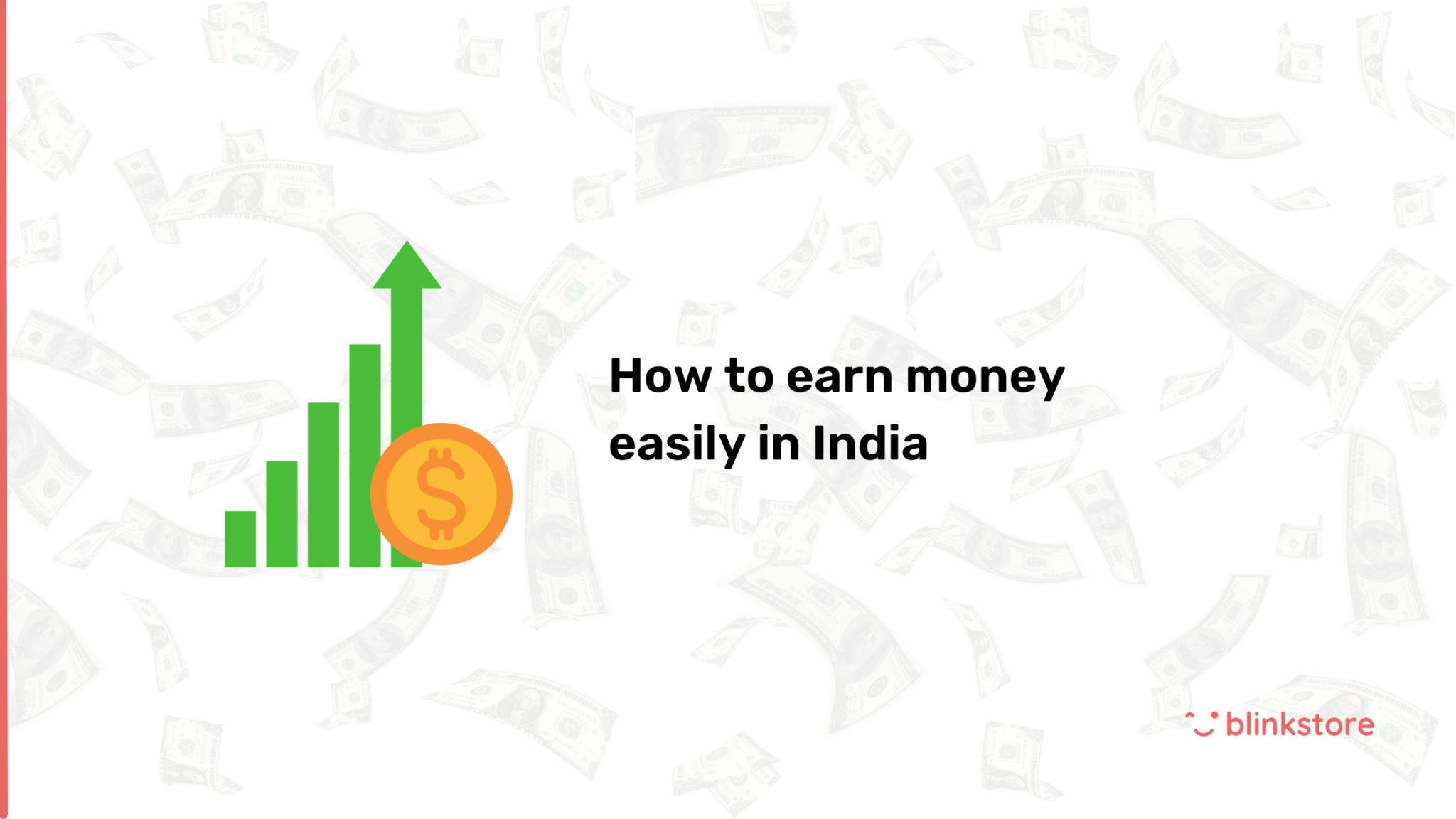 42. Host house parties
If you live in one of the metro cities in India or in an urbanized city and happen to have a nice home with some kind of unique features: terrace, spacious, garden, balcony, etc. You can think about listing it on house party websites. And you can either rent out your place to others for hosting a house party or host your own paid house parties.
There are many startups in India where you can register your property and start listing amazing house parties. Some of such websites are PlayAce, thepepspot, sloshout, and PartyVillas.
43. Multi-Level Marketing (MLM)
Multi-level marketing companies have got a bad reputation in the industry. Most MLM companies were nothing more than a scam. And that's why it is a suggestion that you only get into MLM of trusted network with real product. And avoid a Ponzi pyramid scheme at all costs. Some popular multi-level marketing companies are Amway, Herbalife, Avon. But we do not fully endorse getting into MLMs.
44. Deliver Parcels for E-Commerce websites
Working as a last-mile delivery or courier partner with E-commerce and delivery companies is an easy way to earn money in India. You do not necessarily need to work as a full-time delivery partner with these companies for some money. In fact, you can also work on your own schedule and work as much as your time permits. Especially in the last mile delivery segment, you can signup with them as a delivery partner and take delivery jobs/tasks as per your availability. This is an easy way to make some quick extra money in India. Some of the popular delivery companies are E-kart, Delhivery, Gati, DHL, Blue Dart, etc. To find out more courier services to apply for the job of the delivery executive, read the 10 courier services in India.
45. Work as a delivery person for Food & Grocery delivery platforms
Working as a delivery person with food and grocery delivery companies is something that you can also do on a part-time basis, as per your availability. These platforms allow the riders (delivery executives) to be online and take delivery orders as their time allows. Even though most riders do it full-time to earn a livelihood. There are people who do it part-time along with other work to get some extra income. To become a delivery partner on Zomator go to Runnr, here's the link to Swiggy's rider page Swiggy, and Duzno partner. The pay on these platforms is enough to sustain your minute expenses even if you do it part-time.
46. Work as an Insurance POSP
A POSP (Point of Salesperson) is the name used for an insurance agent who can sell insurance products to people. To become a POSP, you need to have the minimum educational qualifications as given by the IRDAI and undergo training provided by GoDigit or any other insurance company. With only 15 hours of training, you can become an expert at selling insurance products. It requires no investment, all you need is a smartphone and a working Internet connection.
There is also no fixed timing and you can work on your schedule. Your income will depend on how many insurances you sell. And the best part is that anyone can become a POSP, students, homemakers, retirees, and working professionals. All banks and insurance companies are always hiring for a POSP. You can apply to GoDigit and ICICI Lombard directly from the website. You can also search on Google "Become a POSP insurance agent" and you'll get lots of options to work at.
47. Work as a Travel Agent / Travel Agency
If you love traveling and are yourself a traveler, then this could be the perfect work-from-home job for you. People who are wanderlust and have seen the best of the parts in our country and in other countries stand a good chance on how to earn money online in India by working as a travel agent.
A travel agent is responsible for advising people (their clients) about travel options according to their needs, wants, and budget. Along with that, travel agents help people plan trips to domestic or international destinations, tours, accommodation, transport, food, sightseeing, and fares. You can search for travel agency jobs on Indeed, Upwork, AvantStay, or Hopper. You may also read about the 15 Companies that hire remote travel agents. If you create your own social media presence as travel exert or travel enthusiast, you can also start your travel agent services independently.
48. Join or start an independent (small) business
Joining an offline or online small business as a partner or early employee is a great way to set yourself in a good career and give yourself an opportunity to build a great future for yourself. A small business can be into manufacturing, textiles, technology, health, education, or any other sector. It can also be a service agency providing digital services to clients like social media marketing, sales, design, PR, content writing. Almost anything that companies hire individuals for can also be done by hiring an agency. And there are many startups and companies that hire agencies to outsource small functions of their work and operations.
49. Become an Airbnb host, OYO homes host, Or Booking.com host
If you own a nice flat, bungalow, villa, or apartment in a good locality or city, you can turn it into an Airbnb, Oyo, or hostel. And list it for bookings on the online hostel and hotel booking portals. From this link, you can learn more about Airbnb home hosting and host your home on Airbnb. Host your flat on Airbnb, OYO homes host, or list your property on Booking.com.
The prerequisites for turning your place into a hostel, hotel, or co-living space are that it must get some privacy, have attached amenities for basic necessities, accessible location, and good service. If your place is in a city or town which is popular for its tourism, then you stand a good chance to make easy money in India.
Though hosting your property on Airbnb may come with its own challenges, a lot of your hassle in getting the customers will be taken care of by Airbnb or any other platform that you decide to use. And if you become some sort of an expert in this business, you may also plan about renting a good place in a tourist place and turning it into an Airbnb or hostel for backpackers. There are dozens of ways to monetize a good property, and this is certainly one of them.
50. Find apps that give cash incentive
There are many applications on PlayStore that allow you to earn small amounts of money and coupons as rewards for installing other apps, doing tasks, and watching ads. This way of earning money online in India is a little cumbersome and doesn't have the potential to help you earn a lot. But you can certainly earn enough to do your mobile recharge or eat a pizza.

The process is simple, install any of these apps on your Android phone Make Money: Cash & Gift Cards, AppNana, appKarma Rewards, App Flame: Play & Earn, CashApp – Cash Rewards App. And create your account on it. Some of these apps will require you to add your PayTm wallet to them or do KYC for money transfer. Never spend money on any online app that promises that it'll help you make money. Once you are on these apps, you'll be given small tasks like installing apps, rating applications, watching ads, etc. And for each task, the app rewards you with a small amount of money and gift cards.
Pro Tip: Coinbase has this program where you can earn crypto while learning about crypto.
Conclusion: On how to earn money online in India
We hope that the above-mentioned 50 ways on how to earn money online in India have helped you broaden your thinking. And probably help you narrow down on 1 or 2 things that you'd like to try out.
Technology, the Internet, and education are great levelers. The technology and Internet revolution have increased the level of playing field for many. And today we stand this unique opportunity of making money, with zero or a little investment of money and our time. So what are you waiting for, bookmark this guide on how to earn money online in India and start working on your next big idea! We hope you found this ultimate guide to be the best money-making online article.