YouTube is the most popular video platform in the world. There are many Indians who are making lots of money and living from YouTube. And if you are also wondering about How To Earn Money From Youtube in India, we've got you covered. There are many ways to make money from youtube, like YouTube's partner program, design and selling t shrits online in India, sponsorships on Youtube videos, or selling online merchandise. In this updated 2022 guide on how to make money from YouTube, we've covered them all in detail along with many more ideas.
Nearly 43% of the global YouTube users come from India. Which makes around 225 million YouTube viewers who are from India. It is evident how big the YouTube platform is in India. And this presents a clear opportunity for people in India to create a YouTube channel, make great regional and international content, and earn money from YouTube in India by engaging millions of viewers.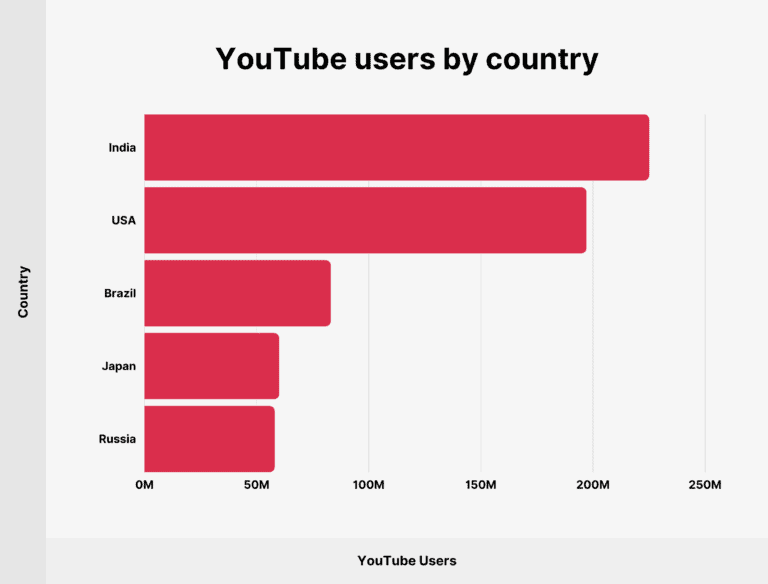 In this blog, we'll go over the details of how you can earn money from YouTube in India, what are the things you need to keep in mind, what mistakes to avoid, and the most important "How much money can you earn from YouTube in India?".
So let's dive in!
Table of Contents
1. Who makes the most money on YouTube?
YouTubers collectively earned around $300 million in 2021. Which is 40% more than the year 2020. There are many YouTubers around the world who've become millionaires. They do not necessarily earn all this money from YouTube's Ads Monetization (i.e. YouTube Partner Program). Instead, these YouTube celebrities do big commercial deals to license content, do deals to promote other brands (sponsorship), host their own paid events, and run businesses that they promote through their YouTube.
You must be wondering, how will it help me how to earn money from youtube in India. The catch here is that YouTubers in India are now following in the footsteps of international YouTubers. It is also good for setting up benchmarks for content, and expectations, and taking ideas from the best. It also shows us the true potential of monetization as a YouTuber.
According to Forbes, these 10 YouTubers are the top earners on YouTube in 2021.
You can watch the content created by them and observe what makes their work so engaging, and entertaining, and how they are able to command such huge money with their YouTube channel.
2. Top 5 richest YouTubers in India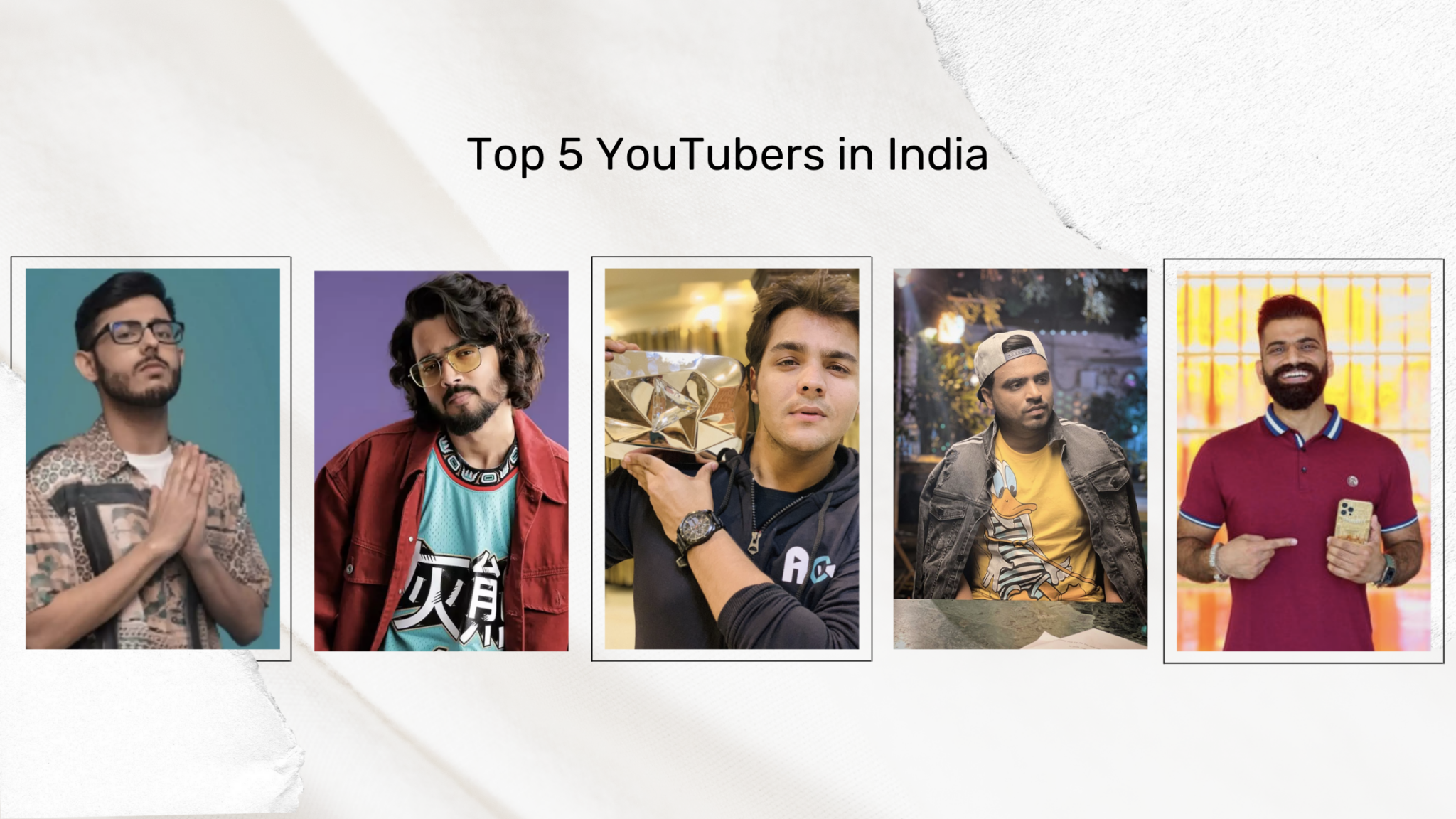 After the top 10 YouTubers globally, let's see the top 5 richest YouTubers in India. They are the epitome of success as a YouTube creator in India and clearly know how to earn money from YouTube in India. These creators are great entertainers and also among the top tech reviewers in the world. They started early, created content that appealed to the masses, and keep creating consistently.
Let's see the list — Top Indians YouTubers by Earnings:
Ajey Nagar, Rs. 25 Crore — ~$3.5 million (35 million subscribers)
Ajey Nagar is popularly known as CarryMinati. He has over 35 million subscribers. According to Business Connect India, CarryMinati has total assets of $3.5 million (Rs 26 crore approx).

Bhuvan Bam, Rs 25 crore — ~$3 million(25 million subscribers)
Along with being a comedian, Bhuvan is also a writer, singer, and songwriter. He plays multiple characters in the vines on his channel "BB ki Vines", like Bhuvan, Banchoddas, Sameer Fuddi, Titu Mama, Bablu, Janki, Mrs. Verma, Adrak Baba, Mr. Hola, Papa Maakichu, and Detective Mangloo.

Ashish Chanchlani, (27 million subscribers)
Ashish Chanchlani creates comedy sketches that are very relatable and enjoyed by a wide audience. Business Connect India mentioned that Ashish earns approximately $115,000 to $ 180,000 per month.

Amit Bhadana, (23.8 million subscribers)
He has collaborated with Bollywood actors like Rajesh Sharma, Hemant Pandey, Manoj Bakshi, and Manoj Joshi. According to Business Connect India, Amit Bhadana's total assets are around $5.7 million.

Gaurav Chaudhary, (22 million subscribers)
Gaurav Chaudhary is known as Technical Guruji. Technical Guruji creates mobile, gadgets, and tech review videos in Hindi and English for the Indian audience. According to Business Connect India, he has a net worth of $45 million (Rs 326 Crore INR).
The net worth of these YouTubers and income may vary from reality. We are only presenting the data that we could gather from other sources.
Nonetheless, these YouTubers and many more along with them have clocked great success on YouTube in India. This goes on to show the potential of youtube for people to earn money and seriously explore how to earn money from YouTube in India.
3. How to set up your YouTube Channel?
Now that know the potential of YouTubers to earn money in India. Let's get started with step 1. The first setup is to sign up on YouTube and create your own channels.
You need to do some research on YouTube on what kind of content is available in your area of expertise or your niche Defining your niche, or in other words, what kind of content you'd be making on youtube is very important.
You need to have a basic idea of what lines you'd ideate your content. And the audience will also establish a connection with your channel and your content type. Do research to figure out what kind of content is not readily available on YouTube, but you think has great demand among the audience.
From the end of April 2022, Youtube's keyword research tool will be available for all. It will be a good place to find out what kind of search volume each keyword has on YouTube in India and in different regions of the world.
Once you create your channel, you need to personalize it with your channel's name, channel art, links, description, introduction video, and more.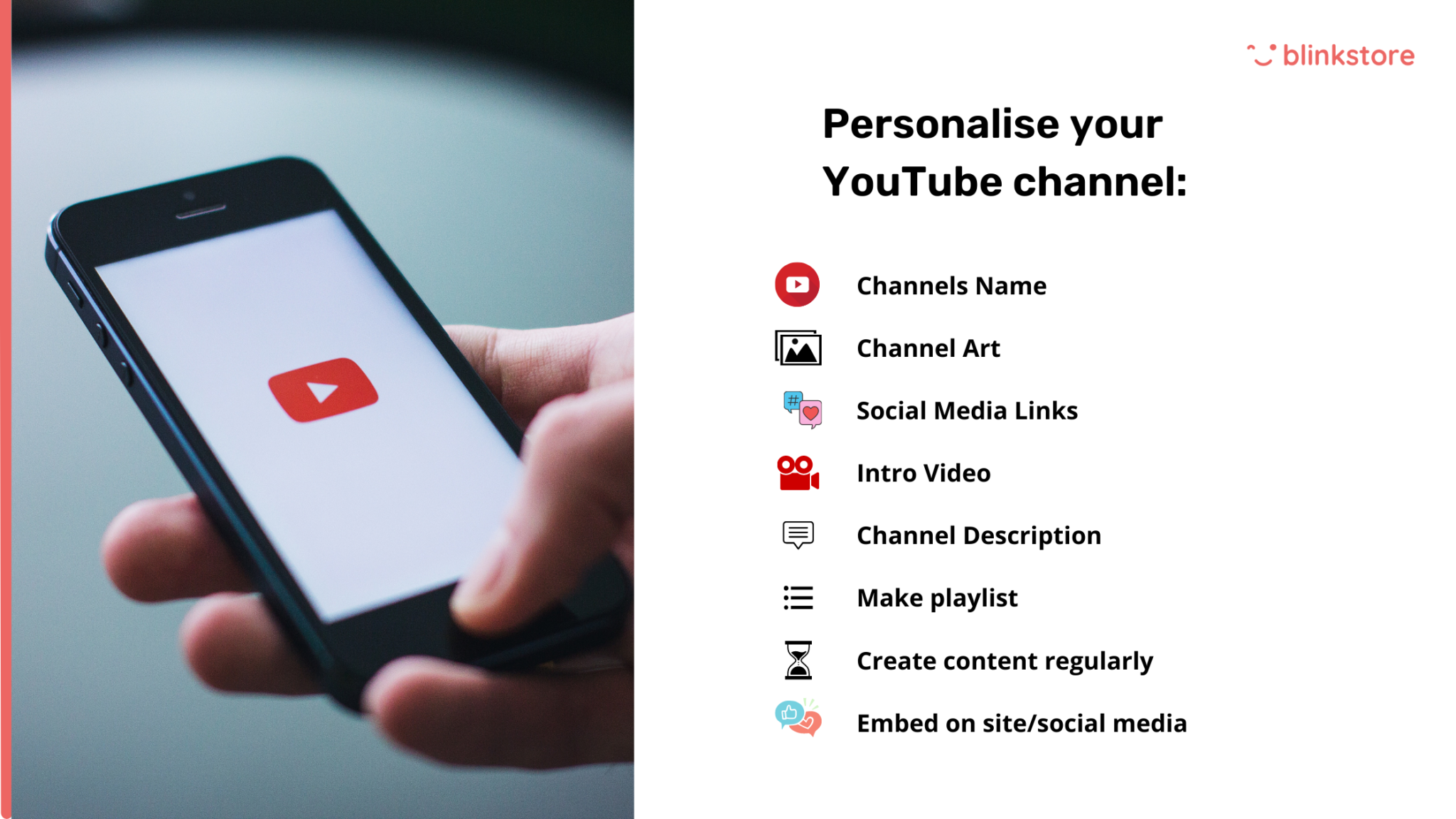 Personalization of your youtube channel with playlists and content is an ever-running task. We'd suggest that at this stage you do not focus much on how to earn money from YouTube in India. Instead, you only think about the type of content you'd be creating and focus on the core value your content has. The core value of the content can either be entertainment, information, education, aesthetics, etc.
4. Who's going to watch your YouTube Channel?
Once you regularly start creating videos for your Youtube channel and start uploading them, you'll get into the flow. After crossing the first 15-20 uploads, you'd also see that you've started getting some views and engagement on your videos.
Some YouTubers also get early success and their first few videos get viral and get thousands and millions of views. That is possible in a scenario when the topic of the video was viral and people were already searching for it, or you have great followership on Twitter/YouTube and you share it with your existing audience or the first hundred people who watch it like it so much that they keep on sharing with their friends.
But when it comes to getting a high number of views and subscribers, you can only do things that are in your control. Like creating great content, optimizing your video description and title for the YouTube algorithm, uploading subtitles, uploading a high-quality video, etc. But the rest depends on the platform's algorithm and the viewers.
Define the target audience of your YouTube channel:
People from which country, region, and/or city will watch and subscribe to your channel.
What's the age and gender of the people who would find your content relevant
What's the language your audience speaks and is most comfortable with
What are the topics your audience likes to watch
What other channels they might be watching
Where do they spend their time on the Internet
These things will help you ideate content for your YouTube channel. And you'd ensure to some extent that your content turns out to be relevant.
5. How to enable monetization on YouTube
If you want to make money on YouTube, you must comply with a set of guidelines.
Your YouTube Channel must have 1000 subscribers.
Watch time on your YouTube Channel in the last year should be 4000 hours or 2,40,000 minutes.
These are the two rules that must be followed in order to earn from Google Adsense on YouTube.
Are you ready to monetize your YouTube channel. Step-by-step process to YouTube channel monetization:
Sign in to the YouTube account that you want to monetize
Click the icon for your account in the top right corner
Open YouTube Studio
In the left menu, click on Other Features –> Monetisation
Agree to the YouTuber Partner Program terms
Create a new AdSense account or connect an existing one to your channel (You need an AdSense account to get paid)
Set your monetization preferences.
If your application for the YouTube partner program gets approved, you'll receive the following email informing you about the approval of your monetization application.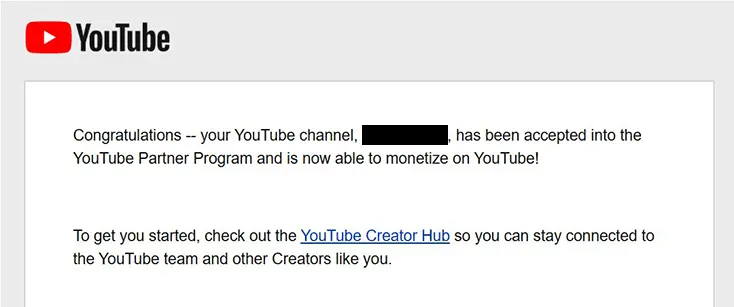 If your application doesn't get approved by YouTube, you'll receive the following email informing you about the non-approval.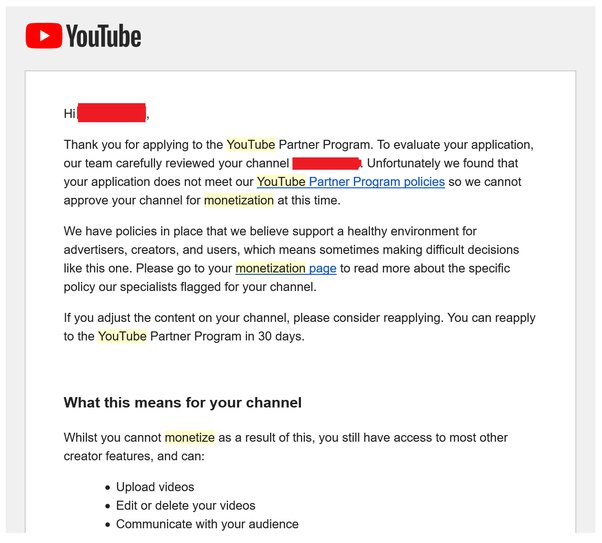 The income from the ad will be excluded if.
Your videos include adult content
Videos are related to violence
Content that includes harassment and obscene language
Promotion of drug selling and all other related videos
Videos that showcase very sensitive and disturbing events in society. For example political conflicts, natural disasters, and many more.
6. Launch your official merchandise on YouTube
YouTubers around the world are now launching their own official merchandise for their fans and followers. launching a merch store is not difficult and it is one of the best ways to earn money from YouTube in India at the same time it elevates your brand as a creator.
Here's a quick step by step guide to launching your own official merch on YouTube:
Step 1:
Sign up on Blinkstore and create your store. Tip: Keep the store name the same as your channel name to keep your creator brand consistent.
Step 2:
Customize your store as per your needs. And start designing merch from the catalog of 30+ Print-on-demand products available on Blinkstore.
Step 3:
Launch your store and put the link to your store on the About page of your YouTube channel. And also put the link to your merch store in the description and first comment of every video to promote it and give it visibility among your viewers.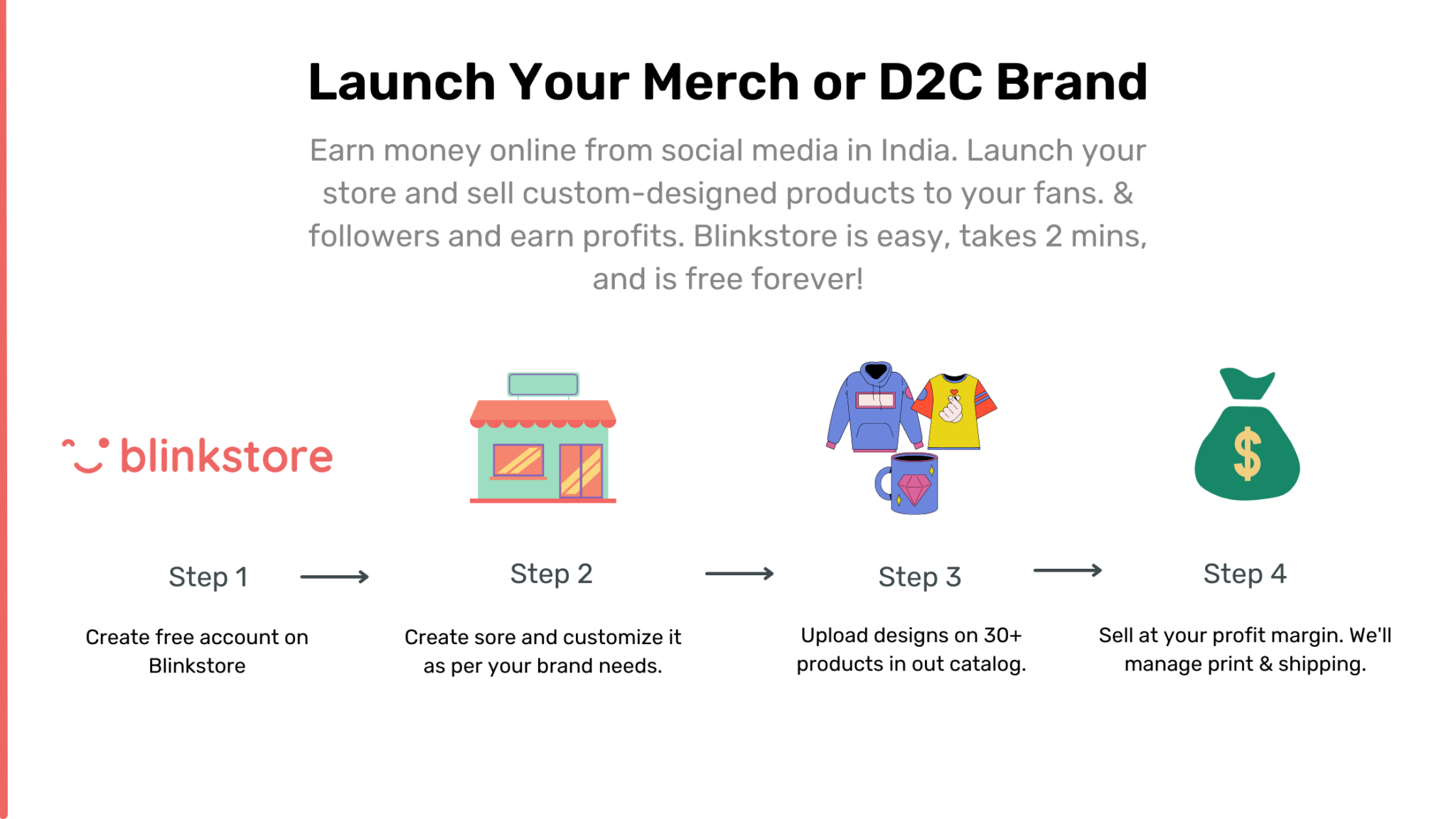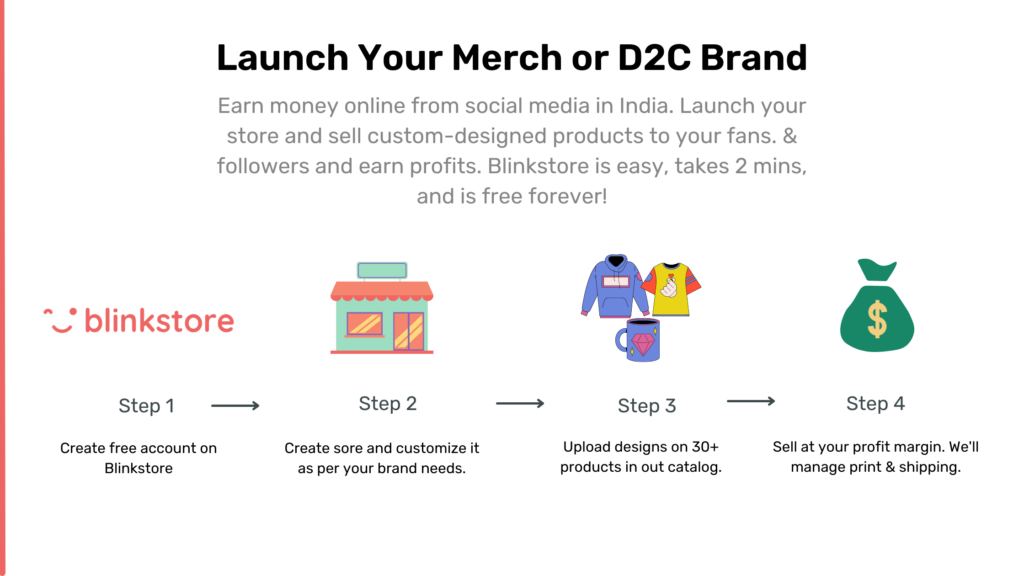 7. How To Earn Money From Youtube in India
How To Earn Money From Youtube in India? There are many ways to achieve this.
Here, you'll find the top 10 ideas to make money from YouTube in India. Not everything might be applicable to every YouTuber and every channel. So pick what suits you and experiment with it for a month or two. And then either move on to the other ways of monetization or add new ways to your existing monetization channels.
Become a YouTube Partner and earn money from ads
Refer to point number 5 again to learn how to apply for the YouTube partner program and monetize your channel and videos from Google Ad Sense. A lot of people have the query that how much money can I earn from youtube per 1000 views. There's no way to answer that question. Because the monetization by Ads depends on the region, CTR (clicks the Ads get), playthrough (for how long did the viewer watch the Ad before skipping), and a dozen other factors.
In the following tables, you" find youtube income per 1,000 views. And 1 lakh subscribers on youtube money in India.
So here's an estimate of how much you can earn in India per 10k views, 100k views, 1 Million Views, and 150 Million views. You can guess the many views anywhere in between. These are also not sure-shot numbers. But can be a good guideline to motivate you.
| | | |
| --- | --- | --- |
| Video Views | Estimated Earnings (in dollars) | Estimated Earnings (in ₹) |
| 10K | $50 to $80 | ₹200 to ₹500 |
| 100K | $500 to $2,500 | ₹2,000 to ₹5,000 |
| 1 Million | $3,400 to $40,000 | ₹7,000 to ₹30,000 |
| 150 Million | $80,000 to $100,000 | ₹1,50,000 to ₹6,00,000 |
How to earn money from youtube in India | Estimated Earning in Dollars ($) Vs. Indian Rupee (INR)
Another frequently asked question is what kind of channels earn the most money on Youtube. Again, there are many estimates on this but no correct answer. YouTube officially never says that a certain category of channels will earn more in comparison to the other category of channels.
Still here's an estimated list of how much a channel can earn per 1 million views on YouTube depending on the category of the channel. You can also think of it in a way that whichever category attracts the most audience will likely earn more money on YouTube.
| | |
| --- | --- |
| Channel Earnings | Earnings (Approx ₹ ) |
| Comedy | ₹ 22,000- ₹ 30,000 |
| Music | ₹ 7,000 – ₹ 11,000 |
| Technology | ₹ 14,000 – ₹ 22,000 |
| Roasting | ₹ 18,000 – ₹ 29,000 |
| Food | ₹ 7,000- ₹ 11,000 |
| Gaming | ₹ 7,000- ₹ 14,000 |
YouTube Channels earning per 1 million videos view by category | How to earn money from YouTube in India
Sell products or merchandise
Almost all YouTubers and Creators in the west have their own official merchandise. It is not only a way to earn money from youtube but also a way for your fans to get something from you other than your videos. A physical product they your subscribers can buy from you will make them remember you for long and will also become a stronger signal for word-of-mouth.
You can launch your official merchandise store using Blinkstore. Blinkstore is free forever and you can sell 30+ varieties of print-on-demand products. Whenever someone will buy a product from your store, Blinkstore will take care of the operations, print-on-demand, and shipping.
Crowdfund your next creative project
Here are 4 popular crowdfunding platforms out there that you can leverage.
You can use these platforms to launch new products, fund your ideas and side projects, and raise money from your fans.
Let your audience support your work through "fan funding"
Some popular ways for your fans to fund you as a creator are as follow:
YouTube's Super Chat: Super Chat is a feature that you can use when you go live on YouTube. It allows you create to a tip jar for your viewers to send you money as contributions or donations.
Patreon: It is a membership platform that allows you to create paid plans for your fans. Fans can purchase a paid plan for as low as Rs. 50 a month and you can provide extra services like premium content, once in a while video catchup, etc.
Tipeee: With this platform, you can create one-time and recurring subscriptions.
License your content to the media.
Many YouTubers who are great with storytelling, cinematography, and producing content of a certain quality also have the option of producing content for other purposes. For example, YouTubers in India have produce Ads, Web series for OTT platforms, and produced videos for brands.
Work with brands as an influencer or affiliate.
You must have noticed that many YouTubesr have sponsored products, services, and brands in their videos. YouTubers block 10 secs or so within their video to talk about their sponsor. They actually have fixed price for these Ad slots like TV channels do.
You can either reach out to brands or provide your contact details in your channel description and mention "For collaborations write to me at [email protected]". You can also put affiliate links in your video description of products from Amazon or other e-commerce platforms.
Register on Influencer Marketplaces
Here are some influencer marketplaces you can list your channel on. A lot of small and big brands can discover you from the influencer marketplaces and reach out for paid promotions and partnerships.
8. How to "sell" without annoying your audience?
If you over do the selling of products, placement of Ads, affiliate links, and promotional content in your video, it might annoy your views. It is important to sell but without annoying your audience.
Keep a format and segue of transition as you start to talk about your sponsors or your products. Try to include the promotions, merchandise, and sponsor placement within the flow of your content.
You can learn from top YouTubers how they sell without annoying the views in their videos. Create your own rules and don't break them up easily on the requests of brands. Remember that the brands do not care much about your audience and might push you extra to oversell their products within your videos. So keep your stand and guidelines firm on how you put promotional content in your videos.
9. Remember That Content is king
How to earn money from YouTube in India? 95% of Indians on YouTube watch content in local languages. YouTube is expecting a 40% growth in the content created in Bengali, Marathi, Tamil and Telegu, and other regional languages. This presents a huge opportunity for you to create content in a regional language. A lot of good content that is easily available in the English language is not available in the regional languages of India. But the appetite for all kinds of content is there in the market.
Remember that to earn money from YouTube in India, you must create content that is highly engaging and gets shared among your audience. Engagement, word-of-mouth, and watch hours on your videos will directly depend on the quality of the content.
10. Conclusion
Other than YouTube there are many other ways to earn money online in India. If you are researching for more money-making ideas, read these 50 Ideas on How to earn money online in India. Apart from YouTube, we've many social media platforms that are capable of generating good monetization. We've written 10 top ideas here on How to earn money from social media in India.
We can safely say that YouTube and content consumption will continue to grow in India. There is a lot of potentials for you to start a new channel on YouTube even in 2022 and beyond. And if you already have a channel, it's time you start creating and establishing new revenue channels for it.
11. How to earn money from YouTube in India FAQs
How to earn from YouTube in India?

5 popular ways to earn money from YouTube channel are: Join the YouTube partner program, sell your official merchandise online using Blinkstore, collect tips from fans in live stream, launch a crowdfunding campaign, and list your channel on influencer marketplaces to get sponsorships from brands.

How much money do you make per 1,000 views on YouTube in India?

You will make approximately Rs. 50 to Rs. 100 from a video with 1,000 views on YouTube in India. But there is no way to calculate earnings from YouTube based on the views. YouTubers earn in the range of Rs. 500 to Rs. 5,00,000 based on the views and engagement their videos generate.

From 1,000 subscribers on YouTube, how much money can be made?

You need at least 10,000 subscribers to be eligible for the YouTube Partner program along with 4,000 hours of watched content on your channel within one year. 1,000 subscribers on YouTube how much money? It'll generate no money from the partner program. But you can do brand deals, affiliate marketing, sell t-shirts and other products to your fans directly and earn money from YouTube in India.

What are some strategies on how to make money on YouTube?

Some strategies on how to make money from YouTube in India are YouTube partner program, sponsorships, brand deals, affiliate marketing, selling merchandise, crowdfunding from fans, creating premium content, etc.

What are some tools every content creator needs to make money on YouTube?

Every content creator needs to use YouTube Creator Studio to make money on YouTube. To launch your online store for merchandise, creators use Blinkstore. And for researching on what kind of content to create, YouTubers use the YouTube keyword research tool.

How Youtubers earn money in India?

There are many ways through which YouTubers makes their earning in Youtube in India. Mostly it includes Ad revenues, paid collaborations, Superchats, and Memberships.

What is the basic YouTube earning in India?

The exact YouTube earning can vary depending on subscribers, location and watch time. However, it is estimated that on average, Youtubers earns approx. 25000 on a monthly basis.