Reels have taken over Instagram and How to earn money from Instagram reels in India is a big question at the moment. Content creators are getting reach in millions on their Instagram reels and new creators are going viral overnight. But the big question is, are they making money from Instagram reels in India? And if Yes, How?
In this blog, we are going over 10 ideas that will answer your burning question: "How to earn money from Instagram reels in India".
Table of Contents
What are Instagram Reels?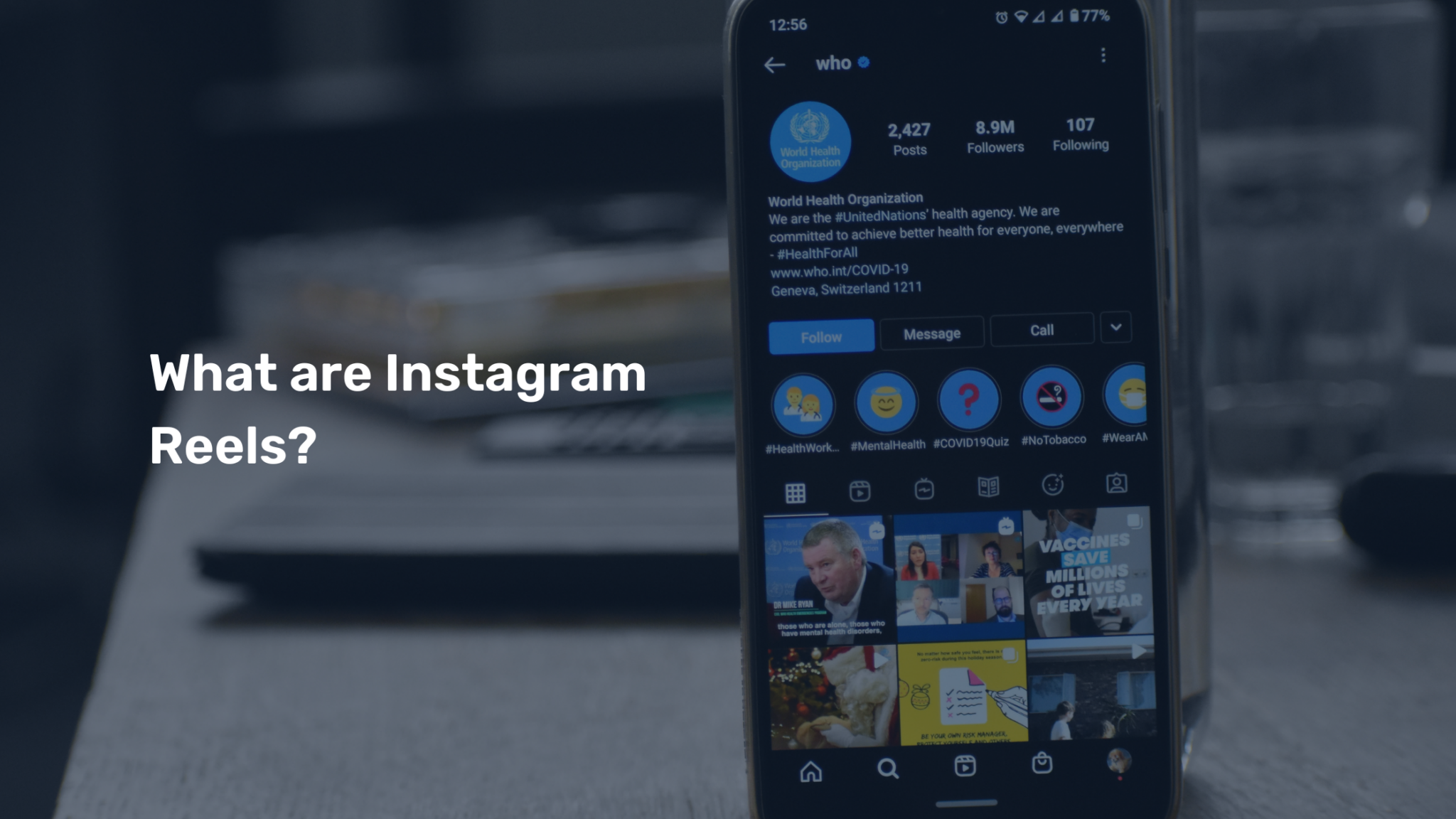 Before we jump into how to earn money from Instagram reels in India, let's do a quick class on "What are Instagram reels?".
Instagram introduced reels on August 5, 2022, in this press announcement. Instagram, describe Reels as "a new way to create and discover short, entertaining videos on Instagram". Initially, Instagram supported 15-second long Reels and later increased the limit to 60 Seconds. So now you can upload 15 seconds to 60-second long videos as Reels on Instagram.
The ratio is reeled video is vertical because of its vertical viewing experience: 16:9.
There are two ways to post reels: You can upload pre-recorded videos from your device or directly shoot and edit videos from the Instagram app and upload them. We'll look into both these ways in detail here and then learn about some apps that you can use to create amazing Reels on Instagram.
How to shoot and edit Instagram reels?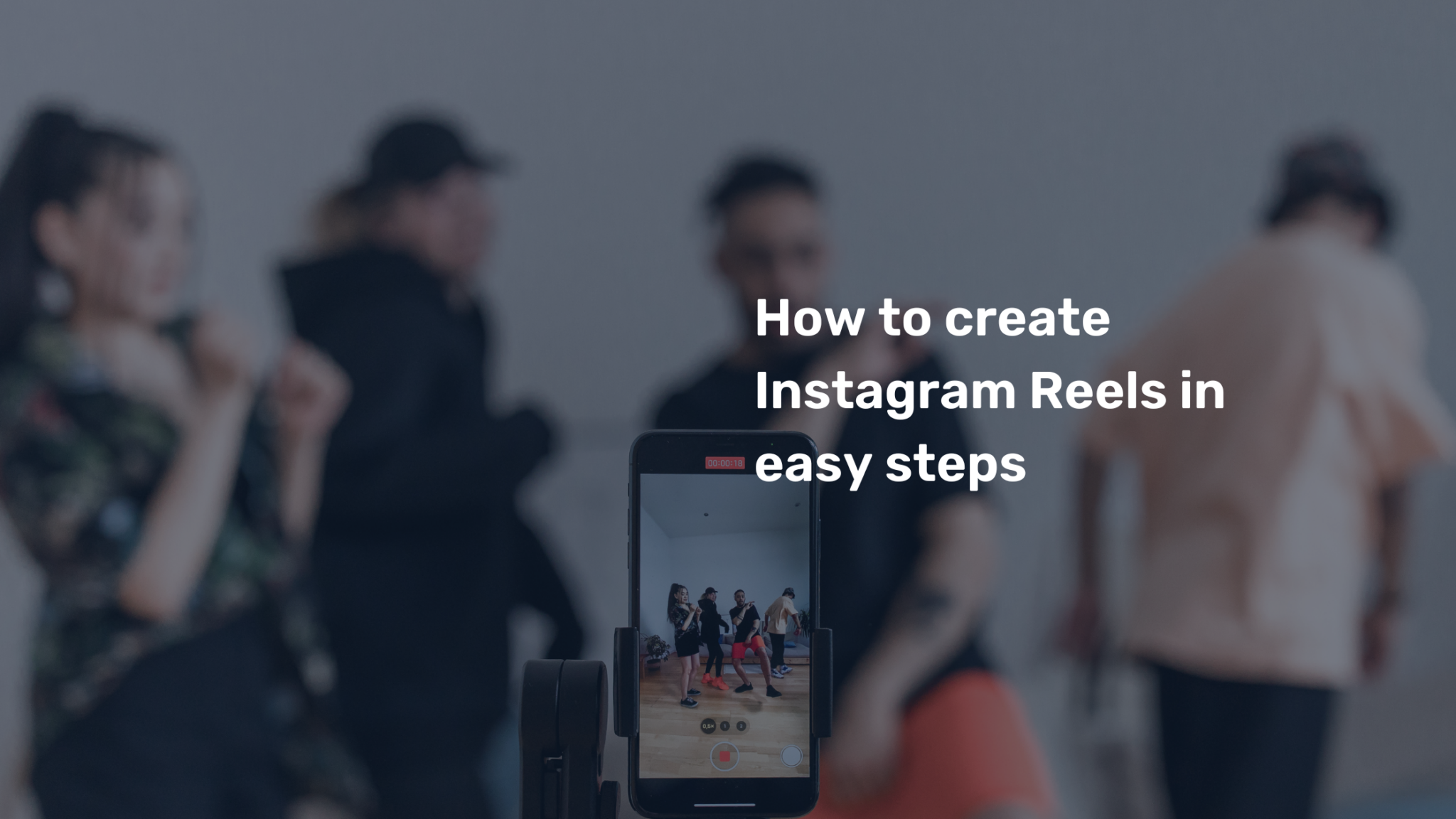 We understand that there's excitement about diving into how to earn money from Instagram reels in India. You can directly jump to point number 4 to read the 10 Ideas that work to make money from Instagram reels in India.
For anyone who is new, we are going to walk through a quick tutorial on how to shoot and edit Instagram reels.
Creating Reels (Instagram Official Tutorial)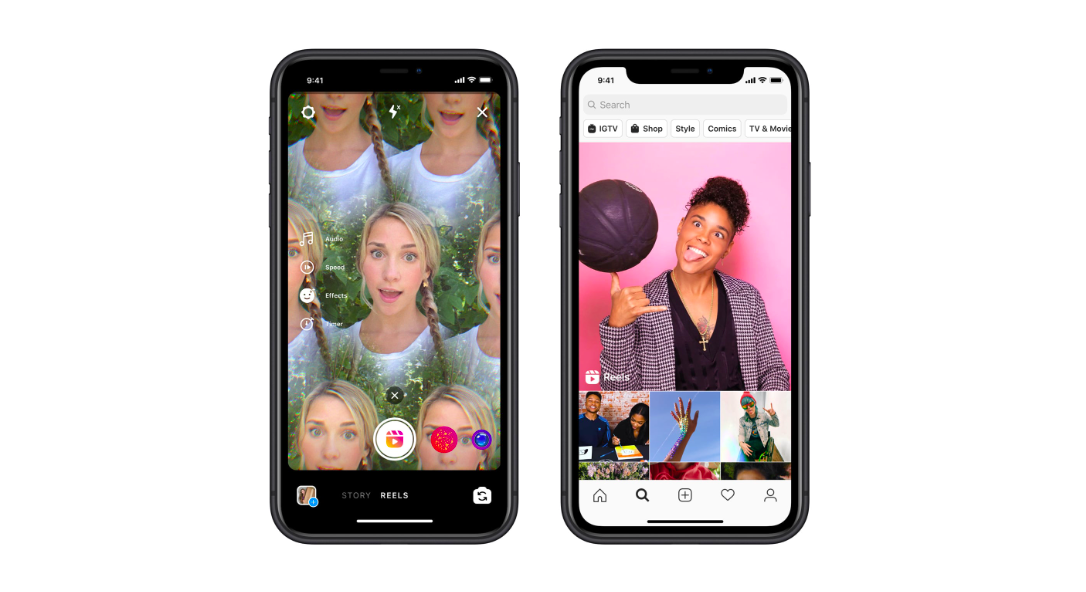 Open the Instagram app (make sure you are using the latest version). Select Reels at the bottom of the Instagram camera. You'll find a variety of editing tools on the left of your screen to help you create your reel, including:
Audio: Search songs in the Instagram music library. There is also a feature to use your own audio by recording a reel with it. If you post a reel with your own (original) audio, the audio will be linked to your account (attributed). If your account is public, others can create reels using your audio by tapping on "Use Audio" on your reel.

AR Effects: AR Effects are the real magic behind Reels. Select effects from the AR effects gallery, you'll find AR Filters created by Instagram and by other creators from all over the world. You can also record multiple clips with different effects.

Timer and Countdown: To record your clips hands-free, set a timer. On pressing record, you'll see a 3-2-1 countdown, before the recording begins for the amount of time you have selected.

Align: Seamless transition reels are very popular to show outfit changes or changes in subjects within the video. make sure you line up the objects or person from your previous reel clip before recording your next. It will help you create seamless transitions.

Speed: You can also create slow-motion videos or fast-forwarded videos by changing the speed. Choose to speed up or slow down part of the video or audio you selected. This helps you sync your actions and moves with the music or dialogue.
You can either Reel in multiple ways: In a series of clips (one at a time), all at once, or using video uploads from your gallery. Record the first clip by pressing and holding the capture button. You'll see a progress indicator at the top of the screen as you record. Stop recording to the end of each clip.
How to Shoot and Edit Videos Using Instagram Reels?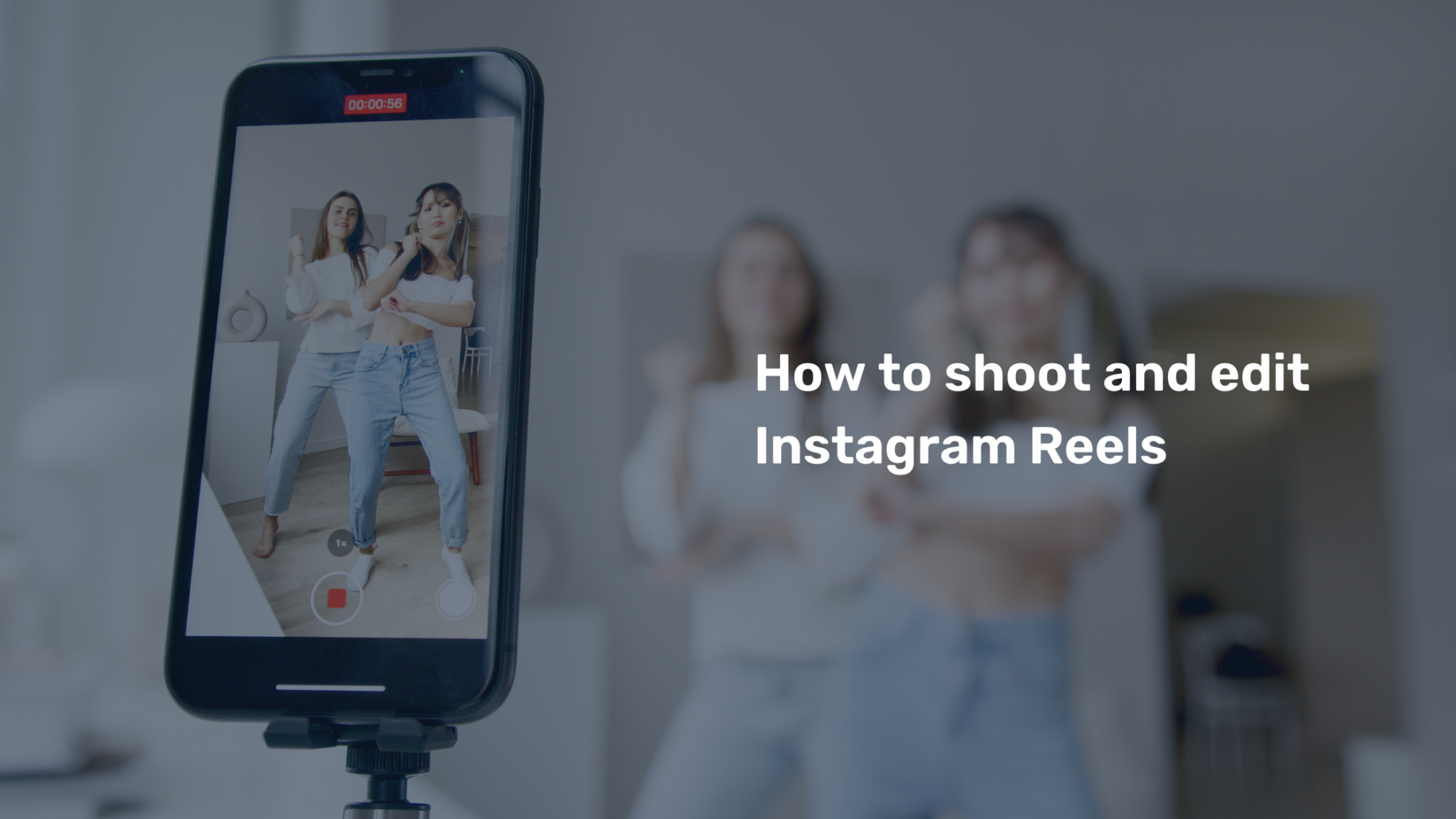 A lot of people do not get as far as to ask the question that how to earn money from Instagram reels in India. So let's first see how to soot and edit videos using Instagram reels. You must have seen a lot of reels on Instagram with transitions and effects. Many such reels can be made using the Instagram app itself.
Plan Your Instagram Reel
Follow the rule of 80/20, where 80% of time and effort goes into planning and 20% into the execution of the plan. Before starting your content creation journey and shooting the reels, ask yourself the following questions:
Who is going to watch your videos? (and why) — The target audience
On what topics would you create reels for them?
How will you use the trends, and trending music, and still include value and infotainment in your reels?
There's no easy or straightforward answer to these questions. You'll need to do some research on Instagram reels to figure them out. Scroll through the Instagram Reels, look for similar accounts, and identify content and trends.
Post research, you can come up with some ideas that you'd like to try out. Start taking notes, write your script, and record a few videos to get in the flow. It'll take you a few takes to get it right the first time. We would suggest that you do not overthink it and focus more on creating reels and posting them on Instagram.
Shoot the Instagram Reel
Now that you've visual clarity, you can start making Instagram Reels by the following steps. The earn money apps like Instagram, Blinkstore, etc. are easy for everyone to use:
Open the Instagram app and tap on the '+' icon on the top navigation bar. From there, select Reel to create a new Instagram reel.
On the right side of your screen, you will see the effect options. As mentioned above, you'll find Audio, AR, Timer, and Speed. These options are for adding audio-visual effects to the reel.
Next, start the recording by holding the record button in the circle. If your time is on, the recording will start with a countdown.
Tap again on the 'Record' button to stop the video shoot. In the case of recording time, the video will automatically stop recording once the set duration ends.
Preview and Add Effects
Once the recording ends, the Align button will show up. Using the align option, you can put transitions and align clips with the other videos.
When you finish doing it, tap on 'Preview' to view your Reel.
You can improve your Reels by adding text, audio, stickers, and AR filters.
Share the Instagram Reel on Your Profile
Once you are satisfied with your Reel, tap on 'Next'. Now, from here, just like a normal Instagram post you can add captions, location, tag people, and hashtags.
Instagram has also introduced an option to add a collaborator with your posts and reels. So that you can collaborate with other content creators and post reels from two accounts.

You can also post the reel on your feed. We would recommend you post your reels on the feed. Please make sure that you crop the reel to ensure how it looks in the feed and in other people's feeds when they discover it.

Now, tap on share and make your first reel live 🎉
10 Ways on How to Earn Money from Instagram Reels in India
It's time for the most important part of this blog: "How to earn money from Instagram reels in India?".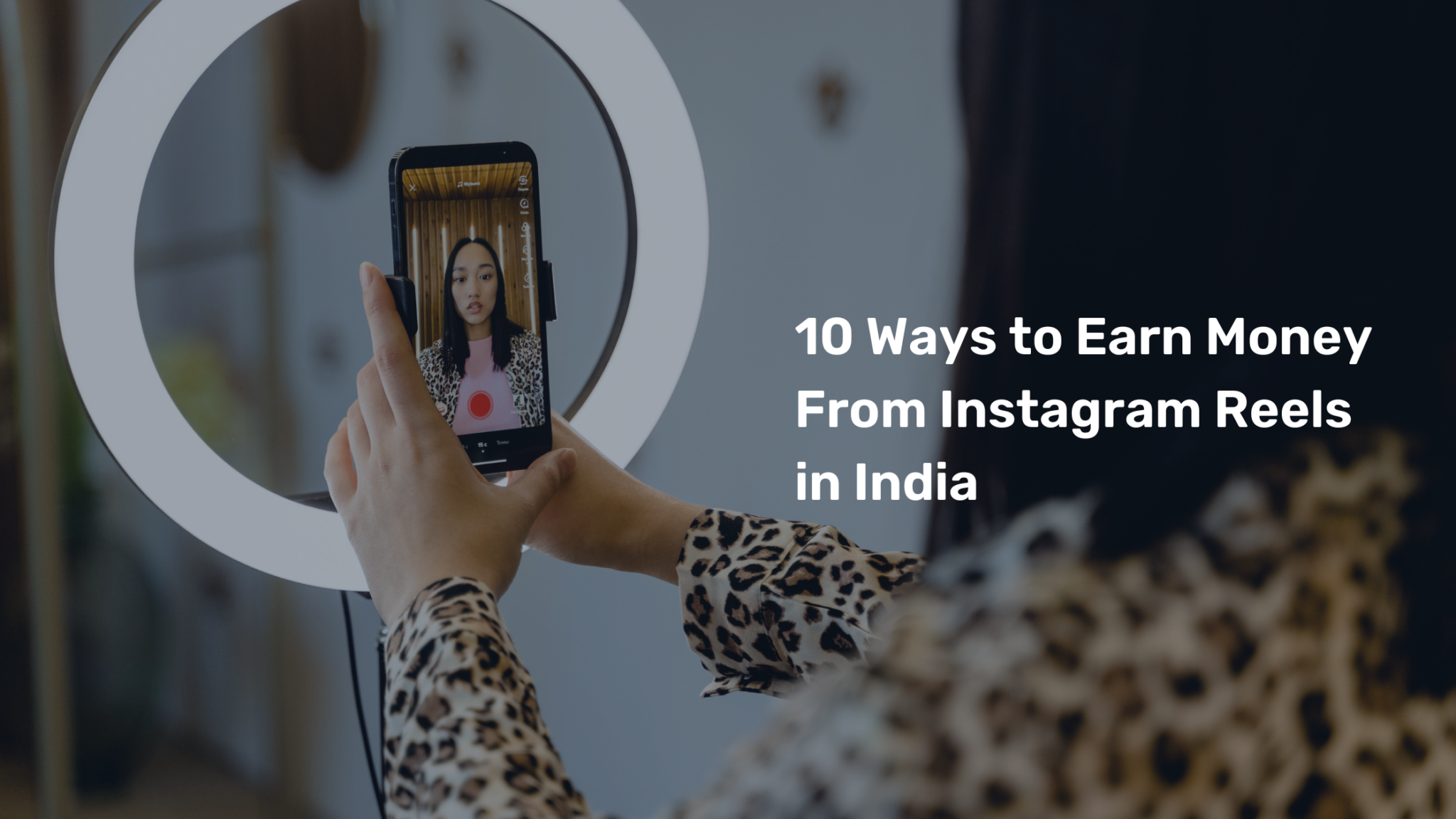 Make money on Instagram:
Launch and sell your custom products
As a creator, you have organic reach and you command a big organic audience on Instagram. You can launch your own online store and sell custom-designed products to your fans and followers.
Using Blinkstore, you can launch your store in less than 1 minute at Rs. 0. And customise 30+ products including t-shirts, hoodies, coffee mugs, posters, water bottle, tote bags, etc. And start selling them on your store.
Put the link of your store in your Instagram bio. You can create Instagram reels to promote these products and earn money by selling them from Instagram reels.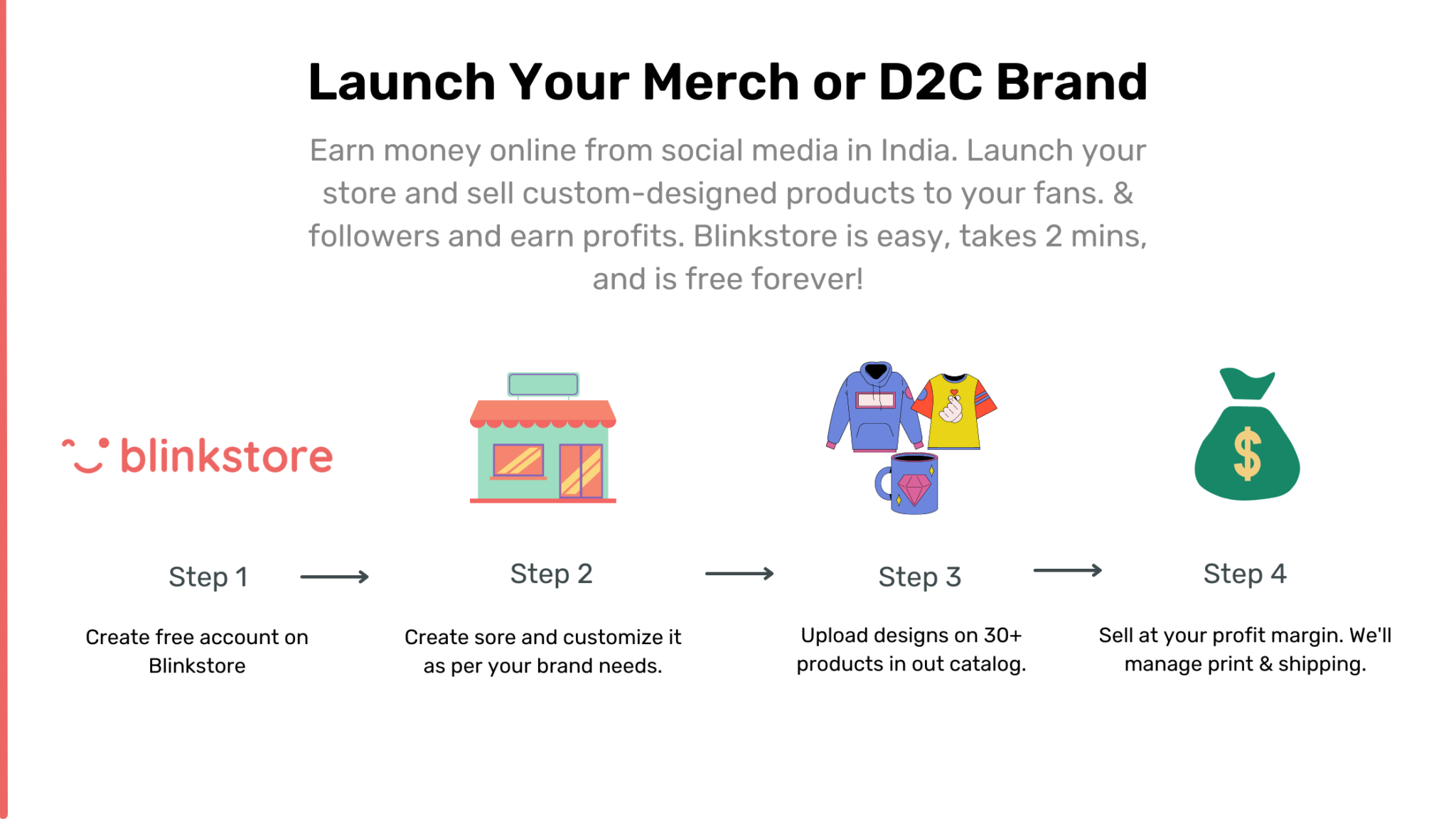 Design and sell t-shirts online
Here's the complete guide to design and sell t-shirts online.
The ideas is simple, you launch your own t-shirt brand (or store) online using Blinkstore. Make t-shirts that are funky, minimal, or whatever design fits your own aesthetics, brand, and is appreciated by your followers.
Start selling these t-shirts by promoting them via Instagram reels. You can put a profit margin of Rs. 100 to Rs. 300 on your t-shirts (depending on how good your design is and how much your audience is willing to spend).
And you'll instantly start earning thousands in profits every day from your online t-shirt sell. Blinkstore will manage the inventory, printing, shipping, and payments on your behalf. All you need to do is create amazing Instagram reels to promote your t-shirts and make money from Instagram reels by selling your t-shirts.
Create sponsored content
Another popular way to make money from Instagram reels in India is to partner with brands and create sponsored content for them. Reels are a great way for brands to reach thousands and millions of new potential customers. You can help brands to showcase their products in an innovative way by including them in your reels.
Create a "Creator Kit", small presentation or a PDF as your resume as a creator.
What to include in your creator resume?
Your name, usernames, and social media links
The total followers and reach your get across your social media
Your growth in the last 6 months.
Your content niche and best/viral content
What's your personal expertise
What gear you use to create and edit content
Send this to different small and big brands. It can help you land paid opportunities for creating sponsored content for brands.
Brand collaborations
Brands collaboration is close to the sponsored content. In a brand collaboration, the brand has more control over your content. The brand might send you its own content to post on your Instagram. With good listening on your personal Instagram. Brands can approach you for a collaboration to create a series of Instagram reels for them.
Sell your items
If you are a creator who produces handmade items like soap, candles, home decor products, food, art, hand-painted clothes, etc. Then Instagram reels can be a great way to promote your items. In each of your Instagram reels where you show your product, write in the caption: "DM to buy this item."
You can collect shipping addresses on Instagram DMs and take payment via UPI (Paytm or PhonePe). And ship the product to the buyer via DTDC, India Post, BlueDart, or any other courier service.
For those who create products, this is an easy answer to the question "How to earn money from Instagram reels in India".
Make Reels on Fitness Challenges
You'd find various Reels challenges run by brands. How to earn money from Instagram reels in India by making reels on fitness challenges and other challenges you ask? Well, there are many brands running challenges for making reels. Winning reels earn a prize. It also makes you appear in front of other brands.
Make Reels on Places to Visit
This is an idea to get more views on your reels. When thinking through the ideas for creating viral reels. Image what kind of reels would be shared a lot by the viewers. When you create reels to recommend places to visit, places for vacation, places to eat, and places to hang out, people tend to share these with their friends and family.
This type of Instagram reel has become a genre in itself. Making reels on places to visit can attract opportunities how to earn money from Instagram reels in India.
Use promotional songs
Using promotional or viral audio/songs in your reels is another great way to get more views on your Instagram reels. This doesn't actually answers "how to earn money from Instagram reels in India", but gives you an insight into how to gain more views on your reels.
Affiliate Marketing
Putting affiliate links in your bio from Amazon or any other e-commerce and by directing the traffic/views on your reels to the link in your bio is a potential way to make money from Instagram reels. Though it is not really popular now.
Promotion for Accounts
You can charge other accounts by individual creators or brands in exchange for promoting them (by mentioning them) in your reels. Promotions for other accounts can bring help you earn money from Instagram reels occasionally.
Tips to Make Your Instagram Reels More Discoverable
The tips to make your Instagram reels more discoverable in order to bring more views and engagement to them are common.
Use trending songs/audio, make informative or entertaining content, use 2-3 most relevant hashtags, keep a call to action in your caption or reel for viewers to engage with your reel, etc.
Audiences create original content
Create for your audience and create original content. This is the mantra for getting views, engagement, and reach on your Instagram. Stick to your niche and ensure that all your reels have a common element. Your audience will first start seeing you repeatedly on the Reels page and on the explore section multiple times. Once they develop taste for your content, appreciate your consistency, and find a common pattern in your Reels to identify you from the content, they'll convert to your followers.
Creating original content is the most important thing. The 100th of the no. 1000 reel on the same trend the same way won't make people notice you. How to make money from Instagram reels in India in India is easier if you have original content for your niche audience.
10 Best Video Editing Apps Edit and Make Instagram Reels
Wondershare FilmoraGo
Instagram app
iMovie
WeVideo
Adobe Premiere Rush
KineMaster
Quik
Inshot
Splice
Videoshop
FAQs on "How to earn money from Instagram reels in India"
Do reels on Instagram give money? (money with Instagram reels)
Meta (Instagram's parent company) in November 2021 announced the Reels Play Bonus Programme. The aim of the Reels bonus program was to give $1,000 to $10,000 to Instagram creators with followers of more than 50,000. But they never made the rules of the program clear. If you are wondering "How to earn money from Instagram Reels in India", please note that Instagram does not pay directly to creators in India.
What is the Indian reel salary?
How do I get paid for Reels?
How many Reels should I post a day?
We would recommend that you share a Reel when you shoot and edit something worthwhile. Given that the Reels have now become a big part of the content strategies for brands and creators, posting 1 – 2 Reels per day can be a good frequency. You can also measure weekly and post 4 to 7 Instagram Reels in a week.
How do I earn money by Instagram reels in India?
You cannot directly earn through Instagram reels as you earn from YouTube. In order to earn you have to make a lot of good content every day so that you receive… read more on Quora.
Do reels increase followers?
Since Instagram launched Reels in 2020, content creators and brands have used this new format to get views and reach new audiences. Many creators and brands have gained a massive number of followers with their popularity on Instagram Reels. One Instagram creator has said that she gained 2.8k+ followers every day for 30 days by posting on Instagram regularly.
How do reels get views?
Add relevant hashtags, use trending audio and songs, create reels on trending content, and post reels regularly on Instagram to get more views on your Instagram Reels.
Do reels help growth?
With Reels you'll organically reach more people on Instagram, It'll increase your chances of appearing in front of potential followers and grow. While Instagram reels do help growth, you'll need to check certain boxes: creating engaging content, using relevant hashtags, using trending audio, and consistently creating Instagram reels to get growth.
How much money do 1k Instagram followers make?
People often have the impression that Instagram pays creators when they get a certain number of followers or views on Instagram Reels. Instagram 1 million followers income India, Instagram 10k followers income India, is not determined by the followers. Instagram creators earn money from brand collaborations, selling merchandise online, selling online courses, etc.
Why is my reel not getting views?
How your reel is not getting viewed? It could take some time for the reel views to appear on them. If your Reels have 0 views, check back later in some time. If all your Reels are getting 0 views, there might be a possibility that your Reels are not as per Instagram's content policy or that your Instagram account has got shadowbanned. You should remove older Reels and re-uploading them with different captions, hashtags, and audio.
Conclusion
Instagram Reels are huge and it is helping creators find new audiences, earn money on Instagram, and sell more products by promoting them to millions of viewers. Use the 10 ideas discussed in this blog on How to earn money from Instagram Reels in India. And figure out the one that works the best for you. We'd suggest that the first thing you do is head on to Blinkstore and launch your merchandise or t-shirt store immediately!
Note: Many of you might be looking for "How to earn money from Instagram reels in Hindi". To read this blog in Hindi, from your settings translate this blog or copy this and translate this blog using Google Translate.
Further, read: