In search of an Amazon alternative India? Discover the top 15+ greatest Amazon alternatives in 2023. Investigate a number of online marketplaces that provide competitive pricing, quick shipping, and a diverse selection of products. Find the best platform for your purchasing needs and interests. Explore innovative online shopping experiences in India with confidence.
Table of Contents
Amazon – The Ecommerce Store
Amazon, the well-known ecommerce framework, has transformed online buying with its enormous product range and user-friendly shopping experience. Amazon provides a smooth buying experience with user-friendly interfaces, personalised recommendations, and dependable consumer reviews. Its effective logistics network ensures timely and dependable delivery. Its competitive price, frequent discounts, and appealing promotions make it a popular choice among budget-conscious buyers.
The platform also offers a lively marketplace for merchants of various sizes, which contributes to its wide range of products. Amazon retains its position as an online industry leader through ongoing innovation and development into services such as grocery delivery, music streaming, and digital reading. Overall, Amazon provides a dependable and complete online purchasing experience to people all around the world.
Reasons to Look for Amazon Alternative India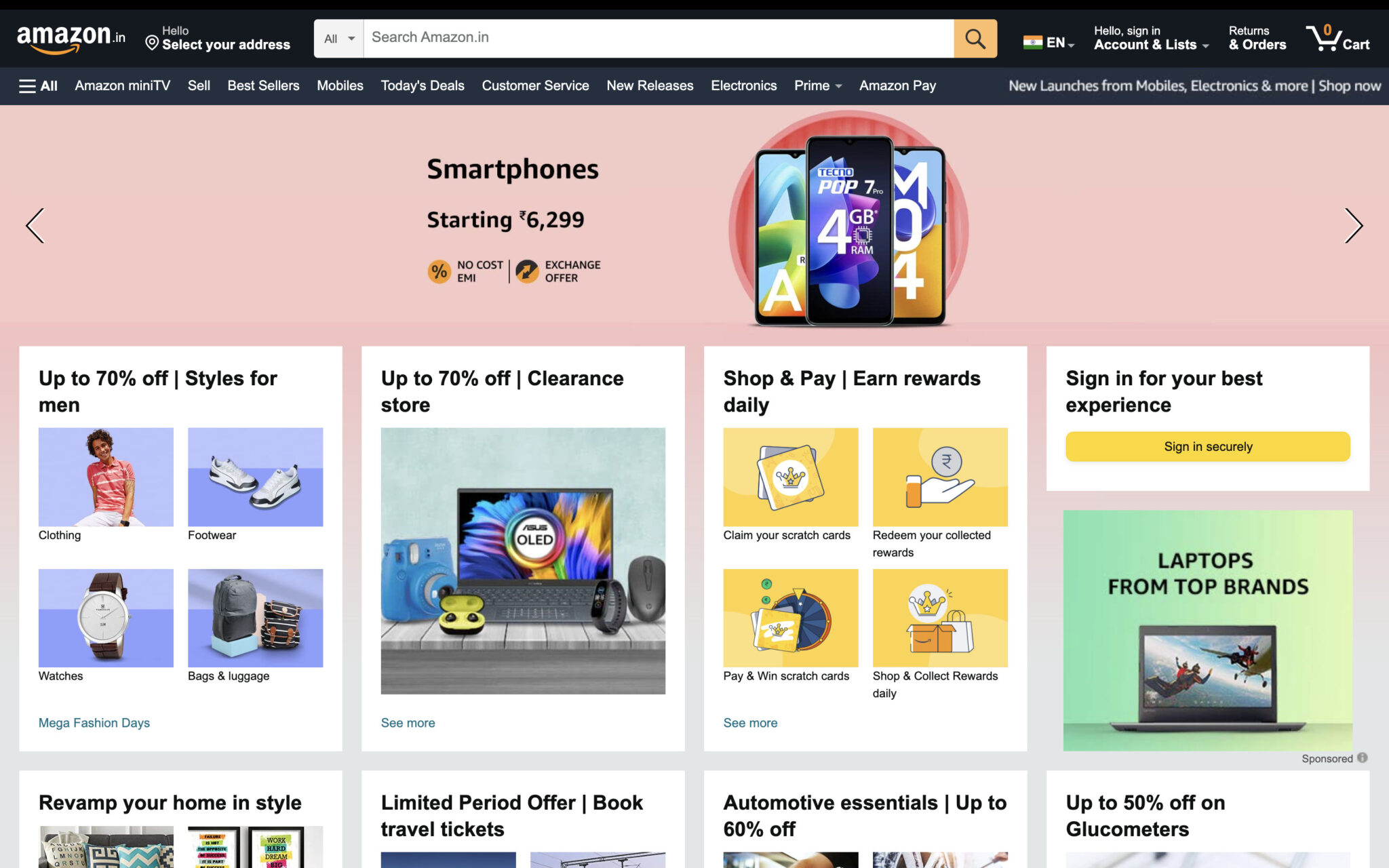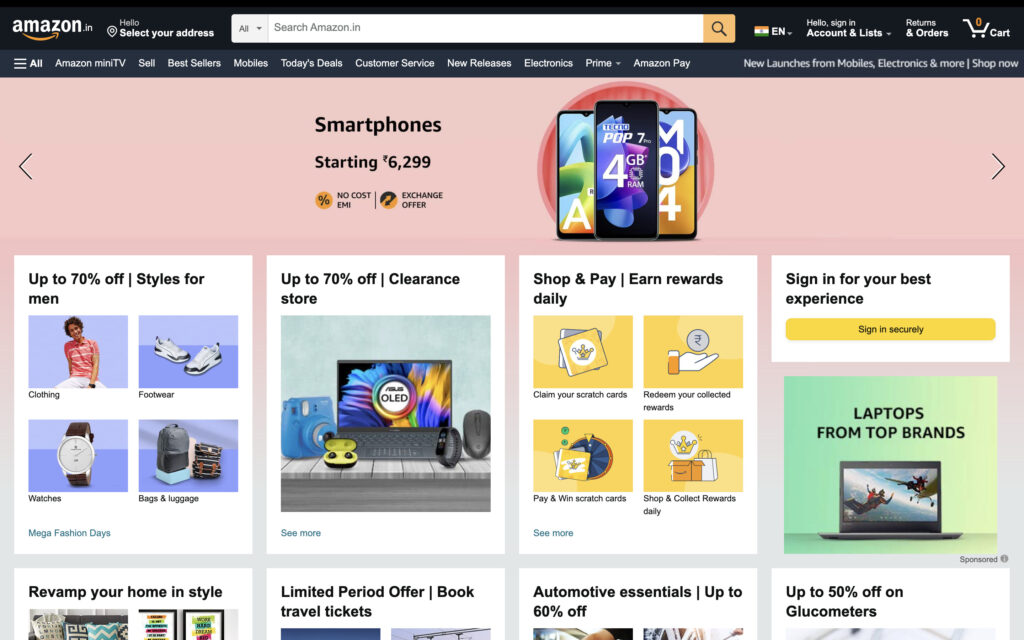 Previously, we talked about Amazon Dropshipping. We have also shared a complete guide on How to start selling on Amazon India. There are various reasons why someone could look for an Amazon alternative India. Here are a few examples of common factors:
Diverse Options
While Amazon has a vast choice of products, looking into alternate platforms can provide access to unique and niche products that aren't available on Amazon.
Ethical Concerns
Some people have ethical concerns with Amazon's commercial practices, such as labour conditions, environmental effects, or corporate policy. Seeking alternatives allows individuals to support businesses that more closely correspond with their values.
Supporting Small Businesses
Many customers prefer to patronise small and locally owned businesses. Individuals can uncover platforms that prioritise independent merchants and provide a more equitable economy by searching for Amazon alternatives.
Pricing & Deals
While Amazon is well-known for its reasonable pricing, other platforms may offer better deals, discounts, or loyalty programmes that cater to individual buying tastes and save money in the long term.
Shopping Experience
Different platforms may provide distinctive shopping experiences and interfaces tailored to certain needs or tastes. Investigating alternatives can result in a more customised and pleasurable buying experience.
Localised alternatives
Compared to Amazon's global reach, local ecommerce platforms may offer faster shipping, better customer service, and more localised product alternatives in particular regions.
Innovative Features
Shoppers might find new and innovative features, services, or technology that enhance their overall buying experience by experimenting with different platforms.
Healthy Competition
Supporting a range of ecommerce platforms encourages healthy competition and increases market diversity, ultimately benefiting both consumers and merchants.
How Blinkstore can Help?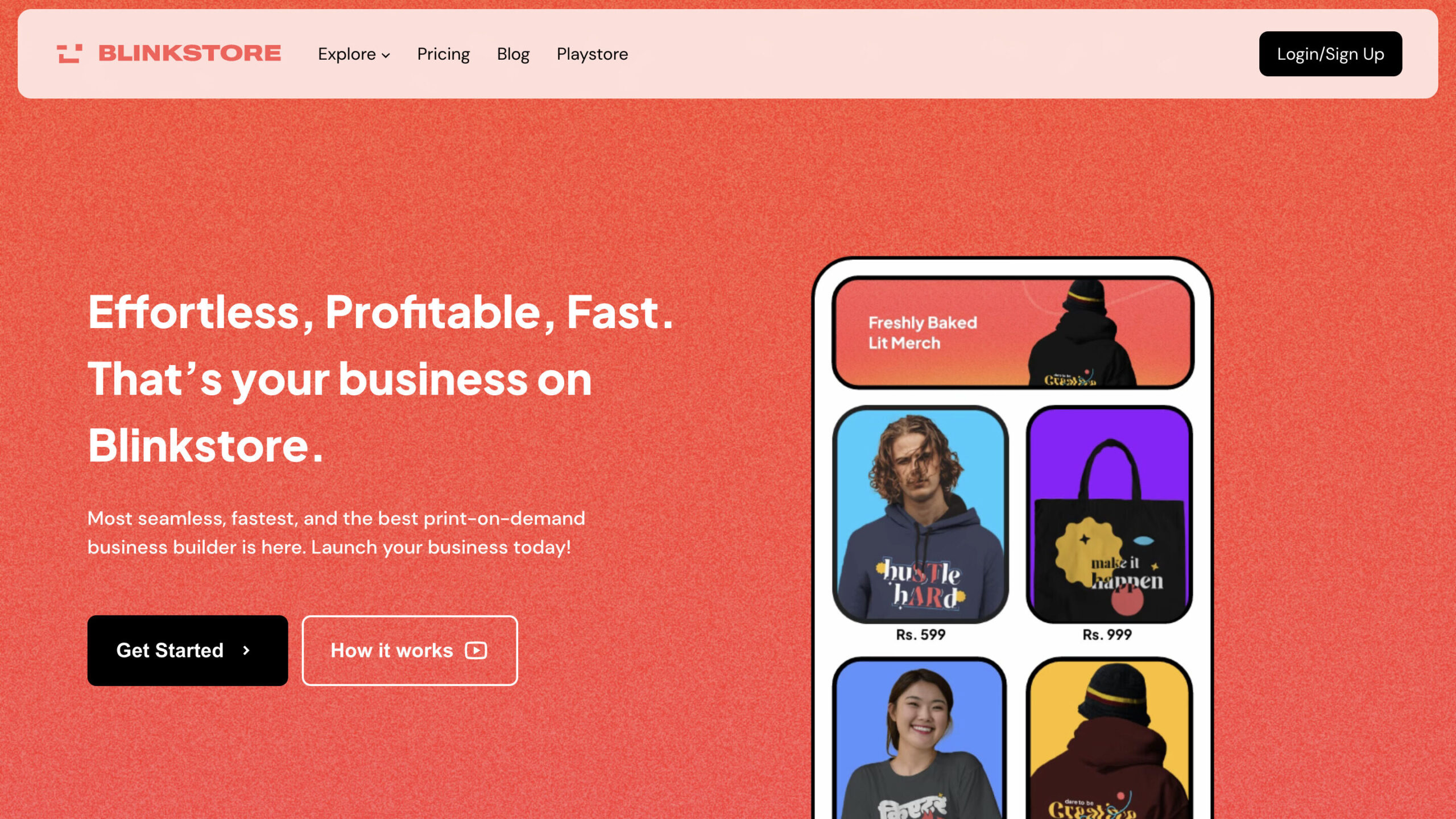 Blinkstore, one of the largest print-on-demand websites offers a lot of customisable gifts like swag bags, corporate gifts, and custom apparel at a great price with premium quality. It doesn't matter whether you are seeking corporate gifts for your employees, or looking for some swag bag ideas for your team members, Blinkstore got you covered. Blinkstore provides many different products that are completely customizable.
You can reach out to Blinkstore for any print-on-demand products at [email protected] or write to us on WhatsApp support at +91-9161351816.
Best Amazon Alternatives to Consider
With these alternative Amazon platforms, you can easily decide which would suit you.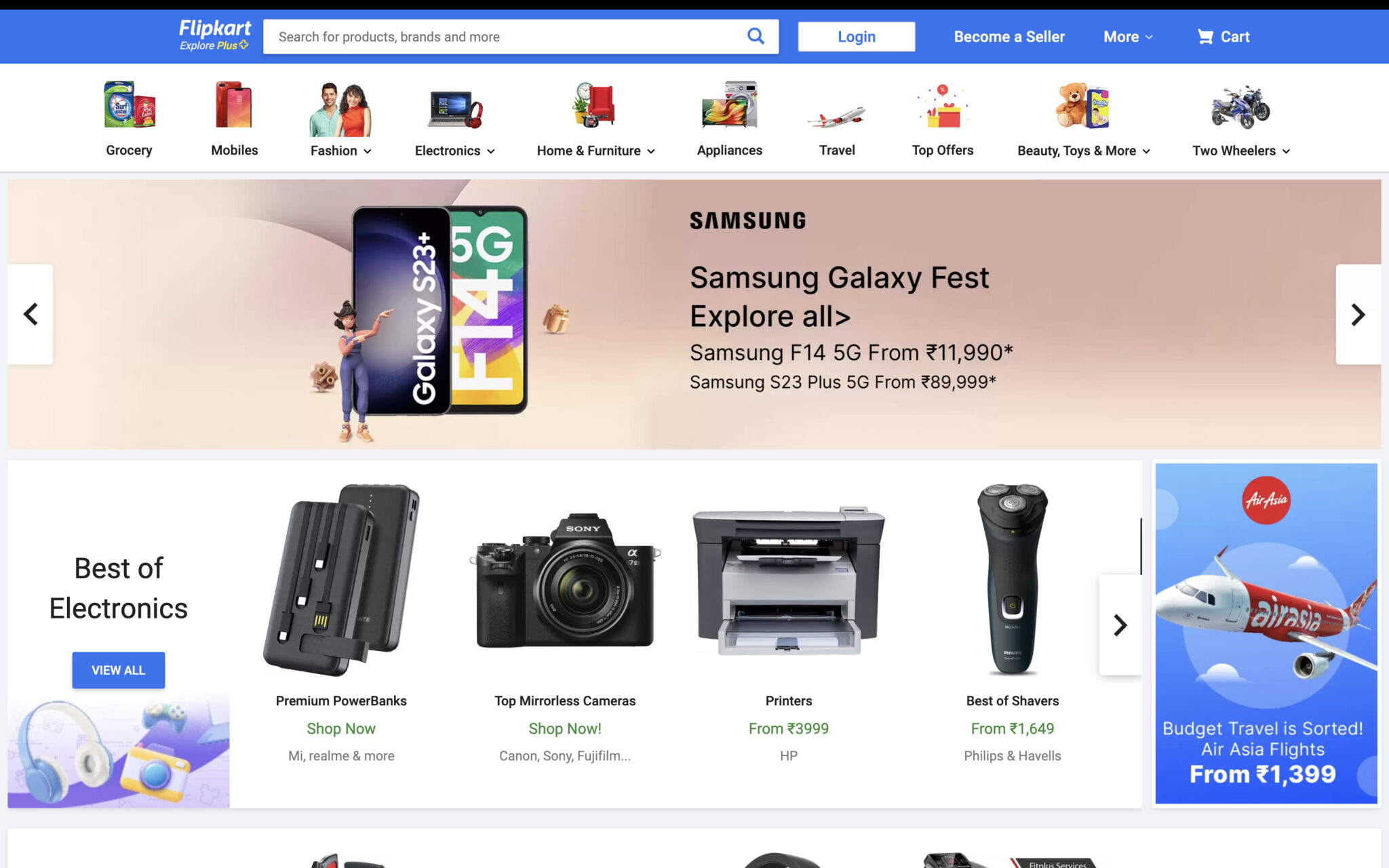 The first and best Amazon alternative India is Flipkart. Flipkart is one of India's main ecommerce platforms. It sells a wide variety of products in areas such as electronics, apparel, home appliances, and others. Flipkart offers competitive pricing, regular discounts, and special sales events such as "Big Billion Days" to entice bargain hunters.
Flipkart's dependable delivery network provides timely shipping across India. Flipkart provides free shipping on orders of Rs. 500 or more, as well as same-day delivery in select cities. Flipkart's "SuperCoin" loyalty programme is one of its distinguishing features, in which users collect awards that may be used for discounts on subsequent purchases. You can read our detailed guide on How to Sell Products on Flipkart for more clarity on this.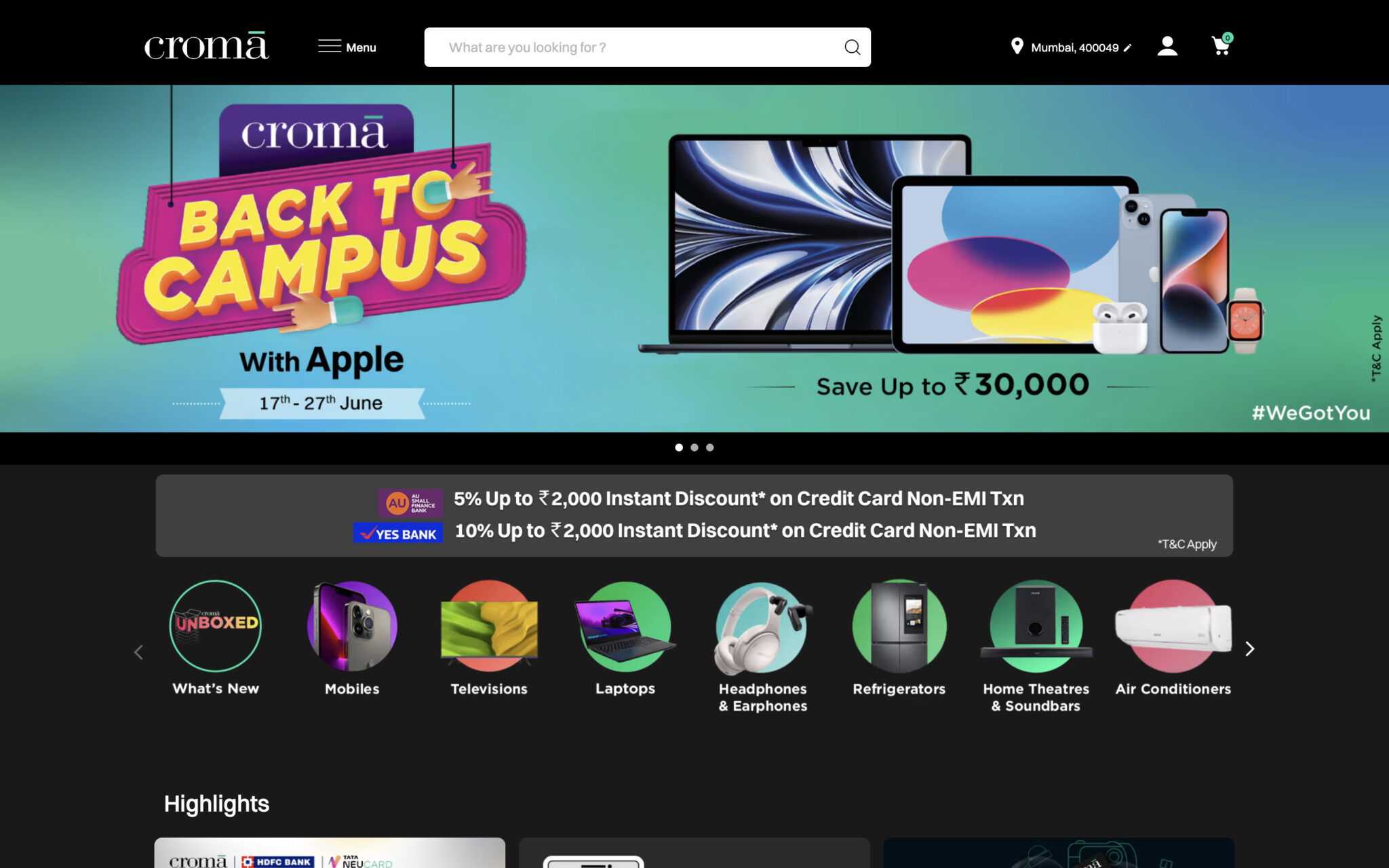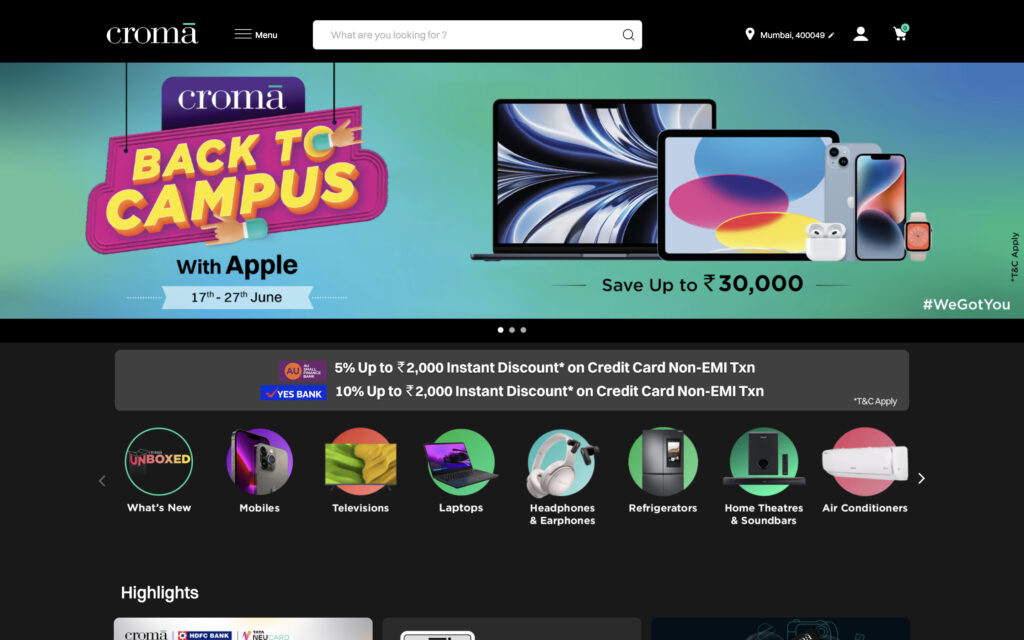 Croma by TATA is a reliable source for gadgets and home appliances, making it a perfect substitute for Amazon for tech lovers. Croma offers a diverse range of high-quality items ranging from smartphones and laptops to kitchen appliances and audio systems. Croma provides a seamless omnichannel experience by having a strong offline presence in addition to its online platform. Customers can benefit from options such as in-store pickup, expert guidance, and extended warranties. Croma's delivery network spans major Indian cities, ensuring on-time delivery and dependable service.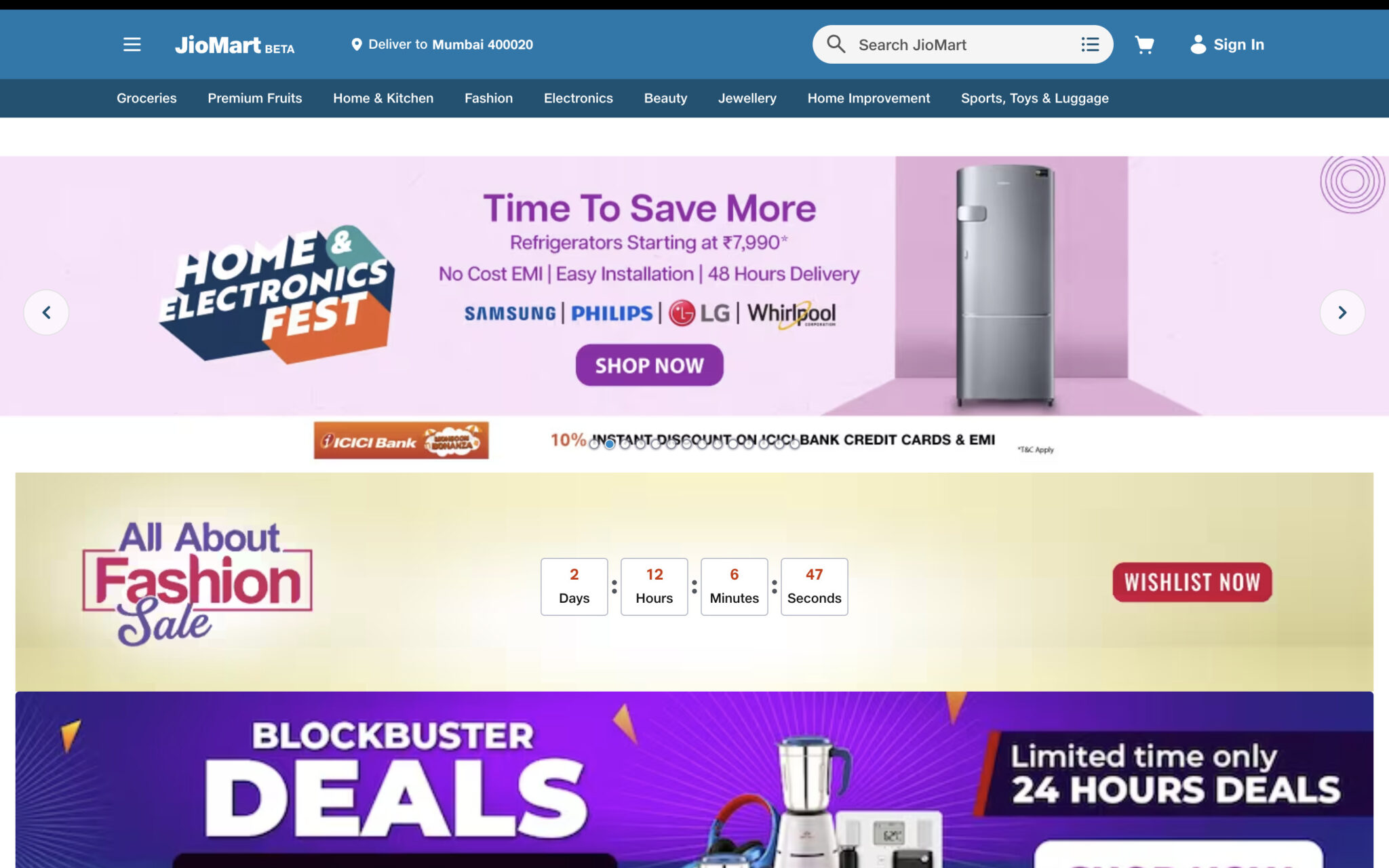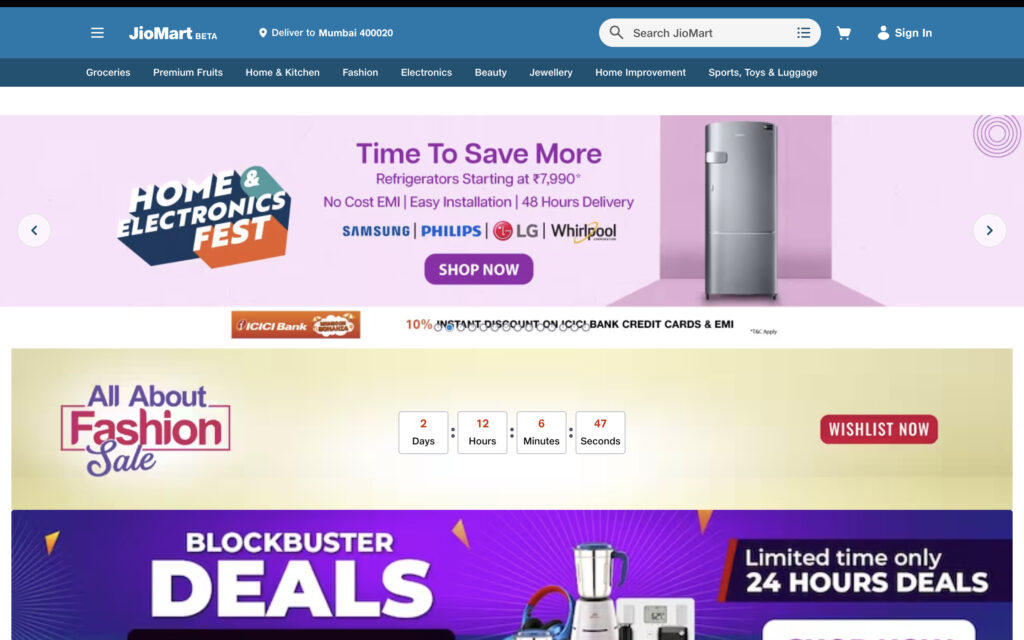 JioMart is a developing ecommerce business backed by Reliance Industries that sell food, household supplies, and daily necessities. Its primary goal is to provide a pleasant online grocery shopping experience with competitive prices and frequent discounts. JioMart uses Reliance's huge network of local Kirana businesses to ensure faster and more dependable delivery across several Indian cities. Customers may get groceries from their local retailers using the JioMart platform, making it a popular choice for daily necessities.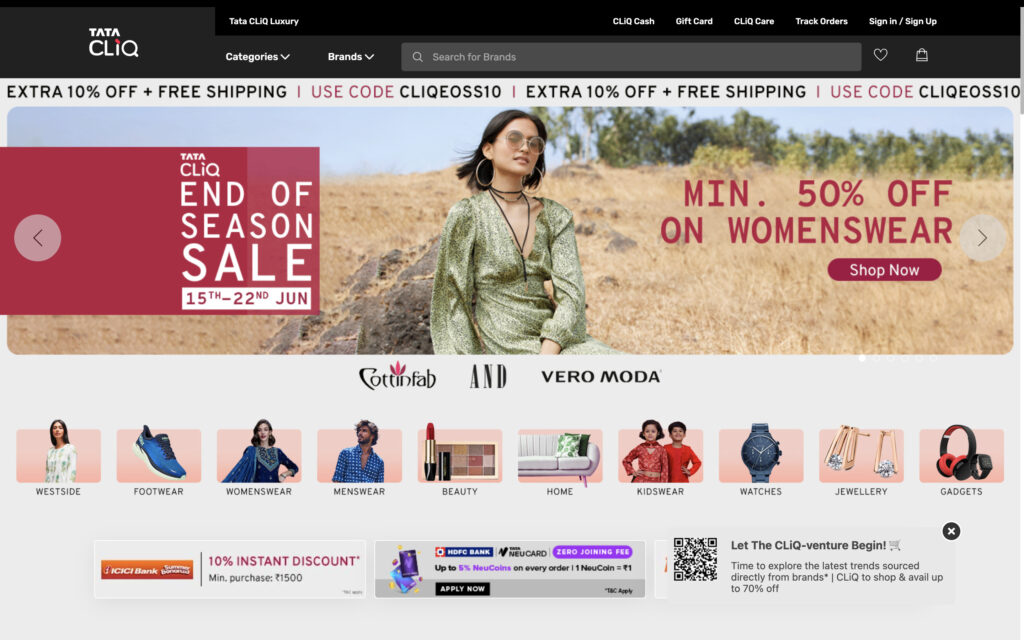 Another great Amazon alternative India is Tata Cliq. Tata Cliq is an online shopping platform that sells a variety of products such as electronics, fashion, home & lifestyle, beauty & personal care, and so on. Its shipping range extends throughout India. Tata Cliq is a one-of-a-kind function that allows users to shop from over 100 brands such as Westside, The Man Company, and Titan. Tata Cliq Plus is a premium membership programme that offers free delivery on orders above $499, early access to specials, and exclusive savings.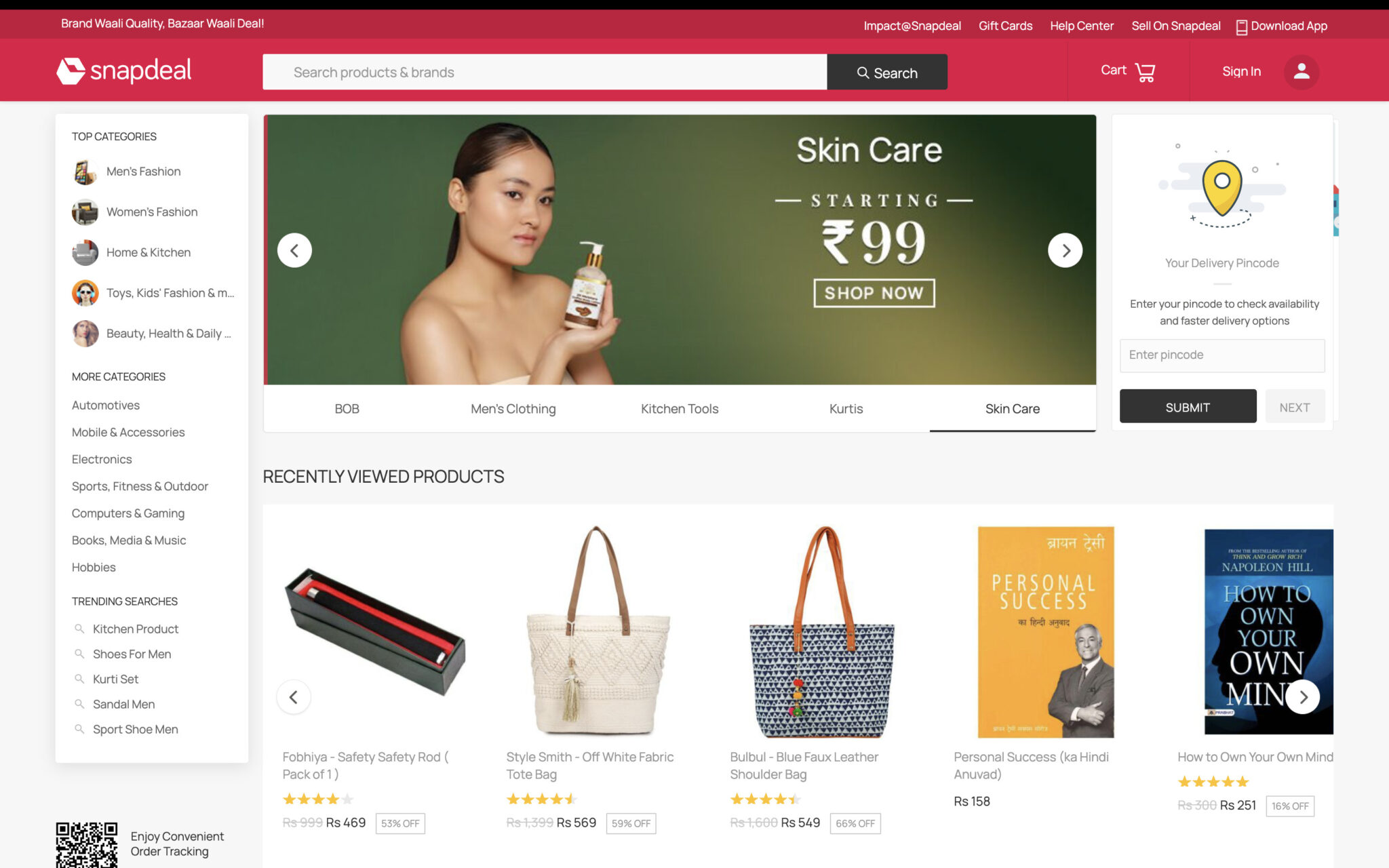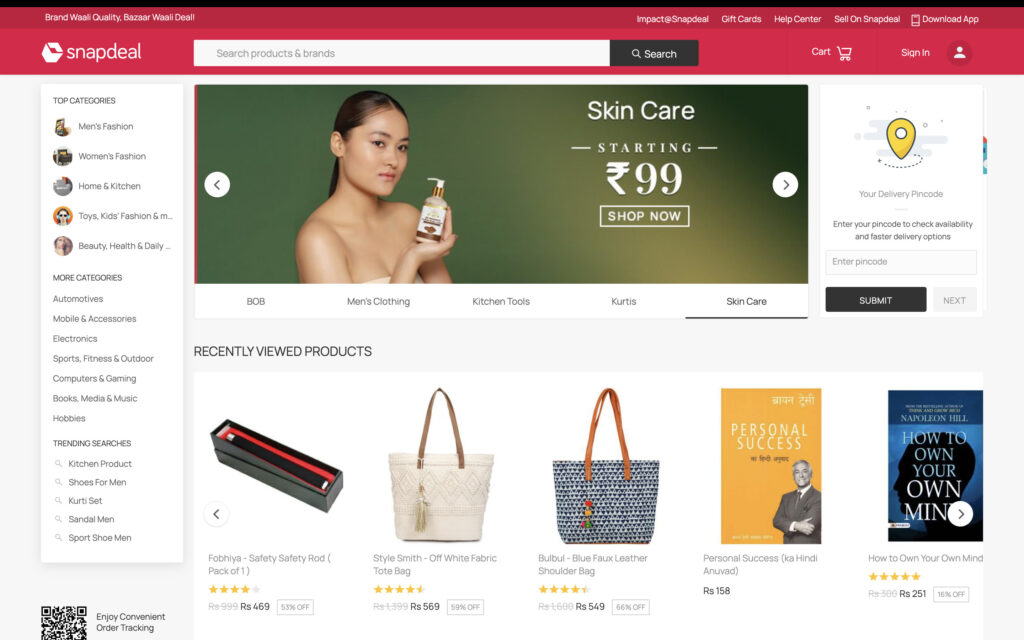 Snapdeal is an Indian ecommerce platform that sells a variety of products such as electronics, fashion, home & living, food, books, and more. Snapdeal's vast delivery range covers India, ensuring that customers from all around the country can use its services. Snapdeal's regular cashback and discount offers are one of its distinguishing features, allowing customers to save money on their purchases. Furthermore, Snapdeal Plus is a premium membership that gives users free shipping, early access to discounts, and other exclusive benefits.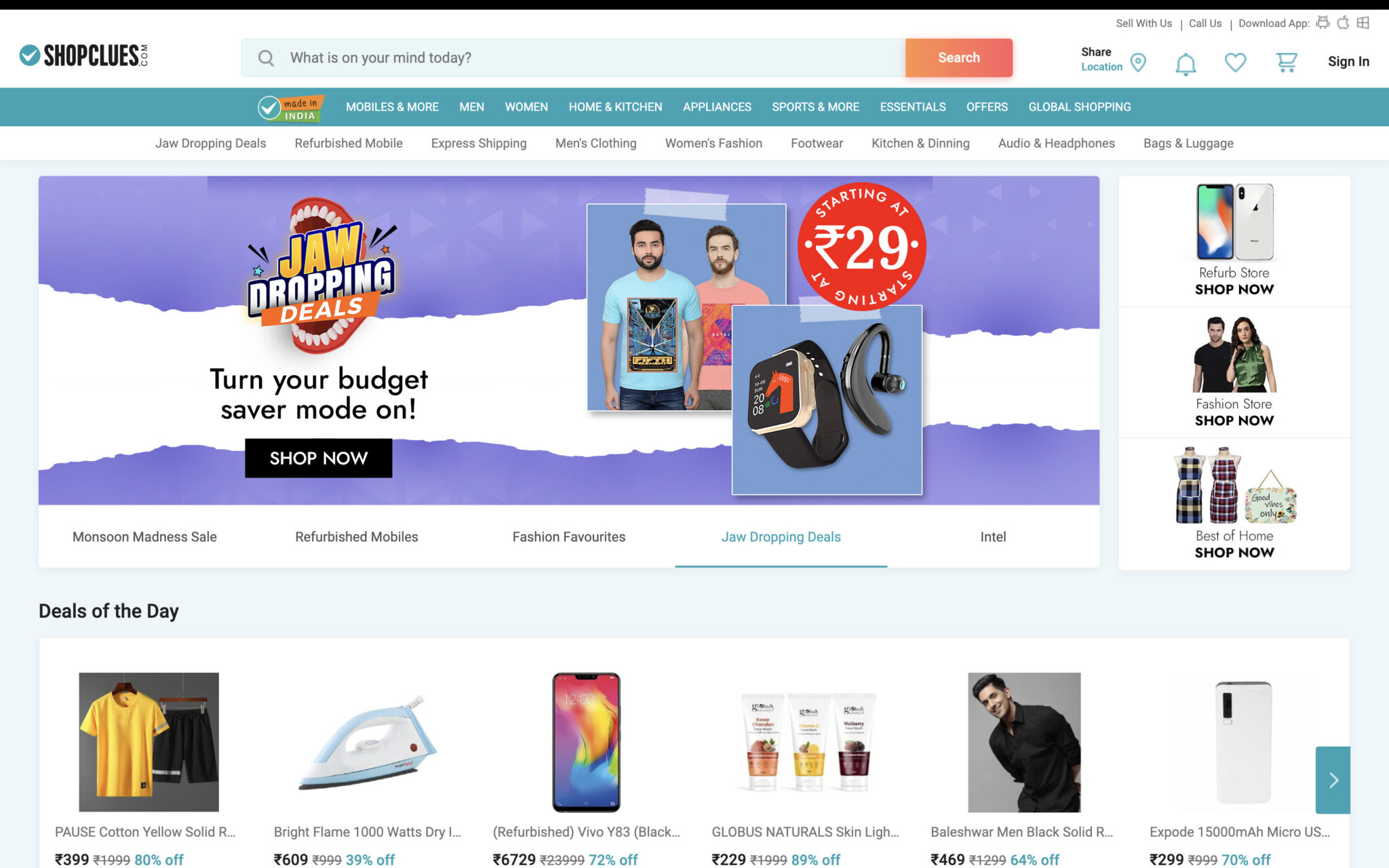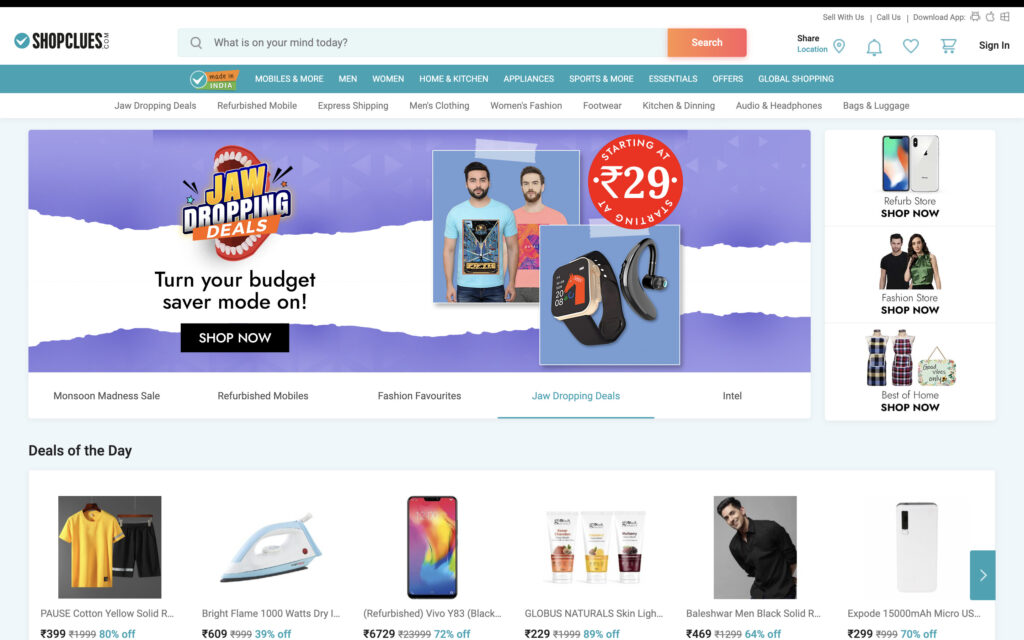 Shopclues is an online marketplace and a great Amazon alternative India that sells a variety of things such as electronics, clothes, home & living, groceries, books, and much more. It is one of India's most popular online shopping places, with a number of unique features such as its live streaming platform and cashback and discount deals. Shopclues also offers a premium membership programme called Shopclues Prime, which includes free shipping, first access to bargains, and other perks.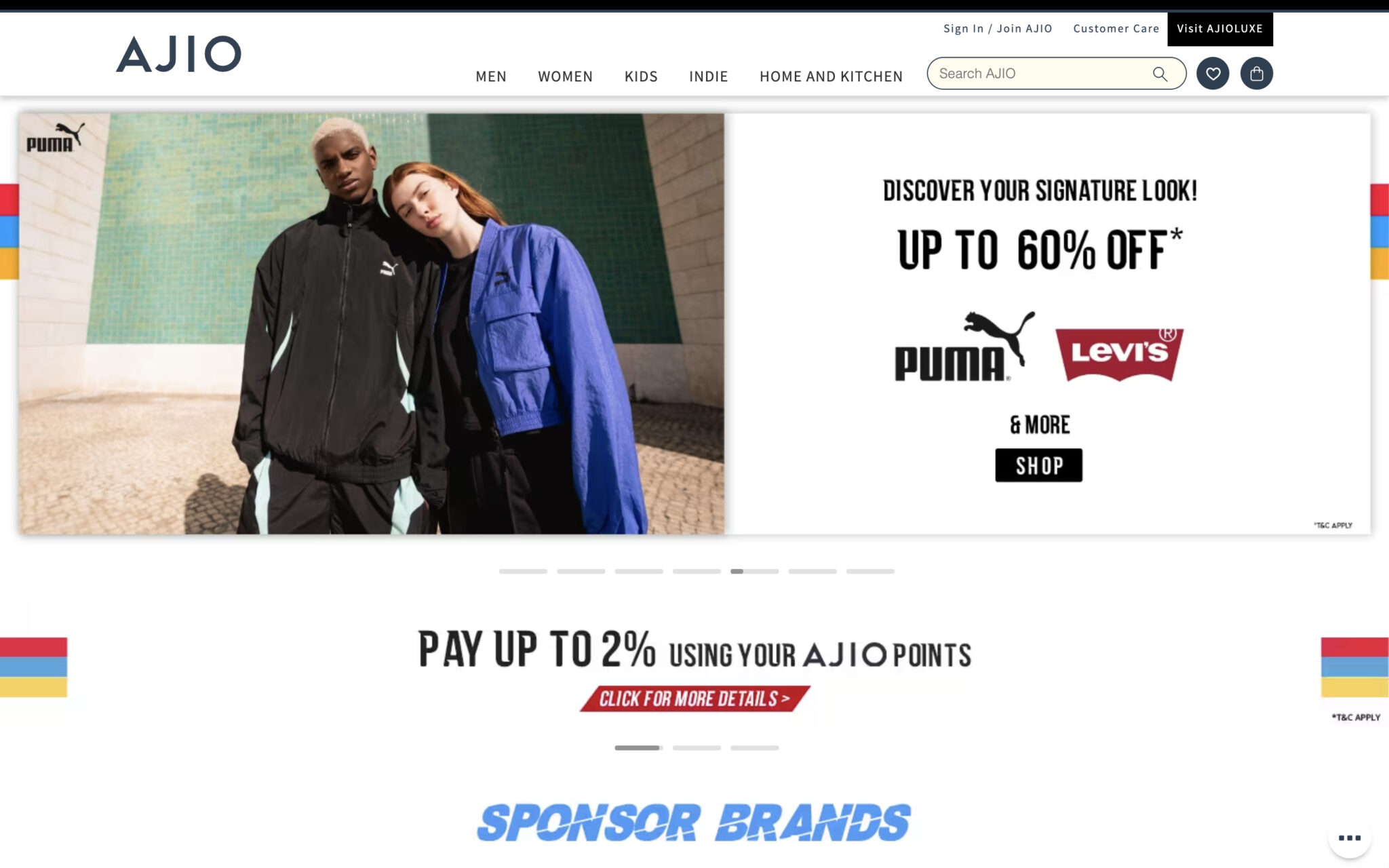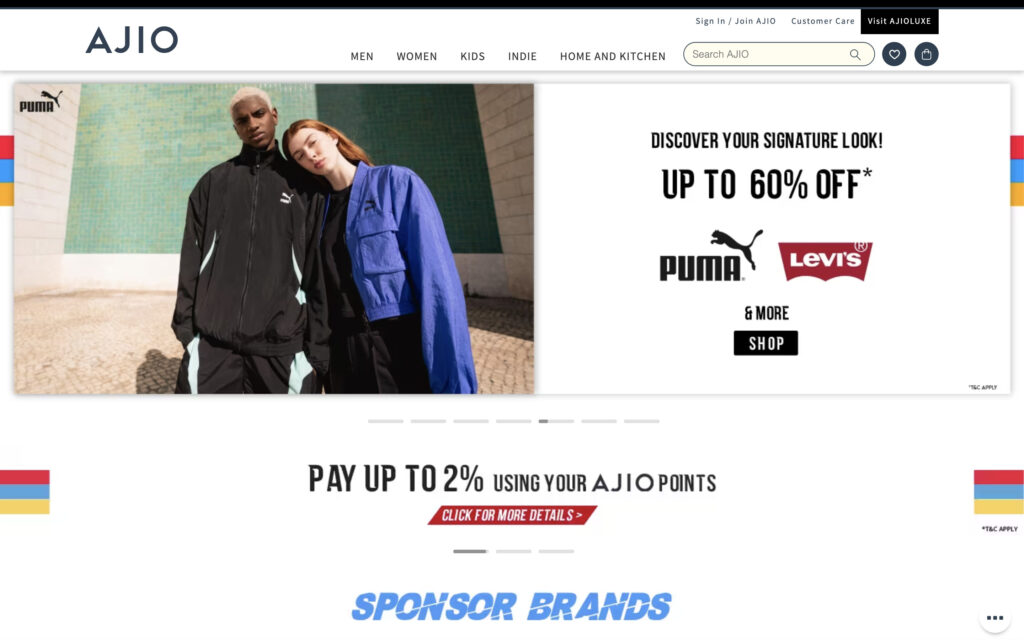 Ajio is a fashion-focused ecommerce platform that sells clothing, shoes, and accessories for men, women, and children. It is well-known for its carefully curated range of fashionable and attractive fashion goods from Indian and international brands. With features like quick returns, express shipping, and personalised suggestions, Ajio provides a frictionless buying experience. Ajio appeals to fashion aficionados looking for distinctive and fashionable products due to its concentration on fashion and trendy styles.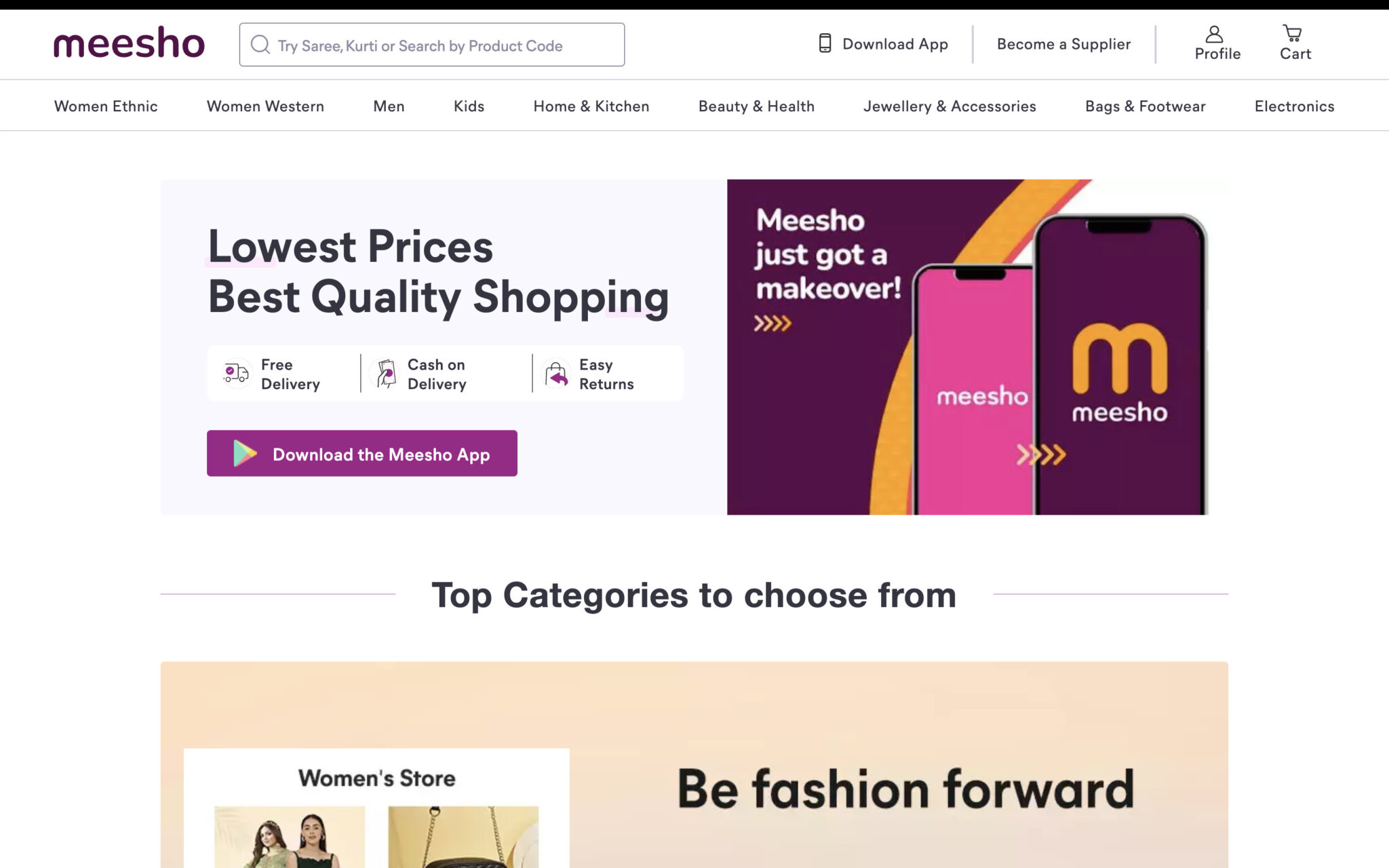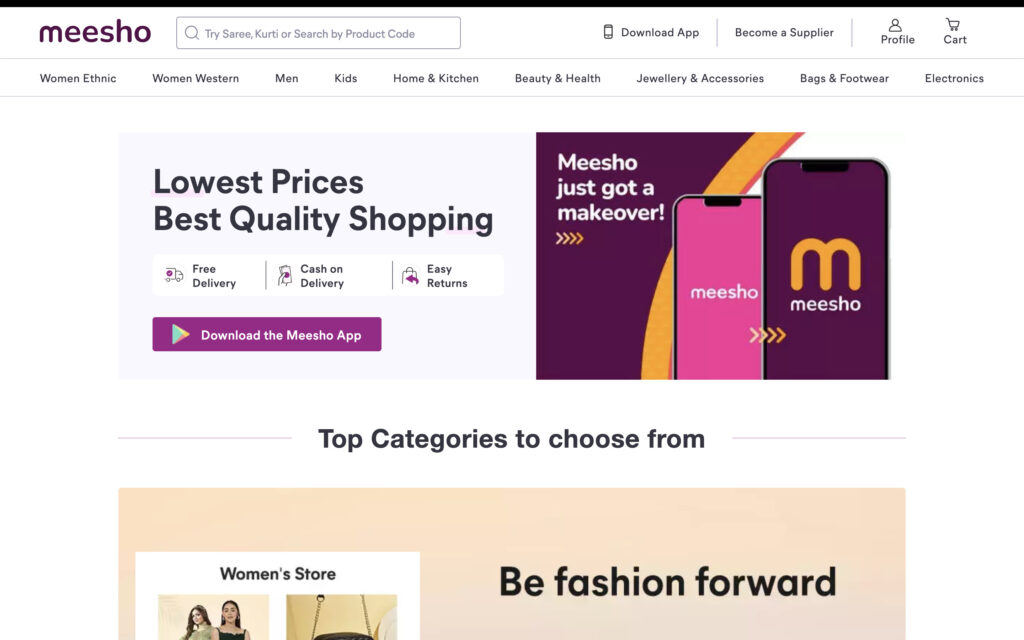 One of the best budget-friendly Amazon alternatives in India is Meesho. Meesho is a social commerce network that allows you to buy directly from sellers on WhatsApp. It sells a wide range of things, including clothing, home decor, beauty, and other items. Meesho enables anyone to become resellers and launch their own enterprises, making it an appealing choice for those interested in starting their own businesses. Customers can find a variety of products at reasonable costs, which are frequently purchased directly from manufacturers and distributors. Meesho's social commerce strategy and the ability to earn money through resale distinguish it from standard ecommerce platforms.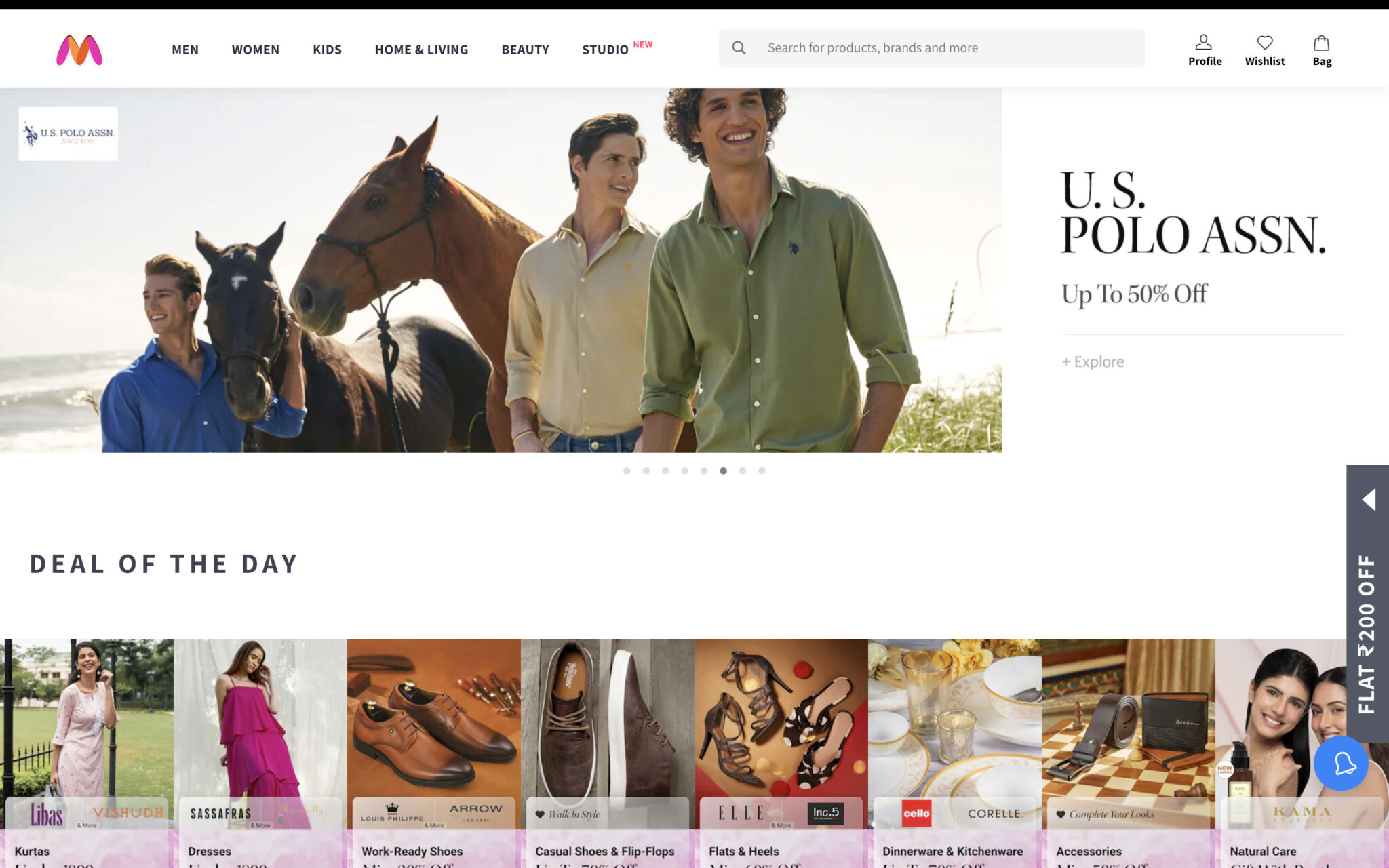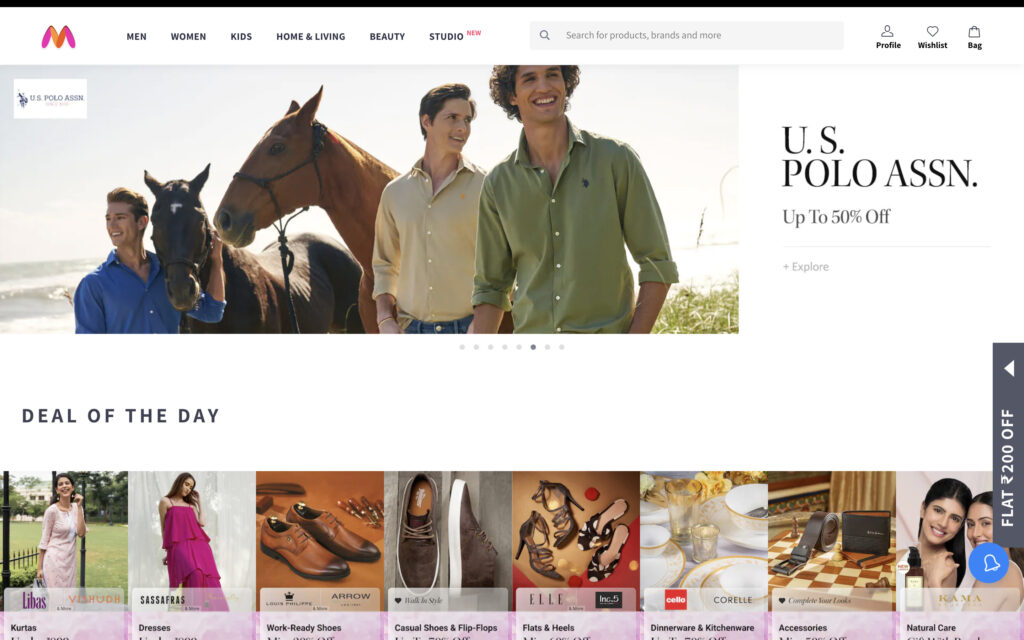 Myntra is another online fashion retailer that sells men's, women's, and children's apparel, footwear, and accessories. It is one of India's most popular online fashion destinations, with unique features such as unique collections, quick returns, numerous payment choices, and personalised recommendations. Myntra also offers a premium membership programme called Myntra Fashion VIP, which includes free shipping, first access to bargains, and other perks. For clothing, this is the best Amazon alternative India to consider in 2023.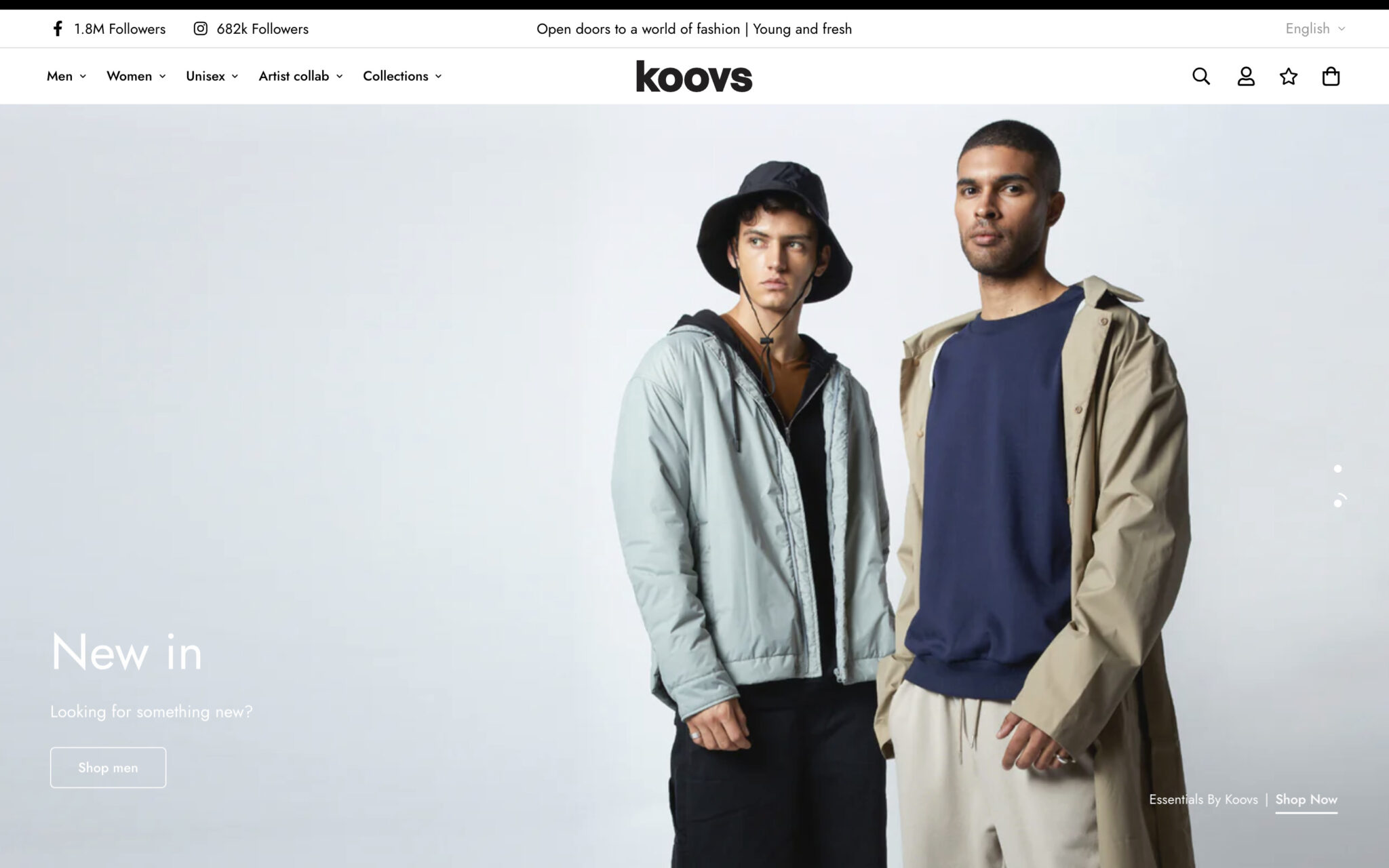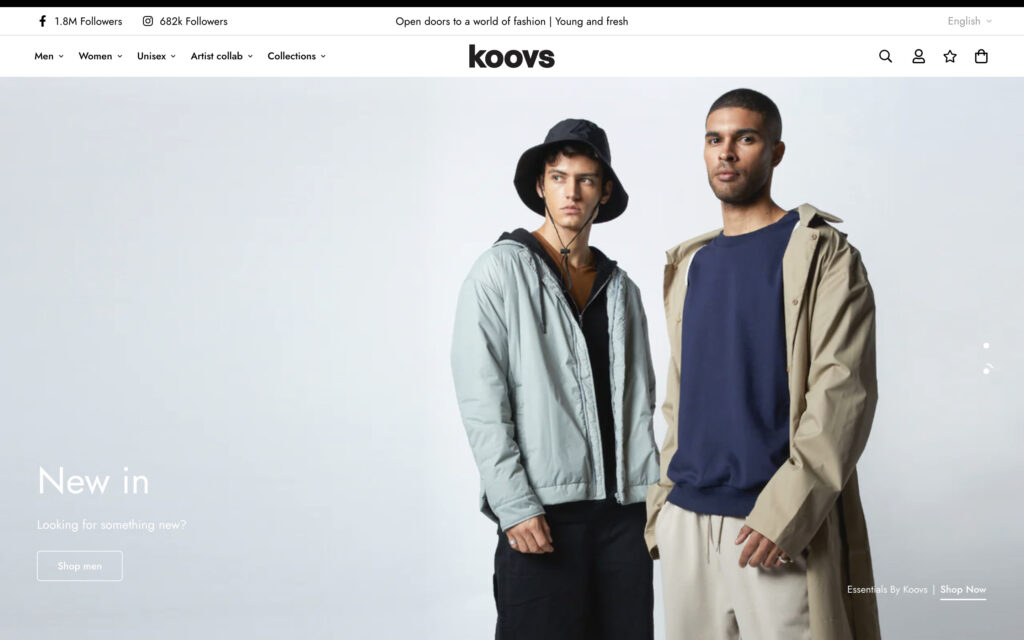 Koovs is another fashion-forward online marketplace that sells clothing, accessories, and footwear for both men and women. It focuses on modern and fashionable products, frequently cooperating with well-known designers and influencers. Koovs' concentration on the newest current trends, low pricing, and exclusive collections make it a go-to destination for individuals looking for one-of-a-kind and fashionable clothing.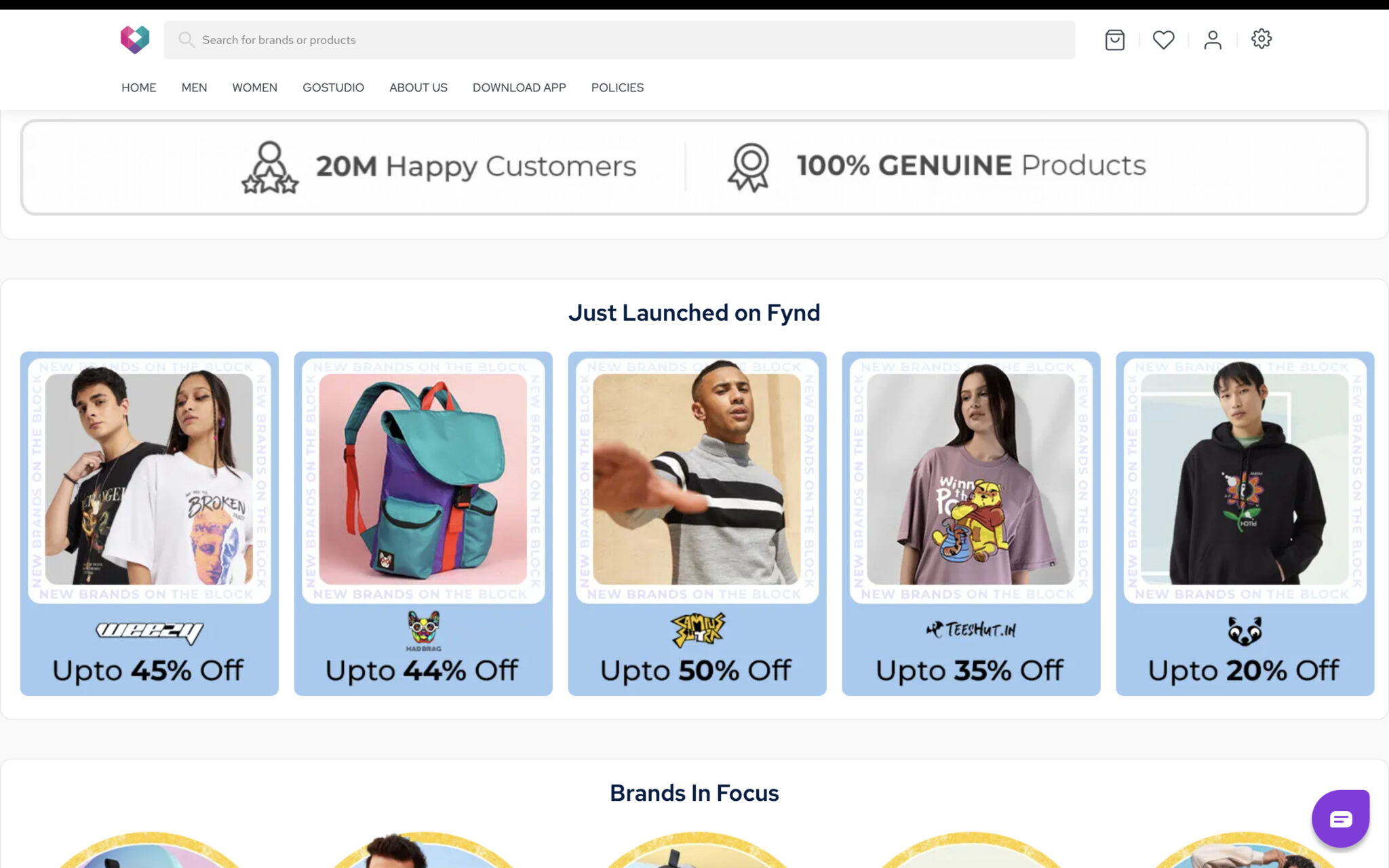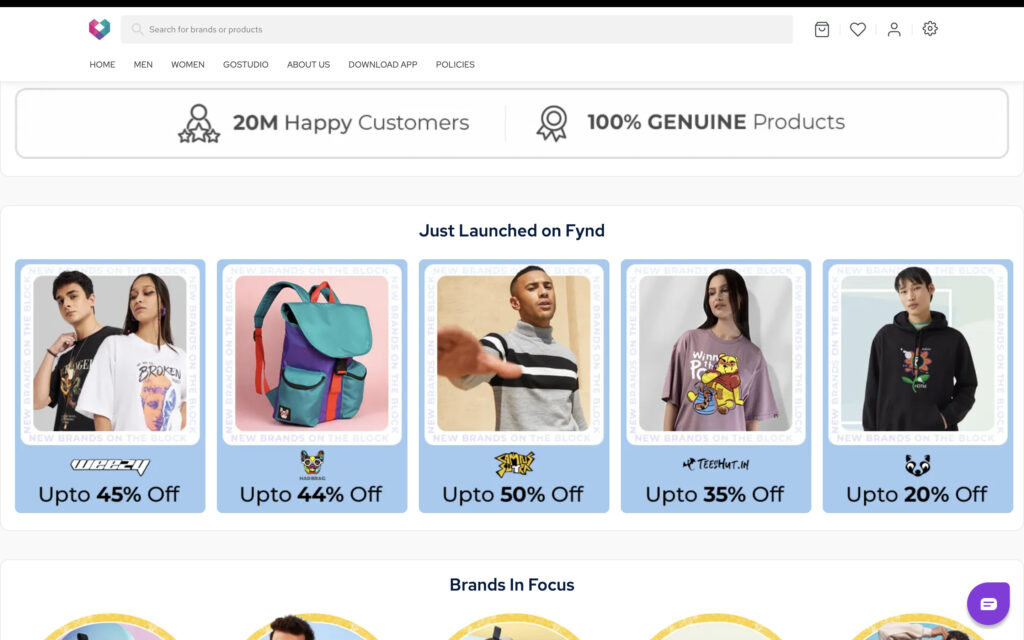 Fynd is an online fashion marketplace that connects a wide range of fashion brands and businesses. It sells clothing, accessories, and footwear for men, women, and children. Fynd's distinguishing feature is its inventory integration with neighbouring offline retailers, which allows customers to identify products that are also accessible in local physical locations. Fynd offers ease and accessibility to fashion fans by offering both online and offline buying choices.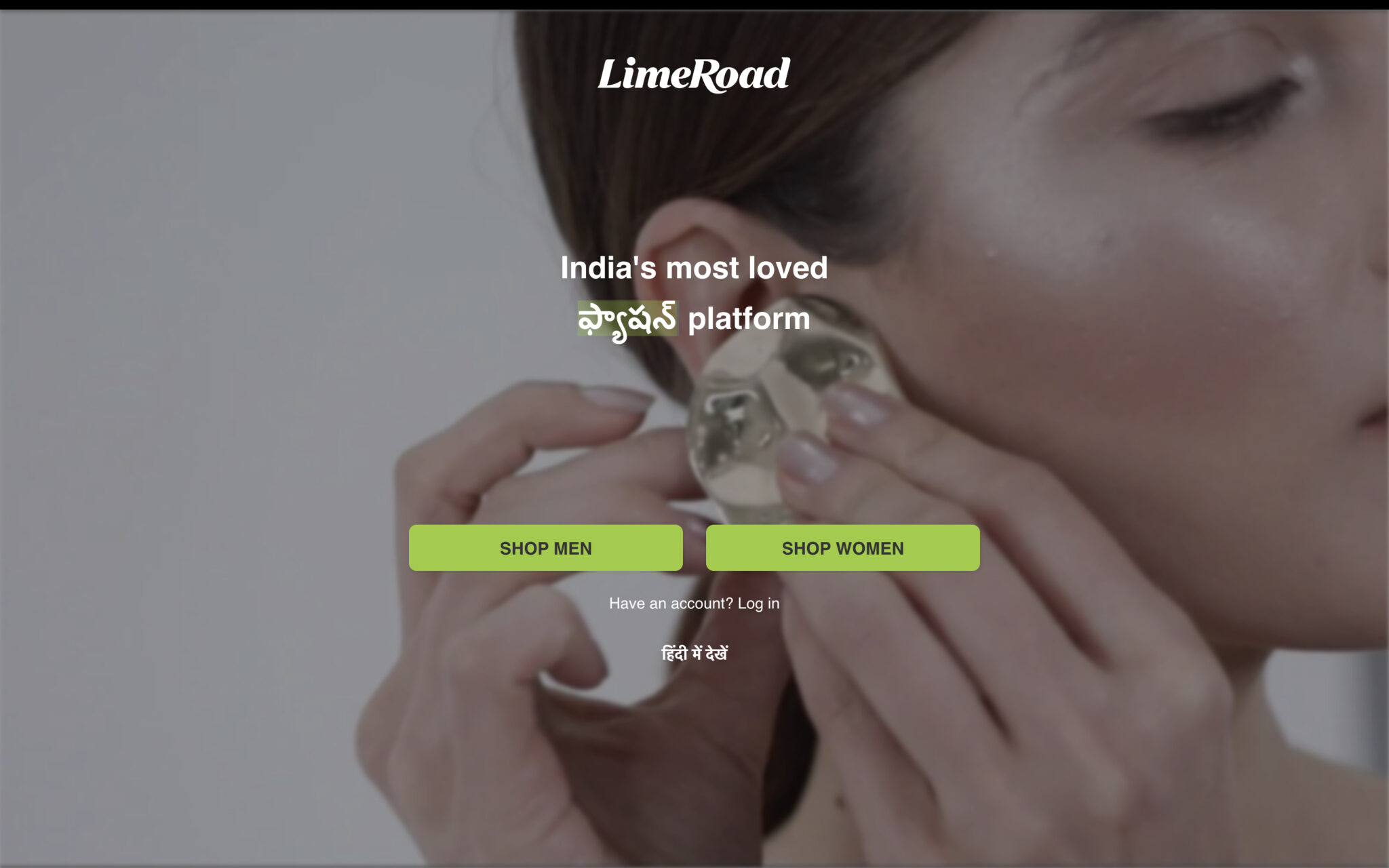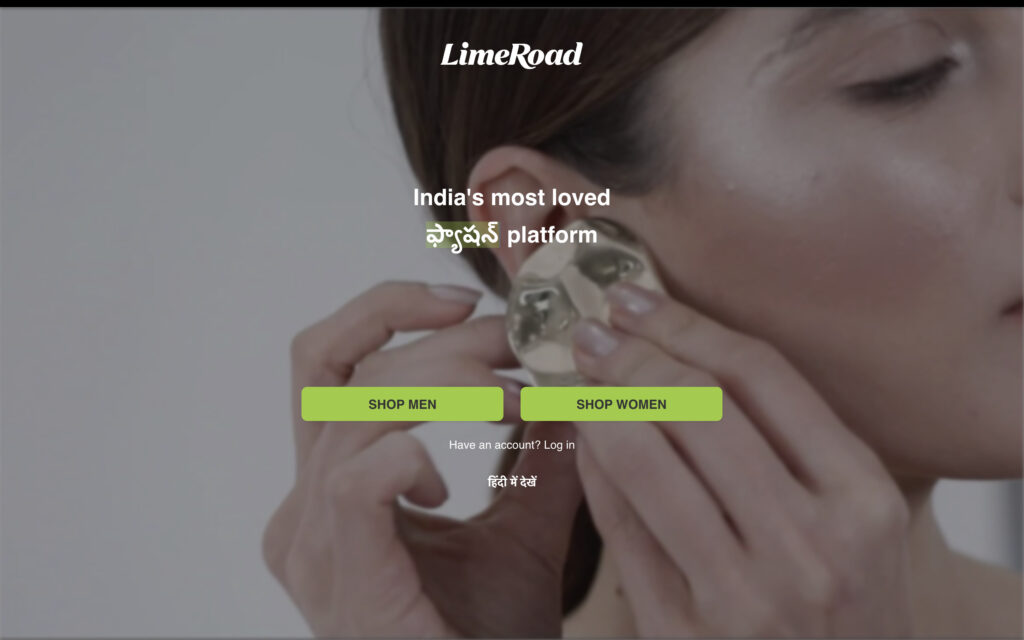 LimeRoad is a fashion e-commerce discovery network that receives over 200,000 articles of user-generated content per month, serving as a scrapbook for shoppers to get outfit ideas. This social buying experience encourages customers to talk about the goods and the website, which leads to increased engagement and impressions. Limeroad is notable for its "Scrapbook" function, which allows users to create and share style inspirations. It also has a "Kurti Bazaar" section for ethnic apparel. Limeroad also has a number of distinctive features, such as flash sales and cashback and discount offers.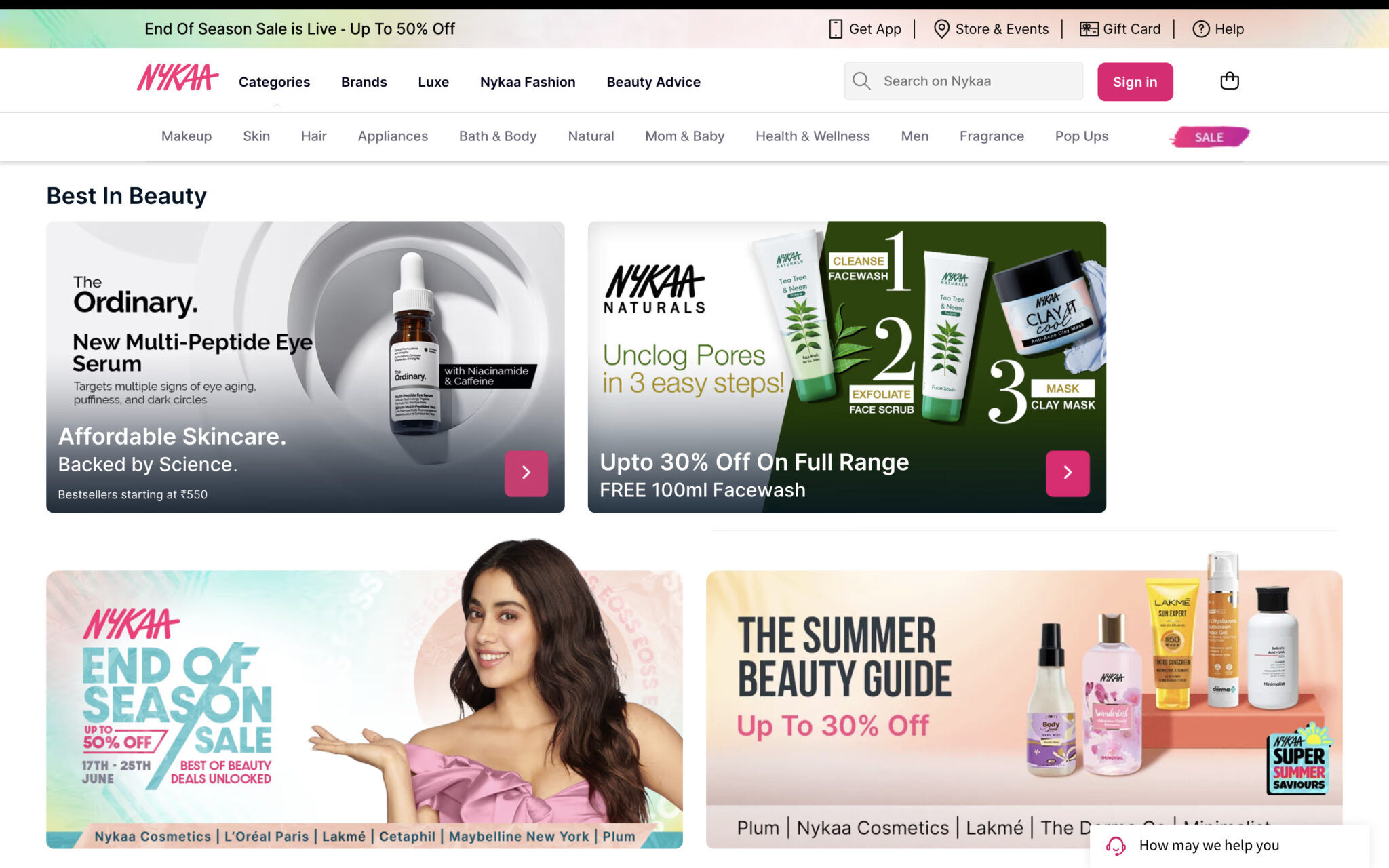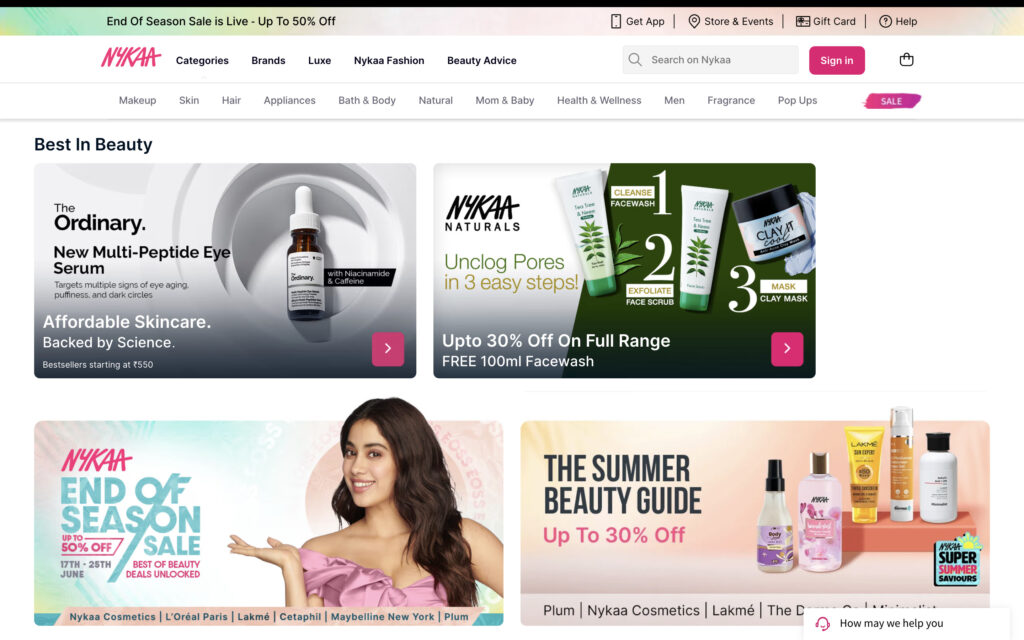 Nykaa is India's leading online beauty retailer, specialising in personal care, grooming, and wellness products. Nyka's platform offers thorough product information, consumer reviews, and expert beauty advice to help shoppers make informed purchasing decisions. It also offers unique debuts, limited-edition collections, and regular discounts to meet the needs of beauty fans. Customers who subscribe to Nykaa TV on YouTube can attend free master classes taught by beauty and wellness experts. Over a million people follow the site.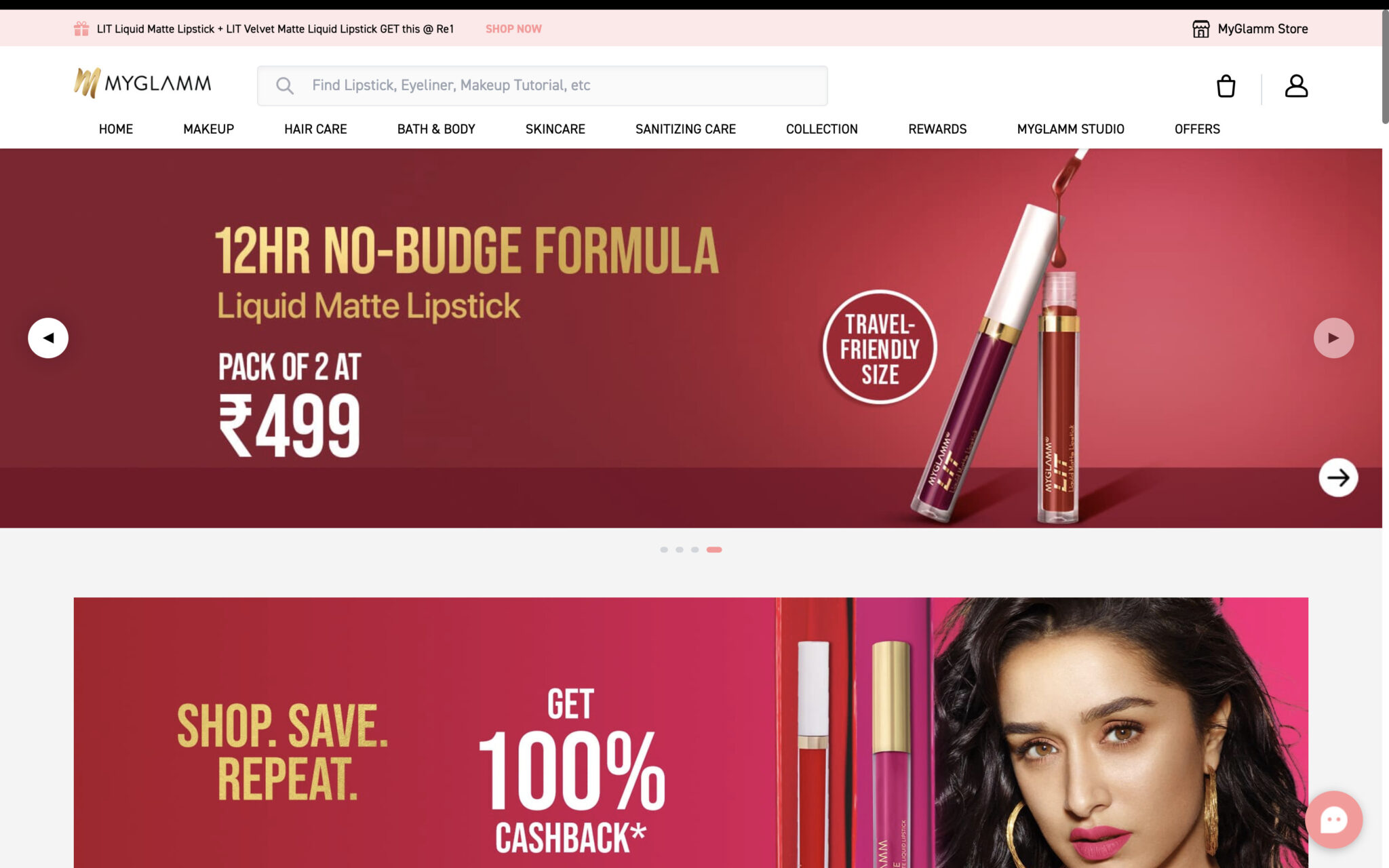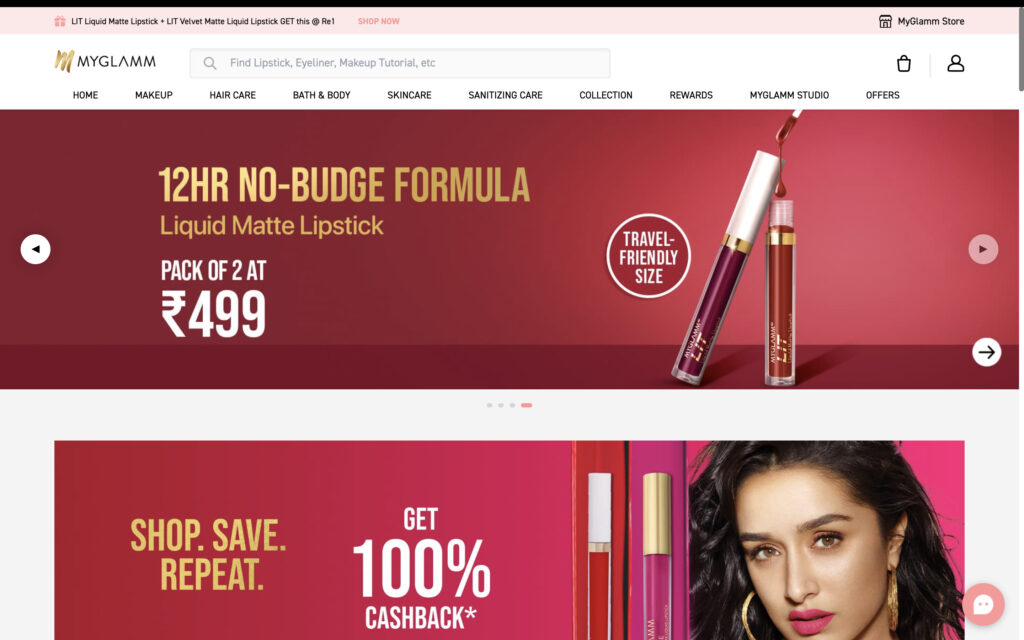 MyGlamm is a beauty and personal care platform that sells cosmetics, skincare, and grooming items. It emphasises high-quality products and cutting-edge beauty solutions. MyGlamm is known for its celebrity and influencer collaborations, which bring expertise and curated collections to clients. The platform also provides professional beauty services, making it a one-stop shop for beauty enthusiasts.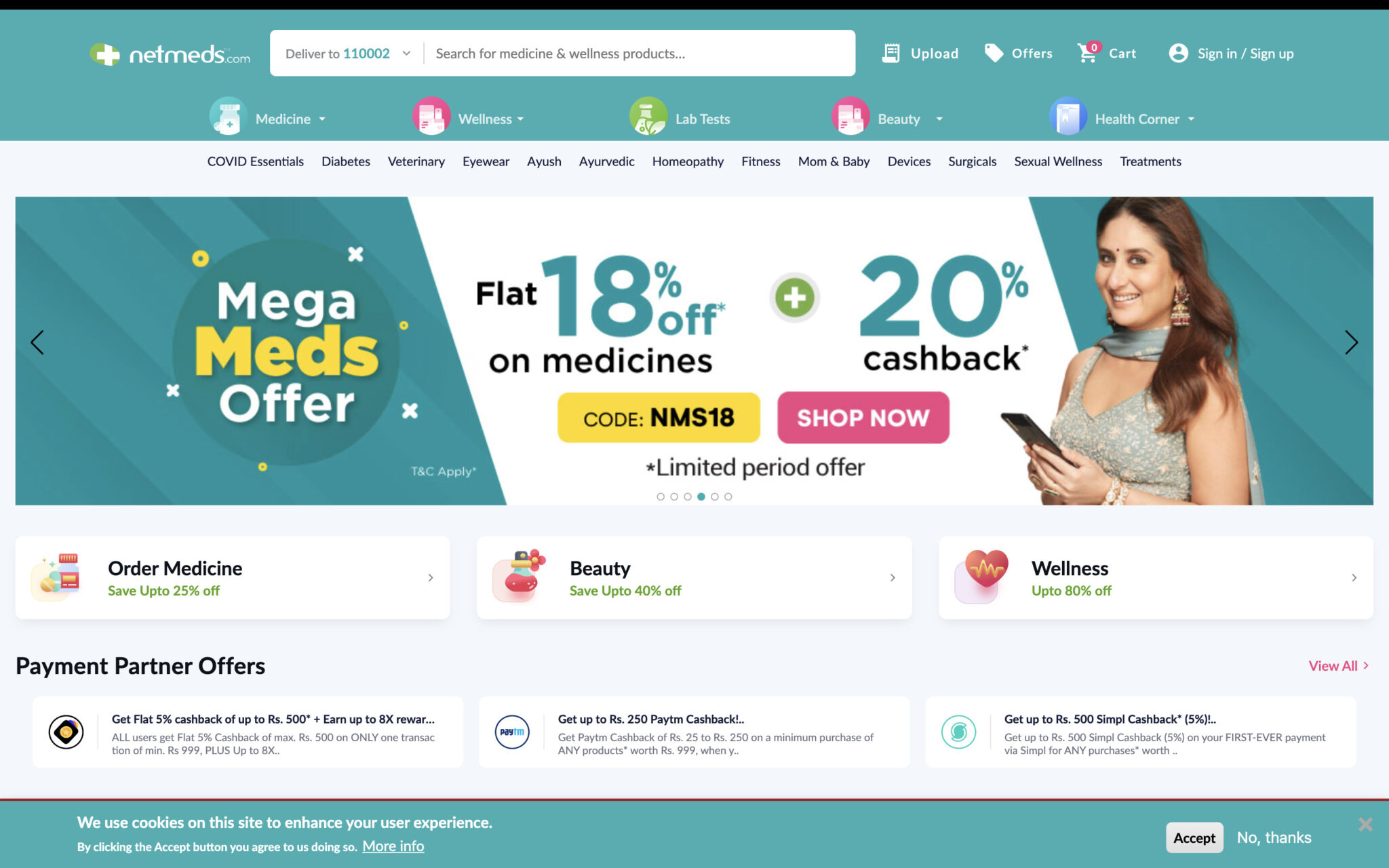 Netmeds is a great Amazon alternative India for medicines and consultation services. It is an online pharmacy and healthcare platform that offers a diverse selection of prescription medications, over-the-counter medications, wellness items, and healthcare necessities. It provides ease, privacy, and medication delivery to the patient's house, making it a dependable option for acquiring healthcare supplies. Netmeds guarantees the authenticity and strictly follows quality standards, giving customers peace of mind when it comes to their healthcare needs.
FAQs
What are some of the best Amazon alternative India in 2023?
In 2023, there are numerous notable Amazon alternatives in India. Flipkart, Croma, Tata Cliq, Ajio, Meesho, Myntra, Koovs, Fynd, Limeroad, Nyka, MyGlamm and Netmeds are among the most popular.
Are there any additional advantages to adopting these Amazon alternatives India?
Some options may provide extra benefits such as reward programmes, personalised suggestions, simple returns, and customer service. It is worthwhile to explore the features and benefits offered by each platform to choose which best meets your requirements.
Conclusion
Many platforms stand out as the greatest Amazon alternative in India. Flipkart, Croma, Tata Cliq, Snapdeal, Shopclues, Ajio, Meesho, Myntra, Fynd, Limeroad, Nyka, Netmeds, and Paytm Mall are just a few of the greatest Amazon alternative India that provides a diverse range of items, dependable services, competitive prices, and distinctive features. These platforms meet a variety of buying demands, offer nationwide shipping, and can provide rewards such as discounts, cashback, and premium memberships. Customers can find intriguing possibilities to enhance their online buying experience by exploring and comparing these Amazon alternative India.