Start your own online business with these trending online business ideas in 2024. Begin your success story now.
Table of Contents
Introduction
In today's digital world, online businesses have become a major player due to its benefits for both the seller and the consumer. Now, with the technology and change in consumer interests, the opportunity to be creative and innovative has widened. That is why you need to start your online business, with the best online business ideas that we recommend.
Our blog aims to unravel the essence of online business, present 30+ futuristic online business ideas for 2024, explore India-specific opportunities without investment, and guide aspiring entrepreneurs or beginners like you on how to begin your digital journey.
What is Online Business?
In simple a business that operates on the Internet or uses Internet platforms to conduct business is known as an online business. Online businesses use the digital landscape to connect with the consumer, conduct transactions, and provide services without the need for physical presence. Here you can buy and sell your product or service just by sitting in your home with a phone and internet.
30+ Best Online Business Ideas for You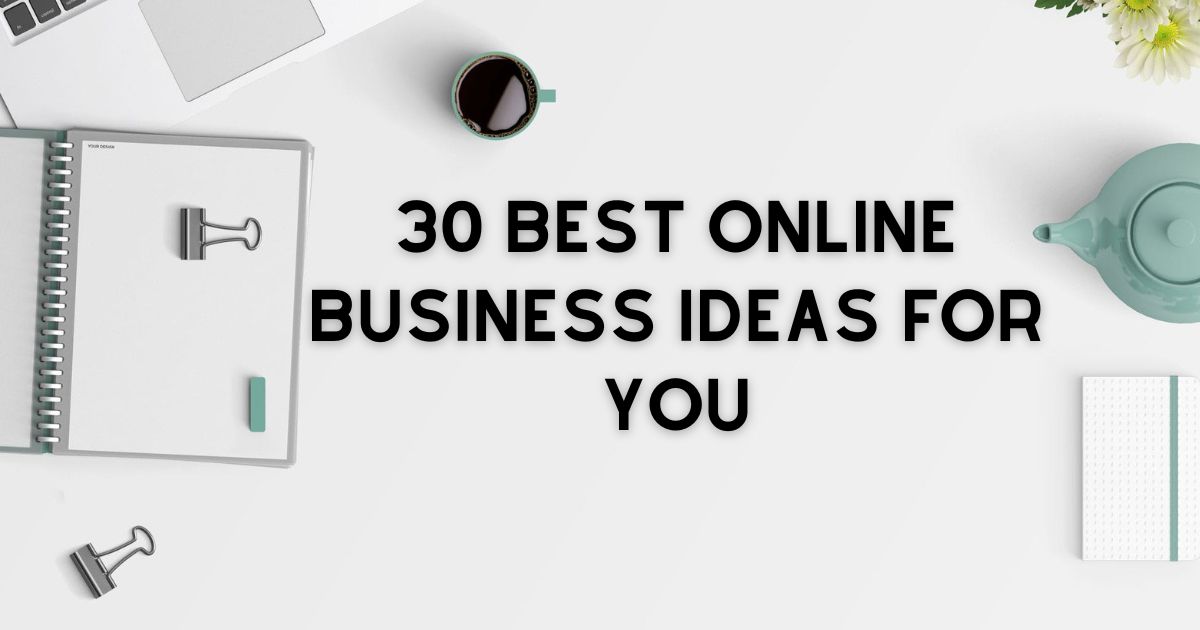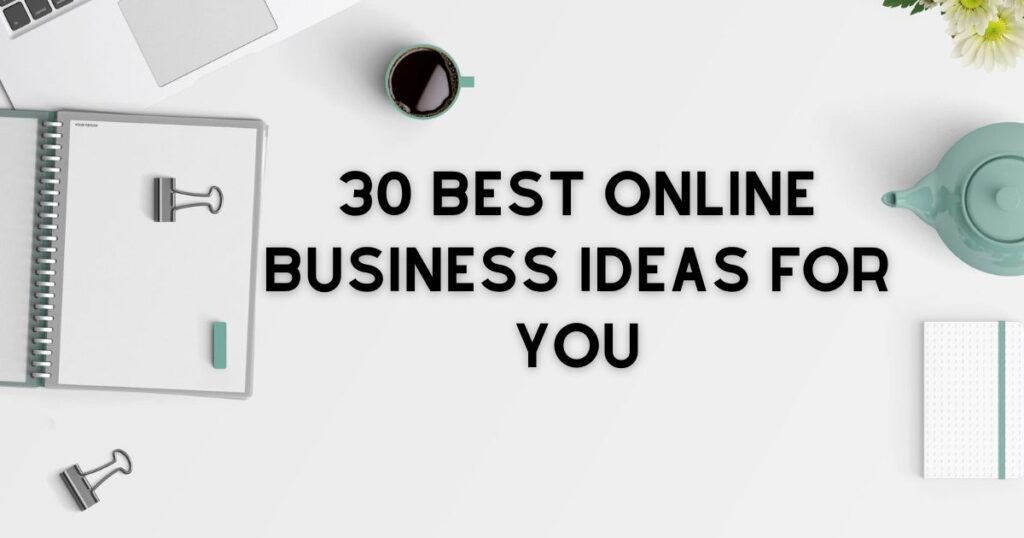 Remember to choose an online business idea that suits your interests. Now let's get into the online business ideas:
1. Start Your T-shirt Business
Online T-shirt business is a popular online business you can start in 2024. Do market research and plan your business. Online T-shirt business is a competitive niche to begin but with the correct branding and planning, you can build a successful T-shirt business. With platforms like Blinkstore, printfy, and Shopify helping this niche has become easy to start.
2. Subscription Boxes
Subscription box has become a popular online business in recent years. With innovations in customization, sustainability, and technology, subscription boxes hold decent growth in the future. Curated subscription boxes offer a personalized and convenient shopping experience. From beauty products to gourmet snacks, the possibilities are endless.
3. Online Fitness Training
Online fitness training has emerged as a dynamic and accessible way for individuals to prioritize their health and well-being. With the growing focus on health and wellness, virtual fitness training sessions and personalized workout plans have gained popularity. Creating a strong social media is the key to success.
4. Virtual Events and Conferences
In the digital age use of virtual platforms has seen an increase. Therefore the demand for virtual events and conferences has surged, providing opportunities for event planners, tech developers, and content creators. If you have the skill to plan and organize consider starting this online business.
5. Remote Consulting Services
If you have expertise in certain niches get paid. Offering expertise in areas such as business, finance, or career guidance can be done remotely, catering to a global clientele. Leverage the communication technology to build a profitable business.
6. Start an SEO Agency
SEO is a high-paying skill. Enhancing a website's visibility in search engines is the aim of this skill. Almost every company is hiring an SEO expert for their platform's growth. Building an SEO agency will take time but with careful planning and building trust with your clients, you can move forward step by step.
7. Affiliate Marketing
Promote company products or services and get a commission through referral links. Rather than targeting broad audiences, niche affiliate marketing focuses on specific interests, increasing the likelihood of conversion.
8. Online Courses and E-learning
The education sector has witnessed a significant shift towards online learning. Creating and selling online courses can be a lucrative venture. With the advancing VR and AI online courses have a bright future.
9. Remote IT Support
With businesses relying heavily on technology, remote IT support services are in high demand. As technology continues to evolve, the impact of remote IT support is expected to deepen. Consider remote IT as an online business option.
10. Web Development Services
As new businesses emerge, the need for professional website development services remains constant. Have clear objectives for their website, whether it's to showcase products, provide information, or facilitate e-commerce. Web development will always stay relevant.
11. Dropshipping
Worried about storing inventory, dropshipping allows entrepreneurs to sell products without handling or storing them. Use dropshipping apps like Blinkstore to create a free online store and start dropshipping. Always find good suppliers and ensure the quality of the products.
12. Social Media Management
Managing social media accounts for businesses has become a specialized service, aiding in brand visibility and engagement.
13. Virtual Assistance
If you are skilled in organizing, providing administrative support to businesses and entrepreneurs remotely is a thriving online business model. This online business model is flexible and cost-efficient.
14. Podcasting
Are you good at communication and understanding people then podcasting is something you should consider. The popularity of podcasts presents opportunities for content creators, advertisers, and niche-focused podcasts. Increase your podcasting network and charge accordingly.
15. Influencer Marketing Agency
Connecting businesses with influencers can be a lucrative venture as brands seek authentic connections with their target audience. Try to build a long-term relationship with the influencers.
16. Remote Health and Wellness Services
From virtual therapy sessions to personalized wellness plans, the health and wellness sector has embraced online services. the sector became popular due to its flexibility and online service which helps busy persons and disabled patients. There are some potential limitations for this service but bring your creative solution and make a breakthrough.
17. Develop a Mobile App
As the app ecosystem expands, skilled app developers are in constant demand. The number of mobile users is increasing day by day. So it's better to build an online business in this sector.
18. Graphic Design Services
Visual content is crucial for online success, making graphic design services a valuable commodity. Graphic design plays a major role in a company's growth. Build an agency that delivers graphic design services.
19. Virtual Real Estate Agency
Buying and selling property has transcended physical boundaries with the advent of virtual real estate agencies. Provide your services by connecting the buyer and seller through the well-developed app.
20. AI Chatbot Development
As businesses aim to enhance customer service, the development of AI chatbots has become a sought-after skill. When developing an AI chatbot, ensure there is privacy and how AI will impact your users.
Online Business Ideas in India You Must Look Out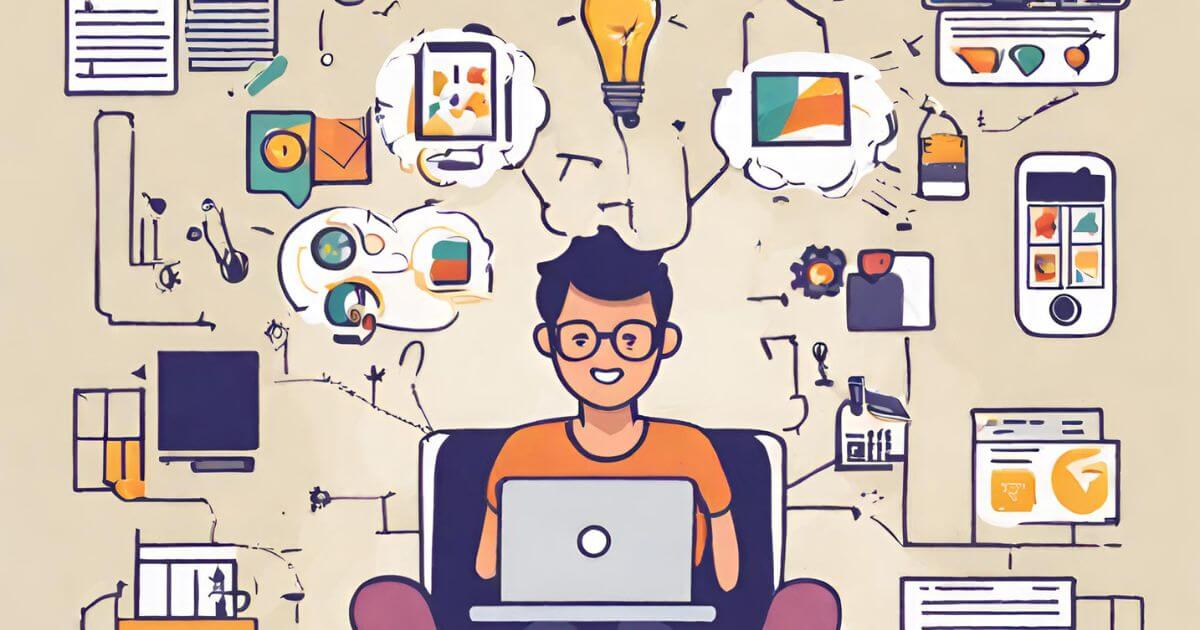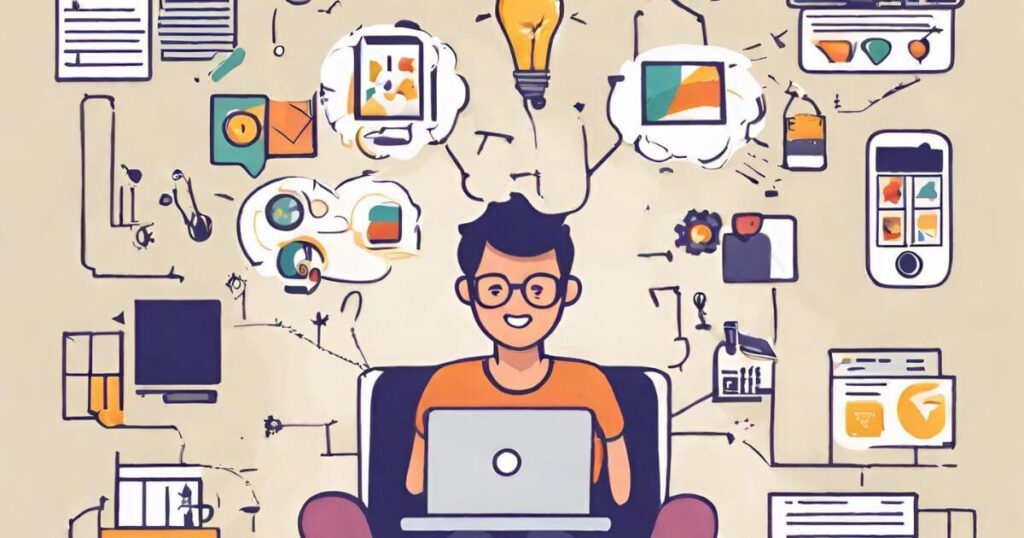 Online business ideas are becoming popular in India therefore consider looking out for these ideas:
21. Freelance Services Platform
Develop a platform that connects freelancers with clients in need. If you are in India there will be many talented freelancers looking for a platform to showcase their skills.
22. Food Delivery
Food delivery is a popular online business idea you should consider. Form a well-developed plan to connect the restaurants with the delivery team. Start local specifically in your area.
23. Travel Package Agency
India has many historical and nature-gifted places. Build a traveling agency that plans and provides tour packages for people to explore and enjoy.
24. Pet Care
Start an online pet care service that provides all pet-related services like pet sitting, pet grooming, and pet supplies. Develop a phone app and hold good customer satisfaction to succeed in this business.
25. Plant Nursery
In India, people even have gardens on their small balconies. This shows Indians are passionate about plant nurseries so, take the opportunity to sell seeds, plants, and gardening tools online.
Best Online Business Ideas in India Without Investment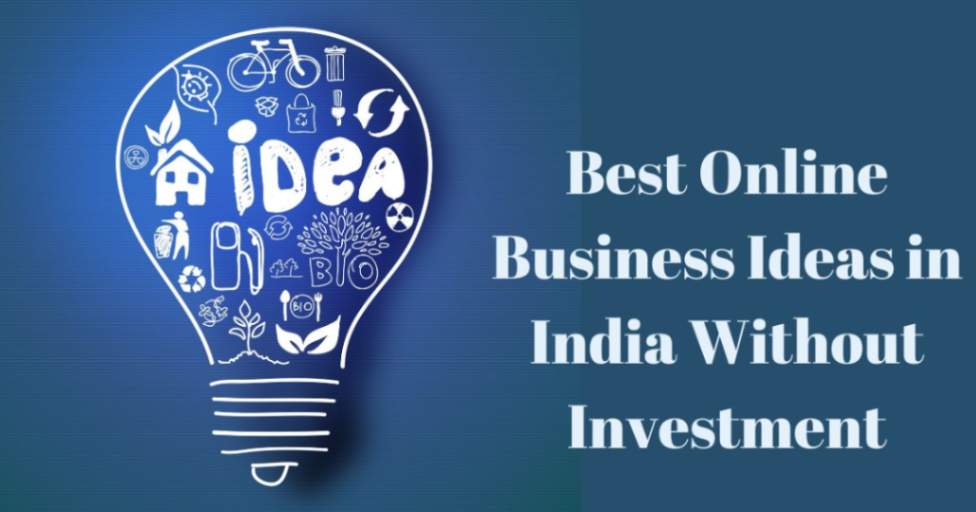 Online business is gaining momentum in India. But here let's talk about some online business ideas that require less investment and incorporate well in India:
26. Produce Blogs
Express your thoughts and insights through a blog. It is a low-cost way to enter the digital space. If you are well versed in English produce blogs and build a good portfolio.
27. Freelance Writing
Freelance your writing skills in apps like Fiver, Freelancer, and Upwork. To increase your probability of getting clients, create a well-displayed portfolio to show your writing skills.
28. Online Tutoring
Providing online tutoring services in subjects of your expertise is a cost-effective way to start an online education business. Online tutoring has become popular because of accessibility and low cost.
29. YouTube Channel Creation
YouTube channel is an option you should consider starting. You can even become an influencer by consistently dropping videos that are trending. Creating and monetizing a YouTube channel around a niche of your interest requires minimal investment in equipment and editing tools.
30. Remote Language Tutoring
Remote Language Tutoring has a huge scope in India because the languages change from state to state in India. Connect language learners with tutors from India or the outside world and build a thriving online business.
31. Ghostwriter
Ghostwriters help clients build strong social media branding by handling their accounts. Post good content consistently with trending topics related to their niche. Use LinkedIn to get in touch with founders and professionals because they might need ghostwriters.
32. Portfolio Creator
There are individuals with many skills but not getting the job they desire. And that's where portfolio creators come. The creators help individuals build a strong and attractive portfolio that displays the individual's skill and increases the chances of getting hired.
33. Editing
If you have sharp eyes and a better understanding of grammar then consider editing. You may have to edit a company's articles or novels related to the client or company you join.
34. Data entry
Data entry requires no investment and is a common online business idea. However, your profit margin would be less compared to other online businesses. Data entry is very flexible and easy to maintain if you have a tight schedule.
35. Voiceover cover
Do you have a good voice? Then consider the Voiceover cover. There are freelancing sites to start your journey in this sector. After having a thorough portfolio you can start making your way to agencies and build your business.
How to Start an Online Business?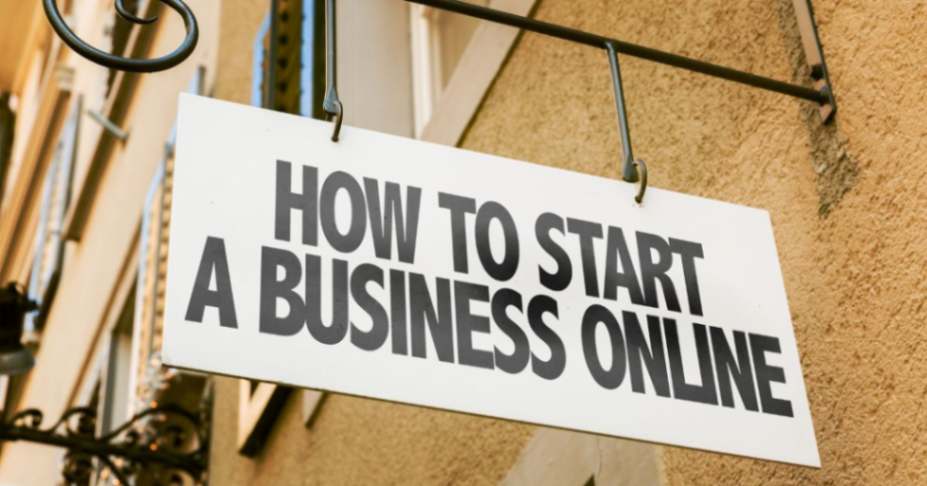 To start an online business you have to ensure that you follow these main steps to be successful:
a. Find Your Niche
Understanding your target audience and identifying a niche that aligns with your passion and expertise is the first step you have to take.
b. Research Market Demand
Conducting thorough market research is important to identify the demand for your product or service and study your competitor's unique points and techniques, learn the smart way.
c. Come Up With a Plan
For a successful business, you must have a good plan. your plans may differ from place to place or depending on your current situation. But be sure to touch down on these points such as business end goals, target audience, marketing strategy, and financial projections.
d. Personal Branding for Your Business
Personal branding is important to build at the beginning of your business. Create a professional website and establish a presence on relevant social media platforms like Instagram, Twitter, and Facebook. This will reach your target audience.
e. Optimize for Mobile Users
According to a survey by Rakuten Insight in India about 83 percent of consumers used their smartphone or mobile to purchase online in June 2022. Therefore ensure that your online business is accessible and user-friendly on mobile devices, as a significant portion of internet users access content through smartphones.
f. Provide Excellent Customer Service
Building a positive reputation requires excellent customer service. Respond promptly to inquiries and address customer concerns professionally.
g. Move With the Trend
Stay informed about industry trends, technological advancements, and changes in consumer behavior to adapt and stay competitive.
h. Embrace Continuous Improvement
Regularly evaluate your business performance, gather feedback, and implement improvements to enhance the customer experience and overall efficiency. On the way, there will be many ups and downs on your path.
Benefits of Online Business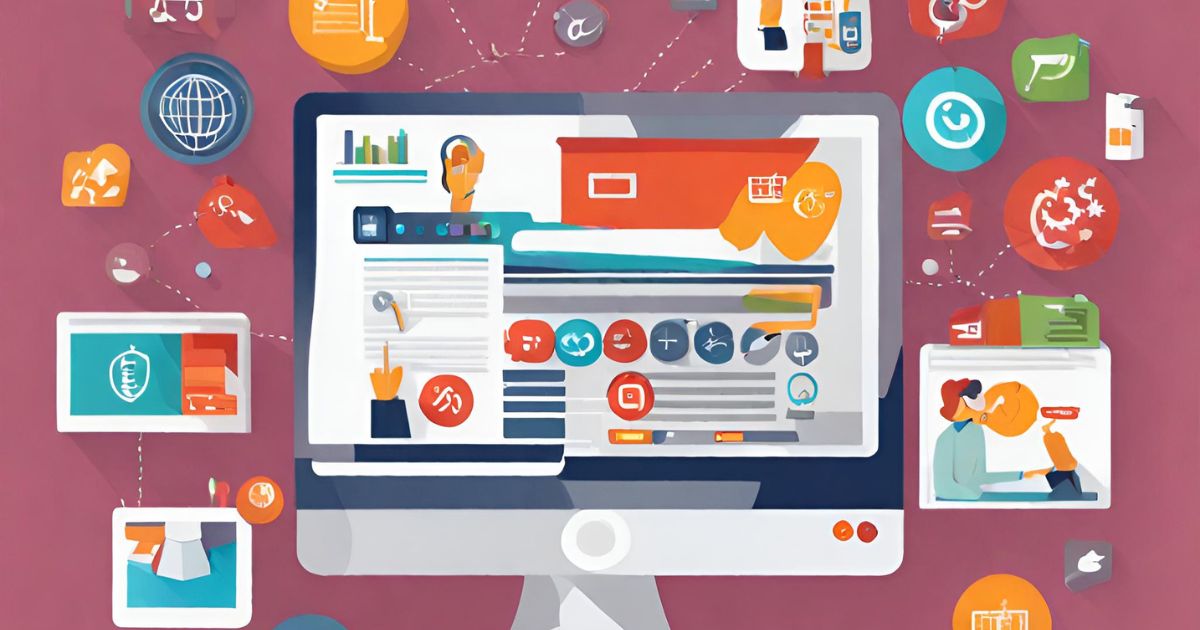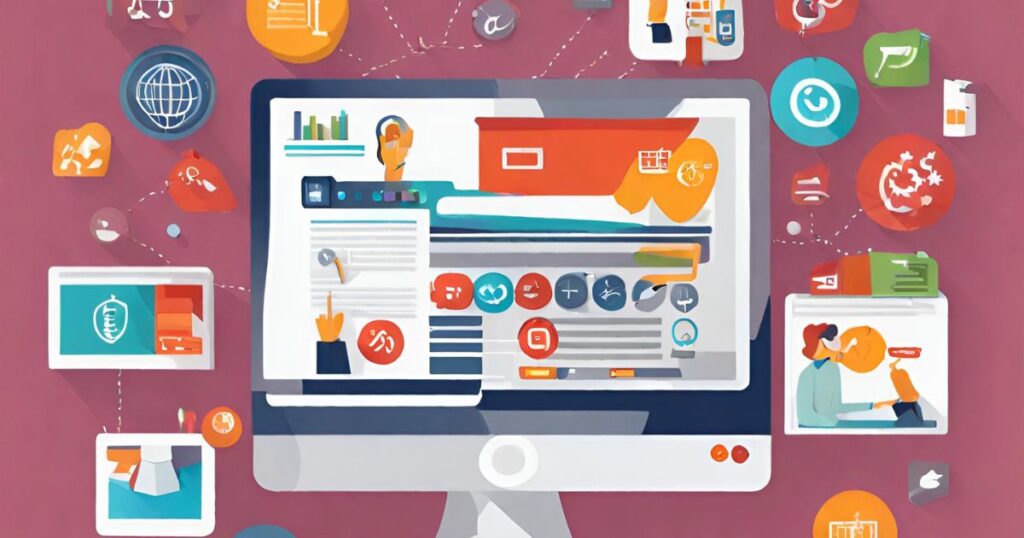 There are various benefits or reasons for online businesses to grow in this decade:
Global Reach: Due to the nature of online businesses, you can reach a global audience. Breaking down geographical barriers and expanding market potential.
Flexibility: The flexibility of running an online business allows you to manage your schedules and work from anywhere with an internet connection.
Scalability: Online businesses can easily scale their operations to accommodate growth without limitations. Because there is no limit imposed by physical infrastructure.
Access to Data and Analytics: Digital platforms provide valuable insights into customer behavior, enabling businesses to make data-driven decisions and refine their strategies.
Be Creative With Your Online Business Ideas
In this blog, we have listed over 30+ online business ideas you can try out. But have you thought about an online business idea that only you know? Yes, it's in your mind. Be creative and think about your surroundings, and your life situations and come up with a solution. Now, some individuals are looking for the same solution that you found. Find them and bring your business to life.
Start Your Online Business With Blinkstore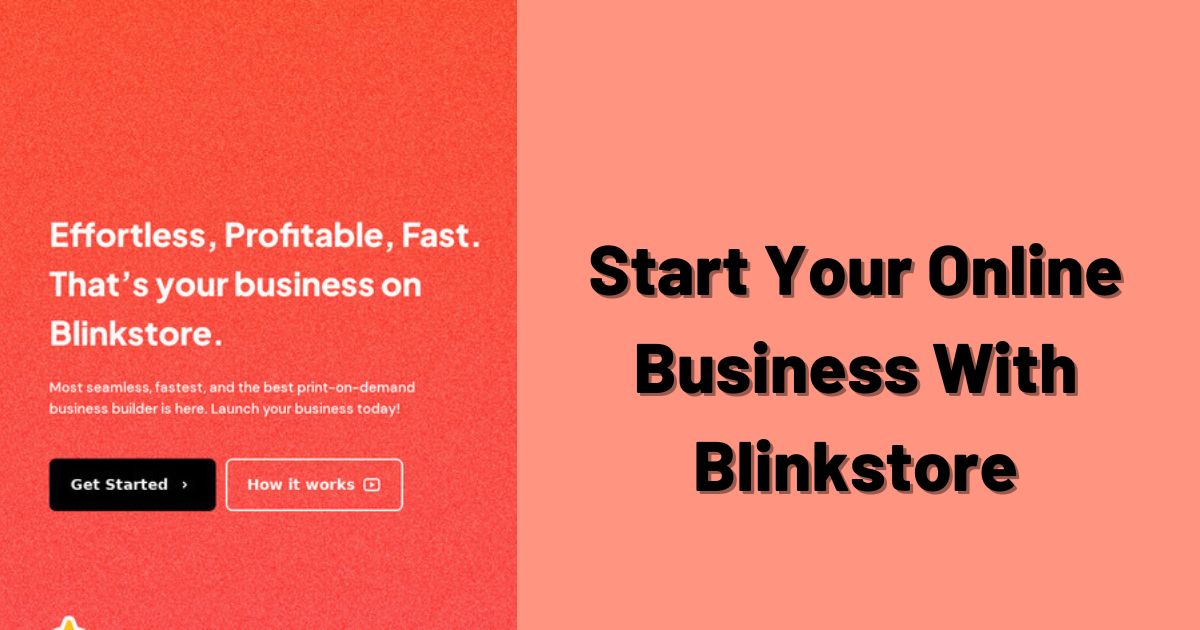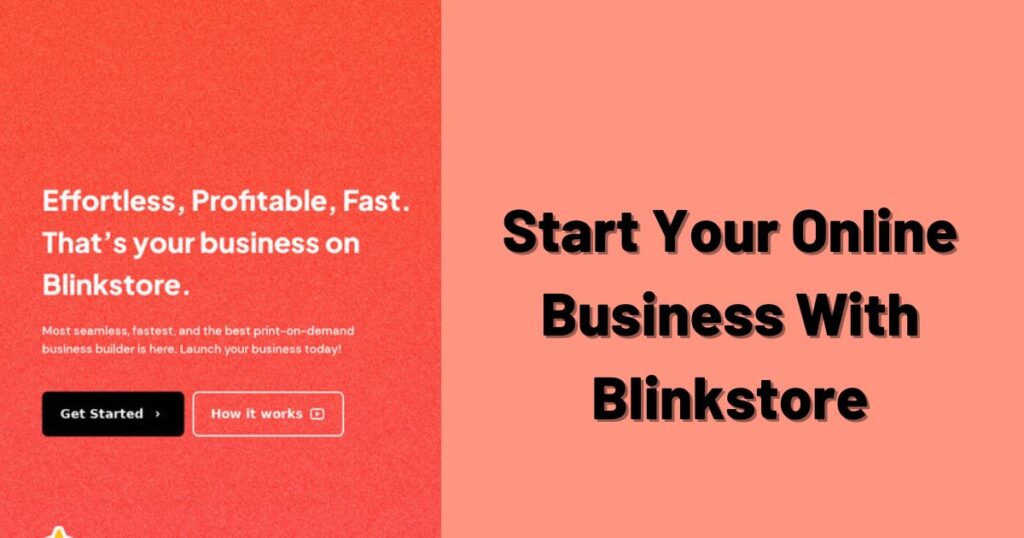 Blinkstore is a rising print-on-demand platform in India. This platform comes with an all-in-one package to start your online business. Blinkstore is a user-friendly platform for beginners and has many features such as providing a free in-built store, etc. You can start your online clothing business, dropshipping, or print-on-demand business in Blinkstore.
The whole process to start your business in Blinkstore only takes 5-10 minutes approx. So, if you are serious about starting an online business consider Blinkstore as your first option.
Conclusion
Starting an online business in 2024 holds immense potential for you as the environment is supportive. In this digital place, there is always room for innovation to bring Your creativity to the table. Online businesses do have challenges but the benefits outweigh the risks Therefore select your niche and start grinding.
Some Related Resources for You to Check Out:
FAQs
Here are some frequently asked questions about online business ideas.
How many types of online businesses are there?
There are many online businesses such as digital marketing services, e-commerce businesses, content creation, freelancing, etc.
Do I need an LLC to sell online?
Having an LLC does have benefits but you don't need to have an LLC to start an online business.
What is the best online business?
The best online business is one that suits your interests. Although online businesses like dropshipping, affiliate marketing, and freelancing are known to be popular among online businesses.
What is the best online business to start from home?
You can consider blogging, podcasting, and building apps or websites to start from home.
What are the tips for a successful online business?
You have to prioritize providing positive customer service, staying adaptable to the market change, efficient use of social media, and including quality services and products are some tips you have to keep in mind.
Which online business is best to start in India?
Start businesses like blogging, online tutoring, language translation, dropshipping, etc. In India to succeed.
What are online business?
A business that operates on the Internet or uses Internet platforms to conduct business is known as an online business.
What are the Unique online business ideas in India?
Start online businesses like rural e-commerce, build a traditional arts and crafts online store, and cultural wellness activities like yoga online.